In what most might consider a sweeping set of updates, GoTo, a firm seemingly on a mission to simplify how enterprises and SMBs manage remote IT and virtual work: released over 40 enhancements to its already vast product suite.
For nearly twenty years, the company has made it its mission to build its unified platform, one that spans GoTo Resolve to Rescue, GoTo Connect, and more. The robust platform helps teams do a lot, including managing a business, securing that business, and, of course, connecting with customers globally. 
The firm notes the sweeping set of features is part of its tri-annual feature release. According to a 2023 report sponsored by GoTo, the company looked into how small and mid-sized businesses appear to be adapting and growing in 2023; expressly as that landscape continues to evolve. 
In the survey conducted by GoTo: the company found that over 80% of businesses say "they are considering consolidating communication, collaboration, and IT management via support tools" – calling it a "top priority. Ninety-two percent of respondents said they want to reduce the burden felt on IT, with 50 percent saying they want "to support hybrid workers, better."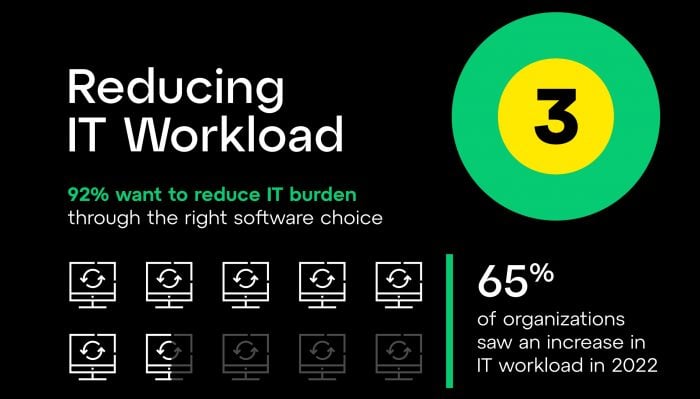 Paddy Srinivasan, CEO of GoTo, noted in a statement that the company wants to (all but) ensure that IT teams and workers stay ahead of the curve, noting that these latest features aim to do just that. Those latest features include a Microsoft Teams phone integration, AI-generated scripts, and a Miro integration, which enables users to access all the collaboration features without toggling between systems. That update further includes Linux support.
Additionally, GoTo recently launched a fresh mobile device management solution and endpoint protection for GoTo Resolve. Below, I plan to dive into some of those features.
New Features Galore
As previously stated, GoTo has released over 40 fresh features. The firm's latest features include stronger security for devices and company data. 
Starting with a new mobile device management offering, IT teams can securely manage dives and data remotely. Automating tasks and taking inventory are also simplified, all from a unified platform. The firm also boasts a new endpoint protection add-on, which enables IT management to further consolidate, govern, and secure what it calls "critical systems and valuable data." 
According to a statement, GoTo notes, they can now do so with relative ease, adding that: this functionality gets fueled by industry-leading cybersecurity technology developed by Bitdefender. Via the new feature, admin permissions and Azure Active Directory Sync are more powerful and designed to stay ahead of any potential threat. 
With efficiency always the name of the game for most firms, GoTo released a few AI-powered tools to help firms increase productivity and efficiency. The goal here is also to enhance customer and user experience. 
As such, it released 'Disruption Free Unattended Access,' Linux support expansion, webcam zoom, and an AI-enhanced script generator, an integration designed to streamline creating and running IT automation scripts across a fleet of devices. 
"This is as easy as telling the tool what you want to happen and having a script auto-generated to complete the task."
It is no secret that data-driven organizations do better. And nearly every survey or report would confirm that solid data help companies make sound decisions. The rationale behind leveraging data to do that is not a new concept; but one that a growing number of firms hope to leverage better. 
For that purpose, GoTo released new data visualizations like Interaction Details, SMS Health Dashboard, and Conversation Review. With said visualizations, organizations can better discover opportunities via visual representations of; how customers feel. 
Srinivasan, GoTo's CEO, added that these critical tools, together, unlock savings and productivity opportunities for countless SMBs on a global scale, further noting in a statement: 
"We are thrilled to offer our customers new, critical features like dependable device security, cutting-edge AI-powered experiences, the ability to create better business outcomes through data-driven customer decisions, and integrations that will save people time and money."
UCC Firms Continue to Level-Up
Although not strictly a UCC company, GoTo includes many traditional elements of a run-of-the-mill UCC firm. In a sense, it is a UCC tool on steroids, going above and beyond (that of) what a classic offering extends to end-users. 
But more and more firms are starting to make their tools look exactly like what GoTo is doing, realizing they must continue to differentiate their offerings if they hope to stand out in the climate of ever-shifting customer demands. And so it seems that firms in the industry continue to level up, hoping to satisfy those customers and their demands. 
As I continue to cover the industry from a different perspective, from a channel perspective, I will add that I have had the pleasure of seeing many firms blossom, from Zoom to Cisco and smaller players like Dialpad – the industry has seen much change over the past two-plus years. 
We can only expect to see that change continue, and for those doing well, well, that is not anticipated to change all that much. The UCC companies that fail to level up are at risk of flopping, but for the most part, there seems to be an understanding: 
Change is not only good; it is inevitable. And in nearly all cases, necessary to stay afloat in the current business climate – no matter the company size. 
A Final Sign-Off
For now, I sign off, one final time, on GetVoIP News, where it has been my pleasure: to serve as Editor in Chief and principal reporter. I have grown much as a writer, researcher, interviewer, and on a personal level. 
To all of my contacts: my focus will change, but I am happy to be in touch with any relevant channel-related stories. For the last time, I am signing off here at GetVoIP News and gearing up for my next adventure.
GetVoIP.com, the main site, is still up and running/full of reviews and informative content: but this is the last of the news portion of the site. It has, however, been a pleasure growing the website over the past two-plus years, and the site will act as an archive of UCC news from that period.