For much of the workforce, the COVID-19 pandemic of 2020 brought a shocking change — the permanent switch to working remotely. It was a hard adjustment for many people who didn't have a proper home office setup.
But as the coronavirus pandemic continues to rage on for longer than anyone expected, many people have decided to invest in accessories to make their space an optimal working environment. Although it was a shocking change for many, working from the comfort of your own home gives yourself the ability to customize your space more.
We've compiled a list of various accessories to get your home office to optimal conditions. From upgraded pieces of technology to accessories you never thought you needed, we've got it all. We've broken this article down into three different sections:
Technology Gadgets & Accessories
Your workday likely revolves around a number of WiFi-enabled devices — they're your connection to your customers and colleagues. The items on this section include a number of gadgets and accessories that will complement each device you rely on, ensuring you get the most out of the technology you use. We also recommend a few more to help get the job done.
Rocketbook Smart Reusable Notebook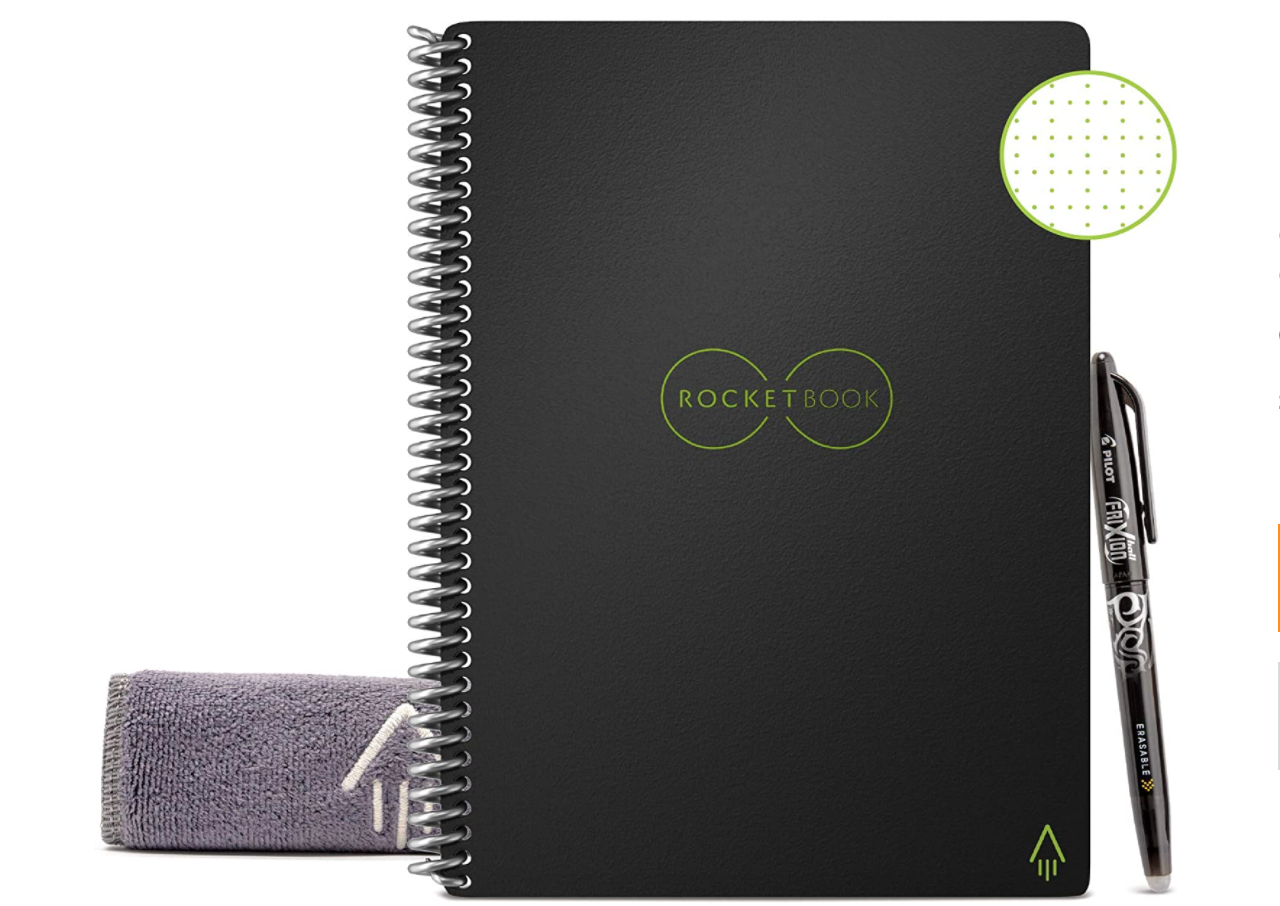 If you prefer to take your notes by hand, consider this your new favorite notebook. The Rocketbook functions like a normal notebook as it's filled with paper. But you can use the accompanying app to transfer your notes into the cloud. Wipe it clean, and continue to use it as much as you'd like. The notebook incorporates AI technology, allowing you to utilize its smart search. Get it for $20.55 from Amazon.
Non-Slip Desk Pad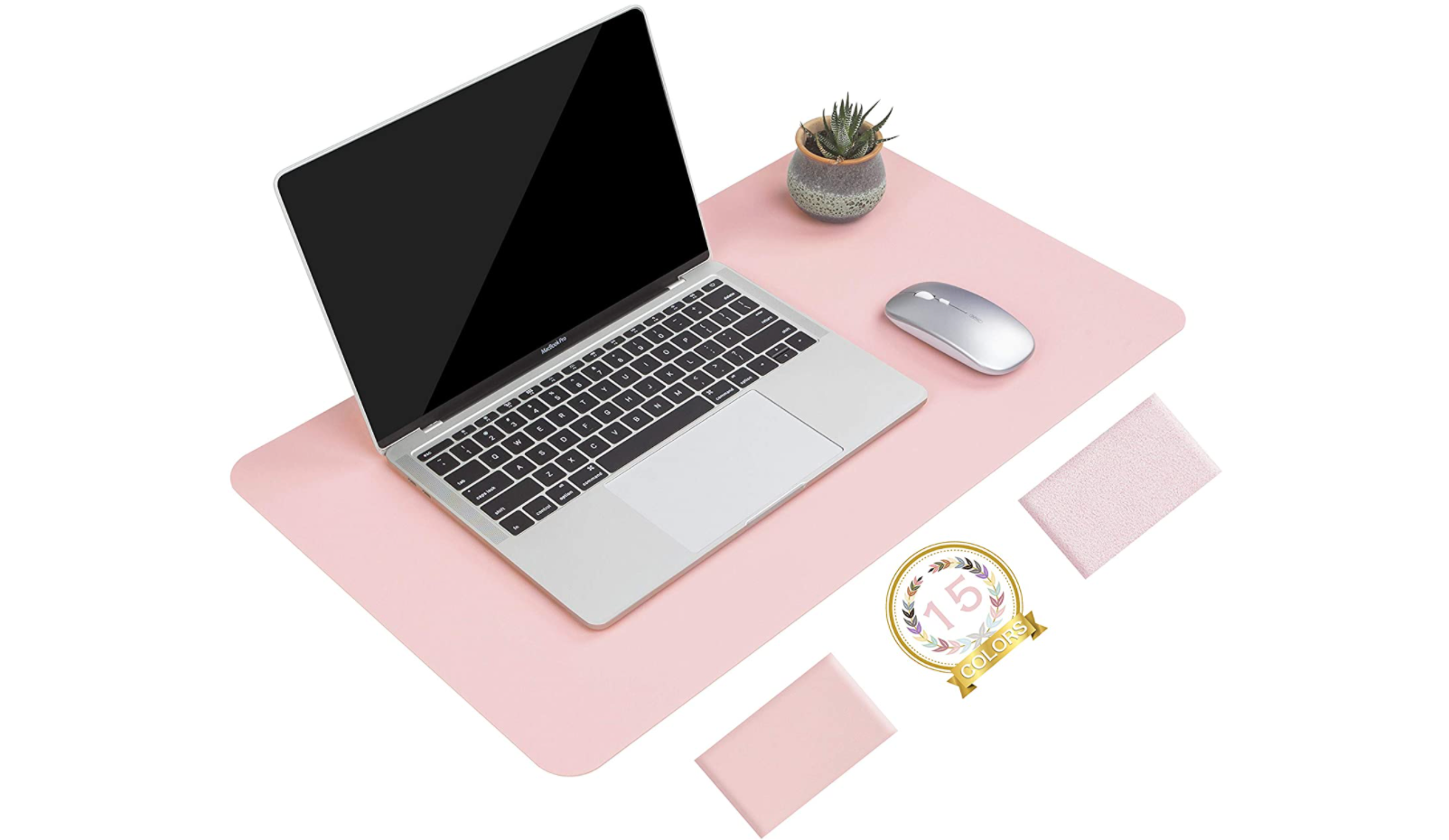 Spills and other messes happen at your office desk — there's no way to avoid that. But this desk pad will keep your desk protected from any damage that may have otherwise taken place. It's waterproof and oil-proof, protecting your desk from scratches, spills, and stains. Its backside is suede, making sure it stays in place throughout the day. The desk pad's topside is PVC leather, making it easy to clean. Get it on Amazon in an assortment of colors and sizes, starting at $9.
Gimars Ergonomic Mouse Pad and Keyboard Rest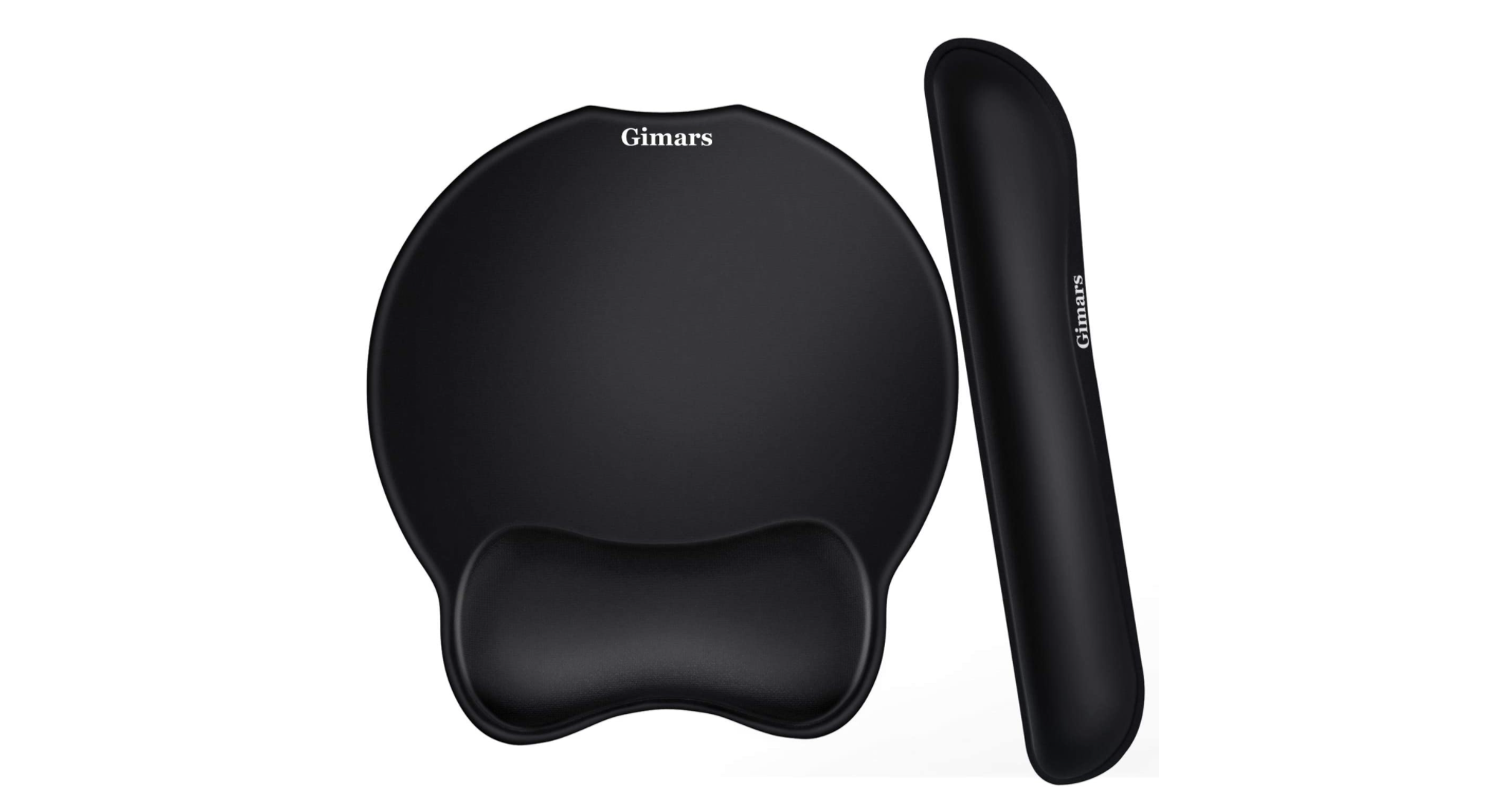 This mouse pad and keyboard rest allow you support if your keyboard and mouse don't already do so. Hours of typing on a flat keyboard and using a traditional mouse keep your hands in an uncomfortable position for a long time — these items correct that. Both the mouse and wrist pads come with a non-skid rubber base so they both stay in place. Get them on Amazon as a packaged deal for $18.76
Ember Mug
If you prefer your coffee hot, this is the mug for you. It's a smart mug that allows you to set an exact temperature for your drink and maintain it for a little over an hour. Keep in mind this should be used to regulate a drink's temperature, not actively heat it up. Get your mug at Ember starting at $100.
Blue Light Blocking Glasses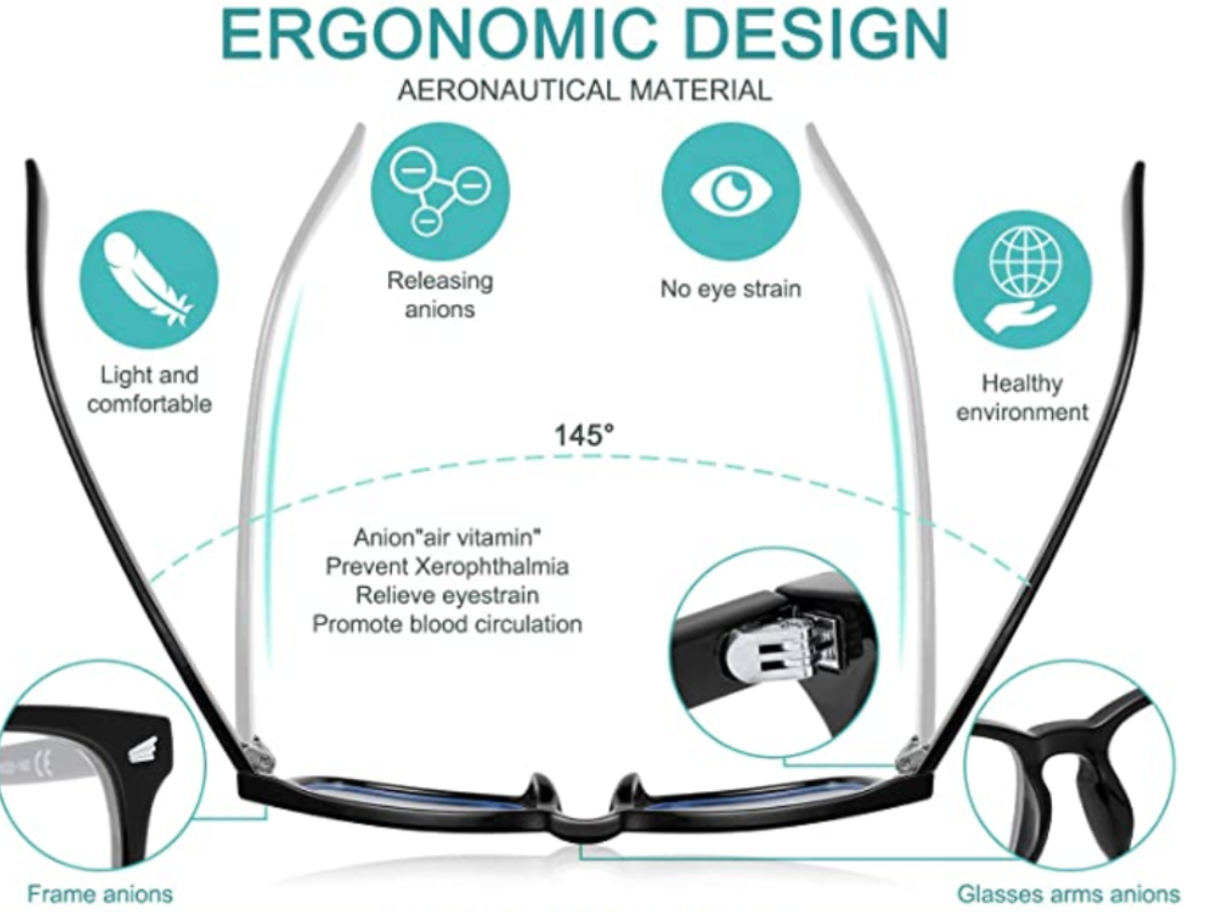 Staying inside more means that we're inevitably looking at screens longer. that can cause eye strain. These glasses offer protection from that fatigue. No need for a prescription with these, they're simply just blue light-blockers. Get a three-pack in a variety of styles on Amazon for just $11.21.
Cable Clips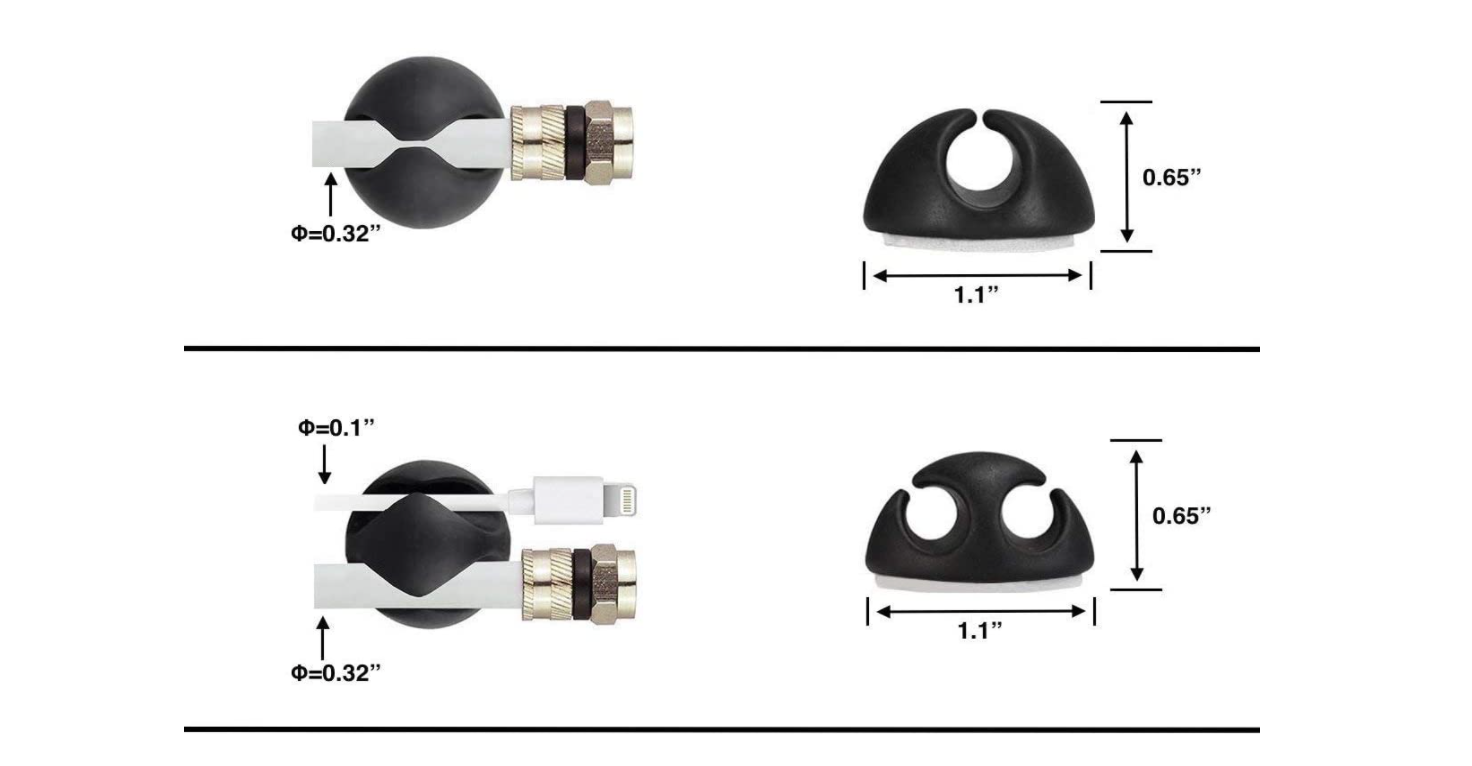 If you have pets, they're likely insisting on being in your workspace with you. Some furry friends don't understand the meaning of personal space. So if you have cords everywhere, your cat or dog may play with or chew on them. These cable clips will keep them organized and uniform, hopefully meaning they won't be dangling right in front of your pet. Get a pack of 16 on Amazon for $8.
Native Union Dock Wireless Charger Stand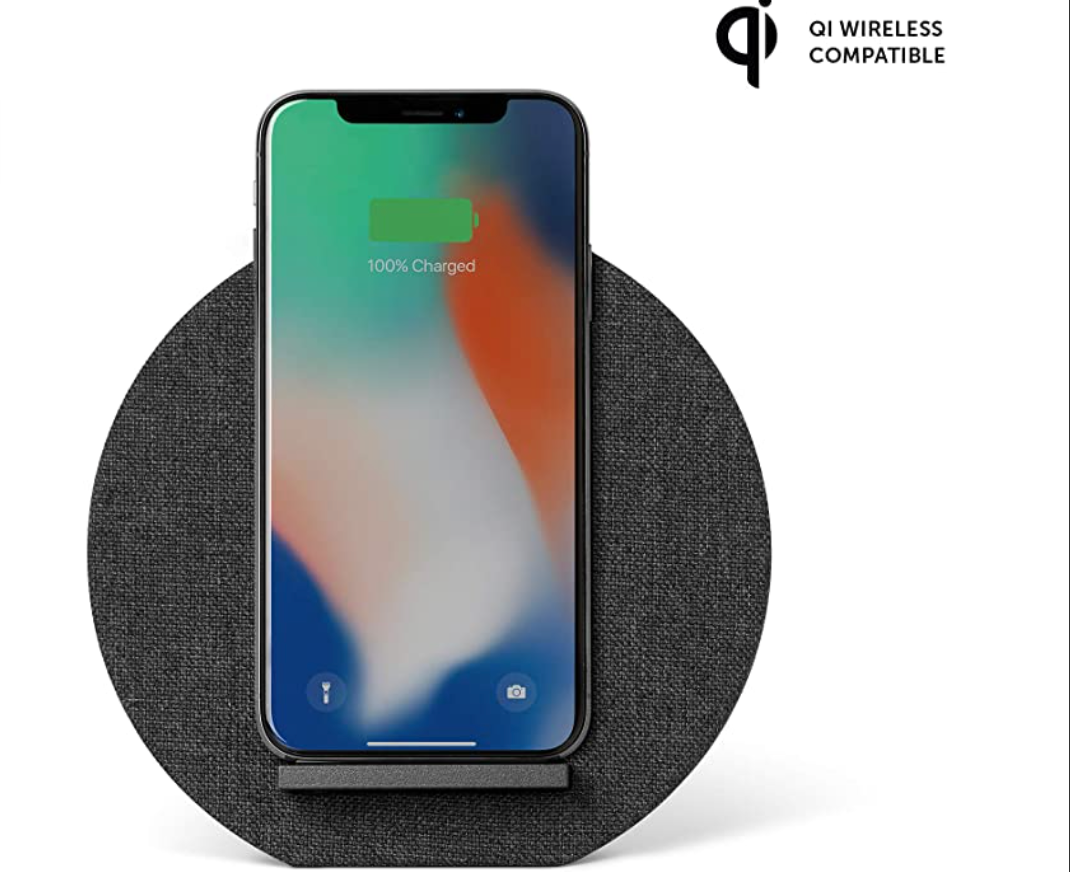 This offers you the ability to prop up your Apple or Android phone and charge it all at once. Plug the device in and place your phone on the stand at the front. As long as the back of your phone is touching the pad of your charger, it will begin wireless charging. It's compatible with all versions of the iPhone 11 and 12. Get it on Amazon for $70.
OXO Good Grips Sweep & Swipe Laptop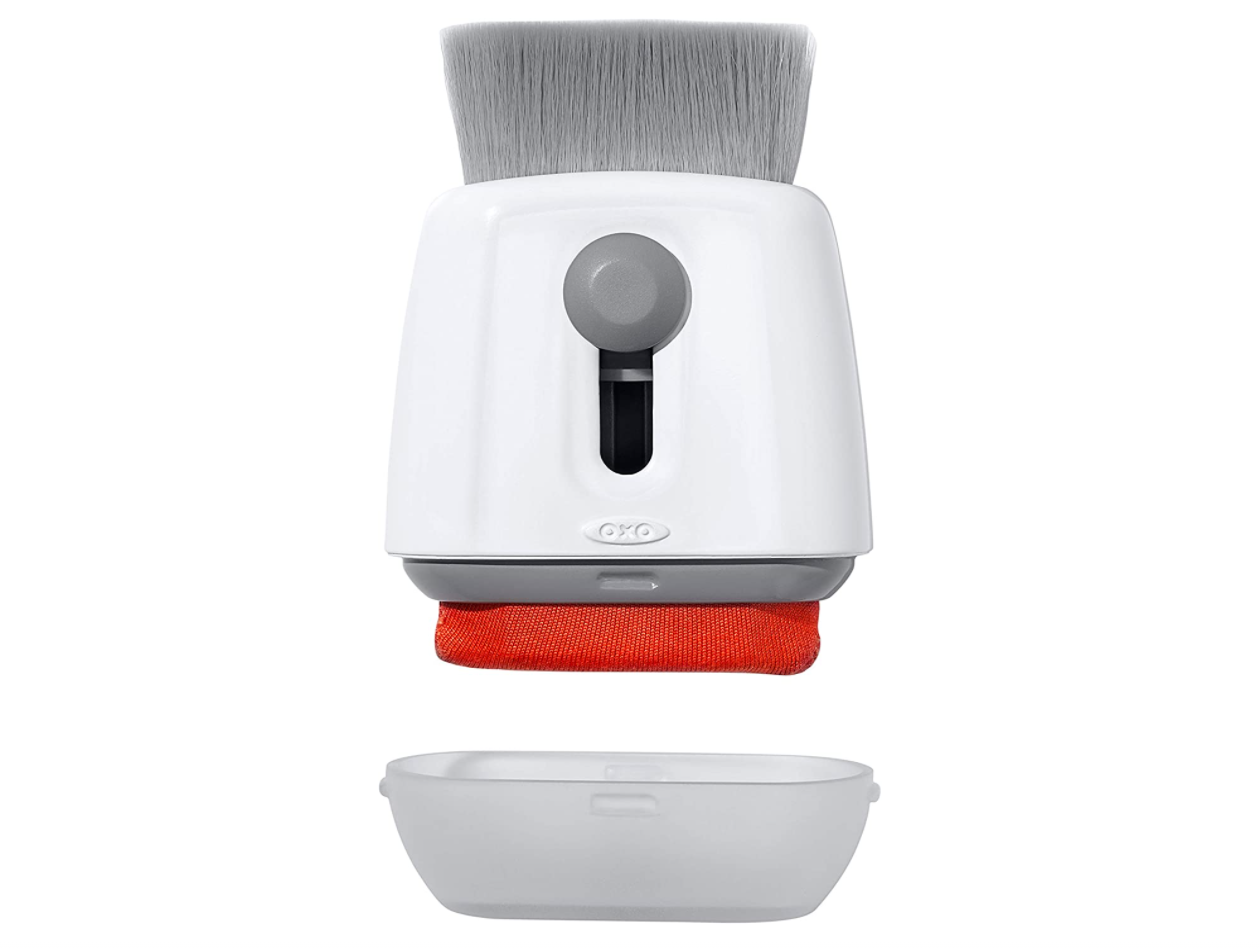 There's nothing more annoying than a dirty screen and keyboard. With COVID-19 pushing most of life online, that means you'll likely be using your laptop more these days. so naturally, it will get dirty easier.
This double-sided tool comes with a pad on one side and a brush on the other. The pad will allow you to clean any screen, and the brush will enable you to sweep crumbs and grime off your keyboard. Get it on Amazon for just $10.
Linksys Velop Wi-Fi 6 Mesh Router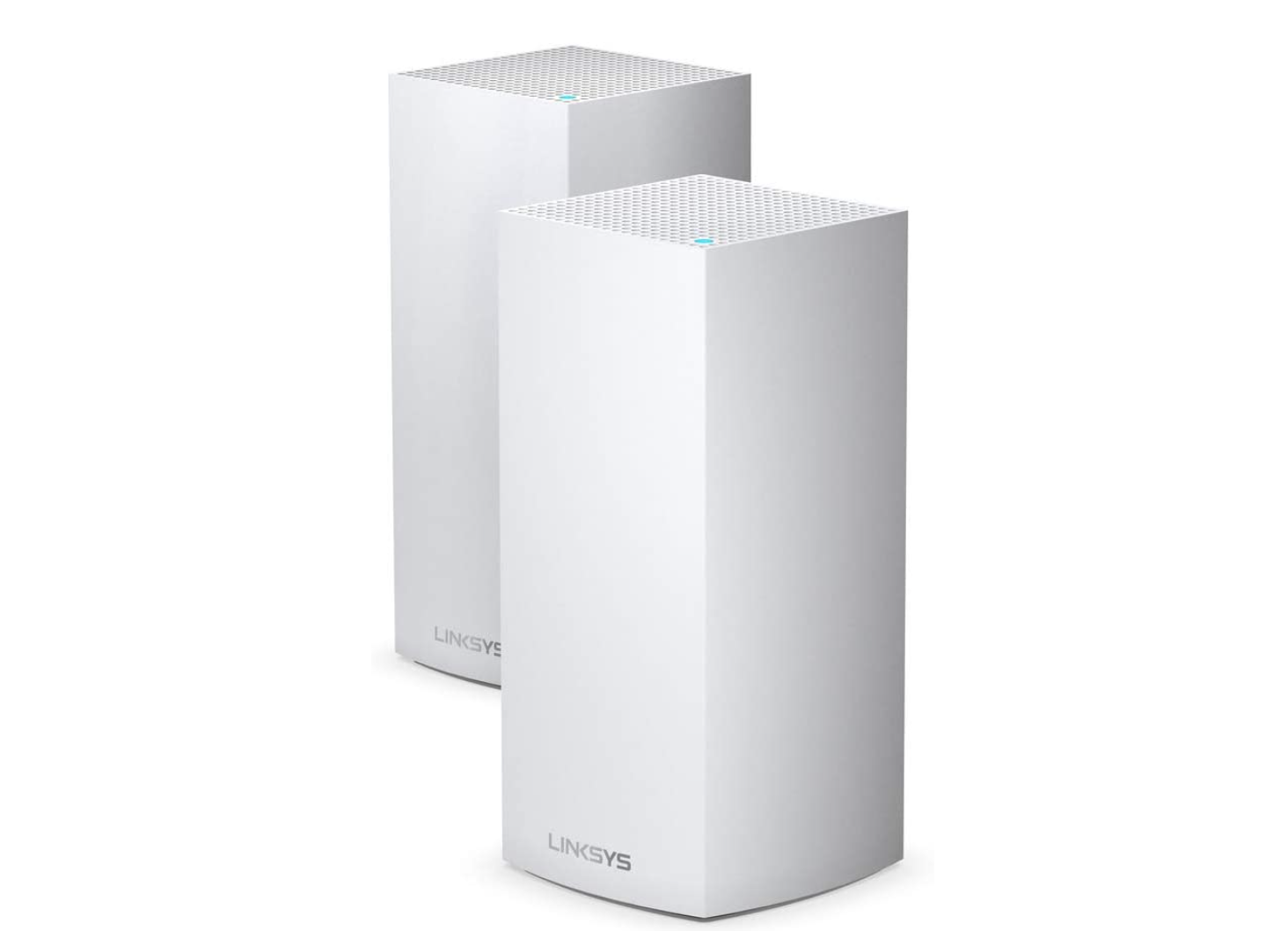 With more people in your area, or perhaps even your household, working at home during the day, your WiFi connection might appear weaker. This router can help to solve that. It offers bandwidth for more than 50 wireless devices and can cover homes up to 3,000 square feet. It offers six connectivity speeds up to 5.3 Gbps. Get it on Amazon for $400.
TP-Link AC1750 WiFi Extender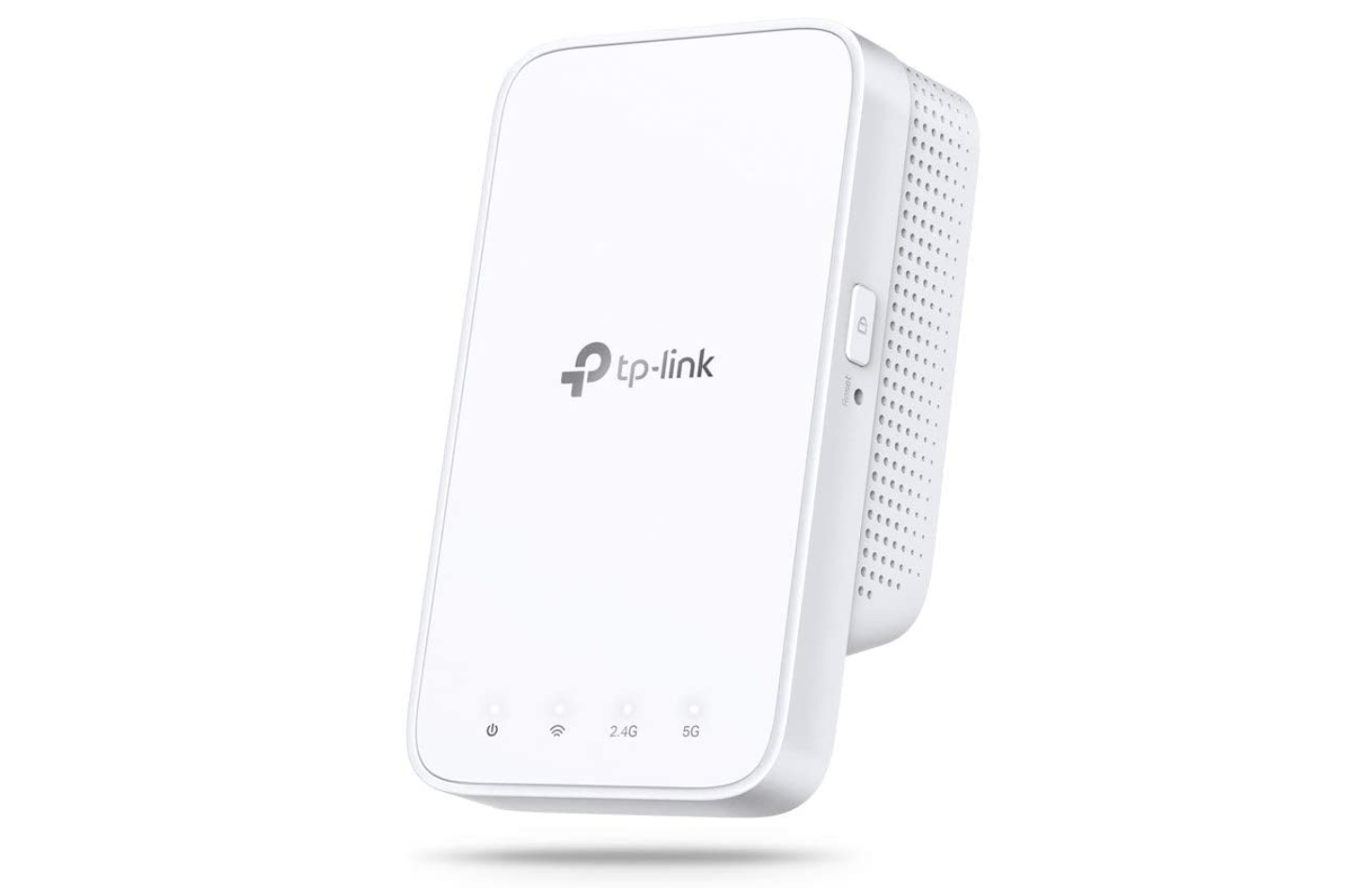 If your house has any WiFi dead spots, a WiFi extender is key for your home. It's compatible with any router, gateway, and access point. The device boosts your Wi-Fi coverage up to 2000 square feet. Note that this tool doesn't boost your WiFi signal, just simply extends its coverage. Get this WiFi extender on Amazon for $50.
Laptop Computer Pad & EMF Blocker Lapdesk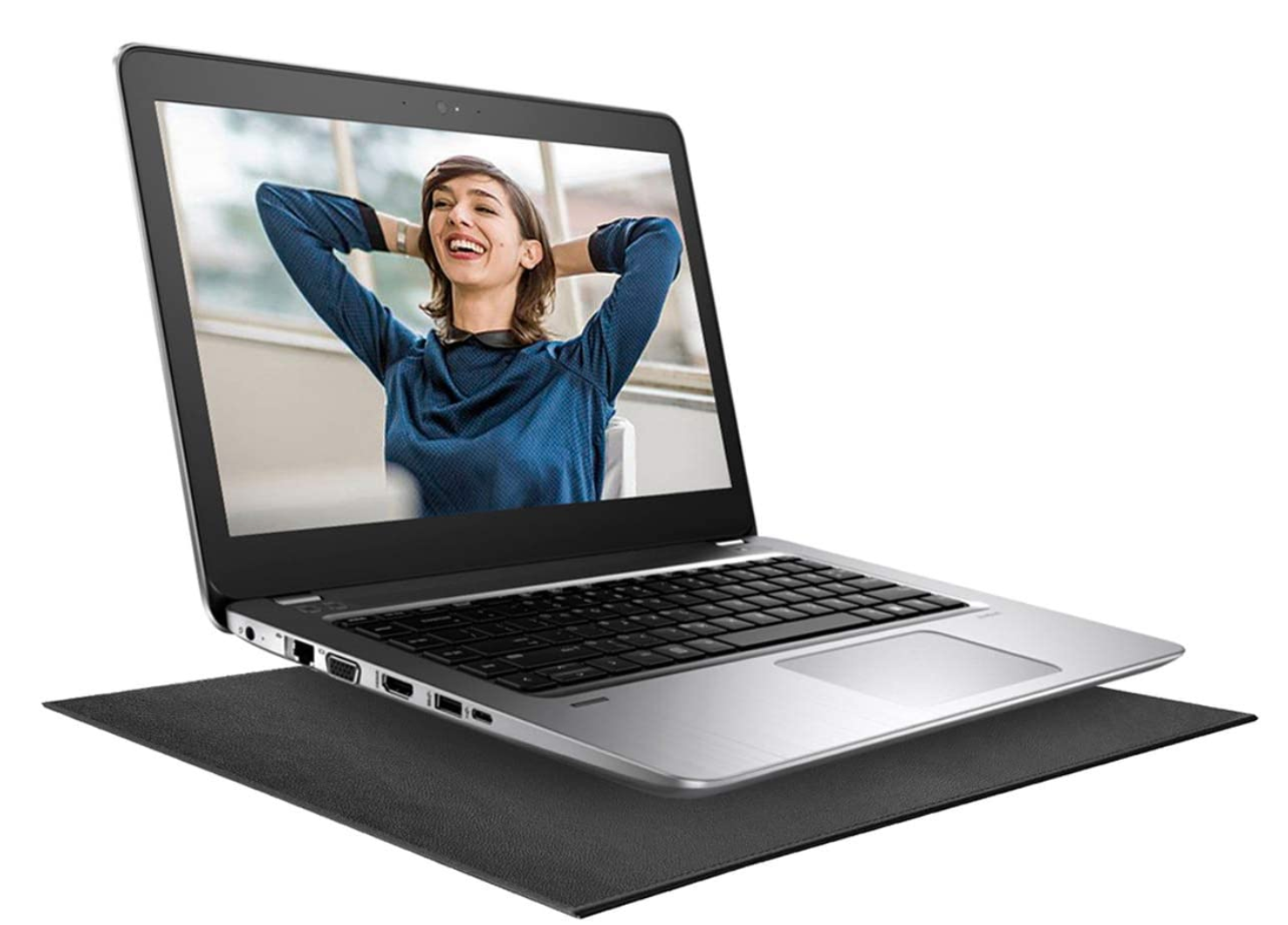 If you ever work after hours, the odds are that you likely bring your laptop with you on the couch. Overworking your laptop means it can heat up, while also releasing EMF radiation. This device has a double EMF anti-shield to keep you safe. It's best for devices between 12 and 16 inches and works with Macbooks and PCs. Get it from Amazon for $45.
Lepow 15.6 Inch Portable Monitor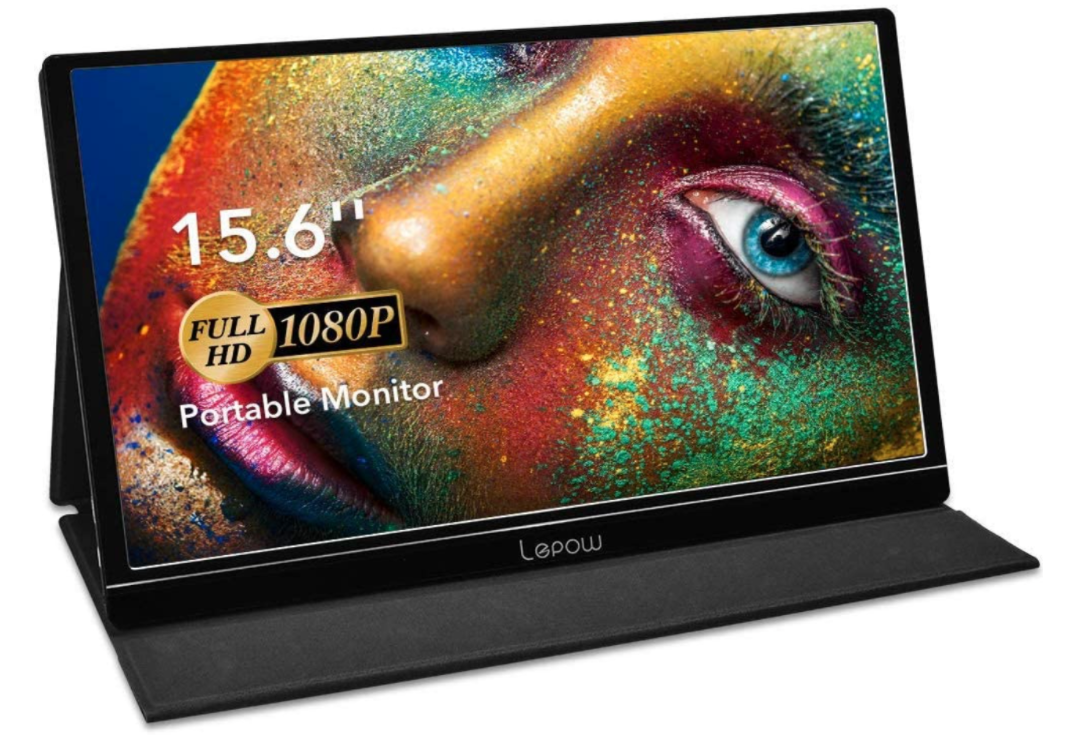 Working remotely but not always from home? Consider a portable monitor. This model can connect to a PC, Mac, or even a smartphone. It's a lightweight monitor, meaning it's easy to bring to whichever location you work from. You can even adjust it to display in landscape or portrait mode. Get it for $189 from Amazon.
USB Wall Charger and Surge Protector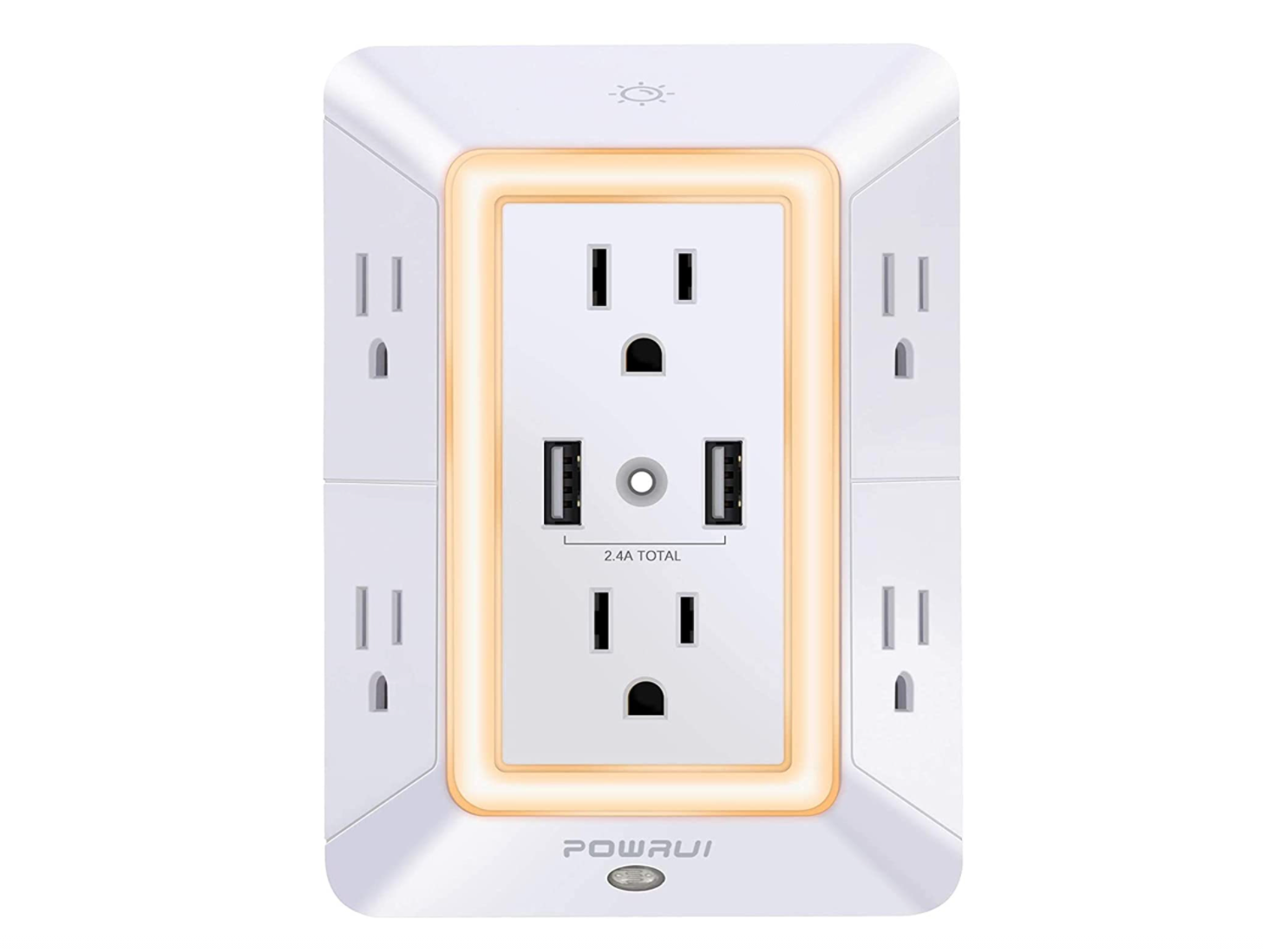 This is a sleek and affordable option compared to a traditional surge protector. These items are a necessity for any workspace, as you likely need to power many items throughout the day.
It plugs directly into the outlet and offers a unique three-sided design, allowing you to save space in your home office. It even comes with a smart night light, coming on when ambient life is inefficient for your space. This device is available on Amazon for $20.
World's Smallest Vacuum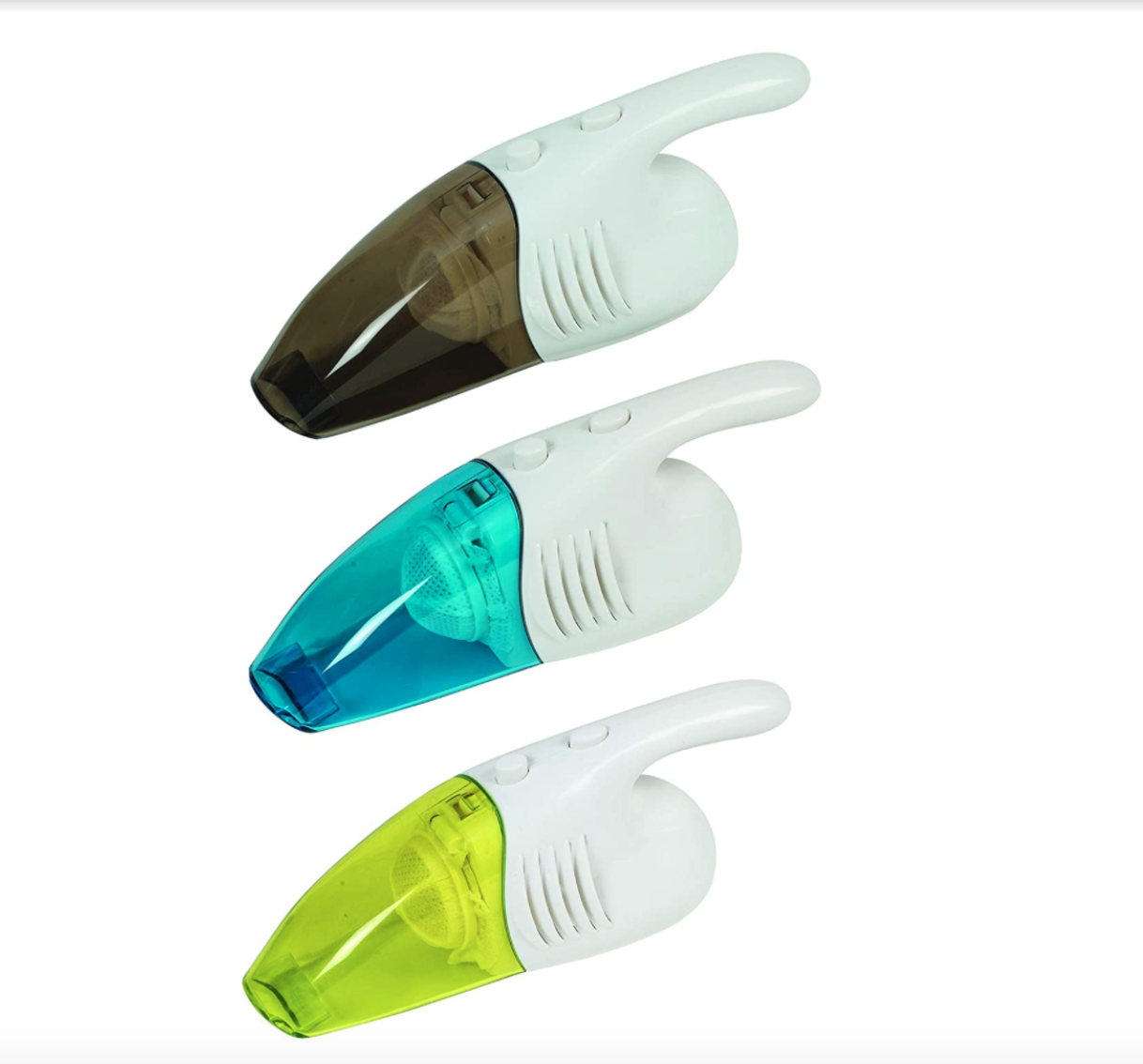 If you were previously working in an office, odds are that your building had cleaning crews look after each suite in the building. Now that you're working from home, you're responsible for keeping your own space clean. This USB-powered vacuum is small enough to clean any dust, crumbs, or pet hair that gets in even the smallest nooks and crannies of your desk. Get it on Amazon for $19.77.
Mobile Hotspot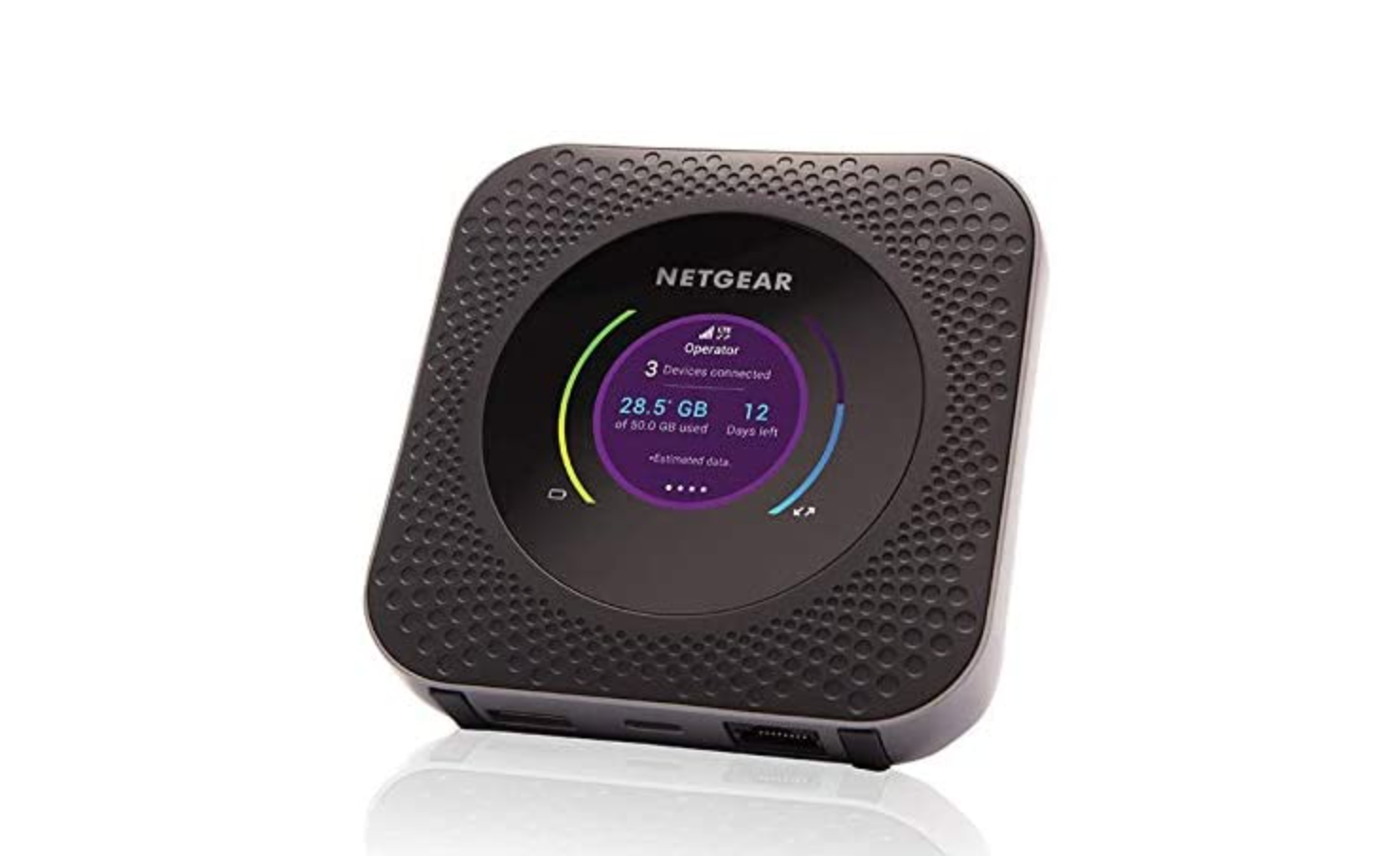 When you work from home, your day revolves around your internet connection. But as we all know, internet outages happen. But you don't have to let that ruin your day. This device creates a strong mobile hotspot to ensure you have a backup in those situations. That way, you won't miss a beat when collaborating with coworkers. Get it on Amazon for $296.75.
Lamicall Tablet Holder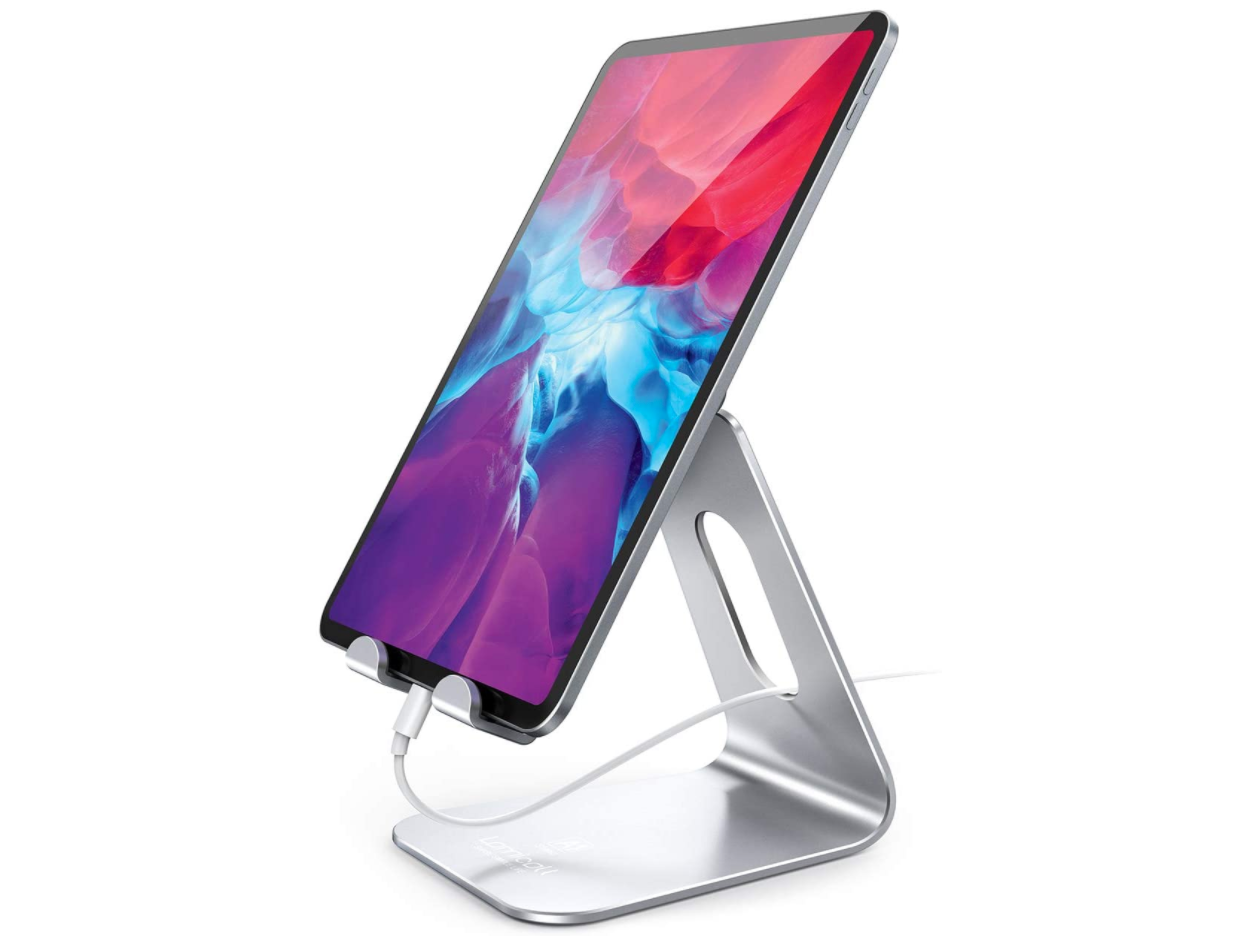 Your computer likely isn't the only device you need handy during the workday. The tablet holder allows you to have those devices handy and let you look at them without straining your neck.
It's compatible with tablets that are between 4-13 inches, such as the iPad Air Mini Pro and other iOS devices. The tablet holder allows you to charge your device while it's propped up. It's perfect for hands-free video conference calls. Get it on Amazon for $18.
Modern Folding Desk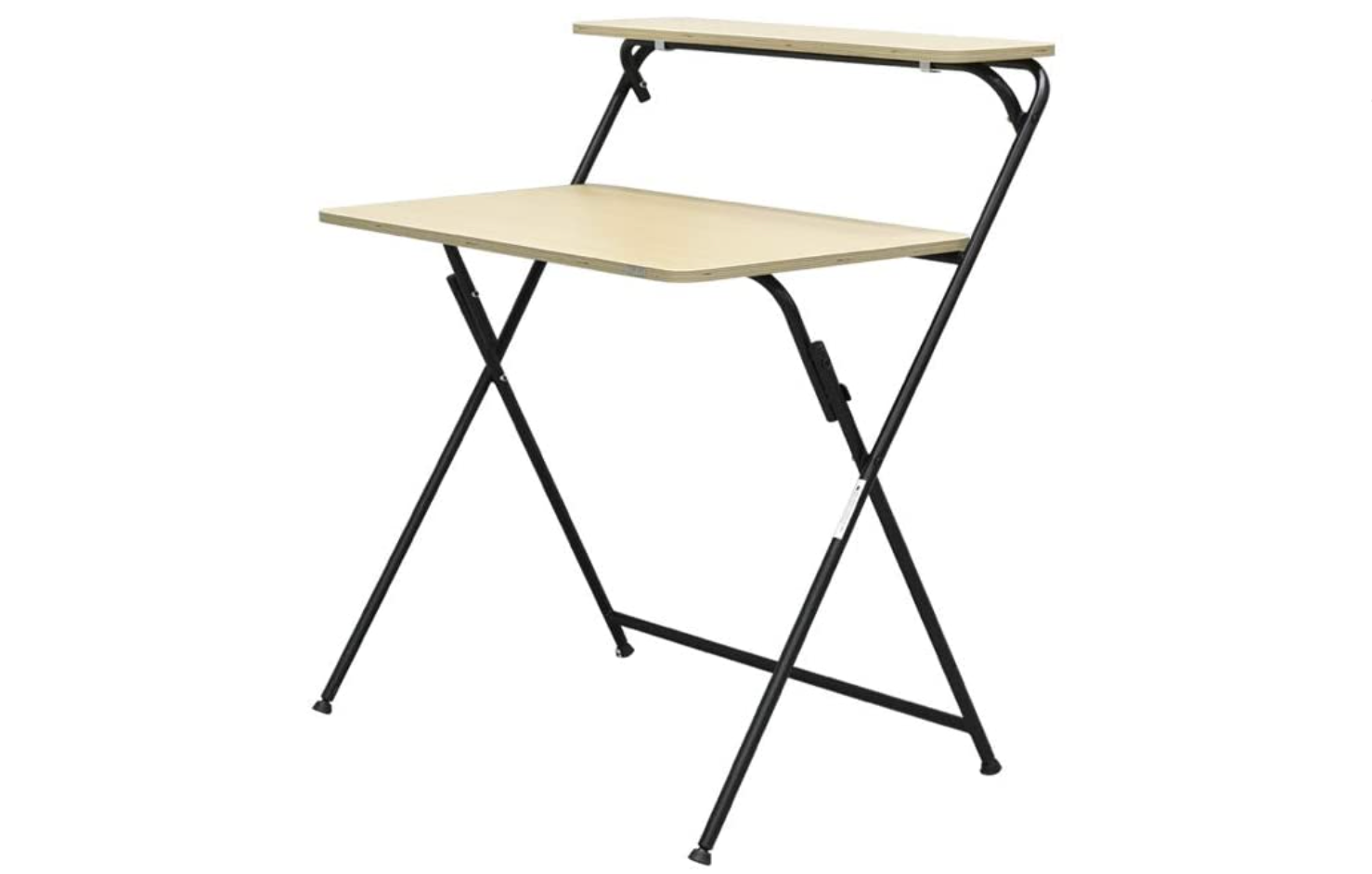 Not everyone has the room for a full desk in their home. But some kind of desk is better than working on your bed or couch, right? This small folding desk gives you enough room to set your laptop and even a mouse on it. When you're done for the day, you can fold it up and store it away, to give yourself that space back. Get it on Amazon for $90.
Folding Portable Standing Desk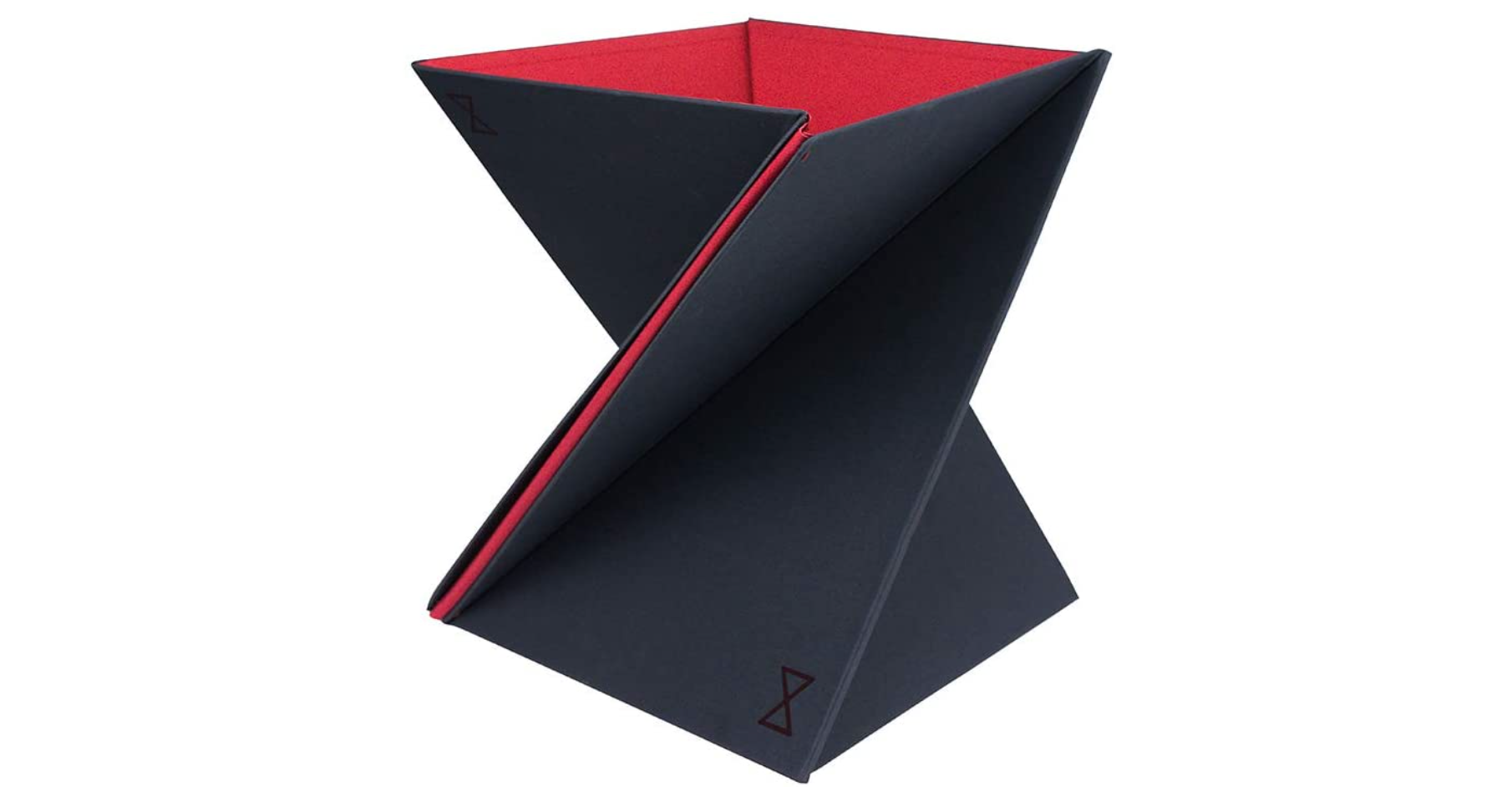 Standing desks are proven to provide users with a multitude of benefits, so this desk can allow you to take care of your health and your work all in one. You can easily meet your health goals with this standing desk. Healthline states, "…when compared to an afternoon of sedentary work, an equal amount of time spent standing has been shown to burn over 170 additional calories." It's thin and folds up flat, but can hold up to 20x its weight. It's available on Amazon for $28.
Health and Wellness Gadgets & Accessories
Blurring the lines between the office and home has been a challenge for many this year. These items will help to keep you physically and mentally in shape all day long. Getting a little movement throughout the day promotes a healthy blood flow and circulation, and taking breaks throughout the day will make sure you are more focused and productive at home.
ComfiLife Gel Enhanced Seat Cushion
If you'd prefer to update your existing chair instead of spending the money on a new one, consider a memory foam seat cushion. This item supports your tailbone and relieves pressure as you sit all day long. It also provides relief for lower back pain and sciatica. You can even use this cushion for driving after the workday is through. Get it on Amazon for $22.64.
Gugusure Lumbar Support Pillow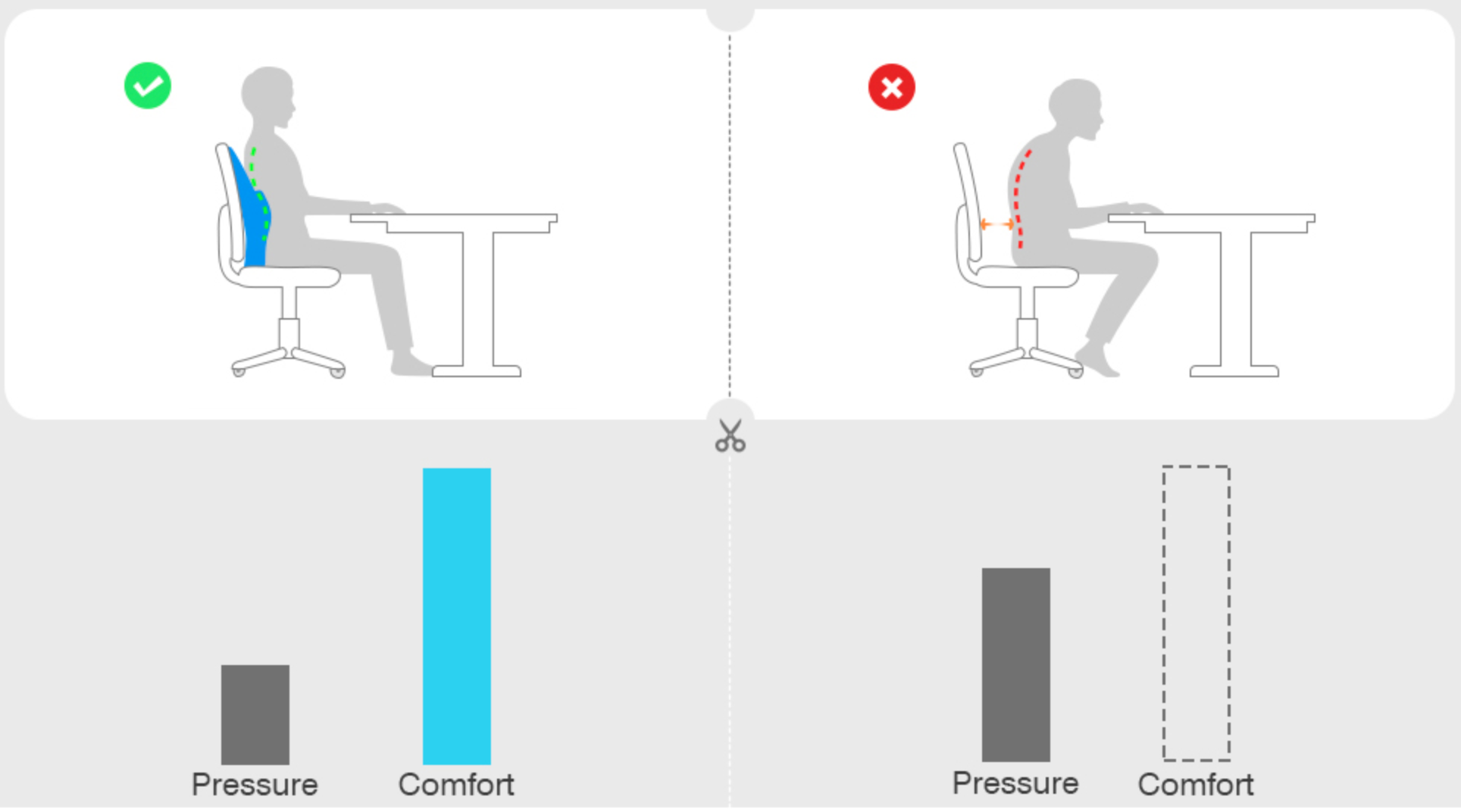 Back support is necessary for a long workday as well and the pillow's shape fits perfectly into your lower back. The curve of the pillow corrects the hunched over position you may have while looking at your computer. Using the back support is also shown to release the stress you may be holding in your back. Get it on Amazon for $23.
Back and Neck Massager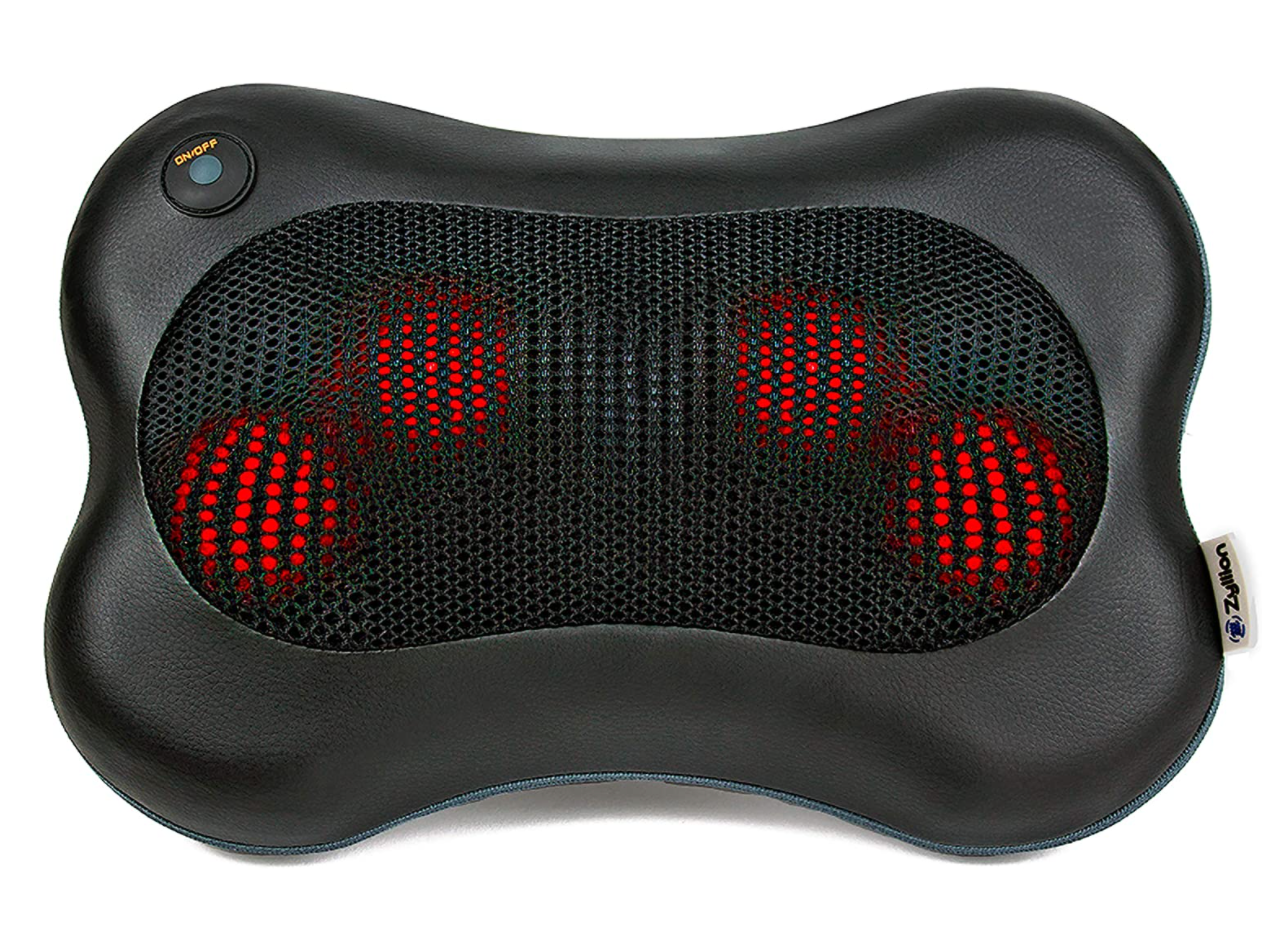 If you don't have space for an ideal home office set up, you may find yourself sore at the end of the work day. Being hunched over in a chair or on the couch puts a lot of strain on your neck and back. Well, spend a little time with this massager each night, and you'll be good as new for the next day. Get it from Amazon for $60.
Desk Fan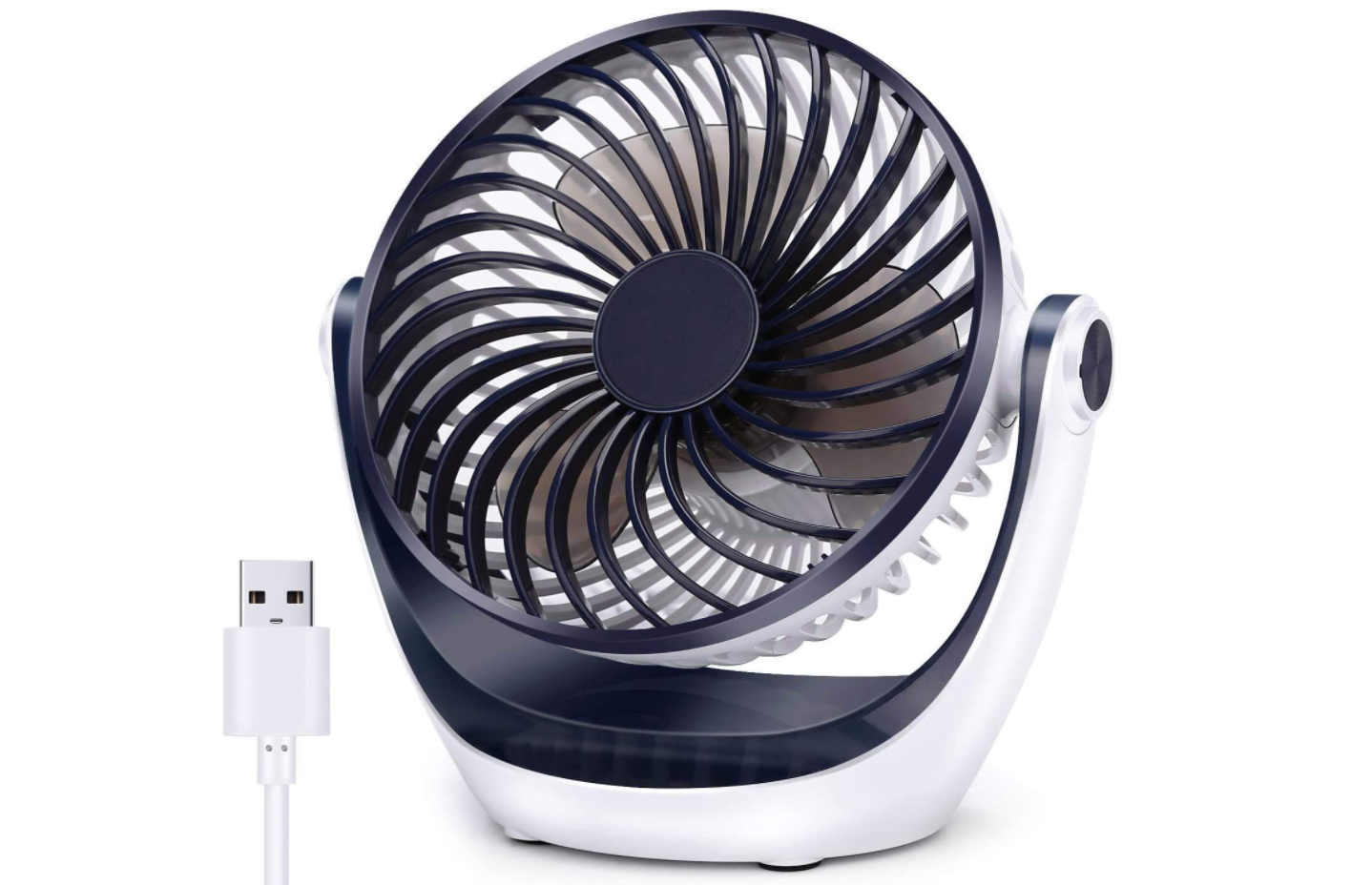 When you have no choice but to work from home, you have to make do with the space you have. If the only room you have gets a little too warm, it may be hard to stay productive for a full workday. This fan is USB-powered, so you can plug it right into your computer. Get it on Amazon for $12.
Balance Ball Chair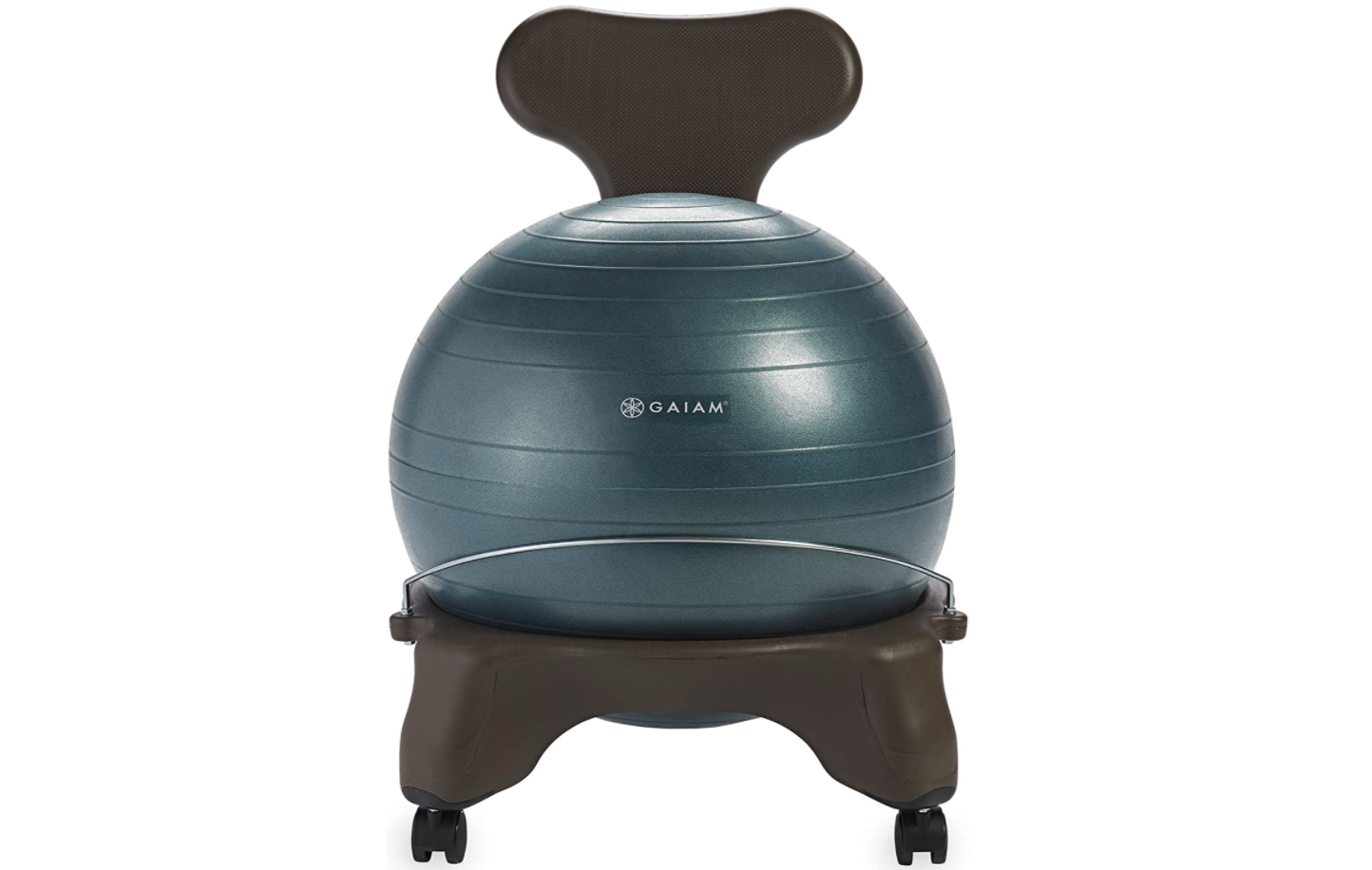 These days, the best exercise you can get is that you can do while simultaneously working. Occasionally swapping out your normal office chair for this balance ball chair will help your posture and strengthen your core. Note that it's only recommended to use this chair 20 minutes at a time — but the benefits are worth it. Get it on Amazon for $70.
Strongtek Anti-Fatigue Balance Board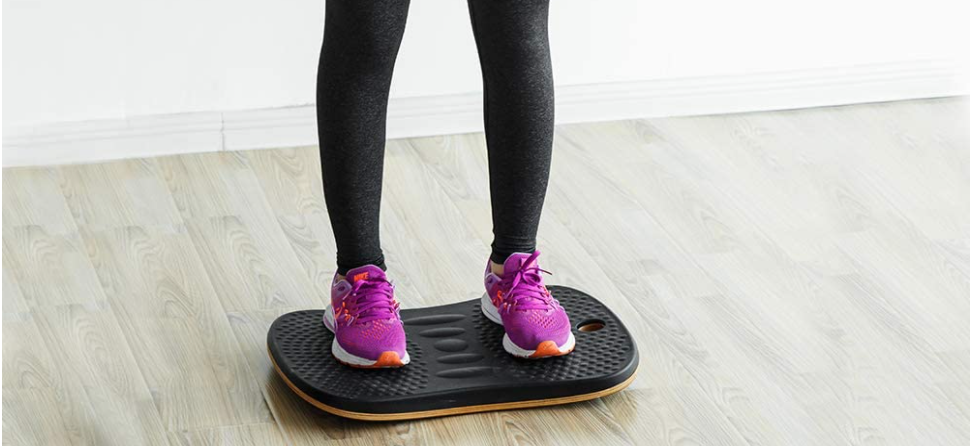 Just as many people are working from home these days, a lot of people are bringing the gym to their living rooms as well. A few devices out there allow you to get a little exercise while you work. The  Strongtek Anti-Fatigue Balance Board allows you to work your core and helps to keep you awake during the afternoon slump. Get it on Amazon for $63.
Mind Reader Work Cycle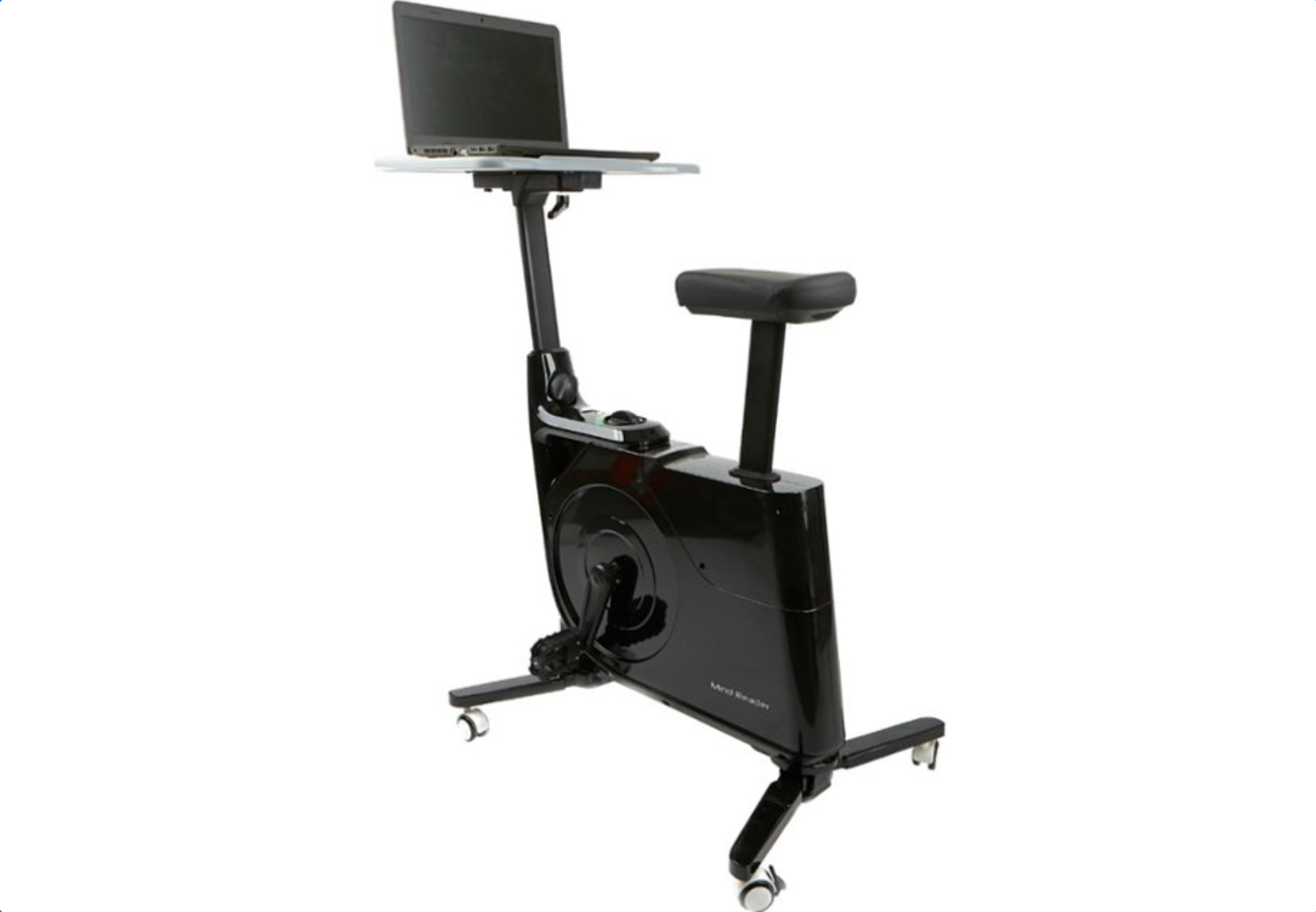 If your commitment to exercise is just as strong as your work ethic, consider the Mind Reader Work Cycle. It's a stationary bike with a platform near the handlebars, allowing you to cycle and type at the same time. It's designed to keep your comfort in mind. Not to mention, it's surprisingly easy to type and pedal at the same time. Get it at Best Buy for $300.
Under-Desk Pedal Exerciser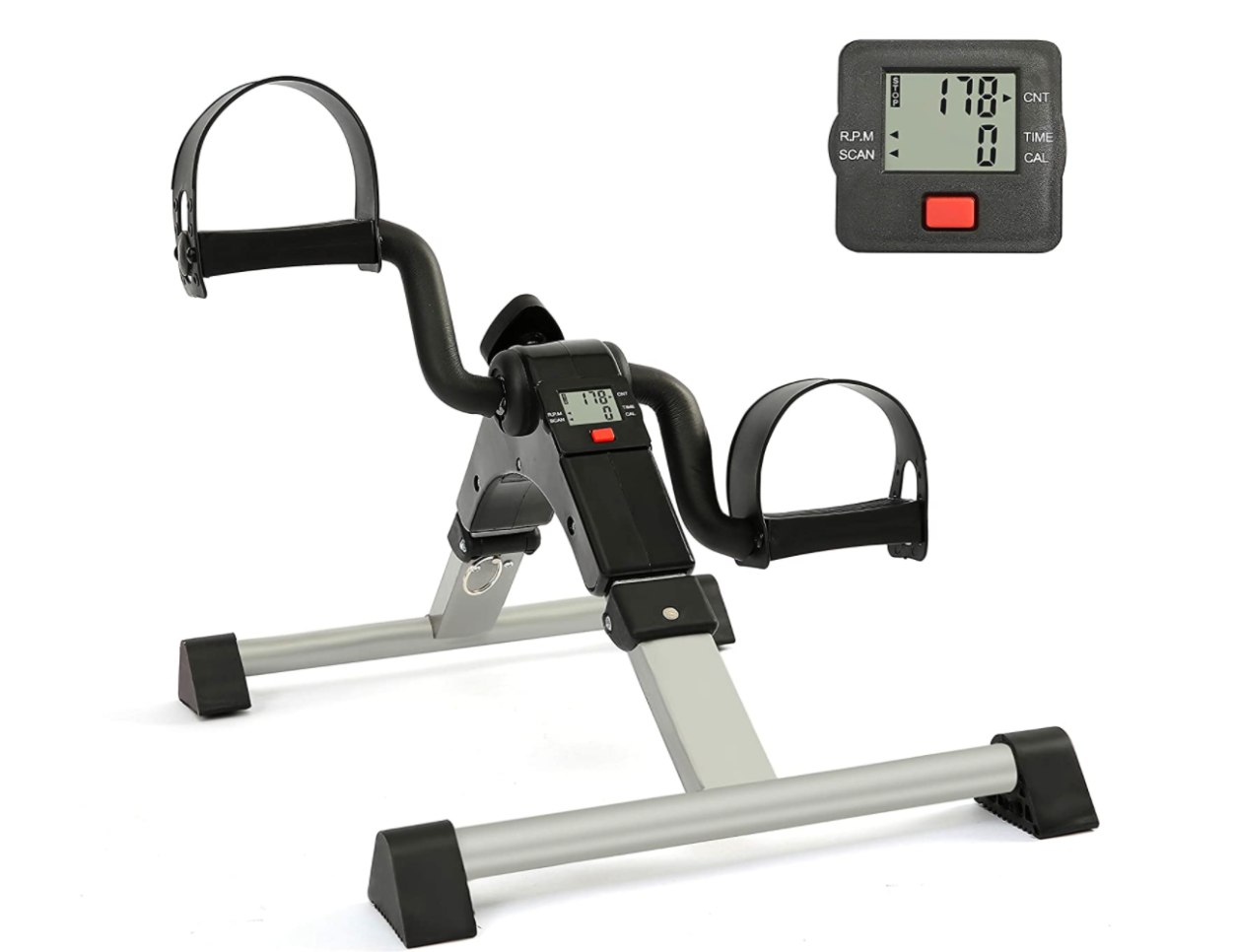 If you like the idea of the mind reader bike but aren't willing to commit to the hefty price tag, consider this alternative. Stick it under your desk and use its strap to secure the exerciser to your chair. After that, you can pedal away. You can even adjust the tension to get more of a workout in. Get it on Amazon for $36.
Everlasting Comfort Office Foot Rest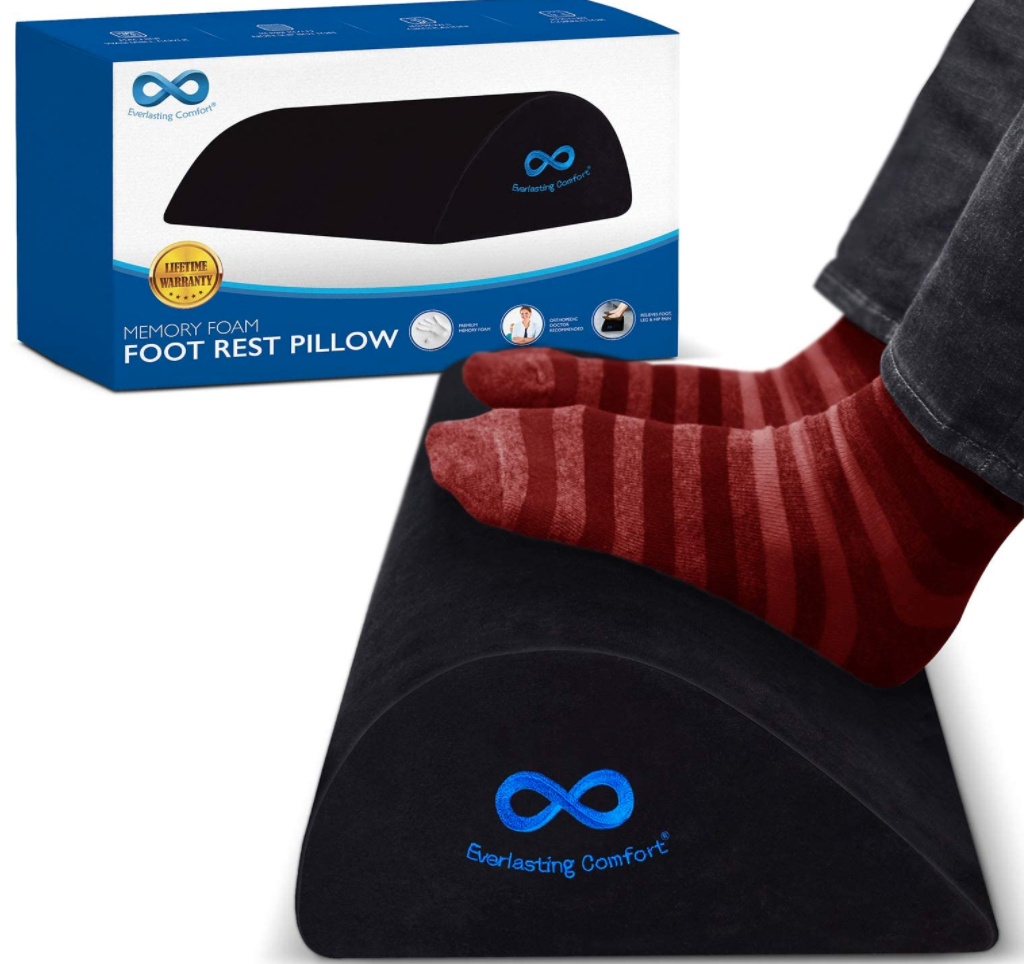 Even if you aren't working out during the day, your legs may still get sore from sitting at your desk all day. This footrest will allow you to stretch your legs from your desk chair without missing a beat. The teardrop design keeps you comfortable while helping to improve your posture. The memory foam will contour to the specific shape of your feet as well. Get it on Amazon for $25.45.
Posture Corrector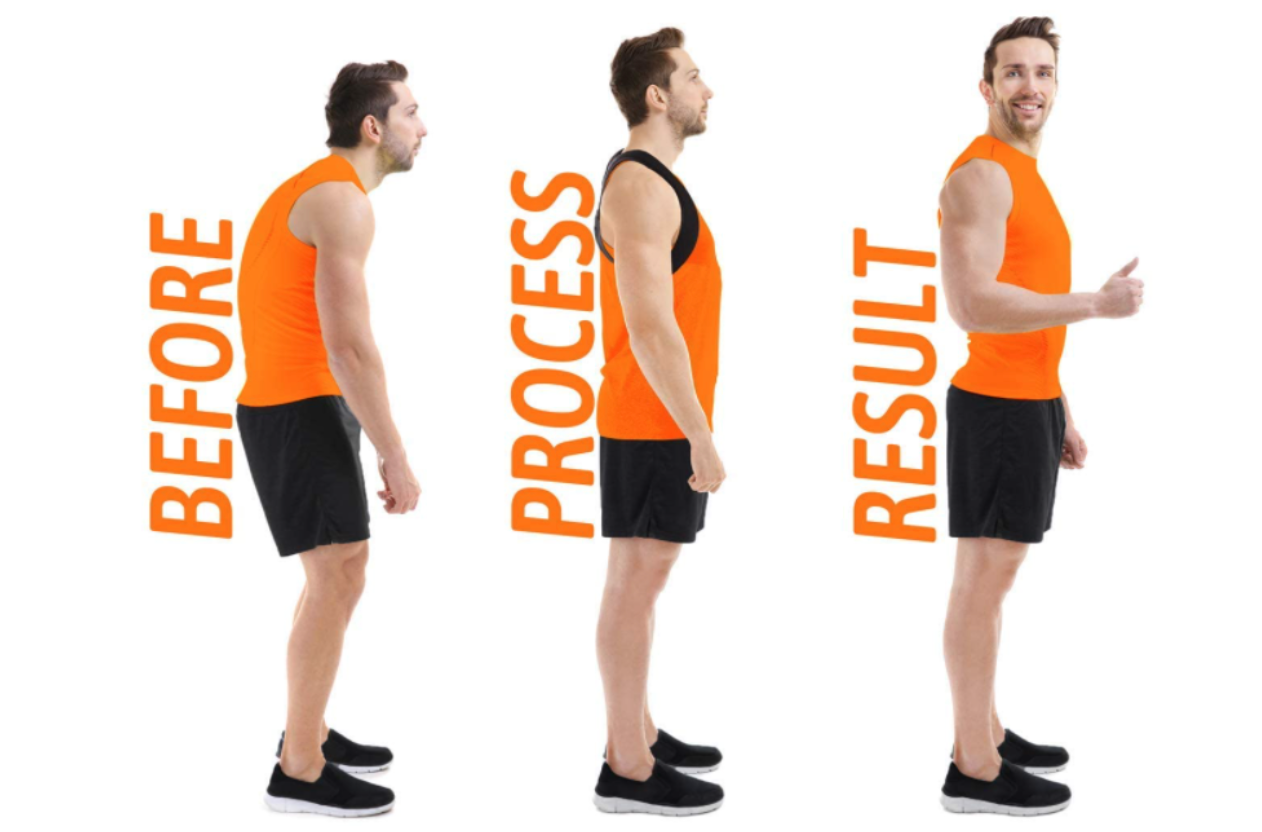 Many people find themselves unintentionally slouching in their office chairs during the day. This brace helps to correct your posture, ensuring you don't end your workday with a sore back. Put it on, adjust the straps, and regulate the tension and you'll automatically see improved posture. Get it on Amazon for $19.
Water Bottle with Motivational Time Marker Reminder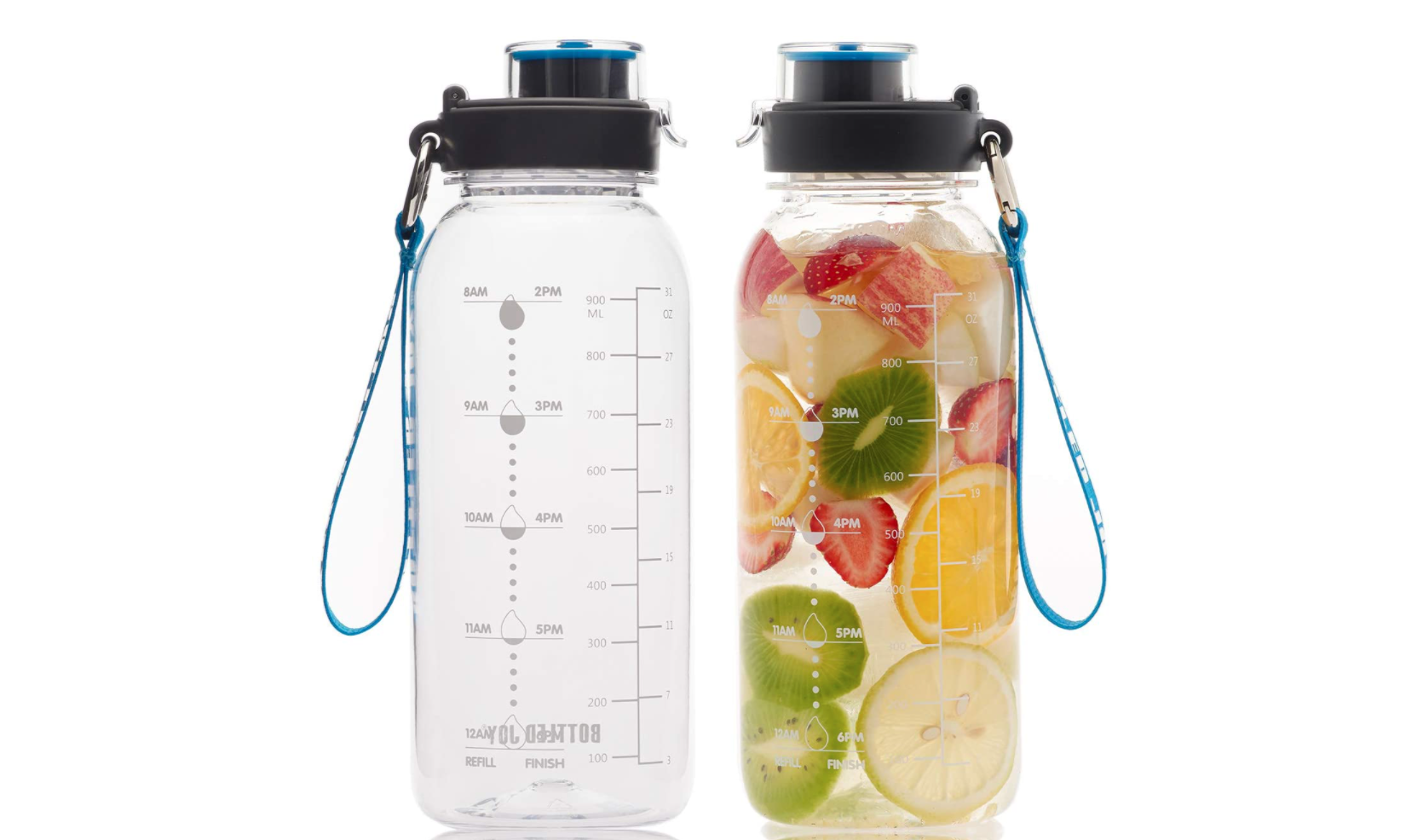 When you get into a groove with your workload, it's easy to forget to stay hydrated. But this 32-ounce water bottle will help you to remember to do so. Just fill it up at the beginning of your day and take a look at the easy-to-ready tracker to see how much water you should be drinking at that point of the day. Since it's recommended to get 64 ounces of water a day, just make sure to refill your bottle half-way through the day, and you'll be more hydrated than ever. Get it on Amazon for $10.
Portable Mini Humidifier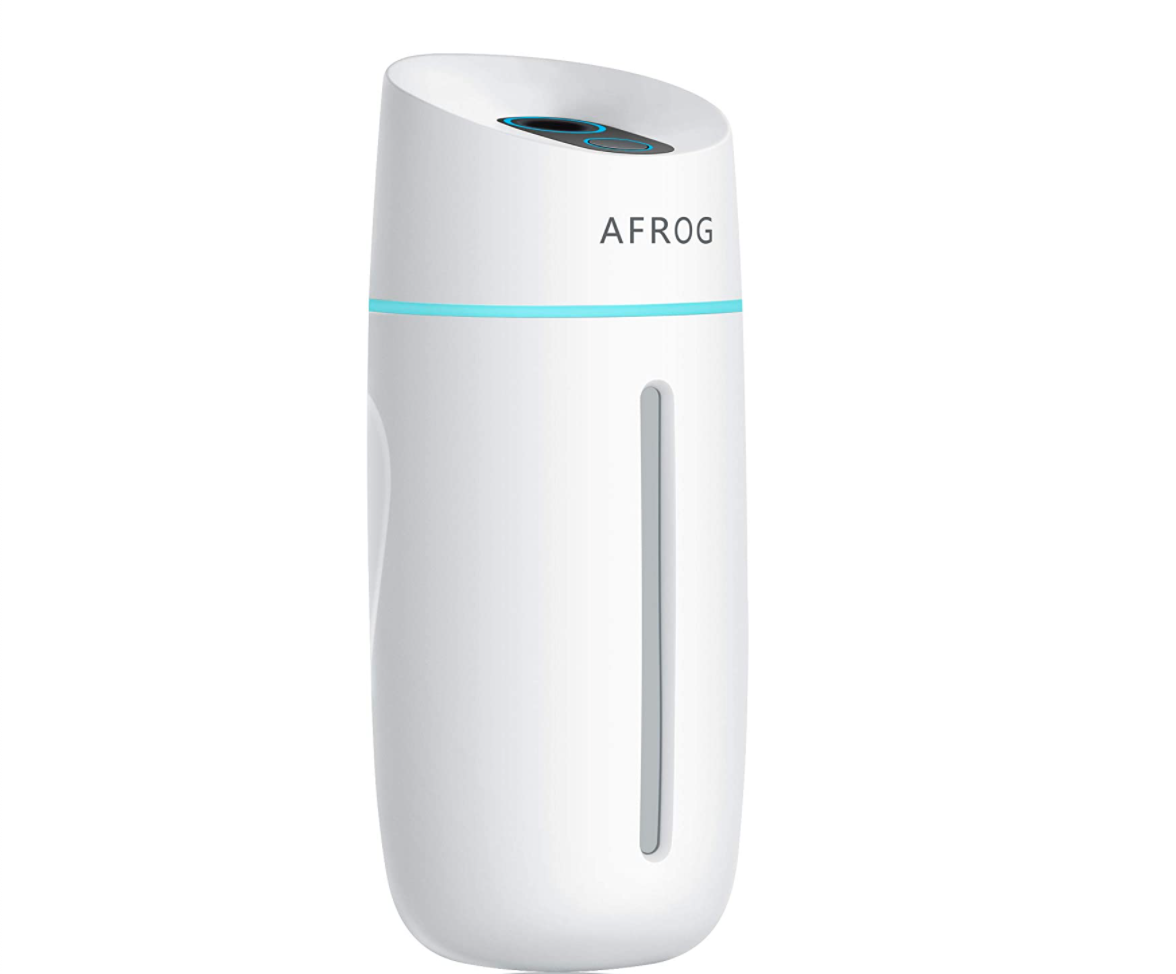 As we move into the winter months, many people will begin to experience cold and dry air. That can lead to uncomfortable scratchy throats. This mini humidifier will help to keep the air moist and allow you to stay comfortable while you work. It continuously sprays for up to 5 hours and you can just plug a cord into a USB cord to charge it. Get it on Amazon for $20.
Succulents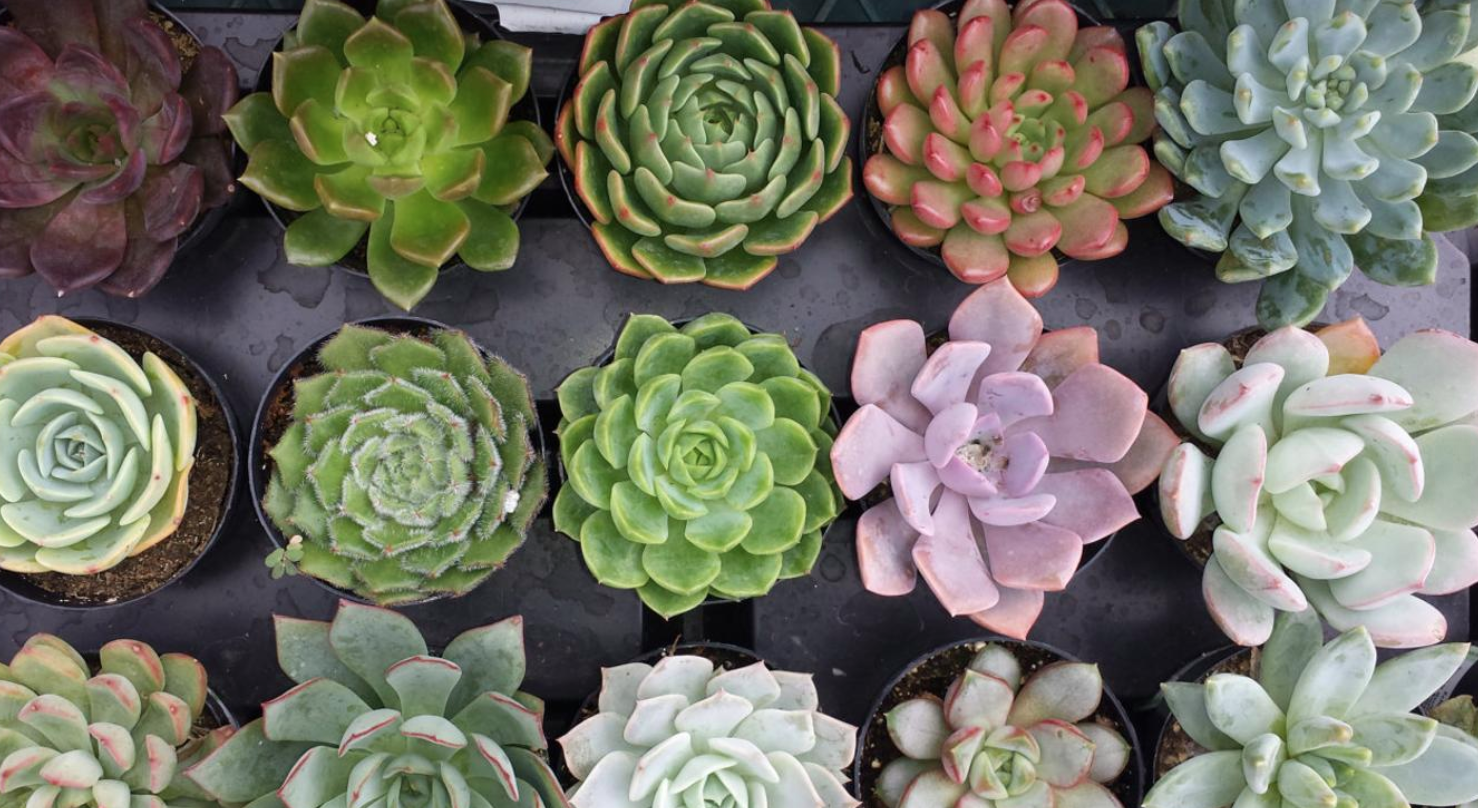 Studies show that having plants in the office is a mood booster. The beauty of getting plants is that you can get them in a multitude of sizes. But if you don't have the room for a large plant in the corner of your office, consider this four-pack of succulents to put on your desk. Get yours on Etsy for $29.
Essential Oil Diffuser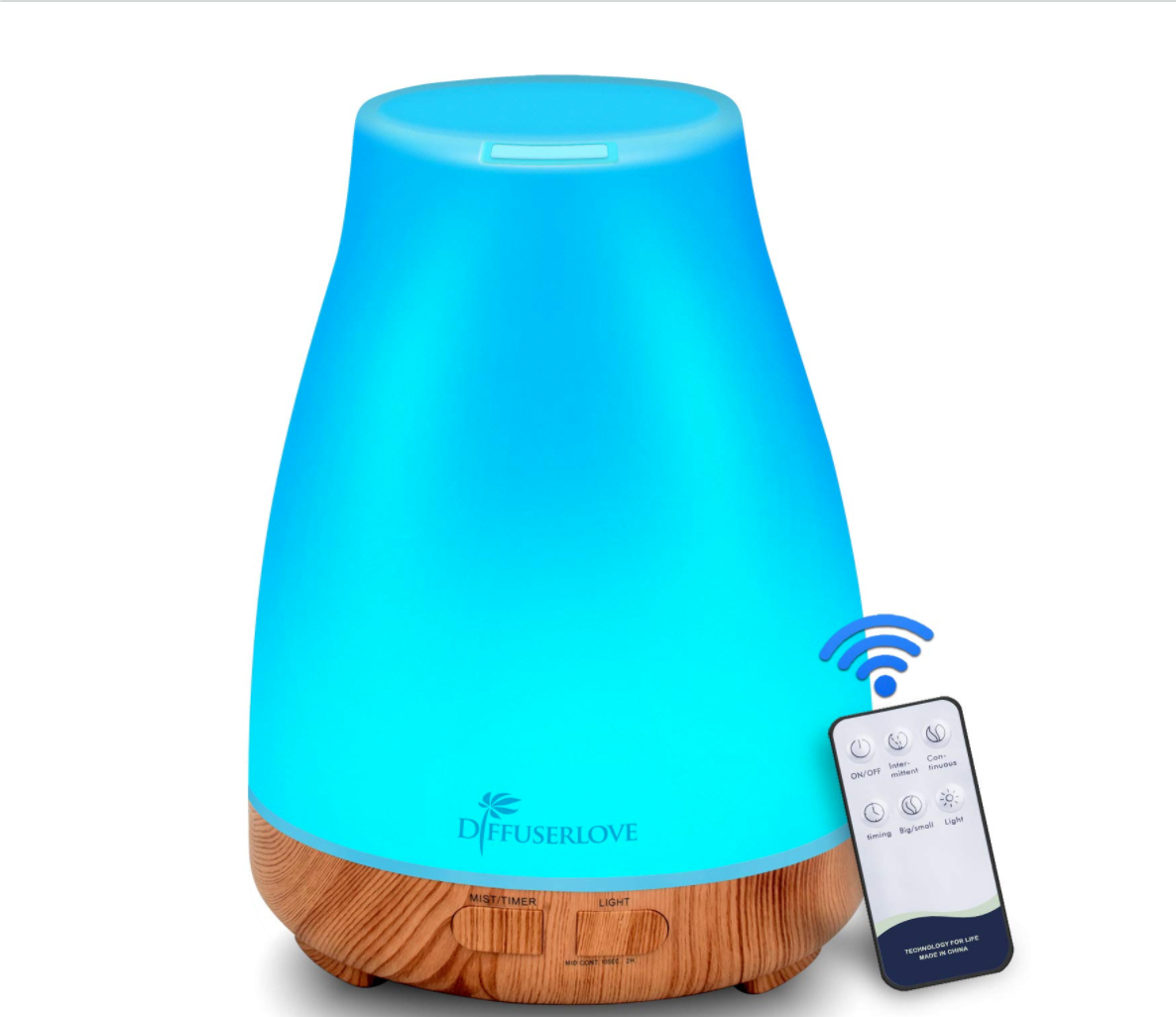 Feeling tired or stressed out? There's an essential oil for that. Essential oils are proven to help alter your moods in certain ways that can help you power through the workday. Just add water and essential oils to the diffuser and it will let out a mist. Note that this diffuser doesn't come with any essential oils, so you will need to purchase your own. But the diffuser itself costs $19 on Amazon.
Miscellaneous Gadgets & Accessories
From extra caffeine to a little sunlight, these unique gadgets will help you get through the workday in ways you didn't expect. You may have never considered them before, but soon you might not be able to work at home without these items.
Do Not Disturb Sign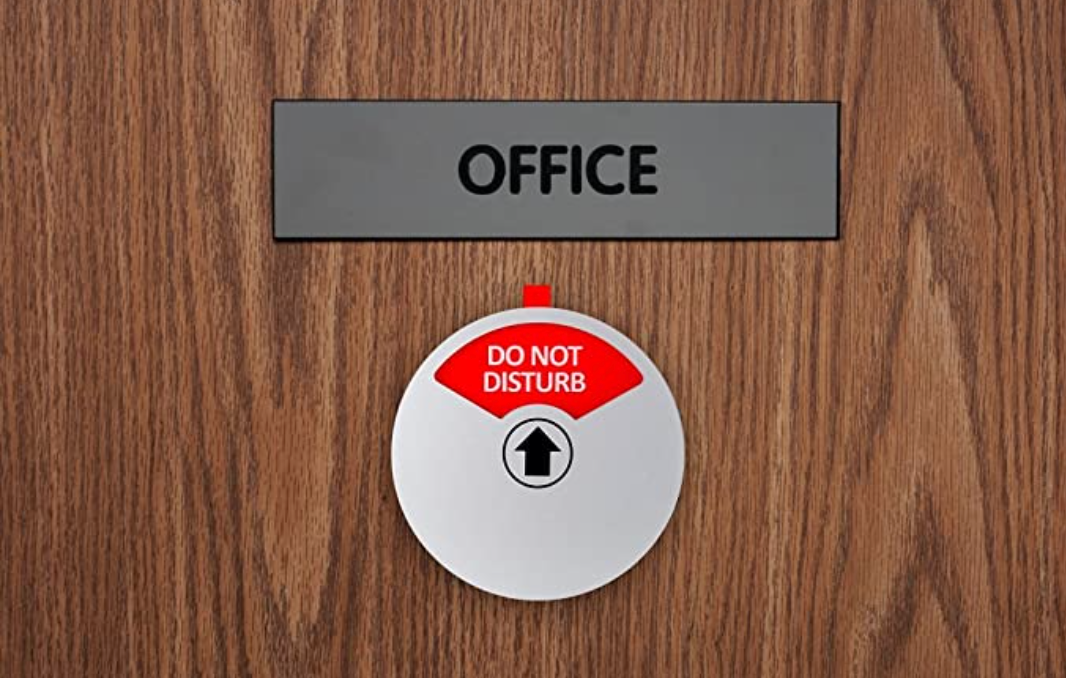 If you live with roommates or your family, you'll have multiple people going about their daily activities from home. Hanging this sign on the outside of your workspace to set boundaries with everyone else in your home. You can switch the sign to display, "Do Not Disturb," "Out of Office," or "Welcome Please Knock." Get it on Amazon for $10.95.
Verilux HappyLight UV-Free Therapy Lamp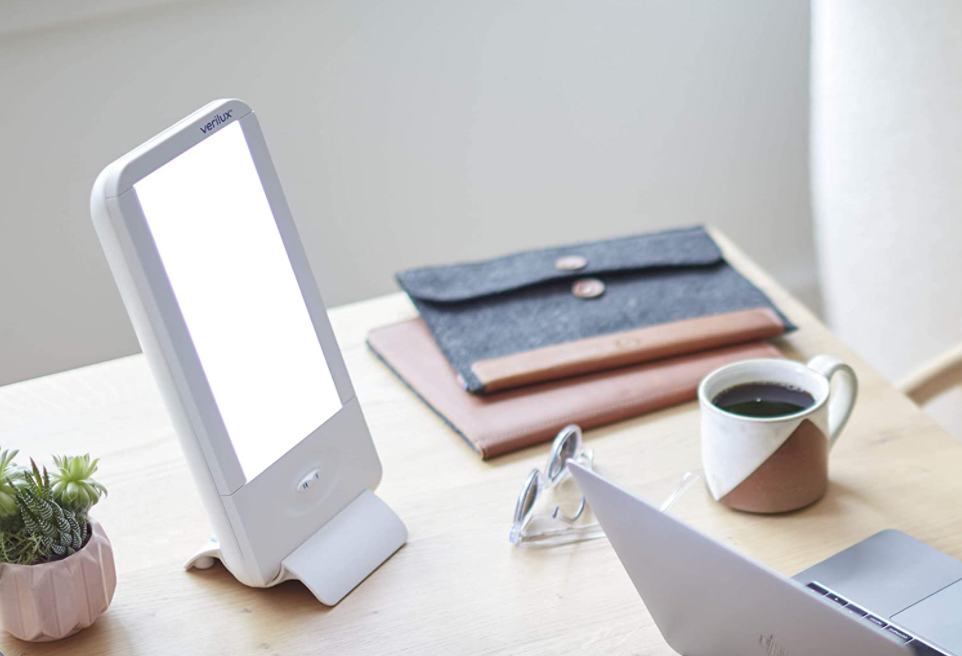 Working from home during the pandemic means that you're liking getting a lot less time outdoors these days. This desk lamp mimics natural light, helping to boost your mood, focus and energy. The lamp has multiple settings so you can get the perfect amount of light for you. Get it on Amazon for $60.
Ninja Hot and Cold Brew System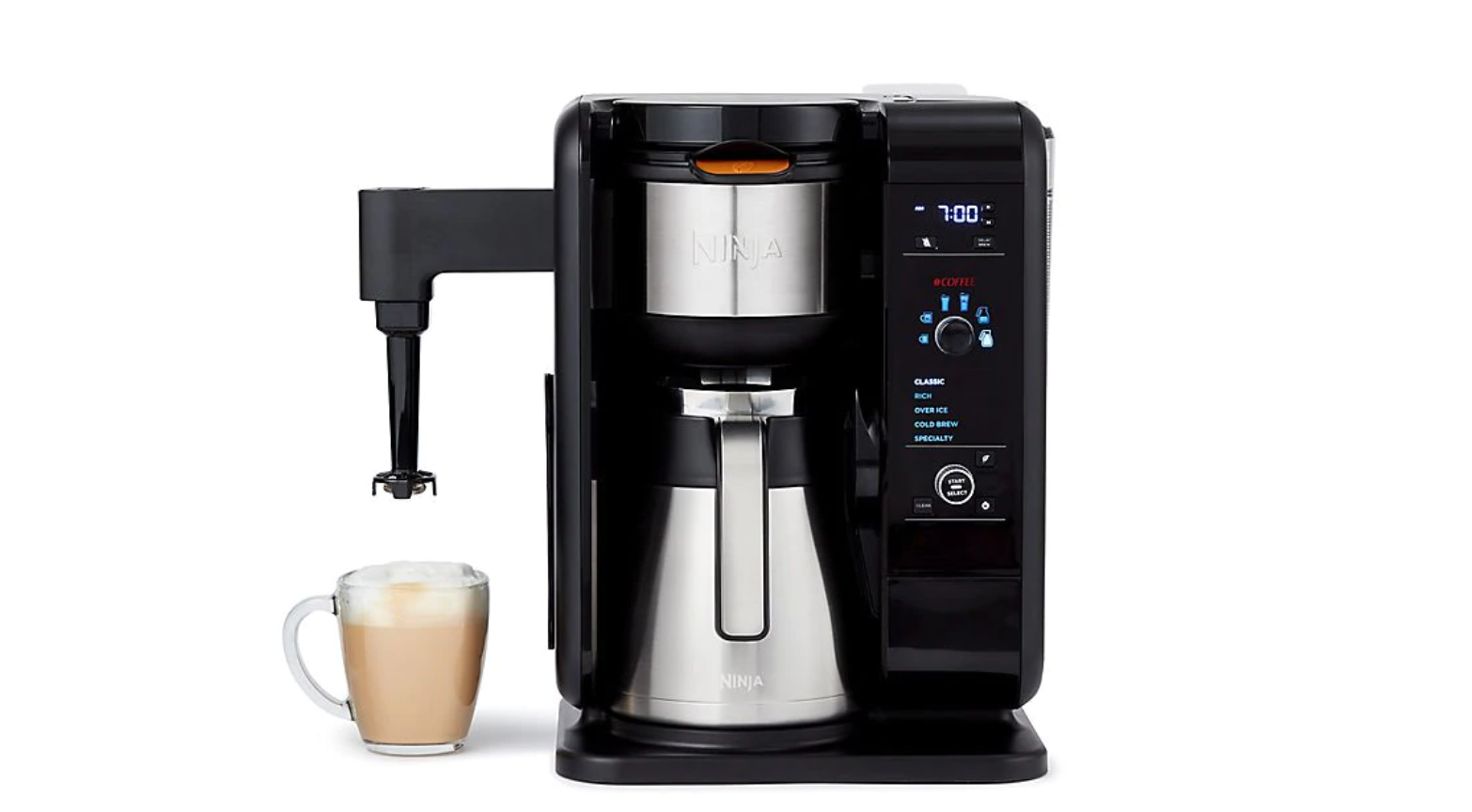 Long days at work call for a lot of caffeine. Many people are used to top-notch coffee being available in their office or the same building, but that's no longer an option for many. So, you'll have to bring the coffee to you. This coffee maker is definitely an investment, but it offers a vast array of coffee and tea options. It can even make both hot coffee and cold brew. Get it at Bed Bath & Beyond for $200.
YEAILIFE Coffee Cup Warmer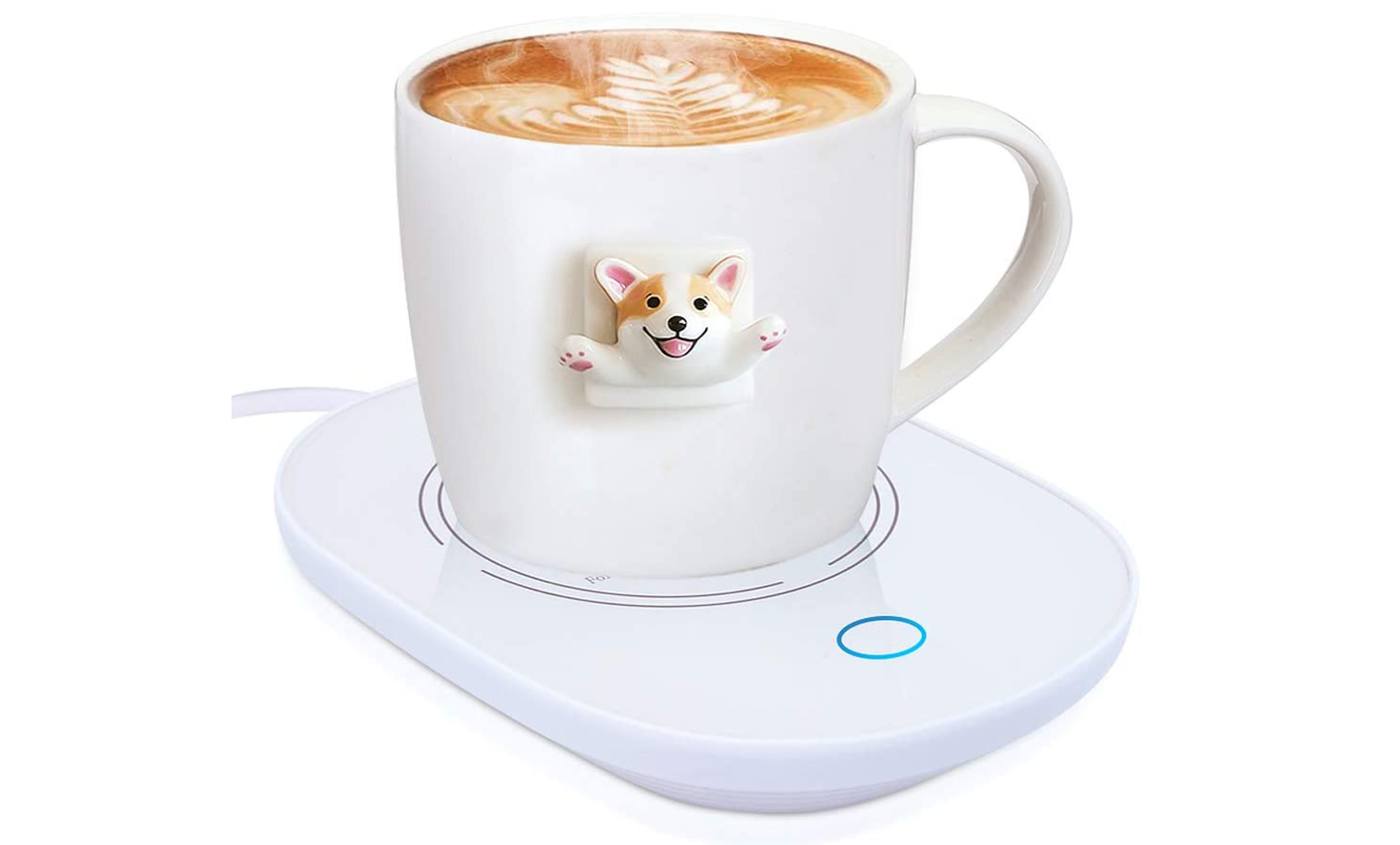 If you like the idea of the previously mentioned Ember cup but not its price tag, this is a cheaper option. It doesn't offer the precise warming technology that the smart mug does, but will still keep your drink consistently warm. Just plug it in and set your mug directly on top of it. This cup warmer even comes with an auto-shutoff functionality, just in case you forget about it. Get it on Amazon for $14.29.
Takeya Patented Deluxe Cold Brew Coffee Maker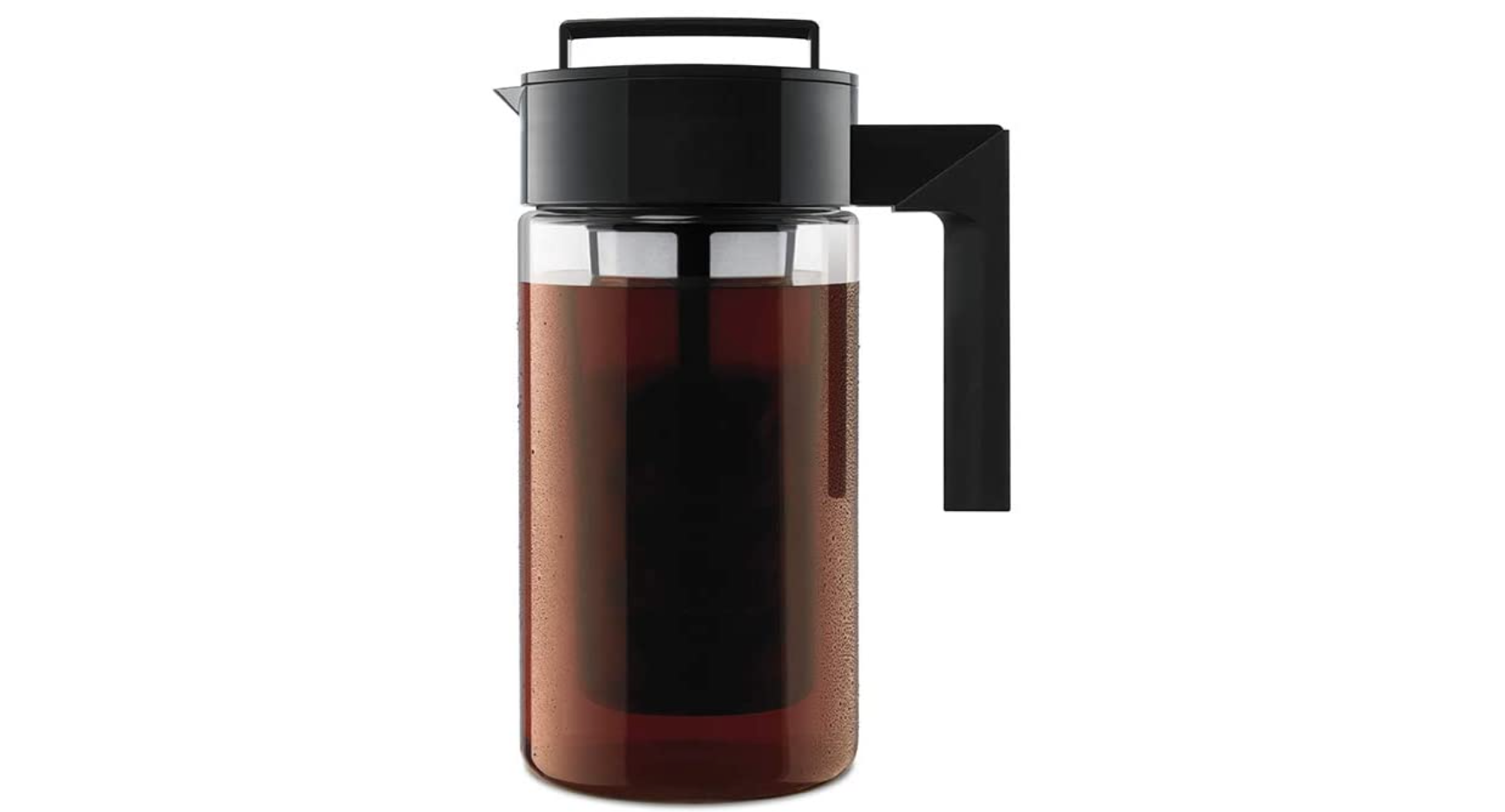 If you miss the cold brew coffee your office used to supply, this cold brew maker is a great second choice. Add the appropriate amount of coffee in the designated spot within the cold brew maker and fill it about 3/4 of the way up with filtered water. Shake it up and leave it in the fridge overnight — you'll have cold brew coffee in the morning. Get it on Amazon for $16.
Soundproofing Seal Strip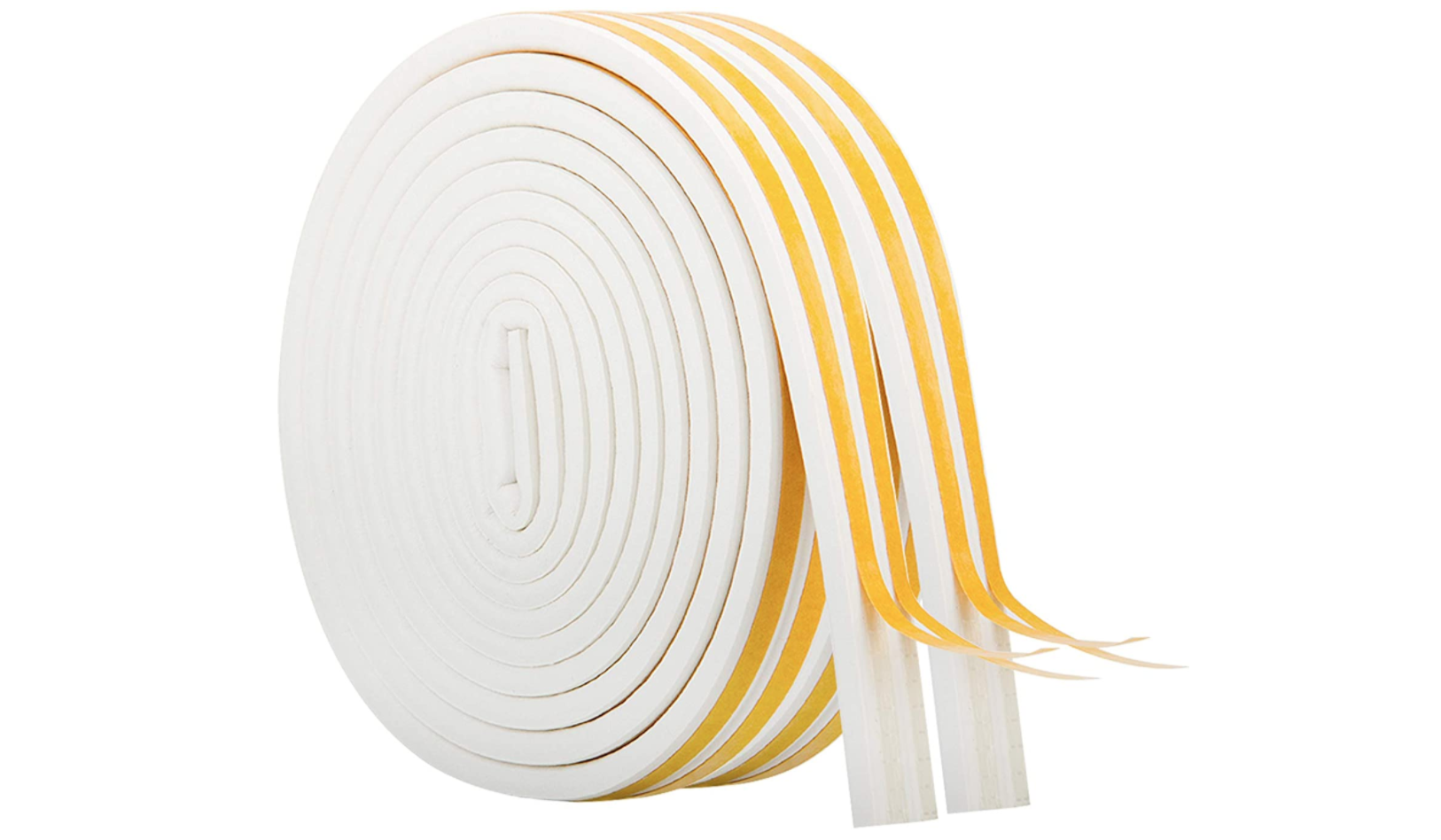 If you're dealing with multiple residents of your household working and doing school from home right now, noise-canceling headphones may not be enough. This adhesive weatherstrip can soundproof the room you work for. Just attach around your door frame and noise should significantly reduce. Get 33 feet worth of the adhesive strip on Amazon for just $9.
Selfie Ring Light with Tripod Stand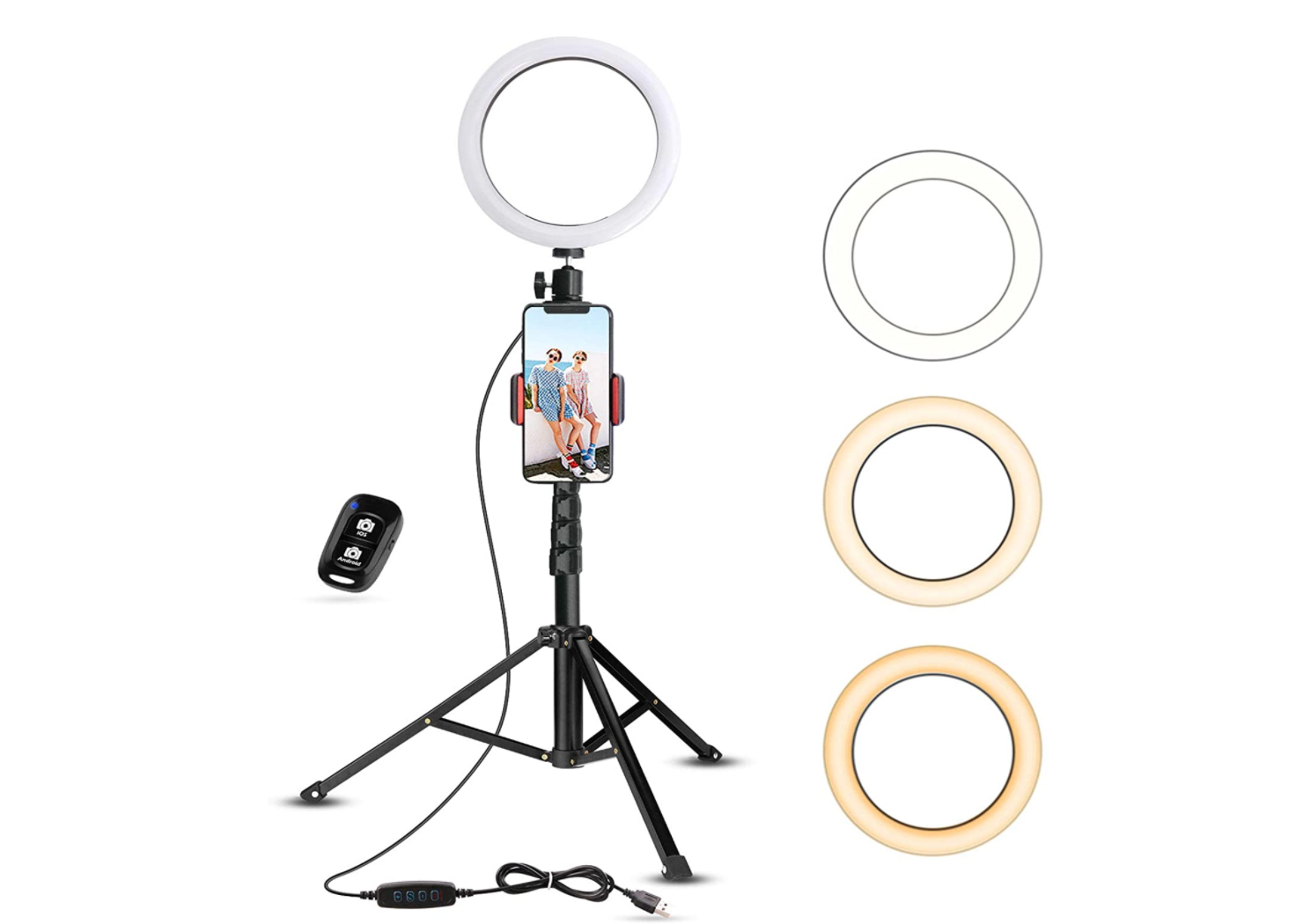 If you are on multiple Zoom meetings throughout the day and your home office has poor lighting, consider this selfie light. It offers 3 color lighting modes with each mode itself including 11 brightness levels. Adjust it however you need to ensure your coworkers don't have to squint to see you on camera during video calls. Get it on Amazon for $37
Cube Timer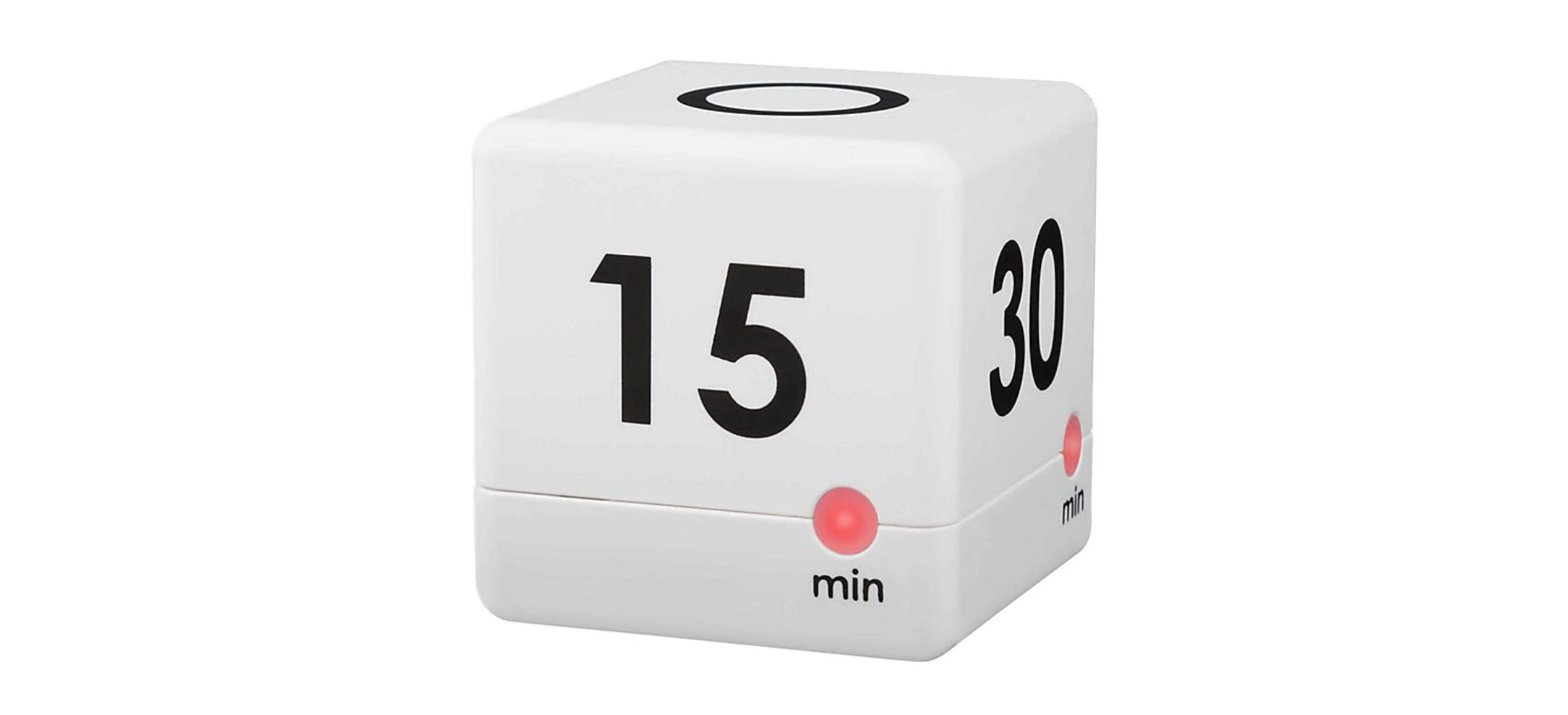 When you're not in an office setting, maintaining focus and productivity can sometimes be challenging. This cube timer can help you to stay focused for a specified amount of time to encourage better time management. It can be set for either 5, 15, 30, or 60 minutes. Get it on Bed, Bath, Beyond for $8.
Adjustable Umbrella with Universal Clamp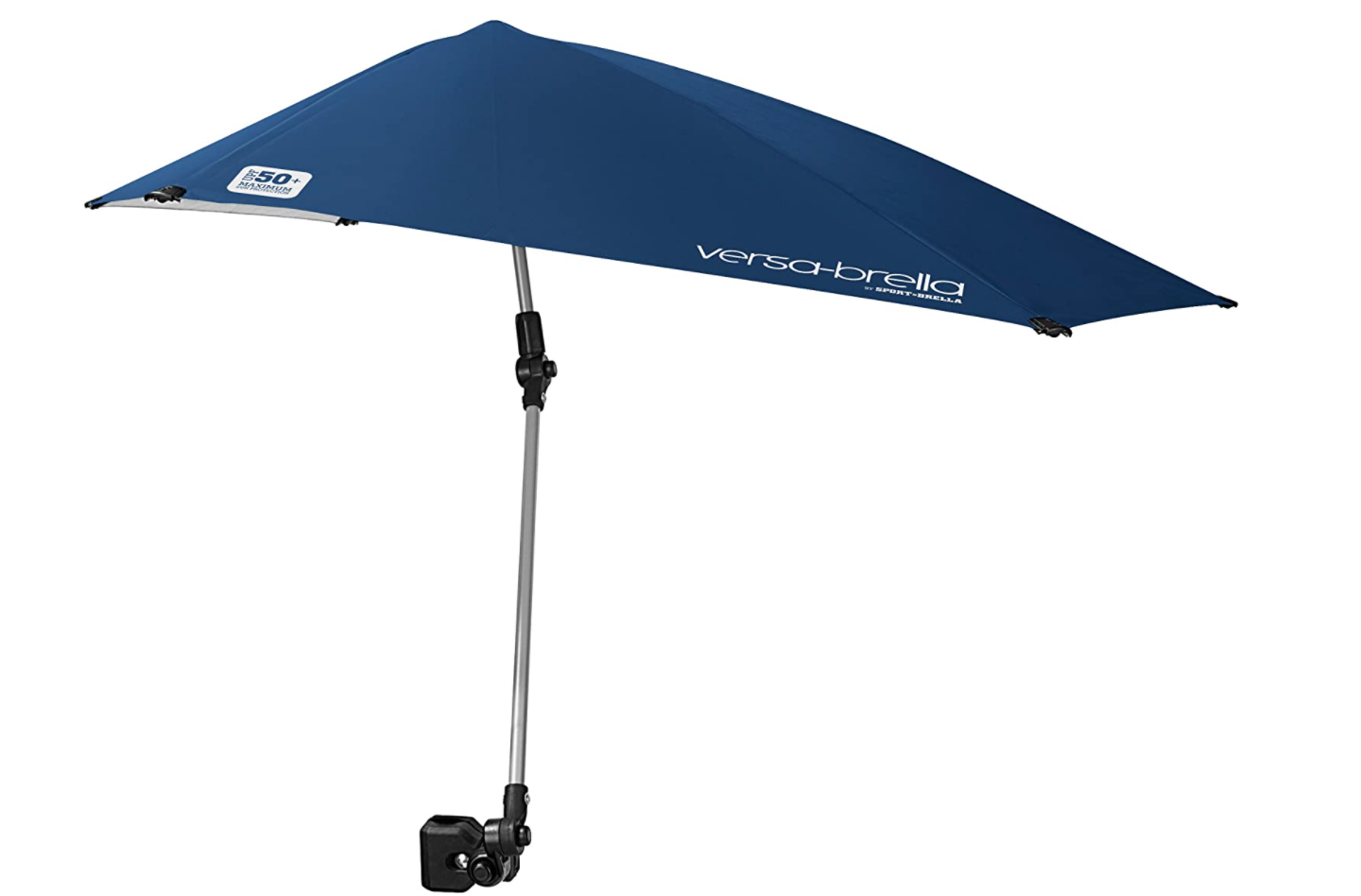 During the pandemic, you'll likely want to get as much safe outdoors time as possible. So when the weather is warm, why not work outside? You can clip this umbrella to a table and give your laptop and yourself the right amount of shade so you can comfortably work outdoors for as long as you'd like. Get it on Amazon for $20.
AWAKE Caffeinated Chocolate Energy Bites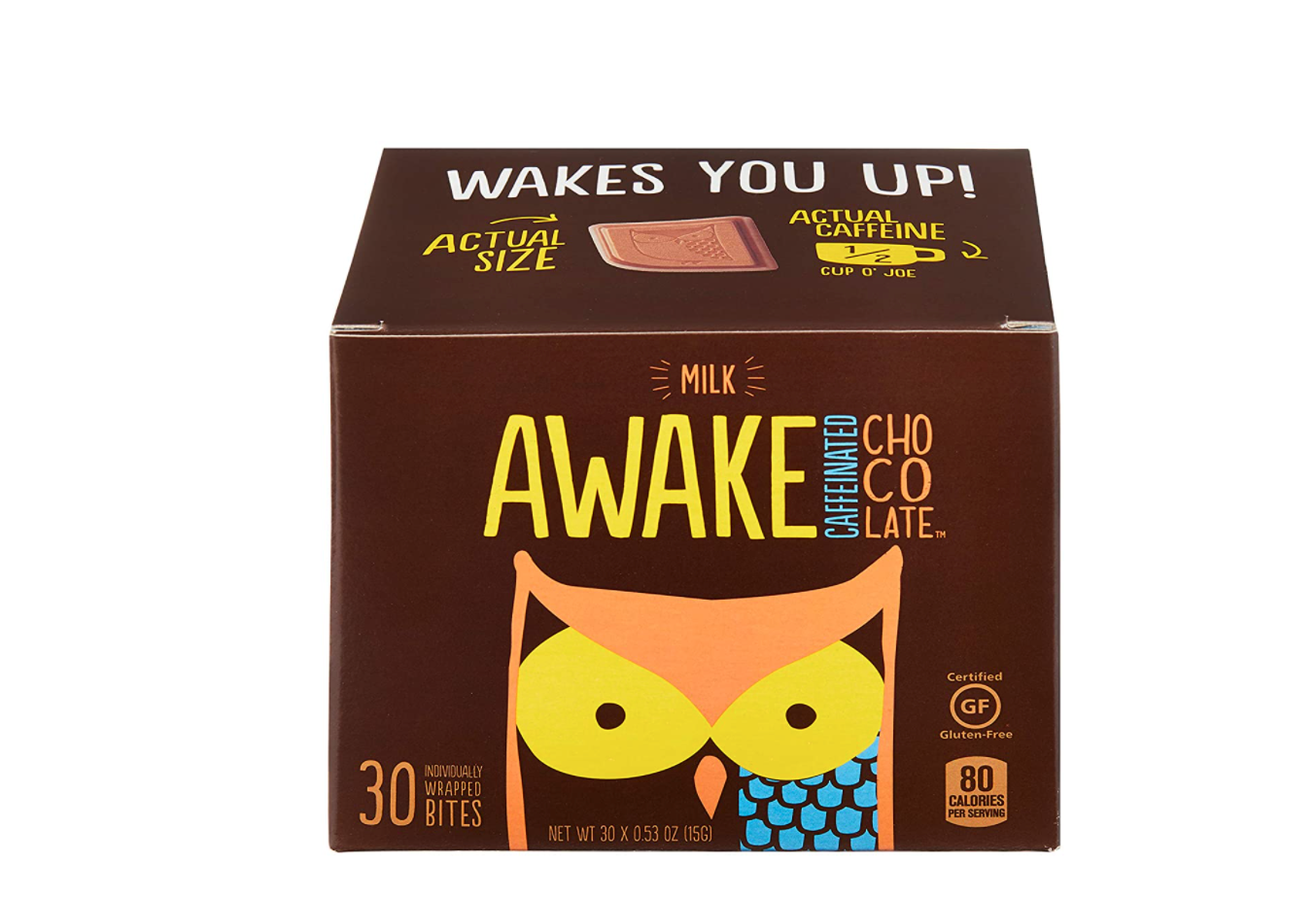 Got a sweet tooth and looking for a mid-afternoon wake-up call? Look no further than these chocolate energy bites. Each piece is the equivalent of drinking half a cup of coffee and tastes just like candy. Get a 30 pack of the energy bites on Amazon for $20.
Weekly Planner Notepad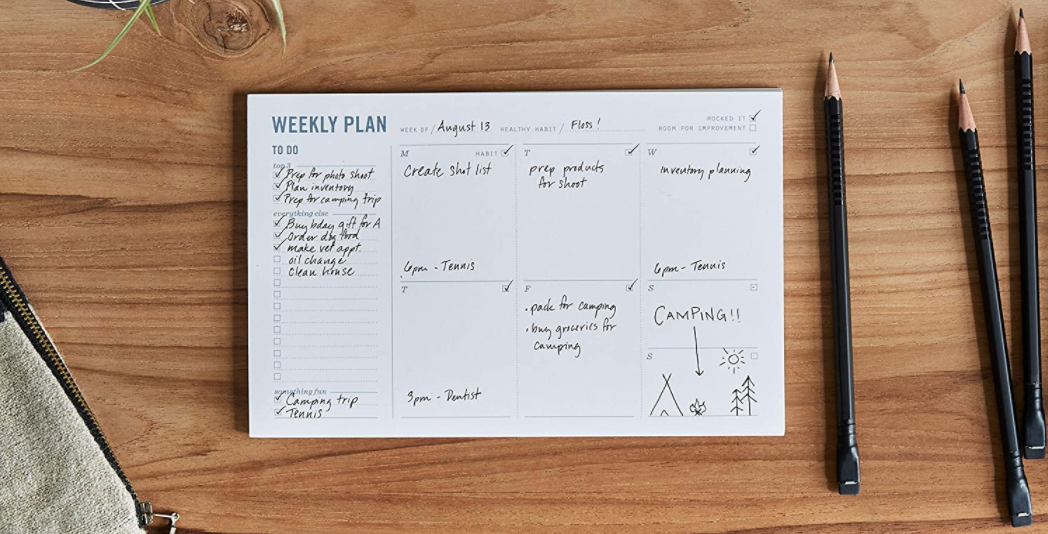 With the switch to working from home, many elements of your day might feel off. The lines between work and personal tasks may be blurred. This weekly planner pad can help you to stay organized and keep you on track. There's a slot for each day of the week, including weekends, and a section for a to-do list. The pad is small enough that you can keep it on your desk, ensuring that it's visible at all times. This item is a great way to help reset your time management habits. Get it on Amazon for $9.
The Right Accessories Make Remote Working Enjoyable 
One of the most commonly used terms in the year 2020 is probably "the new normal." Working remotely is one of the biggest examples of the new normal for many people. From the right pieces of technology to health and wellness accessories, the items of this list may have you embracing your new WFH lifestyle.
Who knows? You may even find yourself continuing to work from home after the pandemic subsides. You wouldn't be alone. BBC reports that "Only 12% want to return to full-time office work [after the pandemic ends], and 72% want a hybrid remote-office model moving forward."If that sounds appealing to you, take a look at our list of why remote workers are happier and more productive.