The goal of any new business is to make money, but what if you could fill your bank account and help protect the planet? 
Now more than ever, entrepreneurs need to be forward-thinking. Eco-friendly businesses that address environmental issues and provide customers with sustainable solutions are indubitably the way forward. 
The United Nations' 2021 Climate Reports paint a dire picture. Climate change is advancing unrelentingly. Greenhouse gases are at record-high levels, driving extreme weather to the detriment of communities and economies. Climate changes are unprecedented and irreversible. The situation is a "code red for humanity."
In this context, businesses need to go green now more than ever, and they are. Consumers are receptive too: 92% of people are more likely to trust a company that supports environmental causes, 87% would prefer to buy a product with an environmental benefit, and 66% would be willing to pay more for sustainable goods. 
If you're ready to start a business, now is the time to go green. Keep reading for 55+ sustainable business ideas that you can start today.
1. Start an Organic Catering Business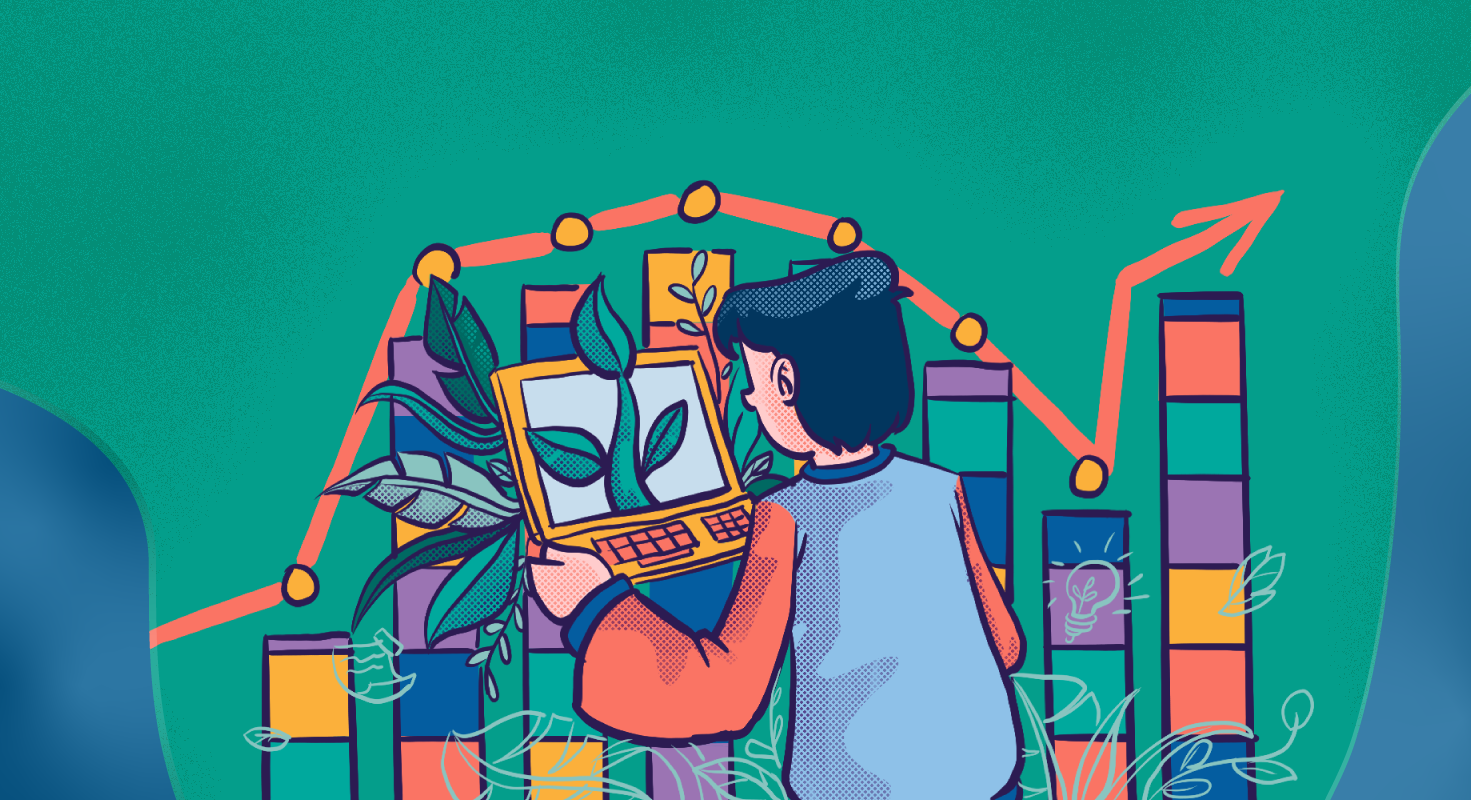 People are increasingly interested in eating meals made from organic and locally grown foods. In fact, the global organic food and beverage market is expected to expand at a Compound Annual Growth Rate of 16.44% between 2020 and 2025. There is also consumer demand for vegan, vegetarian, and Paleo meals, gluten-free and/or with free-range meat. You can start with local events and expand from there. 
2. Start a Sustainable Landscaping Business
Many traditional gardening chemicals and procedures are extremely harmful to the environment. In fact, homeowners use 10x more chemical pesticides on their lawns than farmers use on their crops. Moreover, 90 million pounds of chemical fertilizers are used for lawn care each year, and 26.7 million tons of air pollutants are released during mowing. 
As a business, you could offer grasscycling, recycling, and composting services. You can also help people collect and reuse roof runoff water and install rainfall sensors. 
3. Upcycle Furniture for Money
Did you know that around 10,000 tons of furniture end up in landfills each year? Give old and broken furniture a new lease on life with the right tools and some paint and varnish. Head on over to YouTube, and you'll be making shelves from wood scraps, reupholstering sofas, and turning old doors into headboards in no time. 
4. Get Certified to Install Solar Panels
Solar energy is a clean, green power source that helps combat greenhouse gas emissions, reduces our dependence on fossil fuels, and saves money. You're ahead of the game if you have electrical installation experience and, although requirements vary by state, it's a good idea to look into certification programs. But if solar will allow families to save $100 per month on their energy bills, your phone will be ringing off the hook. 
5. Open an Eco-Friendly Restaurant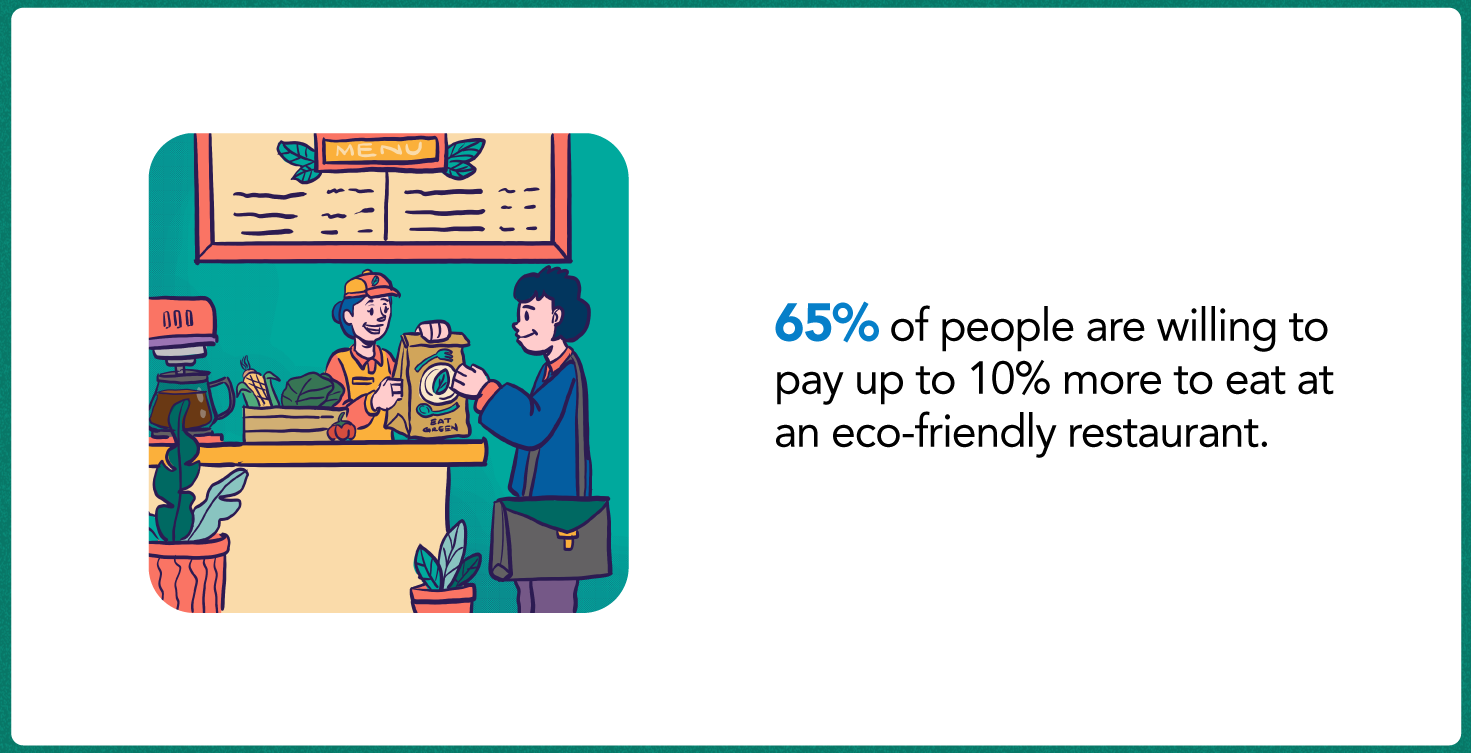 If you've got cooking skills and think you can cater to today's eco-conscious foodies, open a green restaurant. About 65% of consumers are willing to pay 10% more to eat at a green restaurant. This will involve buying only local ingredients, cooking seasonal products, composting and recycling, going paper-free, conserving water, and using energy-efficient appliances.
6. Grow Your Own Food and Sell It
Put your green thumb to work in your garden and then sell your wares at the farmer's market or to restaurants. People like to support local producers, and if you can find a gap in the market and fill that need—with pickles, spices, or even homemade sauces—you'll be more successful. Growing your own food also is good for the environment and the economy as it helps reduce packaging and transportation costs.
7. Start a Sustainable Floristry Business
Around 80% of cut flowers in the US are imported, which not only has a negative environmental impact but also requires special care and packaging. Join the slow flower movement by selling bouquets and arrangements made only with local and seasonal varieties. Not only are native flowers better for the local ecosystem, but you'll also be throwing your support behind local growers and helping cut down carbon emissions by shipping locally.
8. Become a Beekeeper
Learning how to keep bees has a plethora of benefits and a lot of business potential. You'll have 24/7 access to raw honey and honeycomb, which you can sell for good money. You can also make specialty honey that can set you apart from the competition. Furthermore, you can use wax and honey to make all-natural beauty products. 
9. Open a Thrift Store
Many eco-conscious consumers prefer to buy preloved products. You can start a thrift store online, and if all goes well, you can go the brick-and-mortar route as well. Sell everything from toys to refurbished appliances. Consumers spend around $17 billion annually at resale shops.
10. Start an Eco-Friendly Bed and Breakfast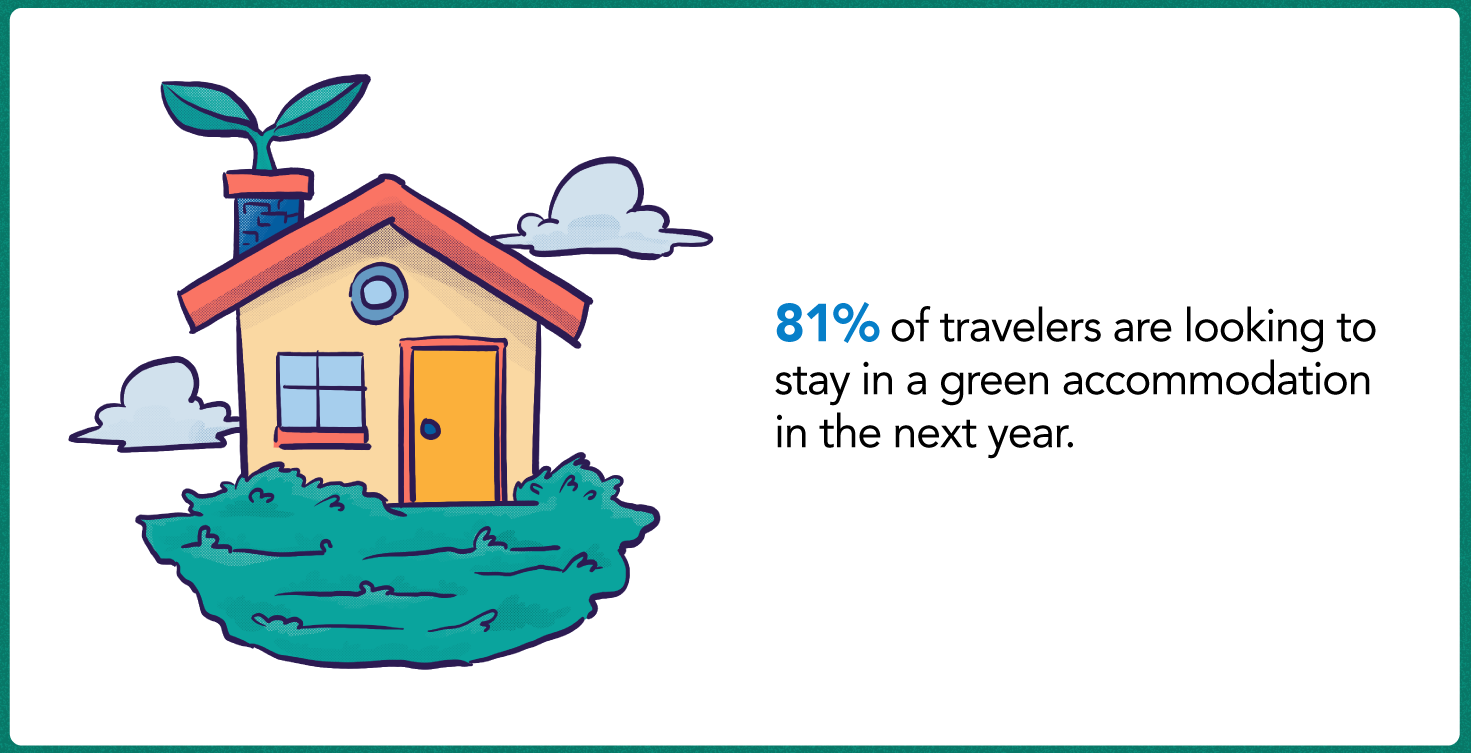 It can be relatively easy to set up if you've got some hospitality experience and enough space. Serve organic food, decorate the rooms eco-friendly, place sustainably made furniture, use renewable energy sources to get started. As 81% of travelers are looking to stay in a green accommodation in the next year, you'll have a mile-long waiting list!
11. Start a Sustainable Travel Agency
From pollution from car rentals to fuel used by jets, traditional travel has high environmental costs. Help people book trips to eco-friendly hotels and destinations, travel responsibly and leave a smaller impact on people and nature. 
Air travel is causing the fastest and highest growth of CO2 emissions. Your agency can show people how to offset their carbon footprint and provide alternative eco-friendly ways to travel.
12. Design Green Apps
You can design apps to help people adopt a green lifestyle if you've got a tech background. The green tech and sustainability market is expected to grow from $11.2 billion in 2020 to more than $36 billion in 2025. You can create a local carpooling app for your city or build apps to help people reduce food waste, support sustainable fashion, or find recycling services near them. 
13. Open an Eco-Friendly Hair Salon
Hair salons generally use a lot of chemicals, not to mention disposables like plastics, tinfoil, and paper. Considering that 63,000 pounds of hair and more than 42,000 pounds of hair color, lightener, and toner are thrown out every day, the market could use more sustainable hair salons. 
Focus on using refillable products, selling local, cruelty-free, and recycled products, applying organic and eco-friendly hair treatments, and prioritizing sustainable energy and water practices.
14. Start a Composting Business
The EPA estimates that 63 million tons of food waste were generated in 2018. Food scraps (along with leaves, wood chips, etc.) can be an excellent plant nutrient source and soil amendment. This business allows you to do meaningful work, spend time outside, get involved in your community and get top dollar for natural homemade compost.
15. Sell Handmade All-Natural Beauty Products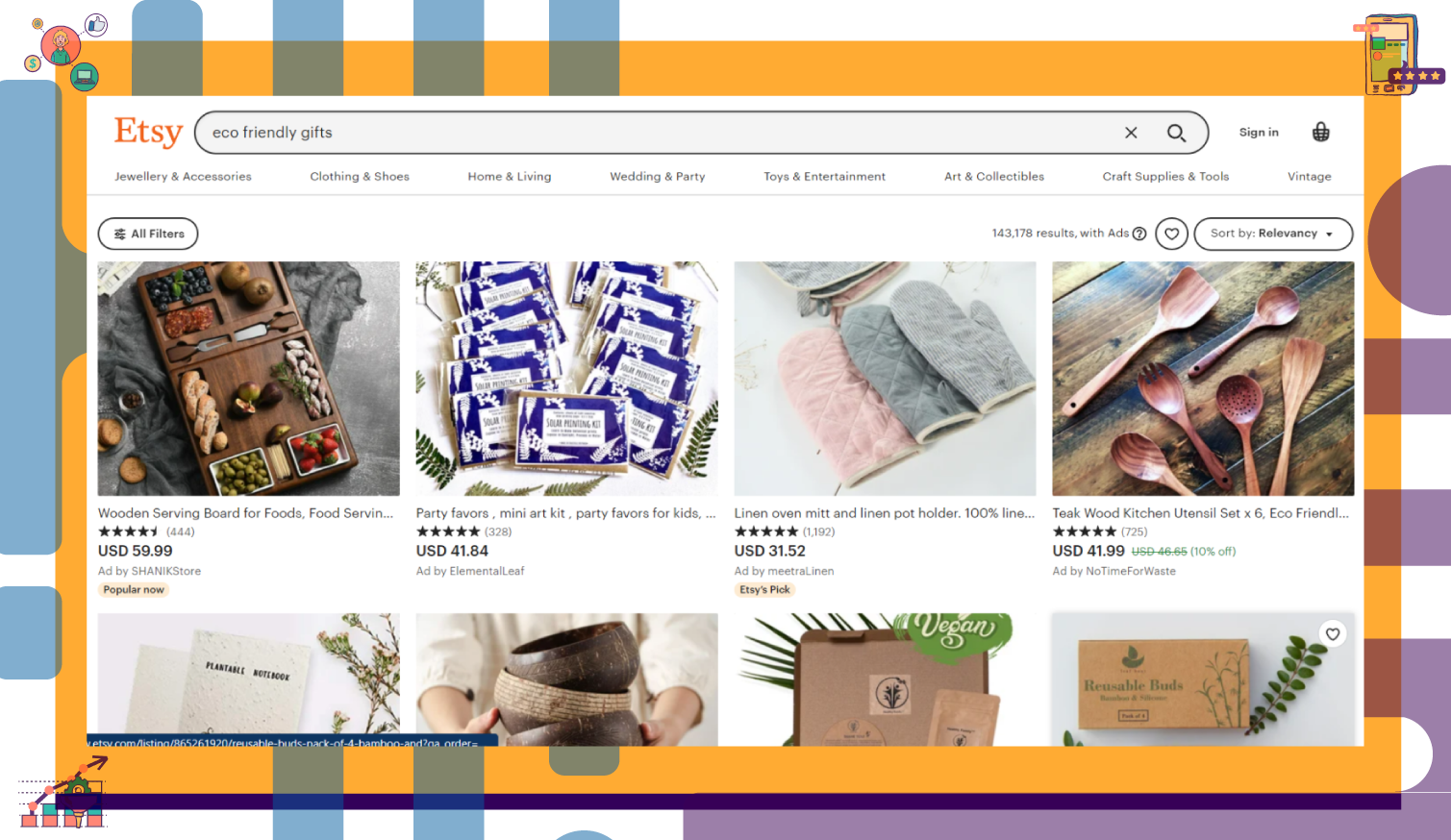 Head to your local farmer's market, start an online store, or build your business on Etsy. You can sell all-natural, homemade products like soaps, body scrubs, exfoliating bars, bath bombs, body butter, lotion bars, perfume, foot soaks, and even deodorant. In fact, the global natural cosmetics market is expected to be worth $54 billion by 2027.
16. Provide Environmental Classes to the Public
Most people don't really understand how their actions impact the planet, even though we have contributed over 32 billion tons of CO2 into the atmosphere in 2021 alone. You can offer classes at local schools and community centers or create online courses where you can teach children and adults how to reduce their environmental footprint and protect the planet. 
17. Become a Bicycle Repair Expert
Biking is a million times better—for our and the planet's health—than driving. Cycling has a smaller carbon footprint than walking and about 1/10 of the emissions that come from driving. Support this sustainable method of transportation by becoming a bike expert and offering repair services. You could also buy old bikes and give them a makeover and a tune-up before selling them for a profit.
18. Start a Green Cleaning Business
There's no shortage of cleaning companies on the market, but you can make yours stand out by using only eco-friendly products approved by the EPA and Green Seal verified through ecolabels. Offer an hourly rate or pre-set packages and do everything from the dishes and light dustings to deep cleanings. This market is definitely on the rise and is expected to be worth almost $110 billion by 2026.
19. Open a Used Bookstore
Producing and selling a new book creates 8.85 lbs of CO2 without factoring in the CO2 generated from shipping it. Help people give their books a new lease on life and encourage good, old-fashioned reading. Swapping or loaning books reduces your environmental impact, and this model would work both with a physical store and online.
20. Open a Consignment Store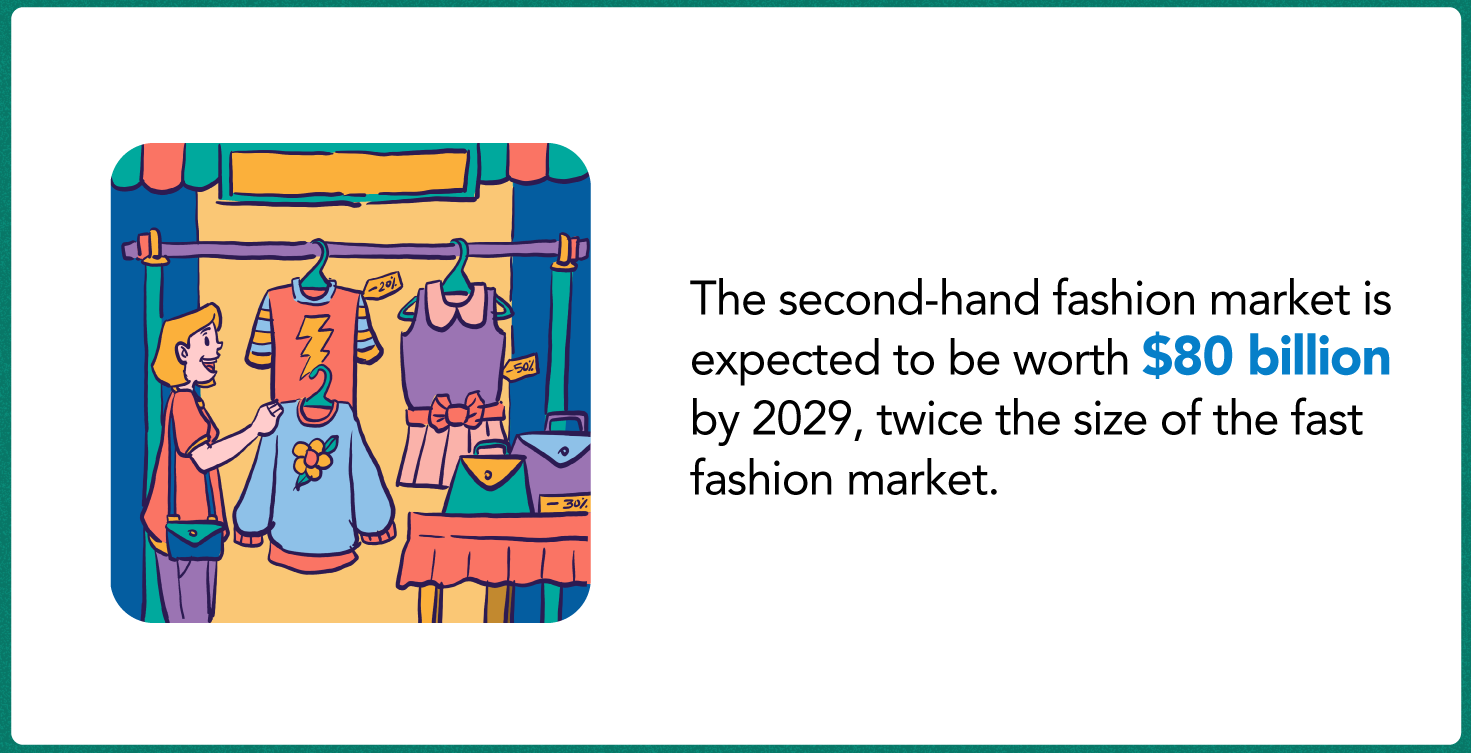 A second-hand clothing shop, either physical or online, is a green business concept that helps people extend the life of their garments and promote sustainable fashion. The second-hand fashion market is expected to be worth $80 billion by 2029, which is twice the size of the fast fashion market.
21. Become a Holistic Nutritionist
Clean eating is a trend here to stay, and this business idea is excellent for people following a healthy and sustainable lifestyle. There are several programs to help you become a certified holistic nutritionist. Job opportunities for nutritionists and dieticians are expected to expand by 11% between 2020 and 2030, which means your clients are only going to increase as people become more health and environment conscious. 
22. Blog About the Environment
People constantly want to learn how to be more eco-conscious with how they dress, eat and live. Starting a blog will let you reach and teach many people, whether you specialize in green beauty or leading a zero-waste lifestyle yourself. You can monetize it with ads or earn affiliate income by supporting and recommending environmentally-friendly products, services, and micro-influencers. 
23. Make Eco-Friendly Kids' Toys
Did you know that 90% of toys are made from plastic? Most parents would love the chance to move away from mainstream toys—mostly made from unsustainable materials—to environmentally conscious options. You can start an online store, get on Etsy or sell at local shops in your area. Consider making toys from biodegradable and sustainably sourced materials and non-toxic paint.
24. Specialize in Green Interior Design
Interior designers can use sustainable fabrics, appliances, and furniture to improve indoor air quality and reduce clients' electricity bills while keeping the environment safe. 
For example, America loses 31,000 square miles of forest to deforestation annually. You can help people choose sustainable flooring materials such as bamboo, cork, and natural linoleum.
25. Start a Tech Refurbishment or Recycling Business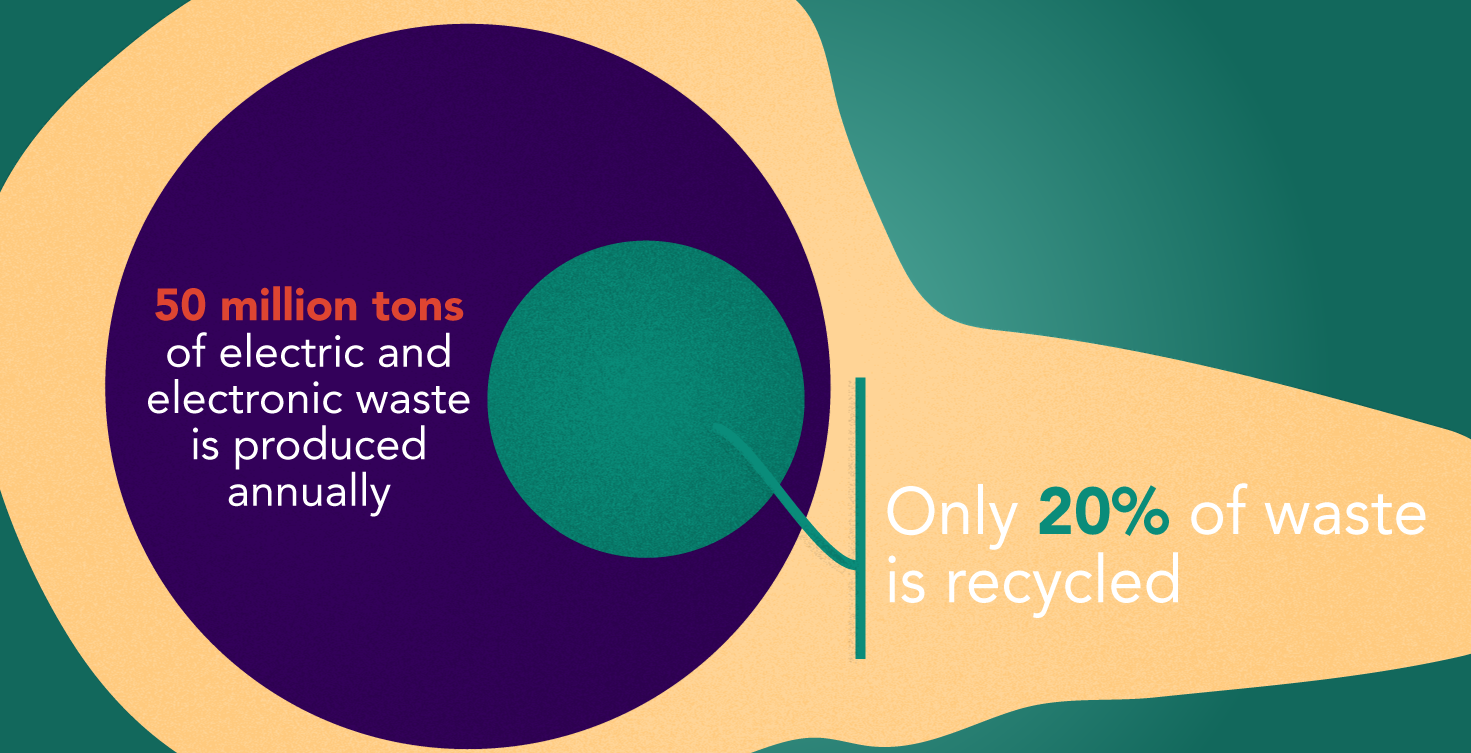 If you like taking things apart and putting them back together, you might consider taking people's old, broken tech and either fixing it or recycling the parts to make something new. Every year, around 50 million tons of electric and electronic waste is produced, and just 20% of that is recycled. Help reduce pollution by giving electronics a second chance.
26. Open a Sustainable Car Wash
Traditional commercial cash washes are bad for the environment. Around 150 liters of water are used to wash a single car, and even worse, that wastewater generally contains oil, grease, and soap, which is detrimental to the environment. Make sure your facility uses non-chemical products, reduces plastic use, and employs renewable energy where possible to offer your customers a truly sustainable service.
27. Grow Herbs and Make Your Own Tea
The global organic tea market is expected to grow at a CAGR of 11.2% between 2019 and 2027, so there's definitely room for new businesses. Even better, you don't need a garden for this to work. Just plant them in a few pots indoors or outdoors and use them to make a wide range of herbal teas.
28. Become a Sustainable Tailor or Seamstress
Textile production has a more significant contribution to climate change than international aviation and shipping combined! You can combat its effects by making durable clothes using sustainable fabrics. This will help increase the life of your customers' wardrobes and provide them with higher-quality items. 
29. Offer Sustainable Photography Services
Even digital photography can be climate-negative, but you can take steps to offer truly sustainable photography services. For example, you can protect the environment by restricting yourself to local shoots to prevent traveling footprint. 
Use sustainable energy for your studio, prefer second-hand equipment where possible, and use clean transportation. You can also use plastic-free packaging to ship albums and photos, properly dispose of electronic waste, use rechargeable batteries, and buy equipment from eco-conscious suppliers and manufacturers. 
30. Make Eco-Friendly Products for Pets
American consumers spent $103.6 billion on their pets in 2020. Imagine how much waste would have come out of that! You can help the environment by making sustainable products like eco-friendly dog beds with upcycled fabrics, homemade, all-natural treats, and bamboo squeakers and tug toys. You'll be an instant success with eco-conscious pet parents. 
31. Open a Gift Shop in Your Town or City
Get a piece of the giant global gift retail market, but instead of selling useless tchotchkes, support local artisans. Sell local handicrafts, recycled postcards, or handmade greeting cards, etc. Offer treats from the local bakery and build partnerships with the people around you.   
32. Start a Green Pest Control Business
People want to eliminate pests, but you can offer a more eco-friendly and ethical way to do so and establish a very profitable business. You can use eco-friendly alternatives to chemicals such as diatomaceous earth, neem, or other insect-repelling oils. 
A recent survey confirmed that the effectiveness of green products has also improved dramatically over the last 3 to 5 years, and half of the survey respondents would choose a green pesticide over a traditional one.
33. Open a Juice/Smoothie Bar or Kiosk
With a current market size of $2 billion, everyone's going to love your organic fresh-squeezed and cold-pressed juices and smoothies! To get started, all you need are sustainably grown, locally sourced fruit and vegetables and other healthy ingredients; equipment like juicers, refrigerators and blenders; and recycled cups and paper straws.
34. Start an Eco-Friendly Gift Box Service
People are going to love your sustainably made baskets filled with local, organic, and eco-friendly products, which make for unique personal and corporate gifts. You can include everything from food and wine to jewelry and make-up or even toys and baby food.
35. Become a Sustainable Event Planner
This trend is on the rise: 59% of event planners are looking to improve their environmental footprint. You can fill the gap easily. Pick a specialty—weddings, corporate events, etc.—and figure out how to integrate environmental and social responsibility into those events. 
You can create event apps and send online invitations to reduce paper use, hand out digital swag like downloadable freebies and e-tickets, and encourage attendees to carpool or use public transport to the event.
36. Sell Your Plants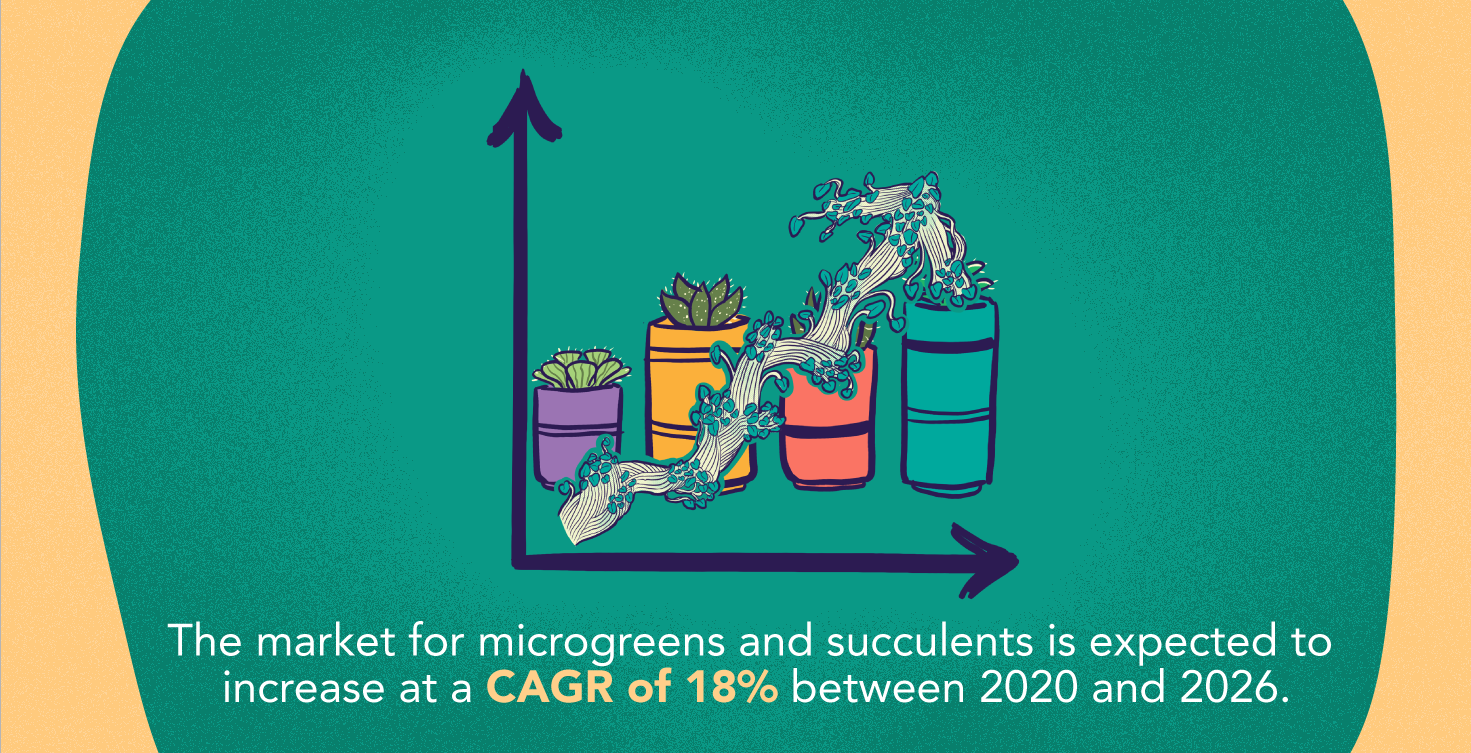 If you have a thing for gardening, you can make money by growing and selling your plants to the consumers. You can sell them online and/or to the grocery stores and at the farmers' markets. Your unique value proposition (UVP) might be to grow local varieties or increasingly popular plants, like microgreens and succulents. The market for the latter is expected to grow at a CAGR of almost 18% by 2026, so profitability can be high.
37. Design Reusable Grocery Bags
In the US, we use 14 billion plastic shopping bags each year, for which 12 million barrels of oil are needed. Savvy shoppers are making the switch to reusable bags. You can design them for specific consumers, add pockets and waterproof features, and use a range of sustainable, reusable materials as long as they're durable, high-quality, and stylish.
38. Become an Energy Consultant
If you've got the expertise, you can open a consulting firm for families and small businesses that wish to transition to green energy. You can conduct energy audits and advise them on saving money, improving energy efficiency, and receiving tax incentives through investment in alternative energy.
39. Start a Mushroom Farm
Mushrooms are popular for both culinary and medicinal purposes. This hands-on project will earn you a steady income in a limited space with a minimal environmental footprint. In the US, per capita consumption of mushrooms increased from 2.7 pounds to 4 by 2014 and still growing.
40. Develop an Insect Farm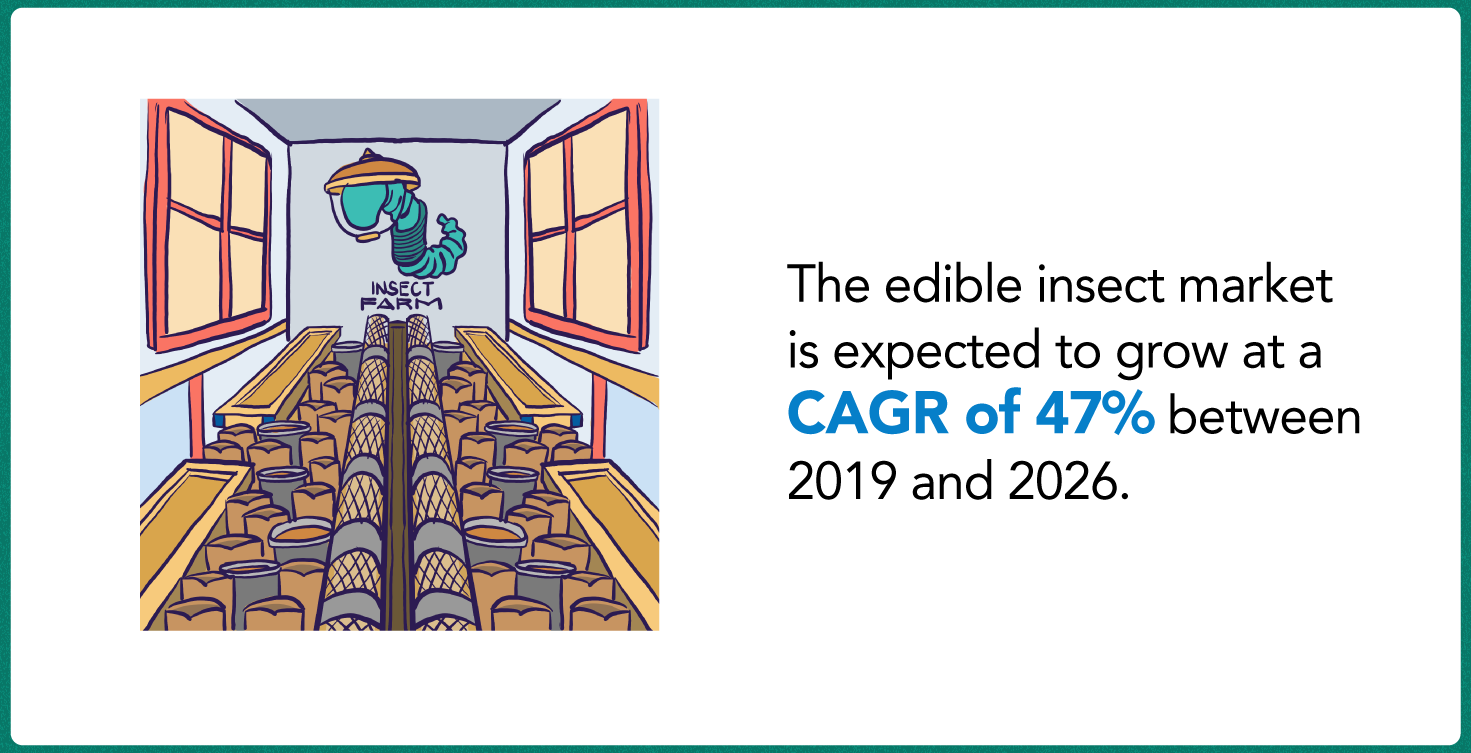 If bugs are your bag, then you should consider breeding and raising them for commercial purposes. They can be used to produce candles and silk and, most importantly, as food. Edible insects can be very profitable because they're a great source of protein. The edible insect market is expected to grow at a CAGR of 47% between 2019 and 2026 and be worth $8 billion by 2030.
41. Sell Medical Marijuana
By opening a dispensary, you would buy marijuana legally and sell it to patients with approval from their doctors. If you're in a state where it's legal, have an interest in learning about cannabis, and want to help people manage pain, this is an excellent option. Sales are expected to top $30 billion in 2022—up from $23.6 in 2021—so don't delay and grab your piece of the pie.
42. Start an Organic Meal Kit Delivery Service
This business trend is very popular and has continued to grow since it first appeared in 2012, with no signs of stopping. In fact, the global market is expected to expand at a CAGR of almost 13% over the next six years to reach $19.92 billion by 2027. It's especially popular among higher-income individuals, and especially Millennials.
43. Open a Solar-Powered Bike Café
If you think you've got what it takes to become a javapreneur, this idea is for you. Your best bet is to invest in a smart, green pedal-powered coffee cart. Being mobile means you can move around. Spend the morning outside the train station, head to a local university in the afternoon and the city center in the evening—just follow the crowds.
44. Open an Organic Spa
There's a shift in the market towards vegan, chemical-free and certified organic wellness and beauty products as consumers become more conscious about what they put on their bodies. You can offer everything from massages and detoxes to facials and therapies to meet the shift in consumer demand for these treatments and products.
45. Offer Bicycle Tours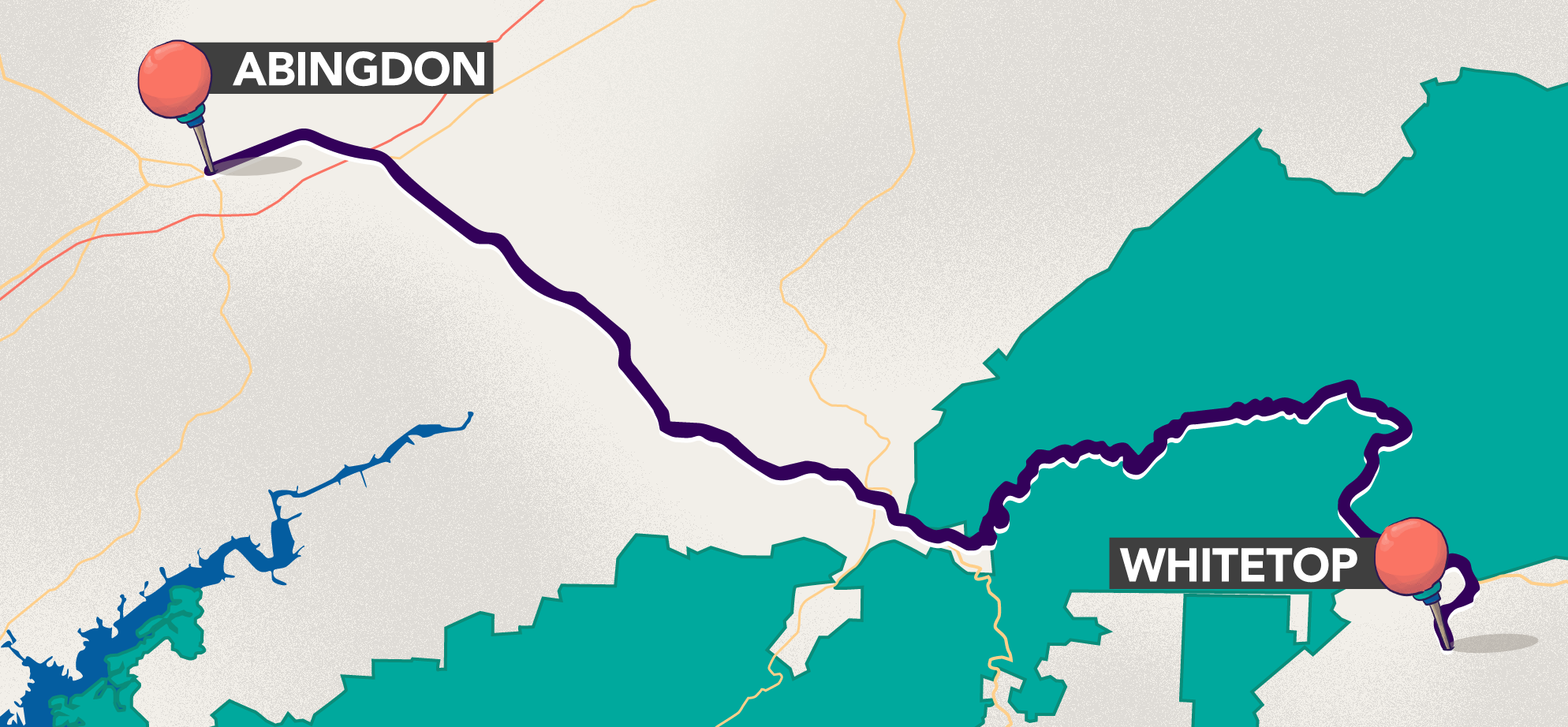 Hook cycling enthusiasts and adventurous tourists by offering bike tours. They're good for the environment and are one of the fastest-growing segments in the entire travel industry. You can offer local tours such as Virginia family bike rides or organize trips like Camino De Santiago for bike pilgrims. Come up with something fun and unique and get your tours listed with travel agents.
46. Start Selling Electric Scooters
A car has almost 7x the CO2 output compared with an electric scooter, making it a relatively more eco-friendly and sustainable way to get around. Whether you sell or rent them, you'll be doing a favor to the environment.
47. Start Cleaning Air Ducts
Help people improve their energy efficiency by cleaning out their air ducts, which often get clogged with dirt and dust. Contaminated air ducts are a source of indoor air pollution, and studies show that people in industrialized nations spend more than 90% of their time indoors. Market your services to private homes and offices to help them save energy and increase the life of their appliances.
48. Open a Packaging Design Business
It's an idea for creative people with an eye for design. Create safe and durable packaging using sustainable and recycled materials. You'll need to have a good handle on aesthetics and branding, and you'd be helping companies shift from traditional packaging to a more eco-friendly and forward-thinking approach.
49. Offer Eco-Friendly Pool Maintenance
The swimming pool industry is expected to grow by more than 25% in 2021, so this niche is in high demand. Since chlorine is considered a pesticide by the EPA, you can offer your clients green cleaners, install solar pool covers, and help them switch to saltwater systems.
50. Start a Subscription Box Business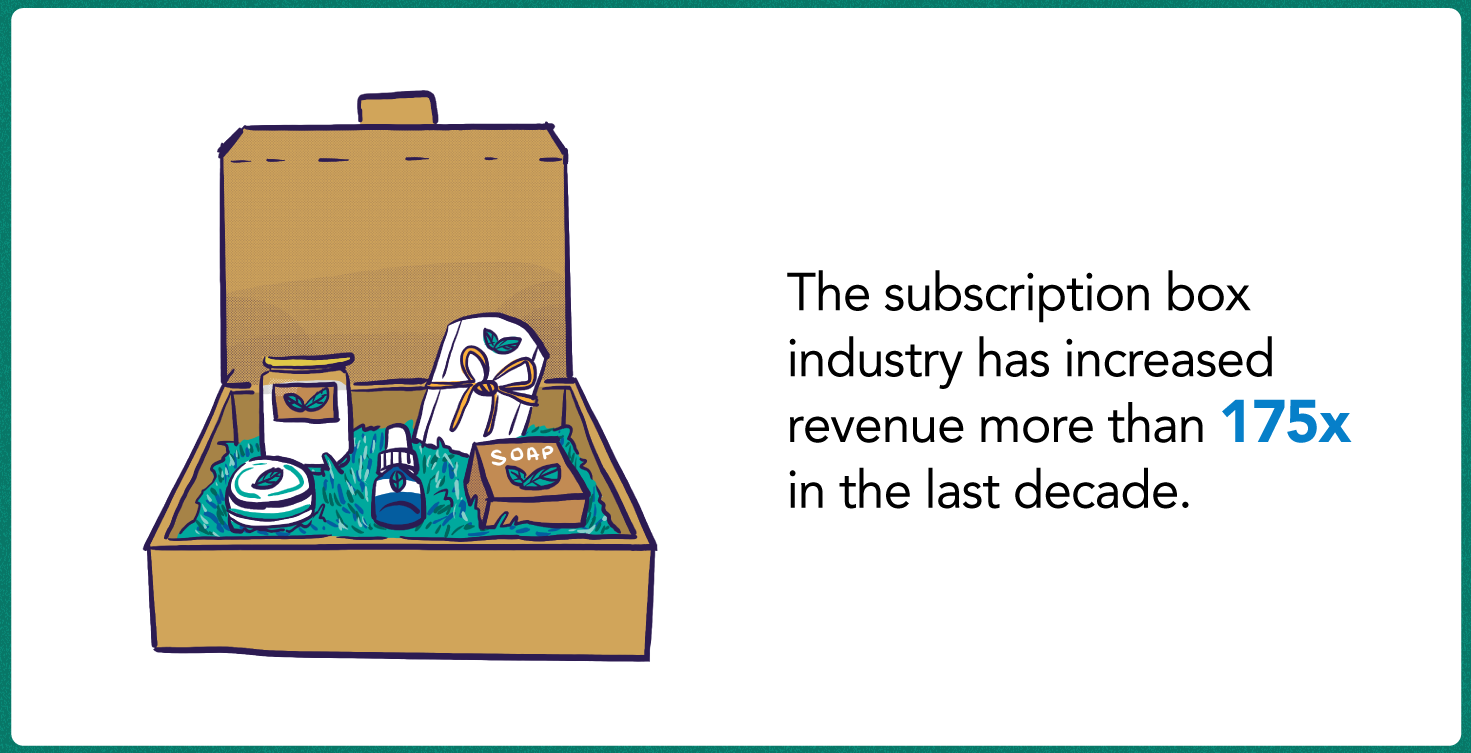 Jump on the subscription box bandwagon by sending out boxes filled with fair trade treasures and ethical, sustainable products. You can include recycled, handmade, reusable, and cruelty-free items. The subscription box industry has increased revenue more than 175x in the last decade, so it's a desirable market to get into! 
51. Start a Plastic Bottle Recycling Business
If 80% of plastic bottles end up in landfills and each bottle can take up to 1,000 years to decompose, we need to take action now. Start a collection service in your area—from homes, offices, parks, and schools—and then deliver them to your local recycling center for a profit. 
52. Sell Sustainable Construction Materials
There's a huge market for sustainable materials, usually made from recycled items, sourced locally, or produced by environmentally friendly suppliers. The green building materials market is expected to be worth $364.6 billion by 2022 and demand is expected to increase.
53. Start an Eco-Friendly Dry Cleaning and Laundry Service
Traditional dry cleaning uses many chemical solvents that are harmful to the environment. Set up a green business where you switch out chemical detergents for non-toxic alternatives. Alternatively, offer wet cleaning, which reduces soil and water contamination and does not generate hazardous waste. 
54. Sell Energy Efficient Lighting
Everyone needs lighting, but not everyone understands the ins and outs of energy-efficient lighting systems. Become an expert in LEDs, CFLs and everything in between and advise and sell to consumers and businesses looking to lower their bills and be kind to the environment. This shift toward efficient lighting is driving significant growth, with the North American market expected to be the most lucrative by 2027.
55. Start an Organic Lavender Farm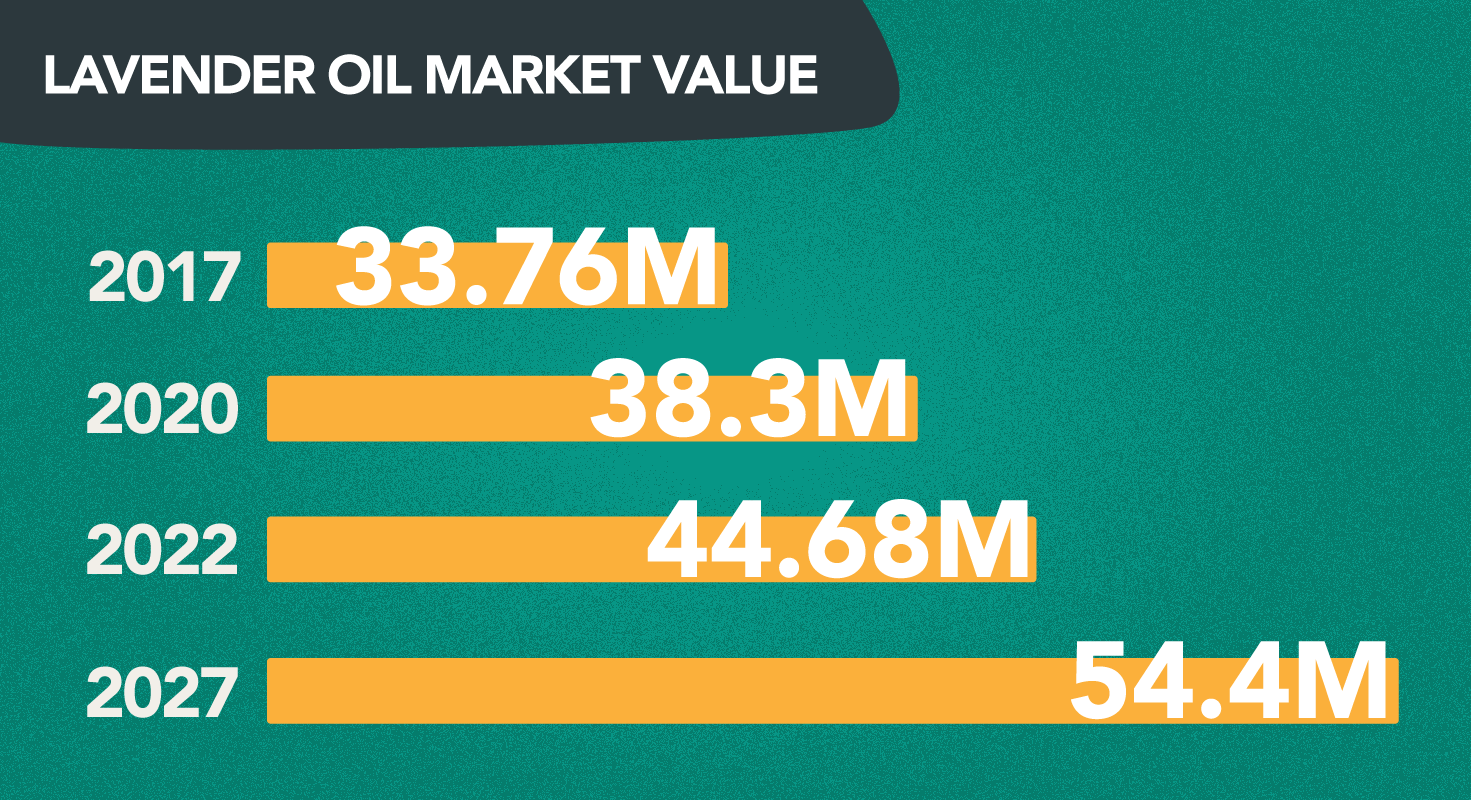 Lavender can be used to make countless products, from essential oils to relaxing sachets, and has been used to treat everything from toothaches to acne. Research has revealed its ability to act as a natural pesticide, and it can be placed strategically to attract bees and other pollinators. Rising demand for natural essential oils is set to drive growth in the lavender oil niche.
56. Get Into Eco-Consulting
Put your environmental expertise to work by offering consulting services to individuals and businesses. Help them transition to a sustainable way of living and running a business. You can help reduce their bills, use energy-efficient appliances and machinery, and implement recycling programs. You might need a certification to command authority.
57. Become an Environmental Fundraiser
There's no shortage of environmental organizations looking for funding to implement their projects. If you've got writing skills, you can become an ecological grant writer or fundraiser and help them get the money they need to make a real difference. Every year the EPA gives out $4 billion in funding, plus there are many other grants available, but it takes a lot of hard work to secure them!
58. Launch a Vehicle-Sharing Service
Encourage people to reduce their carbon footprint by using a shared car to get where they need to go. Based on the prediction that in 25 years, car sharing will be the norm and car ownership will decline dramatically, there's no better time to launch this business. You will need to study your city or town's regulations, plan your fleet management, and select your company's vehicles and operation model.
59. Eco-Friendly Disposal of Trash and Junk
Start a business helping people get rid of unwanted items, dispose of their trash properly, and clean out hoarder homes. All you need is a van or a truck and some tools, and you're ready to go. Since US consumers generate about 5 pounds of waste per day, this is an environmentally-friendly business idea that's sure to take off.
60. Start a YouTube Channel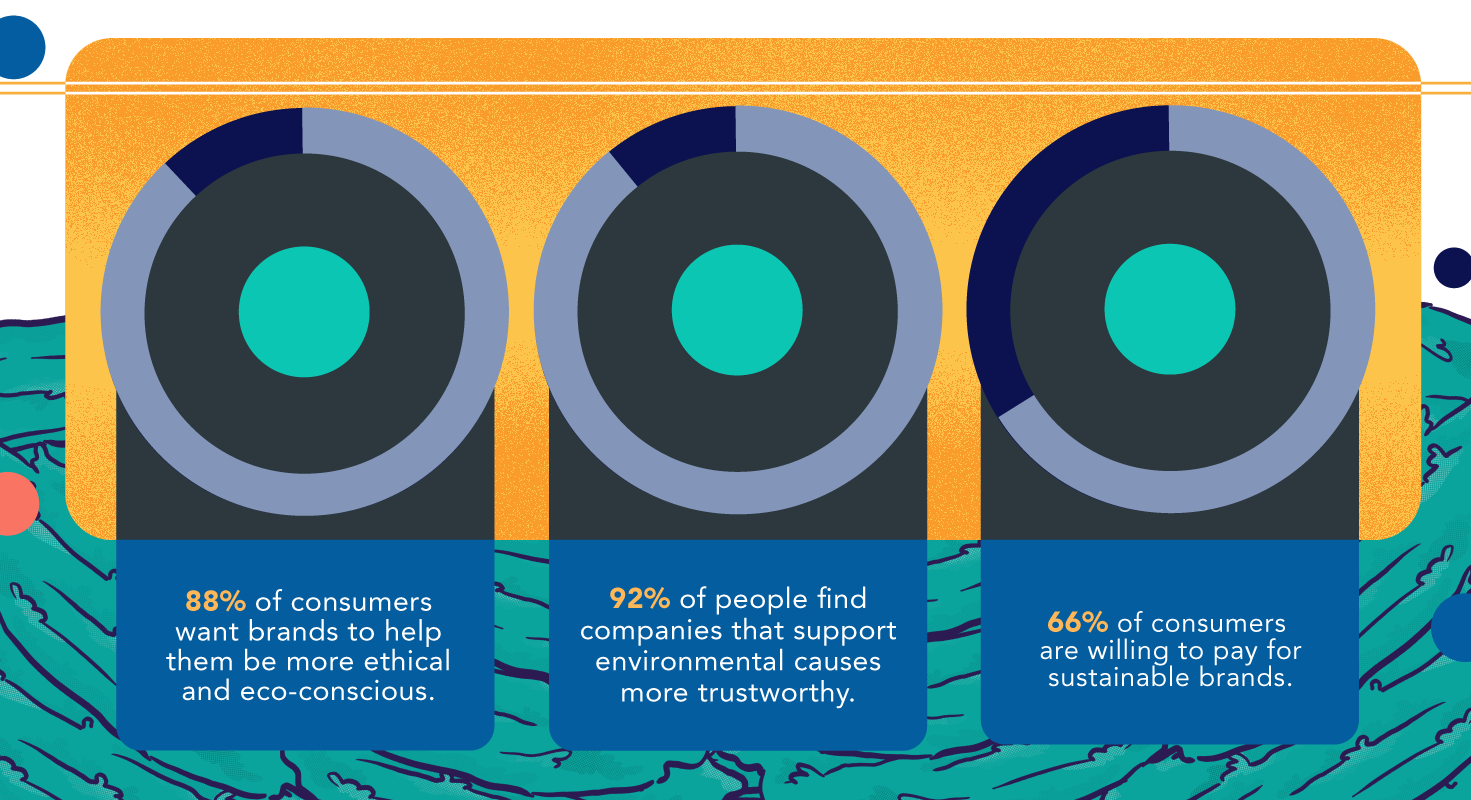 Take all of your environmentally-friendly ideas about recycling, composting, thrifting, etc. and bring them to life through videos. Share your experience and expertise with your followers on YouTube and monetize through ads, campaigns, and collaborations. For example, teaching people how to upcycle furniture or making natural soaps can be a hit and great for the environment too!
The Benefits Of Starting a Green Business
There's no shortage of benefits to starting an earth-friendly business. Today's consumer is more eco-conscious than ever and no longer makes purchasing decisions based solely on price and quality. In fact, people are pushing brands to help them be more environmentally aware, 88% to be exact.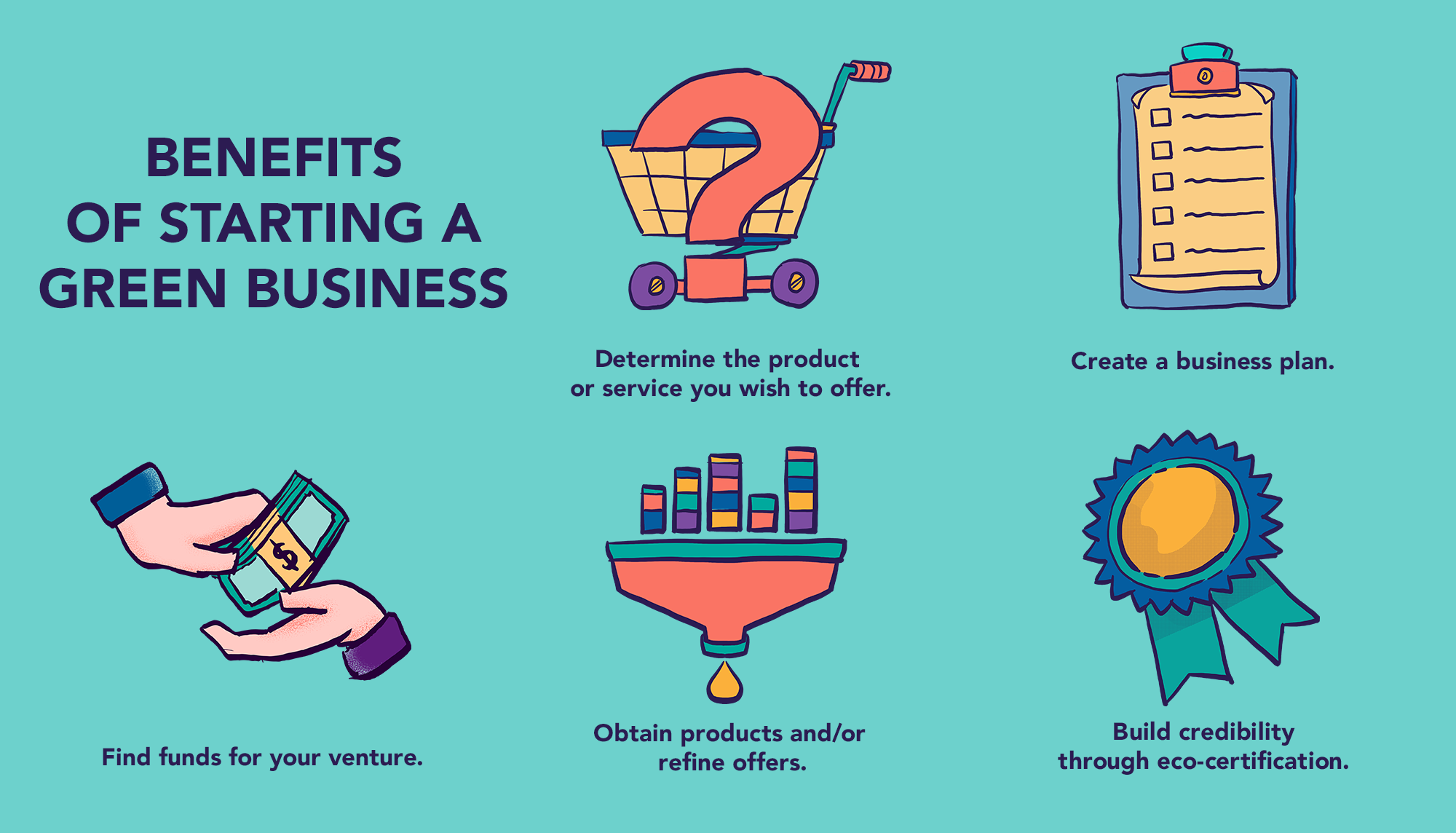 According to a Neilsen study, 50% of respondents are influenced by key sustainability factors, such as the company being recognized for its commitment to social issues (56%), the company being eco-friendly (58%), and products being made with organic and natural ingredients (69%). A green business appeals to consumers looking for businesses that share their values.
Incredibly, there are about 90 companies that are responsible for two-thirds of historical greenhouse gas emissions. Now's the chance to do your part for the environment with an eco-conscious entrepreneurial project.
More and more existing companies are joining the movement, and the number of US businesses with green programs has increased by 54%. There's no going back now: sustainable businesses are the future, so it makes sense to go green from day 1. 
5 Tips for Getting Started
If you're convinced about starting your green business, but you're not sure where to start, keep reading for a few tips to help you get the ball rolling.
Determine Your Product, Service and UVP
Start by researching existing green companies to determine whether there's room for growth in that niche. You can also identify a gap to fill or solve an environmental issue in the best possible way. Decide what will set you apart from the competition.
Create a Business Plan
Write down, in detail, how you're going to bring your vision to life. Include a competitor analysis, funding sources, and the supplies and equipment you'll need. You should also figure out how you're going to price your product or service and where you will market it.
Register and Fund Your Business
Decide on the best legal structure for your green business, whether a nonprofit, a partnership, an LCC, etc., so you can determine how it's going to operate, be taxed, and profit. Form a legal business entity and then figure out financing. Are you going to use savings? Take out a small business loan? Apply for grants? Sell equity in your company?
Obtain Your Products or Prepare Your Service
Before you start, you need to acquire your green-certified products or prepare to provide your services. It may require you to hire and train employees and implement a customer-facing system to sell your goods or services. Roll out your marketing plan and start reaching out to your local network, advertising, and looking for potential customers.
Find Certification Programs That Fit Your Business
Consumers want to be reassured that you're legitimately green, so look into and secure as many certifications as possible. That may include the following: the EU's Ecolabel Program, LEED certification, the USDA organic certification program, and Green Seals. Look at other accreditation programs too to see if your product or service fits their requirements.
Now is the time to get off the fence. The planet needs you! If everyone—consumers, business owners, and everyone in between—were more eco-conscious and did their part, we could really make a difference. We can protect our planet by introducing sustainability in our lives and businesses. 
Infographic