Asana is one of the most popular task, project management and collaboration tools within the workflow management and optimization space–and with four available plans, it's easy to find the one that fits your team and business needs.
In this post, we break down all available Asana pricing plans, including its free Basic Plan. We'll outline each plan's ideal user base, features, customer support availability, and security standards. We'll also provide you with a list of Asana alternatives.
What Is Asana?
Asana is a project management software that organizes and optimizes every stage of your project workflow, from task management, file sharing, and collaboration to teams, automation, and project activity.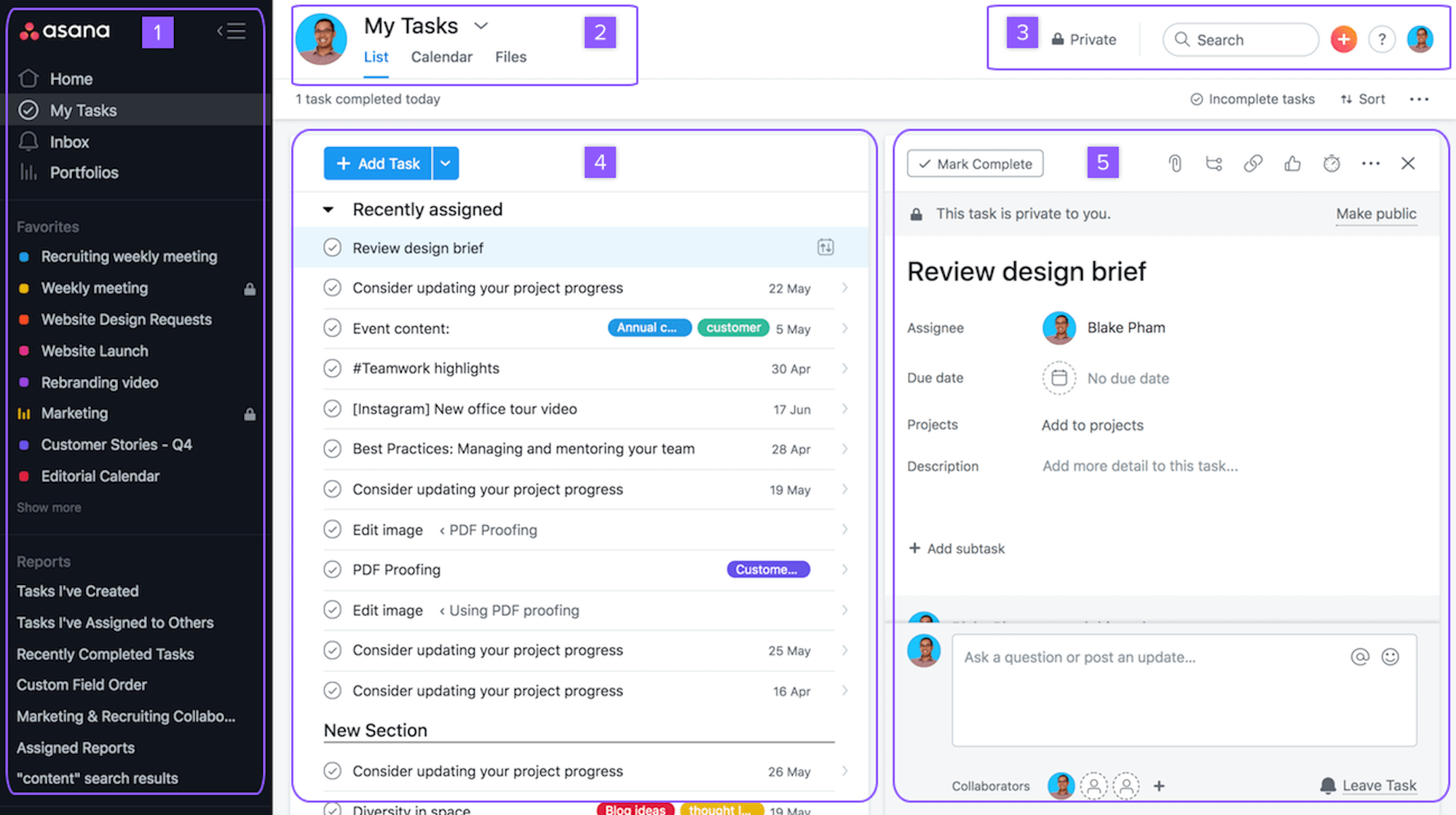 Asana is made up of five basic task/project management and workflow monitoring concepts:
Organizations: Your entire company, comprised of everyone using your business email domain
Teams: Groups of members of your organization, such as specific departments, offices or branch locations, projects, or any other customized group within your organization
Projects: A birds-eye-view of a long-term or large-scale team project that requires different teams and numerous users to coordinate with each other
Tasks: A "to-do" assignment (standalone or within a project) assigned to an individual user that can be broken down into even smaller subtasks
Portfolios: A group of projects or an overview of all project, team, and task activity in one place, ideal for monitoring, reporting, and assisting with resource management
Asana Pricing And Plans: Overview
Asana Basic Plan
Asana Premium Plan
Asana Business Plan
Asana Enterprise Plan
Pricing
Free
Annual Billing:

$10.99/user/month

Monthly Billing: $13.49/user/month

Annual Billing: $24.99/user/month

Monthly Billing: $30.49/user/month

Contact Asana for quote-based pricing
User Limit
15
Unlimited users, unlimited free guests
Unlimited users, unlimited free guests
Unlimited users, unlimited free guests
Available Views
List, Board, Calendar
List, Board, Calendar, Timeline
List, Board, Calendar, Timeline, Portfolio, Goals
List, Board, Calendar, Timeline, Portfolio, Goals
Key Project Management Features
Essentials only
Milestones
Integration with Tableau and Power BI
Custom Branding
Key Workflow and Automation Features
Integration with 100+ third-party apps like Slack, Salesforce, Adobe Creative Cloud, Microsoft Teams, Jira, Google Workspace, etc.
Pre-set Rules/Unlimited Actions, Custom Templates, Start Dates, Workflow Builder, Forms Without Branching Logic, Task Dependencies
Custom Rules, Proofing, Approvals, Forms with branching logic
Same as Business Plan
Key Reporting and Analytics Features 
Task Status Updates
Custom Fields, Reporting Templates, Custom/Templated Charts, Report Search
Goals, Portfolio, Workload Analytics
Same as Business Plan
Key Privacy and Security Features
Multi-Factor Authentication, SOC II Type II
SSO, Data Deletion, Private Projects/Teams, Admin Console, Unlimited Free Guests
Lock Custom Fields
99.9% uptime, HIPAA compliance, data management, user deprovisioning, user provisioning, access control
Customer Service Features
Asana Support (Form-Based Online Support Requests),

Asana Forum, Academy, Webinars, User/Developer Guides,

Customer Success Options
Same as Premium Plan
24/7 priority customer support
Best For
Small teams of under 10-15 that need a free task management app, but don't require frequent task collaboration or workflow optimization tools
Small-medium teams needing a project management tool with automation, advanced analytics, custom/premade project templates, and more detailed task management options
Teams of any size that need to customize Rules, triggers, and simultaneous actions and sub-actions, manage project requests, and have access control
Large-scale corporations that need a customized project and workflow optimization tool with 24/7 priority support, HIPAA compliance, and advanced data and user management
What's Included In Each Asana Plan?
There are four Asana plans to choose from: Asana Basic (the free version), the Premium Plan ($10.99/user/month), the Business Plan ($24.99/user/month), and the Enterprise Plan (quote-based pricing.)
All four plans include Asana's Unlimited Project Management Essentials, which are: 
Unlimited projects
Unlimited tasks
Unlimited comments
Unlimited activity logs
Unlimited storage (100MB/file)
Unlimited assignees
Unlimited due dates
Unlimited messages
iOS and Android mobile apps
All four Asana plans also include:
List, Board, and Calendar Views
100+ third-party integrations, and APIs, including time tracking apps
Status update reports that can be exported via CSV and PDF
Multi-factor authentication and SOC II Type II security
Below, we'll examine each of the plans in greater detail, including each plan's top features, customer service availability, security standards, reporting capabilities, and ideal user base.
Asana Basic
Asana Basic, the provider's only free plan, has a 15-user limit and includes the standard Project Management Essentials alongside basic customer support and security, minimal reporting capabilities, 3 project Views, and over 100 third-party integrations.
Asana Basic is best for new or small teams (remote or in-office) that need a user-friendly task management app to help individual users keep track of their daily/weekly responsibilities.
Though Basic users may occasionally collaborate or assign each other quick tasks and reminders, they don't need a large-scale, department-wide project management platform.
Ideal Asana Basic users work relatively independently of each other, prefer a checklist-style interface, and rely on separate (or integrated) third-party software for most of their communication and collaboration needs.
Admins and team leaders aren't looking to closely monitor their workflow over long periods of time to identify areas for improvement. They don't require advanced workflow automation features like agile project management or sprints. Instead, they want to ensure team members remember all their tasks, meet deadlines, and can comment and tag users with questions or updates if needed.
Asana Basic Key Features
For a free plan, Asana Basic has a surprisingly robust feature set that makes staying on top of tasks, onboarding new team members, outlining projects, and easily accessing task history simple.
Tasks And Subtasks
Asana Basic users will likely use the task management interface instead of the larger-scale project management tool. Although tasks are mostly used to assign, update, and track smaller, specific "to-dos", they can also be used for setting reminders, jotting down ideas, or even as a repository for relevant files and attachments.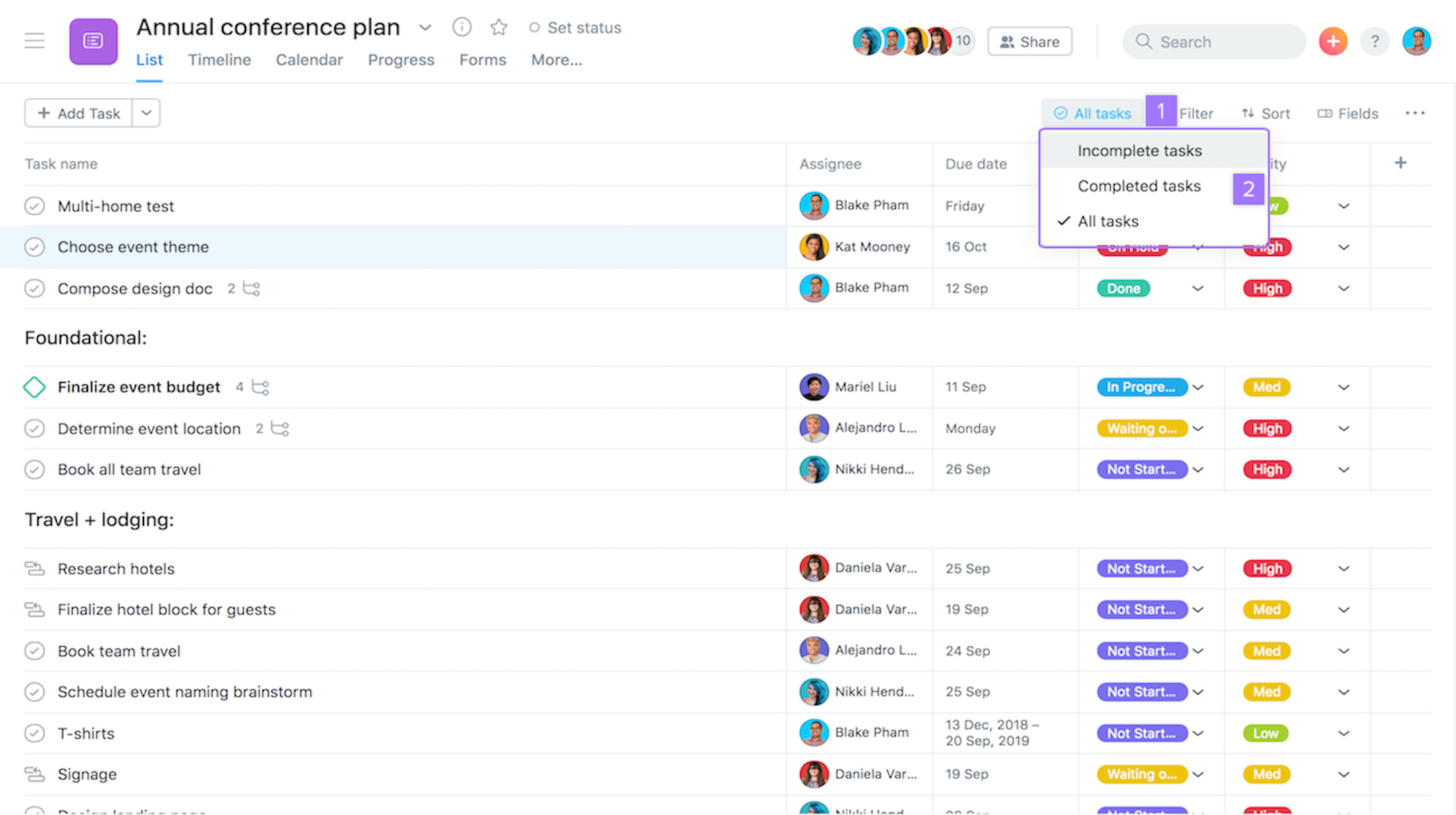 Asana tasks can only be assigned to an individual user,  but task creators and assignees can add multiple collaborators per task. Task management works best within the checklist format, and users can virtually check off completed tasks throughout the workweek.
Within tasks, Asana Basic users can add a task title, description, deadline/due date, add task collaborators, set recurring tasks, duplicate, color code, and sort tasks, and attach relevant files (via Google Drive, Box, OneDrive, and Dropbox integrations.)
Users can also create subtasks, or "tasks within a task," to drill down responsibilities and expectations into even further detail.
Inbox
Asana's user Inbox, shown in the sidebar, provides updates and notifications on all of an individual user's Asana activity.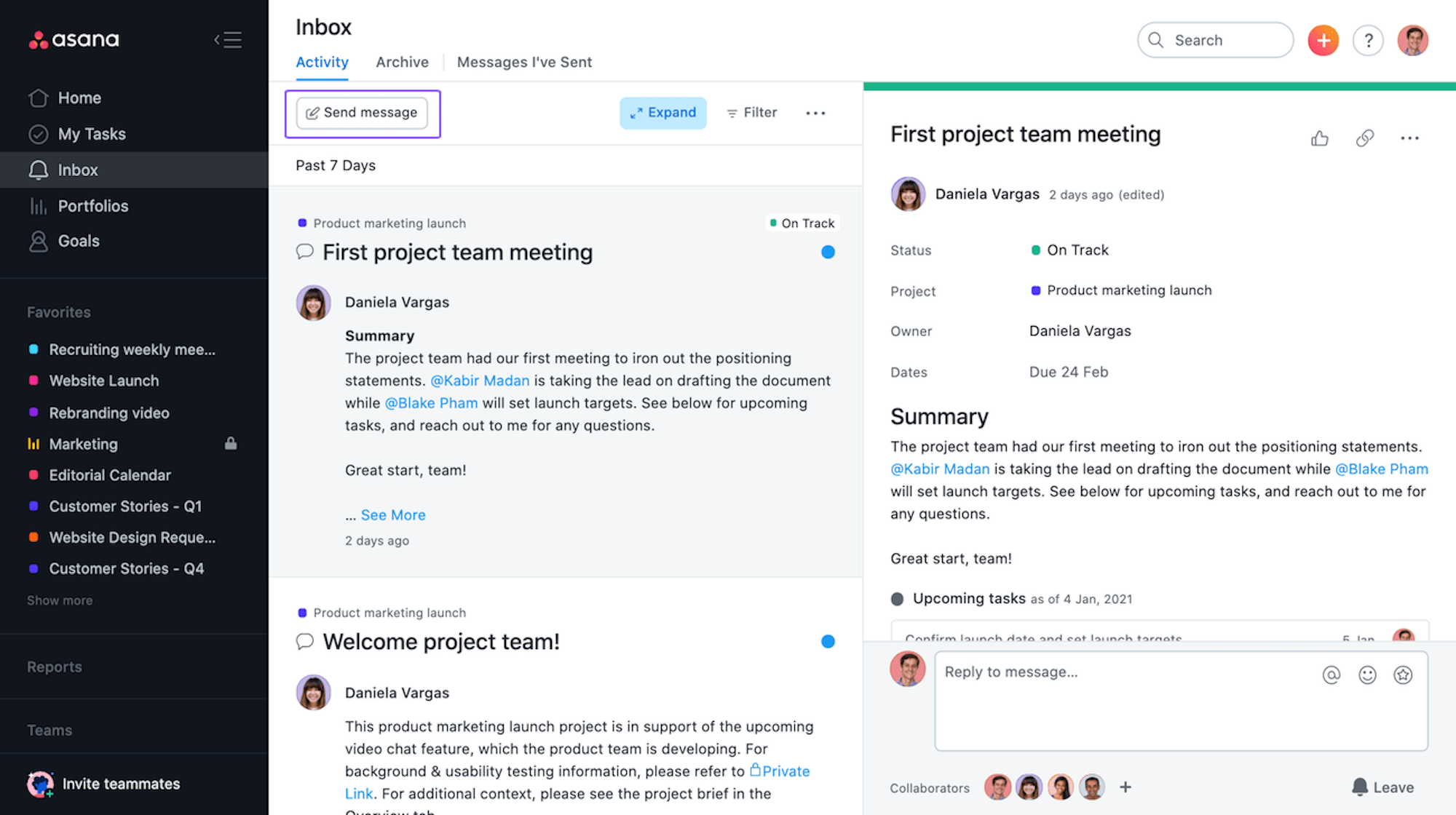 This can include tasks, projects, comments and updates on tasks they're collaborating or working on, and more. The Messaging Inbox is accessible directly within the Asana interface, and Inbox notifications can also be sent to a user's email address, desktop, or mobile device.
List, Board, and Calendar View
In the Basic plan, users only have access to List, Board, and Calendar Views.
The List View is best for tasks and resembles a standard "To-Do" checklist, while the Board View is a Kanban-based interface ideal for Projects. The Calendar View can be customized to a weekly or monthly format.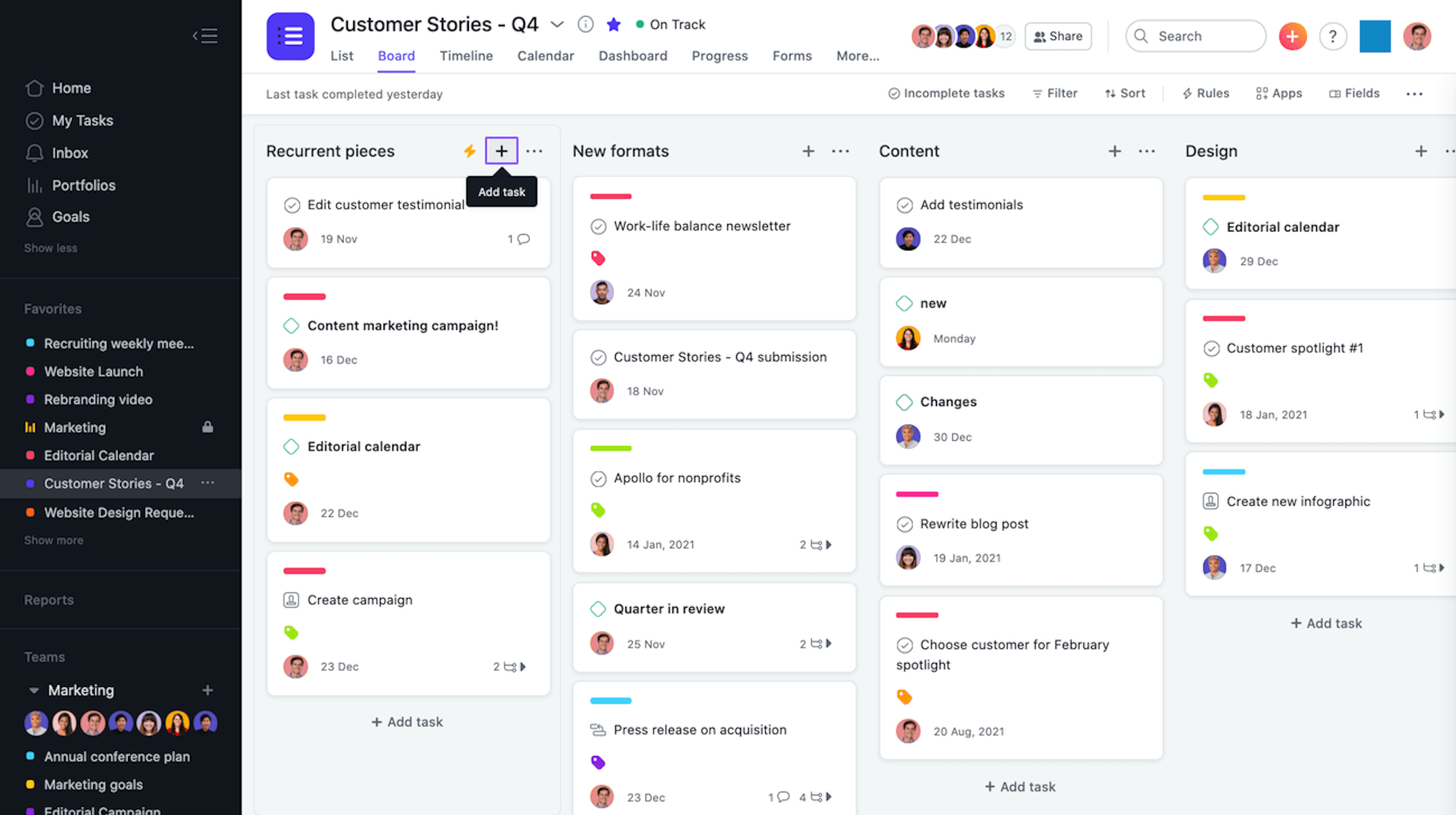 Asana Basic: Customer Support And Security
The Asana Basic plan offers multi-factor authentication and SOC II Type II security, but lacks private projects, private teams, and unlimited free guests. It also doesn't offer data deletion or an admin console.
The Basic Plan offers Asana Support, which is a form-based ticket request that's difficult to find and doesn't allow for real-time communication with a support agent. Users can attach files to and describe support requests, but that's it.
However, the Asana Forum, Academy, and Webinar support options are available, as are the excellent, searchable Asana User and Developer Guides, an online knowledge base with video and written tutorials.
Asana Premium
Going from the Basic to the Premium Plan is a big jump. The Asana Premium Plan is best for Basic users that have outgrown the free plan and now need access to more robust project management–not just simple task management–tools. These teams are also interested in creating simple workflow automation and reviewing analytics to identify pain points.
The addition of the Timeline View brings with it much more advanced task management features, including custom status updates, task dependencies, and even task/project templates (custom or from Asana's template library.)
However, the biggest benefit here is access to a suite of automation and workflow optimization features that eliminate repetitive tasks, shorten project timelines, and let users choose from pre-set triggers/actions. Another big step up is the Premium Plan's interactive analytics, featuring charts, graphs, custom fields, and more.
Asana Premium Key Features
The Premium Plan unlocks numerous new Asana features, particularly regarding reporting and workflows.
Advanced Workflow and Automation Tools
Asana Premium grants users access to a plethora of workflow and automation tools, including:
Start Dates and Times: Set project/task start dates to better manage workload, increase accountability,  prevent last-minute rushing, and meet deadlines
Custom Templates/Template Library: Unlimited access to Asana's premade project template library, and make custom templates from scratch or existing projects
Task Dependencies: Makes one task dependent on the completion of another to move forward
Task Status Updates: Update the status of each task/project from a drop-down menu
Forms: Create streamlined, embeddable request forms by adding form categories, questions, attachments, notes, dates, descriptions, etc. (Branching logic included only in Business and Enterprise Plans)
Workflow Builder: Visually outline or standardize project workflows, connect project assignees, track workflows, and add workflow customizations within one location
Pre-set Rules With Unlimited Rules Actions: Task automation functionality with ability to choose from pre-set triggers and corresponding actions, such as automatically updating task status, automatically setting fields, moving columns, etc.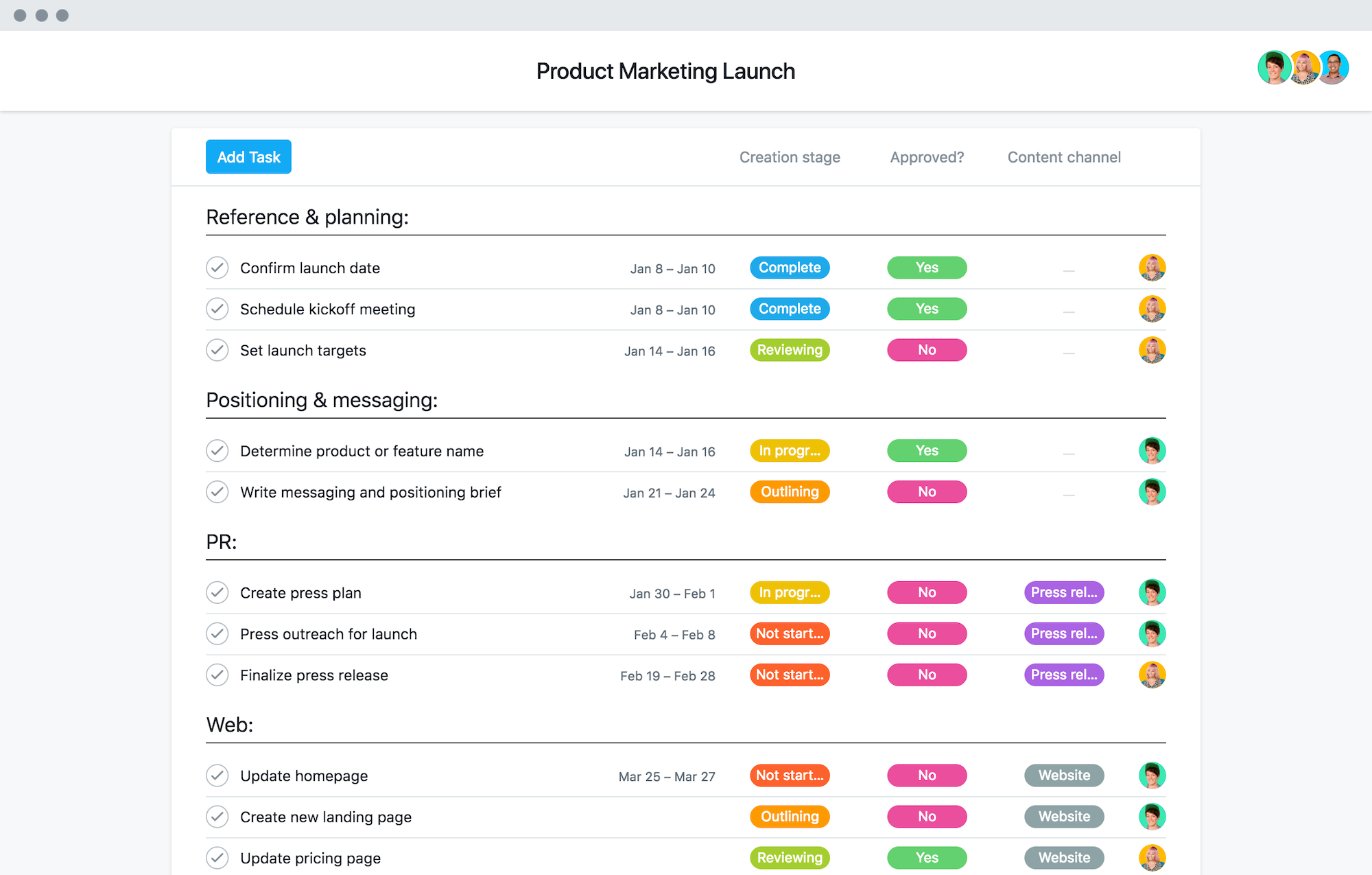 Timeline View
Asana's Timeline View is a Gantt chart interface with a team-wide, bird's-eye-view ideal for project planning, scheduling tasks within a project, managing assignees, and monitoring project activity.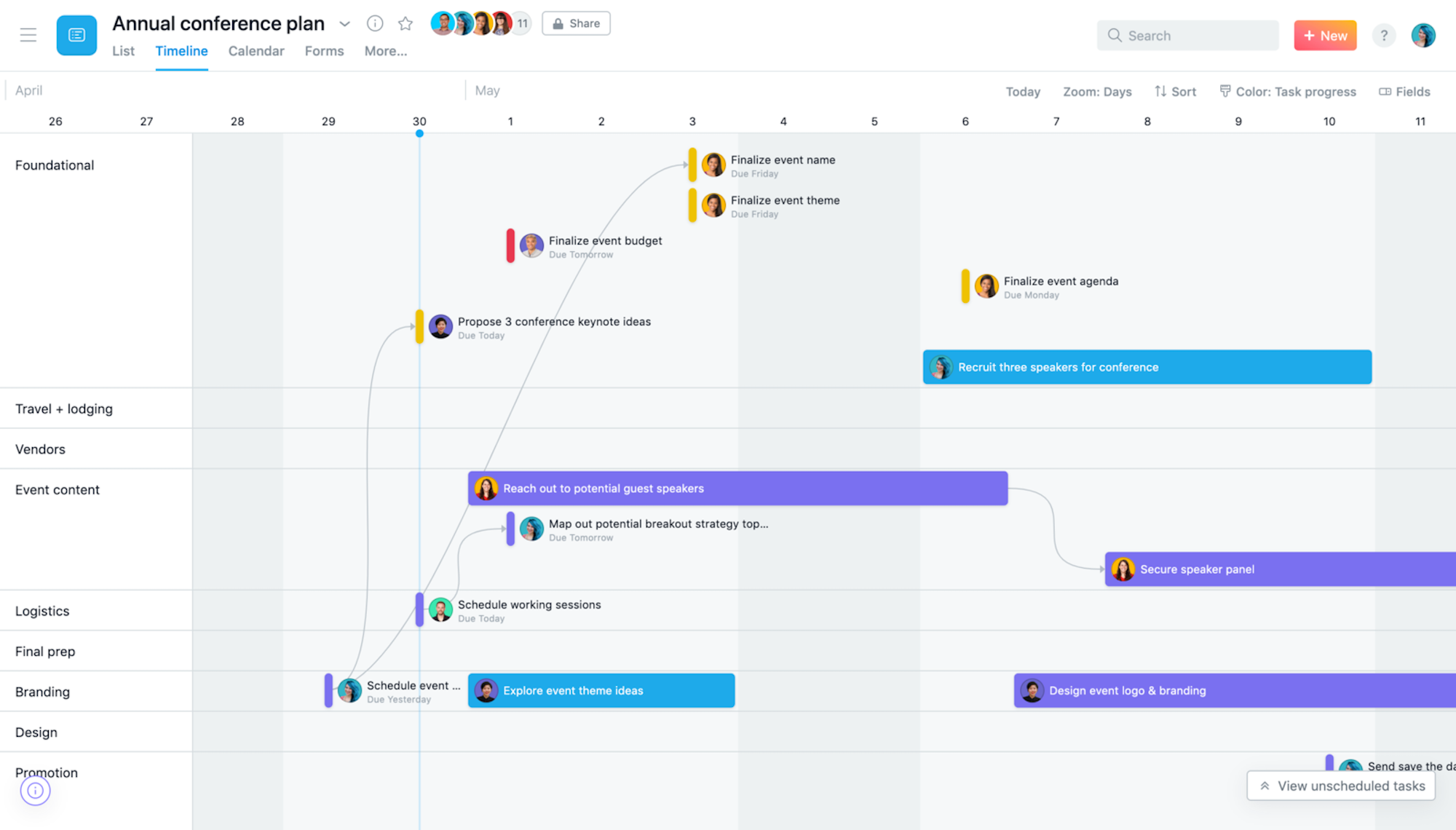 All project assignees can view the project timeline, and all scheduled tasks are automatically placed in the timeline to simplify the planning process and ensure nothing is overlooked. It's also ideal for adjusting deadlines en masse, connecting task dependencies, and highlighting each project's critical path. Timeline color-coding, sorting by date or assignee, sectioning, and filtering are also available.
Detailed Analytics And Reporting
Asana Premium provides access to much more robust and interactive analytics, including custom fields, unlimited reporting dashboards across unlimited projects, a reporting template library, customizable charts and graphs, analytics search, and more.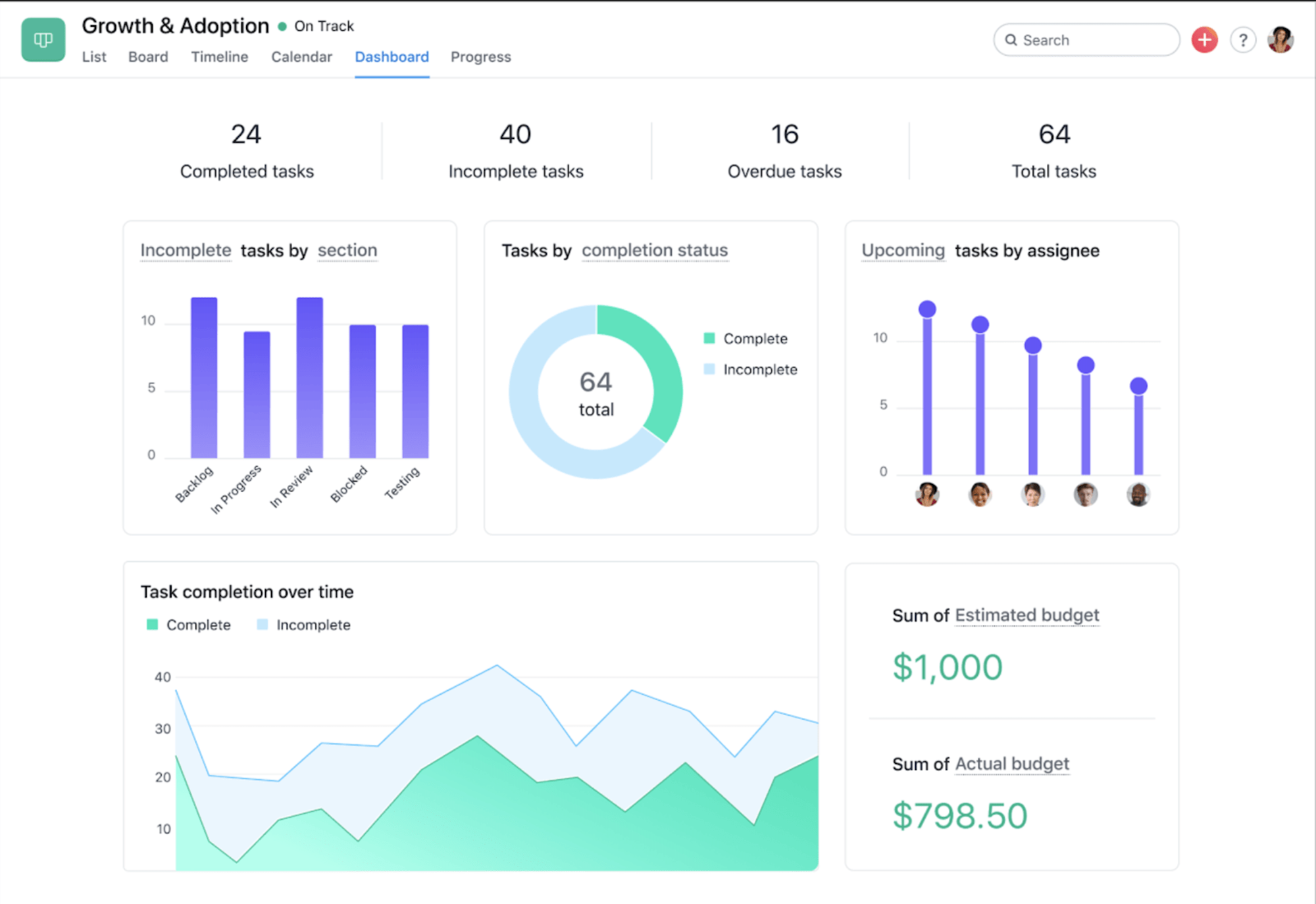 This level of analytics simplifies and speeds up the workflow optimization process and makes identifying lagging projects or workflow bottlenecks much easier.
The Milestone feature, displayed as a task, lets users create and track key points of progress, differentiate project phases, and create much more manageable sub-goals. Users can also turn existing tasks into milestones.
Asana Premium: Customer Support And Security
Asana Premium grants users access to customer success options for assistance with onboarding, user training, consultations, deployment, etc (limitations apply, some options may require additional payment.)
Asana Premium also offers SSO via SAML, basic data deletion, private teams/projects, unlimited free guests, and access to the Admin Console.
Asana Business
The Asana Business is best for teams that operate within an agile and scrum workflow, but that need to be able to customize triggers and actions according to specific project needs.
Due to the complexity of and numerous dependencies within each workflow, Business users/project managers need to be able to prevent users from making any unauthorized changes–which the Business Approvals, Proofing, and Custom Rule tools allow for.
The Business Plan also provides access to three new views: Portfolio, Workload, and Goals, each of which are ideal for company-wide or team-wide collaboration and communication.
Asana Business Key Features
Asana's Business Plan grants users the ability to further customize the automation, rules, and trigger options provided in the Premium Plan, and provides proofing and branch logic tools.
Workload, Portfolio, and Goals Views and Reporting 
The Portfolio View combines multiple projects and initiatives into one common interface, making it easy to group and track relevant or connected projects without switching tabs. It provides an overview of all projects within each portfolio, giving one-sheet updates on project/task status and progress, dates, priority level, and pending Approvals.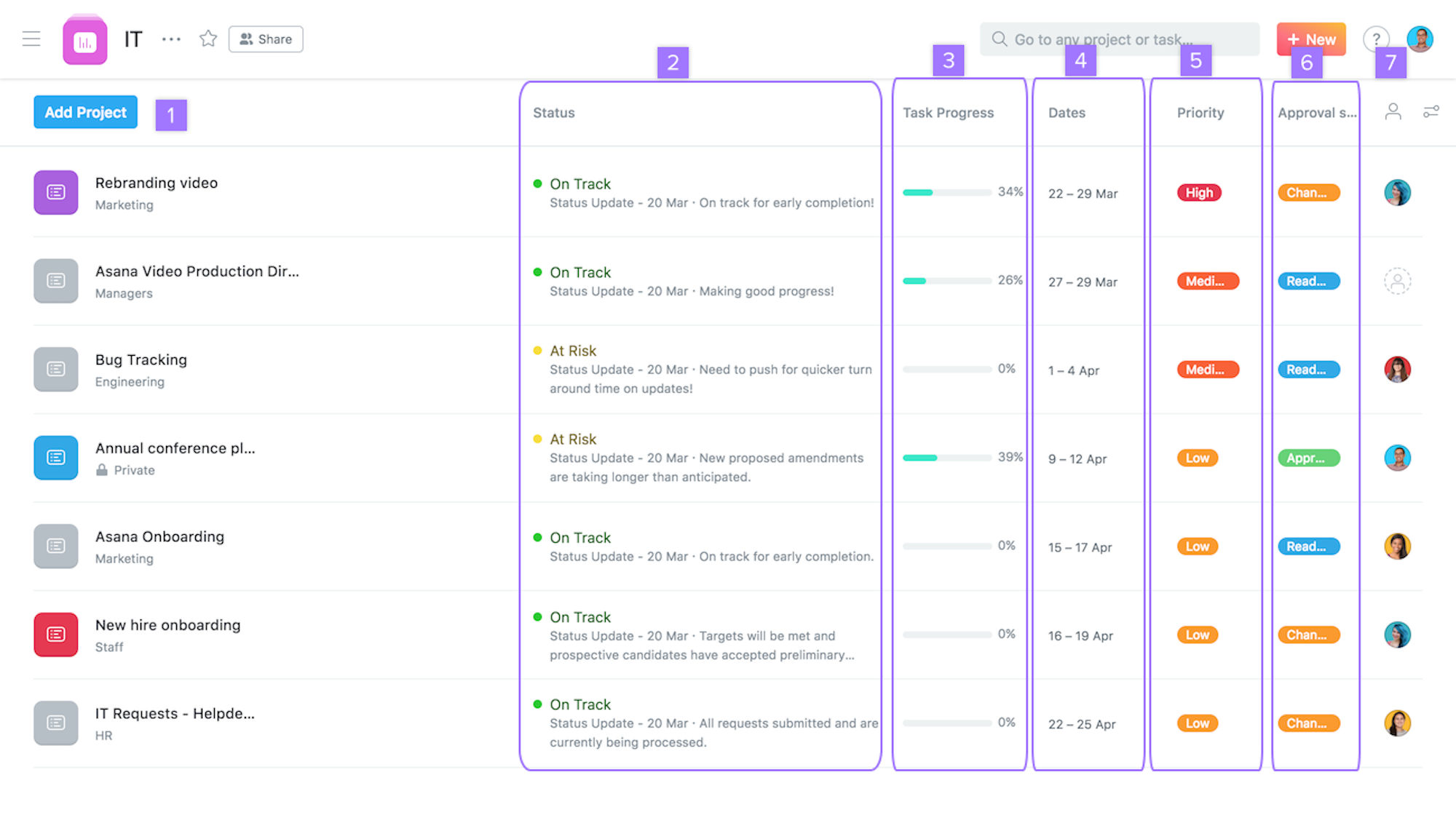 The Workload View and its corresponding analytics are workflow management features within a Portfolio that provide an overview of team member capacity, current/future projects/assignments, the projected timeline of their assignments (called "effort"), and custom workload fields. It prevents assignees from becoming overburdened and helps to evenly distribute the workload, and lets users set capacity limits.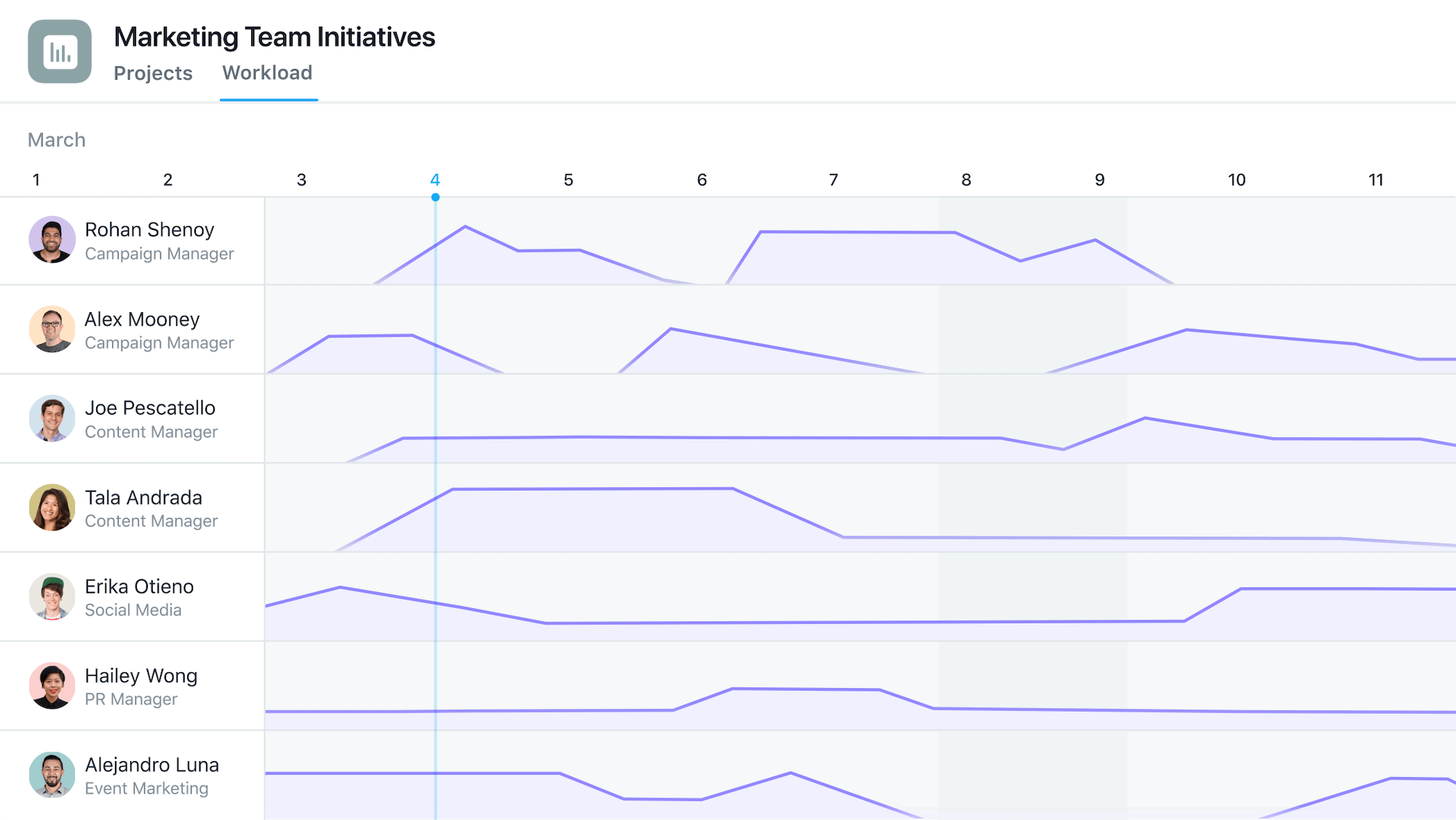 The Goals View and corresponding analytics provide teams or your entire company with a clear, shared goal alongside sub-goals, a time period, a percentage progress bar, goal status updates, and more. This helps teams visually track progress, prioritize projects and tasks, stick to deadlines, and provides team or company-wide accountability.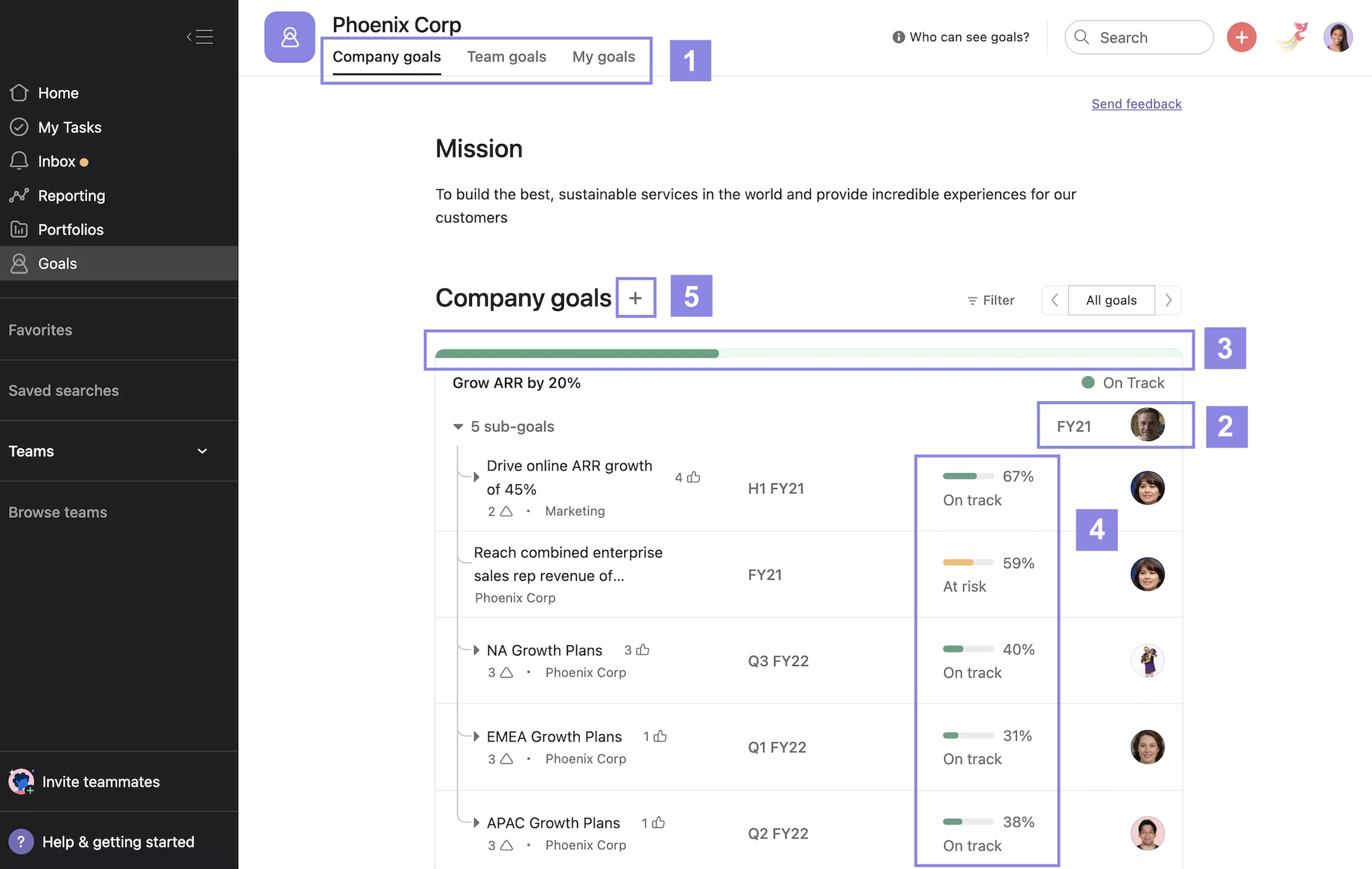 Custom Rules, Proofing, and Approvals
Approvals let collaborators know if their recent suggestions, prompts, or requests have been approved, rejected, or sent back with a request for changes. Although all project collaborators can complete Approvals by default, comment-only projects allow only the task assignee to do so. In-app notifications notify all users of Approval updates.
Though Asana Premium users can access pre-set rules, the Business Plan lets users customize unlimited rules and unlimited actions with the Custom Rule Builder.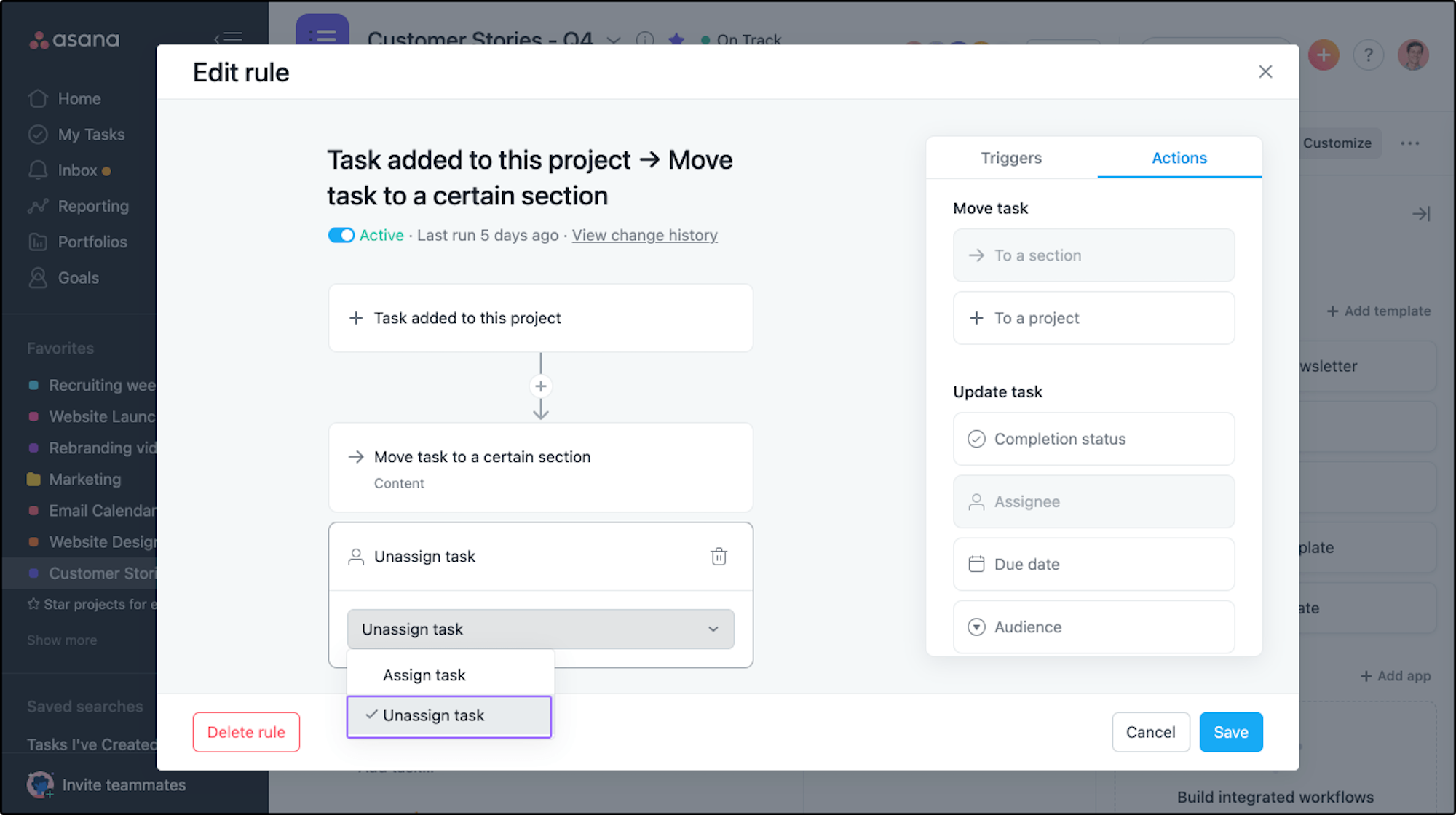 This lets users unassign and move tasks, clear due dates, mark tasks as incomplete, and remove collaborators. Business users can set rule conditions, set custom triggers and corresponding actions, and create agile sprints with trigger combinations, conditional logic, and multiple actions Business users can also automate up to 20 predefined subtasks actions within rules.
Proofing lets project leaders/designated stakeholders leave annotations and feedback on images and PDFs, triggering automated actionable subtasks to streamline the editing process.
Asana Business: Customer Support And Security
The only additional security feature on the Asana Business Plan is the ability to lock custom fields, preventing other users from making unapproved changes that can wreak havoc on each team's work projects and workflows. There are no customer support upgrades on the Business tier.
Asana Enterprise
The Asana Enterprise Plan, the top-level pricing tier, is best for large-scale (nationwide or international) companies that need customized admin privileges, greater control over their data, advanced security features, and top-level user management settings.
Asana Enterprise users want to have uniform user permissions and additional security/privacy settings across their entire company, even if the company's separate branches/locations rarely work together. These teams may or may not handle highly sensitive information or have strict industry compliance regulations, but want the highest level of security possible regardless.
Given the large scale of their companies, Enterprise users require nearly all the business software they use to offer 24/7 priority support, guaranteed uptime, and above all, a customized plan specifically designed to meet their business needs.
Notably, the Enterprise Plan is the only Asana pricing plans tier offering: 
24/7 support
Priority customer support
A 99.9% uptime priority customer support
HIPAA compliance
Asana Enterprise Key Features
The only features that truly separate Asana Enterprise from the Business Plan are:
Advanced Security Features
Asana Enterprise users have access to several exclusive advanced security and user management features.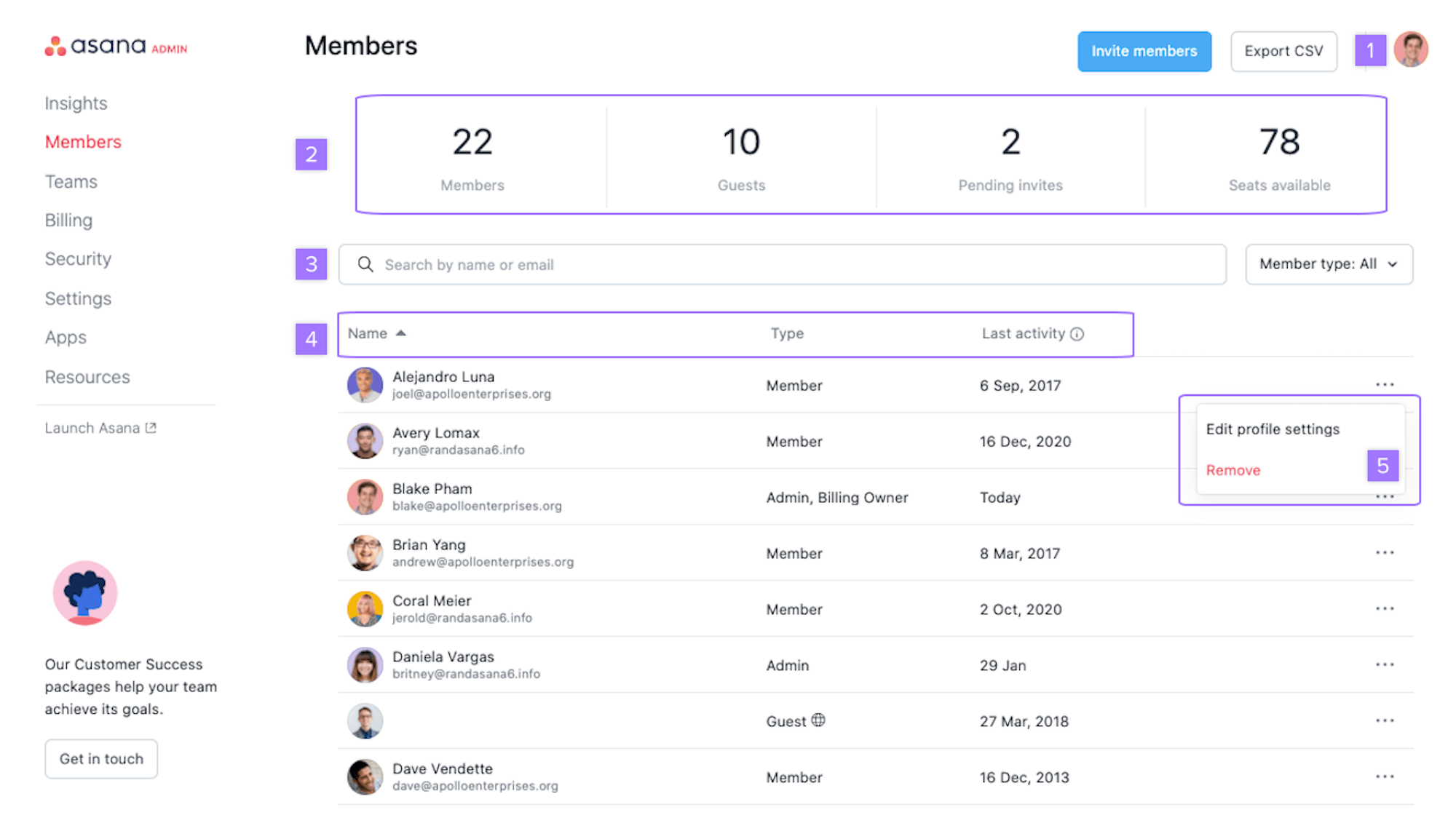 Enterprise admins can specify which users can invite external guests, remove anyone (guest or internal user), and can manage the third-party apps that can access their Asana domain. Admins can use data export or data deletion tools, lock custom fields, and benefit from more frequent data backups.
Custom Branding
Only Asana Enterprise users have access to custom branding, ideal for teams that frequently collaborate with external users/companies. Companies can use their logo within the Asana interface.
Asana Enterprise: Customer Support And Security
In addition to expedited support tickets via priority support, Enterprise customers are the only  Asana users with 24/7/365 customer support, though more information about these additional support channels is not public on the Asana website.
As stated above, Asana Enterprise is the only plan with HIPAA compliance, a 99.9% guaranteed uptime, and strong user access and data management control.
What Is Asana Best For?
Asana is best for SMBs managing a high volume of team-specific simultaneous projects with varying timelines, each requiring numerous related tasks and subtasks from multiple team members to complete. Asana users are looking for a central place to store relevant task/project files and need to be able to review all task comments and activity quickly. Because Asana users likely work across multiple locations and time zones, they need better organizational features and communication tracking tools than standard instant chat messaging apps can provide.
Asana users are interested in making every team member's responsibilities clear to prevent miscommunications, missed deadlines, and forgotten tasks. They're not usually looking to optimize their workflow–they just want to streamline everything into a simple, clean interface.
The above reviews of available Asana plans show the platform's scalability, levels of customization, automation and workflow optimization capabilities, and value for the price.
However, Asana does have a few shortcomings.
First, the relatively few additional features its Enterprise Plan offers means it's likely not the right fit for high-level corporations–especially given the lack of information regarding pricing and customer support.
Compared to other project management tools, Asana is expensive, with its Business Plan costing $25/user/month. For smaller teams, newer businesses, nonprofits, and educators, the high Asana cost may be prohibitive. Still, the free version of Asana includes advanced features the free versions of most competitor project management tools do not.
The biggest user complaint, however, is by far the inability to assign multiple people to one task–a functionality Asana users have been requesting for years. Though there are workarounds, it's frustrating to have to add a step for a feature upgrade that's so simple–and so clearly needed.
Asana vs. Competitors
The below table offers a quick overview of the top Asana alternatives.
| | | | | |
| --- | --- | --- | --- | --- |
| Provider | Pricing | Key Features | Best For | Not Right For |
| monday.com | 1 free plan, 4 paid plans from $8.00-$16.00+/user/month | 20+column types, 200 premade project templates, advanced automations | Medium to enterprise-level businesses needing agile project management software with robust features for highly detailed project outlines, workflows, and monitoring | Straightforward, singular tasks |
| Trello | 1 free plan, 3 paid plans from $5.00/$17.50/user/month | Command Runs and Power-Ups | Design, production, and marketing creative teams that prefer a Kanban board interface with nested pinnable cards for media files and notes | List-based task management or teams needing in-app voice/video calling |
| Slack | 1 free plan, 3 paid plans from $7.25-$12.50+/user/month | Threaded replies, one-click in-app voice/video calling and file storage integrations | Remote/blended teams needing a real-time instant messaging tool with file uploading, channels, and in-app voice/video calling | Teams that need a complete project management tool |
| ClickUp | 1 free plan, 4 paid plans from $5.00-$19.00+/user/month | Advanced time tracking /time estimates, whiteboards, mind mapping, Sprints | Businesses of any size needing an all-in-one  workforce optimization, project management, and team collaboration tool | Teams needing a standalone project management app, or teams with preferred third-party collaboration tools |
| Smartsheet | 3 paid plans from $7.00-$25.00+/user/month | Spreadsheet-based interface, WorkApps, Work Insights | Large-scale businesses within the marketing/ content development sector needing to identify workflow bottlenecks and easily share data with external users | Teams needing a free plan, small businesses |
| Airtable | 1 free plan, 3 paid plans from $10.00-$20.00+/user/month | Table view, customizable Interface designer, Sync | Teams needing to consolidate data from multiple sources into one tool, and teams that need to share/monitor/analyze data within a customized interface | Teams not interested in workforce optimization, teams that only work internally |
Asana Pricing FAQs
Below, we've answered some of the top Asana pricing FAQs.
Yes, Asana is free for personal use individually or for teams up up to 5 via its Basic forever free plan. The Basic version of Asana comes with Unlimited Project Management Essentials, 3 views, multi-factor authentication, third-party integrations, and more.
The main differences between free and paid Asana versions is that while the free Basic plan is limited to 15 users and only includes some task management features, Asana paid plans allow for unlimited users, additional Views, workflow monitoring with advanced analytics, stronger security, and more robust project and task management features.

The Asana Basic Plan is free forever for up to 15 users, while Asana's paid plans come with a 30-day free trial.
Asana is not good for an "instant messaging" or "real-time chat" style of communication, nor is it good for tasks and projects that require multiple simultaneous assignees.
Yes, a single person can use Asana as a way to keep track of their own upcoming or current projects, ideas, tasks, and relevant files. Individual users can switch between Calendar, Checklist, or Board Views depending on their needs, but many individual Asana users may be overwhelmed by the sheer volume of features and levels of customization.