For as long as there have been ways to make money over the phone – robocalls have existed. These automated calls often act as affordable ways for businesses to reach customers, so there is and was some legitimacy to them initially. 
These unwanted calls – including illegal and spoofed robocalls – are a quandary the Federal Communications Commission (FCC) set out to solve, noting on its website that it is the governing body's "top consumer complaint." 
"These include complaints from consumers whose numbers get spoofed or whose calls get mistakenly blocked or labeled as a possible scam call by a robocall blocking app or service," the FCC writes. 
Where the problem lies is in the fact that the automated calls of today are typically a scam for unsuspecting individuals – with fraudsters often stealing money and time from these folks. To combat robocalls – the FCC put some customer safeguards in place, including: 
Issuing hundreds of millions of dollars in fines for illegal robocalls.

Suggesting that phone companies block (by default) suspected illegal or unwanted calls leveraging what it calls "reasonable call analytics before the calls reach consumers."

It also says that it wants to empower service providers to lend consumers options on tools that can block calls from any number that doesn't appear on a customer's contact list or other "white list."

It requires phone companies to implement

caller ID authentication

to help reduce illegal spoofing.

Finally, the FCC made consumer complaint data available to service providers to help better stop and label spam calls via software solutions.
STIR/SHAKEN, you may have heard of it before, is an essentially industry-standard caller ID authentication technology. The FCC requires – that all service providers adhere to the set of protocols to better shield customers from September 2021.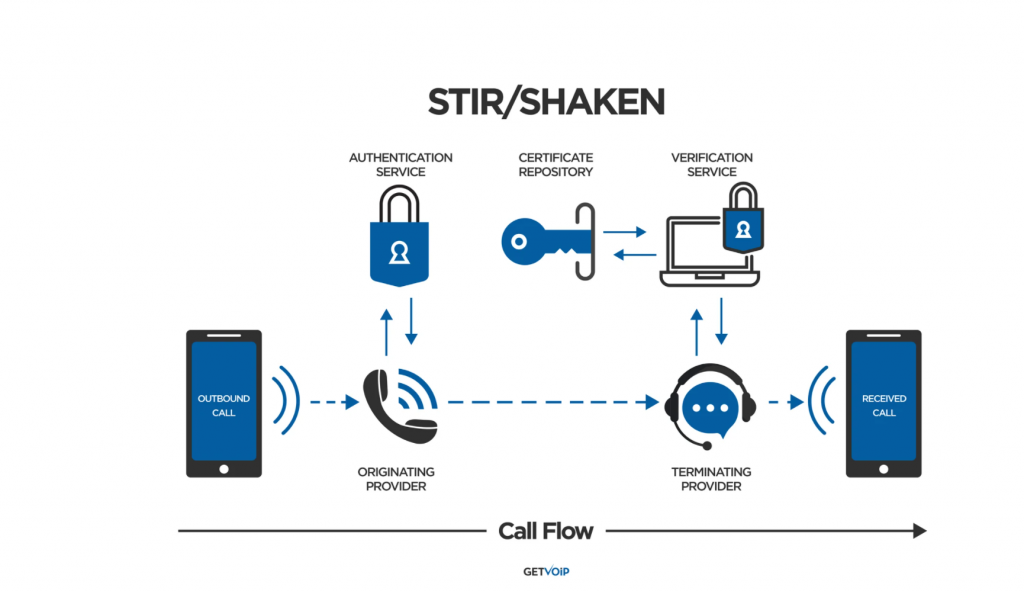 Some companies have even gone as far as to leverage blockchain technology to help fight robocalls, while others like Twilio have remained at the center of combating robocalls. Here's a look at the state of Robocalls in 2022, by the numbers. Yet, there remains a steady stream of robocalls, as YouMail reports. I will explore this idea in the coming section.
Who Makes Robocalls?
Robocalls are not all inherently bad, and places like pharmacies can issue robocalls to alert you that a vital medication is ready for pickup. Doctors' offices and even emergency messages for entire counties can go out in the form of a robocall. 
There is also a dark side, which implies that anyone looking to make a quick buck could be subject to setting up an illegal robocall operation. With today's technology – it does not take too much effort. Looking at the statistics of it all, it is clear the demographic of those making robocalls. 
The most common type of robocalls come from those who claim to be with the Social Security Administration (39%), the IRS (38%), travel companies (36%), and debt collectors (33%) (

CNBC

).

Calls from the top five carriers (AT&T, CenturyLink, Comcast, T-Mobile, and Verizon) accounted for 74% of robocalls in 1H 2020, up from 68% in 1H 2019 (Transaction Network Services (TNS)

Fall 2020 Robocall Investigation Report

).

In 2019, NetDotSolutions, Higher Goals Marketing, Veterans of America, and Pointbreak Media got fined and banned by the FTC for making billions of robocalls (

PC Mag

).
There were only 22.8 billion total robocalls halfway through 2020, equating to an annual pace of 45.6 billion, slightly below what we saw in 2018. (Transaction Network Services (TNS)

Fall 2020 Robocall Investigation Report

).

In September 2020, robocalls averaged 126.9 million calls/day or roughly 1,469 calls/second, up 7% from 118.3 million calls/day and 1,370 calls/second in August (

YouMail

).

In July 2020, scam robocalls increased by 12%, to roughly 1.7 billion calls, a substantial 22% increase in telemarketing calls to nearly 500 million calls (

Warranty Informer

).

Americans received just over 3.3 billion robocalls in June 2020, an 11% increase from May (YouMail).

Despite a marginal decrease compared to 2019 (31.7 spam calls per month), more than half of Americans (55%) report receiving more spam calls (on a mobile or landline) and/or text messages now than they did a year ago, while 18% say they receive fewer (

Truecaller

).

45.9 billion robocalls were placed nationwide in 2020, equaling roughly 139.7 calls per person affected. (YouMail)

18% of consumers reported getting more than three scam calls per day (

First Orion

).

Charity fraud more than doubled: Of the consumers who received a call from someone posing as a charity/humanitarian. Fifty-eight percent reported a financial loss, and in 2019, a mere 24% of consumers responded "yes" to that query (First Orion).
Robocalls are a Big Waste of Time for Everyone
First, I'd like to start with a tip: if you suspect you have/are receiving a robocall – don't answer it. They are a big waste of time for both parties involved. The only goal is to obtain valuable information and cause harm using your details. 
If the scammer does not get the valuable information they are looking for – or any money, they have also wasted their time. So, what gives? For starters, folks have become savvier, which is best represented in these below data:  
18% of unidentified calls get answered (

Hiya

)

9% of calls identified as spam get answered (Hiya)

Spam calls typically last 45 seconds – which is low; compared to identified calls from businesses, which last two minutes and 58 seconds on average. 

Spammers wasted a total of 651,176 minutes in 2020. (

RoboKiller

)

October 2019 is the high-water mark for robocalls with 5.7 billion robocalls or over 190 million per day. (

Warranty Informer

)

In September, robocalls averaged 126.9 million calls/day or roughly 1,469 calls/second, up 7% from 118.3 million calls/day and 1,370 calls/second in August. (YouMail)

Because 70 percent of consumers do not pick up unknown numbers, scam callers now spoof the numbers of legitimate businesses so they can 'spoof' caller ID services (

FirstOrion

).
Robocalls are Costing People Money
Money, money, money; baby. That is the 'name of the game' (so to speak) for scammers who hope to gain access to sensitive information like banking details. They often remote access your computer, and from there – can run any number of refund-based and many other kinds of scams. 
If remote access to your device, the possibilities are endless, especially if the user is older and more subject to having their computer illiteracy exploited. So far: 
Who Feels the Impacts of Robocalls?
The good or the bad news is – robocalls don't tend to discriminate — so anyone can pretty much fall victim to these scams. Certain demographics tend to be more susceptible to them, however. I touched on this notion briefly above. But in this section, I will explore that notion further. 
Robocalls in the COVID-19 Era
The Federal Trade Commission (FTC) released the Commission's annual do not call list, and it had a ton of surprising findings. In 2021, we hit some milestones regarding robocalls. 
What emerged from the report is that imposters seem to have gotten more creative, as the FTC received more than 496,000 complaints. Scammers pretend your warranties and protection plans have expired – making up the second-most commonly reported topic. Consumers filed more than 412,000 robocall complaints on that front. 
Calls regarding supposed debt reduction made up the third-most commonly reported topic, followed by complaints about medical and prescription issues and computers and technical support, according to the FTC's 2021 annual report. 
At the end of the fiscal year of 2021, the DNC Registry contained 244.3 million actively registered phone numbers, up from 241.5 million at the end of FY 2020. 

The number of consumer complaints regarding unwanted telemarketing calls rose from nearly four million in FY 2020 to over five million in FY 2021. 

Of those complaints, 68 percent concerned robocalls, and 22 percent – represented by live telemarketing.
In FY 2021, the FTC received 3.4 million complaints about robocalls, up from 2.8 million in FY 2020.

The FY 2021 total is in line with previous years, following FY 2020's significant decline.

New Hampshire continues to top the nation in active DNC registrations per capita (94,642). 

States that report the most complaints per 100,000 population changed in FY 2021. 

The top five states: Maryland (2,028 per 100K population), Delaware (1,982 per 100K population), Arizona (1,945 per 100K population), Colorado (1,943 per 100K population), and Virginia (1,939 per 100K population). 
How to Block Robocalls
Robocalls don't have to be an unavoidable nuisance. From FCC complaints to robocall blockers, there are numerous ways to block those unwanted calls. 
Robocalls Aren't Going Away
Over the past few years, a lot of solutions to this pressing issue have emerged: although criminals remained steadfast on reengineering new and creative ways to intrude upon your right to privacy. 
This is why taking the appropriate measures, be it blocking suspected spam callers or reporting them to the authorities, should remain principal tools in the consumer toolkit when combating spam calls. If you currently use a business phone service for your business needs, learn to deploy features like call screening as an extra line of defense against spammers.
Some are and some aren't legal. For example, a call trying to sell you something is illegal, unless they already had your permission to call. On the other hand, charities asking for donations can legally use robocalls.
If you answer, don't press any buttons. Immediately hang up and file a complaint with the FTC and the National Do Not Call Registry.

Some phone carrier providers will offer free robocall blocking features. Expect an additional fee with any third-party robocall blocker application.