Robocalls have long existed as an affordable way for businesses to reach customers. While they have some legitimate purposes, they have mainly evolved into something of a daily annoyance for most people. These automated calls now typically act as a way to scam unsuspecting consumers out of time and money. While robocalls have found ways to adapt to current times, there are ways to stop them.
This article will cover statistics regarding everything you need to know about robocalls in 2021. We'll cover the following topics:
Who Makes Robocalls?
As stated in statistics above, robocalls continue to be on the rise — that's because scammers are always finding new ways to trick callers into giving up their personal information. These automated calls have some harmless origins.
For example, pharmacies can use them to notify you when prescriptions are ready. But they are now used at alarming rates by illegitimate organizations to execute scams. Here are some statistics showing who makes robocalls. 
Robocalls are Generally Hated
From the receiving end of robocalls, there isn't really any benefit of robocalls. They waste time and sometimes even money for the person receiving the call. The following statistics will cover the negative impact of these automated calls. 
Statistics: Robocalls Waste Both Parties' Time
As answering a robocall never really leads to any legitimate business purpose, they tend to be a waste of time. Sometimes, they even waste the scammers' time. Here are some statistics outlining just how much time is lost due to robocalls.
Statistics: Robocalls are Costing People Money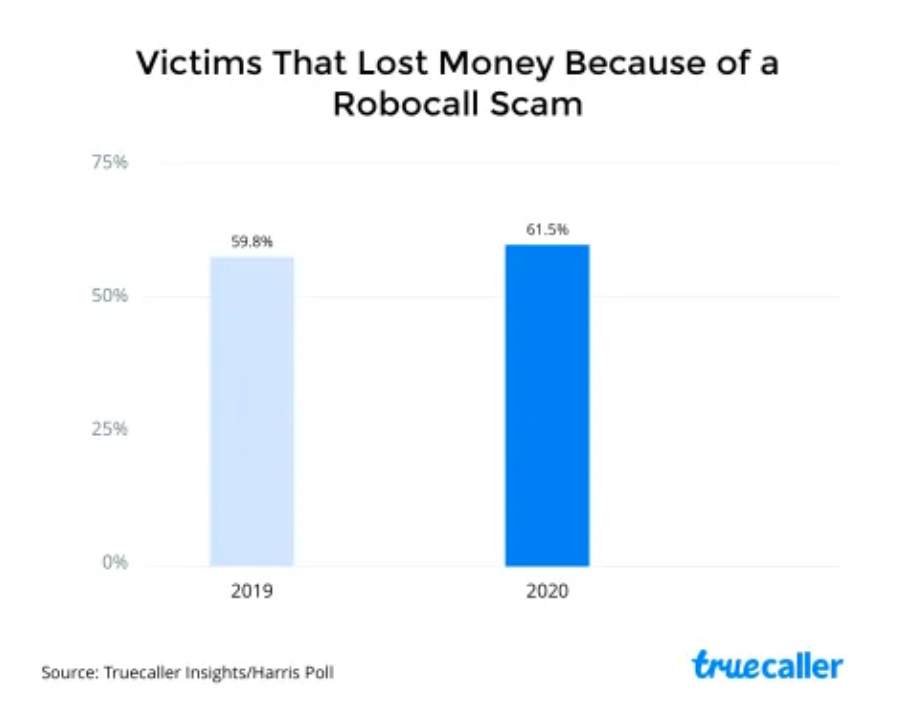 Unfortunately, robocalls are typically deployed as ways to scam people out of money. When the scams work, they tend to be very costly. These statistics are a look at how much robocalls are costing people.
Who is Affected by Robocalls?
Robocalls don't discriminate — anyone can fall victim to these scams. But certain demographics tend to be hit harder by robocalls than others. Here are some statistics about who is affected by these calls.
Robocalls in the COVID-19 Era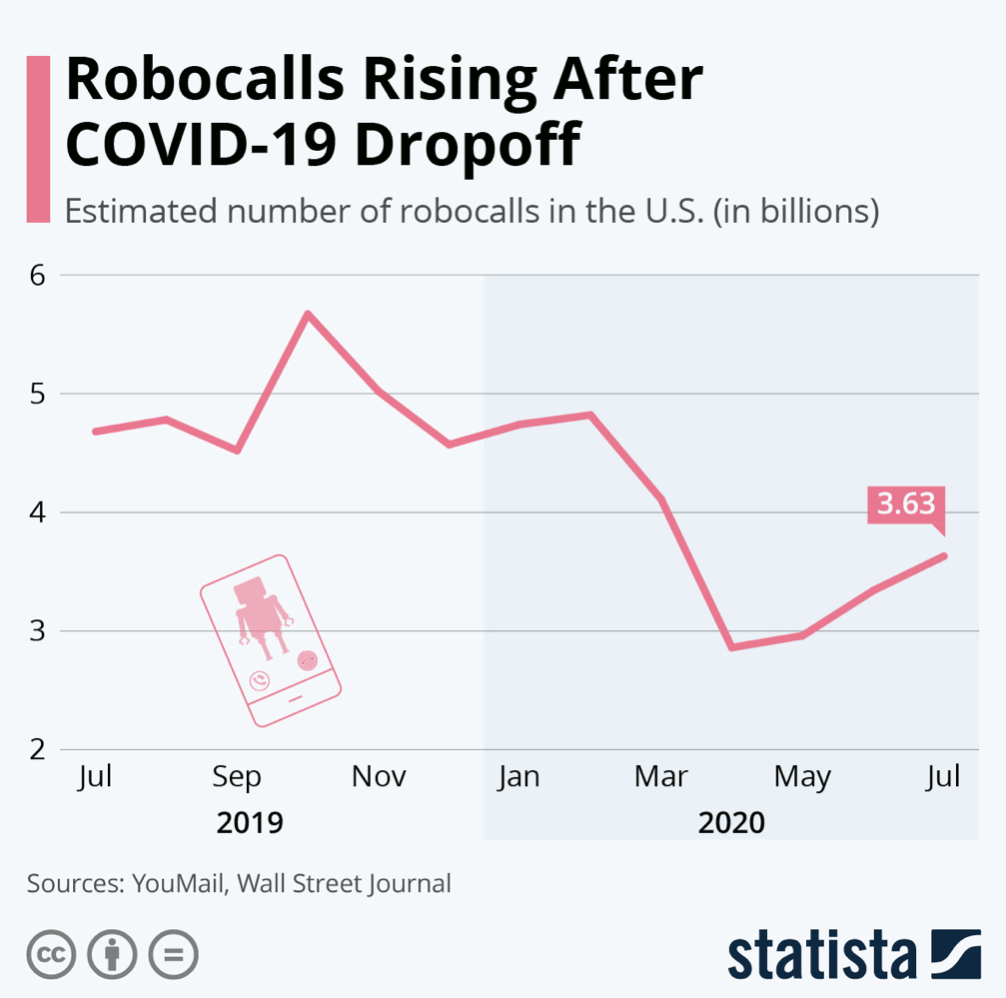 After the COVID-19 pandemic hit, robocalls changed and adapted. During the beginning of the pandemic, the general number of robocalls began to dip. But they eventually adapted to the circumstances of the pandemic and found new ways to scam people. Here are some statistics outlining robocalls in the time of the coronavirus. 
How to Block Robocalls
Robocalls don't have to be an unavoidable nuisance. From FCC complaints to robocall blockers, there are numerous ways to block those unwanted calls. Here are some statistics on ways to block robocalls. 
Conclusion: Robocalls Aren't Going Away
The tough truth is robocalls aren't going away anytime soon. But staying on top of current statistics will ensure you don't fall victim to them and have multiple options for blocking the unwanted automated calls. 
If you currently use a business phone service for your business needs, learn how you can utilize call screening as an extra line of defense against spammers. 
Some are and some aren't legal. For example, a call trying to sell you something is illegal, unless they already had your permission to call. On the other hand, charities asking for donations can legally use robocalls.
If you answer, don't press any buttons. Immediately hang up and file a complaint with the FTC and the National Do Not Call Registry.

Some phone carrier providers will offer free robocall blocking features. Expect an additional fee with any third-party robocall blocker application.