When searching for a hosted PBX solution for business VoIP, it's common to find providers that deliver plan options with multiple tiers or pay-as-you-go structures. Jive Communications delivers consistent features without locking you behind specific plans.
With Jive PBX, pricing is determined by how many users use the business phone system, so organizations from small to large will still have the same enterprise-grade features without feeling the need to upgrade. These useful features combine well with the consistent savings of 40% on local calls and 90% on international calls granted by all VoIP.
What is Jive PBX?
Jive PBX is a cloud-based VoIP and unified communications provider that is used by enterprise-level businesses that need an easy-to-manage interface.  Jive Voice, which is the company's primary VoIP offering, is compatible with desktop phones, softphones, and mobile smartphones. Jive mobile apps work with Google's Android operating system, Apple's iOS, and Microsoft's Windows Mobile.
The provider gives customers more customizability, which provides businesses the opportunity to grow without changing their phone system. Jive maps your users and anticipates the needs of your company to help meet your collaboration needs, which makes Jive stand out for business.
What are the Top Jive PBX Features?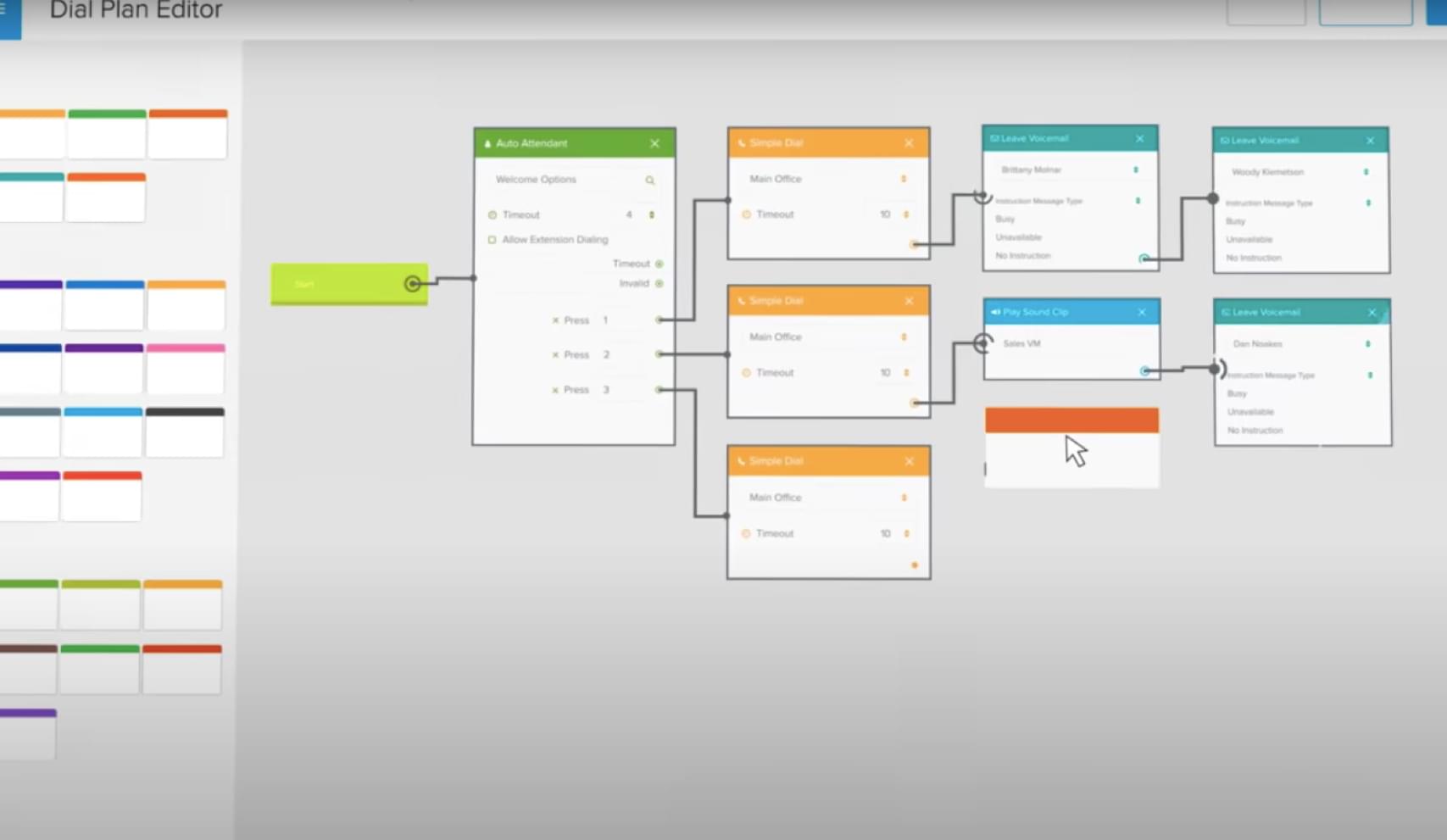 One of Jive's chief selling points is simplicity – it's easy to set up the phone service and edit the dialing experience. Here are a few critical Jive PBX features to consider.
Dial Plan Editor
Most providers allow you to edit your IVR call flows, but Jive's visual Dial Plan Editor makes setting up a precision call flow something that requires minimal time. Jive's editor has drag and drop functionality, so you determine what happens at every stage of a call.
When an inbound call first is made, the Dial Plan Editor presents the option for a "Simple Dial" that you configure. You set the timeout in seconds, so if the receptionist doesn't answer after 15-20 seconds, the call goes to the auto attendant. The auto attendant's draggable window also has a set of editable options and an "add option" selection that determines the next stage of the call. Each option has "press __ goes to," so it's easy to drag in smaller windows to establish a diagram for where each call is routed.
Have a new department? The dial plan editor makes it a quick process to simply send calls to that new department with an extension or through menu choices. The system allows you to record new sound clips from desktop computers with microphones or from smart devices.
Jive has a dedicated Youtube video that walks users through setting up their call flows when changes are needed.
Schedule-Based Call Routing
Sometimes, businesses need to route inbound calls to different teams and offices or contact centers based on the time that they call, and schedule-based call routing is Jive's answer to this need. This is very similar to the dial plan editor because it grants Jive users a dynamic way of establishing call hours for holidays and emergency closures while providing a means to quickly route calls to other call centers during off-hours.
The tool has a "when open go to" and "and when closed go to" selection on the scheduling window with extensive options. Schedule-based call routing allows you to quickly establish closed and open hours as well as set do not disturb hours. This helps the system determine when to send customers to a voicemail box, another office, or the auto attendant.
Remote Call Forwarding (Find me/Follow me)
Remote call forwarding permits users to change the endpoint so that customers reach agents anywhere. Jive's remote call forwarding system, which is sometimes called find me/follow me, is very configurable. Not only does it quickly switch from desktop to mobile, but it forwards calls when reps are busy with other customers so that callers aren't left listening to hold music.
A handy feature is the sequential ring setting – this enables calls received to sequentially ring devices when one point of contact fails. For example, when a caller is trying to reach a rep, it'll first ring their desk phone, and if there's no answer, it'll ring their smartphone. Simultaneous ring is also configurable so that all associated numbers are dialed at once.
Does Jive have a Reliable Auto Attendant?
Yes, Jive cloud has a reliable auto attendant that's included with every tier. The auto-attendant that Jive offers provides callers with an automated message that prompts the caller to choose a department. If the caller knows the party's extension, they have the option to dial it at any time. Jive also has ring groups, so when a customer dials into the auto attendant and is transferred to a specific department like tech support, every phone in that group will ring until someone answers.
What Does Jive PBX Security Look Like?
Since Jive is designed for enterprise-level businesses, they take security very seriously. There are multiple measures in place to ensure that your calls and data are secure. Jive uses a unique PBX identification system instead of a generic username and password to ensure security. They also only use tier-one data centers with advanced encryption for data being sent and received from customer locations.
All of the channels that data travels along are designed to encrypt the information before it is sent. Jive has both Transport Layer Security (TLS) and Secure Real-Time Transport Protocol (SRTP). There are a lot of vulnerabilities in VoIP security, and Jive takes measures to protect your business by monitoring the phone system and implementing up-to-date technology.
Is Jive HIPAA Compliant?
Jive web conferencing and calling is not compliant with the Health Insurance Portability and Accountability Act (HIPAA) of 1996. Being HITECH and HIPAA compliant provides a safeguard that many companies in the medical field consider essential to make sure that data is private and secure for patients. Being HIPAA compliant protects your business from liability, especially when you deal with sensitive health info.
If your business needs HIPAA compliance at any level, there are several HIPAA compliant video conferencing and business communications tools for telemedicine to consider with features like call recording and encryption for data as it's at rest and in transit.
Jive PBX: Pricing and Plans
Jive has a pricing structure and plans that are a little different than most PBX options. This structure makes it optimal for companies that fluctuate in size – whether they are growing or scaling down. Since all plans include the same features with unlimited use, all users have access to the same options when dealing with customers.
Pricing is based on the number of users that your company has each month. Jive doesn't require customers to sign a long term contract, which gives you more flexibility. Pricing for businesses with one to 99 users ranges from $19.95 to $29.95. The pricing's divided into five tiers. Companies with 100 or more users will need to contact Jive for pricing options since they don't publish this information.
| | |
| --- | --- |
| Users | Pricing |
| 1 to 4 users | $29.95 |
| 5 to 9 users | $25.95 |
| 10 to 24 users | $23.95 |
| 25 to 49 users | $21.95 |
| 50 to 99 users | $19.95 |
| 100+ users | Call for custom pricing |
Jive provides its subscribers with unlimited domestic calling to the 48 contiguous US states, Puerto Rico, and several locations in Canada. Some areas within Canada and Alaska are billed extra, but only a few cents per minute. Calls to US territories such as Guam and the Virgin Islands cost three cents per minute.
How Does Jive PBX Features Compare to Other PBX Providers?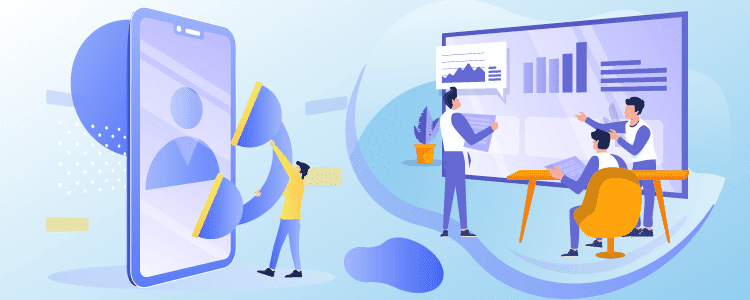 Jive won't fit every business, so it's essential to compare what they offer with similar PBX providers. Here are a few alternatives.
Nextiva PBX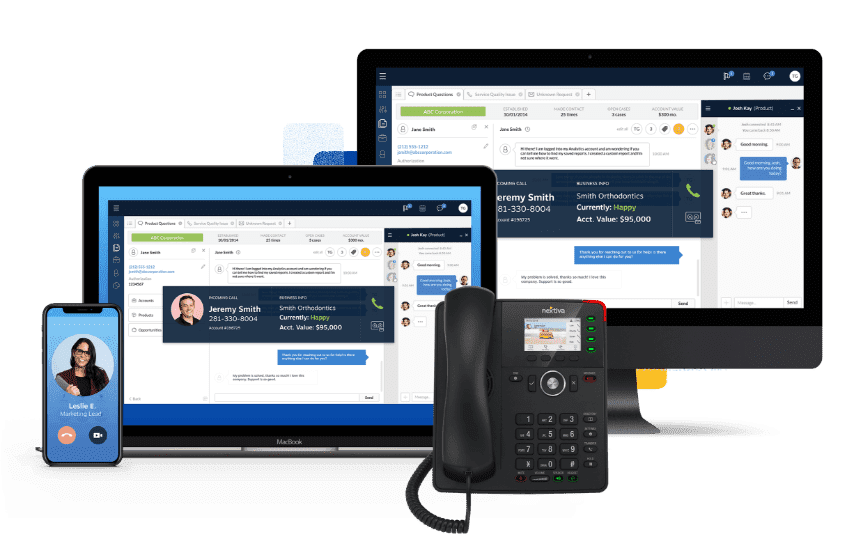 Nextiva has a three-tiered plan system that encompasses Essential, Professional, and Enterprise plans. Unlike Jive, Nextiva is fully HIPAA-compliant, so businesses that tangentially manage electronic protected health information (ePHI) will need to go with a provider like this to avoid data liability.
Dialpad PBX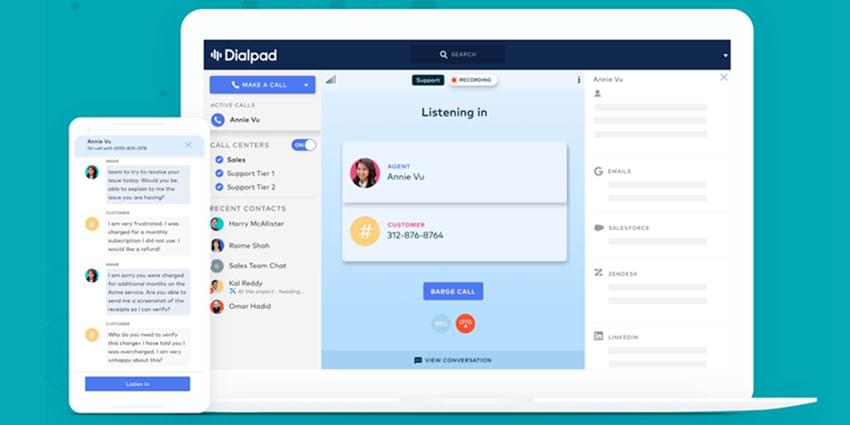 We recently covered this provider in our RingCentral vs Dialpad hosted PBX piece, and while Dialpad came out slightly behind the other provider, it has more than a few useful VoIP features for modern business. Dialpad provides direct inward dialing numbers, which are also known as virtual phone numbers, to over 50 countries, so if your brand is looking to expand its reach with local numbers in foreign markets, then Dialpad may be a reliable fit.
3CX PBX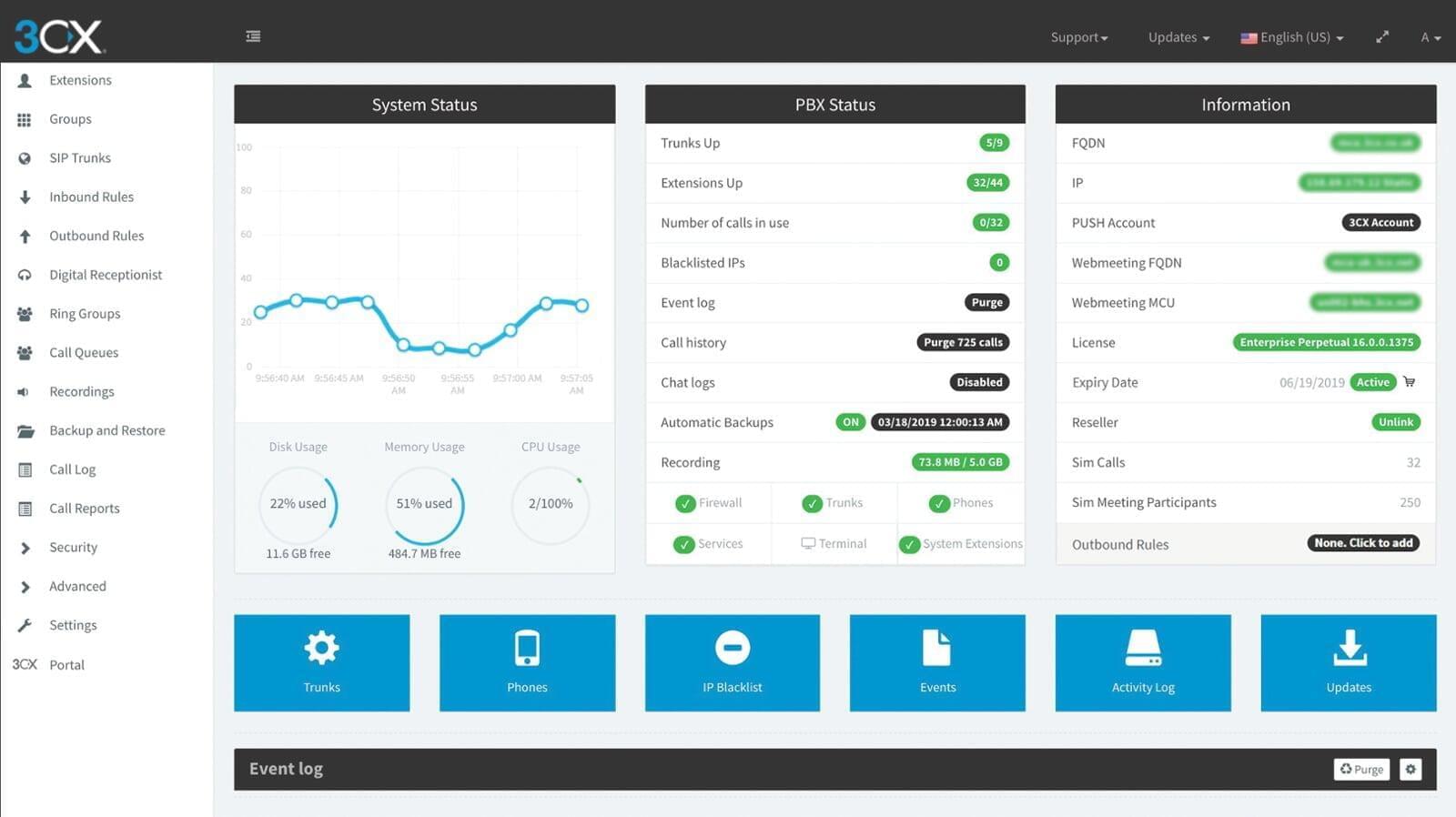 3CX made waves recently by providing three free years of VoIP service, making it a very valuable small business-oriented communications tool for COVID-19 team communication. The 3CX phone system also earned marks in our recent review based on network reliability through georedundancy and a softphone experience that delivered on the right features for business. 3CX has three plans, but unlike most VoIP providers, their first tier is completely free. 3CX has a maximum attendee count of 25 for web conference calling.
Jive
Nextiva
Dialpad
3CX
Available Endpoints
Windows, Android, iOS, Mac, WebRTC, Windows Mobile
Windows, Android, iOS, Mac
Windows, Android, iOS, WebRTC
Windows, Linux, Android, iOS, Mac, WebRTC
Conference Bridges
Yes
Yes
Yes
Yes
Voicemail to Email
Yes
Yes
No
Yes
Call Monitoring

Call Barge
Call Whisper
Call Spy

Call Barge
Silent Monitor

Call Barge
Call Take Over

Call Barge
Call Whisper
Call Spy

International Virtual Numbers
Yes
No
Yes
Yes
Inbound Call Filters and Caller ID
Yes
Yes
Yes
Yes
Jive PBX: Are the Preset Features Enough?
Jive is a good fit for businesses that are scaling in size because plans have a preset number of features. These features don't change when your business moves from one tier to another, which makes Jive a genuinely flexible option. It grows with businesses smoothly, and when you find the need to scale back, switching tiers is straightforward.
Jive does lack some of the features that a larger enterprise company may need, such as:
Is Jive lacking some features that your business needs? Check out our guides to modern business VoIP providers – we include comparisons, features, and pros and cons so that you find the best business phone system for your organization.