Companies rely on popular web conferencing tools like Zoom, Microsoft Teams, and 8×8 to improve team communication.
Work management software like Asana allows team members and leaders to check off completed tasks, list employee responsibilities, adhere to deadlines, and more. Asana breaks down bigger projects into a series of smaller tasks, making long-term assignments feel much more manageable.
It also allows higher-ups to better understand a team's process and overall approach to a project, so they can pinpoint exactly where problems may be arising.
But do the features this tool provides make Asana pricing worth the cost, especially when compared to other team collaboration software? What do each of the four Asana plans include, and what are the tool's limitations?
What is Asana Used For?
Asana is a cloud-based desktop and mobile work management platform designed to help users clearly map out each task within a larger project.
Companies have used Asana to track sales goals, manage product development, address IT issues, and even plan company events.
In our WebinarJam pricing, GoToMeeting pricing, and Microsoft Teams review, we show that it's meant to be used in addition to, rather than in place of, team communication tools.
Asana Interface
Asana provides six different interface views, allowing each user to select and save their preferred option. You get to use the same variety of views no matter which Asana pricing tier your company is at.
Asana also provides pre-made custom templates that make outlining tasks and projects simple.
Asana Project Access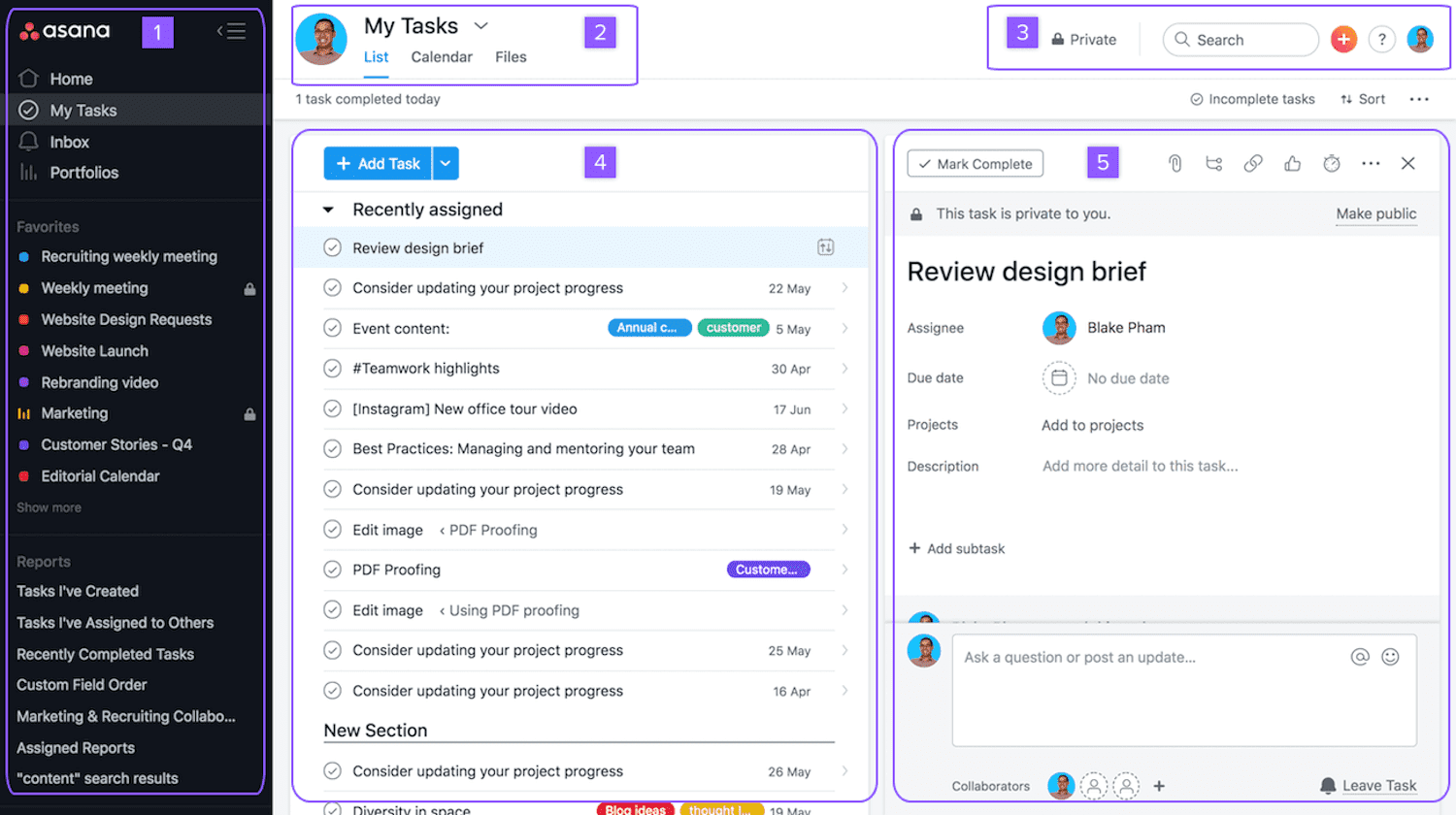 You have the option to keep boards entirely private, make them visible to entire teams, share them with specific team members called "Project Members," or share them with those outside of your organization.
Additionally, Asana allows you to create company-wide public boards that anyone who has access to your business's Asana account can view and edit.
Asana makes user provisioning and de-provisioning simple, so you don't have to worry about temporary or past employees still being able to access your boards once they've finished their time with your business.
Filter Views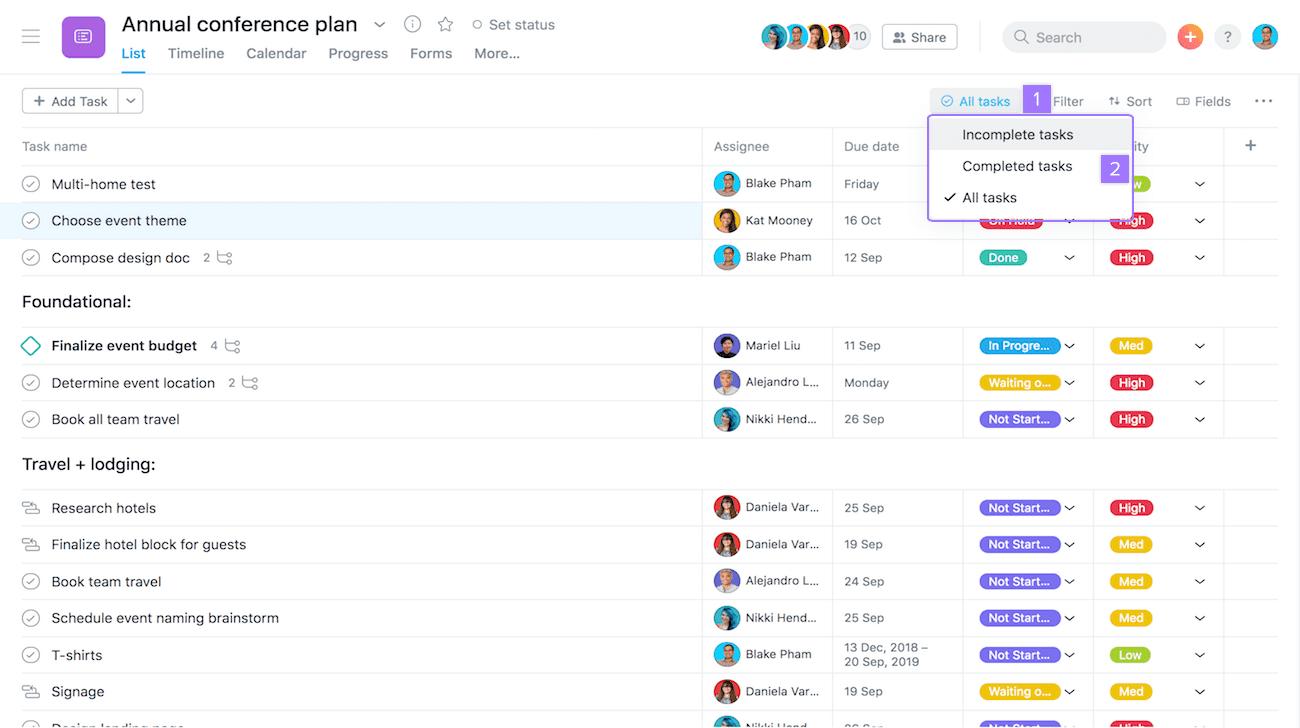 Asana also gives users the ability to filter views, which makes finding specific projects or assignments straightforward.
Asana users can filter views by task, assignee, and due date.
Users can also sort tasks such as developing webinar training, employee onboarding before start dates, or approving copy according to due dates, assignees, and likes.
One of the most helpful tools is Asana's search feature, which makes it possible for users to search for specific terms in list, board, or any other view.
List View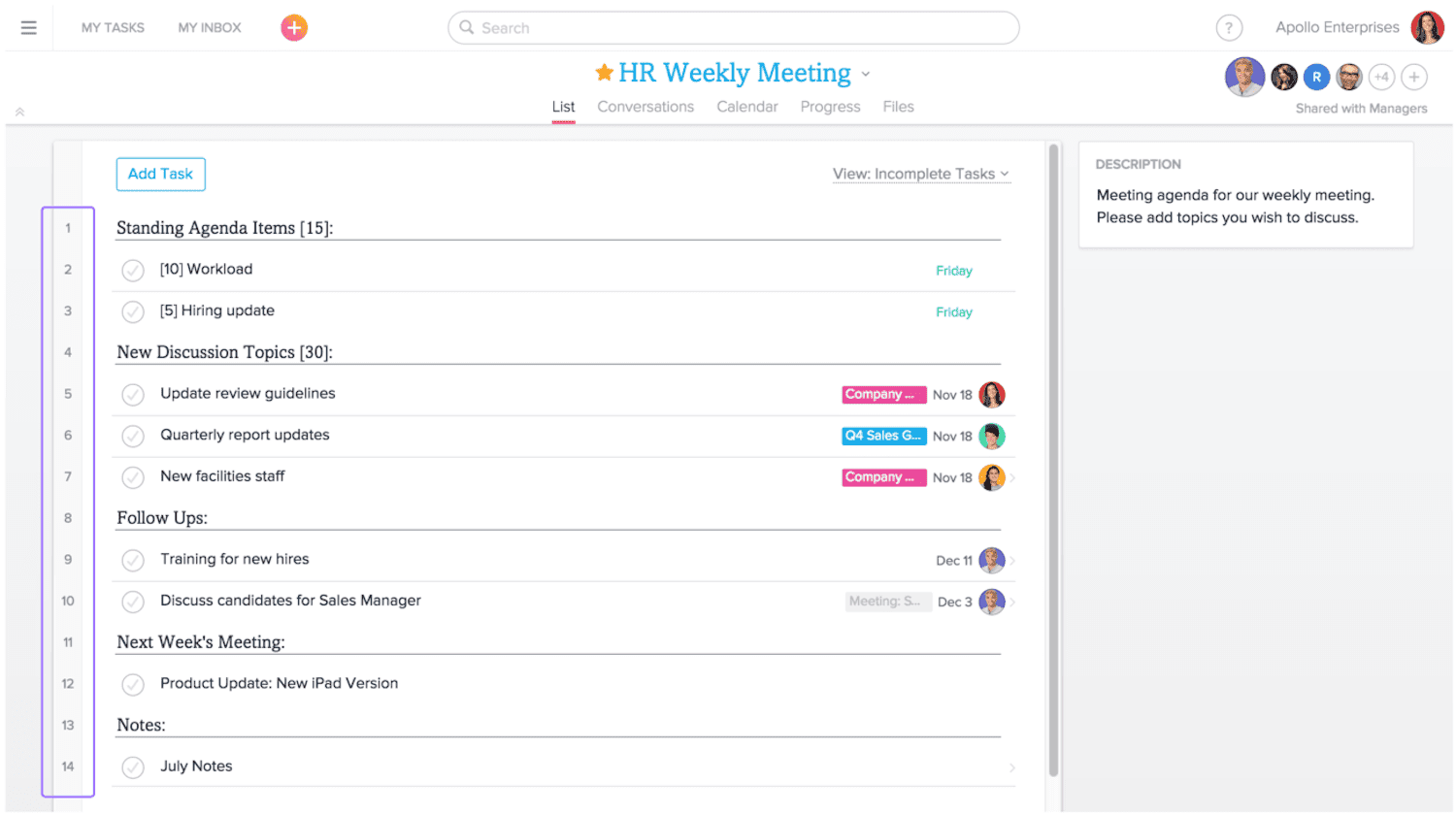 Asana's list view lets users create a "to-do" checklist format for assigning and completing tasks and sub-tasks.
Line items on lists can be moved up or down via drag-and-drop, so users don't need to create lists in any kind of order at the start. Tasks can be checked off when completed and notes can be added at any point throughout the process. When comments are added to a specific task, everyone else collaborating on the task is notified.
Board View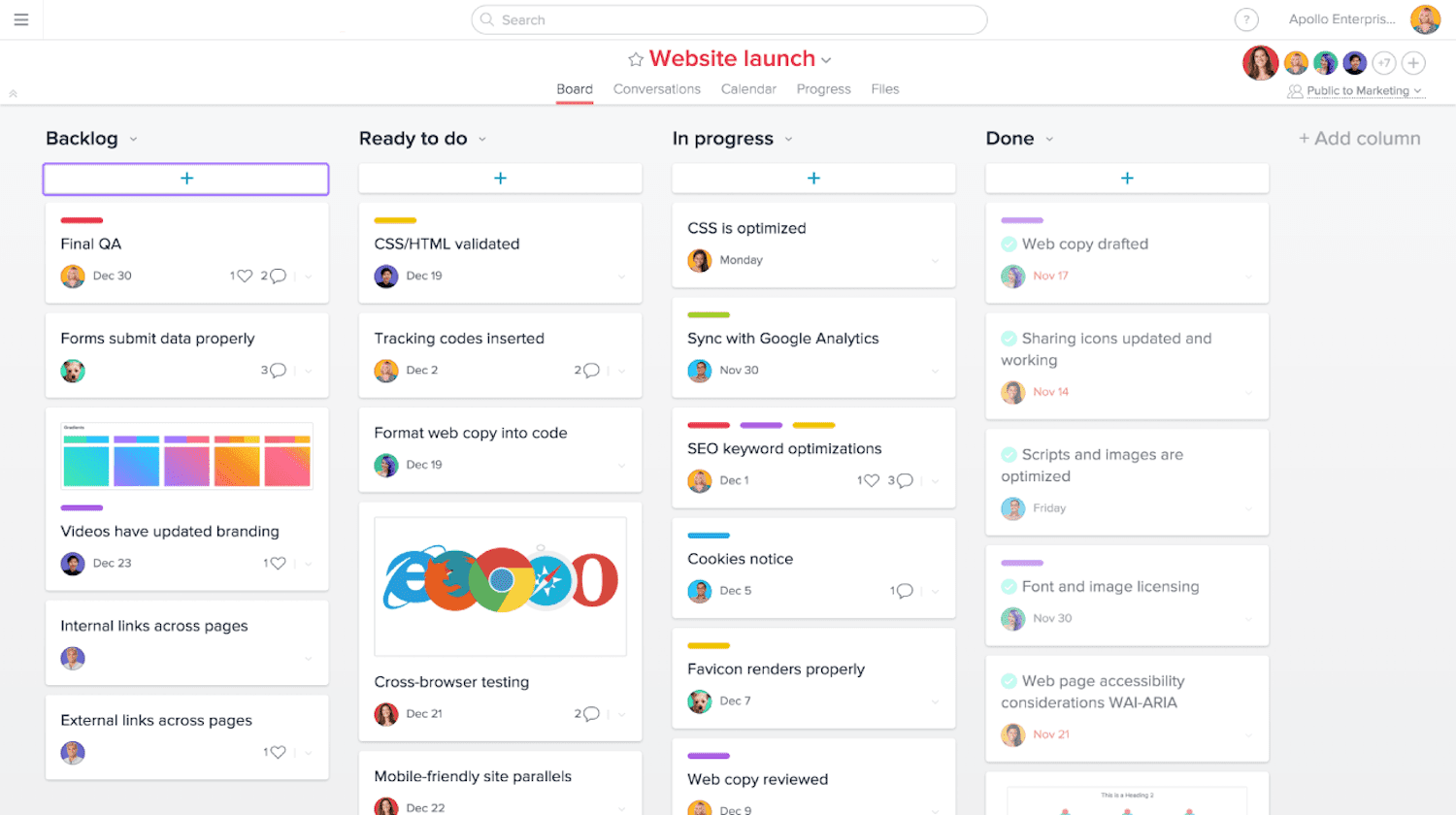 Asana also offers a Kanban board view.
Users can add specific columns to these post-it note style boards, and drag-and-drop like in list view to reorder boards. Most users sort columns according to task status, but you can write in anything you'd like.
It's possible to add or delete boards at any time, and as with list format, users can also filter and sort tasks within the board view.
Additional Views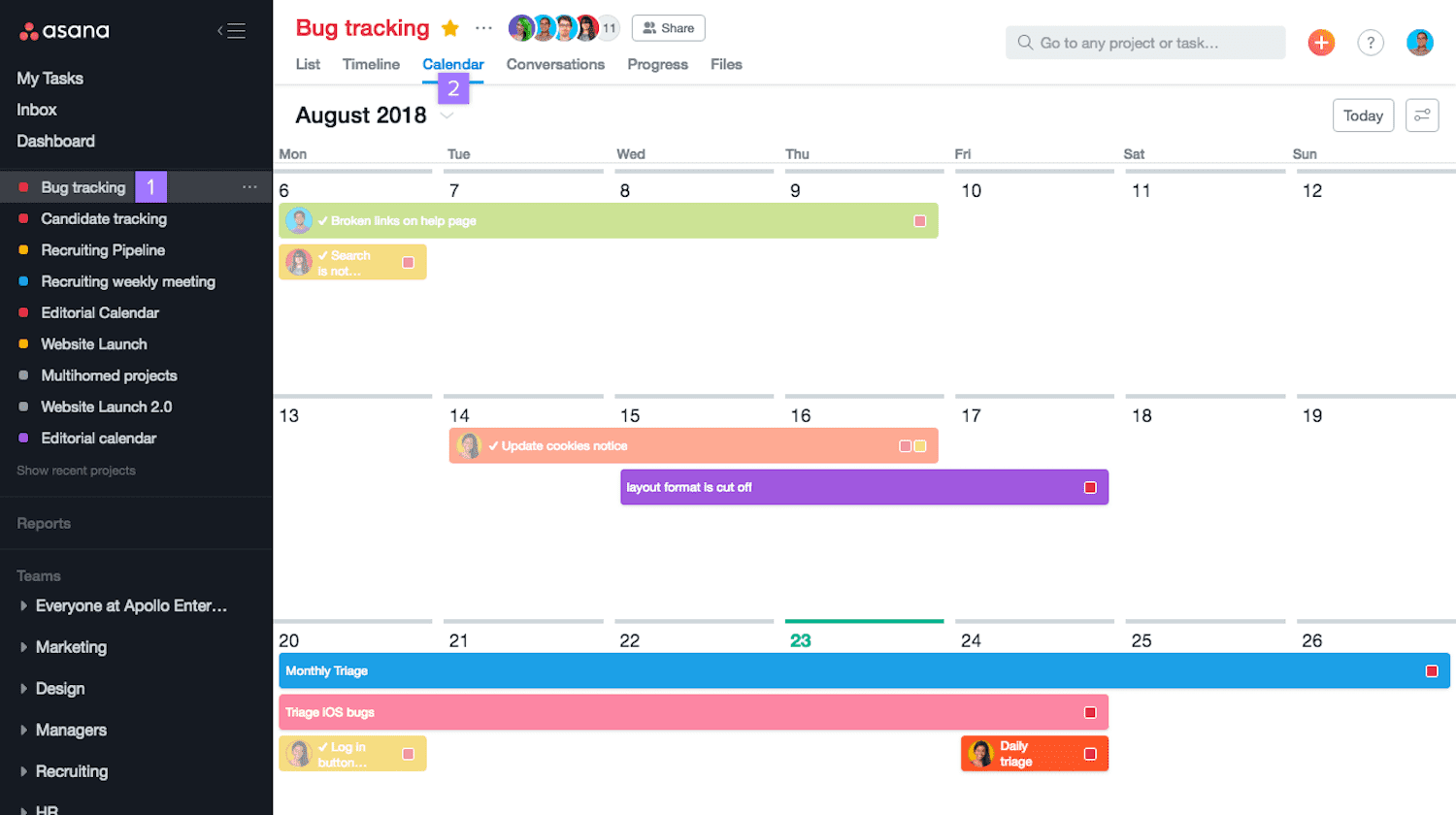 Though the board and list views are the most popular view options in Asana, users can also take advantage of additional views.
Timeline/Gantt Chart View: View projects and tasks on a timeline
Calendar View: View projects by due-date only in daily, weekly, or monthly calendars
Progress View: View tasks according to their current status
Asana Features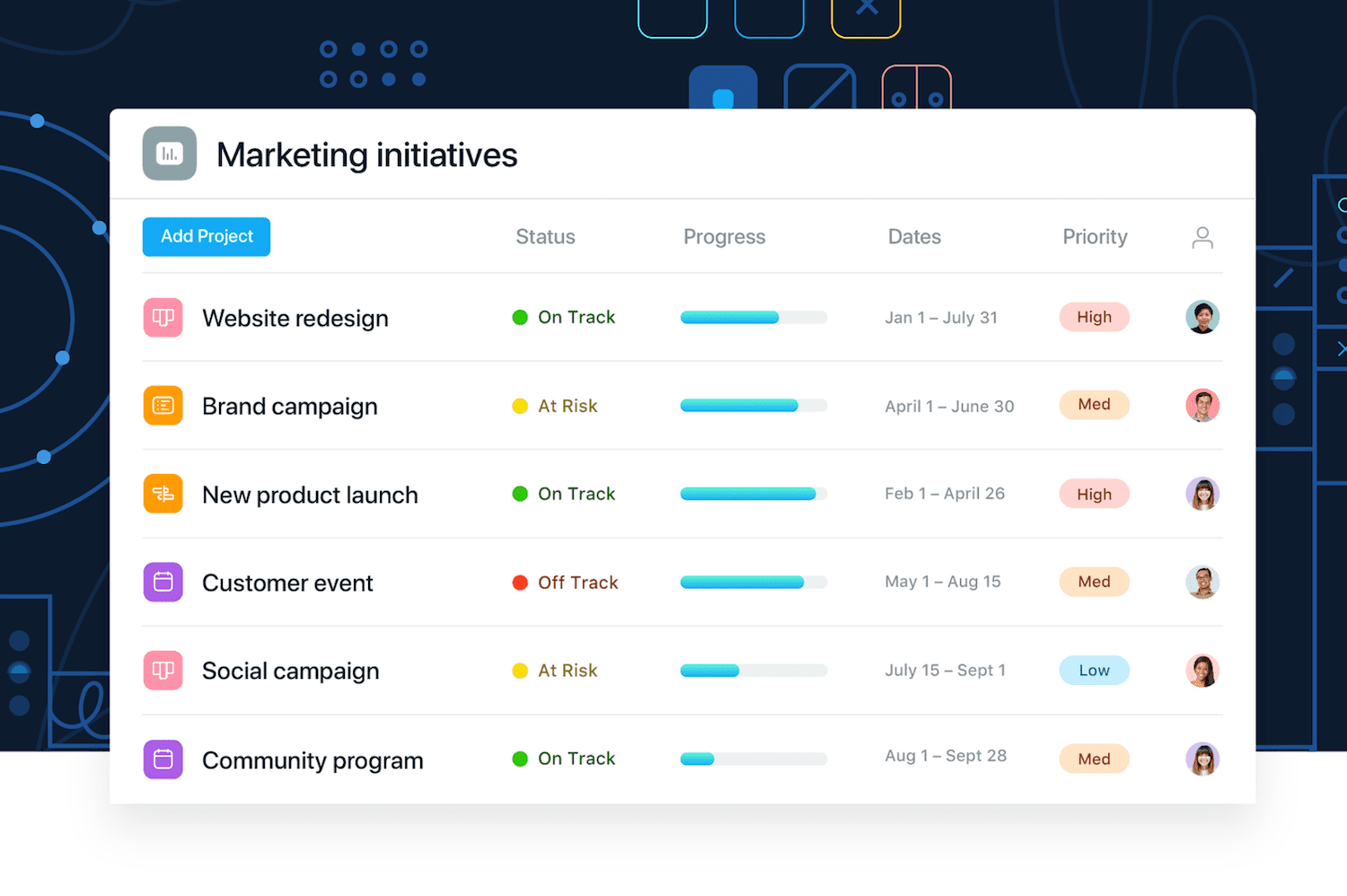 Asana doesn't provide the overwhelming number of features that other project management tools provide (something that many users see as a positive.)
However, it does cover all the bases when it comes to features your team can't function without.
Workflow Management
Asana's Portfolio tool helps monitor task/project progress, while it's Workload tool allows team leaders to assess current employee workflows to see who is available to help with a project and who is overloaded.
Additional workflow and resource management tools include:
Task dependencies
Task automation
Comment-only workflows
Approval features
Forms
Asana's Forms tool allows users to standardize both internal and external requests. There are numerous form templates to choose from at every Asana pricing tier, and users can upload files to forms to better explain concepts or problems to those they share them with.
The forms aren't embedded on company websites to collect data or even used internally to survey employees.
Instead, forms contain details and directives for other team members or external clients. For example, a user could create a form to make an IT request. The form has a series of default and customizable questions like a user's name/email address, task progress, and task approval. Forms can also include customizable questions or commands.
Team Collaboration Features
In addition to workflow management, Asana also has a standard set of online collaboration tools to help keep your team on the same page.
Asana's team collaboration features include:
File and image proofing/editing
Guest collaboration
Follower feature
Team creation tool
Hidden team creation
Team Communication Tools
Though Asana does not have a native chat messenger feature, (though it integrates with many) it still has excellent office communication tools, including:
Team Conversation boards
Task comments
Team pages
Status update
Like feature
Asana Integrations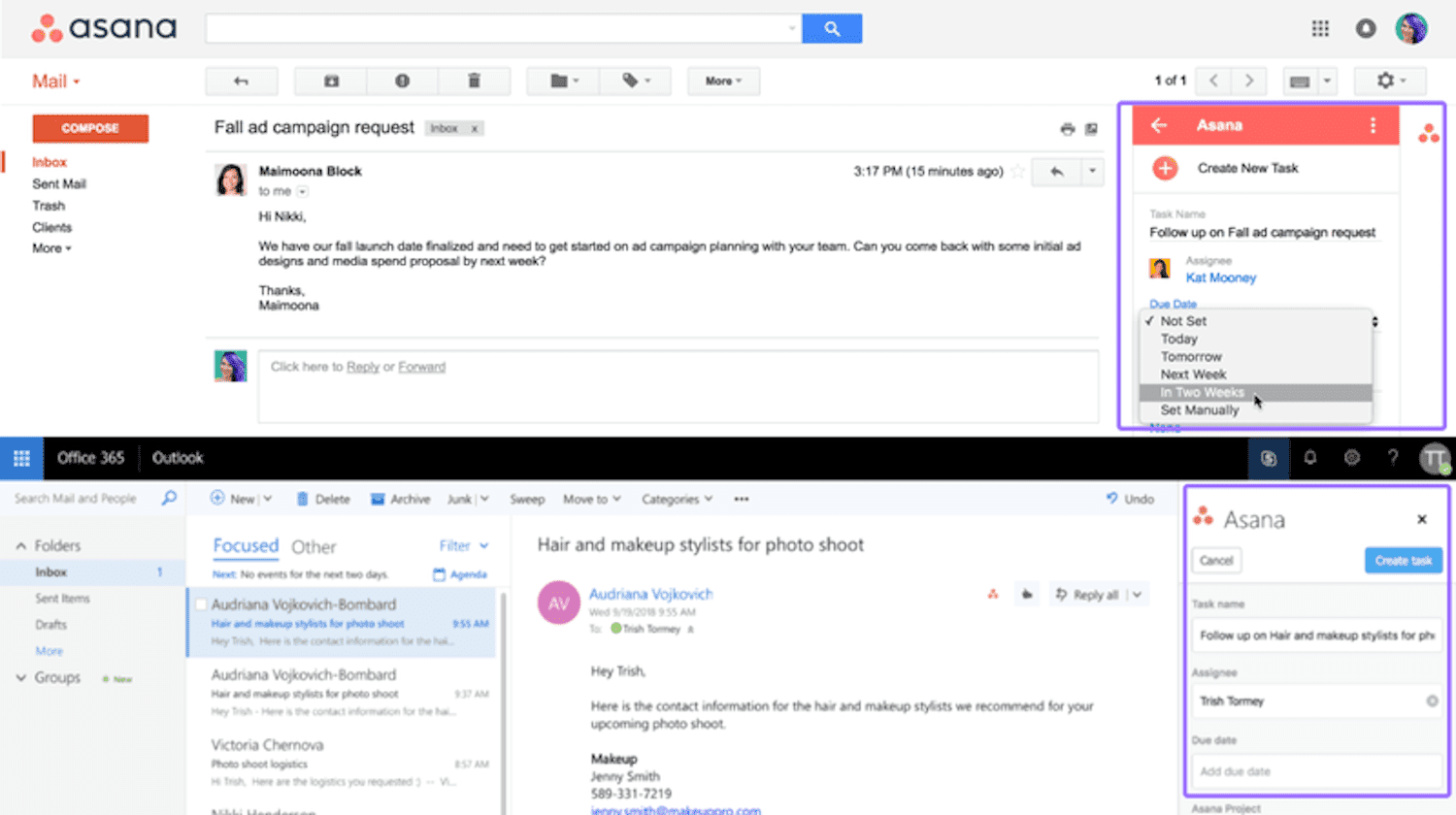 Though there are limitations to the number of integrations that Asana Basic and Asana Premium accounts have access to, the Asana Business and Asana Enterprise plans allow users to take full advantage of the platform's robust integration options within their App Directory.
The Asana API provides even further customization options, and access to the tool's developer community.
At every Asana pricing tier, it integrates with the top file sharing, communications, and collaborations tools, including:
Jira
Slack and Slack alternatives
Salesforce
Zoom
Chrome
G Suite
OneLogin SSO
Abode Creative Cloud
Office 365
Microsoft Teams
Mailchimp
Flock
Glip
Velocity
Hubstaff
TimeCamp
Asana Pros and Cons
The biggest advantage that Asana has over its competitors is the fact that it offers a free plan. All available Asana plans, including the free version, offer multiple views, deadline setting, and task assignment.
Asana's paid plans are well worth it, given the sheer level of customization options they offer.
However, users consistently mention that Asana's pricing plan is confusing and limiting. While Asana does offer a robust set of integrations with other team management tools, some users express frustration at Asana's limited native features. However, users do say that integration with popular screen sharing apps, web conferencing software, and more is seamless and simple.
Pros
Free version
Cleaner, simpler interface
Project and team calendar views
To-do list feature
Templates
Extensive customer support
Task dependency due dates
Ability to add notes/comments in task updates
Robust app integrations
Personal inbox of assigned user tasks
Deadline reminders
Cons
Asana pricing structure
Can only assign tasks to one person
Lack of native time tracking tool
Lack of export features
Cluttered file storage system
Lack of quarterly/monthly billing option
Lack of detailed employee profiles
Asana Pricing
There are four different Asana pricing plans to choose from, including a free version with a competitive list of features.
Available plans are:
Asana Basic Plan
Asana Premium Plan
Asana Business Plan
Asana Enterprise Plan
Asana bills annually, and even offers a free trial of its Premium plan for 30 days.
However, in exchange for the free trial, Asana has a strange pricing plan structure for the number of users. It requires you to purchase users in blocks of 5 under 30 total users, and in blocks of 10 starting at 31 users and above.
| | | | |
| --- | --- | --- | --- |
| Asana Basic Plan | Asana Premium Plan | Asana Business Plan | Asana Enterprise Plan |
| Free | $10.99 user/month | $24.99 user/month | Contact Asana for pricing |
| Up to 15 users | Unlimited, buy in blocks of 5 users under 30, blocks of 10 users above 30 | Unlimited, buy in blocks of 5 users under 30, blocks of 10 users above 30 | Unlimited, buy in blocks of 5 users |
| No guests | Unlimited free guests | Unlimited free guests | Unlimited free guests |
| List, calendar, and board views | List, calendar, board, and timeline views, custom fields, create private projects | List, calendar, board, workload, and timeline views, custom fields, create private projects | List, calendar, board, workload, and timeline views, custom fields, create private projects |
| Tasks | Tasks, forms, search tools, forms | Tasks, forms, search tools, forms, portfolios | Tasks, forms, advanced search tools, forms, portfolios, SAML, SCIM |
| Assign tasks | Assign tasks, set milestones | Assign tasks, set milestones, approval features | Assign tasks, set milestones, approval features, data export and deletion |
| Set due dates | Set due dates and rules | Set due dates, custom rule builder feature, lock custom fields | Set due dates, custom rule builder feature, lock custom fields, custom branding |
| Basic app integration | Basic app integration | Advanced app integration | Advanced app integration, block native integrations |
| No admin control | Admin control | Admin control | Admin control and priority support |
Is Asana's Free Version Worth Using?
Asana's free version is the most valuable to small teams managing exclusively internal tasks, as opposed to larger companies who want to monitor both internal and external team projects.
It's also an ideal way to connect with freelancers you've hired to temporarily work with your company on a specific project.
Asana's free version allows users to assign tasks in list, calendar, and board format — but additional views are only available with paid plans. The Asana Android and Apple mobile apps are included in the free version.
Unlike other free versions of team collaboration and management software, the unpaid version isn't locked in a war with other tools as if you had to choose between  Trello vs Asana. It includes basic app integrations so it combines with popular tools like Harvest, Google Calendar, and Trello.
The free version of Asana is not ideal for companies with compliance requirements, that need to be able to create private projects and set task dependencies, or larger teams.
Asana Mobile App Features and Limitations
Users who access Asana through its mobile app mention its ease of use, and the fact that it's one of the most comprehensive mobile task management applications.
Mobile users can receive real-time push notifications when they've been assigned a task, when a task is marked as complete, or when another user comments on a task. Users can also make comments on the notification screen, so there's no need to open up the app to send a quick reply.
Task prioritization, assignment, and approval are also available in the mobile app.
As of this writing, Asana's mobile version falls short in offline document accessibility, as well as the limitations it places on personalization and interface customization.
Who Should Use Asana?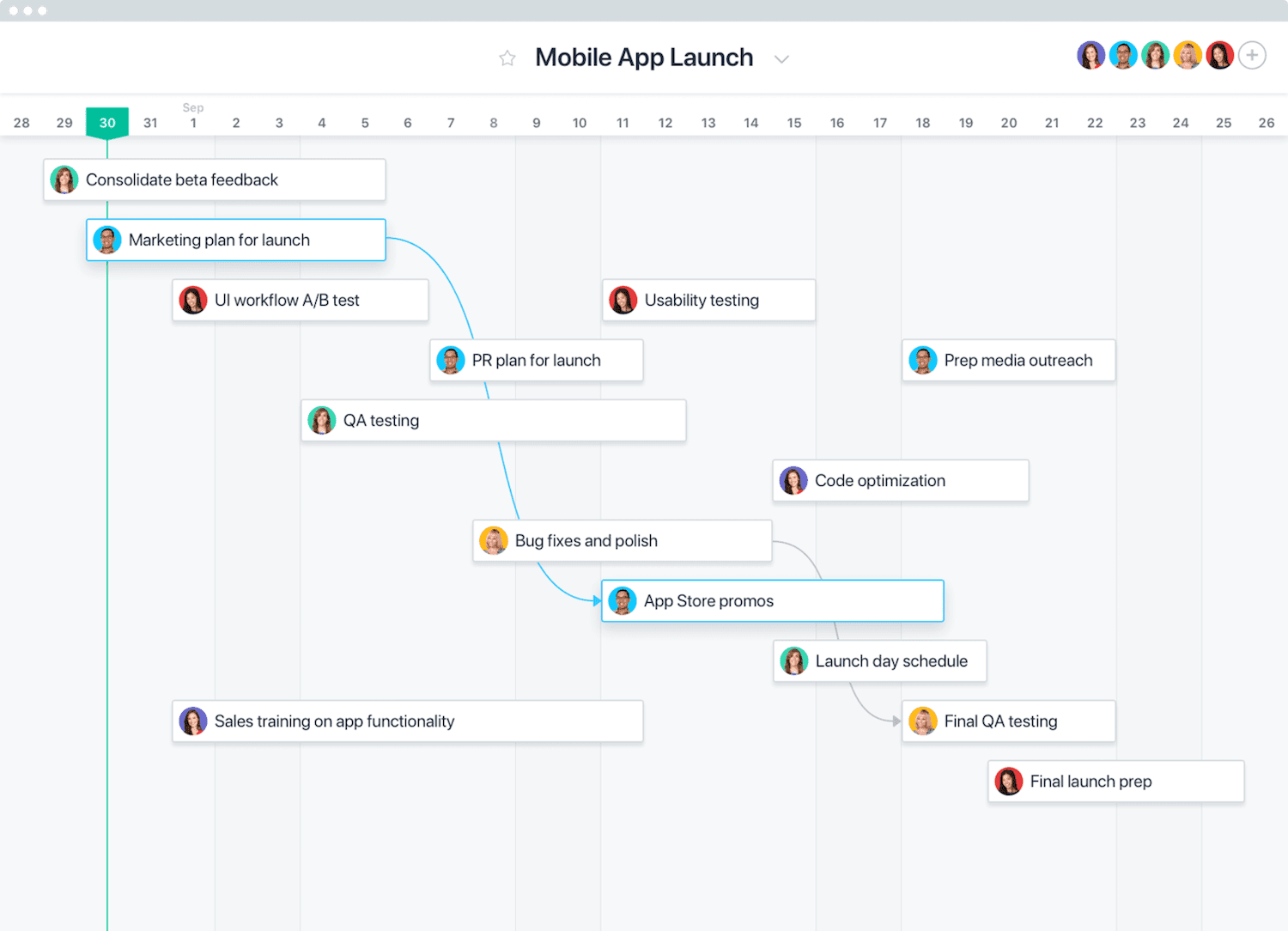 Asana is an ideal tool for smaller teams and companies who may be exploring project management software for the first time. Younger companies or businesses with a tight budget will greatly benefit from the free app and the length of the Premium free trial.
It is also the right fit for companies that simply don't want too many "bells and whistles" and additional features in their work management software.
Finally, because of its accessibility, Asana is the best option for nonprofit businesses and professional networks. Teachers use Asana to plan lessons, outline homework assignments, and to collaborate with coworkers and administrators, meaning its an excellent tool to use alongside Zoom for Educators. It's also a popular tool among event planners, non-profits, and content creators.
Is Asana Worth it?
Based on the level of customization, the number of available app integrations, and its overall intuitive, clean interface, we believe that Asana pricing makes it a worthwhile tool to use for team collaboration and project management.
If the Asana pricing plans and features listed above still aren't sufficient for your company, you do have other options.
Read our coverage of Monday.com pricing, the most popular Asana alternative, to see if it's a better fit for your teams.
Our interactive comparison tables allow you to explore additional team collaboration software alternatives like Wrike, Redbooth, and more.