Businesses take advantage of remote work benefits to better connect with both employees and consumers.
While online collaboration tools are ideal for smaller, internal team meetings and communication, webinar software like WebinarJam helps you connect with people outside of your organization.
They allow you to understand your target market's pain points and preferences, share ideas with clients, or directly sell your products or services from anywhere in the world.
Learn more about WebinarJam pricing and features — and as well as how it stacks up against its competitors — below.
What are the Top WebinarJam Features?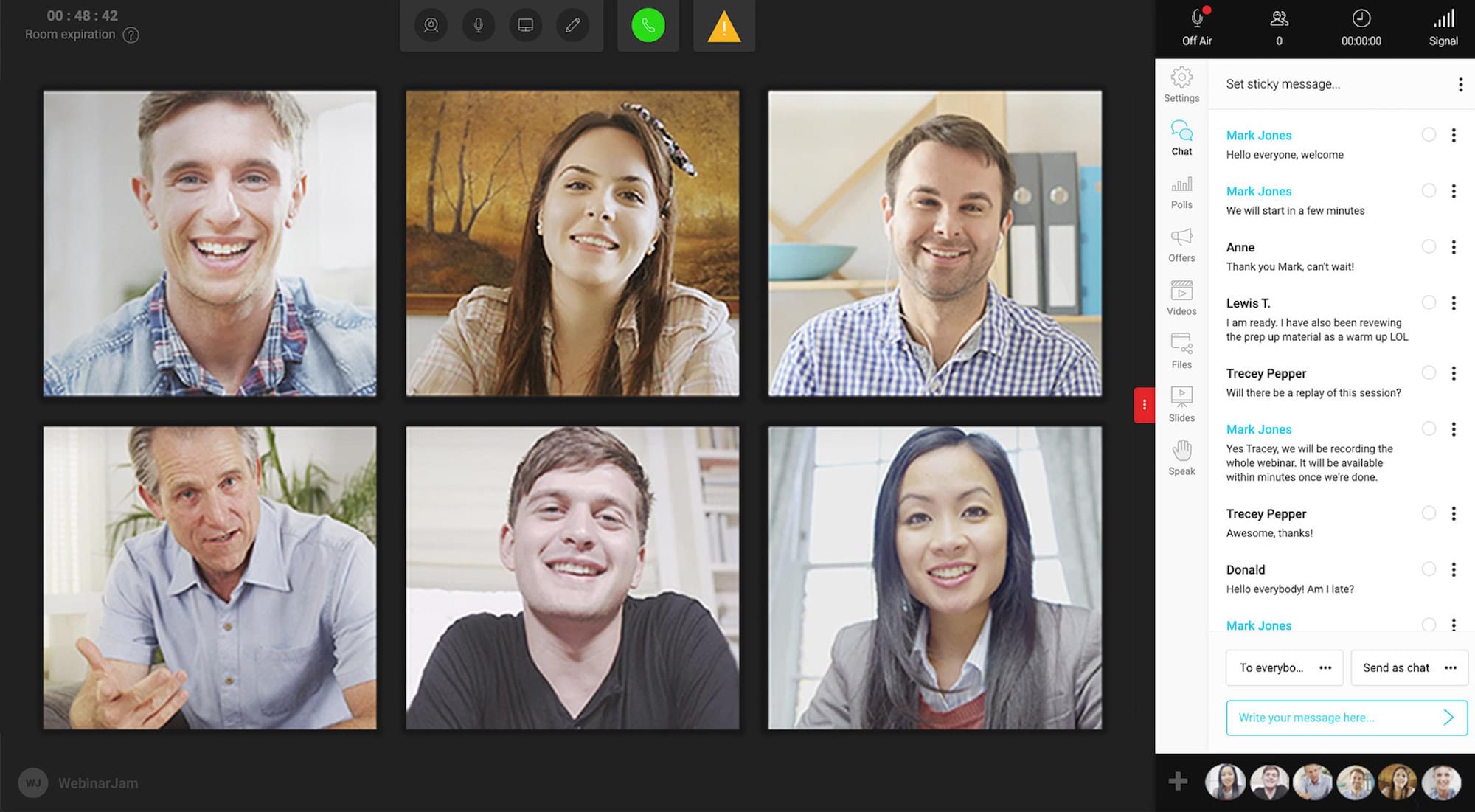 WebinarJam is a browser-based webinar software that allows for up to 5,000 attendees and 6 hosts simultaneously.
Users can create their webinars in KeyNote or PowerPoint and import the slides into WebinarJam, or use one of WebinarJam's easy point-and-click page templates to build a customized webinar.
WebinarJam is accessible from desktop computers, laptops, tablets, and even smartphones.
You can start a webinar instantly, schedule a single session, or run several webinars within a series over the course of a few days.
The below features not only help you to seamlessly plan and execute live webinars using WebinarJam. They also encourage attendee engagement, allow you to automate previously time-consuming tasks, and more.
Always-On Room
WebinarJam's Always-On Room is a dedicated room with a unique URL address that you and attendees can always access.
All you have to do is log in to your account, press the "Go Live" button, and send out your Always-On room link to email subscribers.
Panic Button
The Panic Button is one of WebinarJam's newest features.
It's designed to help hosts and admins respond to technical glitches like malfunctioning webcams, a sudden lost connection, or even manage trolls and unregistered who have somehow entered the meeting.
Educate yourself about Zoombombing and other video calling security issues to better understand the risks of video conferencing.
When users press the Panic Button, WebinarJam instantly creates an entirely new webinar room with all the hosts, files, and attendees transferred into it. It only takes about 10 seconds for you to resume your webinar like nothing happened.
Video Injections
WebinarJam gives you the option to pre-record segments of your webinar and share any additional video clips during the presentation.
When building your webinar, you can decide exactly when you want specific videos to play.
You can also create a video queue or even choose to pre-record and play your complete webinar, going live only for the closing Q&ampA session.
Audience Engagement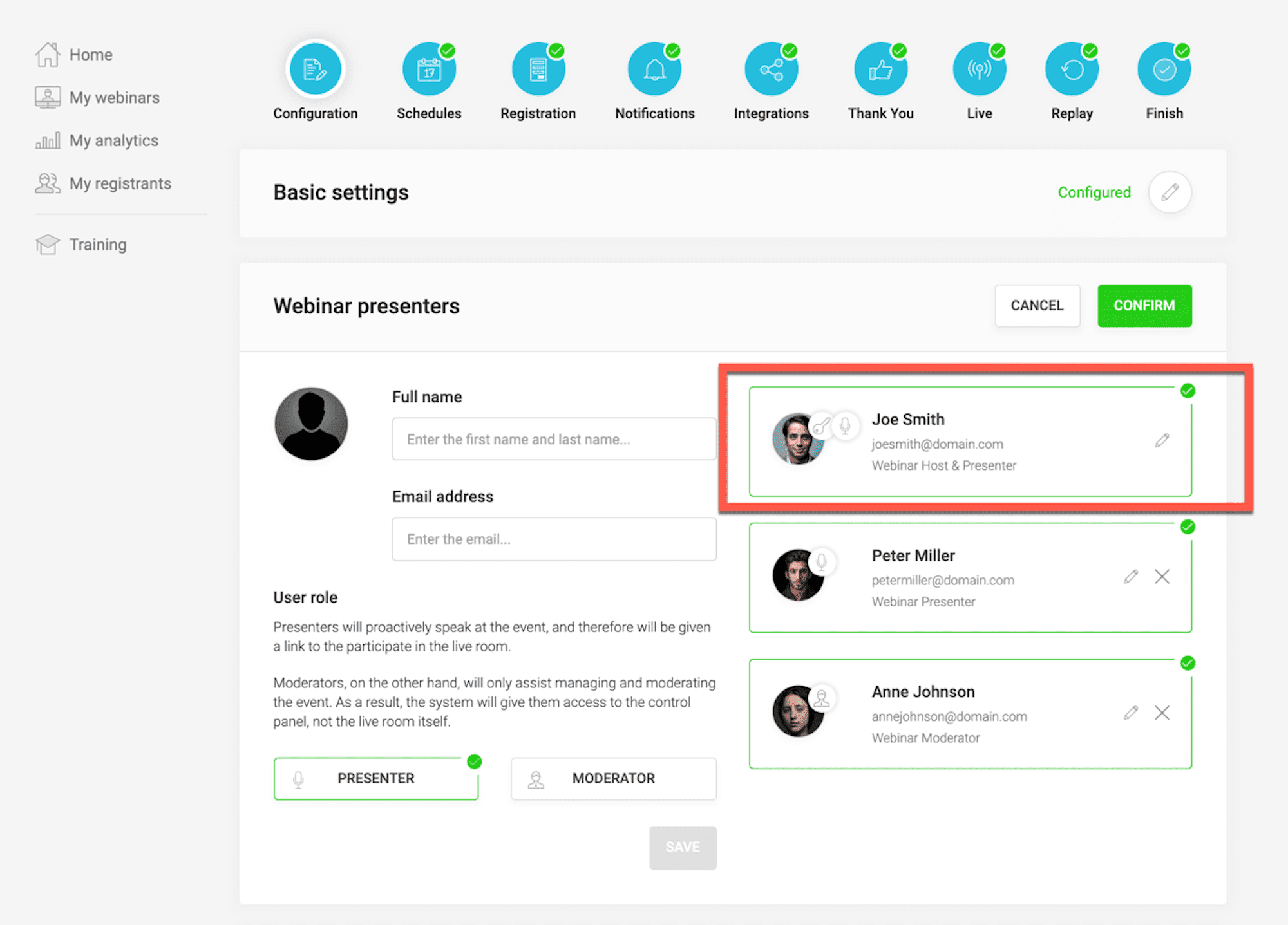 WebinarJam offers several audience engagement features, including live polls and surveys, virtual hand-raising features, and a Q&ampA tool.
WebinarJam also includes a live drawing board so you can make notes, show diagrams, or brainstorm ideas in real-time. You can share your screen and whiteboard with participants whenever you'd like.
The Attendee Spotlight feature allows you to engage your audience even more directly.
Participants can use the Speaker Request feature to get access to screen sharing apps, speak to all other webinar attendees, or even broadcast their own webcam during a live webinar.
Handouts
Handouts is WebinarJam's file sharing feature. You can upload and share PDFs, Excel spreadsheets, JPG images, Google Docs, and more with attendees during the webinar.
You're able to pre-load which handouts you'll distribute before the webinar begins, so you can take advantage of the one-click share feature during the webinar. You can also revoke file access after a certain amount of time has passed, or restrict file sharing to specific users.
Chat Message Tool
In addition to being able to send and receive live public and private messages, WebinarJam's chat tool allows hosts to pin announcements at the top of the chat sidebar and mark specific comments as important.
The messenger feature also includes a Q&ampA feature so that co-presenters can answer attendee's questions in real-time without interrupting the current speaker.
Automatic Recordings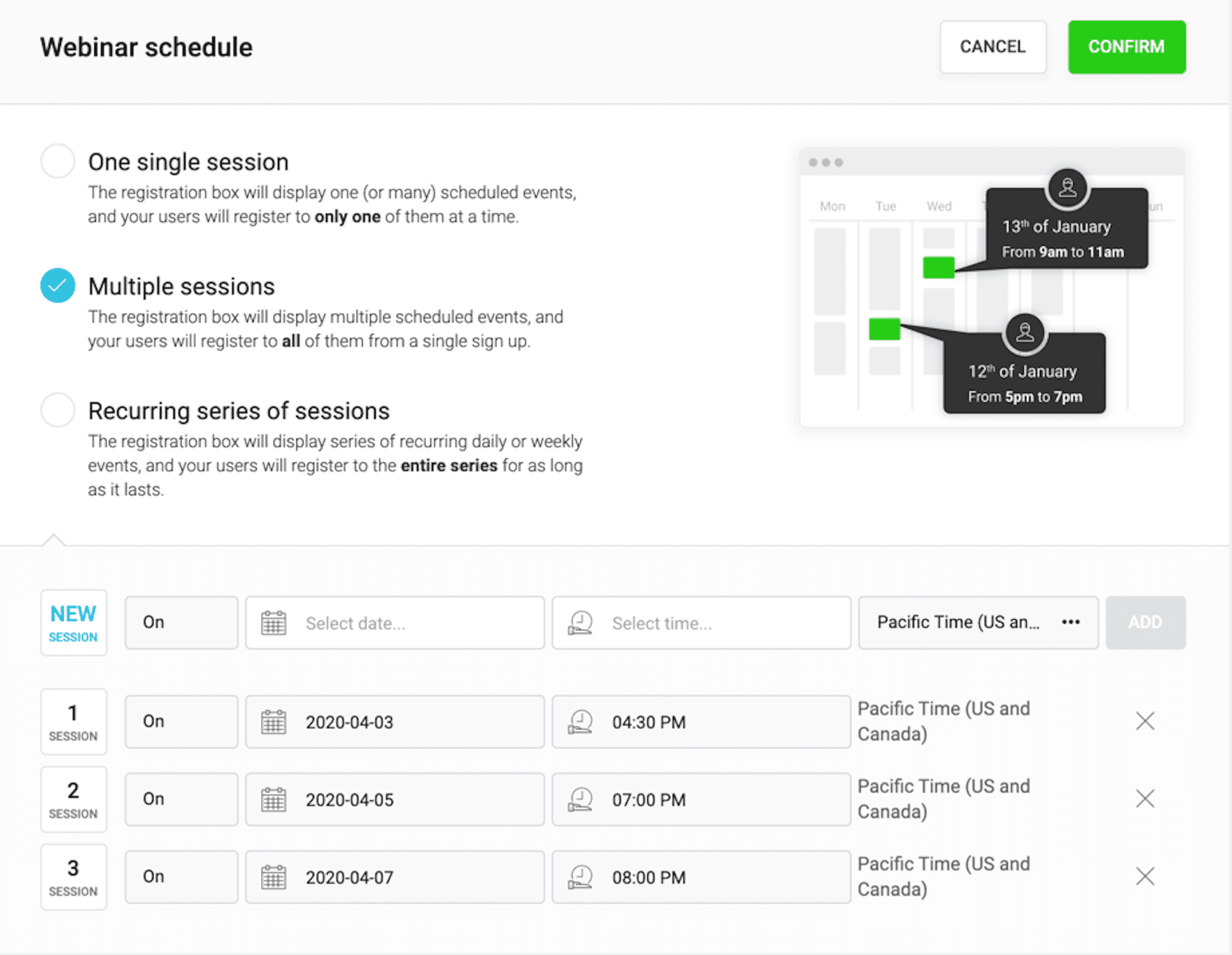 WebinarJam generates automatic audio and video recordings for you to review or use in the future.
But unlike many other webinar platforms with recording capabilities, WebinarJam also records the entire chat history, polls, and live Q&ampAs via their "Replica Replay" feature. This allows you to identify exactly when users have questions or when audience engagement takes a hit, so you can improve your future webinars. It also makes the webinar available to attendees in different time zones.
The recordings are available for instant replay, or you can schedule an encore replay up to 72 hours after the initial recording.
Performance Analytics
Though WebinarJam doesn't provide analytics as thorough as video conferencing tools like Zoom and WebEx, it includes basic data points on:
Registration-to-attendance ratios
When attendees drop out or join
Earnings per attendee
Replays of recordings
Webinar revenue
Total number of sales
Average user rating
Paid Webinars and Active Offers
WebinarJam offers features specifically designed to assist with paid webinars, though you can also easily create free webinars through the software.
WebinarJam allows you to include a payment gateway in your registration form, so users can pay by credit card or through PayPal. Once the payment information is submitted, WebinarJam will automatically complete the user registration page.
Additionally, WebinarJam lets hosts make Active Offers during a live webinar broadcasting. The Active Offer button is displayed at the top of every attendee's screen, and all attendees have to do is click it to make their purchase.
To encourage more users to take advantage of these active offers, you can create a countdown for offer length or the number of offers still available.
One-Click Registration
Through the integrated CRM tool of your choice or by sending out an email with a registration link, WebinarJam allows users to send out one-click webinar registrations.
WebinarJam then compiles the relevant user data for you and your attendees, increasing your sign-ups as a result.
Email and SMS Notifications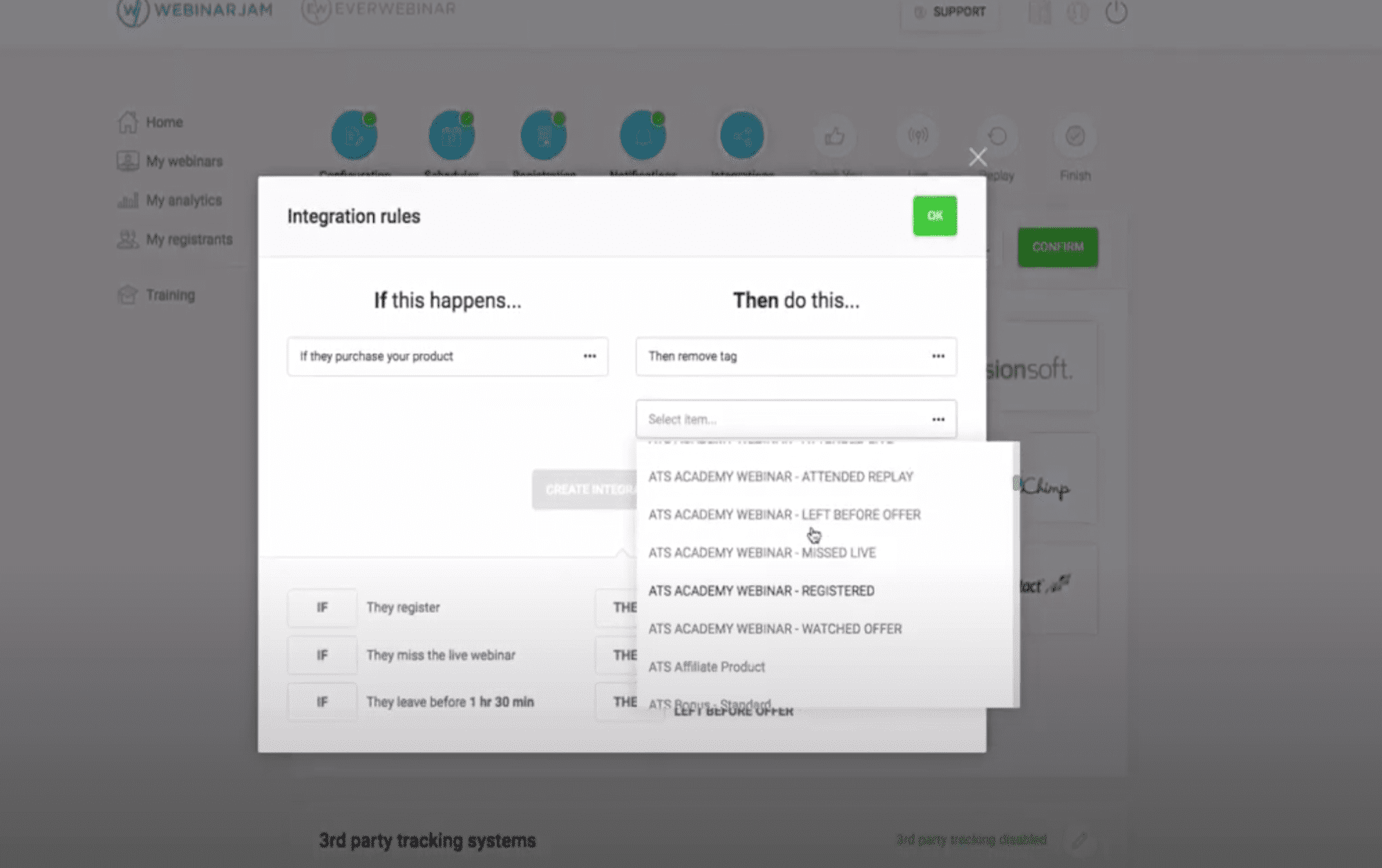 WebinarJam sends automated email and text notifications to your webinar registrants and hosts to remind them about upcoming events.
Additionally, WebinarJam sends autoresponder follow-up emails to attendees based on actions like missing a webinar, leaving a webinar early, or their level of engagement during the webinar.
WebinarJam 4.0
On April 30, 2020, WebinarJam 3.0 will no longer be available. All users should update their account (it's free) and migrate their content to Webinar 4.0 before that date to continue using the software. The WebinarJam website provides a quick video tutorial to guide users through the process.
WebinarJam 4.0's updates and new features include:
Faster streaming and less lag time
Mobile device accessibility
"Right Now" feature to start webinars instantly
Live Internet connection reports during webinars
WebinarJam Integrations
WebinarJam's robust list of features was designed to prevent users from having to use multiple apps to plan, publicize, and stream webinars.
However, those needing features that WebinarJam doesn't provide can use the below apps, all of which integrate with WebinarJam.
WebinarJam integrates with:
Zapier
Mailchimp
Constant Contact
Twilio
iContact
InfusionSoft
GetResponse
ActiveCampaign
AWeber
KARTRA
Ontraport
ConvertKit
Maropost
Who Should Use WebinarJam?
WebinarJam's best use cases are businesses that want to sell webinars or those who want to incorporate webinars into their online marketing strategy to capture leads.
It's ideal for those who are focused almost exclusively on live webinars, as opposed to evergreen pre-recorded ones.
Companies that are looking to leverage their social media presence will greatly benefit from WebinarJam's automatic streaming integration with Facebook Live and YouTube Live.
WebinarJam's features and user interface are especially geared towards entrepreneurs, but businesses of all sizes and across multiple industries will enjoy the tool's ease of use.
WebinarJam Pricing and Plans
Though WebinarJam does not provide a free version, they do offer a 30-day free trial and a 30-day money-back guarantee.
Note that WebinarJam does not offer a monthly payment plan, instead of requiring users to pay the higher up-front cost of an annual subscription.
The below table provides a breakdown of WebinarJam pricing plans and three tiers to choose from.
| | | |
| --- | --- | --- |
| Basic Plan | Professional Plan | Enterprise Plan |
| $499/year | $699/year | $999/year |
| 2 Hour Maximum | 3 Hour Maximum | 4 Hour Maximum |
| 2 Presenter Maximum | 4 Presenter Maximum | 6 Presenter Maximum |
| 500 Attendee Maximum | 2,000 Attendee Maximum | 5,000 Attendee Maximum |
| Unlimited Number of Webinars | Unlimited Number of Webinars | Unlimited Number of Webinars |
| No Live Room | Always-on Live Room | Always-on Live Room |
| No Panic Button | Panic Button | Panic Button/Control Center |
| Automatic Recording | Automatic Recording | Automatic Recording |
| Chat Messenger | Chat Messenger | Chat Messenger |
| Instant, Hybrid, Pre-scheduled Webinars | Instant, Hybrid, Pre-scheduled Webinars | Instant, Hybrid, Pre-scheduled Webinars |
| Paid Webinar/Live Offers | Paid Webinar/Live Offers | Paid Webinar/Live Offers |
| Drawing Board | Drawing Board | Drawing Board |
| Share Polls/Handouts | Share Polls/Handouts | Share Polls/handouts |
| Email/SMS notifications | Email/SMS notifications | Email/SMS notifications |
Is WebinarJam the Best Webinar Software?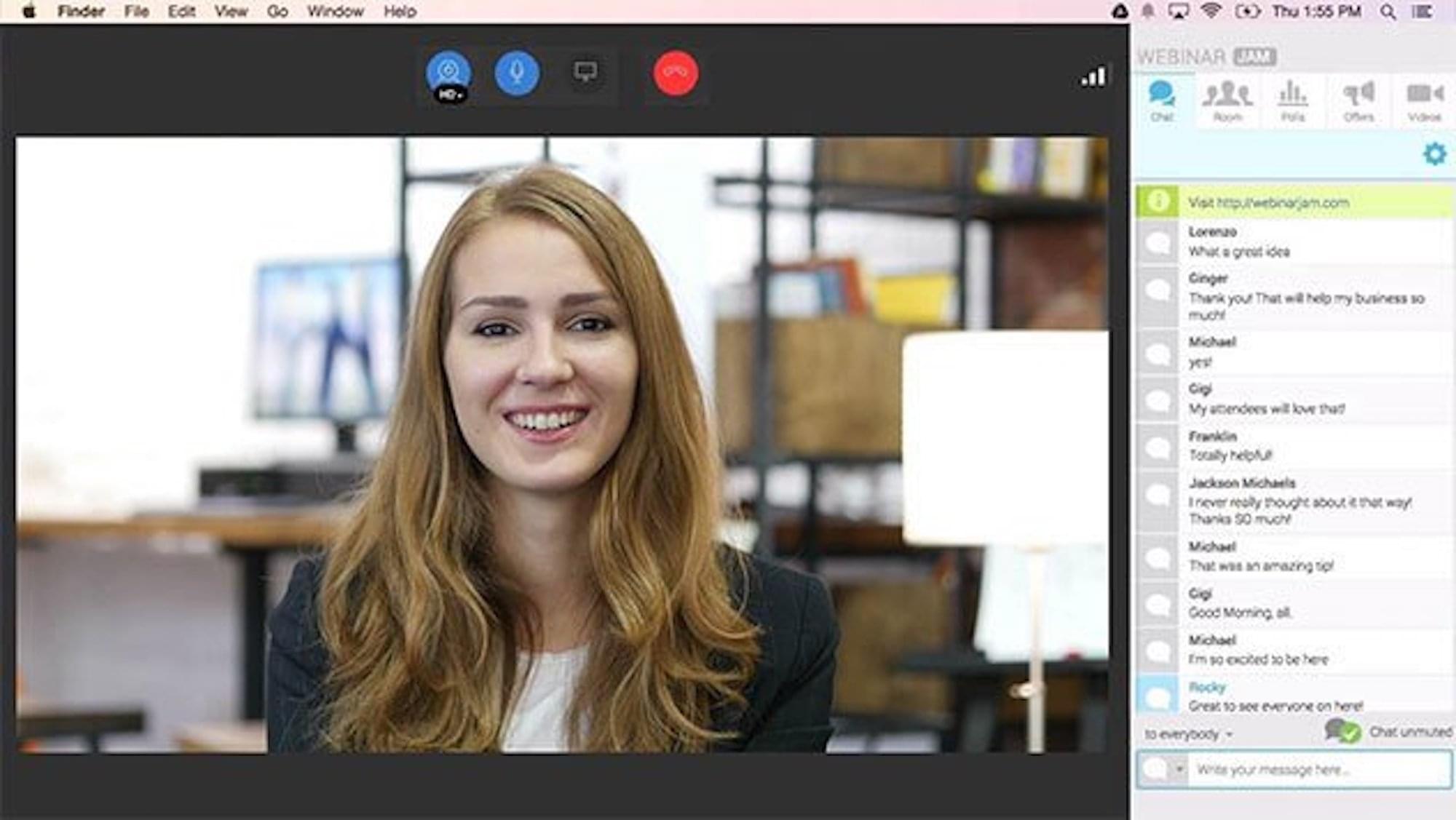 The best webinar software for your business depends on factors like the number of attendees you want to host, the specific features you need, and of course, the pricing.
We've compared WebinarJam with three of today's most popular webinar providers: Zoom, GoToWebinar, and EasyWebinar.
WebinarJam Pricing Comparison
Despite the hefty annual upfront payment, the WebinarJam still provides a better value for money than other popular webinar software.
WebinarJam pricing is much lower than the other three popular webinar services listed below.
WebinarJam
Zoom
GoToWebinar
EasyWebinar
500 participants:

$499/year

100 participants: $550/year
100 participants:

$588/year

100 participants:

$936/year

2,000 participants:

$699/year

1,000 participants: $3,550/year
250 participants:

$1,188/year

500 participants:

$1,548/year

5,000 participants:

$999/year

3,000 participants: $10,050/year
500 participants:

$2,388/year

2,000 participants:

$5,988/year

N/A
5,000 participants: $25,050/year
3,000 participants:

$4,788/year

N/A
N/A
10,000 participants: $65,050/year
N/A
N/A
WebinarJam vs Top Webinar Software
Aside from comparing the cost, also examine which features WebinarJam does and does not offer when compared with three of the leading webinar apps.
WebinarJam vs Zoom
The biggest downside to Zoom's webinar software is cost — even though it is able to host up to 10,000 participants, while WebinarJam can host only up to 5,000.
Zoom provides tools to create a training webinar for remote teams, whereas WebinarJam is primarily used by companies who sell webinars to clients outside of their organization.
Zoom for educators is a better tool for teachers than WebinarJam, as it offers virtual classroom features WebinarJam does not.
WebinarJam vs GoToWebinar
GoToWebinar requires attendees to download its software, while WebinarJam offers participants browser-based accessibility. WebinarJam does not include dial-in access to join webinars, while GoToWebinar does.
While GoToWebinar caps attendees at 3,000, WebinarJam allows for up to 5,000.
However, GoToWebinar provides greater attendee/registration analytics than WebinarJam, including source tracking, information on landing pages, and live attendee engagement data. Neither WebinarJam nor GoToWebinar integrates with Google Analytics.
If your company relies heavily on data analytics and requires dial-in access for webinars, opt for GoToWebinar. If these two features aren't absolutely essential, stick with the lower price and higher attendee cap of WebinarJam.
WebinarJam vs EasyWebinar
While both WebinarJam and EasyWebinar offer live webinar streaming, only EasyWebinar allows for both recurring and evergreen webinar series. While WebinarJam allows users to upload and play pre-recorded videos while live casting, users don't have access to automated webinars through WebinarJam.
Though WebinarJam does integrate with another platform, EverWebinar, to allow users to upload recorded webinars and convert them into automated ones, many feel that's too complicated.
EasyWebinar can only host up to 2,000 attendees, while WebinarJam lets users host up to 5,000.
EasyWebinar does not offer polling features as WebinarJam does, but unlike WebinarJam, it does offer customizable branding options for webinar materials. EasyWebinar also offers more integration options than WebinarJam does.
In short: If you host exclusively live webinars, choose WebinarJam. If you rely mainly on automated webinars, EasyWebinar is a better option.
WebinarJam Pros and Cons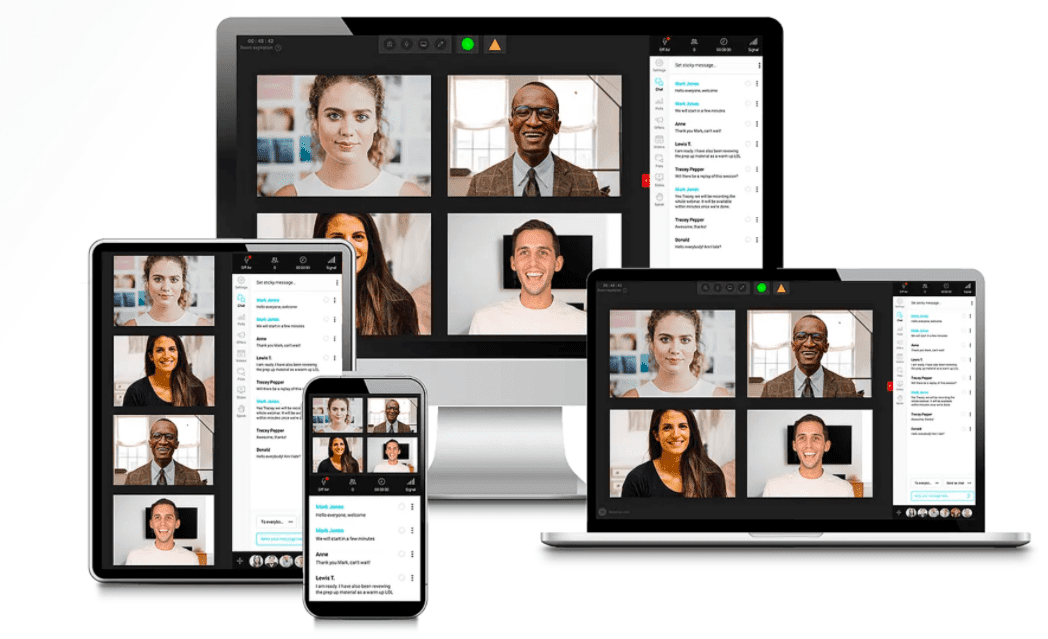 Through the study of numerous WebinarJam reviews, we've compiled this list of pros and cons based on the most consistent things mentioned in customer feedback.
Pros
Competitive pricing
One-click webinar registration
Social media integration
Password protection
Multi-lingual
Comprehensive features
Reminder notifications and follow-up emails
Attendee spotlight for audience engagement
Cons
No automated webinars
Few software integrations
The interface isn't especially user-friendly
Customer support isn't always responsive
Can't stream directly from your website, must use button redirect
Can WebinarJam Improve Company Webinars?
While webinar software like WebinarJam allows you to connect with those outside of your organization, remote work tools will improve internal communication and collaboration.
Team communication tools like Slack alternatives, video conferencing software, and screen share apps make working from home or working at the office more productive and much more organized.
Make sure your business places equal weight on internal and external communications by using the right webinar system and web conferencing software.
In addition to helping you understand what to look for in video conferencing tools, our interactive table breaks down the features and price points of the top seven web conferencing software programs, making it easy to choose the right one.