As the number of business VoIP providers to choose from continuously rises, it becomes increasingly important for each one to provide not just a robust product, but also superior customer experiences. A report from Microsoft shows 96% of users see customer service as an important factor when choosing between brands.
Growth in the user base always impacts the support team first because they're the ones who deal with customers daily — and upset customers at that.
Every company has its method of dealing with traffic and ensuring that their customer support team doesn't drown in tickets. Here are five of the ways that 8×8 Inc offers customer support.
1. 8×8 Support Pages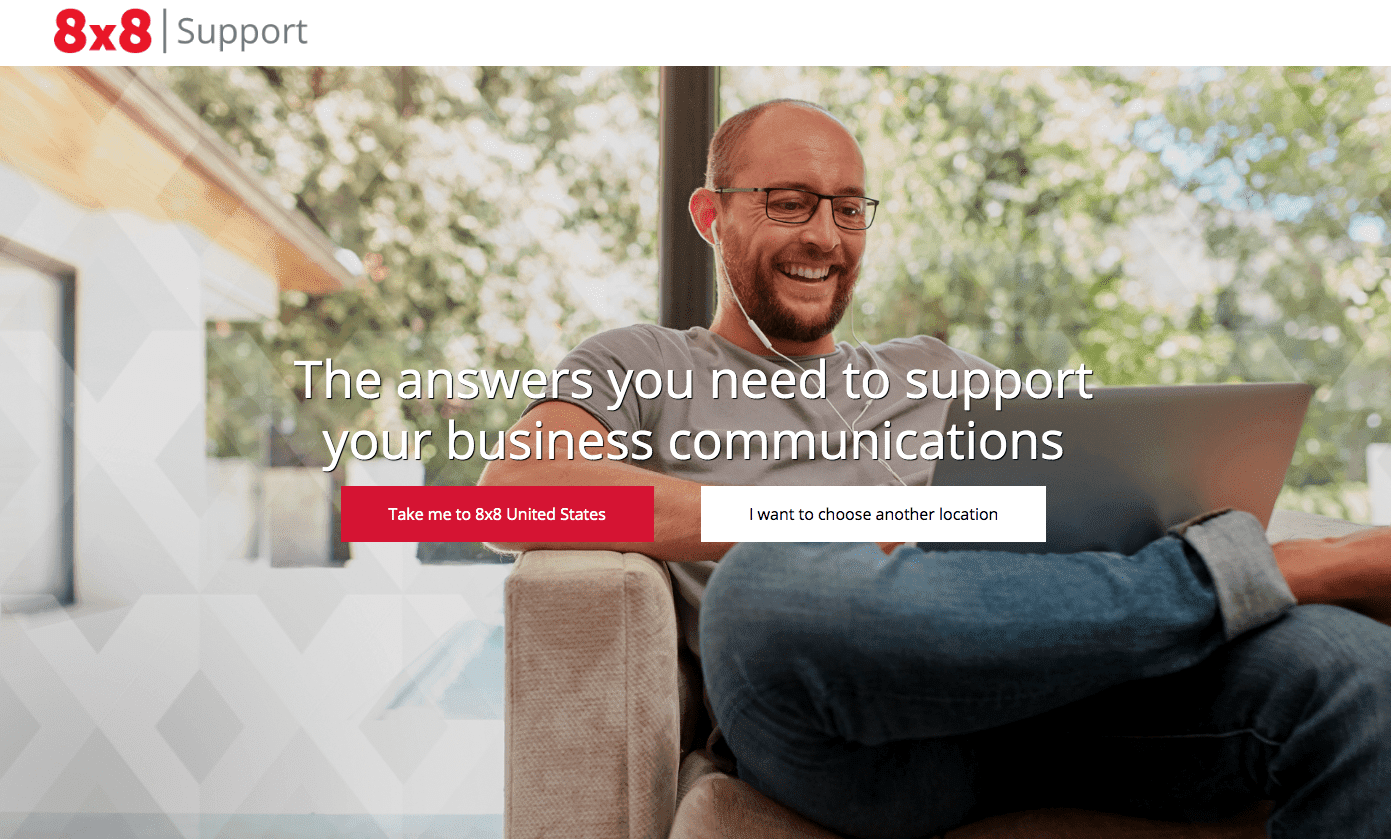 The actual support page is located at support.8×8.com. When you first navigate to the domain looking for 8×8 service and support, it will let you choose between three locations: United States, UK, and France. Both the USA and UK pages have a red button at the bottom that lets you connect to an agent.
The French support page doesn't however, and instead provides an option to send your question to an expert. The page states that most questions are answered within five minutes, though it's worth noting that you'll have to log into your account if you want to use this feature.
In addition to the three nations, there's also a fourth option listed as Express. This page contains a 10-minute instructional video along with resources that aren't listed on the homepage of the USA, UK, and French support pages. These videos are meant to cover most of the issues you encounter with communications solutions, mobile apps, and unified communications systems offered by 8×8, Inc.
The USA support homepage has the most information out of the four options so we'd suggest you go there first if you run into a problem. A self-service portal is also available but — much like the Q&A feature on the French support page — requires that you login before using it. If you're troubleshooting your business phone system or trying to train your small business staff to use a VoIP phone system, support pages are the best place to start.
2. 8×8 Support Live Chat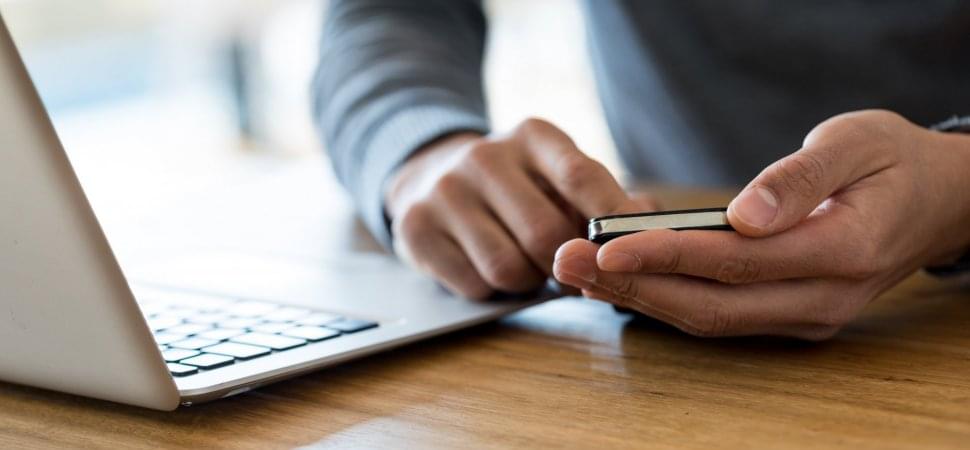 When requesting a live chat, the form will include a field for your 8×8 number. Rest assured you don't need one to speak to a representative though. All you have to do is enter N/A if you don't have an 8×8 number yet.
This was a great relief to us since a live chat that's limited to existing customers would've been a turnoff. After all, prospective customers tend to need more help with the technical side of software in comparison to those who have already been using the platform for years.
Studies show that 77% of customers won't purchase if they don't have access to live chat support. That means that companies without a live chat are limiting their reach to a mere 23% of potential customers.
Our Customer Service Experience
Throughout its existence, GetVoIP has reviewed more companies than we can count. Our writers have, at times, spent hours or even days just trying to get in touch with representatives such as during the research phase of Waiting For Mitel.
Fortunately, this wasn't one of those times. After navigating to the USA support page and clicking the red button at the bottom, all we had to do was fill in the information then submit the form and wait. After about a minute, we were talking to an agent.
That wait time is minuscule in comparison to some of the slower customer support departments out there. It's worth noting that a link to the knowledge base was also provided while we waited, giving us the option to read up on resources in the knowledge base if we wanted to self-solve.
The agent we spoke to was definitely on his game, promptly responding to any questions that we sent his way with concise and relevant answers. Each response would never take longer than a minute to arrive. 8×8 understands how powerful the ROI of customer experience can be when you prioritize your clients.
A Support Team With Confidence
Confidence is an overlooked conversational skill when building customer relations. While underrated, it can be quite important. An agent's can-do attitude helps keep customers calm and yields a better outcome. For companies struggling with VoIP solutions for the first time or who are operating from a virtual office, having a confident support team for your business communications is essential.
This particular agent was certainly confident in both his abilities and that of his entire department. He told us that they could provide support on any issues related to 8×8. At the end of our conversation, he assured us that there's no issue they can't fix.
If more customer support representatives started live chat sessions off with this type of confidence then there would be more solved cases, higher customer satisfaction, and no trace of aggression during such encounters.
The company is just as confident as its agents seeing as they offer 90 days of unlimited service to new customers. This will include things like setting up call flows and getting everyone up to speed on the glossary. Based on online reviews, 8×8 Inc has received high praise for the move.
One customer, Kyle, said that the 8×8 support team is very accommodating whenever he runs into an issue or needs to make changes. He continued saying that their requests are handled quickly and professionally without charging outrageous fees.
3. 8×8's Customer Service Phone Support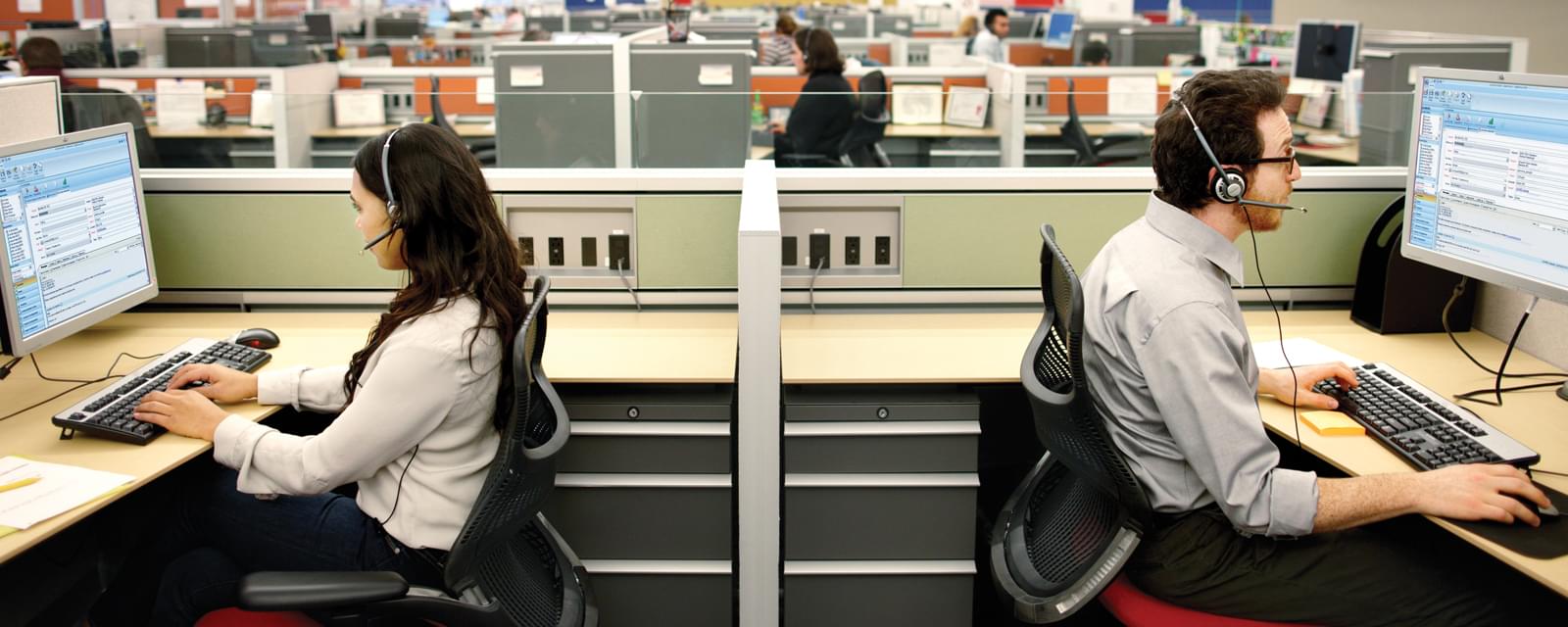 There aren't any listed phone support hotlines for the 8×8 support call center on the actual website. We can only assume that this was intentionally done to focus their efforts on the live chat aspect of the 8×8 support department.
The agent we spoke to via live chat did provide a phone service number: 888-898-8733. However, we highly recommend that you go for the live chat instead if you're in a rush since the wait time is surprisingly short. You don't want to risk being tied to your desk phone or softphone when you need to get back online and provide service to your customers.
It's worth noting that you'll also get the number 408-687-4120 if you look to Google for the 8×8 support hotline. However, there is no provided source for the number in the search engine results page.
4. 8×8 Support via Social Media
When we got to the 8×8 Facebook page, there were quite a few recent posts, but after sending a message… nothing. Dead silence. There was no autoresponder rigged to inform us that an agent would respond shortly. An agent didn't reply to our question either.
We thought that Twitter may be their preferred base of operations for social media support, so we decided to send a direct message there. Sadly, we were greeted by the same dead silence that we got on Facebook, leading us to believe that 8×8 doesn't have social media support.
That doesn't mean that they never will, but that at least tells you that they don't support it at the time that we're writing this. If social media is usually your preferred support method then you need to give some thought before going with 8×8.
5. 8×8 Knowledge Base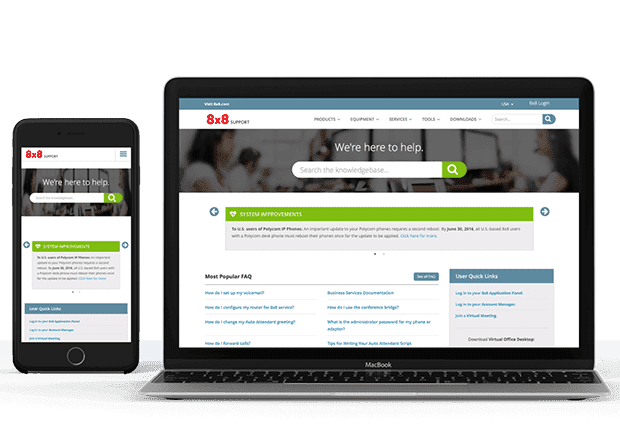 More and more companies have been adding knowledge bases to their website. It's not that surprising though since providing a self-service option is one of the best ways to ensure that your customer support department doesn't get bogged down with tickets.
The knowledge base found at the 8×8 Inc support site is one of the stronger ones that we've seen. The homepage serves as a good index, making it easier for users to find information relevant to the issue at hand. You'll find information to help Mac, Windows, and Android users.
Due to the depth of the knowledge base, most users should be able to find a solution to their problem without ever talking to a representative through the live chat. The resources likely also make it easier for agents to find solutions as they can just search the index.
Various issues are covered such as callers not being able to leave a voicemail, headsets only playing audio on one side, and how to transfer an existing phone number from one provider to another.
Financial problems like not being able to access billing tabs or remove a credit card are also explored within the knowledge base. There's even an entire page on how to contact 8×8 support.
It's very easy to sort results through the numerous filters available. You can filter the results by visibility, confidence, and even region to ensure that nothing but the most relevant resources are presented to you.
Lastly, the knowledge base also has a section labeled "Known Service-Impacting Issues" that serves as a notice board for ongoing business needs. The company uses this section to update customers when an issue comes around and let them know once it's resolved.
8×8 Support Shortcomings
While we were generally impressed with the efficiency of 8×8's live chat support along with the expansiveness of the knowledge base, we do have some critique.
Firstly, in comparison to some of its competitors, the coverage of 8×8 is rather narrow. There's no available assistance through social media and the support hotline wasn't even listed. If we hadn't reached out to the live chat agent then we would never have found the number.
We'll be the first to admit that this reliance/focus on live chat and the knowledge base has been paying off for 8×8 to this point. After all, they have extensive resources available on the support site and one of the shortest waiting times we've seen as far as live chat goes.
However, large companies tend to diversify their support channels so that they can spread the customer load evenly across a wider surface area. By not fully supporting social media and phone support, 8×8 runs the risk of encountering a bottleneck as their userbase grows.
Also, when users click the "Contact Us" heading on the main site, they expect support hotlines, not sales operating hours. We reckon they should create a separate page for the sales hotlines and automatically redirect customers who need support to the secondary site.
Those are the main shortcomings that you should take note of before deciding on which provider to go for, but if the potential weaknesses listed above don't bother you then there's no reason why you shouldn't go for 8×8.
What Makes 8×8 Different?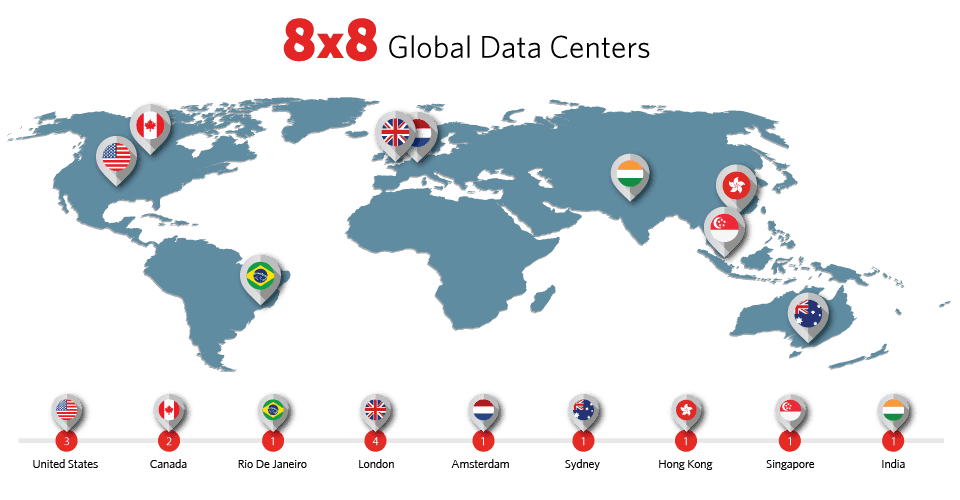 We reached out to John Sun, the senior manager for public relations at 8×8 to see if he'd be willing to give us a statement on the company and what makes its support capabilities unique to that of competitors. He was gracious enough to give us some key information.
The first thing that he mentioned was the fact that 8×8 uses patented geo routing technology to ensure that the call quality remains top-notch even for transcontinental conversations. He also noted that 8×8 has five independent data center divisions.
This network is comprised of five cloud communication data centers in North America, another five in the EMEA region, four in the Asia Pacific, and one in South America. This "global footprint", as he puts it, ensures that there'll always be data centers to fall back on should one or more fail.
"Regarding support channels, 8×8 technical support is available to our business customers 24 hours a day via the knowledge base, support portal, chat, and phone," he noted.
John also informed us that 8×8 has eight separate contact centers across the globe to ensure that they can live up to the 24/7 guarantee with their "follow-the-sun" schedule of operation.
He also noted that the company seamlessly combined voice, video, and messaging into a single platform that features mix-and-match plans to ensure customer satisfaction. Lastly, John closed with a reminder that 8×8 takes pride in its ownership of all the technology used on the platform.
Is 8×8 Customer Service Worth The Cost?
8×8 has packages that range from $25/month for each user to $172/month for each user. Your cost of the PBX cloud solution will inevitably go up if you need more features. That said, the price for each tier does drop as you add more users.
If you want speedy live chat support, sufficient resources to solve problems yourself, and aren't the type to reach out to companies over the phone anyway then you should be right at home with 8×8.
It's also quite clear, based on John Sun's statement, that 8×8 Inc places great value on consumer trust — hence their emphasis on global redundancies that guarantee reliability. With so many data and support centers around the world, downtime seems unlikely.
If you're not satisfied with what 8×8 has to offer, you should review our coverage of the best business phone systems available right now. It covers all the best options and includes key information that's crucial to serving your customers better.