It's no secret that we're advocates of making the switch to video interviewing software. Technology has forever changed the way that we conduct business. In fact, one study showed that 40% of companies are now using video interviews to screen candidates.
For businesses who were already working from home before COVID-19, tools like Slack or the many Slack alternatives were a must for team collaboration.
For businesses communicating during the 2020 Coronavirus outbreak or working remotely for the first time, these free video conferencing tools prove to be essential for keeping a small enterprise in business.
In this article, we're going to give you the complete rundown on everything you need to know about free video conferencing software, show you some of the top picks for your business, and enlighten you on how to reap the benefits of this advancement in communication.
What is Video Conferencing Software?
Video conferencing software lets you conduct live conferences with anyone on the planet by transmitting your voice, video, and text through the internet.
However, most software that you see today has gone far beyond simple conferences through the development of other features such as screen sharing, playback, and mobile access.
With the constant evolution of video conferencing software, it can be hard to know which one is the best pick for your business. That's why the section below is going to walk you through the most popular options.
The Top 6 Free Video Conferencing Software Solutions
One of the main reasons that small businesses go for video conferencing software is the fact that, in addition to being easier to coordinate, it comes out cheaper than phone calls. Of course, that benefit is nullified if you're breaking the bank on an expensive software plan.
We know that small businesses want to use the best tools that will get the job done right but can't afford to go all-out on an enterprise plan, that's why we've taken the time to compile some of the top free video conferencing solutions that you can choose from.
We'll cover the pros, cons, and anything else that you might need to know about each solution.
1. Zoom
When it comes to video conferencing software, Zoom is one of the most popular options out there. Currently, 50% of Fortune 500 companies have at least one Zoom account.
There's a 40-minute limit on group meetings if you're subscribed to the free plan so you should take note of that if you'll be using the software for longer online meetings. Multiple attendees can share their screens at the same time, making it easy to collaborate remotely.
If the time limit is putting you off, then we should mention that face-to-face meetings aren't restricted by the 40-minute cap. You only have to be concerned about runtime when hosting group conference calls or webinars.
Best for:
Short collaborative meetings that require robust screen-sharing capabilities.
Pros:
Widely-used
Multi-user screen sharing
720p HD video
Private chat
Cons:
40-minute meeting limit for free users
2. UberConference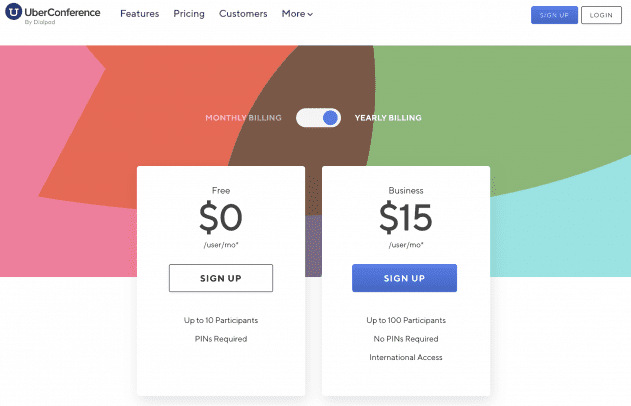 UberConference is the video conferencing solution developed by top VoIP-provider Dialpad. Joining a conference is as easy as entering the URL along with their participant PIN. The solution supports HD audio and video meetings.
One of the main benefits of using UberConference is the fact that it's a completely browser-based video call solution. There's no need to download any program, although mobile apps exist for those who want to use UberConference on their smartphone or tablet.
Free users can host conferences with up to 10 participants and record these meetings for future review. The maximum duration for conferences with the free plan is 45 minutes, coming in at slightly longer than Zoom.
Best for:
Companies looking for browser-based business solutions have less than 10 participants in a single conference.
Pros:
Join conferences through the mobile app or your browser
HD audio & video
No required downloads
Conference recording and playback
Cons:
10-user limit on free conferences
PINs are required unless you upgrade to the paid plan
A 45-minute time limit for free users
3. Google Hangouts Meet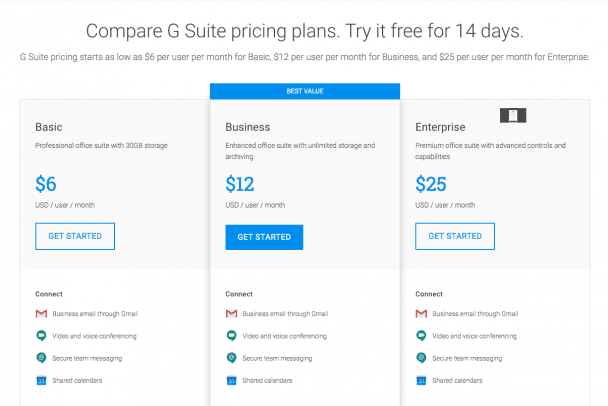 First of all, you'll need to have an existing G Suite subscription if you want to use Google Hangouts Meet.
That's not too big of an issue though as the cheapest plan will only run you $6/month. That's cheaper than any premium video conferencing software and you get all the other perks of G Suite as a bonus. It also offers unlimited meetings via audio conferencing, optimized for Chrome, but available in any major web browser.
In addition to HD video and screen sharing, Google Hangouts Meet also lets you share documents with any number of participants in the meeting. This is even easier to do if you use Drive, Docs, and Sheets since they're all integrated into G Suite and your Google Calendar.
Best for:
Existing G Suite users that want a reliable video conferencing solution at no additional cost.
Pros:
Free for existing G Suite users
HD video
Screen sharing
Document sharing
Cons:
You need a G Suite plan to use Google Hangouts Meet
4. Cisco Webex Meetings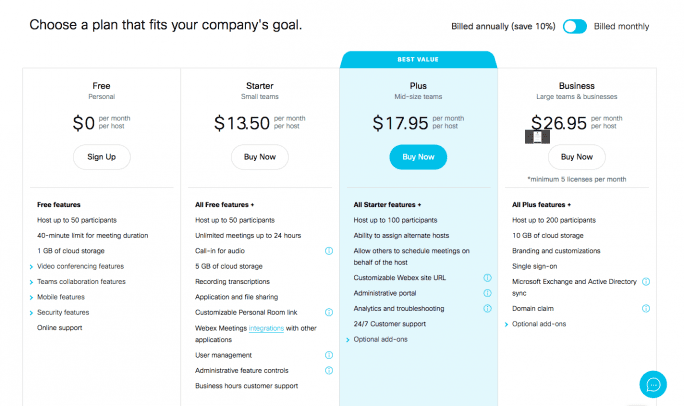 Cisco Webex Meetings is one of the top video conferencing solutions due to the expansiveness of its free plan. While it does share the 40-minute time limit of Zoom, you get 1 GB of cloud storage and the ability to add as many as 50 participants in a single meeting.
The active speaker view makes it easy to keep track of who's talking in a given moment. Another handy feature is the real-time polling that you can use to make team decisions during meetings.
Calendar integrations also make it easy to schedule tasks whenever a new aspect of the project is discussed. All meetings and recordings are fully encrypted to ensure that no one eavesdrops. Did we mention that it also supports HD video and screen sharing?
Best for:
Companies looking for a feature-rich solution with an expansive free plan.
Pros:
1 GB storage
Up to 50 participants
Active speaker view
Real-time polls
Calendar integrations
Full encryption on meetings and recordings
HD video
Screen sharing
Cons:
40-minute time limit on the free plan
5. RingCentral Meetings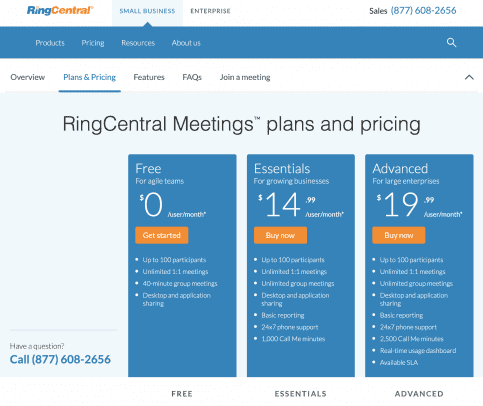 If you're a regular reader of GetVoIP then you've probably already heard about RingCentral a few times. They're one of the top providers in the VoIP industry, but you might not know that they also provide a video conference solution known as RingCentral Meetings.
In addition to the foundational features such as HD video and screen sharing, you'll also find recording and text chat capabilities. You can use the in-meeting group chat or private chat depending on how classified the information you're sharing is supposed to be.
You can connect to a meeting from your computer, mobile device, or even landline. Much like Zoom, there is a 40-minute time limit for conferences. No limits are imposed upon face-on-face meetings.
Best for:
In-office teams that want to be able to join a conference through the landline on their desks.
Pros:
HD video
Screen sharing
Recording
Text chat (group and private)
Device compatibility for PC, desktop, and landline
Cons:
40-minute meeting limit for free users
6. Skype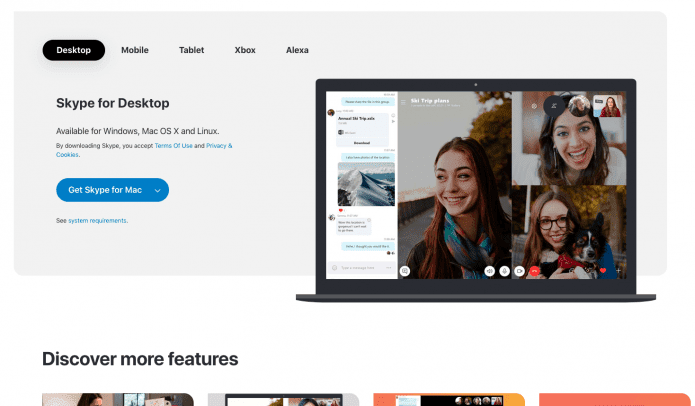 With over a million users — and a projected million-user increase in the next five years — Skype is still one of the largest video conferencing solutions. Free users can host group video calls with up to 25 participants.
Youll need to get Skype for Business if you want to try the 250-attendee conferences — though it's worth noting that the aforementioned service will be retiring in 2021. A key selling-point for Skype is its real-time translation capabilities.
The voice translator supports 10 languages (English, Spanish, French, German, Mandarin, Italian, Portuguese, Arabic, and Russian) while the text translator supports over 60 languages. This makes multilingual conferences easier than ever before.
Best for:
Existing Office 365 subscribers or any company looking or a widely-used and robust video conferencing solution.
Pros:
Ubiquitous in the business world
Up to 25 participants in free group calls
10-language voice translation
60+ languages supported on text translator
Cons:
250-person conferences are locked to those who subscribe to the Office 365 Business plan
Skype for Business is retiring in 2021
What is the Best Free Video Conferencing Software?
People often ask "what is the best free video conferencing software?" There's no one-size-fits-all answer.
It all comes down to what the specific needs of your business are. If your main goal is to find a video conferencing provider that offers the most comprehensive free plan then Cisco Webex Meeting is probably your best bet.
However, if you prioritize features and don't mind the 40-minute limit on meetings then Zoom might suit your style better. Companies who work with many freelancers might prefer the browser-based UberConference since contractors may be reluctant to download new software.
Speaking of contractors, you should consider Skype if your team members speak different languages since the real-time translation feature demolishes the language barrier. It all comes down to whichever video conferencing tool fits in best with your business.
What is the Best Free Video Conferencing Software for Small Business?
For the most efficient meeting, demand high-quality audio and the best video quality available. Video and web conferencing software tools should provide ease of use for presenters, attendees, and staffers alike.
For businesses with just a few staffers, Google Hangouts Meet will suffice and is included with a small business G Suite membership. For businesses that need to meet with teams of up to 100, free 40 minute meetings from Zoom might be more useful.
When it comes to small business VoIP tools, there are specific things that you need to factor in such as the number of members on the team, which features are included, and whether or not the nature of the software is suited to the size of your company.
What is the Best Free HIPAA-Compliant Video Conferencing Service?
Ensure your video conferencing provider uses end-to-end encryption on their software to steer clear
of any violations. Zoom fails to support end-to-end encryption and some providers require you to dive deep into your settings to optimize your security features.
Other features such as two-factor authentication ensure that access is restricted to those who are actually supposed to have it. This reduces the odds of any problems arising.
If major healthcare organizations use a particular video conferencing software then you can be pretty sure that it's compliant with the regulations of HIPAA.
If you're trying to find the best free HIPAA-compliant video conferencing software, you won't have to look far since most of the big names are already compliant. This includes many of the top options that we've reviewed in this article.
What are the Essential Features of Video Conferencing Software?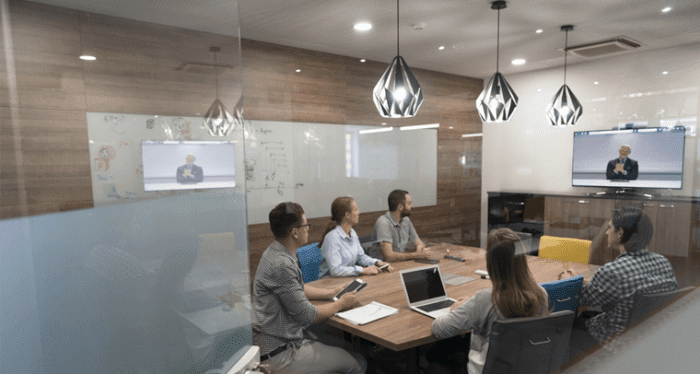 If you're trying to decide which video conferencing software is the right pick for your business then make sure you're looking for these essential features.
Screen sharing
Screen sharing is almost as important to video conferences as the video feed itself. You could stare at your co-workers in 4K resolution but it's better used by showing people what's happening on-screen.
When you're able to show collaborators what's on your screen, you'll save time that would otherwise be spent explaining what you see. You'll avoid unnecessary questions that are answered with a live feed.
Ideally, you should be able to share multiple screens simultaneously. Sadly, some providers lock that feature to paid plans. Don't settle for less than individual screen sharing though as that's more of a right than a privilege at this point.
Check out the GetVoIP guide on free web conferencing apps with screen sharing to learn more on the matter.
Text chat
Video, voice, and text are the cornerstones of any conferencing software. The text chat is just as important as voice and video chat since it allows you to jot down notes while in your virtual meeting room.
You can even share links instantly. Without voice chat, you'd have to email links to team members just so they can view the page you're trying to show them. Alternatively, you could write the link down on a cue card — but we prefer text chat for the sake of efficiency.
Conference recording
Being able to record your conferences is very useful for many reasons. First off, these conference recordings will serve as a reference for you and your team members. Being able to review this video reference at any time ensures that no tasks will slip under the radar.
Furthermore, it also saves you time since you can reuse some recordings. For example, if you need to onboard a new writer, you can simply send them the recording of a previous onboarding conference and have them ask any questions afterward.
File storage
If you're running a small business then you already understand the importance of keeping operating costs low. Having a video conferencing software that provides file storage does just that since you won't have to pay extra for premium cloud solutions like G Suite or Dropbox.
Beyond the financial benefits of having file storage, it's also more convenient since it'll be easier to share documents during your conferences when they're stored on the servers of your provider. The best example of this is the union between Google Hangouts Meet and Drive.
Mobile apps
Choosing a video conferencing software that has mobile apps available for both iOS and Android devices puts simple collaboration tools in everyone's palm. They can access a virtual conference room or dial-in to see a whiteboard presentation no matter where they are.
In a dynamic business environment, being productive while on the go is so important. The ability to host a conference with your team while in traffic, on a plane, or in the middle of a business trip across the globe is vital and video conferencing apps offer that flexibility to users.
When to Start Using Video Conferencing
Some businesses aren't sure when the right time to implement video conferencing is. You can implement it at any time since it's never too early to adopt the latest technology.
If you're more concerned with knowing when you need to implement it, that comes down to the way your business operates. If most of your staff work in-house at a physical office then you can put off video conferencing longer — especially if you're hesitant to incorporate it.
However, remote work has become increasingly common in the contemporary business landscape. If the majority of your team members work remotely, you'll want to get video conferencing set up as soon as possible.
We'd go so far as to recommend having video conferencing ready to go by the launch of your business. If you anticipate that most of your crew will be collaborating remotely once everything starts chugging along, you'll be a step ahead.
Should I Use Paid or Free Video Conferencing Software?
If the features included on the free plan serve those needs sufficiently then there's no immediate reason to upgrade. In fact, some companies already cover all their bases by simply using add-ons with Skype.
However, if your normal business operations are being impeded by the locked features then you should seriously consider the possibility of upgrading beyond a free version as long as it fits the company budget.
The debate on whether free software is good enough or you should upgrade to a paid premium plan has been ongoing for as long as the internet has been around. It comes down to how demanding the needs of your business are.
Before you make the jump to a paid plan, be sure to check out the official GetVoIP guide on web conferencing solutions.
Why You Need Free Video Conferencing Software
The most important reason to choose video conferencing is for you to stay competitive in an ever-changing marketplace. Conferencing features give you the option of video calling and the ability to share screens while you're on the go.
For a deeper look into web conferencing, check out our breakdown of Zoom vs Webex and our coverage of GoToMeeting pricing and plans.
When transitioning from voice to video, brushing up on your body language by checking out our guide on improving non-verbal communication.