Unlimited cellular plans have become a rarity. Unless you have a grandfathered account from years ago when mobile carriers offered unlimited data options, most "unlimited" plans are subject to fine print that commonly includes soft data caps and throttling. However, Verizon has updated its offerings to include a prepaid hotspot plan with truly unlimited data – no caps and no throttling beyond the network management that all users are subject to depending on the congestion of their local towers.
This plan is gradually gaining attention among people who for one reason or another don't have access to more conventional means for high bandwidth Internet. Along with providing rural properties with an alternative for broadband connectivity, hotspots can be essential for digital nomads, field workers, remote employees who want to head out for the day, folks who are on vacation but still need to check in with the office, or anyone who could use broadband Internet anywhere Verizon has coverage.
Unlimited Prepaid Hotspot Pricing
Considering the unlimited data, Verizon's prepaid hotspot plan is surprisingly well priced at $70 or $65 when you configure your account with a credit/debit card to auto-pay. Further discounts are applied if you already have a prepaid account with the carrier. Multi-line pricing for the unlimited hotspot plan is quoted as providing $20 off per line.
Again, you will require a prepaid account though, and existing postpaid Verizon customers can expect to open a new prepaid account when signing up for this plan. Regardless of the monthly rate that you wind up paying, there's no contract for the prepaid unlimited hotspot, so if you only need it for a month or two, or if it doesn't work as well as you expected, there's nothing locking you into Verizon's service.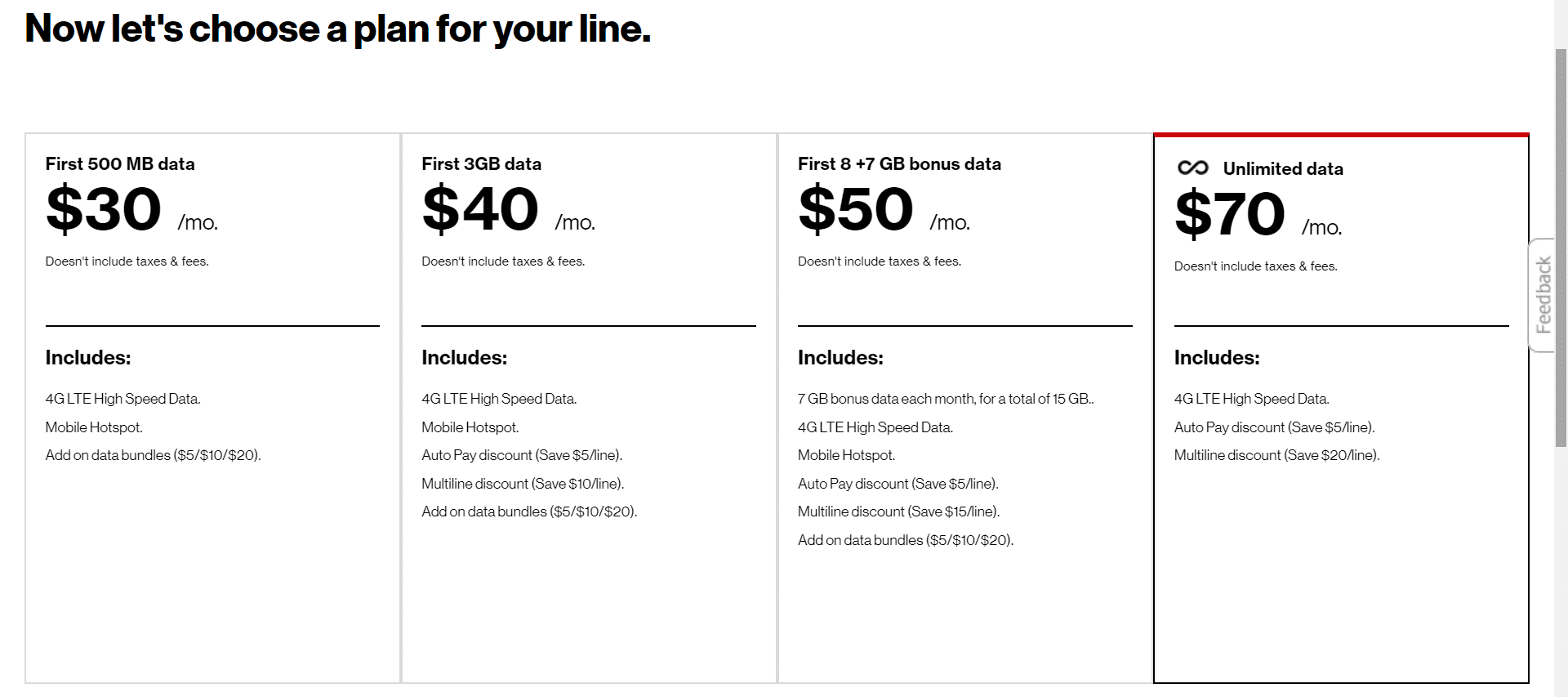 The only catch here is that you'll have to purchase a Verizon-capable hotspot device and the company doesn't accept returns on this unit. However, the company representative we spoke with noted that there is currently enough demand for them that there should be no issue reselling the hotspot on eBay or elsewhere online to get most of your money back. Likewise, you could feasibly purchase a used hotspot at a discount, though we received a discount for purchasing a hotspot through Verizon when signing up for a new account.
Interestingly, the prepaid unlimited hotspot plan is a remarkable value compared to Verizon's postpaid unlimited hotspot offerings, which max out at $80 a month and come with a 15GB data cap, after which data rates are throttled to only 600Kb/s.
As of writing, the unlimited prepaid hotspot plan has been hidden on Verizon's main prepaid page but is available as an option after selecting your hotspot device or requesting the plan directly through Verizon sales representatives. (Go to the prepaid plans > scroll to Tablet & Jetpack Plans > click Shop now and select a hotspot device to see the unlimited plan).
Verizon's Mobile Hotspot Options
Hotspots are small devices that contain hardware to serve as both a cellular modem and a router, letting you receive a cellular signal and propagate it as a local private Wi-Fi network. Verizon is currently selling a few different hotspots that serve different needs:
MHS900L – Priced at $149.99 retail or $49.99 when signing up for this prepaid hotspot plan, this device is the cheapest among Verizon's current hotspots and has the least number of features, but is generally adequate enough to tap into the speeds available on Verizon's network and can connect up to eight devices at once.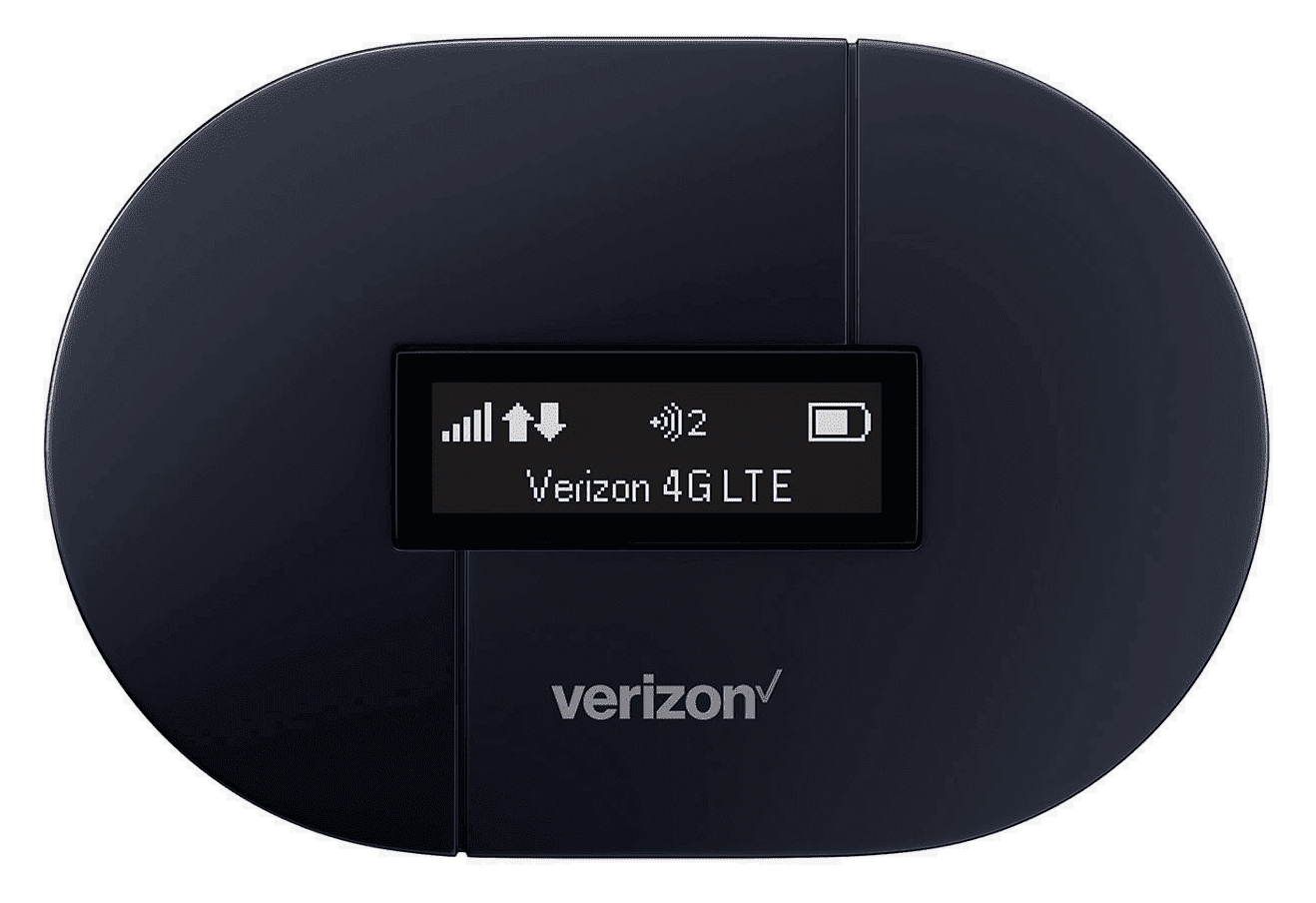 The device is 4G-only and can't toggle to 3G, features a black and white display with button controls along with a 2100mAH li-ion battery quoted at up to 10 hours of usage (this was more like four or five hours with regular media streaming and browsing in our experience), and measures only 2.34 x 3.46 x 0.57 inches – less surface area than a smartphone.
MiFi 8800L – Commands more of a premium at $200 and is a bit larger than the MHS900L at 2.64 x 4.29 x 0.71 inches but packs a 4400mAh battery that is quoted at up to 24 hours of usage time, probably more like 12 hours for heavy usage based on speculation from our experience with the MHS900L.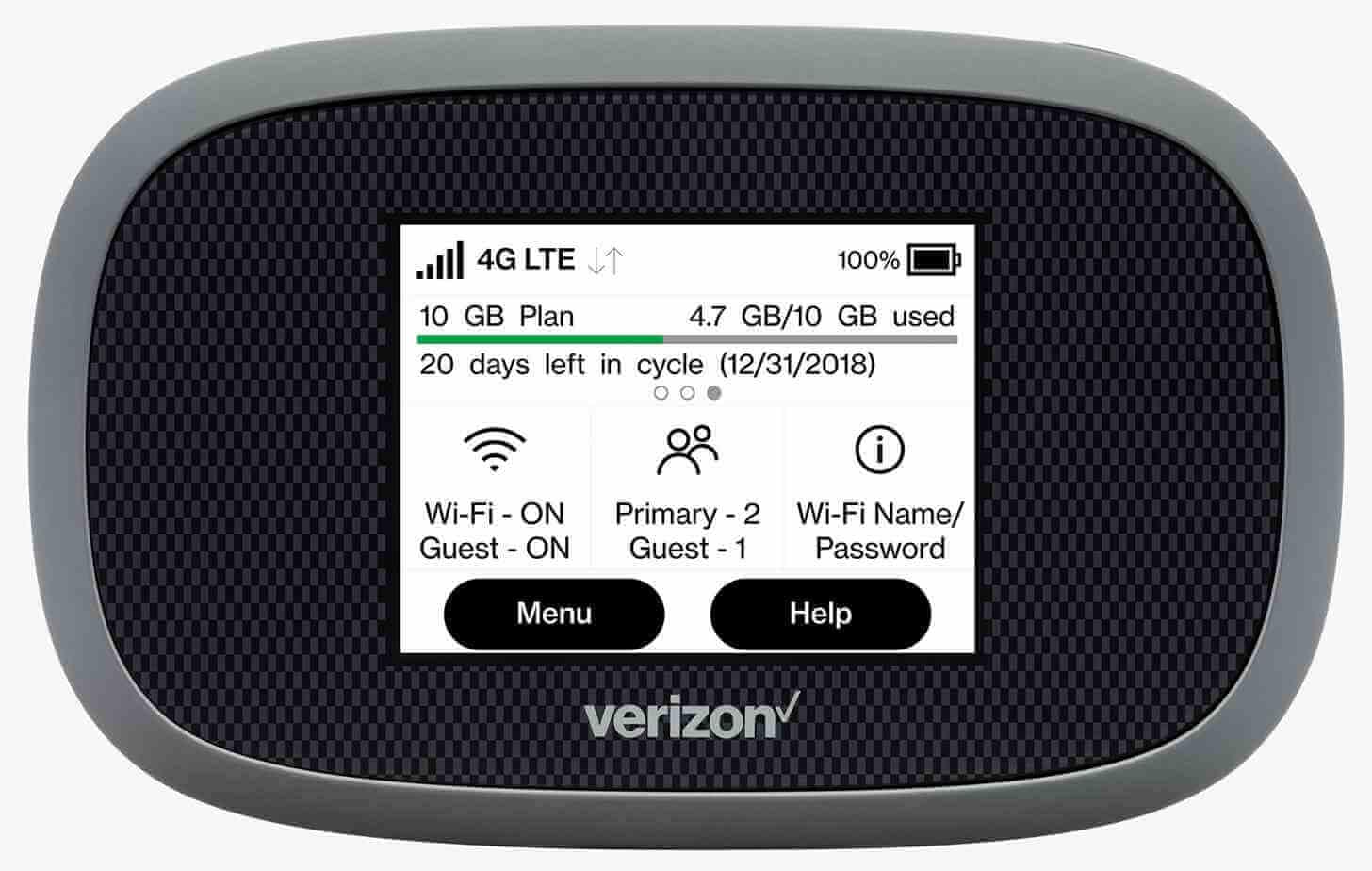 Along with the beefier battery, additional features include a 2.4-inch color touchscreen, the ability to connect up to 15 devices at once instead of eight on the MHS900L, can toggle between 4G and 3G, provides 5GHz Wi-Fi and 4×4 MIMO, and is reportedly better at picking up signals in weak coverage zones according to subjective user reports.
USB730L – A more compact USB stick-style Verizon modem. Measures 1.38 x 3.27 x 0.45 inches and this is largely thanks to being powered from your computer's USB slot instead of having a battery. Supports both LTE 4G and UMTS 3G bands like the 8800L.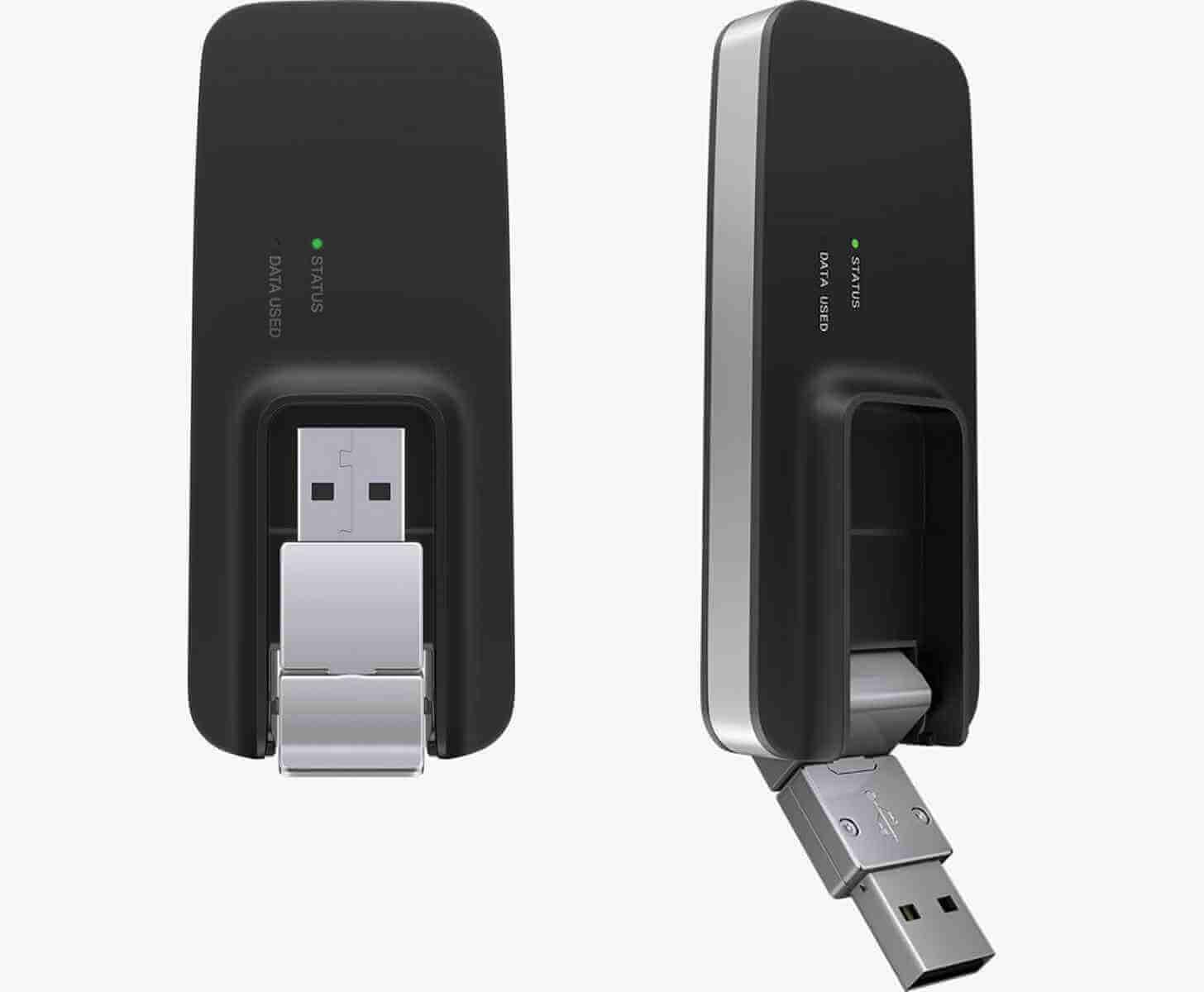 Note that for the models with internal batteries, these are easily swappable so you could buy a spare battery, or you could recharge the battery with one of the micro USB battery packs that are commonly sold for recharging smartphones on the go. This would enable an all-day battery even with heavy usage.
Unlimited Prepaid Hotspot Performance
Despite being toward the edge of a service zone in an area where Verizon's map shows generally spotty coverage, the MHS900L consistently provides 30-40Mb/s download and upload speed with 30-40ms ping times. We've seen some users reporting better download speeds and latency that is in the upper 20ms territory, but the performance we receive in rural NY is still better than expected and comparable to a low-end cable connection.
If anything, the upload performance is considerably better than the bottom tier residential cable broadband services around, yet this hotspot can go anywhere Verizon has coverage, which is a majority of the U.S. Sometimes performance dips into the 10-20Mb/s range but this isn't common and presumably during peak usage to reduce network congestion as mentioned previously. During one instance, pings were in the hundreds of milliseconds but this cleared up by the next day and didn't significantly impact browsing performance.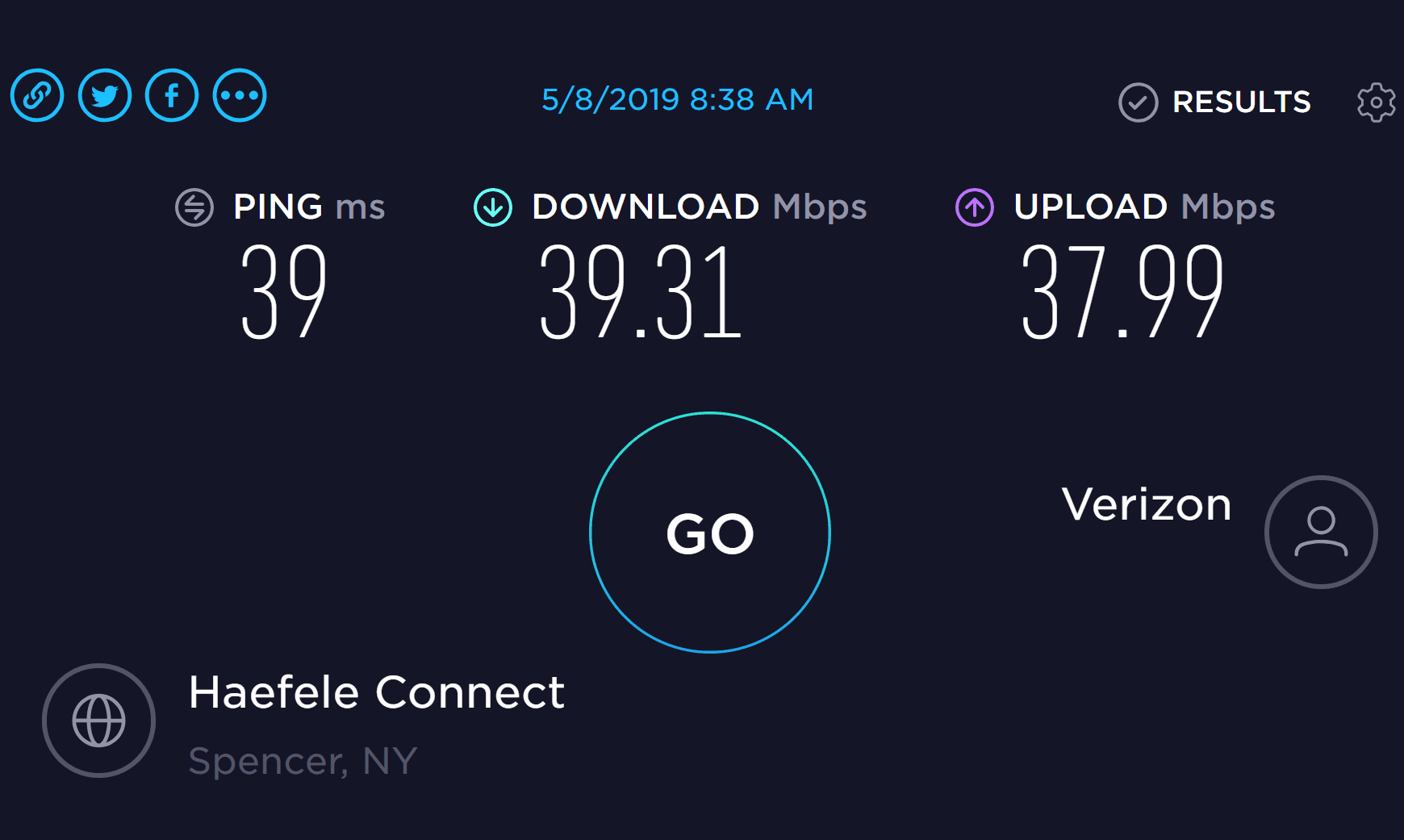 Occasionally the hotspot drops signal, power cycles or needs to be power cycled, though this has only happened maybe five times over the month of usage and has always been resolved in a minute or two. There haven't been any lengthy outages during the first month of service, which has included more than 100GB of usage and still provides the same 30-40Mb/s bandwidth.
While Verizon's website mentions support for streaming video up to 480p or 720p, doing so at 1080p has never been an issue and we can't see why it would unless doing so during a point when the towers are overloaded. And on that note, it has been mentioned by users online that if you are in an area where the towers are always overloaded, your bandwidth may be affected more frequently than not.
Faster Than Expected & Truly Unlimited
It's generally not recommended to use a cellular hotspot as your primary Internet connection, but that's precisely how we've been using this line for the last month and it's worked surprisingly well, with only a few minutes of downtime. While network management may result in speed dips at certain hours or locations, it's been a non-issue during our usage in New York about two hours from NYC and the connection is generally fast and reliable enough to serve as a standalone connection.
Beyond the brief hiccups in service, the connectivity speeds have been surprisingly fast, especially given that it's being used is toward the edge of a coverage zone, surrounded by trees and mountains. Usage has included streaming audio and video, VoIP calls, downloading and uploading files, email and chat, heavy web browsing and whatever else you might do with broadband Internet.
Granted, it's not a perfect replacement for a high-end cable or fiber connection, but may be suitable for rural areas where Verizon has decent coverage and folks have few other options for broadband Internet. Likewise, it's a great value for field workers, remote employees who would prefer not to depend on free Wi-Fi wherever they go, or anyone who can put unlimited mobile data to use while on the road.
To maintain a view of every provider out there, check out our regularly updated VoIP reviews.