If your office is looking for a new web conferencing software, you may not have to break out the company credit card just yet. Between completely free open-source apps, or provider's that offer a freemium version of their paid service, there is actually a larger list of completely free video conferencing solutions with screen sharing out there than you might think. Many teams rely on conference calls to share information, discuss projects or connect with potential clients or current customers.
Web conferences can also help simplify tech support or even customer service. Conference calls are pretty much a guaranteed part of work for many, but instead of just a boring phone call these apps make it possible to much more – between screen sharing, video conferencing and online whiteboard tools. While not the most common free tool available, we were able to round up a solid list of the top 8 best free web conferencing services, all of which include screen sharing.
What is Web Conferencing?
Web conferencing software is an online service that has audio conferencing and video conferencing solutions. These tools allow for webinars, toll-free calling, HD video meetings, and training held by presenters either live or recorded.
Using built-in cameras, speakers, and microphones or external devices, web conferencing allows for high-quality face-to-face video meetings or group phone calls over an internet connection. Web conferencing tools include the ability for free screen sharing and setting up virtual conference rooms for attendees to dial in and collaborate.
Free web conferencing software allows for teams to access most features along with mobile apps.
First on our list is probably one of the most popular, we even went in depth and covered a detailed look at the pricing plans GoToMeeting has to offer. But even with just their free plan, GoToMeeting offers one of the simplest ways to host a conference call, and allow users to share their screen. With their one click meeting solution, GoToMeeting should be really simple to adopt – and users can start their meetings through almost any app, from Microsoft Office programs to email and chat links.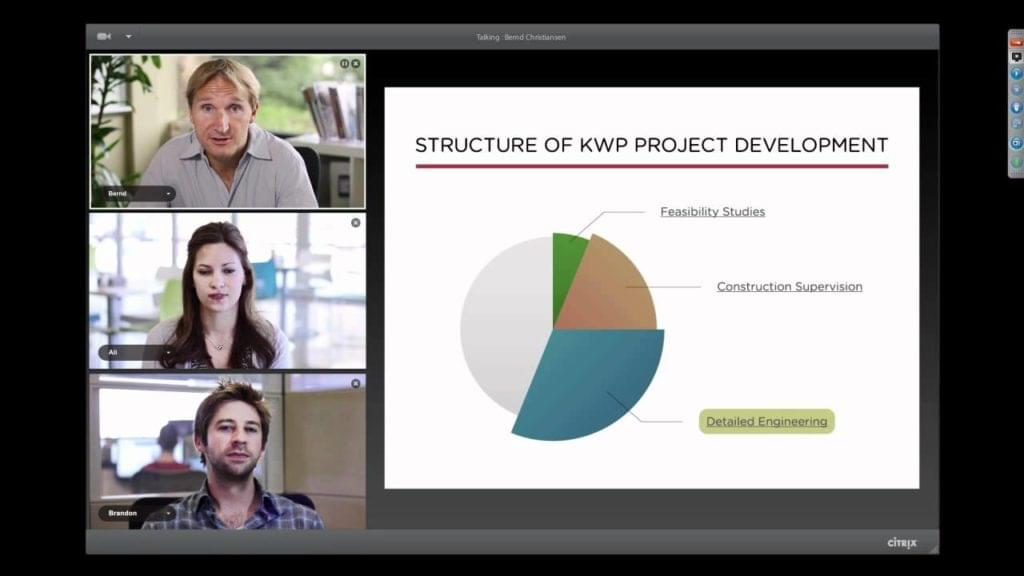 Utilizing GoToMeeting limits users to just web audio conferencing, as video is limited to some of the paid plans, but with the option for either Toll-Based or VoIP voice chat, teams can tailor the conference calls to whatever suits their needs best. The only other hitch is that GoToMeeting's free plan limits your conference calls to only 3 participants – but for a free, quick small team meeting (or one on one with clients) the solution should be perfect.
Owned, developed and hosted by the networking and security giant, Cisco, you can be sure WebEx scores high on our list. One of the original conference solutions, of course Cisco has it nailed down pretty well. Just like others on the list, the free version of WebEx will limit you to 3 participants, but the good thing about WebEx is that it allows for free video conferencing. Users can of course share their screens, and you can even integrate the platform with Cisco Spark, one of our favorite tested Slack competitors, to build your own complete collaboration suite of software.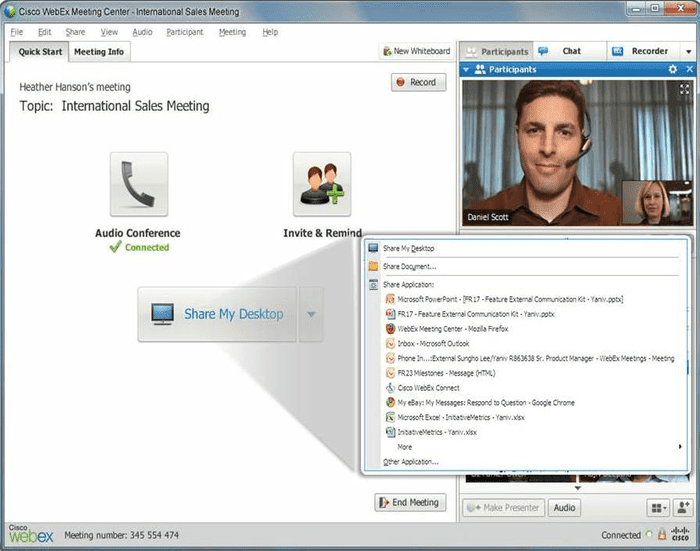 WebEx would also be a solid choice for any larger, Enterprise, or even small business with a strong focus on security – as of course we all know Cisco has their security locked down. Just take a look at insane levels of encryption they took to lock down Spark and the messages you send back and forth. Although users be warned, most of WebEx's best features will be locked behind a paywall.
Competing with Cisco on the security frontier of their conferencing solution, TeamViewer's home page boasts 1.3 billion protected devices are running secure remote support and online meetings on their platform. With a strong focus on support and help solutions, TeamViewer offers some unique features such as the ability to run multiple remote sessions at once on macOS with browser tabs, remote sticky notes to leave behind a message for your customers and clients – let them know what fixes were applied or just send a personal "you're welcome" message.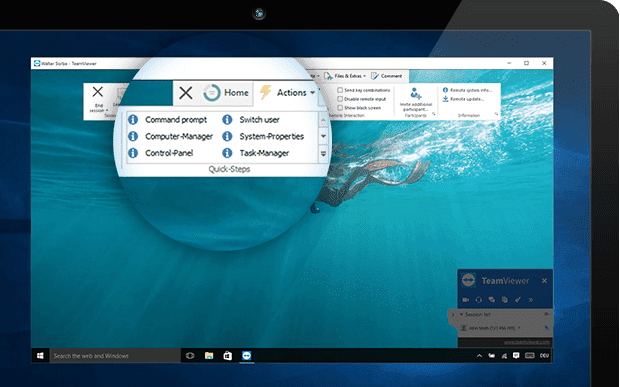 TeamViewer offers other interesting add-ons, such as the TeamViewer QuickJoin to allow customers to quickly and easily join meetings or presentations without an installation or administrator rights.Supported on Windows, Mac, Linux and even Chrome OS, Android and iOS, TeamViewer has all your devices covered. Of course, there's also audio and even video conferencing, as well as text based chat. Other interesting features, although behind a paywall, include things like the Remote QuickSteps, which adds in one-click shortcuts for the most-used remote support actions. So if you do decide to upgrade and go a paid route, TeamViewer is a strong contender for support and IT use.
Of course just about everyone knows Skype, and with their free, familiar solution available without a doubt the app is worth considering. Many may not even realize this, but Skype does in fact allow screen sharing, and again completely free. While not as flexible as some other apps that don't even require participants to download the client (although WebEx even suffers from this), users will have to create a skype name, download skype and add each other to their contact's list for conferencing.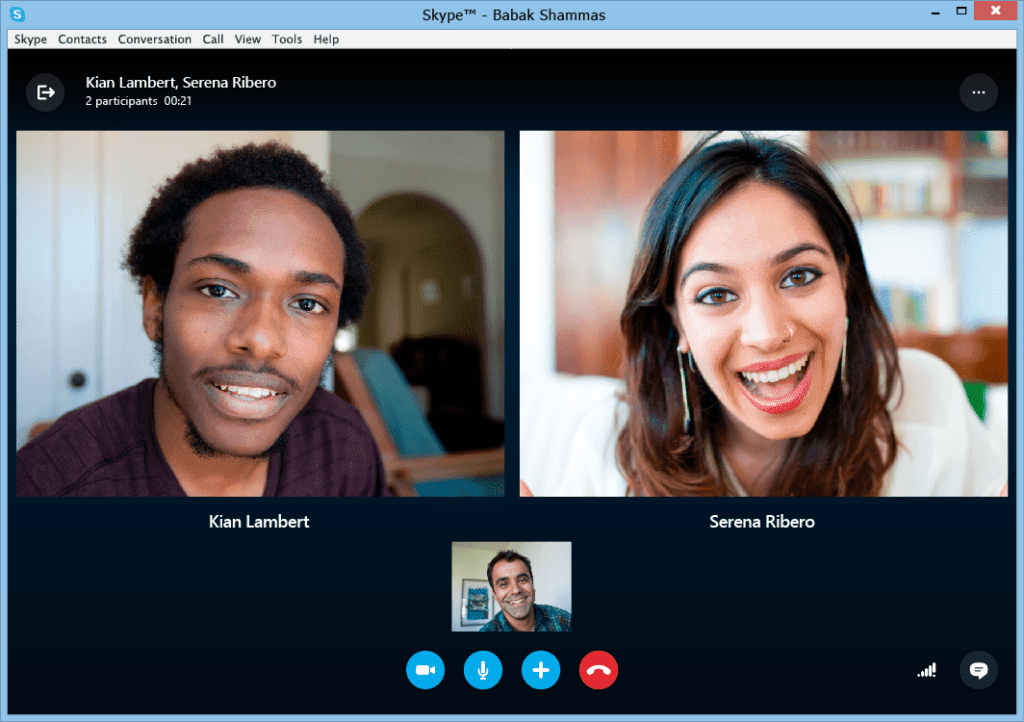 Skype would make best sense for a small team that doesn't mind utilizing the platform – and while Skype for Business is a possibility, that's a whole different realm of applications, and locked behind an Office 365 subscription so most likely not the best option for small teams considering to upgrade to a paid version. With Skype users can host audio or video conferences, with up to 25 participants – one of the higher limits out of most solutions on our list. Skype also supports all popular desktop OS, and even hosts iOS and Android phone apps for your conferencing on the go.
Developed, and powered, by the team behind the LogMeIn suite of collaboration tools, Join.Me is designed to "cut through pointless processes, politics and protocols with a single click." It seems like ease of use and one-click meetings is a bit of a theme behind these tools, and for good reason. Skype and WebEx would be great for teams willing to all adopt the solution, a solution like Join.Me expands the use case beyond simple interoffice communications and adds a layer of simplicity to extend conferences to customers, clients or prospects.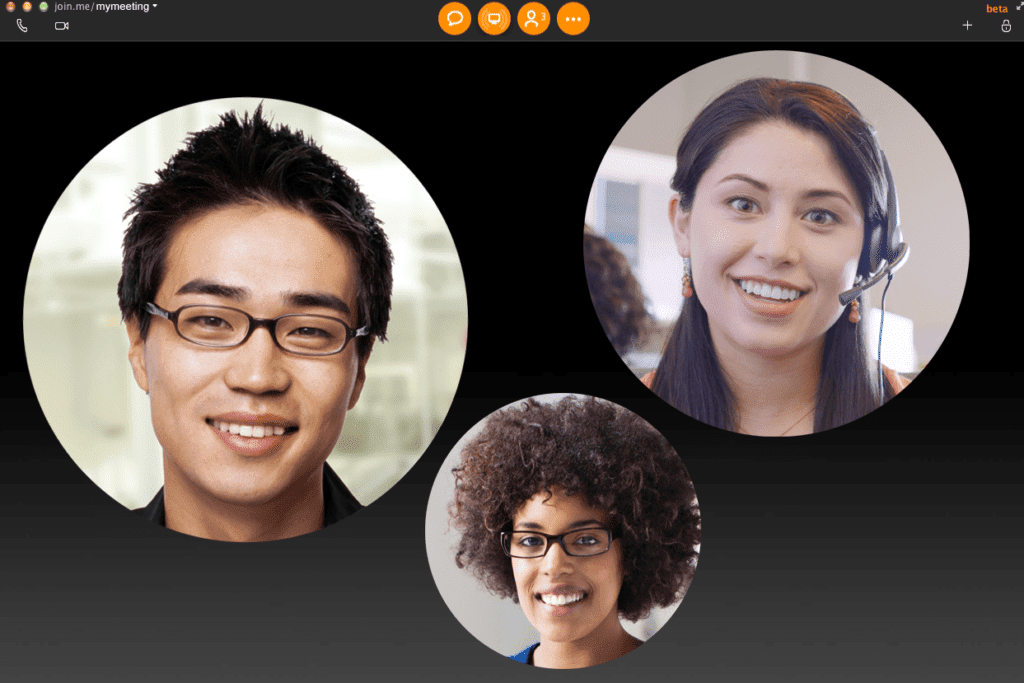 While their free plan seems to be limited to screen sharing and conferencing, a free trial of more advanced Join.Me plans includes video conferencing, free audio conferencing with a dedicated conference number located in the U.S. and 50 other countries. One click scheduling integrates with Outlook or Google Calendar to send and keep track of your invitations, and a personal link gives users a permanent meeting location so clients can just save your one web address to get in touch. Join.Me also includes an online whiteboard feature for that extra level of collaboration and presentation, oh and of course screen sharing.
Zoom is a bit of an interesting candidate, with both a free basic plan, and pricing that is actually bit cheaper than the pricing what we noticed with GoToMeeting. But for the focus of this list, their free Basic Personal Meeting plan offers 40 minutes of conferencing, for up to 3 participants. A slight upgrade brings unlimited users, an unlimited number of meetings, and video conferencing with a host of features such as active speaker view, full screen view, dual stream for dual screens, join by telephone call-in.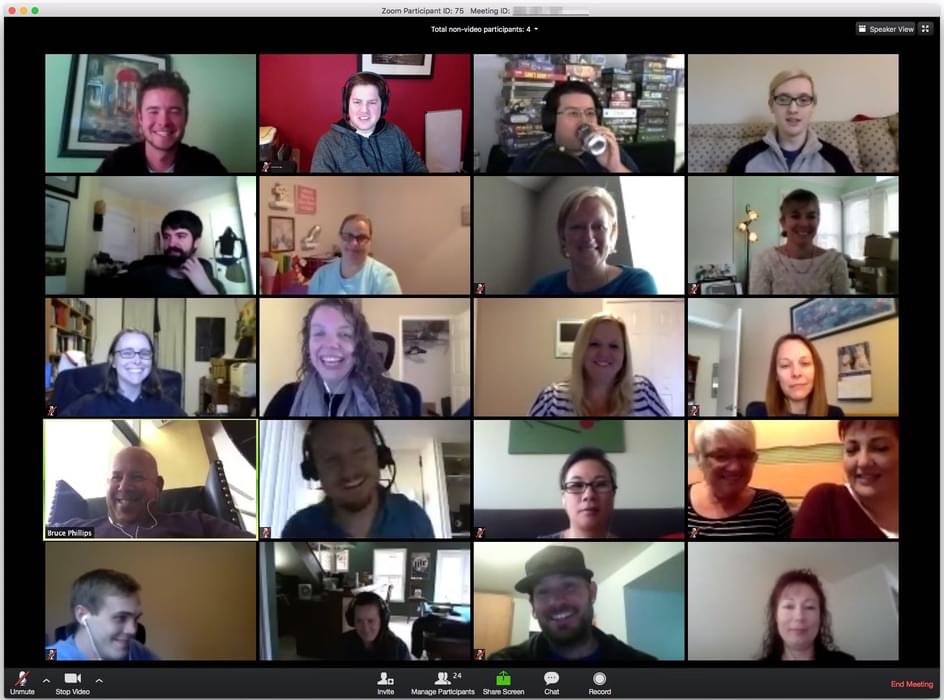 Web Conferencing features also include desktop, or application specific, sharing, a personal room or meeting ID, both Chrome and Outlook integrations, MP4 recording of meetings, private and group chat, and even a virtual whiteboard. Beating out GoToMeeting again, Zoom actually includes keyboard and mouse sharing controls for free, and you can even share the scree of any iPad or iPhone app. The only major downside? Your group meetings with more than one other participant are limited to 40 minutes in length. You can host an unlimited amount, but they can't go longer than 40 minutes. Thankfully, your 1 on 1 meetings are not limited based on duration.
While not one of the prettiest options on the list, with a bit more of a minimal UI and design, OpenMeetings is actually a completely free, open-source web conferencing solution. With video conferencing, instant messaging, white board capabilities, and collaborative document editing OpenMeetings does everything the other competitors would. And since the app is open source, if you or your dev is tricky enough, the platform could even be expanded or changed to suit your needs.
Screen sharing is of course an included feature, even with the ability to record your sessions, even the audio conversation that accompanied your session. Users can also select only a section of their screen to share as opposed to the entire thing. Web conferences can be audio and video, audio only, video only, or even picture only. With a powerful multi-whiteboard tool, and chat built right in, collaboration is a breeze and users can spawn as many whiteboards as they need to house drawings, discussions or even files to be edited. While the UI might not be stellar, the UX seems to be fairly solid with a drag and drop file explorer theme throughout the app.
Google has so many different apps and solutions, like Google Voice for a free phone number, that it can be really difficult to keep track of everything they offer. While Google Voice and Hangouts play together a bit, Hangouts can do much more than just place Google Voice phone calls for you. Of course, just like most other Google apps, Hangouts can be completely free. Users can send and receive instant messages, video chat, send and receive SMS messages, and of course host VoIP calls.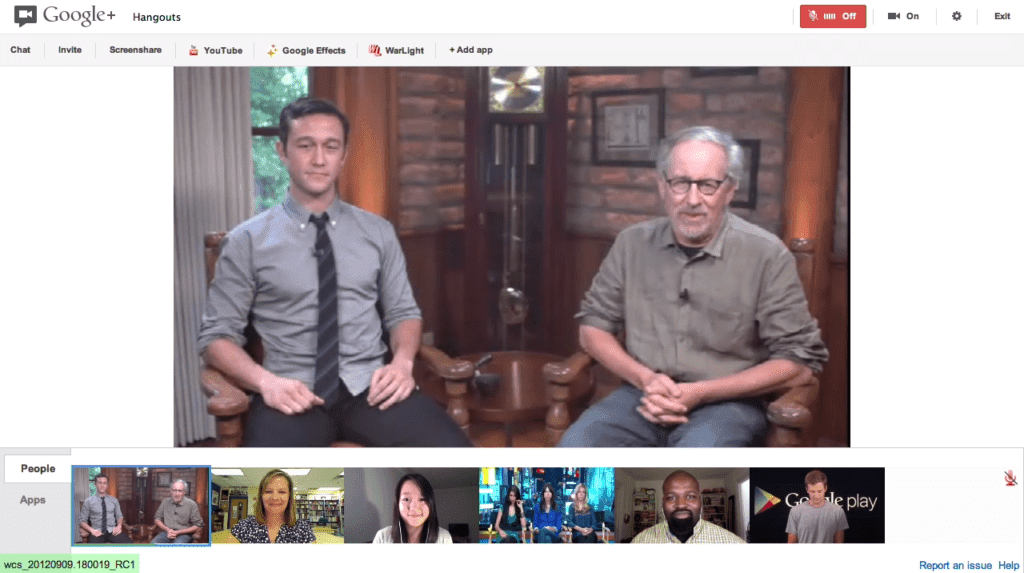 What many often overlook, is the ability to screen share baked right into Hangouts on top of everything else the Google app offers. Google has actually stated that it plans Hangouts to be the future of its telephony product, so of course that's where all the great features are.Although similar to Skype and WebEx, users will need a Google account, and need to add each other to meet or chat online – but this makes Hangouts a great, free option for smaller sized teams that want to utilize a strong platform without any extra cost. Hangouts does have a few limits, for example users can only host a group video chat with up to 10 participants at a time.
The Best of The Bunch
Even with not too many options out there, all of these free web conferencing apps with screen sharing included in our list should manage to fill in any gaps your team may have. Between the open source nature of Apache's OnlineMeeting, to the Google integrated Hangouts, or the IT focused screen sharing of TeamViewer – your office shouldn't have to break out the credit card to subscribe to a web conferencing solution just yet.
Each option has its benefits, and limitations and which fits your needs best will really come down to how your team plans to use the solution, and what features would be best to have. For those that don't need to video chat easily with clients or customers, Hangouts, Skype or WebEx are a good choice, yet might not be the first choice for those that hope to utilize their web conferencing app to meet with those outside of the business. No matter your use case, there absolutely is a free option out there for your team.