Team collaboration or messaging apps have become somewhat of a necessity over the past two years. Apps like Slack, Microsoft Teams, Webex have all seen exponential upticks in usage since then, as well. Millions of new users flocked to the platforms as enterprise leaders across the globe adopted said technologies to enable seamless business continuity. 
These often flexible and feature-rich apps further frequently enable seamless integration to third-party apps to enhance workflows, along with extending robust security functionalities. The other bonus of leveraging team collaboration apps: for one, they are more often than not – cloud-based – making the tools lightweight and deployable with a few clicks of a mouse. 
With all the changes the market underwent in 2021, 2022 will likely be another one for the record books for team collaboration app developers. Here is how things are shaping up. 
Team Collaboration App Usage is off the Charts
For the past two years, nearly every living being has witnessed change – likely brought on by the Coronavirus Pandemic, an occurrence that catapulted us into the future of work overnight. 
Suddenly: we were all collaborating using tools that were somewhat previously obscure to the commercial market, at least pre-Corona. Zoom is now a household name, as is Slack and Microsoft Teams. 
Microsoft Teams had 75 million daily active users at the onset of the Pandemic. It eventually said it had 145 million users – and quite quickly. Microsoft then announced 250 million daily active users, its most recent user count.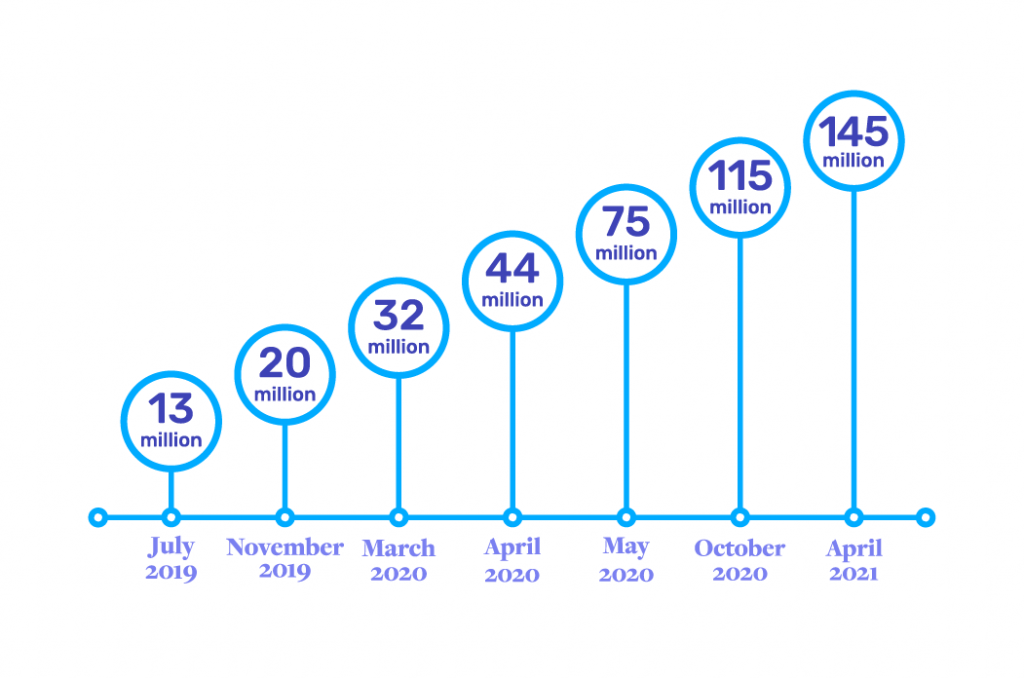 Team Collaboration Apps Promote Workplace Collaboration 
Since we can no longer (safely) go to the office to collaborate with team members, a solution that lets employees chat via voice, video, share files, leverage whiteboard technology, and more – is a worthwhile investment for any company looking to embrace continuity. 
And employees are proving that they have grown to love to use team collaboration tools which have, in many ways, made performing the duties of their jobs (more simple than it was pre-Pandemic), not to mention more productive. 
Welcome to the Era of Customer & User Experience
2021 quickly became all about the customer (CX) and employee user experience. If you managed to make it to this article, chances are you had some 'interesting' employee/customer experiences while some companies worked out the technological kinks in their deployment efforts. 
Soon after a brief but hands-on familiarization with the various platforms leveraged by companies, most business professionals strapped up their boots and went to work using team collaboration software. 
They would do everything from automating everyday workplace tasks to communicating with customers to resolve queries and collaborating with co-workers on a project. Henceforth – we had entered an era of customer and employee satisfaction/experiences.
Millions of individuals left their jobs in 2021 in what economists deemed the "great resignation." Employees remain willing to go without work to find the perfect working conditions, with many of them demanding flexible remote work. Salary is, surprisingly, not a huge factor. 
The Team Collaboration Tools Market
We have seen significant investment in team collaboration apps in the past few years, with some big names making sizable acquisitions. Not only that, but we have also seen countless strategic partnerships.
Many of them have shaken up a relatively young market when glancing at the overall UCC market. 
The Most Popular Team Collaboration Platforms in 2022
Hands down, Microsoft is the most popular team collaboration app with 250 million daily active users. Slack is in a close second with 12 million daily active users. 
There is a lot of back and forth between the two regarding the validity of Microsoft's user count, with Slack's CEO calling out Microsoft for padding its numbers with the help of its 365 productivity suite. Users gain access to Microsoft's prevalent Microsoft Teams team collaboration app: for free when they buy a license to the Microsoft 365 productivity suite. 
According to a Q4 2019 Technology Executive Council Survey conducted by CNBC,

58%

of executives said their firms use Microsoft Teams, with 30% saying their business used Slack

HostSorter

.

A study of US Teams users in 2020 found that

29.71%

of companies used Microsoft Teams for remote work during the COVID-19 pandemic –

HostSorter

. 
Team Collaboration Apps are Here to Stay 
There is a lot to say about a technology that got us through meetings, briefings, brainstorming sessions, sales meetings, college courses, exams, and even been somewhat of a godsend for educators as they have enabled many of the functionalities of what some might consider continuity. 
Having not entered the endemic phase of the Coronavirus, it is clear that these tools will stick around for some time, and we have already seen strong support for remote education in districts hit hardest by the Coronavirus Pandemic. Not to mention, employees started demanding greater flexibility and now understand the benefits of working from home. 
This kind of force is so strong; and when it starts, containing it becomes next to impossible as the tables have turned and the power seems (at least for now) to have shifted back to the hands of employees.