As a small business, one of the biggest things you have going for you is the ability to provide a higher, more personalized level of customer support.
But lately, you've noticed some consistent customer service problems like long support wait times, insufficient support advice, and overextended agents have caused your customer experience ratings to take a hit.
The solution?
Live chat software.
This instant message tool makes it easy for customers to connect with support agents directly on your website, getting actionable recommendations and solutions in real-time.
Read on to learn more about the top benefits and best providers of free live chat software and low-cost platforms.
Table of Contents: 
The Benefits of Live Chat Software for Small Businesses
Before we explore the top live chat providers, let's discuss a few of the many benefits this software offers to small businesses.
First of all, when you use live chat, you're communicating with your customers on their preferred channel. Studies show that over 40% of consumers would rather connect with support teams on live chat as opposed to any other communication channel.
Additionally, chat tools have a major impact on your company's overall level of customer satisfaction. A Zendesk study shows that the quality of the customer chat experience has an 85% approval rating, which is higher than that of online help forums, email, and social media message support.
Studies show that these apps also boost customer loyalty, as over half of consumers say they're more likely to become repeat customers of companies that offer live chat support. Not only that — they're also willing to spend more.
In addition to all these benefits, chat also speeds up your customer resolution rates by offering fast responses and advice. This is especially thanks to a speedy first contact time since the average chat wait time is just 45 seconds or less.
Finally, as a small business — especially in the age of COVID-19's impact — we know you're always looking for cost-effective business communication solutions.
Website chat has a positive impact on your bottom line in many ways.
Automated canned chat responses often mean there's no need for your customers to escalate their issues to conversations with live agents. This means agents will be able to spend more time selling and taking care of other essential tasks, and that you won't have to hire additional agents to field support requests.
Studies show that agents can effectively field up to 6 simultaneous chats (try doing that over the phone) and that the operating costs of chat tools are about 50% cheaper than the costs of telephone support. Additionally, live chat tools offer an average ROI of a whopping 300%.
Of course, in order to see these benefits at your own company, you'll need to choose the right platform.
The Best Free Live Chat Software (+ Some Affordable Options)
Below, we've outlined the top providers of free live chat software, along with some low-cost solutions.
They are:
HubSpot
Zendesk
Intercom
Freshchat
Respond.io
ClickDesk
Helpcrunch
Crisp Chat
HubSpot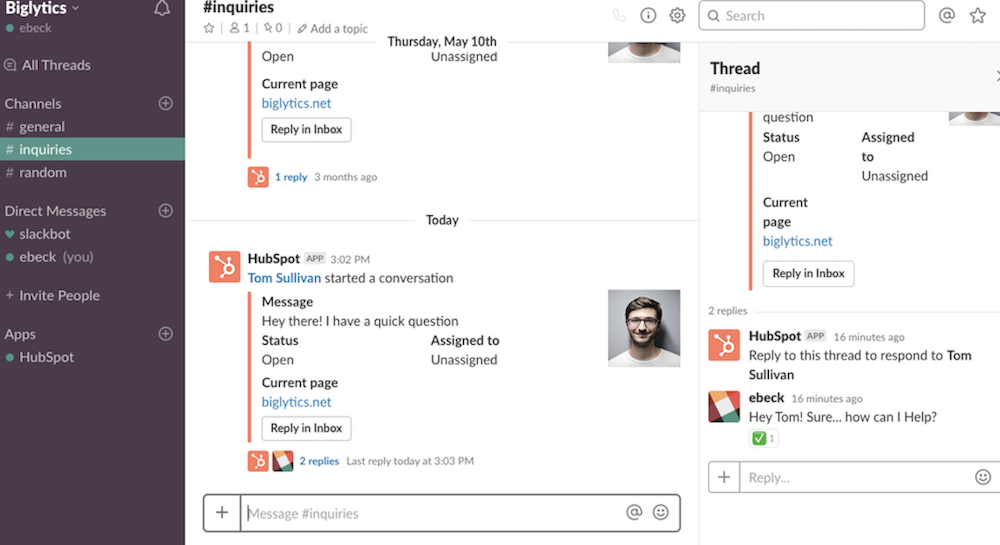 HubSpot's free live chat software, HubSpot Conversations, is a customizable website live chat widget and feature of the HubSpot CRM tool.
It offers unlimited chats, routes inquiries to the best available agent, and lets users customize automated welcome messages based on specific internal website pages or user demographics. To ensure that no conversation is lost and to provide insight into the customer history, all website chat conversations are automatically saved in the agent's inbox and on the customer timeline in the CRM tool.
Since chat is a feature of the CRM tool, agents can provide a highly personalized level of service and review past transaction history with ease.
Agents can reply to website messages directly in the chatbox interface, as well as take notes, get notifications, assign follow-up tasks, or create support tickets.
In addition to live chat with agents, HubSpot also offers a chatbot builder tool for message automation. Users can create unique chat flows using "if/then" scenarios according to conversation topic and end goal, like lead collection, sales recommendations, booking meetings, and more.
The chat app also lets you set established office hours, so site visitors will know when it is and isn't possible to reach a live agent.
| | |
| --- | --- |
| Pros | Cons |
| CRM connection makes personalized customer service simple  | Works best as a part of an all-in-one communication tool, not as a standalone chat app |
| One interface ("Inbox") for centralized chat management that allows for responses | Online support forum has an overwhelming amount of information, so it's difficult/time-consuming to find specific answers  |
| Can respond to website chats via the Inbox, Facebook Messenger, Slack, or through the mobile app  | Needs more functionalities for prioritizing customer support requests  |
Best For: HubSpot Chat is best for large teams with a high daily chat volume that rely heavily on automation, but still want to provide a highly personalized experience when customers chat with live agents. Check out our HubSpot product overview.
Zendesk

Zendesk Suite (formerly known as Zendesk Chat) is a live chat tool designed for remote and in-house customer support teams.
Its customizable AI-based, built-in automation feature, Answer Bot, is especially useful for handling both FAQs and lower priority help desk software support requests.
With Answer Bot, customers can receive relevant information from knowledge bases and pre-programmed responses on several messenger channels, including Slack, Instagram, Facebook, website chat, WhatsApp, and more. They can also fill out forms so that, when a live agent is able to get back to them, they'll be fully prepared for the conversation. If needed, agents can upload attachments in chats for further clarification.
Zendesk suite works on desktop and mobile devices and even includes social media message channels.
Like HubSpot, Zendesk also provides a centralized conversation interface so it's easy to access support history, past conversations, and information from other communication channels.
It also offers outbound notifications (like delivery updates and order confirmations) to proactively handle common customer inquiries. Integrations with live location maps and other tools further improve the experience.
Note that while there is a free trial, there isn't a free version of Zendesk. Pricing begins at $49.00/agent per month.
| | |
| --- | --- |
| Pros | Cons |
| Ability to tag messages for better organization  | Cannot edit a chat message once it's been delivered  |
| Integrates with Shopify and WordPress websites | Complicated and time-consuming chat routing setup process  |
| Web SDK allows for an entirely customizable chat app | No free version |
Best For: Zendesk is best for SMBs that communicate with their customers on a variety of messenger channels, not just the company website. Its outbound message features also mean its ideal for restaurant and retail deliveries.  Read our Zendesk overview to learn more.
Intercom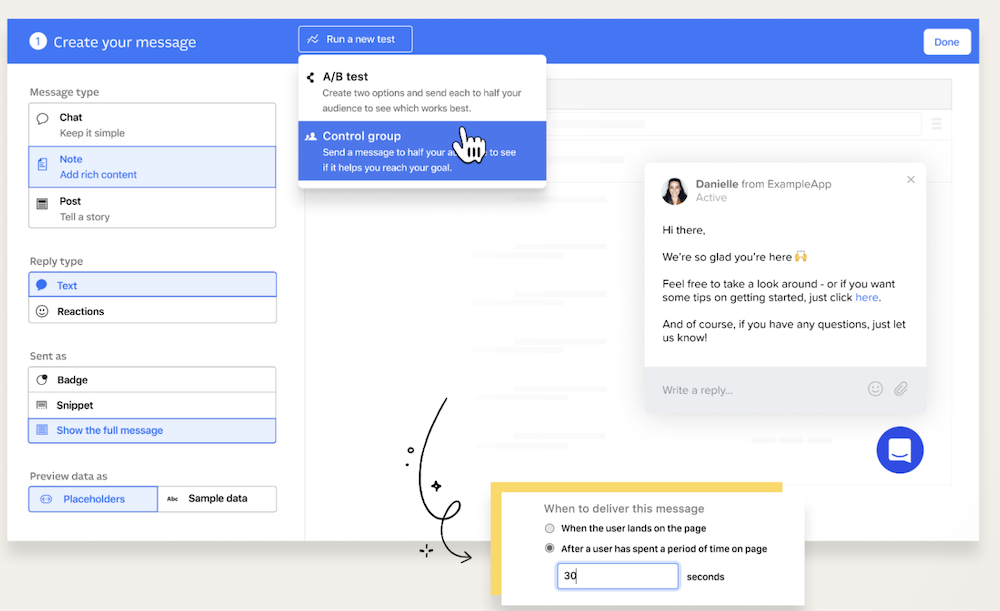 Intercom is a live chat messenger tool that, according to their website, makes it possible for agents to handle 1.6 times as many tickets and decrease their average first response time by 68%.
It's designed to hit customers with different targeted messages depending on their current customer journey phase, buying history, and demographics.
Intercom focuses especially on improving team collaboration between sales and support departments through collaborative inboxes, conversation routing, and advanced customer profiles. There are even two versions of automation bots: one for support, and one for sales and marketing.
Users can respond with GIFs, emojis, share their screens, start a video chat or voice call directly from the chat app interface, and book meetings thanks to numerous integrated apps like Salesforce, JIRA, Zendesk, Twitter, and Stripe.
As with Zendesk, Intercom also offers proactive support messages and providers a singular Inbox for centralized conversation history and updates. Automated messages attempt to solve customer issues first, but also let customers transition to live agents at any time.
Users can prioritize and route ticketing system requests developed in the messaging app, establish ticket assignment rules, and create specific problem-based ticket workflows.
Intercom offers a free trial but no free version. There are four available plans starting from $39.00/month, plus available add-ons.
| | |
| --- | --- |
| Pros | Cons |
| Typing indicators | The frustrating setup process isn't intuitive |
| A/B testing to determine which messages are the most effective | Intercom customer support often takes 48 hours to respond to requests |
| Advanced integrations with over 200 apps  | Need more features to sort and label current chats and resulting support tickets |
Best For: Intercom is best for SMBs looking for a feature-rich chat solution that allows for a high level of customer self-service and the option to switch to another communication channel during a chat. It's also ideal for companies that need tools offering advanced analytics on the effectiveness of chat apps and employee productivity. Companies that primarily communicate through chat should consider Intercom as a top option. Read our guide to Intercom for more details.
Freshchat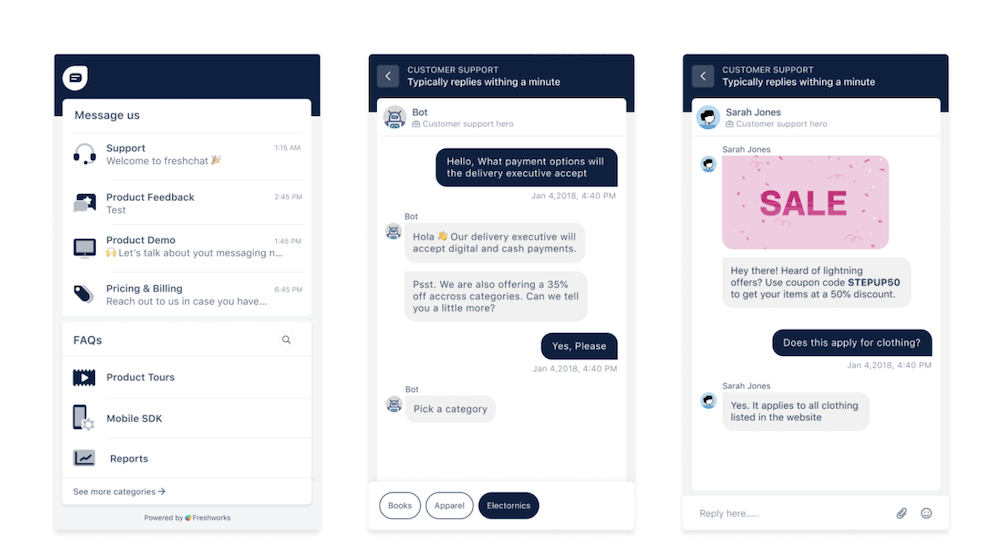 Freshchat by FreshWorks is a live messenger app that connects with your website and offers a unified, context-first inbox that also allows chatting on WhatApp, Apple and Android smartphones, Apple Business chat, and Facebook Messenger.
It's primarily designed to integrate with Freshdesk, offering a chat messenger solution.
In addition to a standard inbox, Freshchat also offers a priority inbox that allows users to set response due dates and allows you to quickly update conversation status on a customer timeline.
Best of all, conversations can be divided up into topics like Pricing and Billing, Shipping and Delivery, Feedback, Support Requests, or Demo Scheduling to improve chat routing.
Available third-party software integrations include Shopify, Zendesk, Slack, Freshdesk, WordPress, Salesforce, and Stripe. It also integrates with your existing CRM software to provide customer history, information on preferred contact channels, and open or past orders.
Freshchat's IntelliAssign feature automatically assigns support requests to the right agents based on pre-programmed skills, current availability, and advanced agent profiles. Admins are also able to see both live and historical chat message data and reports for complete teams and individual agents.
It also includes canned responses from conversational AI bots and self-service chat features that are similar to IVR in VoIP telephony. Users are often shown multiple possible answers or are asked additional questions to ensure they can get the answers they need.
Freshchat offers a free 21-day trial and a free plan for up to 100 agents and unlimited customer contacts. There are four paid plans ranging from $15.00/agent per month to $68.00/agent per month.
| | |
| --- | --- |
| Pros | Cons |
| Customizable inbox views and conversation labels  | Problems with inconsistent notifications |
| Over 33 languages for multilingual support and live translate feature  | Incompatible with Safari browser |
| Bulk actions for multiple conversations and teams (delete, edit, add, resolve, etc.)  | Frequent issues with native reaction applications  |
Best For: Freshchat is best for SMB marketing and support teams that are currently focused on speeding up their sales cycles and need to collect detailed data on their website customers in the process. It's also ideal for improving customer engagement thanks to personalized campaigns and product tours. Companies that focus on self-service options for customer support because most of their live agents spend their time selling should also consider Freshchat. Read our Freshchat overview for more information.
Respond.io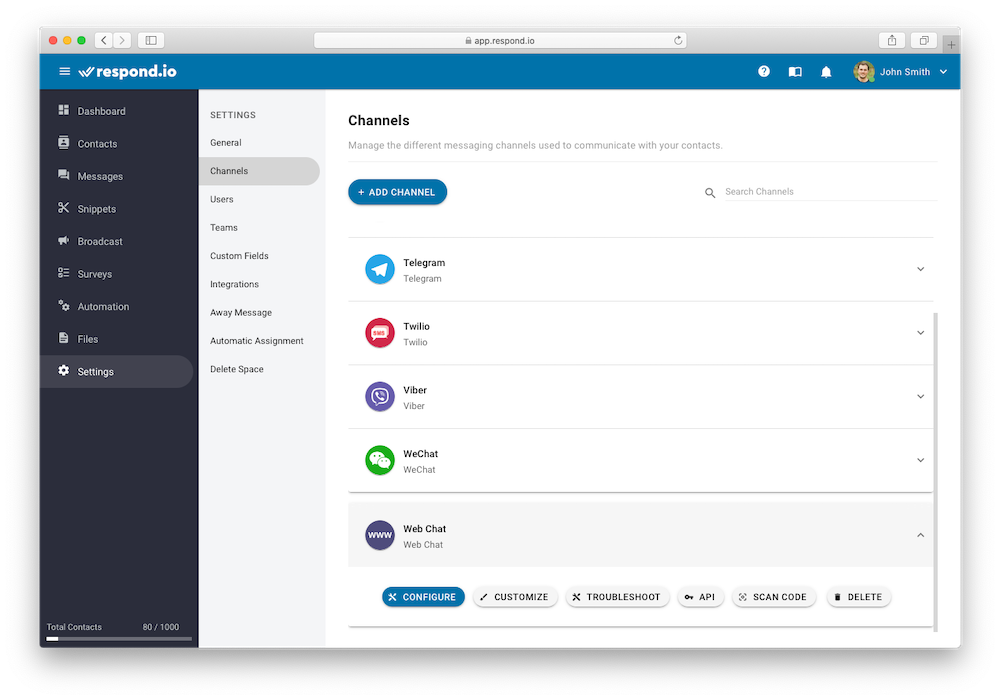 Respond.io is a live chat platform specifically designed to help agents and customers connect via as many channels as possible through a single API.
Respond.io offers real-time messaging on popular platforms including:
WhatsApp
Telegram
Twitter and Facebook
Viber
SMS texting
WeChat
It makes it possible to have live website chat on popular web-building tools like Wix, Squarespace, Shopify, and WordPress. API partners include Twilio, Messagebird, Vonage, and Gmail. Respond.io also integrates with Zapier, Salesforce, Zendesk, and HubSpot. Users can opt for the desktop or Android and Apple-friendly mobile applications, both of which offer desktop and mobile notifications.
An omnichannel synched inbox ensures that team members have a 360-degree view of customers and can access the most up-to-date interactions and messages regardless of which channels they communicate on. For more personal conversations, users can opt for individual inboxes.
It's easy to automate welcome and away messages, contact assignment, customer surveys, and trigger-based response rules.
Its free version offers unlimited messages for a maximum of 5 users and up to 100 contacts on all channels. It also has scalable paid plans starting at $29.00/month.
| | |
| --- | --- |
| Pros | Cons |
| Agents can privately tag one another in and comment on customer messages | Requires more technical knowledge than most tools |
| Provides sent and read receipts  | Free plan limited to 5 users only |
| Can assign and transfer live chat messages to specific representatives | Having too many communication channels can end up creating customer service bottlenecks |
Best For: Respond.io is best for highly collaborative teams that need to be able to reach customers on numerous different communication channels, as well as small teams that need a free plan they can scale as they grow.
ClickDesk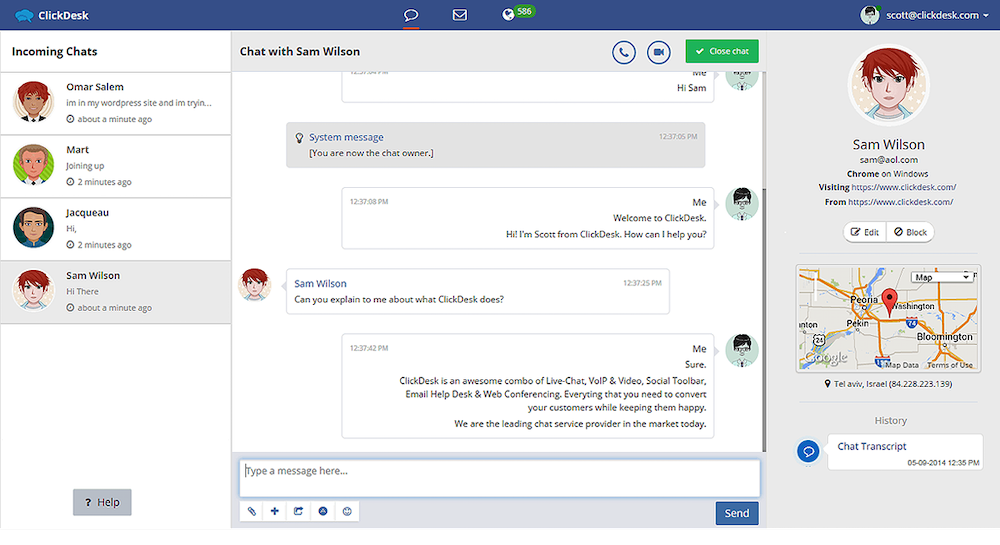 ClickDesk is a live chat solution that lets agents and clients communicate directly on your website.
One of its top features is its live map tool, which lets users hover over any website visitor to automatically access real-time data like visitor location, chat history, name, referring URL, and browser type. Based on this user information, agents can initiate chat conversations with their best leads. It's also possible to filter website traffic by country, chat status, and more.
ClickDesk also sends out pre-chat surveys to collect essential information from visitors before transferring their chat conversation to a live agent, meaning your support or sales team member will be much better prepared.
Its desktop and mobile application also include Keystroke Preview functionality, which lets agents see what customers are typing before they send the message. This lets agents anticipate a customer's needs. The Proactive Chat feature customizes welcome messages according to visitor behavior, and automated proactive triggers send out automated responses to common questions based on customizable rules.
Plus, you can communicate with visitors in over 90 languages and use the language localization app to automatically translate to the languages site visitors speak.
Real-time file sharing, simultaneous chats, messaging reporting, and chat transfer features are also available.
ClickDesk offers one free plan for up to 10 users, 30 chats, 25 support tickets, audio calling, and customizable basic settings. There are three paid plans ranging in price from $14.99/month to $39.99/month.
| | |
| --- | --- |
| Pros | Cons |
| Also offers live video website chat | Lack of sufficient types of real-time notifications |
| Integrates with Shopify, Bigcommerce, WordPress, Wix, Google apps, Weebly, Twitter, Facebook, and more | Constant emails to upgrade to the paid version  |
| HelpDesk ticketing software included with ClickDesk chat | Occasional lags in chat and video conversations |
Best For: ClickDesk is best for companies with a large volume of international clients that use chat tools for customer service, but primarily as a tool to collect leads and learn more about their website visitors' behavior.
HelpCrunch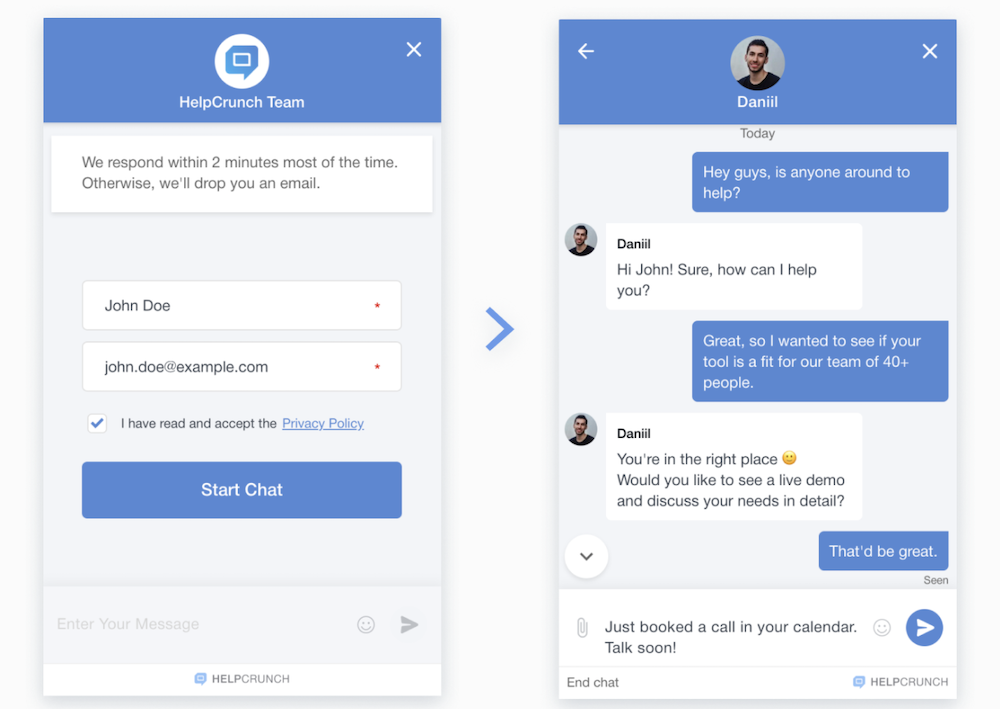 HelpCrunch live chat for sales and support offers a highly customizable solution with a focus on speeding up sales cycles and increasing first contact resolution rates.
According to its website, HelpCrunch has helped businesses increase their customer base by 78%. It also claims to make your support process 5 times faster than its current speed.
Like ClickDesk, HelpCrunch offers pre-chat customer forms that visitors can fill out while they wait for a live agent to come back online. These previews also make it easier for agents to prioritize customer requests.
The website chat widget has 20 customization options including wallpapers, adjustable color, size, and buttons, and message localization for users from different countries.
One of its standout features is its in-app messenger tool, in addition to its live website and mobile chat. This means you can easily connect with consumers who are already using your product, while they're using your product. This is a great time to pitch product/service upgrades and evaluate the customer experience.
Live file sharing, automated chat transcripts, multi-channel messaging, and saved responses all help to increase your efficiency and offer customers more flexibility.
HelpCrunch also includes live agent status updates, sneak peeks at what customers are typing into the messenger chat before they hit send, and automatic chat rating surveys once a chat has been closed.
It integrates with tools like Squarespace, Shopify, Slack, WordPress, and more.
It offers a free 14-day trial and three paid plans from $12.00/month per user to $20.00/month per user and up.
| | |
| --- | --- |
| Pros | Cons |
| Lets users tag and label conversations for better organization and fewer lost messages  | Somewhat limited integrations with third-party apps |
| User authentication mode provides a higher level of security  | Support takes an unusually long time to respond to customers |
| Offers automated email messages to increase customer retention rates  | Frequent mentions of mobile app dysfunctionality |
Best For: Helpcrunch is best for SMBs looking for a highly customizable chat tool. It's also a good fit for companies that are looking to grow their customer base and shorten the amount of time it takes to both resolve customer issues and generate sales. Businesses that are interested in email and affiliate marketing as a follow-up to chat conversations, as well as those that need an in-app messaging system.
Crisp Chat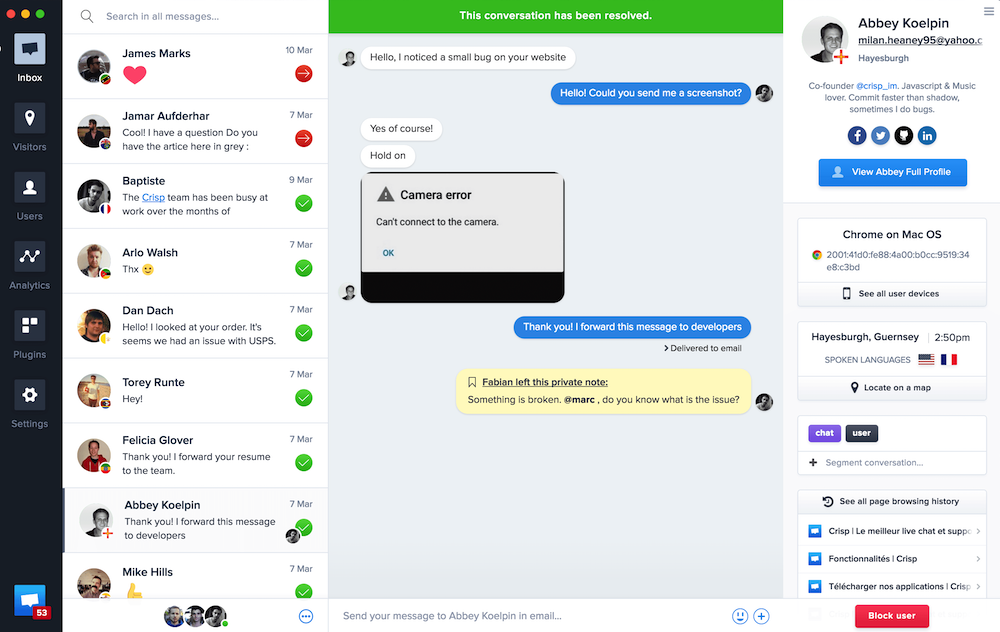 Crisp Chat is a chat sales and support software designed primarily for customer service.
It connects multiple communication channels within a unified inbox, including website chat, Facebook Messenger, Twitter, Telegram, Twilio SMS texting, WhatsApp, and email.
It further allows customers to initiate a video or audio call directly from the chat app box on your website — without having to integrate any third-party software. For an even higher level of customer service, take advantage of Crisps' co-browsing and remote control solution. This lets customers and agents share their screens, which is especially helpful in a support context.
Its LiveTranslate feature offers real-time message translation for enhanced global communication on both desktop or Android and Apple mobile devices. Its chat collaboration and internal note-taking features let agents get advice from one another, easily send out updates on support tickets, and even let additional agents in on the conversation.
It also has an advanced targeted automated messaging strategy, using website visitor behavior and actions to send the most relevant proactive welcome message possible. Users can even build their own chatbot for better automated communication and increased customer engagement.
This tool comes with its own CRM solution that helps to store customer information, automate tasks, send/receive real-time notifications, and provides customer conversation history. It also integrates with Slack, Zapier, Salesforce, and Zoho CRM.
Crisp has one forever free plan for two users that includes push notifications, mobile app access, a team inbox, and live chat. It has two paid plans, the Pro plan for $25.00/month per website with 4 seats, and the Unlimited plan for $95.00/month per website with unlimited seats.
| | |
| --- | --- |
| Pros | Cons |
| Native CRM tool | The free plan only offers 2 seats  |
| In-app video and audio calling | Setting up an automated message outside of business hours is overly complex |
| Co-browsing and remote control of customer screens | The knowledge base isn't available offline |
Best For: Crisp is best for small businesses or sole proprietorships that need a chat app with co-browsing capabilities. Businesses without an established third-party CRM system will also benefit from Crisp.  It's also an ideal fit for companies that often rely on team collaboration to provide high-level customer support or make bigger sales.
Additional Live Chat Software Providers
Now that you're familiar with some of the top free live chat software, as well as more affordable options, you may want to compare how their features stack up against higher-cost options.
Tools like LiveChat, Zoho SalesIQ, and Drift have additional features that may or may not help you to achieve your business goals faster.
To learn more about your options, or to learn more about other platforms like Userlike, Tawk, Pure Chat, and Olark, rely on our interactive guide to the best live chat software.
Live Chat FAQs
Below, we've outlined the most common frequently asked questions regarding live chat software.
As you might imagine, two of the most common uses for live chat are as customer service and marketing tools.
Popular use cases include:
Providing tech support for telephones or computers
Scheduling appointments for home inspections or repair services on the company's website
New client onboarding for banks or investment advisors
Offering product advice on e-commerce websites
Getting customer feedback on the quality of telephone support through surveys
Segmenting leads captured on the online retailer website
Providing automated order updates and shipping details
Best practices for live chat tools include:
Deciding who to offer chat support to (every website visitor, or just existing clients?)
Ensuring you can continue to pay equal attention to all your support channels if you implement chat
Ensuring the chat platform integrates with your existing tools
Keep the message volume reasonable for chat agents, knowing when to add additional phone numbers for support if needed
Have prepared responses and ways of managing angry customers/uncomfortable situations
Develop a strong internal knowledge base to quickly pull from
Depending on the level of ad blocking features customers have enabled on their browsers, you may not always be able to access key demographic information. This isn't because your live chat tools are actually ads, but as of this writing, some ad-blocking tools see any pop-ups -- including chat windows -- as possible spam.
Though this is uncommon, if it does happen, consider enabling a message on your website to visitors that instructs them to whitelist your page. Then, you'll be able to see their customer data.
In addition to chat messaging, you may also connect with customers over the telephone, via email or SMS, or with video conferencing solutions. Just as it's possible to combine all of your live chat channels in a singular interface, omnichannel contact centers lets you view all of your communication channels in one place.
To learn more about these tools, check out our ultimate guide to omnichannel contact center software.