Studies show that $75 billion is lost each year due to poor customer service. Fortunately, there are some ways to ensure that you don't add to that statistic. To put it simply, good customer service is the key to success in our modern business landscape.
The customer experience is an essential part of any company's operations and should be optimized as such.
Helpdesk software has made it far easier for businesses to extend their service beyond normal operating hours, but finding one that's free while still being up to par can be easier said than done.
Fortunately, we're here with a definitive list of the best free help desk software. By the end of this article, you'll be able to pick out the right software provider based on your needs and reap the benefits of good customer service.
What is Helpdesk Software?
At the core, helpdesk tools organize all support tickets and make it easier for your representatives to deal with them in a timely manner.
Whenever a customer runs into an issue with the product or service that you're offering, they'll reach out to one of your representatives to try and resolve the problem.
Their level of satisfaction will vary depending on how helpful the representative is and can determine whether or not they remain a customer.
Helpdesk software makes it easier to keep track of all conversations between representatives and customers so that you can nip any problems at the bud.
Free helpdesk ticketing software also ensures that your representatives don't struggle to provide quality support when multiple customers require assistance at the same time.
Most software will even categorize requests based on what the concern is and then proceed to transfer them to the appropriate department — such as marketing, sales, support, etc.
This will save the time of both your customers and representatives since they won't have to play hot potato with every new ticket that comes in.
Be sure to check out our post on the debate between live chat and phone support as well as our guide on choosing the top call center software.
When it's Time to Add a Helpdesk
If you don't get too many support tickets and most of them only fall under normal operating hours then getting yourself a helpdesk tool isn't too urgent.
However, if your representatives are being overwhelmed with the volume of requests and some of them are reaching beyond business hours then that's a clear indicator that you need helpdesk tools to calm things down.
If your reps are customer-facing while an IT help desk operates behind the scenes, you'll need to ensure that service requests are handled appropriately. Service level agreements help IT support triage problems and streamline the response to end users. If you don't have agents, a helpdesk offers an SLA management solution via a ticket system for support requests.
Agents will lag behind their tickets without an IT service management system. Helpdesk management and ITSM go hand in hand with SaaS solutions.
Helpdesk software is useful when you've got remote staff. Helpdesk management software will make it easier to coordinate requests handled by staff who could be halfway across the globe.
The Top 7 Free Helpdesk Software Solutions
Whether you're picking a social proof tool or time tracker, there are a few things that you need to look at before making your decision.
Many factors come into play such as which features offered, how other users rate the service, and whether or not their free plans are expansive enough for your needs.
While many of these solutions offer out of the box ticket management and multi-channel self-service portals, there are open source options for when the few custom fields available won't suffice.
1. ConnectWise Control
ConnectWise Control is a general helpdesk solution and overall customer support solution that focuses on businesses in the small to medium size range — also known as SMBs. The free version lets you add one technician along with three general representatives.
The four-user cap may seem restrictive but it's usually enough for small businesses who don't get a lot of customer tickets and thus have kept their support team compact.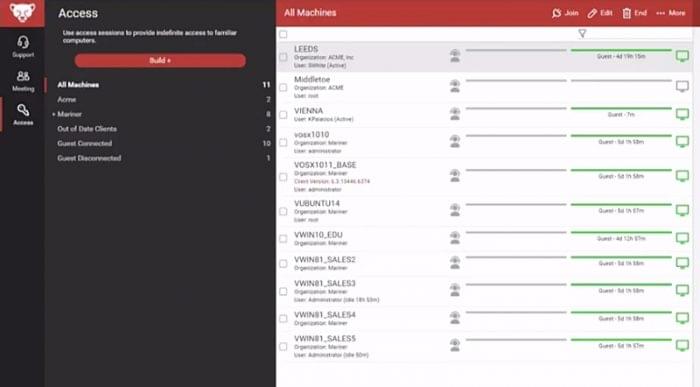 Best for:
Smaller businesses with four or fewer members on their customer support team who need a totally free option that they can use to manage incoming tickets.
Pros:
The remote control feature makes it easier for technicians to resolve issues.
Fast loading times due to lightweight coding.
Totally free for up to four users.
Has an app for both iOS and Android devices.
Cloud compatibility.
Cons:
The interface isn't intuitive and most users have gone so far as to say that it needs a total overhaul.
There are some compatibility problems when using ConnectWise Control with Internet Explorer.
Unfit for larger businesses as you can't add more than four users without upgrading to one of the paid plans.
2. Deskero
Deskero is a cloud-based solution that serves as both a ticketing system and a helpdesk. The free plan is limited to one agent but, unlike some other options, you don't have to pay to access the customized branding features.
Fortunately, the upgrade pricing is pretty affordable since you'll only need to pay $4/month for each additional user. If you have more than one agent on your customer support team then Deskero won't be exactly free but it's still cheaper than most other paid options.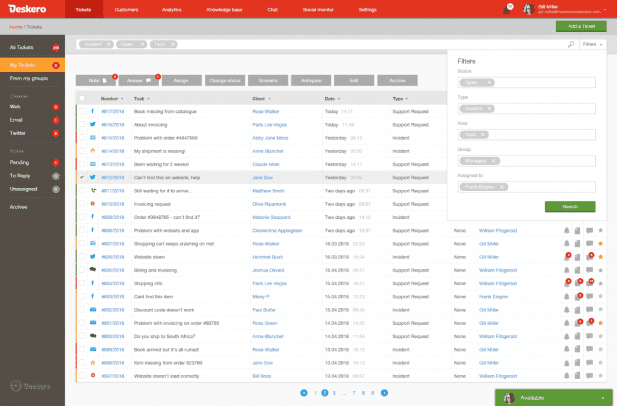 Best for:
Companies that only have a single agent assigned to their customer support department or don't mind paying the extra cash for additional users.
Pros:
Customized branding even on the free plan.
Totally free if you only add one agent.
Affordable expansion pricing.
Supports social media ticketing.
Cons:
Things could get pricey for larger customer support teams.
Standard reports aren't very comprehensive.
While Deskero has apps for both iOS and Android, they are hard to use and not very navigable.
3. Freshdesk
Freshdesk is another cloud-based helpdesk system that has social media ticketing as well as email ticketing. The social media feature is fully available on the free plan. Facebook and Twitter are the only platforms currently supported by Freshdesk but others may be added over time.
The free version of Freshdesk is known as Sprout and lets you add as many support agents as you want. It also has real-time ticket tracking so that your representatives can keep tabs on which tickets are already closed and which are still open.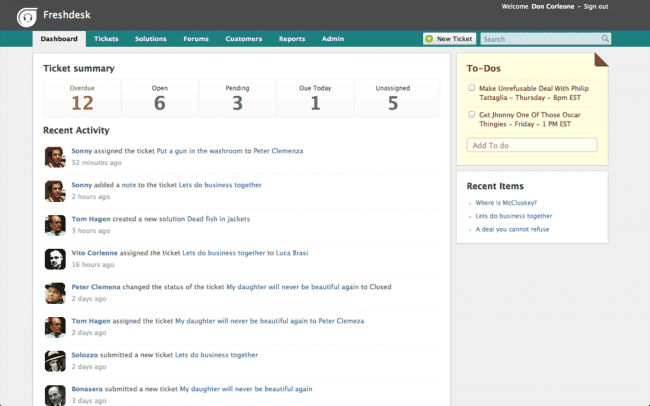 Best for:
Large businesses that have an equally large customer support team and want to get everyone on the same software without paying a dime.
Pros:
Free for unlimited users through the Sprout plan.
Intuitive web and mobile interfaces.
Apps on both iOS and Android.
Self-service functionality through the knowledge base feature.
Cons:
The dashboard isn't very customizable.
Standard reports are vague.
It doesn't catch spam messages effectively.
4. SysAid
SysAid is a flexible helpdesk solution for businesses of varying sizes. It can be deployed both on-site and through the cloud. The free version is compatible with Windows and Linux. You can add a total of two agents while on the free plan.
Much like Freshdesk, it has a knowledge base feature that encourages self-service on the part of your customers. Ticket management is also pretty straightforward with SysAid even while on the free plan.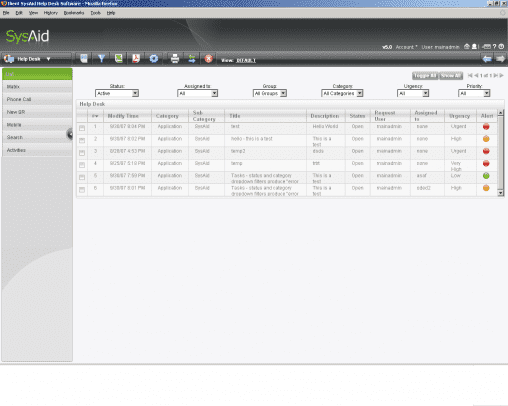 Best for:
Businesses in need of a solution that supports both operating systems.
Pros:
Compatible with Windows and Linux.
Android and iOS mobile apps.
Cloud and onsite deployment.
Knowledgebase capabilities.
Free for two agents.
Cons:
The user interface on the admin console is a bit archaic.
Configuring the settings might be difficult for employees who aren't technically inclined.
5. ManageEngine ServiceDesk Plus
The cloud-based variant of ManageEngine ServiceDesk Plus lets you add up to five users but the on-site version only accommodates two agents. Incidents are ranked based on their priority then automatically assigned to an agent.
This automatic assignment system helps your customer support department respond to tickets faster thus increasing customer satisfaction. Overall a solid option for medium-sized businesses who want to respond to tickets as fast as possible.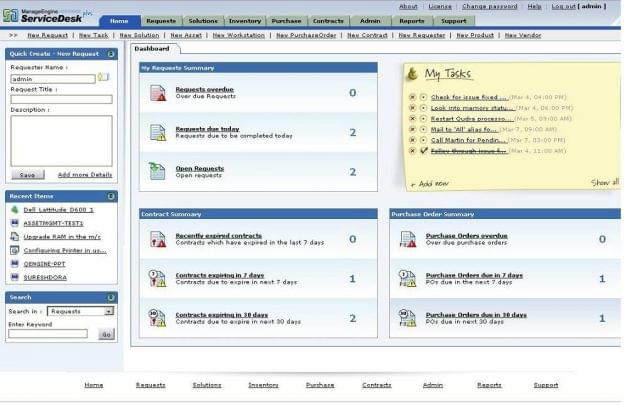 Best for:
Companies that require immediate responses to customer issues.
Pros:
Up to five users on the free cloud-based plan.
Automatic ticket assignment.
Speedy updates on tickets.
Ticket priority rankings.
Easy to customize.
Cons:
Search functionality is unreliable.
Requires manual configuration which increases the setup time.
The 10-agent standard paid plan is costly at almost $1,200/month.
6. Zoho Desk
No software list is complete without at least one option from Zoho. The Indian development company has made waves in virtually every area of automation, and helpdesk solutions are no exception.
Self-service is emphasized with Zoho Desk as, in addition to letting you create a knowledgebase, you can also set up a community forum similar to the one PayPal uses. This will take the load off your customer support department if too many tickets are coming in.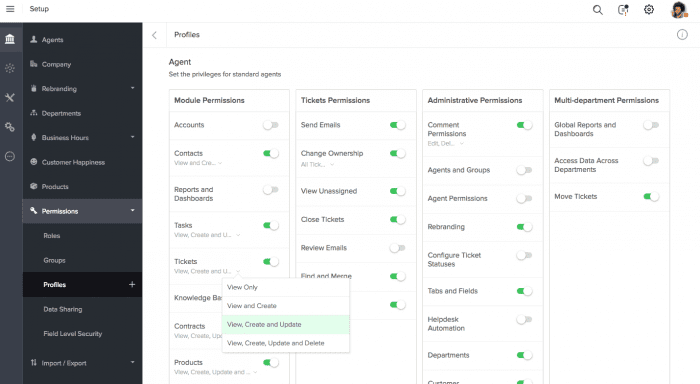 Best for:
Companies who want to reduce the strain on their support department by encouraging self-service.
Pros:
Zoho Desk makes it easy to create a knowledge base for customers.
Wide range of integrations (it is a Zoho product after all.)
Lets you set up a community forum.
Cons:
There's a steep learning curve on the ticketing UI.
Customizing and configuration take a while on Zoho Desk.
7. Hesk
If you're looking for a lightweight option then Hesk is probably the helpdesk for you. It prides itself on the simple interface that makes it easy to use even for beginners. It only takes a few minutes to complete the entire setup process — including the download!
You can manage all the web-based tickets through the app itself. It's also very easy to customize the fields and tailor everything to your needs. Like the other options on this list, Hesk also lets you establish a knowledgebase.

Best for:
Companies who want a light helpdesk that's quick to set up and easy to use.
Pros:
Lightweight and very easy to setup.
Categorizes all tickets by urgency.
Knowledgebase creation.
Very customizable.
Intuitive interface.
Cons:
You have to pay to remove the "Powered by Hesk" tag at the bottom of each page.
Essential Features of the Best Helpdesk Software
Knowing which features to look for is vital to choosing the right helpdesk software for a small business. Make sure you look for these features before you make a call.
Real-time Ticket Tracking
The first feature that you should look for in a helpdesk tool is the ability to see the status of tickets in real-time. If your customer representatives don't know which tickets are still pending then they won't be able to resolve them promptly.
Real-time tracking will also help you monitor the productivity of your representatives and see if any of them are taking too long to resolve a specific ticket.
Operating System Compatibility
You should aim for a helpdesk tool that is compatible with most operating systems. It should have a mobile app that's available both on Google Play and the App Store so that your representatives can respond to tickets while on the go.
Beyond mobile compatibility, check to see if your software also works with multiple desktop operating systems. There are some that are restricted to Windows while others support Linux too.
User-friendly Interface
Of course, even the best software won't be of much use if your customer service agents struggle to use it. As such, you should pick a solution that's easy to use and has an intuitive interface that even beginners can quickly familiarize themselves with.
It also helps if the software walks new users through a tutorial when they launch the program for the first time as this will teach them the basics without you having to spend any of your own time guiding them.
Community Forums
Helpdesk solutions that also let you set up community forums can be very beneficial as your business scales up. Instead of hiring more support agents, you could simply rely on your userbase to resolve simpler problems on their own.
As we mentioned, this is the very same method that PayPal uses. If they relied solely on their customer support agents then they'd quickly be overwhelmed by the 286 million active users on their platform.
A Closer Look at the Free Plans
There are some software options that save their best features for the premium plans. You can't really blame them since they have to make money somehow, but it's still something to consider when choosing a helpdesk tool. The comparison table below will lay everything out clearly.
| | | | | | | | |
| --- | --- | --- | --- | --- | --- | --- | --- |
| Provider | ConnectWise | Deskero | Freshdesk | SysAid | ManageEngine | Zoho | Hesk |
| Name of Free Plan | ConnectWise Control Free | Deskero Try For Free | Sprout | SysAid On-Premise Free Edition | ServiceDesk Plus Standard | Free Plan | Help Desk Software |
| # of Users | 4 | 1 | Unlimited | 2 | 5 | 3 | Unlimited |
| Social Ticketing | NO | YES | YES | NO | NO | NO | NO |
| Email Ticketing | YES | YES | YES | YES | YES | YES | YES |
| Reporting | NO | YES | YES | YES | YES | NO | YES |
| Automations | NO | YES | NO | YES | YES | NO | NO |
| Integrations | NO | YES | NO | YES | YES | NO | NO |
| Task Assignment | NO | YES | YES | YES | YES | NO | YES |
| Custom Themes/Dashboard | NO | YES | NO | YES | YES | NO | YES |
| Ticket Management | YES | YES | YES | YES | YES | YES | YES |
Free Helpdesk Software Improves Customer Experience
As you can see, there are many things that can determine which software is the right pick for your business. There are many customer support software options to choose from that are all good in their own right. We hope that our guide will make all that easier though.
After reading this post and being enlightened on the importance of picking the right helpdesk software for your business, you're probably wondering what else you can do to keep your customers happy.
If you want to further improve the customer experience, check out our guide on the best free live chat software options.