Hosting a video call has gone from requiring expensive conference rooms outfitted with the latest hardware to one-click video calls on our smartphones. Skype conference calling for business has become one of the most popular web conferencing solutions around, and most of us might make due with just our smartphones or laptop's built-in cameras.
But it doesn't take much to put together a capable and high quality video conferencing solution. Whether you are building off an existing setup, or simply want to add a microphone to your laptop, we put together a list of 20 different add-ons that can help improve your Skype conference calls. Or if your business isn't quite there just yet, take a look at our guide on migrating your existing solution to Skype for Business.
Standalone webcams are easily one of the best affordable improvements to your video call setup. Whether you are upgrading to a standalone camera over your MacBook Pro's built in webcam, or adding one to your ancient work computer – USB webcams of today have come a long way from where they once were. Generally under $100, webcams are the most cost effective all-in-one solutions, and one of the best ways to compliment a free web conferencing plan if your team is budget concerned.
Logitech C930e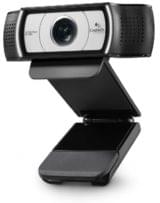 One of the most popular options out there, Logitech's business grade C930e is an affordable add-on that should fit what most of us need from a USB Webcam. HD 1080p video at 30 frames per second will be more than enough quality for your calls, and pan, tilt, 4x digital zoom, auto focus and auto light correction controls make the C930e an all-around capable little camera. Although, the real kicker is the C930e's 90 degrees field of view to capture more than just one person.
Don't expect this little guy to capture your entire board room in massive detail, but this camera could be a great choice not only for those one on one calls, but even teams that frequently make small group video calls or even basic presentations. If you are after a high quality webcam with decent microphone for small group conferences, yet still a simple solution that plugs right in, then the C930e is most likely your best choice.
The Logitech C930e ranges from $95 to $125 and is a mid-level webcam.
This item is available for purchase on Amazon here.
Microsoft LifeCam HD-3000
Coming in on the more cost effective side of our list is Microsoft's 720p LifeCam HD-3000. While more of a marketing term, Microsoft does ensure the LifeCam is Skype Certified so you won't have any compatibility issues to worry about, and the 720p picture – while not anything to write home about – will be decent enough for simple 1:1 video calls. If you are really after the bare bones, and the most basic approach to a webcam available this camera makes sense.
The HD-3000 is great if you just need something to get the job done, but don't plan on making any detailed product presentations, and would be a great buy for anyone that is budget concerned. A perfect, cheap solution for those quick long distance check ins, maybe for managing remote workers with quick project updates or daily meetings.
The Microsoft LifeCam HD-3000 ranges from $25 to $30 and is an entry level webcam.
This item is available for purchase on Amazon here.
Microsoft LifeCam Cinema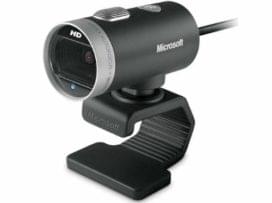 A few steps up from the LifeCam HD-3000, Microsoft's LifeCam Cinema offers the same 720p experience at 30fps, but adds in a bunch of great features if the bare bones model just doesn't cut it. While still on the more cost sensitive side, the LifeCam Cinema includes auto focus to help keep everything in the shot clear even when objects are moving around, a glass lens improvement over the HD's plastic lens, and a better noise-cancelling microphone.
The LifeCam also adds support for some more advanced features like auto image-processing to help keep everything clear even in low-light conditions as well as TrueColor technology to help control exposure. Essentially, the LifeCam Cinema is a step above the most basic HD-3000, its still only a 720p camera but adds in some extra features found in higher end webcams to help improve the experience, mainly image quality.
The Microsoft LifeCam Cinema ranges from $40 to $50 and is a mid-level webcam.
This item is available for purchase on Amazon here.
Samsung SmartCam HD Pro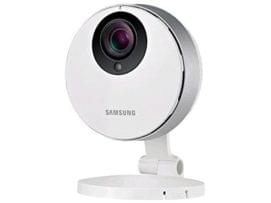 As the most expensive option, Samsung's SmartCam HD Pro offers the same 1080p image as the Logitech C930e, but only comes in at 15fps. Downgrading to a 720p image boosts the frame rate back up to 30, however. But the real benefit of the SmartCam HD Pro lies in not so much the image quality, which should still suffice most uses, but rather the Wi-Fi capability, and even 128 degree ultra-wide angle field of view. With Wi-Fi, this camera helps create a wireless experience, and would be ideal for anyone that needs to move freely, or utilizes a laptop in the office and wants to keep the clutter down.
A 128 degree field of view stands out above even the C930e's 90 degree FoV, and helps compliment the wireless nature of the camera. The SmartCam also includes a micro SD memory card slot up for up to 64GB of storage, as well as built-in two-way advanced motion and audio detection. If image quality isn't your top concern, but mobility and portability are – the Samsung is a great choice with some extra added bells and whistles.
The Samsung SmartCam HD Pro ranges from $140 to $200 and is a high-end webcam.
This item is available for purchase on Amazon here.
If video conferencing is of a higher priority for your team, and relied upon quite frequently, then the investment into a conference camera might be the right decision. These aren't tiny cams you stick to the top of your laptop, yet conference cameras are a step above webcams. Conference cameras can range from a few hundred up to almost $1000, but are much more capable solutions with higher quality videos meant for larger group conferences or presentations.
Logitech ConferenceCam BCC950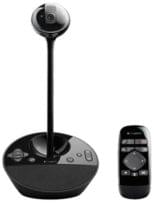 Logitech's entry level conference camera, the BCC950, is an odd looking device – but a handy one at that. The camera supports 1080p 30fps video, a professional speakerphone built right in, pan, tilt, zoom and audio controlled with a small remote, and plug-and-play simplicity with a USB connection. But the best part is the BCC950's party piece, and why it looks so odd. The camera can either rest right on the base, with a 78-degree field of view, or rise about 12 inches above the base for a massive 180-degree field of view.
While the BCC950 might look like something out of a cheesy 80's sci-fi movie, it offers a cheap solution for teams that want to outfit a small conference room, huddle room, or even an open work space with a capable HD webcam that can capture almost everyone crowded around, and the entire space. The BCC950 could make a lot of sense for those group conferences that happen in open spaces in front of a whiteboard or other display.
The Logitech ConferenceCam BCC950 ranges from $190 to $200 and is an entry level camera.
This item is available for purchase on Amazon here.
Logitech ConferenceCam Connect

Logitech has made it on our list quite a few times, and for good reason with some of the best video offerings. Another unique solution they offer is the ConferenceCam Connect. Similar in nature to the BCC950, but a different take on the idea – again 1080p 30fps video, this time with autofocus and still an impressive 90-degrees field of view. The ConferenceCam connect also includes an integrated wide band audio speakerphones and crisp omni-directional microphones to pick up one the speaker's voice and cut down on background noise behind the camera.
But while ConferenceCam Connect cannot rise out of its base to show more of the room, it does include another useful party piece – wireless screen-mirror projection. The ConferenceCam Connect is capable of connecting to mobile devices to display presentations and other content right on a TV screen, tablet or smartphone for a really powerful presentation device. The ConferenceCam connect also runs on a rechargeable battery or AC power and even boasts Bluetooth connectivity for true mobility.
The Logitech ConferenceCam Connect ranges from $460 to $500 and is a mid-level camera.
This item is available for purchase on Amazon here.
HuddleCamHD-3X G2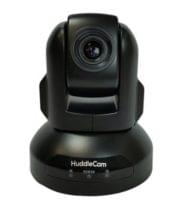 Looking towards the more high-end camera options will generally land you in the higher price brackets. However, for its cost the G2 offers a great camera without too much of a premium. With a 1080p image at 30 frames per second, the overall video quality is what you would expect. While the field of view is only 81-degrees, slightly less than the 90 on comparable Logitech's, it's this camera's zoom that puts it in a completely different field. Best for medium to large conference rooms, a 3x optical zoom stands out above any other camera equipped with only a digital zoom.
While not a priority for everyone, if your conference room needs a camera that is capable of a wide shot, yet also fully capable of zooming on one specific speaker without destroying the quality like a digital zoom would – then optical zoom is completely necessary. Only downside is no microphone built in – but we will touch on that later.
The HuddleCamHD-3X G2 ranges from $380 to $400 and is a high end camera.
This item is available for purchase on Amazon here.
AVer Information CAM520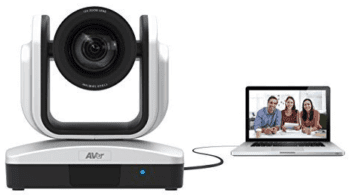 If absolute image quality is your highest concern, then a premium solution is what you might be after. With a price tag to match, the Aver Information CAM520 is a top-of-the-line camera with 1080p video at a blistering 60 frames per second – anyone that has seen the jump from 30fps to 60fps would warmly welcome this addition. A 12x optical zoom and 82 degree wide camera angle trumps even that of the HuddleCamHD. The CAM520 would make most sense living in a medium, or even large sized conference room with a zoom capable of reaching even the furthest corners.
A professional grade camera with a powerful zoom, and of course standard tilt, pan and zoom functions – and it still manages a plug-and-play USB connection for really easy setup. While lacking some really premium features such as speaker tracking capabilities, the Cam250 is a good choice for when you just need a high quality camera in a large room. Capture your entire team, presentations, displays on whiteboards, or zoom in to catch that speaker on the far end of the table.
The AVer Information CAM520 ranges from $850 to $900 and is a professional grade camera.
This item is available for purchase on Amazon here.
If you already have video covered, or just plain hate the way your built-in microphone sounds, a standalone USB microphone could be a solid addition to your setup. While most webcams have a microphone built right in, the quality is usually less of a concern than the video so might not be up to your expectations – and as we have seen some conference cameras don't include a mic. Of course you can spend thousands on professional recording grade microphones, but since most users aren't recording music we decided to stay budget friendly.
Blue Snowball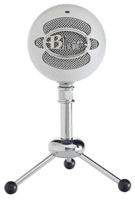 The Blue Snowball has quickly become one of the standard go-to microphones for anyone looking to establish a capable recording, or in this case, conferencing setup. As simple plug-and-play standalone microphones go, the Snowball is a standard for good reason. Known for its clear sound quality this condenser mic is great for picking up voices very easily in a large room with dual microphone capsules – in fact this mic was primarily designed for use in recording vocals, podcasts, or even applications like Skype and FaceTime.
If you are looking for a cost effective, set it and forget it approach to a microphone the Snowball is probably one of your best choices. Just be aware, due to the nature of condenser mics they may pick up some background noise such as keyboards if you are not in an enclosed area. With a 6 foot cable and sturdy desktop stand the Snowball could easily live right next to your camera, or in the middle of a conference table.
The Blue Snowball ranges from $60 to $80 and is an entry level microphone.
This item is available for purchase on Amazon here.
Samson Meteor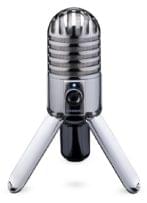 Another take on the set it and forget it standalone microphone approach is the Samson Meteor. While primarily designed for sound recording, this makes the Meteor incredibly capable in conferencing scenarios as well. The Meteor connects via USB and can even plug directly into tablets or phones with the right adapter for a really versatile solution that can adapt to any device. When it comes down to it, the comparison between a Blue Snowball and Samson Meteor will mostly fall back on the subjective sound quality between the two – both are high quality condenser microphones.
Users that prefer a more "bold" tone might prefer the Meteor, which would help carry your voice during a product demonstration for a more impactful presentation. For those that are very sound conscience, the Meteor does allow users to plug the mic into a levels monitor to prevent and peaks or distortion. Overall, the Meteor is a powerful yet simple entry level microphone, yet still leaps ahead of any webcam mic.
The Samson Meteor ranges from $60 to $80 and is an entry level microphone.
This item is available for purchase on Amazon here.
Audio-Technica Pro 44
Familiar to audio enthusiasts, and an all around popular choice for sound tech, is Audio-Technica – and for good reason. If you are looking for something a bit more capable than just an entry level condenser mic, a good step up would be the Pro 44 Cardioid Condenser Boundary Mic  – a long name for a simple product. This low profile microphone is great for more discrete mounting than a Snowball sitting on your desk, while still capable of capturing outstanding sound quality. The Pro 44 would make a lot of sense sitting on a conference table, or even a podium for presentations.
Best used inside, and a foot from the speaker's mouth, these little mics would make a great solution for a team looking to outfit a conference room and would be perfect for covering many different talking heads around one conference table. While omni-directional, these mics do a great job and picking up sound from a wide-angle, and with the Audio-Technica name you can be sure they will sound great.
The Audio-Technica Pro44 ranges from $90 to $100 and is an mid-range microphone.
This item is available for purchase on Amazon here.
MXL AC404 USB Conference Microphone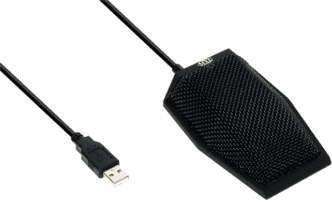 Similar in nature to the Pro 44, yet a little bit more cost effective than the Audio-Technica brand, is MXL's AC404 Conference mic. Just like the Pro 44, this is a small standalone mic meant to sit on a conference table, great for picking up multiple talking heads in one large area. However, similar to the Meteor, the AC404 also includes a built-in headphone and speaker monitoring jack. The AC404 is actually a capsule boundary microphone, which really just means these microphones are designed to be placed on a flat surface to pick up a full room of sound. These microphones would be best to pair with a Conference Camera like that HuddleCamHD-3x 2G or Aver Information Cam 250 to create a really high quality Skype and conferencing solution.
The MXL AC404 USB ranges from $70 to $80 and is an mid-range microphone.
This item is available for purchase on Amazon here.
Antlion Audio ModMic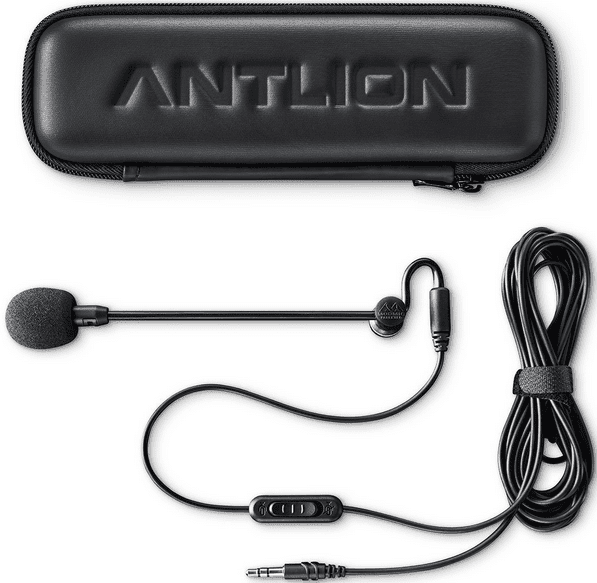 Another truly unique solution, and actually a personal favorite, is the Antlion Audio ModMic. This little guy is incredibly handy if you already have a great pair of over the ear headphones, like some high end Sennhesiers, but need to add a microphone on as well. Sure you can opt for a desk mic, but if you want something that grabs only your voice and cuts down on desk clutter the AntLion is your best option.
Available in both an omni-directional or a noise cancelling microphone, the Antlion ModMic simply attaches to your headphones with double-sided tape to affix one end of the magnetic base, with another magnet on the microphone itself. The only downside is you now have a headphone wire, and a microphone wire dangling together but the included clips do a good job of helping to manage cables. What you get is a high quality, removable microphone for your existing headphones.
The Antlion Audio ModMic ranges from $50 to $60 and is an entry level microphone.
This item is available for purchase on Amazon here.
Headsets can provide a more personal, high quality Skype and conferencing experience. Great for simple 1:1 chats with the privacy of closed, noise cancelling headphones, headsets also offer high quality noise cancelling microphones, and remain far more cost effective than even some webcams. A great addition for someone that utilizes their laptop's built in camera. You can check out our full list of call center headsets if you can't exactly find what you're looking for.
Jabra Biz 2400 II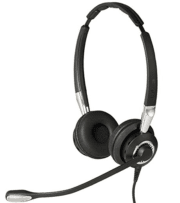 As the updated version of Jabra's most popular headset, the Biz 2400 II brings to the table a high quality, noise cancelling microphone, USB connection, and intuitive call controls located directly on the headset. Most headsets include an in-line mute button, but the Biz 2400 II adds volume, an answer and stop call button and even two more programmable soft buttons right on the headset. The microphone itself can swivel 360 degrees, and a Kevlar-reinforced cord helps to ensure long term reliability. On top of that, just in case something ever does go wrong, Jabra will even back each headset with a 3 year warranty.
The Jabra Biz 2400 II ranges from $190 to $200 and is a high-end headset.
This item is available for purchase on Amazon here.
Vxi Blueparrot B350-XT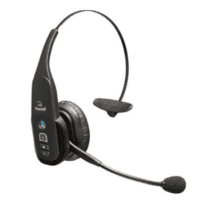 If wireless is what you're after, the Blueparrot is pretty much end-game. Although only single ear, the Blueparrot B350-XT is a capable Bluetooth headset, for those that use Bluetooth over DECT, and equipped with a noise cancelling microphone that can eliminate up to 96% of ambient noise to help keep your calls quite. This alone makes the Blueparrot a great choice for anyone that conferences in other wise noisy environments, especially if they are on the go with Bluetooth connectivity and an insane 24 hour battery life of talk time.
The headset of course also includes a power button, volume controls and a single customizable button for just about any function you could think of. Another unique feature, although nothing too game changing, is iOS battery charge monitoring so you never end up with a dead headset in the middle of a Skype conference.
The Vxi Blueparrot B350-XT ranges from $120 to $160 and is an mid-range headset.
This item is available for purchase on Amazon here.
Sennheiser CC550 IP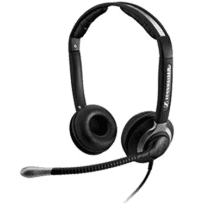 Known for their high quality, reliability and premium sound, the German brand Sennheiser is a great choice for not only your favorite music listening headphones, but your Skype conferencing headset as well. The CC550 IP headset offers the high quality precision sound known of Sennheiser, along with a noise cancelling microphone and USB connectivity. The CC550 also includes ActiveGard technology to help protect listeners from any acoustic shock, or sudden sound surges.
With a 2 year warranty, Sennheiser stands behind their products and many users that review the CC550 seem to love the extra-large ear pads also synonymous with Sennheiser headsets. The CC550 is a great all around headset with premium sound quality, and all day comfort for those extra-long video calls.
The Sennheiser CC550 IP ranges from $120 to $140 and is a mid-range headset.
This item is available for purchase on Amazon here.
Plantronics Audio 478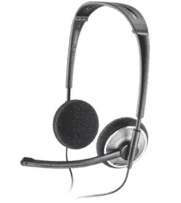 As one of the more affordable headsets on our list, backed by the well-known Plantronics name, the Audio 478 is a great choice for the price conscious buyer. This foldable headset includes some unexpected features like Digital Signal Processing to help scrub away any static that would otherwise creep its way into your calls – something far too common on cheaper headsets.
The Audio 478 also manages to include inline controls with mute and volume functions right on the headset's wire, and even some Skype specific controls like answer and end call buttons. This alone makes the Audio 478 a perfect choice for those that plan to utilize Skype and are looking for a cheap, entry level headset.
The Plantronics Audi 478 ranges from $25 to $35 and is an entry level headset.
This item is available for purchase on Amazon here.
The same speaker phones, and even some small business VoIP desk phones, your team might already employ for standard conference phone calls can also be incorporated into your Skype and Video Conferencing solutions – or might just make the most sense for your conference room when looking to establish a new setup. These solutions also make sense for teams looking to get the most bang for their buck, offering multiple ways to utilize the Speaker phones with voice and video calls. Speaker phones also offer a step above simple USB microphones in complimenting a standalone camera that also doesn't contain any speakers.
Jabra Speak 410 OC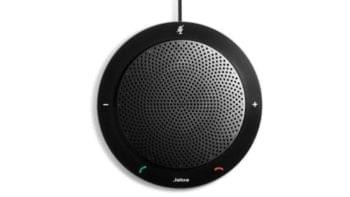 Making their way onto our list again is Jabra with their Speak 410 OC Speakerphone. With a USB connection and designed for Microsoft Lync, this speakerphone represents a simple plug-and-play solution for teams that need an add-on to complement their high end conference camera. The loud speaker allows everyone in the conference room to hear the other end of the conversation, or users can plug in their headsets for more privacy.
The built-in omni-directional microphone should supply a similar experience as any of the standalone microphones, although at maybe slightly reduced audio quality. The Jabra also comes with an included travel case to take advantage of the compact, all-in-one speaker and microphone design for a mobile solution. Upgrading to the 510 raises the price a bit, but also gains Bluetooth connectivity for that wireless experience.
The Jabra Speak 410 OC ranges from $60 to $70 and is an entry level conference speakerphone.
This item is available for purchase on Amazon here.
Plantronics Calisto 610-M Portable USB Speakerphone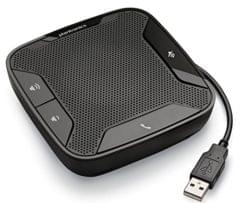 Really focusing on the portability aspect is Plantronics Calisto 610-M. This portable PC speakerphone is great for anywhere, anytime conferencing and can serve as a solid replacement for a headset on the go. Simply plug the Calisto 610 USB right into your laptop or even tablet and you have a speakerphone anywhere you are. With a built in microphone, Plantronics recommends the Calisto primarily for small and medium sized conference or huddle rooms.
The Calisto even includes easy to use "single touch controls" including a call answer and end button, volume adjustments, and an hardware mute function. For those that want more than just Skype out of their devices, the Calisto also integrates with leading softphones. With such a focus on portability, Plantronics does a great job in offering one of the best mobile conferencing options for those last minute hotel room Skype meetings.
The Plantronics Calisto 610-M Portal USB Speakerphone ranges from $70 to $100 and is an entry level speaker phone.
This item is available for purchase on Amazon here.
Vtech VCS702 ErisStation Conference Phone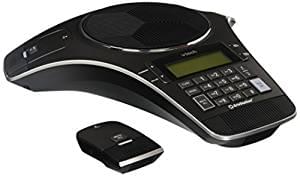 More in line with a traditional conference phone is Vtech's VCS702 ErisStation. Now, we've taken a closer look at some Vtech products before, but the ErisStation is one that stuck out to us as an interesting solution to a common conferencing problem. Similar to the idea of Audio-Technica's Pro 44 microphones, this ErisStation comes equipped with two extra wireless microphones that can be placed around the room, or further down a really large conference table.
Combine the ErisStation with a wide angle camera, and place the two microphones on opposite ends of the table with the base station in the middle, and you now have a very capable conference room video setup. And of course, at the same time, the ErisStation is a conference phone so it can double its duty and take care of standard calling as well as Skype for Business conferencing.
The VTech VCS702 ErisStation Conference Phone ranges from $180 to $200 and is an mid-range speaker phone.
This item is available for purchase on Amazon here.
Logitech Mobile Speakerphone P710e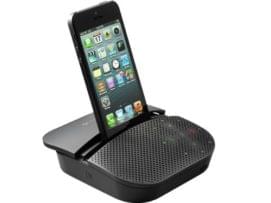 A very different, and unique, take on the conference phone is Logitech's Mobile Speakerphone P710e. Similar to the Plantronics in the idea of portability, but completely different in execution. This device allows users to place their smartphone or tablet directly in the base – Logitech does include USB connectivity for any PCs or Macs – but the P710e can support up to weight different Bluetooth devices at once.
Advanced DSP technology allows for precise tuning of the microphone and speaker, so conversations can sound as life-like as possible, and a battery capable of 15 hours of talk time ensure the base will stay alive far longer than your Skype calls. Logitech's P710e takes advantage of a video conferencing capable phone in all of our pockets, and creates another truly unique mobile solution without sacrificing audio quality.
The Logitech Mobile Speakerphone P710e ranges from $120 to $160 and is an mid-range speaker phone
This item is available for purchase on Amazon here.
Disclosure – The GetVoIP team writes about stuff we hope you'll like and strives to offer the best recommendations we can. Our team has affiliate partnerships, and may collect a referral commission  from your purchase based off our recommendations. This does not influence the content we publish, but only supports our honest efforts to offer you the best and most transparent information. All recommendations are based on our own independent research and hands-on experience.