Hosting a video call has gone from requiring expensive conference rooms outfitted with the latest hardware to one-click video calls on our smartphones. Conference calling for business has become one of the most popular web conferencing solutions around, and most of us might make do with just our smartphones or laptop's built-in cameras.
But it doesn't take much to put together a capable and high-quality video conferencing solution. Whether you are building off an existing setup, or simply want to add a microphone to your laptop, we put together a list of 20 different add-ons that can help improve your conference calls.
Table of Contents:
Best Webcams for Conference Calls
Standalone webcams are easily one of the best affordable improvements to your video call setup. Whether you are upgrading to a standalone camera over your MacBook Pro's built-in webcam or adding one to your ancient work computer, the USB webcams of today have come a long way from where they once were. Generally, under $100, webcams are the most cost-effective all-in-one solutions, and one of the best ways to compliment a free web conferencing plan if your team is budget concerned.
If video conferencing is of a higher priority for your team and relied upon quite frequently, then the investment into a conference camera might be the right decision. These aren't tiny cams you stick to the top of your laptop, yet conference cameras are a step above webcams. Conference cameras can range from a few hundred up to almost $1,000 but are much more capable solutions with higher quality videos meant for larger group conferences or presentations.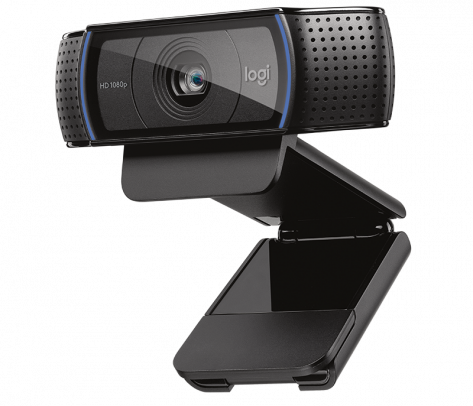 While the Logitech C920 is nearly a decade old, it's still a fan-favorite webcam and stacks up against some of its contemporary rivals in terms of price to performance. The auto focus on this webcam is indisputably its best feature considering it's just as fast and accurate as other cameras that are much newer. The C920 picks a focal point and sticks to it rather than trying to constantly readjust focus like some other webcams on the market that are more sensitive. Its 78-degree field of view also ensures that everyone will be visible on the conference call if you have multiple people attending from your end.
The framerate is capped at 30 fps but this limitation shouldn't have a huge effect on conference calls so it's not a big con in our opinion. Perhaps more irking is the white balance on this webcam. We've certainly seen better and it can make the color look a bit meh at times. The final thing you should note is that a separate microphone is highly recommended if you plan on using the C920 as its built-in microphone doesn't have the best audio quality which could get in the way of running a smooth virtual meeting.
The Logitech C920 ranges from $69.99 to $80 and is available for purchase on Amazon.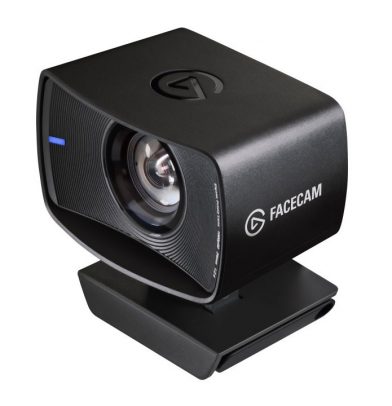 The Elgato Facecam may be one of the pricier options currently available to consumers but there are quite a few redeeming qualities that could justify its premium cost for you. First of all, it offers top-notch video quality in the form of uncompressed 1080p 60 fps video which is a welcomed step up in frame rate compared to the C920 we just went over. If the price is a turnoff for you then you could check out the cheaper Logitech StreamCam as an alternative.
In terms of cons, the Elgato Facecam doesn't come with a built-in microphone (though we generally recommend getting a separate mic anyway) and can struggle in certain lighting conditions. If you don't want overexposed images then investing in some lighting equipment could improve your overall user experience with this webcam. You can also tweak settings like white balance, exposure, FOV, and more in the Camera Hub software that comes with the webcam. After tuning it for a few minutes, we were able to eliminate most overexposure incidents so it seems like the default capture settings may be the culprit.
The Elgato Facecam costs around $200 and is available for purchase on Amazon.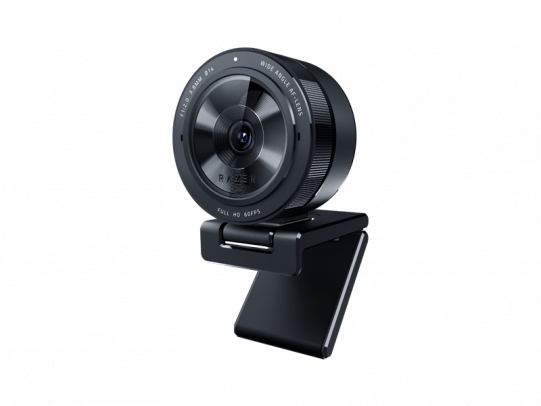 The monitor mount that came with the Kiyo Pro has two articulation points and we found it to work perfectly fine during our testing. Its 1.5-meter USB 3.0 cable is also braided which should help with the longevity so you don't have to replace fraying cables every few months. The plastic privacy shield that it comes with is also a nice addition since it ensures no one will be spying on you in between conference calls.
While the Kiyo Pro can go as high as 103 degrees, maxing out the FOV like that has a fisheye effect on the image so we'd recommend keeping it at 80 degrees if the video quality is your main concern. Despite being pricier than many alternatives, this webcam surely lives up to PCWorld's description as "one of the best webcams out there."However, if you end up getting the cheaper Razer Kiyo, be wary of its lower framerate, lack of HDR, and single FOV setting. The sensor and mount are also clearly better on the pro version so we'd say it's worth the extra cash if your budget allows for it.
The Razer Kiyo Pro ranges from $180 to $200 and is available for purchase on Amazon.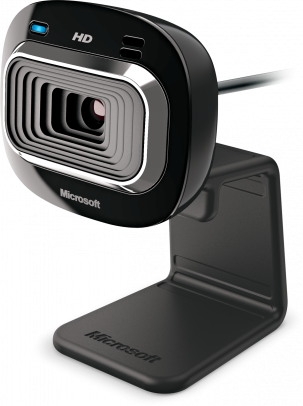 Let us preface this entry by saying you get what you pay for and the LifeCam HD-3000 is far from the best webcam out there. That being said, even the blurry 720p images it captures can be a step up from particularly bad laptop cameras and at the low price of seven venti frappucinos, it's hard to complain about its shortcomings. The mount it comes with is pretty bad so getting the webcam in place and making it stay there can be challenging.
Once you get past the setup hurdle, you'll have an okay time with this camera. The audio it picks up is surprisingly clear for the price though it's very susceptible to background noise like room fans or a loud GPU on your PC. The video feed would also blur whenever the subject moves so if you're using this camera during a conference call, try to stay as still as possible. All in all, the LifeCam HD-3000 is far from our first choice when it comes to webcams but it's better than having no camera at all and the low price makes it fit into any budget.
The Microsoft LifeCam HD-3000 costs $30 and is available for purchase on Amazon.
Best Conference Cameras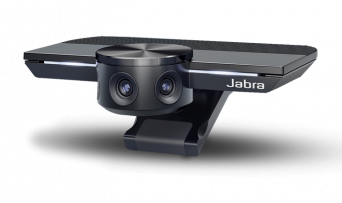 The Jabra PanaCast is one of the most versatile cameras on this list with FOV support for 90, 120, 140, or 180 degrees depending on your needs. You can also switch between 1080p streaming or a panoramic 4K mode based on the type of conference call you're having. Its power port is USB-C which maximizes compatibility and makes this conference camera very futureproof. The only thing we can really knock it for is the time-consuming setup process, especially on Mac computers.
That aside, our favorite feature by far was the PanaCast's intelligent zoom. It can detect exactly how far away participants are up to 11.5 feet and automatically adjust the FOV. This is perfect for presenters who like to walk around during virtual presentations and use physical whiteboards to get their point across. It also ensures that everyone is visible without having to shuffle back and forth to stay in the shot. This feature alone makes it one of the best conference cameras for large rooms. The two HD microphones also provide crystal clear audio from up to eight feet away which further complements the user experience in large rooms.
The Jabra PanaCast ranges from $500 to $700 and is available for purchase on Amazon.

Much like a few other products from the Logitech catalog, the MeetUp comes with RightSense technology which can automatically adjust the camera lens, audio settings, and white balance. This trifecta — RightSight, RightSound, and RightLight — fine-tune the feed on the fly to provide the best experience on both ends. You can also adjust the zoom, pan, and tilt using your remote control which is less awkward than blocking the camera mid-meeting just to adjust its angle. Finally, the 4K resolution coupled with its well-made microphone and speakers ensures you have all the premium hardware you need for the important meetings to come.
Unlike the Logitech Brio 4K webcam, bundled software is yet to be released for the MeetUp. This means you may have to wait until it comes out before you can manually adjust brightness, contrast, or focus — but the manufacturers have said they will provide a similar app for the MeetUp in the future. We'd also say the MeetUp is better suited to huddle rooms than large conference rooms based on what we saw in our testing, so be sure to factor in your specific use case when comparing it to other options.
The Logitech MeetUp ranges from $675 to $900 and is available for purchase on Amazon.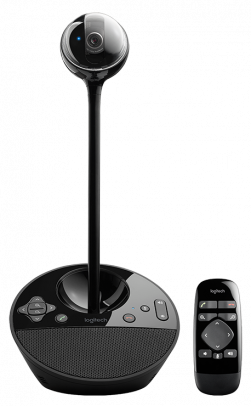 Logitech's entry-level conference camera, the BCC950, is an odd-looking device – but a handy one at that. The camera supports 1080p 30fps video, a professional speakerphone built right in, pan, tilt, zoom, and audio controlled with a small remote, and plug-and-play simplicity with a USB connection. But the best part is the BCC950's party piece, and why it looks so odd. The camera can either rest right on the base, with a 78-degree field of view, or rise about 12 inches above the base for a massive 180-degree field of view.
While the BCC950 might look like something out of a cheesy 80's sci-fi movie, it offers a cheap solution for teams that want to outfit a small conference room, huddle room, or even an open workspace with a capable HD webcam that can capture almost everyone crowded around, and the entire space. The BCC950 could make a lot of sense for those group conferences that happen in open spaces in front of a whiteboard or other display.
The Logitech ConferenceCam BCC950 ranges from $190 to $200 and is an entry-level camera.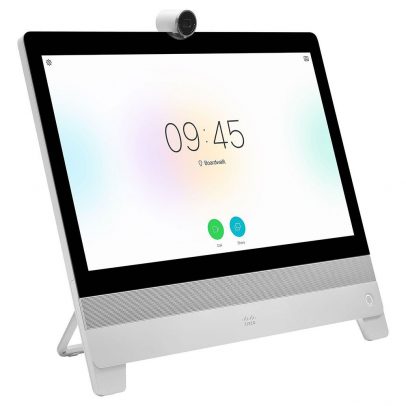 In a league of its own, the expensive DX80 from Cisco is overkill for the majority of users. Still, it does have certain benefits that help you make sense of the very high price. The 24-inch HD touchscreen monitor makes collaboration a lot easier during online meetings, especially when using features like whiteboards or annotation. It's also one of the only products that can closely replicate the feeling of being in the same room with everyone else in the conference call thanks to its immersive hardware and large size. Obviously, another unique benefit of this product is the fact that it was literally built to be used with WebEx so the software experience is highly optimized.
It's also worth noting that the display, microphone, and speakers included in this package are all great pieces of equipment so you won't have to worry about spending even more money on replacements. Our biggest critique for the DX80 package is the fact that it doesn't have a zoom or autofocus so we wouldn't recommend it for large conference rooms. The volume controls and its physical mute button are also placed in suboptimal locations which can get annoying when you need to make quick adjustments mid-call.
The Cisco WebEx DX80 costs $2,400 to $3,000 and is an enterprise-level conferencing package.
Best Microphones for Conference Calls
If you already have video covered, or just plain hate the way your built-in microphone sounds, a standalone USB microphone could be a solid addition to your setup. While most webcams have a microphone built right in, the quality is usually less of a concern than the video so might not be up to your expectations – and as we have seen some conference cameras don't include a mic. Of course, you can spend thousands on professional recording grade microphones, but since most users aren't recording music we decided to stay budget-friendly.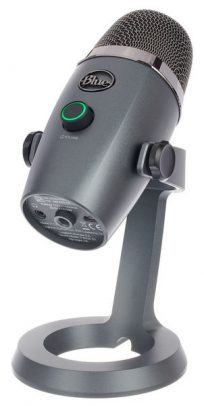 Perhaps one of the most popular microphones in the podcast and streaming industries, the Blue Yeti Nano is the latest creation from the renowned microphone manufacturer. Being the successor to the equally-revered Blue Yeti, it's not hard to see why this microphone would be a great choice for conference calls. The audio quality is second to none and you even have a headphone jack for low-latency monitoring. It's also cheaper than its predecessor despite producing very comparable results.
The only downside of using this microphone is that you'll need to download the Sherpa desktop app if you want to modify the gain but this shouldn't really be necessary if you're going on conference calls versus streaming on Twitch or recording YouTube videos so this con won't apply to everyone. Lastly, this may be the perfect microphone to use if you take conference calls in less-than-silent areas or have noisy pets since you can set the Yeti Nano to cardioid mode to ensure only audio coming from directly in front of it gets picked up.
The Blue Yeti Nano ranges from $100 to $110 and is an entry-level microphone.
This item is available for purchase on Amazon here.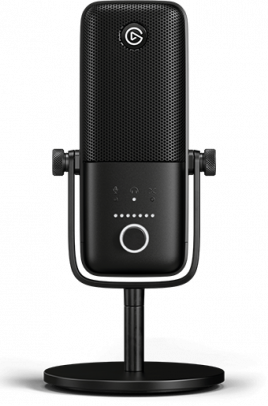 Much like the Blue Yeti, the Elgato brand is also well-known in the gaming industry for its capture cards and stream control panels. Considering audio is everything for streamers, it's not too surprising that the Wave: 3 made it into this list. This condenser microphone offers clean audio and low-latency monitoring at a fair price making it a viable option for those setting up their new home office. It may not be as cheap as competitors but the Wave: 3 comes with handy features like peak limiting to keep things from getting too loud and still doesn't break the bank at its price point.
The recommended distance by the manufacturer is seven inches but when we tested it out we noticed that you'll want to move in closer to pick up low-end vocal audio — though we'd recommend getting a pop filter before you do so. Its LED meter, built-in gain knob, and Wave Link app aren't as useful when it comes to conference calls so you may end up paying extra for streamer-related features you'll never use. Finally, you can't choose between multiple mic patterns so background noise will likely reflect on your conference calls (thank goodness the mute button exists.)
The Elgato Wave: 3 ranges from $140 to $150 and is a mid-level microphone.
This item is available for purchase on Amazon here.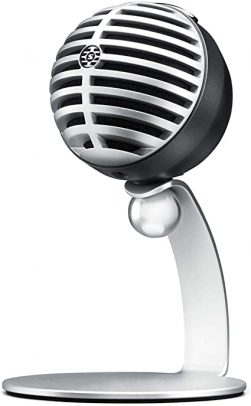 Shure is coming up on its 100th-year anniversary, having produced famous microphone lines like the SM and Beta. The Mv5 is one of its newer designs but this condenser microphone is a great budget pick for those who want clear audio at a bargain. It has a physical volume dial for headphone users so they can make adjustments without opening the settings on their computer as well as a physical mute button so you don't have to hit a hotkey every time you want to toggle your mic.
In addition to its USB connector, the Shure MV5 also comes with a lightning connector so you can use the microphone with your iOS device of choice while doing other tasks on your desktop. The main issue we had with this microphone was its design rather than the performance itself. Due to its shape, the microphone was very easy to knock over so a more stable build with a lower center of gravity would've been nice to have. Other than that, you get quality audio for a very affordable price so it's hard to knock this microphone for anything other than its shape.
The Shure MV5 costs $100 and is an entry-level microphone.
This item is available for purchase on Amazon here.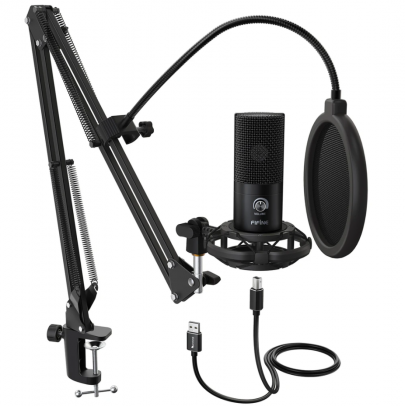 While it doesn't have a physical mute button like the Fifine K678, the T669 still provides a clear conference call experience and even picked up less keyboard noise than the more expensive counterpart during our testing. This is likely due to the fact that it's a cardioid condenser microphone and thus only picks up audio coming from in front of it. However, it's worth noting that this may become problematic if multiple people need to share the microphone from different angles.
Barring that edge case, the T669 is a reliable microphone that comes in a small enough package to bring with you on any business trip. Its pop filter and shock mount further enhanced our experience with this microphone. That said, if you're looking for an even cheaper option, you can get the Fifine K669B which is one of the most popular budget microphones on Amazon ranging from $25 to $30 with over 18,000 five-star reviews.
The Fifine T669 costs $60 and is a budget microphone.
This item is available for purchase on Amazon here.
Note: you can also get 15% off if you use the code FifineMic when buying the T669 on Amazon.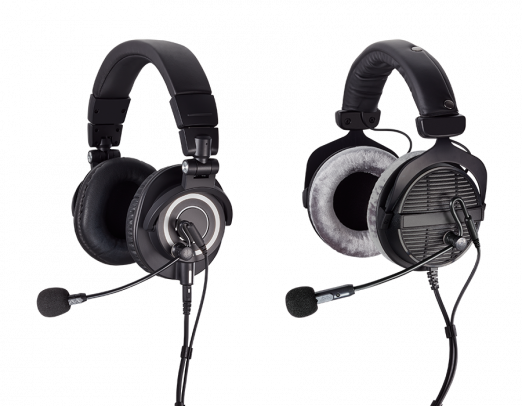 Another truly unique solution, and actually a personal favorite, is the Antlion Audio ModMic. This little guy is incredibly handy if you already have a great pair of over-the-ear headphones, as some high-end Sennhesiers, but need to add a microphone on as well. Sure you can opt for a desk mic, but if you want something that grabs only your voice and cuts down on desk clutter the AntLion is your best option.
Available in both an omnidirectional or a noise-canceling microphone, the Antlion ModMic simply attaches to your headphones with double-sided tape to affix one end of the magnetic base, with another magnet on the microphone itself. The only downside is you now have a headphone wire, and a microphone wire dangling together but the included clips do a good job of helping to manage cables. What you get is a high-quality, removable microphone for your existing headphones.
The Antlion Audio ModMic ranges from $50 to $60 and is an entry-level microphone.
This item is available for purchase on Amazon here.
Best Headsets For Web Conferencing
Headsets can provide a more personal, high-quality Skype and conferencing experience. Great for simple 1:1 chats with the privacy of closed, noise-canceling headphones, headsets also offer high-quality noise-canceling microphones and remain far more cost-effective than even some webcams. A great addition for someone that utilizes their laptop's built-in camera. You can check out our full list of call center headsets if you can't exactly find what you're looking for.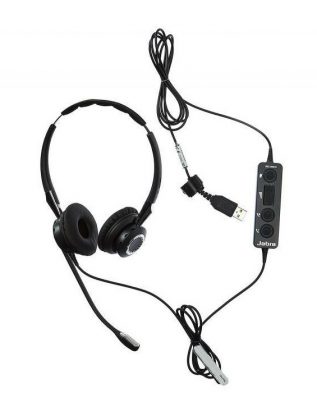 While the Jabra 2400 II is the most expensive headset covered in this article — only slightly pricier than the Plantronics C725-M — it's also one of the best we've tested. The breath-resistant microphone uses ultra noise cancellation to eliminate background noise completely. In addition to the active noise cancellation, the soft leatherette ear cushions also provide noise protection to make sure the conferencing experience is positive on both ends. In terms of durability, the build of this headset is unmistakably premium and has a reinforced cord to prevent fraying.
Surprisingly, the headset remains deceptively light. Jabra says the 2400 II is 40% lighter than competitors and you only have to put the headset on once to see that their claims check out. Its boom arm can also spin a full 360 degrees making it easy for you to adjust it to whatever position is most comfortable. It also has programmable buttons that you can use for various functions like push-to-talk which is a nice touch.
The Jabra 2400 II ranges from $190 to $210 and is a high-end headset.
This item is available for purchase on Amazon here.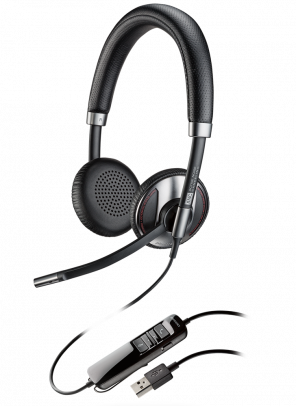 There's no denying that the Plantronics C725-M is one of the pricier headphones one can buy but the crisp audio it captures can really elevate the conference calling experience. In addition to having one of the best headset microphones we've used, the C725-M is also incredibly durable — often lasting customers years without any perceivable drop in performance. In terms of compatibility, the C725-M is about as plug-and-play as it gets.
The Blackwire also has toggleable active noise cancellation. If you want to enable it, simply slide the button towards ANC. This is useful for those who take conference calls at coffee shops or other public locations where you may need to hear through your headphones. Instead of taking your headphones off when a barista asks you a question, you can simply disable ANC which saves you from missing anything being covered in the meeting. The only downside with this headset is that it uses a USB connector rather than a 3.5mm cable so you won't be able to use this on your mobile devices without an adaptor.
The Plantronics Blackwire C725-M costs $185 and is a high-end headset.
This item is available for purchase on Amazon here.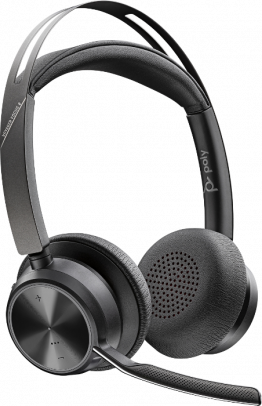 The Poly Voyager Focus is a great headset for many reasons, but its most notable edge comes in the form of noise cancellation. Its active noise cancellation helps you hear incoming audio while the three noise-canceling microphones make sure everyone else on the conference can hear you just as well. Both the headset and stand are well-designed, giving off a professional look. You can also charge the headset directly from the stand which makes sure you don't forget to charge them right before an important meeting.
The Voyager is also a true featherweight coming in at only 5.5 ounces. This, coupled with the 12-hour battery life, make it the ideal headset to wear during long conference calls. It's worth noting that the battery life drops to 10 hours if you have active noise cancellation enabled but that's still more than enough even for power users. If you're not using the microphone and only listen to audio then the battery life even shoots up to as long as 15 hours.
The Poly Voyager Focus ranges from $130 to $150 and is a mid-level headset.
This item is available for purchase on Amazon here.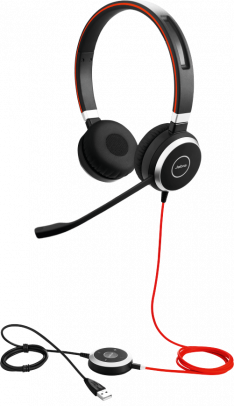 If the Jabra 2400 is a bit too pricey for your liking, you can go for their more affordable offering: the Evolve 40. When it comes to comfort, the Evolve 40 excels thanks to its padded headband and soft ear cushions. However, we found that the inward angle of the headset can pose some problems after extended periods of use. Other than that, it gets you clear audio at an affordable price and a microphone boom that's reasonably adjustable. The design is also very sleek, opting for a black and red color scheme.
Unlike the Blackwire, Jabra's Evolve 40 headset connects to both USB and 3.5mm ports which means you can use it on mobile devices too. Another impressive feature is the wideband support which gives you deeper and richer sound — something not often seen at this price point. If you work from home then the busy light on the side of the microphone lets everyone know that you're currently in a call which can cut down on interruptions. Lastly, there's also a mono speaker variant available for those who prefer it but the stereo version provides better passive noise cancellation during conference calls.
The Jabra Evolve 40 ranges from $80 to $115 and is an entry-level headset.
This item is available for purchase on Amazon here.
Best Speakerphones For Conference Calling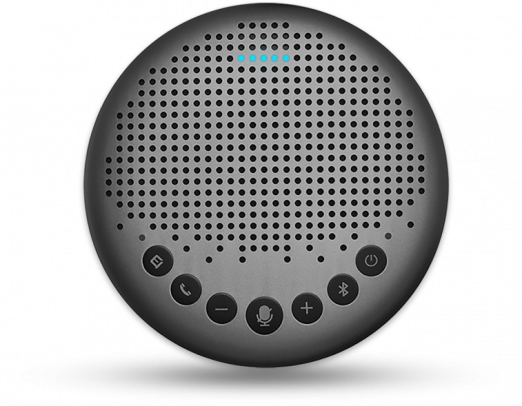 If you've used the OfficeCore M2 from eMeet in the past then you'll be glad to hear that the Luna improves on all the weaker areas of the previous Bluetooth speaker. First of all, the build quality of the Luna is superb. It's made with an all-metal body that has five LED indicators on it. These represent power, status, and battery level which helps you keep track of everything with a single glance. Speaking of battery, that's our biggest critique for the Luna: its battery life. It's considerably shorter than the other speakerphones we've tested but this shouldn't pose much of an issue if your conference calls tend to be over quickly or if you keep the device plugged in.
Other than that, the Luna also comes with a dongle if you don't want to connect it via USB or Bluetooth which is a nice option to have though we just went with the USB connector for most of our test with this speakerphone. It's worth noting that it also has an AUX port if you want to get the best sound quality from the Luna, and you don't need any drivers to use it with the top video conferencing solutions on the market which saves you a lot of setup time. Overall, the Luna is definitely a big improvement on its predecessor.
The eMeet Luna costs $60 and is an entry-level speakerphone.
This item is available for purchase on Amazon here.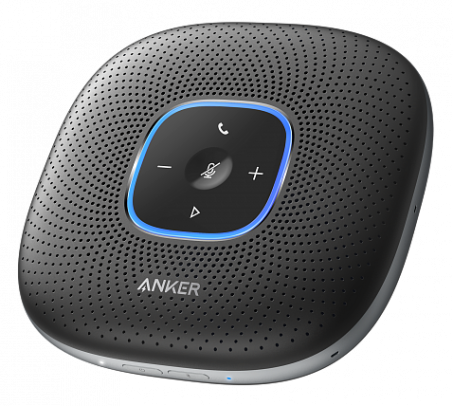 Despite being more famous for its power banks, chargers, and other battery-centric products Anker has also released some great speakerphones over the years. The PowerConf is definitely our favorite and it was a blast to test. The speakerphone uses an array of six microphones to provide a true 360 experience while also offering other invaluable features like real-time echo cancellation and background noise reduction to help your video calls go as smoothly as possible. When it comes to connectivity, you can choose between USB or Bluetooth 5.0 but the performance was consistent regardless of which connection we used.
Considering this speakerphone is made by Anker, it should come as no surprise that it has enough juice in it to last you through a week's worth of conference calls. The 6,700mAh battery provides more capacity than most flagship smartphones and has almost as much capacity as the average power bank so you won't have to worry about your speakerphone dying in the middle of an important meeting. This also makes it the perfect speakerphone for digital nomads who want a portable speakerphone that won't run out of battery during their travels.
The Anker PowerConf ranges from $100 to $130 and is a mid-level speakerphone.
This item is available for purchase on Amazon here.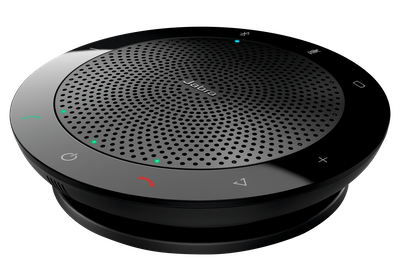 Despite being the most expensive speakerphone on this list, the Jabra Speak 510 is well worth the money for a few reasons. First of all, the sleek design gives you that quality feel that so few speakerphones are able to capture. This device is more than just looks though since ease-of-use is deeply ingrained in its design. All the controls like answer call, hang up, adjust volume, mute, and power are at the top of the device. Furthermore, you also have a Smart Button that works with Siri, Cortana, and Google Assistant which is a really nice bonus for those who are into smart homes.
The echo cancellation was also one of the best we've seen in a speakerphone, which really helped with the overall call experience and made the audio sound a lot clearer. If we had to nitpick, the only thing improvement we would've liked to see on the Speak 510 would be USB-C compatibility so we don't have to use an adapter and can instead charge it with any phone cable we have lying around.
The Jabra Speak 510 ranges from $150 to $180 and is a high-end speakerphone.
This item is available for purchase on Amazon here.
What to Look For When Buying Web Conference Devices
Considering the widespread, sudden, and unexpected transition to web conferencing that the world has undergone over the past two years, it can be easy to feel overwhelmed when trying to find the right model to buy.
While resolution and framerate are the first things that buyers look at, figuring out whether a webcam is good or bad has a lot more nuance to it. For instance, you should factor in what video calling solution you'll be using.
If you're a Zoom or Microsoft Teams user then there's no need to leave a dent on your savings account by buying a 4K camera since these platforms cap broadcast quality at 1080p anyway. Google Meet users are capped even lower at 720p making most budget webcams viable.
That said, there's nothing wrong with spending a bit extra on your work webcam. The resolution may be capped but things like white balance and lighting will still vary from model to model so cheaping out isn't advisable even if you use Zoom, Microsoft Teams, or Google Meet.
On the audio side of things, it can be harder to tell which microphones will sound better just by reading the spec sheet alone. Fortunately, there's no shortage of microphone review videos on YouTube with side-by-side audio comparisons that can help you find the right model.
Regardless of what type of equipment you're buying, just remember to find that Goldilocks zone in terms of pricing. You don't want to buy a super cheap product that will need replacing in a few months but wasting money on extra bells and whistles you'll rarely use isn't good either.
Disclosure – The GetVoIP team writes about stuff we hope you'll like and strives to offer the best recommendations we can. Our team has affiliate partnerships, and may collect a referral commission from your purchase based off our recommendations. This does not influence the content we publish, but only supports our honest efforts to offer you the best and most transparent information. All recommendations are based on our own independent research and hands-on experience.