There was a time when call centers were undervalued and considered secondary to other means of generating revenue. Today, the tables have turned, and call centers are considered significant sources of customer contact. Positive customer experiences in an outbound or inbound call feel natural, and comfortable, increasing the chance of conversion.
New technologies that incorporate AI into the call center are popping up everywhere. Another type of call center integration to facilitate better interactions is software that will make recording and reporting on a call center's calls easier.
Recording Calls Provides Call Center Metrics Data
For ages, call center managers have used call recording for a variety of reasons. For example, having calls recorded is an excellent way to protect an organization from liability, gauge agent performance, maintain and fine-tune compliance, and track orders as a means of verification. They've even been used to prepare agents in training exercises for specific call outcomes.
Recording calls can be done using physical media, but the cloud is being more frequently used as a means of providing an easily-accessible repository of recorded content for businesses. Modern cloud recording solutions also include analytics software that you'll leverage for some great dialing insights.
Many VoIP solutions include built-in reporting software, so managers won't have to train their agents and supervisors on additional platforms. For example, Nextiva, a leading VoIP provider, has a recording suite that includes on-demand recording and always recording features with no preset storage limits. This is beneficial for a call center, especially when considering that Nextiva also has AI analytics that provides some valuable insights for outbound and inbound calls.
Analytics Improve KPI Tracking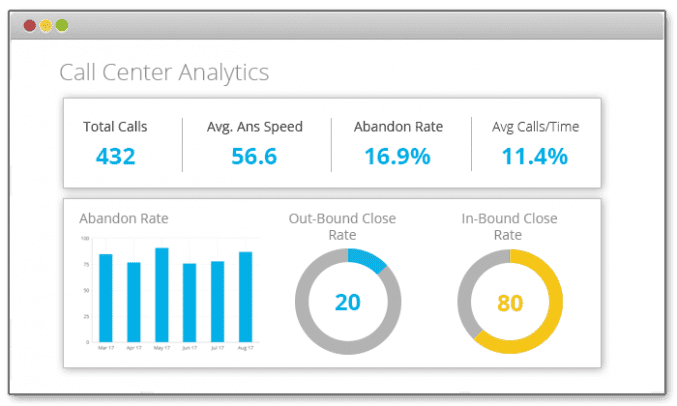 For the best possible results, your contact center requires call recording reporting features that make processes more efficient. For example, recording can be used to track agent performance on customer calls, and it can also be used as a means of self-regulation by call center agents. Learning about call tracking software like what is Phonewagon can inform your team of how they're performing as well.
Measuring your customer satisfaction score and managing hold time can speed up calls over a given time period. These important metrics lead to improved workforce management because you know what you can expect during each workday. Efficiency lowers your call abandonment rate and improves customer loyalty.
Align your KPIs with your call center software to ensure you're measuring contact center metrics and focused on quality assurance. You should be recording calls to analyze performance during those critical first-time calls but also checking out the average time for callers using self-service.
These recordings don't take up a lot of practical storage space, and there are multiple cloud-based solutions that make easy access and storage a cinch. Let us show you some of the top features that you'll need in your contact center that will allow you to generate leads and drive results. Consider adding predictive lead scoring to ensure that your agents are working on leads most likely to convert.
Top 10 Call Recording Features Improve Customer Service
You've identified the need for a good call recording solution, so now it's time to find out which features you'll need. There are some feature-rich products out there on the market, but the features that we're going to present you with in this next section are essential.
1. Access to Agent Recordings
When you're running a call center, you need to give your agents the tools that they need to fuel their own improvement. One of the best methods for ensuring this self-management is to allow agents to review their recordings. When they do this, it's easy to detect customer service issues so they don't reoccur.
One of the top ways to improve call center metrics is to work on your first call resolution rate. If you're able to solve issues in the lowest number of calls, you improve your overall service level.
When call centers use systems like predictive dialers, it's all about getting more calls done during operational hours. Competitive sales agents also want to maximize their output. Granting them access to their recordings helps them "trim the fat" to shorten calls and detect when a lead isn't going to be made with a specific caller.
Using these recordings, they can cut down on wait time, call abandonment, and average speed of answer as they streamline their workflow. Combining those efforts with predictive behavioral routing will optimize your IVR and call center agent efforts.
Key Benefits
The ability to grant agents access to their own recordings is an excellent tool for improving their performance.
If a problem arises, the agent can identify the specific call and point out the issue to specialists.
2. Search by Agent
Every contact center that's worth its salt is going to want to review their agents total number of calls and how they match up with call center KPIs. A whole level of complexity is added when you have a free-seating office where multiple agents may use the same station across shifts.
Who wants to scan through hours' worth of calls in order to find a specific interaction? Even searching through logs by extension is far too time-consuming. This is where the ability to search by agent ID will be a real game-changer.
With this feature, finding a specific agent's calls is simple. Since each has time tags, locating specific calls will take seconds.
Not every type of solution will have this feature, so reach out to support before making a purchase decision.
Key Benefits
The ability to search by agent reduces the time it takes to find specific recordings.
This helps avoid any confusion that might result from searching for a specific call made on a station used by multiple agents.
3. Encrypted Access With Limited Roles
Some clients require confidentiality for their calls. For calls that deal with medical information, you will need software that's HIPAA and PCI-DSS compliant. When this information is provided to your agents, any recordings that are made from calls must have a layer of protection to ensure that the sensitive information is kept secure.
Find systems that you can quickly and easily configure so that only credentialed people will be able to review the contents for business purposes. Needs vary, so finding a software option that is quickly configurable so that vital information is protected is critical.
Key Benefits
Encrypted access protects medical data that is sensitive.
This ensures that the right people will access the recordings with relative ease.
4. Access to Older Recordings
It's not uncommon for some providers to have cloud-based software that will scrub data that is older than six months. This will not do if your call center works in an industry where access to older recordings is vital. For example, the insurance industry is required based on federal law to store recordings for years.
For this reason, you'll need to find a solution that will have options for storing recorded data for a number of years. For example, Talkdesk will delete all recorded audio after six months' time, but the software allows you to disable this functionality if needed.
When considering a new product for your call recording and reporting, ask about the ability to access older recordings. These will ensure that you are compliant, and you will be able to draw from older recordings for training purposes as well.
It's also possible to find systems like Talkdesk that have flexible data retention rules. You're not always going to need old recordings for every project/business, so setting up different periods of time for data retention will be valuable.
Key Benefits
Some industries are required to keep recordings for several years.
Older recordings are great tools for training.
The software will allow you to set retention patterns for the recordings from different projects.
5. Remote Access
Since many of the modern solutions for call recording are cloud-based, this opens up new options for call center managers that need to review recordings even when they have remote agents. For example, if you need to check a specific recording for compliance, some software options will allow you to quickly and easily access and even download the recording from a browser.
When you can access data remotely, you can take the time to train staff and measure performance against key performance indicators while on the go.
The format will usually be in MP4 or M4A, so this makes it easy to use standard software to review the contents of the call. Many of the products that are available today will have site options that will grant a dedicated dashboard and analytics for these calls, even from mobile platforms, which is a timesaver and makes the process portable. Avoxi is a recording software solution that provides some of these features.
Key Benefits
This will allow you to access recordings even on mobile devices.
Some of the cloud recording solutions have web-based analytics streams that are comparable to traditional software.
Recorded audio is "pared down" to small packets that won't take up much space on local devices.
6. Double- and Triple-Redundancy
No storage system is perfect, even when your recording data is stored on the cloud. For this reason, you'll need to store your data with a provider that will have protections in place should a disaster occur.
An excellent feature to look for with this would be PBX's geo-redundancy. This feature is great for reducing downtime since it is a means to physically separate data centers so that the data is always accessible.
In most industries, you're always going to need access to data regardless of disaster, so seek out a provider that has redundancies in place to keep you up and running.
Key Benefits
This protects your recordings from disaster.
This helps prevent downtime when a server with the data is in maintenance mode.
7. Compatibility with Call Center Software
If you aren't using modern CRM software to help manage your customer interactions, then now is the time to start. There are a lot of insights to be gleaned from software like Salesforce, and your call recording reporting software will need integration options that'll allow you to export data.
You can get data in real-time to improve performance metrics and integrate them with all of your call center software.
Essential details like call length, customer satisfaction, and agent response are critical to the formulation of predictive analytics. Any call recording software that you use will need to play nice with your other call center solutions. If you can't export data from your recordings or download the recordings into software that analyzes various factors, how much is your solution benefiting your center?
Key Benefits
CRM integration is a must for any call center recording software.
This helps shore up any missing features in call center recording tools by allowing compatibility with other solutions.
8. Speech Analytics
AI increases the efficiency and performance of a contact center. With modern recording systems utilizing speech-to-phrase recognition, built-in AIs and IVRs will use call recordings to glean a multitude of opportunities from prior calls. The more efficiently you route your call volume, the more you can lower your average handle time.
Rather than have your agents pore through thousands of calls in a day, use a recording solution that can glean important data by "listening" to multiple calls simultaneously. With this addition to your call center analytics data, agents follow-up with existing customers and offer them potential opportunities that align with their needs as they were expressed in previous reach outs.
Speech-to-phrase recognition can identify common themes in an average call to talk time. Is there a significant portion of your customers that would prefer a new way to make bill payments? A cloud-based AI can search through several calls at once and unify these calls in the lowest amount of time, improving your call work time.
Key Benefits
New opportunities can be gleaned from preexisting recordings.
The software can seek out specific terms from multiple recordings concurrently.
This is a great way to seek out common negative experiences from prior calls and correct them.
9. Data Encryption
Data encryption is critical to the processes of modern call centers, especially with call recording reporting software. To ensure true protection for confidential data, protections will be needed when the recordings are on the source machine, as well as when it's in transit from device to device.
Recording software will compress and encrypt the data as it's being sent so that it can't be stolen while it's transferring. This is critical, especially considering that transit will happen continuously as the recordings are sent to their cloud-based or locally-based storage media.
Key Benefits
Sensitive data is protected at all times.
Compression techniques that encrypt recordings also may reduce the file size on the server.
This ensures regulatory compliance during transit.
10. Variable Architecture
In modern call centers, it's common for there to be varying needs based on the project, which will mean a complex environment for data gathering. Some products have add-on features, but it'll be a real hassle to install and can drive up the cost by a significant margin.
It's just a better idea to pay the extra cash for a solution that has features that can handle a variety of different call center projects. Call center software stripped of features really aren't worth your time. It will also be worthwhile to seek out a solution that has an open API so that you can add and integrate functionality for your multiple concurrent projects when they are needed.
For example, some current software will allow managers to alter the API so that you can continuously tailor the solution to the business need. This also reduces the strain for those agents and call managers that would otherwise have to adapt to a completely separate solution.
Key Benefits
Managers avoid the extra cost and hassle of installing features that aren't included with the base software.
The call center will be much more prepared for projects that require extra recording features.
There won't be the need to select additional solutions when new projects come down the pipe, which can help reduce training time.
Call Recording Improves Call Center Metrics Reporting
Call recording will provide you with training insight, compliance, and legal protections, so finding the proper recording software is the best way to support your agents and call center software. You'll need ways to ensure compliance and an easy way for both managers and agents to access the recorded files.
Your software should work in your favor to improve call center performance, lowering call backs, improving first contact resolution, and eliminating abandoned calls. Also, there's no better coaching solution than a recording of past calls – all of the information is there to help your agents get the results that they need to successfully carry out your various projects.
It's imperative that the right due diligence is employed when searching for a solution, so if you have more questions about which solution will be best for your center, check out our article on call recording software.