A few weeks back, we sat down with Steve Weinstock of LogMeIn, and the way he described Grasshopper as a solution "for a very small consumer" really intrigued us. Is Grasshopper a quality product that businesses of only a few individuals should use? Let's take a deeper look at its features, plans, and pricing.
How Does Grasshopper Business Phone Work?
Grasshopper is a business VoIP system that allows companies to choose a virtaul phone number, custom greeting, and call answering rules to forward calls to other devices. It allows small businesses stay competitive without investing in a pricey business phone system. Their virtual phone system is designed to quickly be installed on either desktops or smartphones within minutes. Grasshopper hosts all of the data and routine hardware setup to allow businesses to start making and receiving phone calls without a major investment.
The way that Grasshopper's business phone system works is that when customers dial the number you've chosen, Grasshopper routes the call to whatever device or desktop you've set up to receive that call. Customers connect with a business phone number without realizing they're connecting to your device. Calls are marked as business calls so that you know when you're receiving a business call versus a personal call.
Grasshopper seemed like a small business or consumer product for many years but has grown to be a viable RingCentral alternative and a Nextiva alternative, competing with the top companies in the business VoIP industry.
Grasshopper pricing comes in four reasonably-priced plans. This virtual phone system isn't limited to large enterprises. Entrepreneurs with tight budgets can set up a dedicated avenue of communications with their customers.
Cloud-Based Reliability
Grasshopper is entirely cloud-based. Users will only need to connect to an existing internet connection to use the service. This means that organizations have the option of either cellular data or Wi-Fi to reach out and make phone calls. Like other providers, Grasshopper promises a 99.999% uptime, which seems pretty accurate.
Based on their own "Grasshopper System Status" page, the service has only had one issue in the past three months. This only affected text messaging for some subscribers. Outages happen with any service provider. Since services like this are based in the cloud, instances of lack of service are rare because there are backup servers. The aforementioned event occurred on January 9th, and outside of this issue, the months of December and November were without incident.
Compared to other virtual phone systems, a cloud-based solution is also much more inexpensive. Grasshopper provides dialing without reliance on traditional public switch telephone networks (PSTN), which are copper line-based.
Grasshopper Connect
The current trend in UC has many providers delivering a curated experience for their users. As a result, software is being developed that brings all of a provider's suite of products into a single user interface. Grasshopper has taken on this unified approach with its Grasshopper Connect mobile app and desktop app.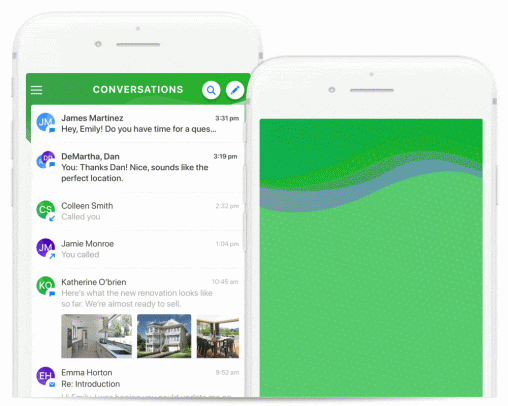 With Grasshopper Connect, users can see previous conversations – no matter if they took place in SMS, a call, or in an email. This enhanced solution provides a means to aggregate contacts – all while keeping personal contacts separate from the personal contacts that are also stored on a device. Email is integrated and organized in the system with timeline views that are designed to keep client interactions in an easily viewable and searchable format.
This kind of communication curation helps small businesses stay organized. Grasshopper also enables a complete separation between business and personal life since the app functions independently of the data present on a smartphone. Effectively, there will be two sets of contacts, completely partitioned emails, and a solution that will keep clients and customers neatly organized.
Affordable VoIP for Small Businesses
Grasshopper VoIP is priced so that even freelancers can sign up and use the service to project a higher profile to their business. For example, the Solo plan only costs about $26 per month, and with that single line, a business will have up to three extensions.
For this fairly negligible price point, an individual gets a bevy of useful tools like virtual fax, call forwarding, and incoming call control. All plans include mobile app and desktop app support, so going from the office to the road gives teams unlimited minutes on a business number, no matter where they are.
Not sure if it's an option for your business? Grasshopper offers a seven-day free trial. This is pretty brief compared to providers like Dialpad, which provides a 14-day trial, or Nextiva, which is a provider that lets you try their software for a full month. Still, there's no credit card required for a trial of Grasshopper.
Grasshopper Pricing and Plans
Plans
Solo
Partner
Small Business
Grasshopper Connect

(Individual)

Price billed per month
$29 per month
$49 per month
$89 per month
$39 per month
Price billed per year
$26 per month
$44 per month
$80 per month
$35 per month
Numbers and Extensions
One number/Three Extensions
Three numbers/Six Extensions
Five numbers/Unlimited Extensions
One number/Email, text, and phone integration
As you may have noticed, there isn't a huge difference between the Solo, Partner, and Small Business plans. Unlike other providers, Grasshopper provides advanced features to meet the business needs of staff consisting of one or 1,000. This is because the Grasshopper pricing structure varies based on how many phone lines and extensions are needed by the organization.
Included with all Grasshopper Plans

Business texting
Call forwarding
Virtual fax
Custom greetings
Mobile and desktop apps
Simultaneous call handling
Standard voicemail
Extensions (the number varies by plan)
Standard voicemail and Voicemail transcription
Reporting
Grasshopper Connect is lacking the extra extensions of the other plans, but it provides a unified inbox feature that smaller businesses use to keep their communications efforts organized into a single point of access. Despite the lack of extensions, Grasshopper Connect has a diverse set of calling and customer management features.
Included with Grasshopper Connect

Business contacts
Mobile and desktop apps
Email integration
Timeline view
Call holding and Blocking
Voicemail
Unified messaging
Business texting
What are the Top Grasshopper Business Phone Features?
Grasshopper's features, which are available on all plans, will help small businesses work on a level that's typically reserved for their larger competitors. For example, Grasshopper's mobile VoIP app has the same functionality available from the desktop-based application, enabling remote workers to manage clients and make calls from just about anywhere.
Here are a few other features that will be critical for a Grasshopper subscriber.
Custom Phone Numbers
Your number is important since it's the preferred way for customers to interact with businesses. Few services allow you to choose your numbers but with vanity, toll-free, or local numbers, you can build your brand and ensure customers remember your number.
Vanity Numbers: This is a tool that will make your business more memorable. An example of this could have the business's four-letter name appearing after the exchange portion of the telephone number. Vanity letters can be used for any digit after the area code. This will allow it to be used with either toll-free or local numbers.
Toll-Free Numbers: When a business wants to appear to be larger, toll-free numbers will make them seem like a national rather than a local organization. National presence through a toll-free business number adds legitimacy to brands in the eyes of the customers.
Local Numbers: Conversely, Grasshopper also provides the ability to create local numbers. Local numbers will make a business appear more local, which some customers prefer when they want to support local businesses. With a local number, the business doesn't always have to be present in the geographical location.
In addition to those services, Grasshopper offers number porting for existing numbers. The time frame for a number port will vary based on the previously-held provider. In many cases, this will take as little as a week for a full port of an existing number to Grasshopper.
Creating new numbers and porting over old ones is a useful way to bring in new customers. Grasshopper has great tools, but our guide on how to get a toll-free number will inform you of the ease of use for non-subscribers.
Gmail Integration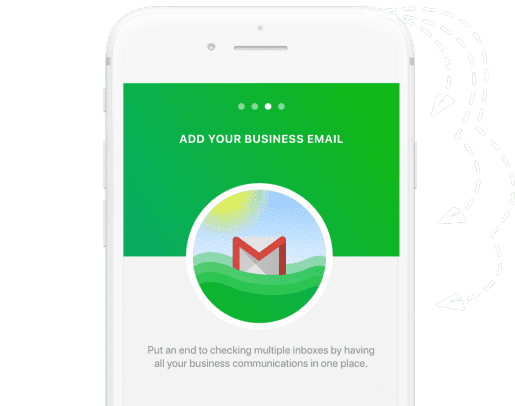 This feature is available to Grasshopper Connect subscribers. It allows the subscriber to sync their Gmail or G Suite accounts to their business phone number. This way, all communications coming from a particular client or customer will be incorporated into the same inbox. This will include calls, texts, and emails.
Business Texting
All Grasshopper plans include business texting, which will be a major feather in the cap of any business. Colleagues on the same Grasshopper plan can collaborate at no extra charge, and they can also use it as a multichannel outbound and inbound method of communication with customers. An increasingly high number of people would prefer a text-based form of contact with a brand, and this Grasshopper feature opens up this channel.
64% of businesses should use texting as a channel for reaching out, according to a recent study. This business texting feature is completely independent of the built-in texting apps on smartphones. The feature also allows users to check their business texts on desktop devices.
Voicemail Transcription
For businesses where compliance and regulation are a must, call recording and a paper trail are a must. Voicemail transcription uses voice recognition technology to decipher your voicemails and transfer them via text and/or email. This allows users to quickly scan through them and make decisions without having to take the time to listen to them. A tool like this is a real timesaver for many small business owners and combined with its unlimited calling and call transfer features, teams are connected everywhere.
Automated Greetings
Unfortunately, Grasshopper doesn't allow its customers to record their audio greetings for their interactive voice response system. Instead, they have a professional voice studio that will provide a greeting that is tailored to the business. An IVR recording through Grasshopper has several potential configurations. One example states, "Thank you for calling <business name>. If you are a current client, please press one. For new inquiries, please press two."
The IVR recordings from the voice studio are crystal-clear and professional-sounding. The auto attendants and automated messaging of Grasshopper help customers perceive a business as having a national presence with a higher level of credibility.
Outbound Calling Features
When dialing from a smartphone or landline, contacts will see the Grasshopper number and not the personal number being used on their caller ID. When there's no cell reception, users can also use VoIP service providers or Wi-Fi to make business calls.
Being able to switch to a mobile platform also provides a high level of convenience for those agents that need to travel frequently. Mobile communications systems are becoming increasingly important, especially in virtual office environments, but providers need to provide the key features that support remote work. Grasshopper's smartphone app has features like on-hold music, multiple extension support, and call forwarding.
All of these features will make agents in-transit seem more grounded, even when there's no traditional office environment. A solution like Grasshopper makes the adoption of mobile communications methodologies very easy. The app is available both on Android and iOS.
Grasshopper Support
Grasshopper has 24/7 phone support and a dedicated support center on their website for both their base product and Grasshopper Connect. The site has dedicated troubleshooting and how-to tutorials that will help users get set up and get past hiccups.
When calling in, Grasshopper customer support is very helpful – the support team will walk customers through the features of the applications and are very patient with customer queries. Support is also pretty quick with responses, which is important for businesses that may need help immediately with call quality issues and service needs. The reps will follow up with emails after the call to be sure any issues were resolved appropriately.
Overall Grasshopper Customer Experience
Grasshopper is a business phone service for small companies that need a solid unified communications experience. They have multiple features that are useful for entrepreneurs, 24/7 support, and a plan structure that allows for scalability and customization. UC isn't just for the large enterprise-level clients, and Grasshopper proves this, while still being part of the GoTo Suite, which includes services like Jive and GoToMeeting.
With simple integration with the rest of the GoTo suite, conferencing calling and web conferencing are a breeze.
Grasshopper still has a few noteworthy weaknesses. It's important to understand that Grasshopper starts to falter a bit with larger organizations – even their top-tier plan is designed for five numbers with unlimited extensions. There's also no real contact center support with Grasshopper, which is a feature common to many top-end UC solutions.
The lack of a need for existing hardware is a common rallying point for hosted PBX solutions, but Grasshopper takes this to a new level. There's no provisioning for existing PBX or SIP trunks with Grasshopper, so businesses with these systems won't find much use for a provider like this. Additionally, any hardware that's used for Grasshopper will have to be pre-existing.  Most businesses will have their agents and salespeople utilize personal smartphones.
If a business wants a complex IVR system that will route their customers to various departments, this business might find Grasshopper somewhat lacking. Grasshopper doesn't allow for complex call routing of more than a few options.
Grasshopper Unified Communications is Perfect for SMBs
Many of these weaknesses are minor when taking the intended audience of Grasshopper into account. This is especially true when weighing the utility of having an inexpensive UC solution that's easy to use for freelancers and entrepreneurs. As a company grows, they may seek out Grasshopper alternatives, but when first starting out, this is a solution that will help evolve your organization's communications.
Just like any other business phone service, Grasshopper has its pros and cons, but it's worth the due diligence to decide whether it's a great fit for your business. It's important to note that Grasshopper is one of the top business VoIP providers, and a solution like this will truly make a difference when you're trying to broaden the professionalism and reach of your small business.