A toll-free number is a phone number that can be dialed from a landline phone with no charge to the caller. It boosts customer recognition and makes your business appear much more legitimate than using a personal or standard business telephone number.
Many VoIP providers include a variety of local, international, vanity, and toll-free numbers with your existing business phone service plan.
Let's take a look at how toll-free numbers work, their benefits, which providers offer the best plans, and how to get a toll-free number for your business.
Jump to ↓
What is a Toll-Free Number?
A toll-free number is a business phone number that begins with differentiating three-digit codes called number prefixes. The most common toll-free number prefixes include 800, 888, 877, 866, 855, and 844.
Toll-free numbers are most often used for customer service needs, to facilitate purchases, or to provide more information about a company.
How Does a Toll-Free Number Work?
The owner of the toll-free number is the one who pays for the phone calls made to and from the number, while the call is entirely free to the person dialing the number even if they're technically placing a long-distance call from Canada or anywhere in the world. (Note that the only way the caller would be charged is if they place the call from a cell phone that does not offer unlimited minutes.)
Additionally, as long as toll-free numbers have been enabled to send/receive messages, callers may also contact the numbers via SMS texting.
In terms of features, toll-free numbers have come a long way.
In the past, they were used for receiving customer calls only, but today, many toll-free number providers offer advanced calling features like call recording, IVR/auto-attendant, call routing, call forwarding, and call queuing.
Toll-free number providers (called "Responsible Organizations" or "RespOrgs") reserve and manage these numbers for their customers. Customers who want to buy a toll-free number technically do this through RespOrgs. Any number that has not been claimed, or if previous ownership has expired, is available for purchase, much like a website address.
Once a customer selects and purchases their preferred number, they own it. They can legally transfer it in or out of any provider they choose. The FCC doesn't provide any information about the owners or status of a toll-free number — that information is found in a database that only RespOrgs (number providers) access.
Benefits of Toll-Free Numbers
Still can't decide if your company really needs a toll-free phone number?
Take a look at the benefits below. They might just change your mind.
Added Legitimacy
Over 58% of people say they'd rather call a toll-free number than a standard local one.
Smaller businesses and startups benefit from the added legitimacy of using an 800 number rather than a local number. This allows them to look as established as larger competitors and makes clients feel as though these small businesses have all the same resources that enterprise companies do.
This benefit, of course, depends on the business' intentions when it comes to how they wish to brand themselves, but those who wish to scale can do so with a toll-free number.
Easy to Remember
We bet that the mere mention of toll-free numbers instantly calls to mind jingles or memorized toll-free numbers of other companies.
See?
They stick in your head — and they'll stick in your customers' heads, too. Toll-free phone numbers are easily recognized and remembered, which means that the next time a customer needs the services you offer, they'll call the number they know: yours.
Branding
Toll-free numbers are also great for branding. The most obvious example of a business marketing their vanity number is 1-800-FLOWERS.
Everyone knows what they sell based on the name, and everyone knows what number to call is if they're interested in buying flowers. You're killing two birds with one stone by streamlining the customer journey and making it more user-friendly.
Free to Your Callers
Finally, customers are more willing to call a toll-free number because they know it won't cost them anything.
Use that to turn that into an actionable request — calling for more information or to place an order —  that benefits your business. Leads and customers who aren't even sure if they need your product or service will feel more inclined to ask what your company's about.
After all, they have nothing to lose.
How to Get a Toll-Free Number
Let's take a look at how to get a toll-free number.
Once you've selected the provider of your choice, you'll need to see if the number you want is available by entering your desired number into a searchable number database. If the number hasn't been claimed by another business, you can purchase both the number and select a corresponding plan.
If the number has been taken, the provider will usually offer a variety of close alternatives that are available. If you have an existing toll-free number you want to continue to use, but with a new provider, number porting is available.
Of course, the most important step is finding the right provider for your business. The 10 options covered briefly in the table below, and in more depth later, are all top toll-free number providers.
Overview of 800 Toll-Free Number Providers
Use the table below to compare pricing and features of top toll-free number providers.
| | | | | | | | | | | | |
| --- | --- | --- | --- | --- | --- | --- | --- | --- | --- | --- | --- |
| Provider | Pricing | Call Forwarding | Call Blocking | Call Recording | VoIP Phone Services | Vanity Numbers | Auto-Attendant | Call Routing | Desktop/Mobile Apps | Texting | Shared Lines |
| RingCentral | 4 paid plans from $19.99/user per month to $49.99/user per month | Yes | Yes | Yes | Yes | Yes | Yes | Yes | Yes | Yes | Yes |
| FreedomVoice | 3 paid plans from $9.95/month for 400 minutes to $29.95/month for unlimited minutes | Yes | Yes | Yes | Yes | Yes | Yes | Yes, smart number routing | Yes | Yes | Yes, unlimited users |
| Grasshopper | 3 paid plans from $29.00/month for one number to $89.00/month for five numbers | Yes | No | No | Yes | Yes | No | Yes | Yes | Yes | No |
| MightyCall | 3 paid plans from $29.99/user per month for 2 toll-free numbers to $99.99/user per month for up to 10 toll-free numbers | Yes | Yes | Yes | Yes | Yes | Yes | Yes | Yes | Yes | No |
| 800.com | 3 paid plans from $19.00/month for 1,000 minutes and 1 toll-free number to $199.99/month for 5 toll-free numbers, unlimited seats, and up to 5,000 minutes. Vanity numbers available with a $35.00 activation fee | Yes | Yes | No | No | Yes | Yes | Yes | No | Yes | No |
| CallHippo | 4 paid plans from $15.00/user per month to $45.00+/user per month | Yes | No | Yes | Yes | Yes | Yes | Yes | Yes | Yes | Yes |
| Kall8 | A variety of paid plans ranging from $10.00/user per month to $199.00/user per month, paid add-ons available | Yes | Yes | Yes | Yes | Yes | No | No | No | Yes | No |
| Phone.com | 3 paid plans from $12.99/user per month to $29.99/user per month | Yes | Yes | Yes | Yes | Yes | No | Yes | Yes | Yes | Yes |
| GoDaddy | Only 1 paid plan for $19.99/user per month includes a toll-free number | No | No | No | No | No | No | No | Yes | Yes | Yes |
| Dialpad | 3 paid plans from $15.00/user per month to $25.00+/user per month, Each toll-free number costs an additional $15.00-$17.00/month, plus $.02/minute | Yes | Yes | Yes | Yes | Yes | Yes | Yes | Yes | Yes | Yes |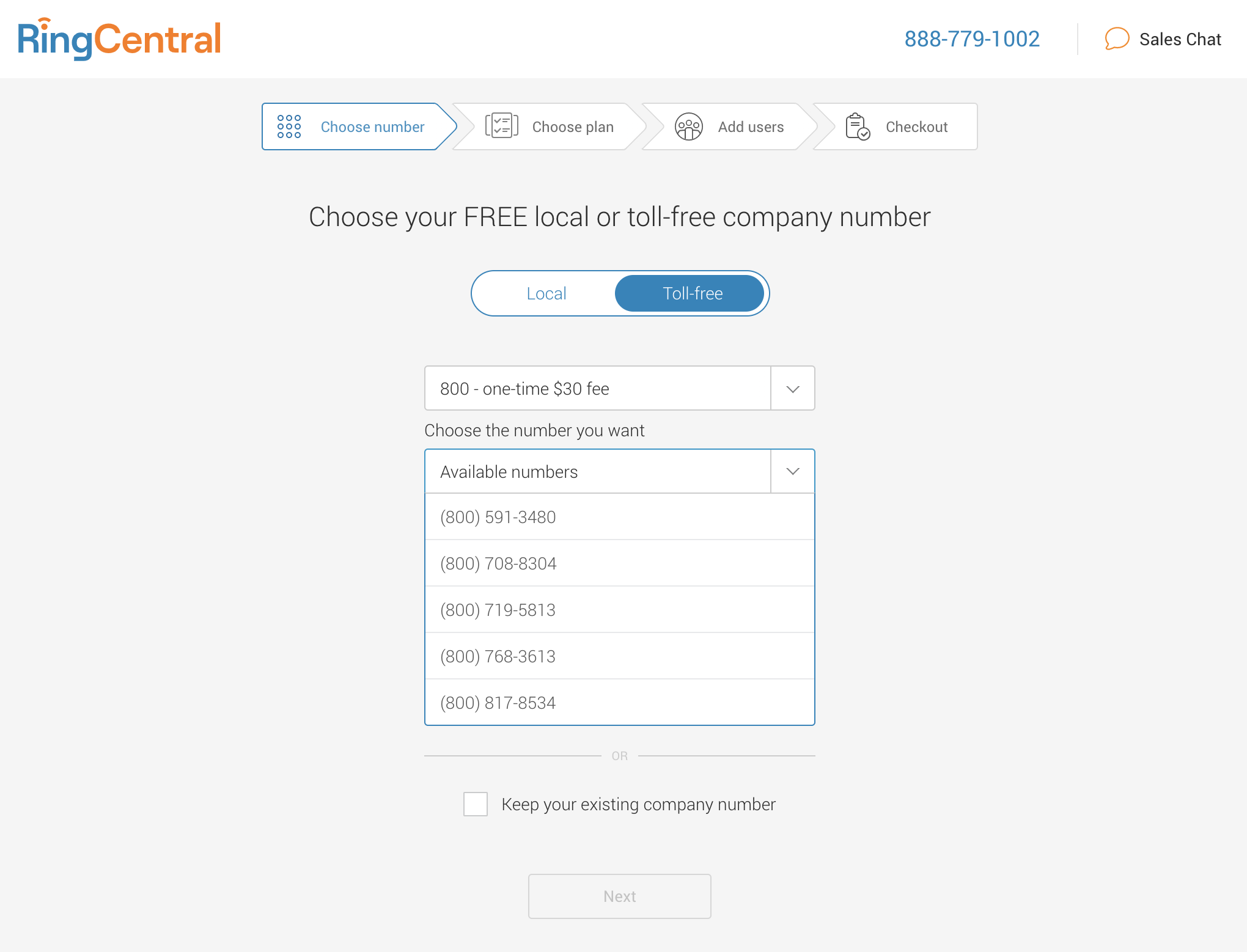 RingCentral, a top leader in UCaaS, offers vanity and toll-free business phone numbers. "You can choose the instantly recognizable 800 toll-free code or choose from 888, 877, 866, 855, and 844," they say on their website. Variety is key when it comes to getting a toll-free 800 number instantly.
What makes their service so powerful is the fact that if you have a toll-free number from a different provider, you can import that number directly to RingCentral to ensure everything stays the same. Minute bundles range from 1,000 to 100,000 to ensure all business owners.
RingCentral is Best For: Businesses that need a complete VoIP phone system that offers toll-free phone numbers and vanity numbers. Users may need one toll-free number or multiple ones, which can be purchased for an additional $4.99/number per month. With features like faxing, conferencing, screen sharing, and call logs, RingCentral offers businesses the tools they need to ensure toll-free numbers are not just easy to acquire, but also fit into an already-existing business strategy optimized for unified communications.
What's Lacking with RingCentral: RingCentral doesn't offer a standalone phone number service, meaning there's a good chance users will end up paying more than they need. Automatic toll-free minute purchasing if minutes have been used up is convenient, but can easily lead to being over-charged for minutes that remain unused — especially since overcharge pricing is nearly 4 cents a minute if additional bundles aren't purchased.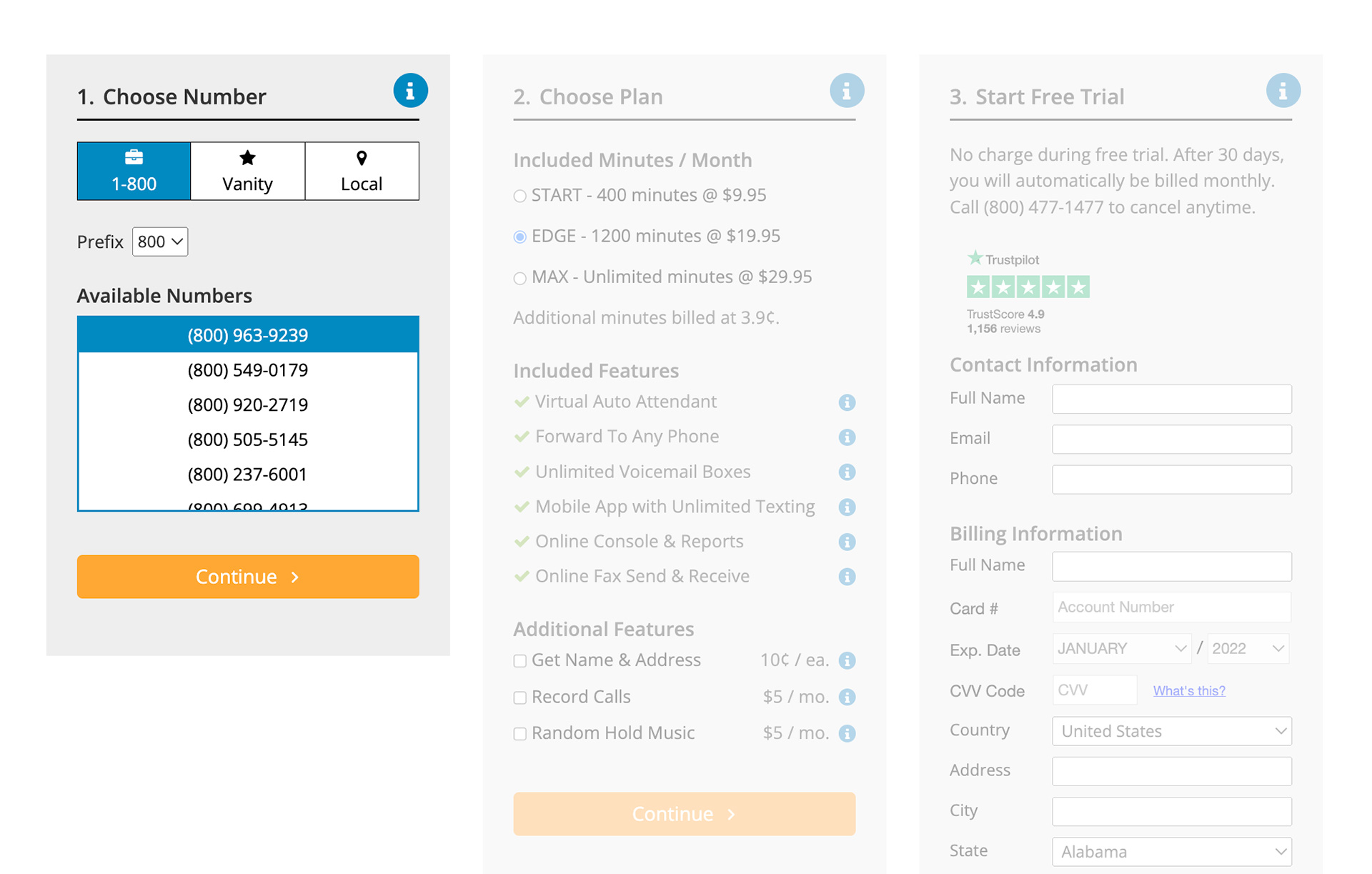 FreedomVoice offers full-featured toll-free numbers (called CloudNumbers) that come with tools like a virtual attendant, custom greetings, SMS messaging, virtual faxing, and a mobile app.
Plus, FreedomVoice has long been a trusted name in the toll-free world, as they've been in the business for over 20 years. Unlike other toll-free number websites, FreedomVoice offers an intuitive website that makes in possible to purchase and set up a number in just a few minutes.
When you view their pricing, you're instantly brought to a simple page that outlines whether you want a local number, vanity number, or 800, 888, 877, 866, 855, 844, 833 number. Their paid plans are affordable and minute-based, available in blocks of 400 minutes, 1,200 minutes, or an unlimited amount of minutes. FreedomVoice also offers a free 30-day trial.
FreedomVoice is Best For: Solopreneurs or small businesses (FreedomVoice was specifically designed for 1-4 users) that prioritize mobility and ease of setup will benefit most from FreedomVoice. Ideal clients are newer companies that don't need an entire business VoIP phone system just yet, but are interested in the possibility of scaling up over time. FreedomVoice customers are looking to add legitimacy to their company by offering clients a toll-free or vanity number from a cheap provider.
What's Lacking with FreedomVoice: With FreedomVoice, you get what you pay for — which isn't a lot, especially when compared to other providers. Though the installation and setup process is simple, the interface itself is certainly outdated. Plus, key features like call recording and voicemail transcription are paid add-ons — but their pricing is nowhere to be found on the FreedomVoice website. Finally, it's built as a plug-and-play solution — meaning users that want a desktop softphone are forced to upgrade to more expensive plans with no real additional feature benefits.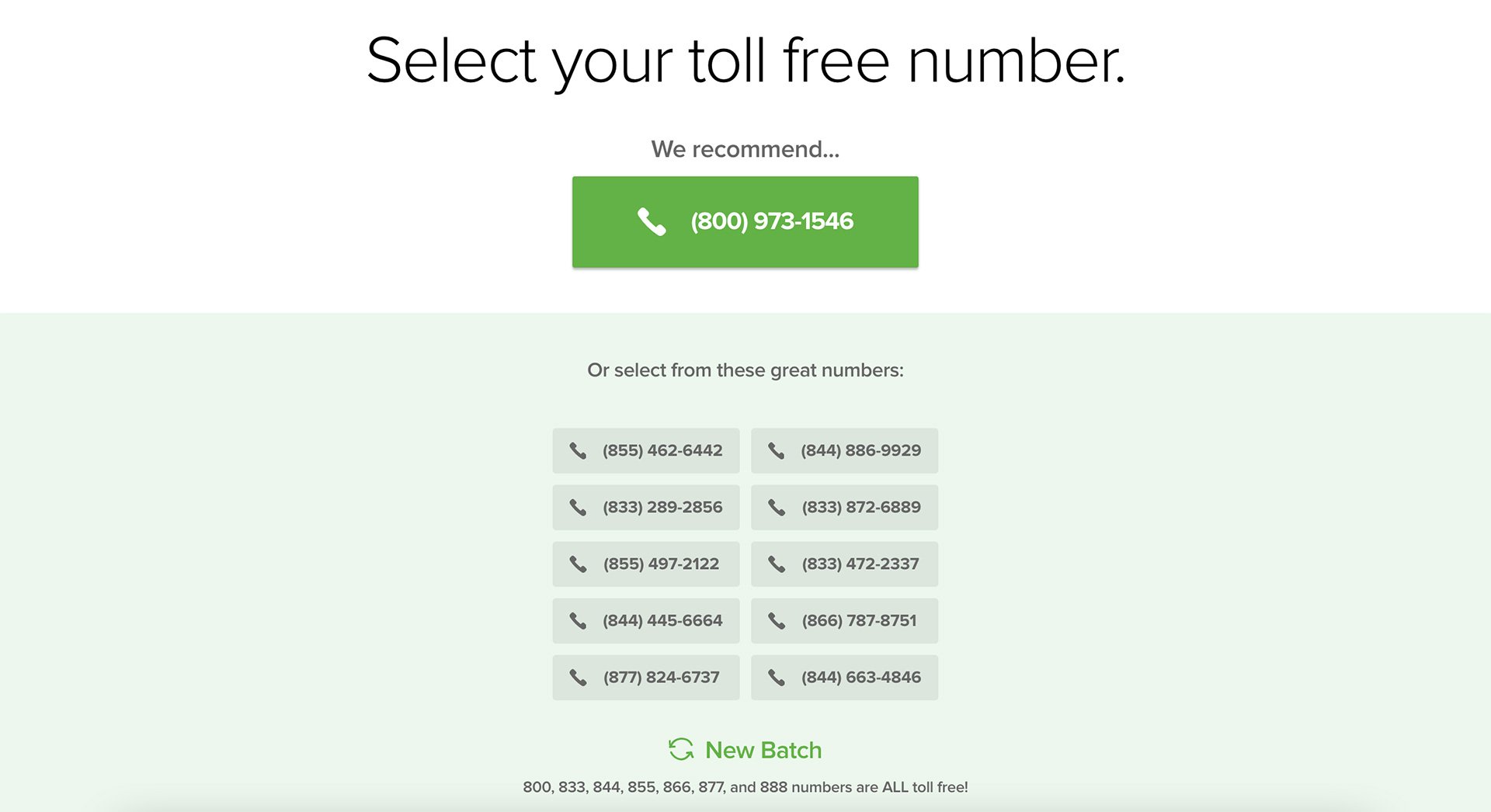 Grasshopper is a toll-free number provider offering 800, 877, 888, 866, 833, 844, and 855 numbers. It was created to offer exclusively toll-free and vanity numbers, but recently added local numbers.
Grasshopper is unique in that all of its plans offer the same features, which include call forwarding, visual voicemail, call blocking, call history, call transfers, and schedule-based call routing. What changes per plan is the number of phone numbers and available extensions.
Grasshopper frequently updates its available toll-free numbers, and additional numbers are available for purchase for $10.00/number per month.
Their service also comes with multiple lines , unlimited minutes for every plan, and the ability to text from your toll-free number. But the fact that Grasshopper doesn't offer call recording — even as a paid add-on — renders it useless for many.
Grasshopper is Best For: Grasshopper offers great plans for businesses of under 3 employees or "side hustle" solopreneurs that primarily want to protect their personal phone numbers by easily getting a toll-free number ASAP. They don't need all the bells and whistles — but they won't be able to upgrade to them if they do later on
 What's Lacking With Grasshopper: Grasshopper is best thought of as a more modern version of FreedomVoice — meaning that it just doesn't have the features of complete business phone systems like RingCentral. The biggest issues are that there is no automated IVR call menu and that users who want any kind of advanced call routing have to pay extra for a live receptionist (something a business of three people in one office doesn't need.) For the high cost of the service compared to the features offered, most businesses won't find Grasshopper worth it.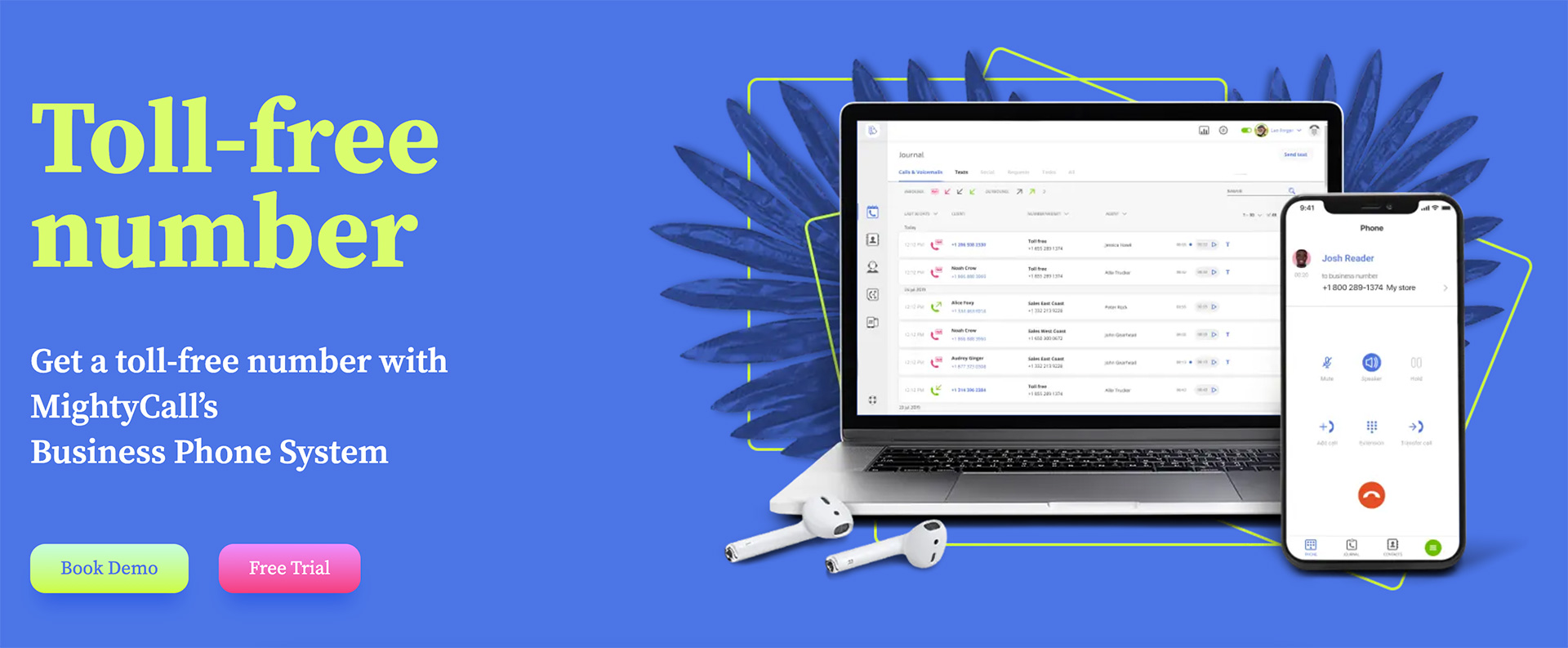 MightyCall describes itself as a virtual phone system specifically designed for small teams, and if offers toll-free and local numbers. This means when signing up, users don't just get a new number — they get the added benefit of advanced features landlines can't offer.
Best of all, MightyCall offers an unlimited number of users for free, unlimited monthly toll-free minutes on its top two plans, and basic native Customer Relationship Management (CRM) tools even top VoIP providers don't have.

Because they're a VoIP provider, their toll-free numbers come with the features found in a typical business VoIP solution, such as:
– Call forwarding
– Call recording
– VIP/blacklisting
– Mobile app
– Call routing
– Toll-free texting on desktop and mobile
There's no hardware needed and users can port an existing number for free. To sign up instantly, all you have to do is click their sign up button, put in your location, select a plan, and choose how you'll pay.
MightyCall Is Best For: Quality VoIP phone system features such as unlimited calling, call queues, visual call flow configuration, mobility, and call forwarding on any device make it easy for startups who want both high-quality toll-free number and VoIP services in one neat, affordable package. Plus, plans come with blocks of 2, 5, and 10 local or toll-free numbers, making it an excellent deal.
What's Lacking in MightyCall: No pay-as-you-go option leaves startups in a tough spot regarding whether or not they should upgrade from the most basic plan to their standard plan. Plus, there is very little information available about the features and true functionalities MightyCall offers, which leads us to suspect potential hidden fees down the line. When compared to other standalone toll-free number providers, MightyCall comes out on top. But when compared to other VoIP providers, a lack of features like video calling, integrations, and advanced call routing options take MightyCall out of the running.
5. 800.com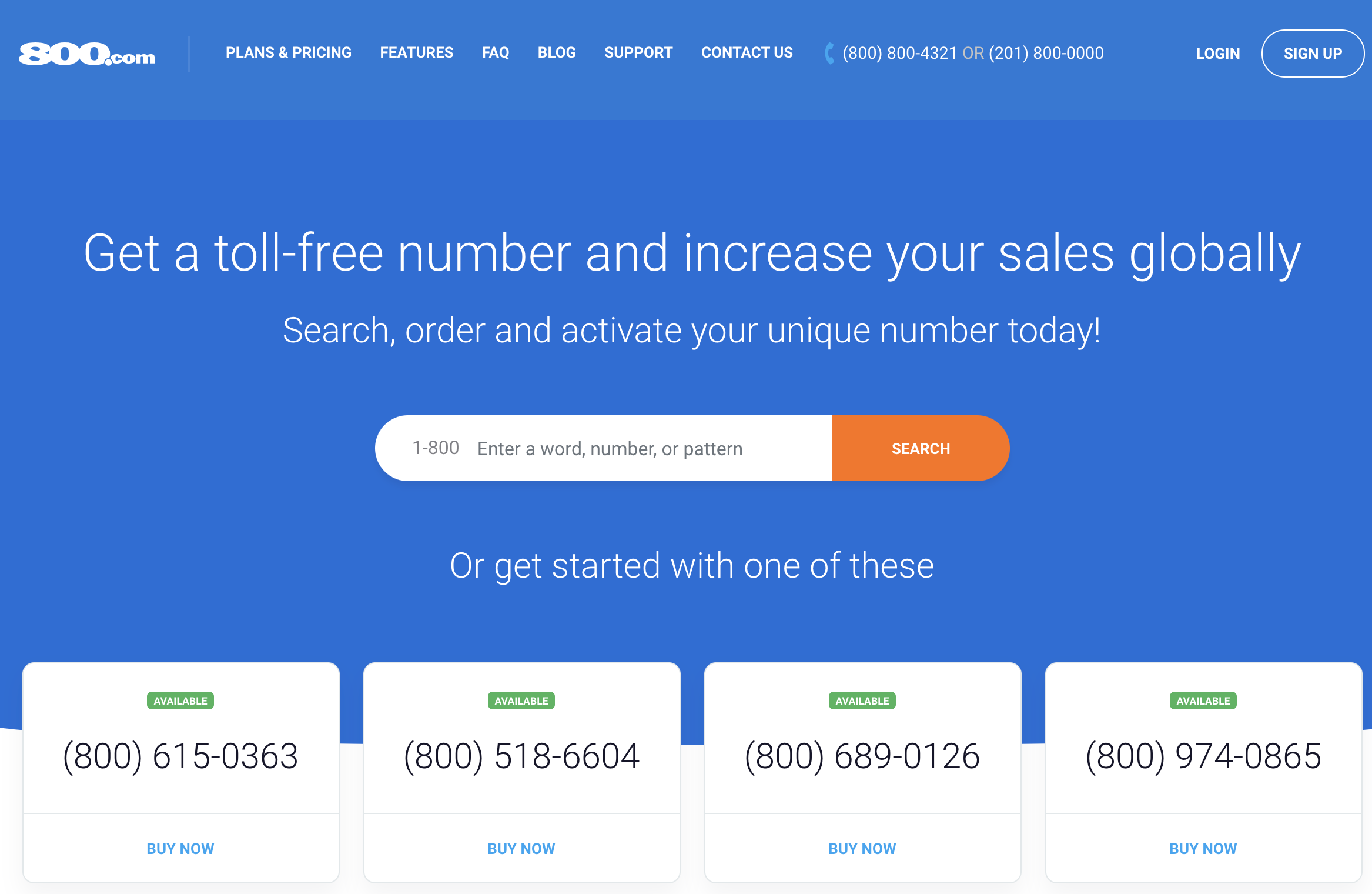 800.com is a top dedicated toll-free number service provider because it's easy to use, makes finding available numbers and number alternatives simple, and allows users to buy numbers right from the home page.
800, 888, 877, 866, 855, 844, and 833 numbers are all available, giving users a wide variety of options to choose from, and call notifications to desktop and mobile devices offer excellent flexibility.
What makes 800.com unique is that it lets users choose between a plan that offers unlimited toll-free minutes per month and one that offers unlimited seats with a limited amount of monthly minutes (5,000.) This lets businesses easily match a plan with their priorities and needs.
Other 800.com features include:
– Texting
– SMS
– Simultaneous or sequential call forwarding
– Call notes
– Faxing
– Voicemail transcription
800.com is Best For: Users looking for a no-nonsense solution that spoon-feeds users the steps they need to instantly get a toll-free number will love the convenience of 800.com. Though the plans are expensive, number parking allows businesses to only pay for when they use the service.
What's Lacking With 800.com: No call recording or auto attendant for the high price (one plan is $200/month!) will likely force subscribers to look elsewhere for cheaper service with more features. In other words? Convenience comes with a price – one that doesn't match with the barebones features offered.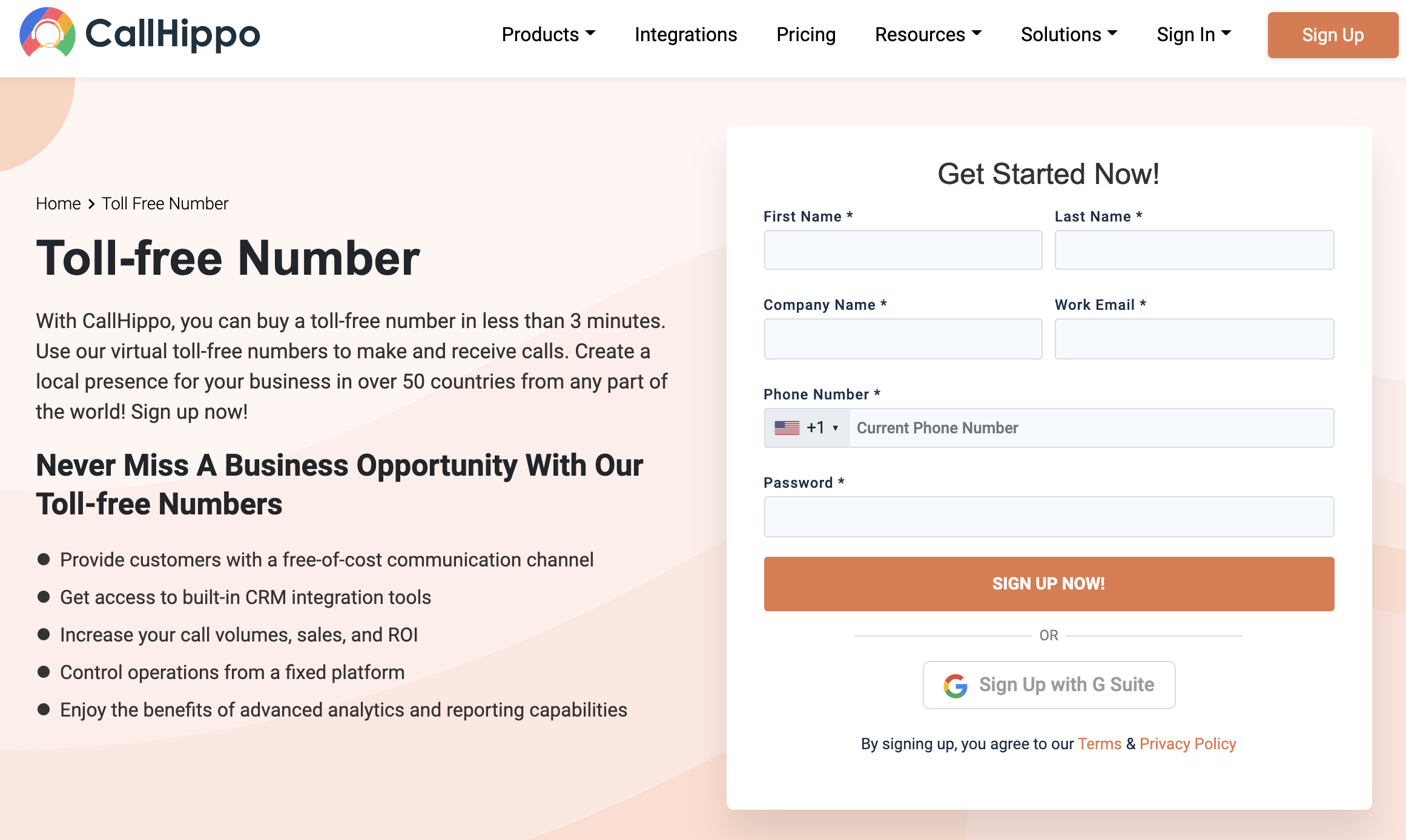 CallHippo is a virtual phone system offering toll-free 800 numbers in over 50 countries.
Multiple users can use the same toll-free number via number extensions, whie skills-based call routing ensures that your customers are directed to the best available agent. Call tagging, holiday routing, shared voicemail boxes, and more help to optimize call queues.
Additional features include:
– SMS
– Call forwarding
– Unlimited inbound calls
– Analytic reports via email
– IVR
– Compliant call recording
– Priority-based routing
– Custom integrations
– BYOC
– Call transfer
– Call barging
CallHippo is Best For: Businesses that either work in different countries or have customers overseas will benefit from the fact that numbers can be bought from 50-plus countries. Plus, it's also a good solution for businesses who need a more complete business phone system than a standalone toll-free number can provide, but who are still on a tight budget.
What's Lacking With CallHippo: In the past, CallHippo has primarily been seen as a toll-free number provider, not a complete phone system. Now that they've made the switch to a business phone solution from a standalone number provider, it's clear there are still quite a few kinks to work out. Now, it's nearly impossible to find any information about toll-free numbers on their homepage, as it once was. The sign-up process, which was once simple, is now quite complex – hardly something that can be accomplished "in three minutes," as the website claims.
7. Kall8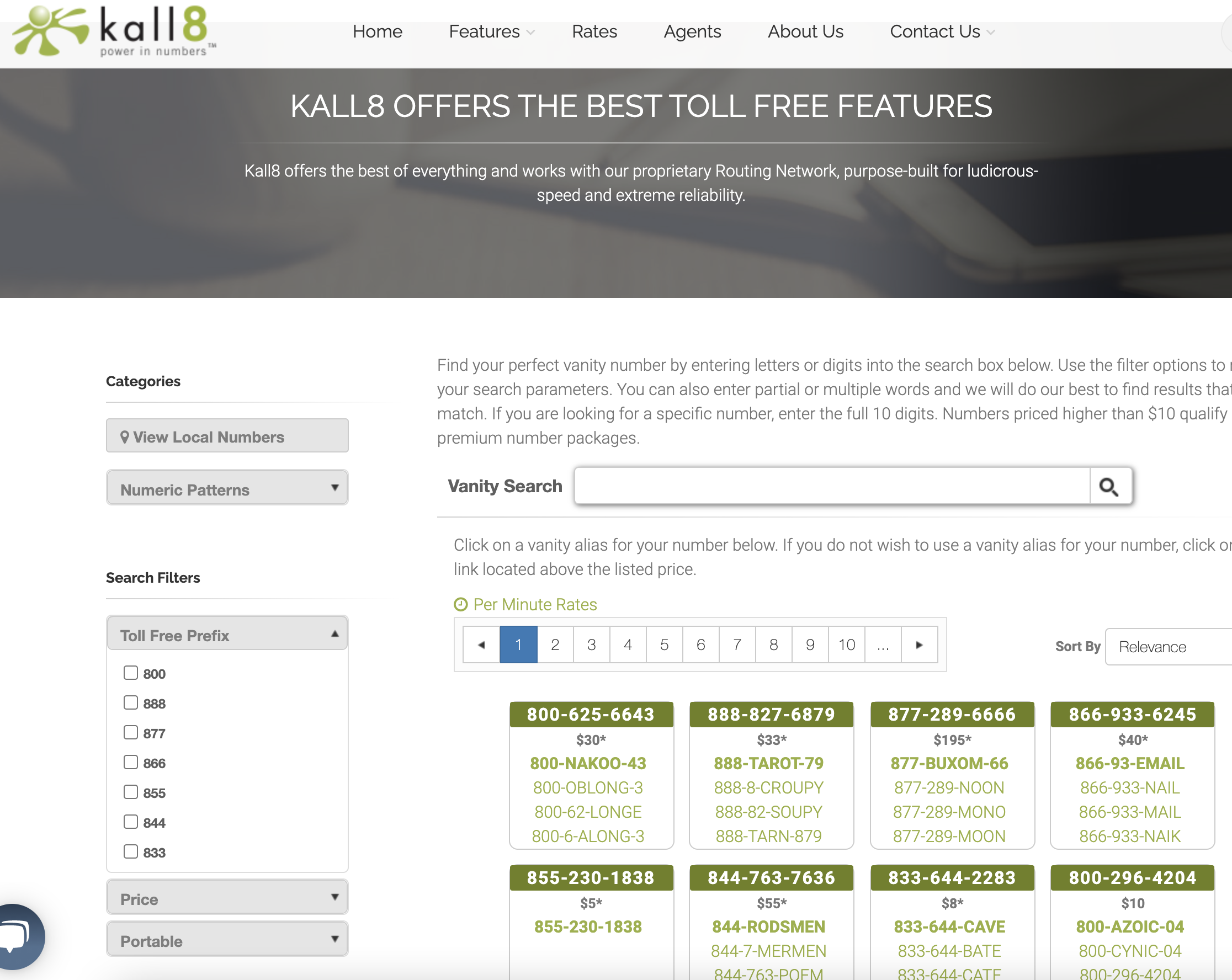 Kall8 is a standalone toll-free numbers provider that lets users receive a number instantly upon sign up. Visitors can also search for available 800 and vanity numbers before they sign up.
Kall8 just recently launched its mobile app, adding a new layer of flexibility for remote and blended teams. Unlike many other providers, Kall8 offers different rate for standard, (888, 844, 855, etc.) vanity, premium, (800) and repeating (888-812-1212) numbers. Users can also transfer existing numbers.
In addition to bundled packages with features like texting, call recording, hunt groups, call announcement, and more, Kall8 also offers  a pay-as-you-go service. There's no pressure to commit to a plan that's way more or way less than what is needed. One feature that stands out with Kall8 is their online management, which allows users to keep track of certain call metrics and call history.
Other features include:
– Call announcement
– Call forwarding
– Call blocking
– Call reporting
– Virtual Calling Card
– Maximum call length
Kall8 is Best For: Businesses looking for a pay-as-you-go toll-free service, for startups who want to pass themselves off as a legitimate bigger, company worth doing business with. Its also right for don't want to lock themselves into contracts because of the shaky nature of starting a new business. Instead, they want a cheap plan that's primarily just for voice calls — no excessive bells and whistles.
What's Lacking With Kall8: Pay-as-you-go can also add up quickly when startups begin to scale, which might force businesses to look elsewhere when that time comes. Plus, while Kall8 is unique in that it offers a variety of pricing options and phone numbers, the pricing structure is incredibly confusing and difficult to pin down.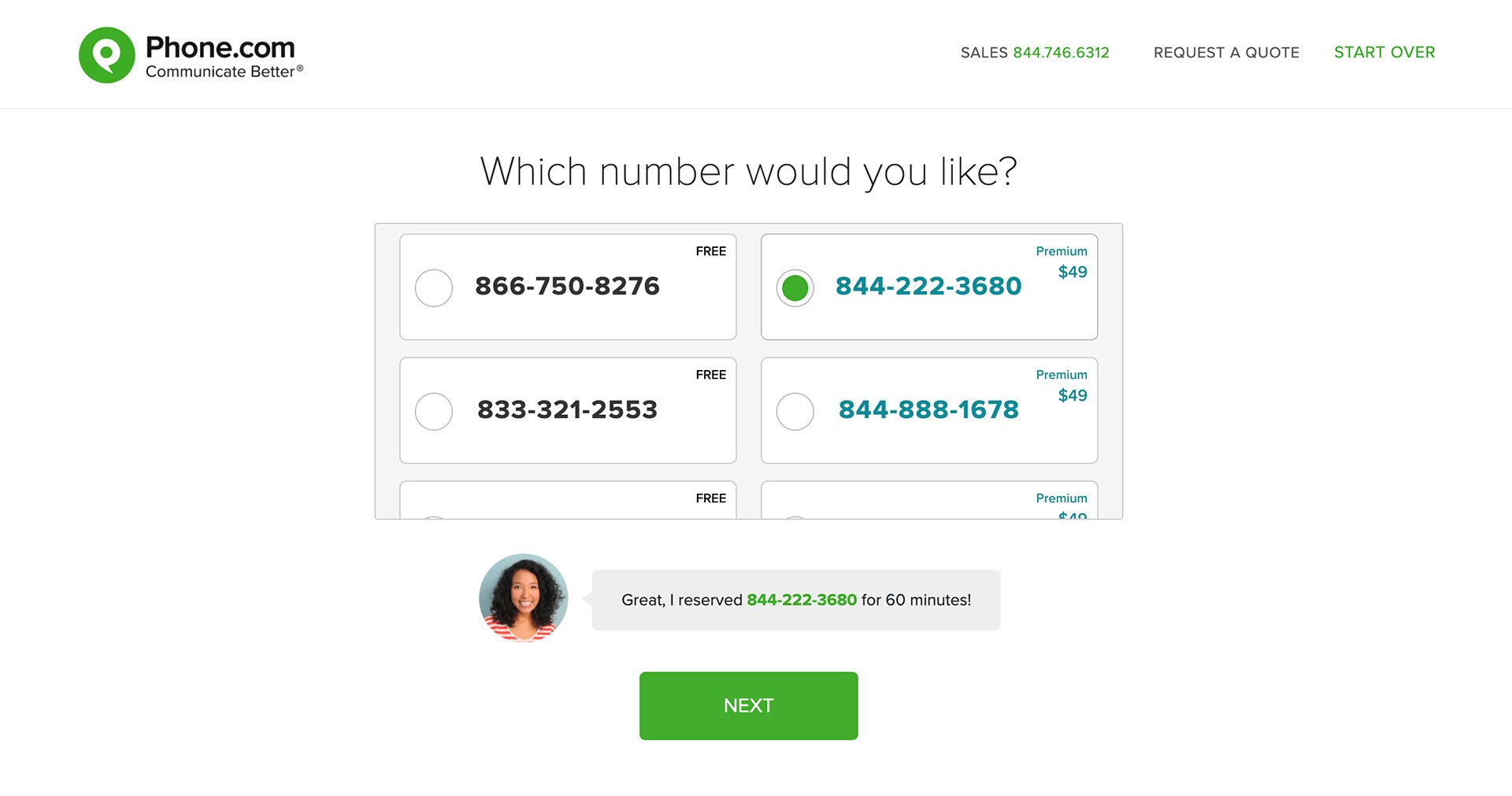 Phone.com allows businesses to work with any kind of device, such as softphones, traditional landline phones, mobile phones, and ring-ready IP phones. Their service also comes with HD talk and voice to ensure sound quality is professional and your business continues to give off a professional vibe regardless of size and how established you are. Little details like these matter and Phone.com has them covered.
Each of their three paid plans comes with one toll-free number, and vanity numbers are also available. Phone.com plans offer voice calling, pooled text segments, pooled monthly minutes, and video conferencing in addition to standard VoIP phone features.
There are a number of ways for businesses, leads, and customers to communicate with each other, which is beneficial to anyone who's looking to optimize their business' omnichannel customer service strategy.
The most unique thing about Phone.com is that plans are purchased on an individual, "per user" basis. Each user tier (plan) provides access to scaled features, like unlimited calling and texting, call recording, and CRM integration.
Phone.com is Best For: Any company who's looking to implement basic omnichannel communication with CRM capabilities into their business strategy — affordably. Given the flexibility of user pricing and pooled minutes, startups and other new businesses will especially love the affordability and scalability Phone.com offers.
What's Lacking With Phone.com: Phone.com's greatest strength to some is its greatest weakness to others. Compared to other providers, it offers relatively few VoIP calling features and does have a higher price point considering the somewhat "standard" capabilities it includes.
9. GoDaddy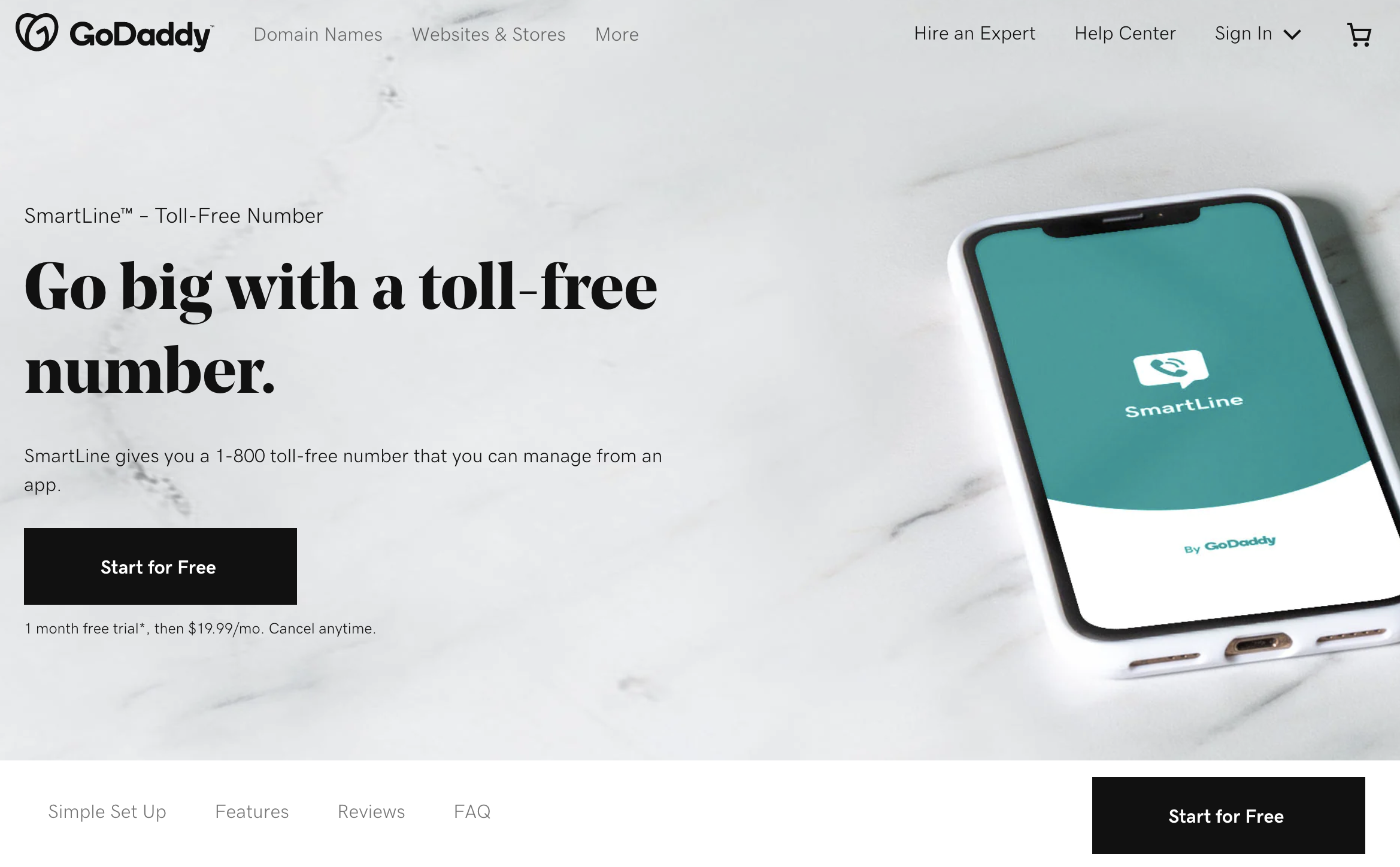 GoDaddy SmartLine offers toll-free 800 numbers that are easily manageable via the Smartline Apple or Android mobile app.
Users won't need any hardware/equipment, and the service doesn't require a long-term contract. GoDaddy is refreshingly transparent about pricing, as it has only one toll-free plan for $19.99/user per month. It also offers a free one-month trial. If you can spare five minutes, that's all it takes for your business to have its new toll-free number up and running with SmartLine.
That said, GoDaddy doesn't offer advanced features and only offers US toll-free numbers.
Instead, it offers the basics only, like caller ID, SMS texting, missed call notifications, and voicemail. Hours-based call routing is also available.
GoDaddy is Best For: Microbusinesses and startups that, for the moment, only need an additional phone number/toll-free voice calling number. These teams are mobility-driven, need a user-friendly app, and don't have time for a complex sign-up process or to choose from a variety of plans. They just want a number ASAP.
What's Lacking With GoDaddy: GoDaddy is a barebones service that offers customers very few features, even those that are standard with other providers. If all you're looking for is a source for 800 numbers, GoDaddy is a good choice. However, be aware that you're paying the same amount as other providers and getting a lot less.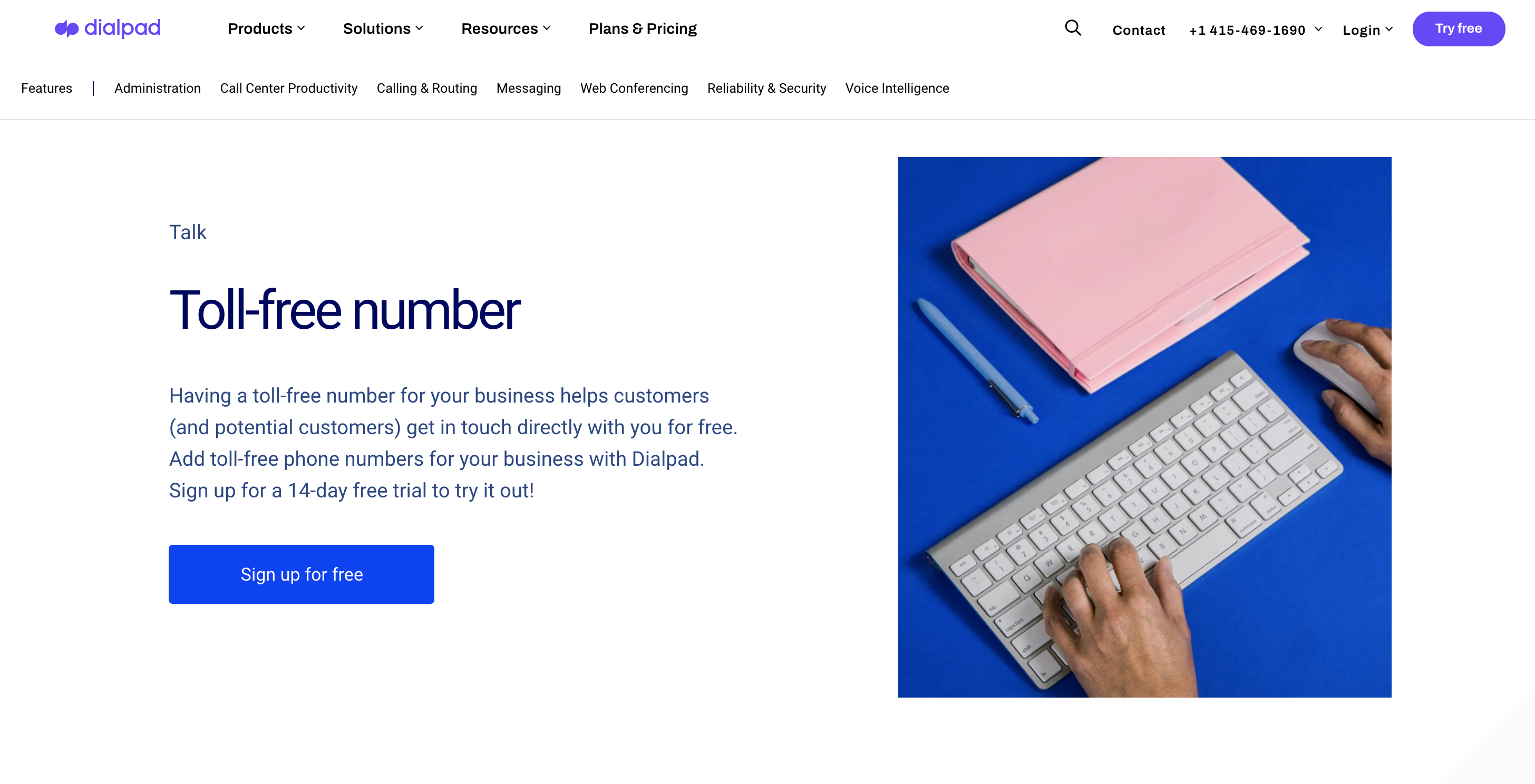 Despite Dialpad being one of the younger players in the VoIP space, this company founded in 2011 has quickly caught up to its competitors in multiple areas including toll-free numbers. You can add as many toll-free numbers as you want with rates at $0.02/minute for incoming calls.
Billed monthly, these numbers will cost an additional $17/month each. Those on an annual billing schedule will only need to pay $15/month for each toll-free number. US customers are exempted from the setup fee making this a particularly good deal for domestic companies.
You can also port your existing toll-free numbers by filling out a Letter of Authorization form. This process usually takes 5-10 business days assuming everything is up to par on the form you submit.
Once the port has been completed, an email will be sent to your Dialpad Administrator. You'll then have to option to assign the number either to a main line, department, or call center of your choice.
Credit usage can be tracked in real-time through your admin panel with monthly breakdowns of the key metrics. These include the number of calls, the date/time they were made, which department made/received the call, which number was used, the call duration, and total cost.
Dialpad is Best For: Companies looking to unify their communications and collaboration workflow will benefit from the extensive integration support that Dialpad plans brings to the table. This can include Slack, Zapier, G Suite, Salesforce, Zendesk, and more depending on your plan.
What's Lacking with Dialpad: The mobile app is less fleshed out than that of other service providers. It's not a deal-breaker but the functionality gap can be rather jarring when switching between platforms.
Tips for Getting a Toll-Free Number Approved
As you can see above, there are many providers that can help you get a toll-free number instantly. However, just because they have simple signup processes doesn't mean that you can just get your toll-free number approved instantly. The FCC puts specific limitations on toll-free and vanity numbers. For example, they're sold on a first-come-first-serve basis. Companies also can't horde vanity numbers without planning on using them.
With all this in mind, we want to offer some tips on ensuring the toll-free number you search for is approved quickly and requires little guesswork.
Use the new 833 toll-free prefix, and others like 888, 877, 866, 855, 844.
Don't limit yourself to vanity numbers.
Don't limit yourself to a true 800 number.
Try alternate spellings of an already-taken vanity number.
Use keywords your website ranks for.
Use the pre-made suggestions some providers offer you.
Use "overdials" if the word you want is too long.
These tips are short and simple, but that seems to be the trend when it comes to acquiring a toll-free 800 number. It doesn't take much to sign up and it doesn't take much to find one that's right for your business. With proper research and the ability to remain open to options other than true 800 numbers, you can sign up with a great provider and find a toll-free number instantly.
Bottom line: Who Should Use Toll-Free Numbers? 
While anyone can easily get and benefit from a toll-free business number, smaller businesses and startups looking to establish themselves and increase their credibility will find them especially helpful.
Toll-free numbers are also an effective marketing tool and offer customers and leads fast, memorable ways to connect with your company.
Many business VoIP solutions offer toll-free numbers as a feature in their service. There are also solutions that specifically handle toll-free numbers that make it even easier for businesses to acquire a toll-free number.
Remember, 1-800-FLOWERS believed in the power of toll-free numbers so much, they made them an integral part of their business model. They saw instant success, and even if you don't quite reach the same level they did,  you'll be surprised to see the positive impact toll-free numbers have on your business.
Toll-Free Number FAQs
Here, we've answered some of the most common questions about toll-free business phone numbers.
You can have as many toll-free numbers as you like, though keep in mind that adding more toll-free numbers with your current provider usually costs between $5.00-$10.00/user per month. 
Many businesses have separate toll-free numbers for: 
Branch locations

Departments

Specific marketing campaigns

Specific products
Standalone toll-free number services usually charge between $10.00-$20.00/month per user for their services, while complete business VoIP providers cost an average of $25.00-$50.00/month per user.

Number brokering is the illegal process (prohibited by the FCC) of buying up popular toll-free phone numbers and selling them at an enormous profit. 
Number porting is the process of moving your current toll-free number to another business phone system/number provider. 
It should not cost any money to port your toll-free number to a new provider, but the process can take anywhere from 5-21 business days after you submit a Responsible Organization Change Authorization Form.

If you want to completely change your number, you'll need to cancel your current subscription with your provider, or cancel the number itself, and choose a new one. Note that it may remain active for a while even after cancellation.