It's no secret that using Voice over Internet Protocol for your business communication needs offers a plethora of advantages.  That's why analog phone systems have been slowly phased out of most businesses in favor of business VoIP phone platforms. 
As we previously reported, 61% of large and small business owners switch to internet telephony after their PSTN contracts end. That's because those businesses have quickly realized the advantages that VoIP solutions have to offer — we'll cover just a few of the many benefits in this article.
Advantages of VoIP for Business
Here's a detailed look at some of the advantages you can expect when you switch your telephone service to a VoIP provider. 
1. Decreased Cost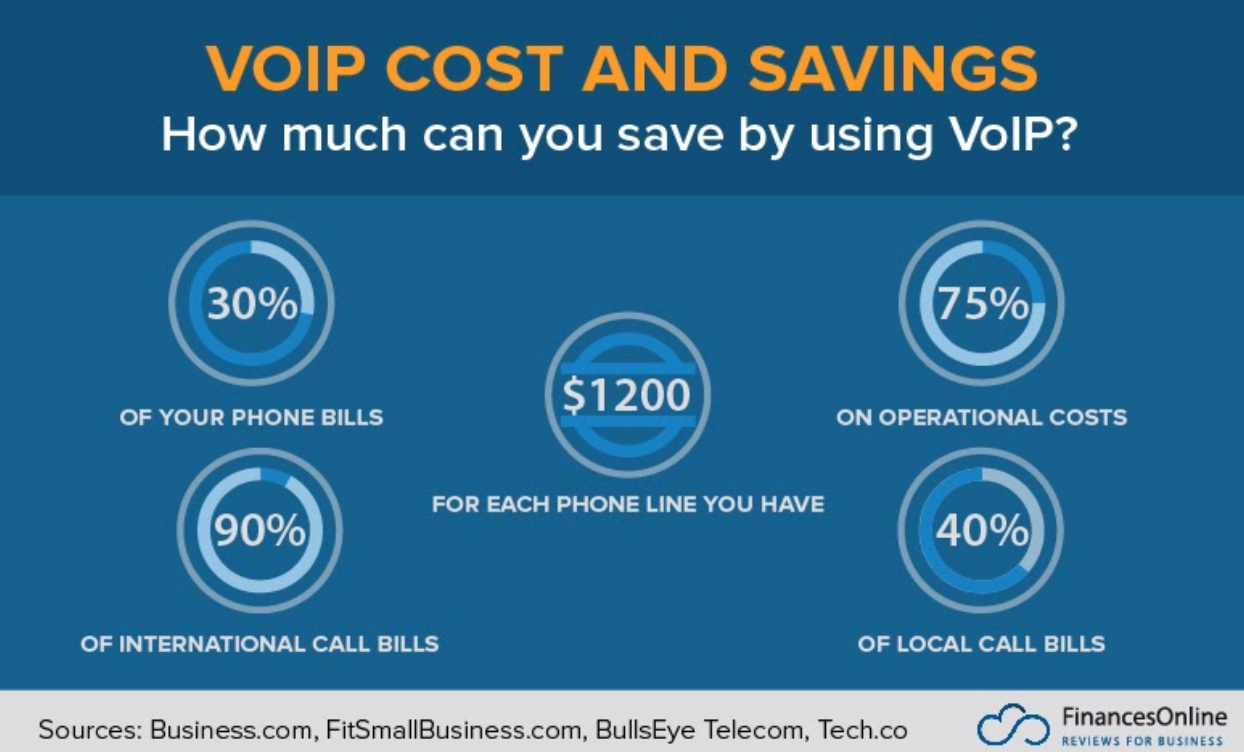 VoIP, for all its amazing features, is best known for how cheap it is to make a call. Those low costs are due to the fact that VoIP utilizes an existing internet connection, meaning you're just charged for internet usage. Compare this to traditional landlines that require physical hardware like wires, installation and maintenance fees, and expensive phone bills.
As cited here, "On average, a landline phone system (POTS) costs businesses $50 per line each month. This rate comprises local (and sometimes domestic) calls only. VoIP plans, in contrast, are available for less than $20 per line.
Here's a comparison of the specific savings you can expect when you switch from traditional phone service to an IP system.
PSTN Service
VoIP Service

Installation 

Connecting to a landline is expensive. These systems are installed on-premises, which incurs a setup fee. If you need additional copper wiring installed in your building, the price tag will continue to increase. 

VoIP installation is simple — just a router, modem, and a phone. It's easy enough to do yourself.

Cost of calls

As we

previously reported

, an average landline phone system plan costs about $42 per line. Tack on the average

$0.12/minute for long-distance calls and $0.39/minute for international calls and that price adds up.

Most

VoIP subscriptions cost between $20.00-$40.00 per user/per month and offer free unlimited calling in the US and Canada. 

Toll-free and vanity phone numbers

According to

Ringboost

, toll-free numbers can cost up to $100. Seven-digit vanity numbers can cost up to $1200. 

Toll-free numbers are often included with VoIP business plans. Some VoIP phone service providers will allow you to add a vanity number to your existing plan for a small one-time fee. 
2. Works on Any Mobile Device
Since VoIP services make calls by utilizing your internet bandwidth, you can take advantage of your service on any internet-enabled device. Because of that, your VoIP solution will likely come with an app that allows you to make calls on your mobile phone, laptop, and even tablet
This means you can work from anywhere with an internet connection. The coronavirus pandemic has forced most of the workforce to go remote, and odds are many people will choose to stay at least partially remote when it's safe to return to offices. 
That way, even if you cannot see colleagues and clients in person, you'll never miss a beat. These apps enable your team to operate at full capacity and productivity levels, even if you're not physically together. 
3. International Presence
As we previously reported, many business VoIP providers include unlimited international calling within their business phone plans. That's something you won't find with a traditional PSTN phone service provider. It's an invaluable tool for businesses with international clients. But for those that don't include unlimited plans, the calls are very cheap — about 3 cents per minute to most of the world.
Since you likely won't be traveling to your international clients anytime soon, VoIP software has another feature that can help to boost your international presence — telepresence. These platforms include cameras with software that follows your face or changes the angle according to whom is speaking at that moment. This isn't a common feature of most business VoIP providers, so you'll likely need to purchase a platform like Cisco Telepresence.
4. Remote Work Friendly
With VoIP, employees are empowered to work anywhere. Instead of building a new satellite office, and having to pay for rent and utilities, you can have them log in from any computer, or use any IP phone, and have them telecommute. Your telecommuting employees will use the same software that your call centers use, but they can work from home.
Similarly, important business calls can be made from anywhere in the world. With VoIP, you can prevent incurring expensive roaming charges and instead connect smartphones to your VoIP provider over any Wi-Fi hotspot.
This aspect has made VoIP service even more attractive during the coronavirus pandemic. COVID restrictions forced most businesses to go remote for the majority of 2020 and the foreseeable future. It taught businesses they need to be agile and ready for anything. VoIP phone systems ensure employees can stay connected from anywhere — that's just not something an analog phone system can offer.
5. Scalability
Adding phone lines to an analog phone system gets expensive, since you have to purchase expensive hardware or a dedicated physical line as your business expands. VoIP phone lines are virtual, meaning that a tedious process isn't necessary. For example, if your business is growing to the point that you need to open a new branch, it'll be easy to give those new employees phone lines.
VoIP telephone systems operate on existing networks, making it far less expensive for employees to collaborate with each other and customers. Internal calls are typically free since they are made on your own internal VoIP networks. Since phone calls are made over the internet and don't need to connect to a telephone network, external calls are fairly inexpensive as well.
6. Advanced Features
VoIP phone services are more than just desk phone systems. They come with advanced features that take your business communications to the next level. Traditional telephone systems can't offer that. Here are some advanced features you can expect in a VoIP telephony system.
Video Conferencing — Most VoIP systems come with a video calling application. This allows you to quickly meet with colleagues and customers in online meetings. In a time where in-person meetings have become strictly limited, it's an incredibly invaluable tool. This is something a traditional phone system simply cannot offer.
Conference Calling — This feature enables calls between more than two callers. Conference calling means that participants around the world can join calls at once, promoting teamwork and collaboration amongst your employees. 
Call Queues — Call queues help you to manage your inbound calls. This feature automates the distribution of calls, allowing the right employee to handle the call. Call queues are known to help reduce customer wait time.
Integrations — VoIP phone systems tend to integrate with a number of third-party tools. When your phone system can seamlessly connect to your other tools, it will ultimately save you time in the long run. 
Business Text Messaging — Sometimes a call isn't the most efficient way to connect with a colleague or customer — a simple text message can often do the trick. Many VoIP phone systems allow you to send SMS messages straight from your mobile or desktop application.
Call Analytics — Call analytics inform you of how effective your employees' time spent on the phone is. This data can subsequently be used for training purposes or to help inform important business decisions.  
Integrations – VoIP phone systems tend to integrate with a number of different business applications, providing a huge advantage to your organization. For example, many IP phone systems integrate with CRMs so employees can both access existing information about customers and take notes on the same platform.
7. Improves the Customer Experience
VoIP platforms offer multiple solutions specifically targeted toward enhancing the customer experience. For one, business phone providers automatically offer a number of features that ensure your customers' calling experience is as pleasant as possible. This includes call queuing to keep calls organized and call takeover, which allows for a more seasoned agent to take over a call if necessary. 
Most VoIP systems also offer auto attendants, allowing your customers the option of a bit of self-service before potentially speaking with an agent. If no one is available, agents can utilize call forwarding and send them to a voicemail box. Simply put, these solutions can allow your business to interact with your customers quickly and efficiently. It's well known that those who experience short wait times are happier, and will generally become loyal customers.
8. HD Voice Quality
HD voice is audio technology that delivers clearer voice calling and a higher overall phone call quality. Codecs compresses and decompresses data packets, enabling faster transmission from endpoint to endpoint. 
VoIP uses Wideband codecs, which use a higher audio bit depth and results in a better voice quality. Traditional landline phone systems rely on narrowband codecs, which can result in lower quality calls. 
Since wideband codecs are used for VoIP, HD voice should be a default for any plan offered by a VoIP provider. Your VoIP provider promises crystal-clear calls built into the service, so there's nothing required from your end to set it up.
Enhance Your Business Communications with VoIP
PSTN phone systems can get the job done, but why settle when you can have the very best? VoIP systems ensure your team is able to communicate with each other and customers with ease, no matter where they are in the world. 
These systems come with a number of advantages — even more than we can list — that will ensure you are operating at top capacity. If you're ready to make the switch to a cloud phone system, take a look at our list of top business VoIP providers. The benefits of VoIP are truly worth the switch they will benefit your business in the long run.
Make sure your system falls within your price range, comes with a thorough support team, and delivers the functionalities you are looking for.
The typical cost per user is $25/mo, though depending on the provider and plan, can range from $20-$40/mo/user.
Yes. Calls are typically encrypted to enhance the level of security as well.