No matter how call center technology adapts, phone calls will always be a part of your support offering. Call center software helps with the automation of the influx of inbound and outbound calls that your business sees every day. This software is necessary to keep support teams efficient and profitable. These tools have adapted and emerged in various trends over the years, and VoIP providers have modified their offerings to keep up with them.
Call center tools are not a one-size-fits-all deal. Your support team has its own unique needs and priorities — your software tool should reflect that. In this article, we'll break down everything you need to know about contact center solutions — from the history of these tools to VoIP providers that excel in this arena. We'll cover the following sections:
What is Call Center Technology?

Simply put, call center technology encompasses all the software tools that help your team operate smoothly. These tools blend together the advanced features of a traditional call center without dependence on pricey hardware.
At the end of the day, these tools help streamline the flow of inbound and outbound calls. You should expect certain hallmark features in every call center software platform, such as IVR, predictive dialer, omnichannel routing, and automatic call distribution.
History of Call Center Technology
Call centers have gone from organizations dependent on phones to those booming with advanced technology. According to TeleDirect, inbound and outbound call centers were first erected in the early 20th century. Their main source of technology was switchboards. Those were unreliable tools that often gave way to human error. So, the mid-1950s saw the introduction of the automatic call distributor, which acted as the inspiration for the modern-day software of the same name.
The 1960s introduced 1-800 numbers to allow for higher call volumes. In return, the new numbers created new advertising opportunities and marketing venues. The next decade saw the earliest of another tool that call centers use to this day — interactive voice response systems. Call center technology as we know it today began to emerge in the mid-2000s, with the introduction of cloud-based tools.
Call Center Technology Trends
Quality of service doesn't just cut it anymore — your call center needs top-of-the-line technology to keep up with competitors and stay ahead of the curve. Here are some contact center technology-related trends to keep an eye out for this year to ensure your organization is where it needs to be.
Artificial Intelligence
Experts expect AI to be more prominent in call center systems in the next year or so. That's because these solutions offer a multitude of benefits. As Finances Online writes, AI platforms have the ability to easily route conversations to the most qualified agent, ensuring your caller has a personalized and efficient interaction with your business.
This technology also learns as it goes. So you receive repeated calls about the same customer issues, it will retain information from previous interactions in order to craft appropriate responses. AI has already become prevalent in call centers due to these benefits, so expect them to be more widespread in the next year.
Omnichannel Call Centers
If your business hasn't deployed omnichannel call center software by now, you're falling behind. Technology has advanced enough that people expect to be able to reach your business through a number of different avenues. As Convoso writes, by now your business should be reachable through opt-ins, SMS, email and more. So you need software that will seamlessly integrate all those solutions into one platform.
Social Media Customer Service
 On a similar note, your call center needs to make sure it's available through social media. Social media has always played a part in the customer experience. These platforms have long been common means of purchasing goods and services.
It only makes sense that they've become avenues for customer service. Forrester projects that digital customer service interactions will grow by 40% in 2021. Having an active social media customer service presence will help you to keep up with that.
Recall Technology
 Expect recall technology to become more prominent in 2021 and beyond. These tools help ensure that your agents' communications are completely error-free. By implementing these tools, you can help to slash human error on your end.
It's clear why recall technology is gaining more prominence right now, as fewer mistakes on your end will equal fewer negative reviews. The software adds a few minutes of transmission time to conversations, but it's ultimately worth it in the long run.
Cloud-based Technology
If Covid-19 has taught businesses anything, it's that cloud contact center tools are here to stay. At the beginning of the pandemic, many thought that the switch to remote work was temporary. But it seems as if many will continue at least a part-time remote work schedule, even after the pandemic subsides.
That means we can expect more call centers to switch to a completely cloud-based technology stack if they haven't done so already. If your organization is already using cloud-based tools, now's the time to make sure they're as updated as possible. The best cloud-based software will make sure you can stay connected to remote employees.
Call Center Technologies
Here's a breakdown of key call center technologies and why they are important for your business:
Interactive Voice Response
What does it do?
Interactive Voice Response can boost your customer service offering by guiding your caller through a self-service menu. Based on your caller's answers, the system begins the process of call routing to take them to the correct department or provides them with the necessary messaging. This tool allows you to manage your contact center more efficiently.
Why is it important for call centers?
This software automates your customer service offering by presenting callers with a series of automated prompts. These messages often help your callers to solve their own issues. But if they can't be solved on their own, they'll be instantly directed to an agent that can help.
Not only does this offer a quick and efficient customer journey for your callers, but it allows your agents to spend more time on complex requests. This makes it an invaluable feature in your customer support offering.
Top call center providers that offer IVR:
Also known as:
Omnichannel Support
Source: Talkdesk
What does it do?
Omnichannel support means that your customers can reach you on any channel, whether that be email, live chat, or social media. That means you can extend your customer's journey with your business across platforms they use on a daily basis. This includes anything from email to live chat to social media presence.
Why is it important for call centers?
Omnichannel support offers convenience and consistency to your customers. You'll be available in the channels that your customers spend time in. Customers expect speedy results. By being present wherever your customers are, they can quickly and easily reach out to you for support. They will equate that with quality support.
Providing top-tier customer support can equate to an increase in sales. As Happy Fox writes, "Good omnichannel customer experience can lead to word of mouth marketing and convert your customers to evangelists of your brand."
Customers are likely to share positive experiences with their friends, which can lead to an increase in sales. But they tend to tell more people about worse experiences. So if you leave your customers with a bad taste in their mouth, that can put a big dent in your sales.
Top call center providers that offer Omnichannel Support:
Also known as:
Digital engagement
Multi-channel support
Conversational AI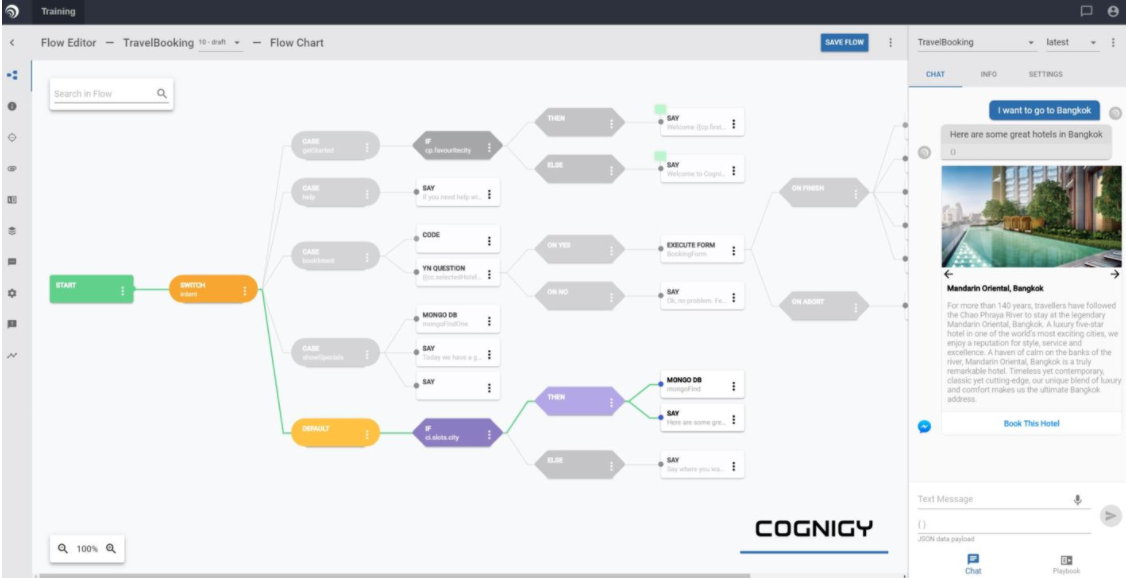 What does it do?
Conversational AI gives computers the power to recognize multiple human languages, process the words being said and determine how to respond in the most natural way possible. This process starts when a customer submits a request.
The AI solution captures the meaning of the words sent by utilizing natural language processing (NLP) and uses natural language understanding (NLU) to understand the intent of that customer's question. It can then pick up on the meaning within that inquiry.
Why is it important for call centers?
Analysis firm Juniper Research reported that AI technology is expected to reduce business costs by over $8 billion annually by 2022. That's because conversational AI can allow you to scale your team at a lower cost since the technology can do some of the work of human agents. It won't face the same limitations that even your best agents do.
Utilizing these tools can help you to give customers a more personalized experience without straining your team. The more you used conversational AI, the more it learns. That means it can mimic an effective human conversation without needing to hire more agents.
Top call center providers that offer Conversational AI:
Also known as:
Chatbots
Customer Engagement AI
Conversational Operator
Automatic Call Distribution (ACD)

What does it do?
Automatic Call Distribution (ACD) is a feature that is capable of routing inbound calls to the agent or department that is best suited to handle the inquiry. This workflow is done based on predetermined criteria, such as call subject matter. Your agents have different strengths and specialties, and automatic call distribution can help your inbound call center play to those team members' strengths.
Why is it important for call centers?
Instead of passing around a customer until they reach an agent who is knowledgeable about their request, that customer will automatically reach someone who can assist them. According to Hubspot, 40% of customers want customer service reps to take care of their needs faster. That can happen with automatic call distribution.
Top call center providers that offer ACD:
Also known as: 
ACD
Automatic Call Distributor
Call Recording

What does it do?
Call recording is a pretty straight-forward call center feature. It allows for calls to be recorded so they can be referred back to for training or quality assurance purposes.
Why is it important for call centers?
Recording calls can help you keep your team in check. 69% of businesses record calls in order to routinely monitor their customer support agents' performance and the level of service they are providing. This routine assessment can help you to target any areas where contact center agents may need to see improvement.
You can simultaneously ensure that agents are maintaining a pleasant flow of conversation, along with taking every opportunity to up-sell and cross-sell products and services. When you record a call, you will be able to store that information per specific business need.
Top call center providers that offer Call Recording:
Also known as: 
Call recorder Software
Automatic Call Recorder
Computer Telephony Integration (CTI)

What does it do?
Computer telephony integration refers to the technology that empowers computers to interact with your phone system and other communication channels, such as texting, social media, and live chat. This is how users can make calls over a desktop phone, computer, or mobile device. As call center employees often manage a large influx of inbound calls, this software can allow your team to do so.
Why is it important for call centers?
CTI tools make your team's phone calls more productive. Call centers obviously receive a high volume of calls every day, so your agents need to be on their A-game. As this technology integrates an agent's phone with their computer, they can access a plethora of features that will allow for more efficient conversations.
As UC Today writes, this can include features like call transfer or click-to-dial that allow for higher productivity rates and a boosted customer experience.
Top call center providers that offer CTI:
Also known as: 
Computer–Telephone Integration
Reporting and Analytics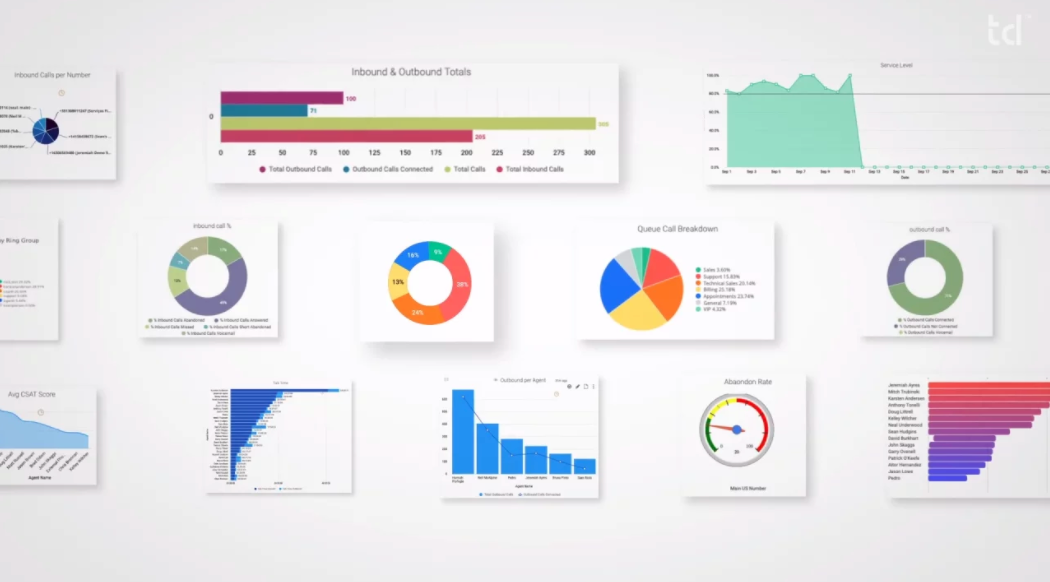 What does it do?
Call center reporting and analytics offer the unique opportunity to monitor a wide array of KPIs. You can monitor everything from call times, call efficiency, employee performance and customer satisfaction. With this information, you're given the opportunity to enhance multiple aspects of your business, all thanks to one data source.
Why is it important for call centers?
With reporting and analytics, you can see where your team has room for improvement. You can take this information to coach specific agents or implement new goals. On the flip side, you can utilize this feature to see where you're excelling, in order to confirm you are hitting those goals.
Top call center providers that offer Reporting and Analytics:
Also known as: 
Workforce Management

What does it do?
Workforce management encompasses all the processes needed to ensure your call center has enough staff members on hand to operate at full capacity. As Call Centre Helper states, this technology covers processes such as:
Forecasting contact volumes
Scheduling staff around those forecasted call volumes
Managing on a day-to-day basis to account for things like unexpected rises in calls volumes or absenteeism
Creating a Business Continuity Plan (BCP)
Why is it important for call centers?
This technology gives you a bird's eye view of your staff so you can assign the right employees to the right task at the most opportune time. That way, you can meet your business's demand in the most effective way. Call center managers probably already perform these tasks on their own. However, workforce management tools streamline the process, saving you a significant amount of time.
Top call center providers that offer Reporting and Analytics:
Also known as: 
WFM Software
Workforce Asset Management
Conclusion: Power Your Call Center with the Right Technology
Call center technology is designed to make your team better. The features included in each tool can optimize various aspects of your team that you could improve in. It's important to consider which metrics you are looking to increase and researching which tools specialize in those specific features.
With that strategy, your team's performance and efficiency is bound to improve. Take a look at this article to learn everything you need to know about the state of call center software.
Frequently asked questions
Yes. Call center software is designed with the customer experience in mind.
Inbound call centers deal with incoming calls or requests from customer service channels. Outbound call centers proactively initiate customer support by anticipating their needs.
No — just make sure you have a good headset and a device with a strong internet connection.