Dialpad supports its users with a modern and mobile cloud phone system. As a business VoIP provider, it offers phones that connect to the internet, instead of utilizing a PSTN landline connection. Switching to a business phone provider is a great choice for your business — the question is, which one is right for you? 
Dialpad's allows users to work from anywhere and make smarter calls powered by artificial intelligence. Business VoIP is a low-cost alternative to a traditional phone setup that is secure, easily scalable, and portable — it's a perfect choice for the remote working situation that many people find themselves in these days.
But what if Dialpad isn't the right choice for your business or your needs?
There are plenty of alternatives to Dialpad on the market, and we're going to share a breakdown of some of the business phone provider's competition. Below, you'll find a list of Dialpad alternatives, along with the pricing, features, and customer support you can expect with each option.
Here are the top 7 Dialpad Talk Alternatives
GoToConnect
Zoom
Ooma Office
PanTerra
Nextiva
Avaya Cloud Office
OnSIP
GoToConnect
GoToConnect, formerly known as Jive, offers everything businesses need to operate remotely. Employees can seamlessly collaborate through one platform with video conferencing, business phones, and more.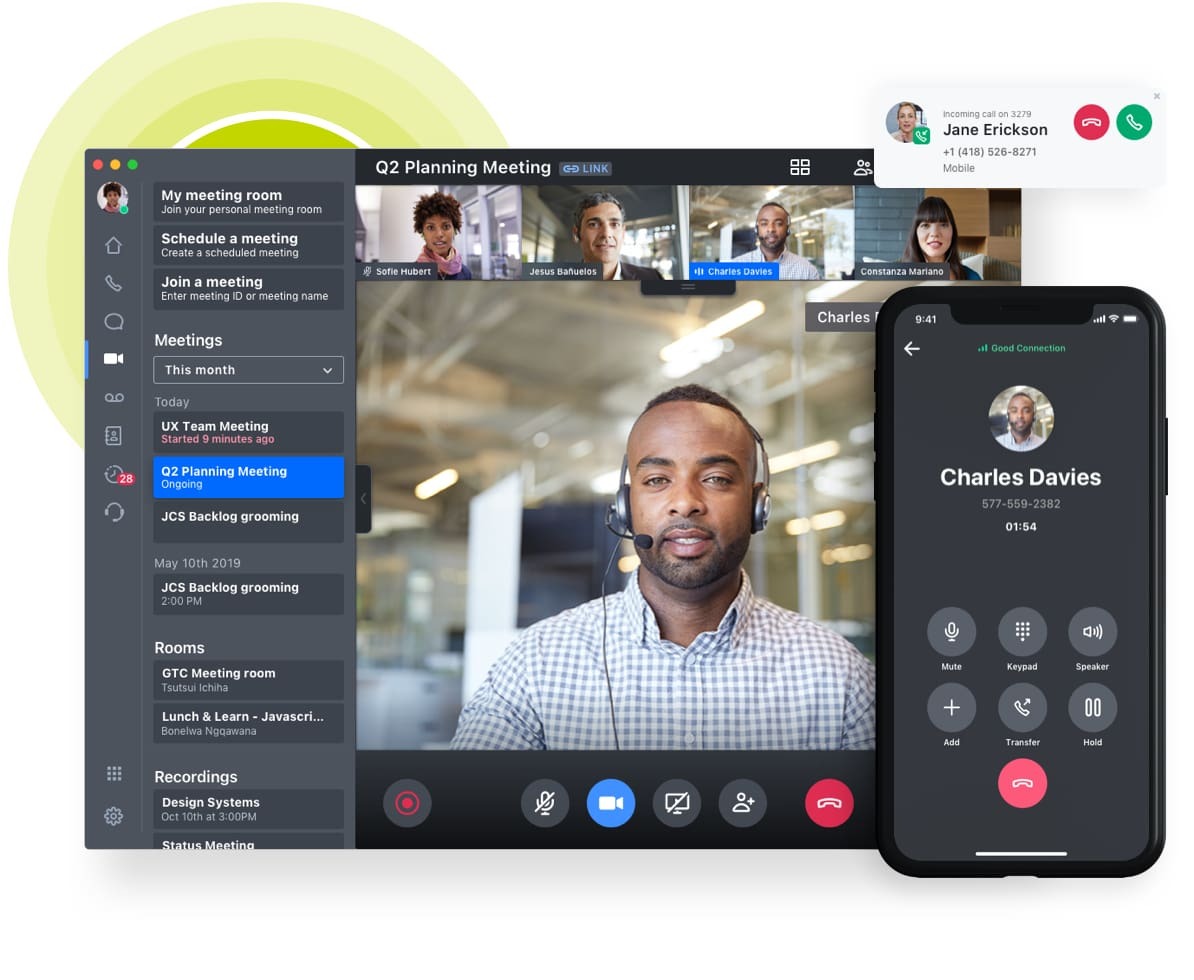 Features
With GoToConnect, everything is connected in the cloud — phones, online meetings, and more are available through one application. GoToConnect equips businesses with user-friendly features that help them grow. 
The following features are included in the business VoIP provider's software solution:
Phone calls that can be seamlessly transferred between users

Auto-attendants to provide callers with automated answering and call routing

Video conferencing for users to connect with colleagues and customers

Mobile apps to take GoToConnect with you anywhere

Ability to remotely forward calls to any device

Virtual voicemail so you can access your messages anywhere

Ring groups to connect with multiple colleagues and clients

IVR (interactive voice response) to handle inbound calls
User Experience
Here's a list of GoToConnect's own pros and cons to consider before considering purchasing the solution.
| | |
| --- | --- |
| GoToConnect Pros | GoToConnect Cons |
| Impressive support team | The self-service knowledge base has room for improvement |
| Easy to customize | Service quality can be unreliable |
| Affordable | No fax  |
| Offers a ton of different features | Internet service cannot be less than strong |
Pricing
GoToConnect is priced at five different tiers, which range from $19.95/user/month – $29.95/user/month. Each tier is determined by a set amount of users, and the more users you have, the less you have to pay per seat each month. But if you require seats for more than 100 users, you will need to contact GoToConnect for a quote.
GoToConnect belongs under the larger GoTo product suite, which includes GoToMeeting, GoToRoom, GoToTraining and GoToWebinar. Users can purchase various product packages, which offers different combinations of GoTo's products, ensuring that there is something for businesses of every size and need.
Zoom
Zoom has emerged as one of the top business phone providers during the coronavirus pandemic, as it is known for its strong video conferencing tool that can host a large number of participants. The tool provides one UCaaS platform with seamlessly connected phone, video, meeting, and chat applications.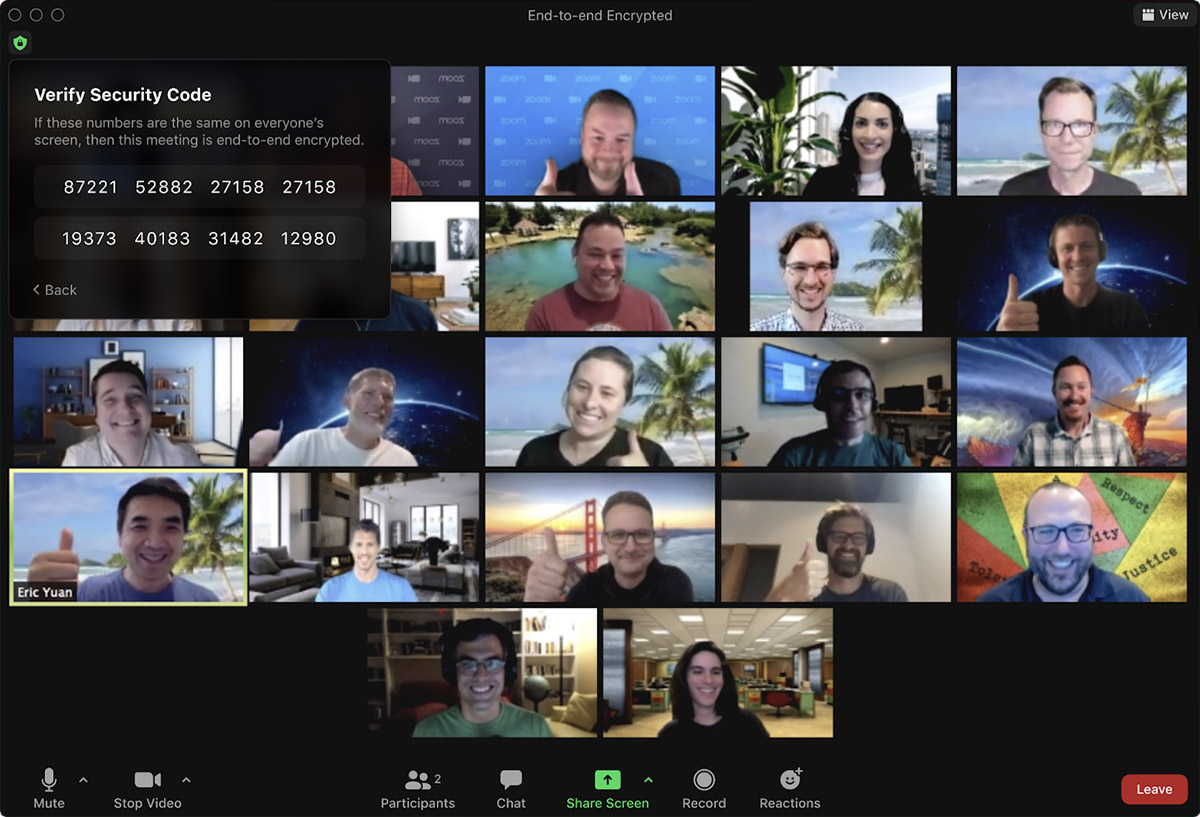 Features
Zoom provides five robust products under its umbrella, with its most popular product probably being its meetings and chat solution. But for the purpose of this article, we'll focus on Zoom's phone solution.
The business VoIP provider offers global coverage with an expanding footprint of countries to provide local phone numbers. Users can even bring on their own carriers to power their Zoom services in any country.
The following features are included in Zoom's VoIP tool: 
Receive calls quickly and efficiently with intelligent call routing and auto attendants

A plethora of integration options, including Salesforce and G-Suite

The option to listen to voicemails or read transcribed messages

Supported phone hardware from leading manufacturers

Call transfer, call forwarding and call recording to never miss a minute of your inbound or outbound calls

Elevate a phone call to a Zoom Meeting without requiring participants to manually join
User Experience
Zoom may be considered one of the leaders in the business VoIP field, but no software solution is perfect. Here's a list of pros and cons to consider before purchasing Zoom.
| | |
| --- | --- |
| Zoom Pros | Zoom Cons |
| Password-protected meetings | Downloading the application for video meetings can be complicated |
| Screen share | Limited mobile application |
| Stable sound and video quality | Less than a user-friendly interface |
| Participants can join one meeting through either mobile or desktop  | Certain plans can get expensive |
Pricing
Zoom Phone offers three different pricing plans:
The Pay As You Go plan, which offers metered rates in the US and Canada, is available at $120/year/user. 

The Unlimited Regional Calling plan, which includes unlimited calling in the US and Canada, is offered at $180/year/user.

Zoom Phone's final plan is Pro Global Select. This provides local calling in 40+ countries and is offered at $240/year/user.
Zoom offers thorough pricing plans for its other products as well. Take a look at their pricing page for Zoom's other products.
Ooma Office
Ooma Office is a business phone provider specifically designed with small businesses in mind. Ooma offers bundles that include hardware combined with VoIP services.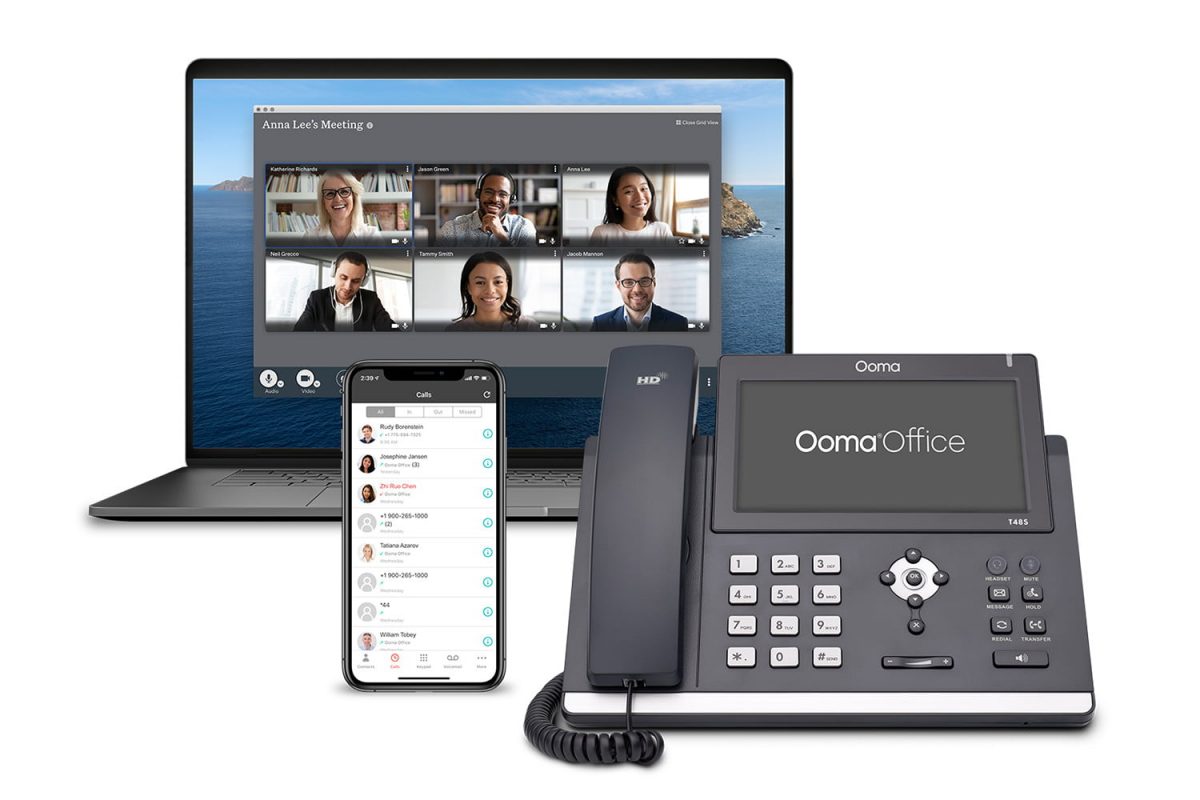 Features
Ooma Office may be intended for small businesses, but the tool still comes with a long list of features. This provider lets users keep a separate business line and use more than 35 features that keep employees working together with ease.
The following features are included in Ooma Office: 
A virtual receptionist to automate how you manage incoming calls

SMS messaging to receive and send texts to customers from your Ooma Office-provided business number

A multi-ring that allows users to answer a call on either their office phone, mobile app or an external device

Unlimited calling in the US, Canada, Mexico and Puerto Rico

One free toll-free number
User Experience
Take a look at this list of Ooma Office pros and cons before you consider purchasing the solution.
| | |
| --- | --- |
| Ooma Office Pros | Ooma Office Cons |
| Affordable product | No call waiting |
| Easy onboarding process | Can't send files on the mobile app |
| User friendly | The quality of phones could use improvement |
| Call forwarding | Occasional service outages |
Pricing
Users interested in Ooma choose between two business pricing plans. Ooma Office starts at $19.95/user/month. The next level, Ooma Office Pro, is available at $24.95/month/user.
Ooma Office includes nearly every single feature that Ooma Office Pro does, with the exception of the desktop app, call recording, enhanced call blocking and voicemail transcription. So if you can do without the few extra features, it would make sense for your business to save itself $5/month/user and go for the basic Ooma Office plan.
PanTerra
PanTerra offers all-in-one call, text, conference, fax, web meeting and file sharing in one cloud communications software solution called Streams. The solution is considered to be one of the top VoIP tools on the market.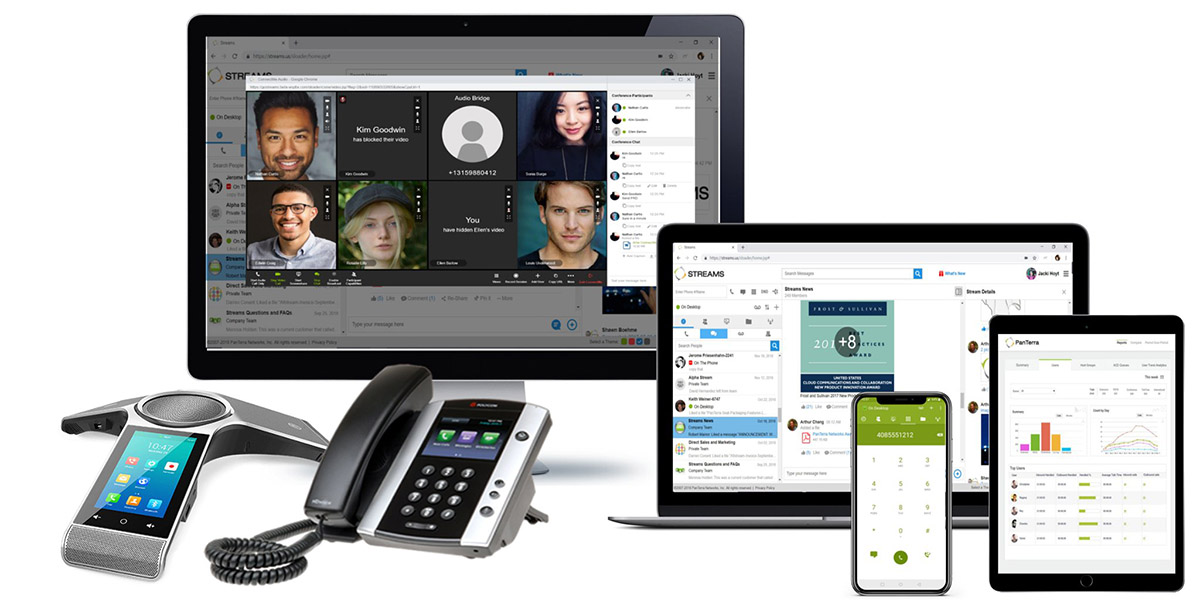 Features
PanTerra's Streams offers its customers a reliable and scalable cloud solution, with a 99.999% uptime. These attributes ensure that you can run your business at top speed and efficiency.
The following features are included in PanTerra's all-in-one cloud communication platform:
Business-class team messaging to create unlimited team chat rooms and share multi-media content

Powerful video conferencing with screen share to conduct efficient meetings

A call center that seamlessly integrates with the all-in-one cloud platform

Built-in analytics to monitor over 100 KPIs

Fully customizable so you can create custom applications unique to your business
User Experience
It's important to research all of a software product's pros and cons before making an informed decision — here are a few PanTerra pros and cons to consider.
| | |
| --- | --- |
| PanTerra Pros | PanTerra Cons |
| Strong call quality | Could expand on language offering |
| Solid support team | The file uploading process could be improved |
| User friendly | Transferred calls don't show incoming numbers |
| Flexible plans full of useful features | |
Pricing
PanTerra offers three different pricing plans, and with each of those plans come more features:
The Business Basic starts at $19.95/user/month

Business Plus begins at $24.95/user/month

Professional starts at $34.95/user/month.
If you're interested in purchasing the separate Call Center product, that starts at $64.95/user/month. PanTerra also allows users to try out any plan for a 14-day free trial. For someone with even a slight interest in PanTerra, this is an opportunity that should not be passed up.
Nextiva
Nextiva is a modern business phone system that empowers remote organizations. U.S. News ranked the business VoIP provider as one of 2020's best business phone services.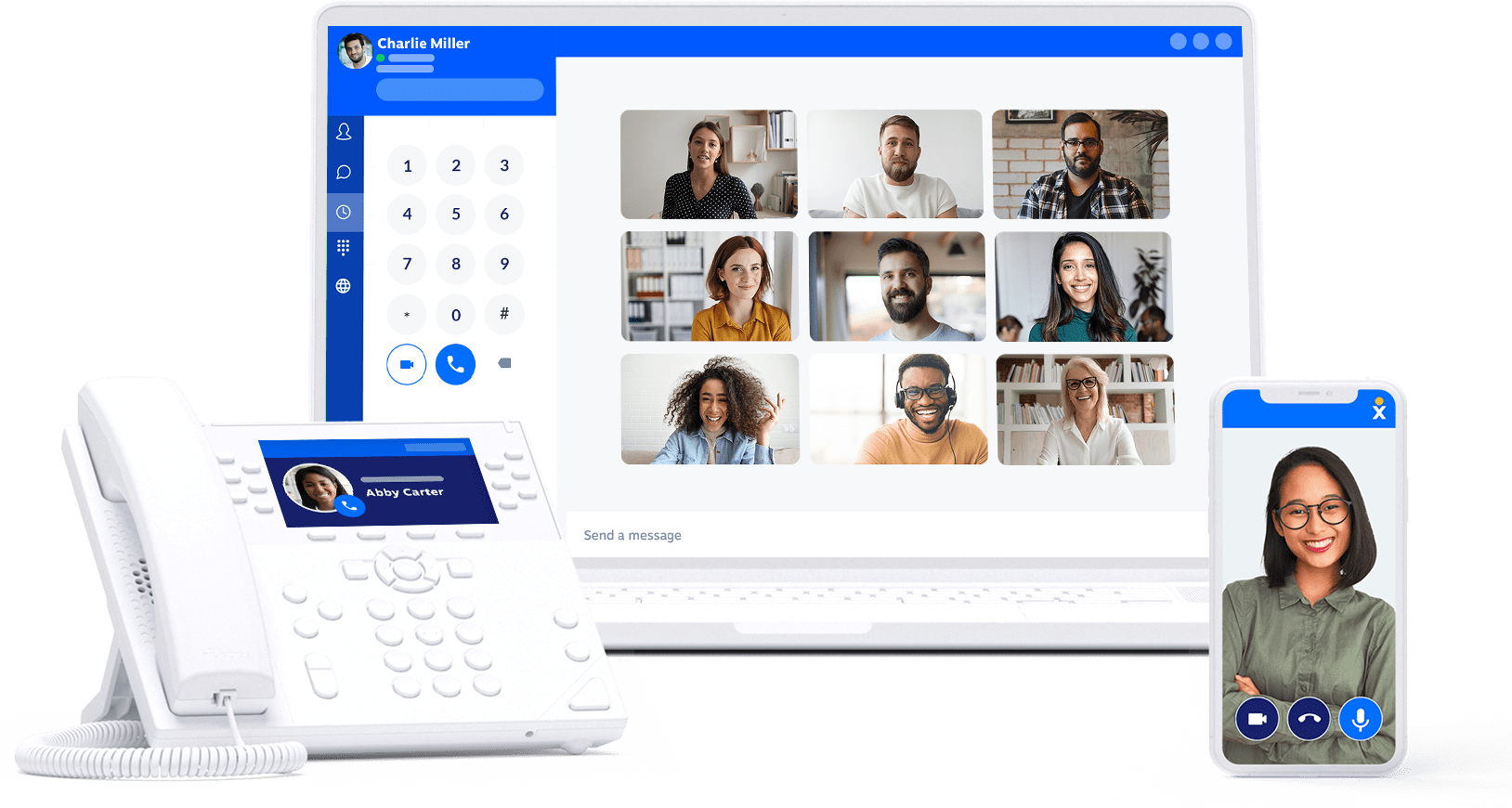 Features
Nextiva offers a business communication suite that groups its VoIP, sales CRM and helpdesk software offerings under one umbrella. The business phone provider's customers have reported up to 60 percent cost savings on their phone bill once they switched to Nextiva. 
Nextiva's Business Communication Suite offers a wide array of products to cater to your business' phone needs. The product includes:
Phone service with a call recording so you never miss a detail

Analytics such as call history, call log reports and voice analytics

A feature called Screen Pop that acts like caller ID by connecting your business phone to your CRM

Auto-attendant to streamline your call routing

Mobile app to stay connected from anywhere around the globe

Business analytics including call tracking and recording
Since it's connected to the internet instead of a landline, Nextiva's business phone can easily grow as your business scales. Nextiva enables users to modify their preferences and toggle features as needed. Your business's needs might change as it grows, so that's a pretty valuable feature in a VoIP provider. 
User Experience
Purchasing a new software solution is an important business decision. Here are some Nextiva pros and cons to consider before making that purchase. 
| | |
| --- | --- |
| Nextiva Pros | Nextiva Cons |
| Helpful support team | The onboarding process is difficult |
| Feature-rich product | Long wait to reach the support team |
| Reliable service | Limited integrations |
| User-friendly product | No call blocking services |
Pricing
Of course, more features come at a higher price. But Nextiva comes at a pretty affordable price. While its VoIP, sales CRM, and helpdesk software offerings can be grouped together in one suite, Nextiva pricing is broken down by the individual products. For the purpose of this article, we'll focus on the business phone plan pricing.
Nextiva's business phone plan offers three different pricing structures:
The Essential plan starts at $21.95/month/user

The Professional plan starts at $24.95/month/user 

The Enterprise plan starts at $31.95/month/user.
But if you pay annually instead of monthly, your business can end up saving 20 percent of the original price tag. Each of the plans offers a selection of VoIP phone numbers and service, collaboration, and productivity features, meaning you can't go wrong with any of these selections.
Nextiva offers its collaboration and video tool, which nicely compliments its business phone plan, completely free of cost. Take a look here to learn more about Nextiva's Sales & Service CRM pricing. With affordable options and a large variety of products offered with each plan, Nextiva offers something for businesses of every size.
Avaya Cloud Office
Avaya is a digital workplace that offers a new approach to collaboration. Their all-in-one cloud communications tool, Avaya Cloud Office, empowers businesses with fast and continuous collaboration, making it an ideal tool for remote and global companies that favor ease of use as one of the main selling points for a business phone app.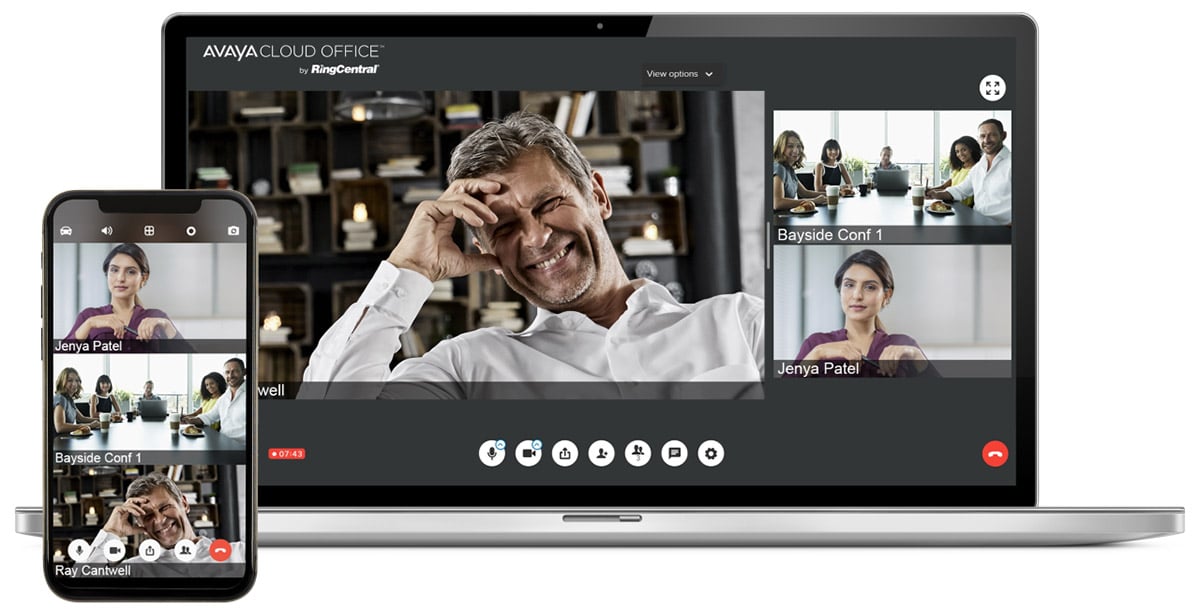 Features
Avaya Cloud Office, which is powered by RingCentral, lets its users call, message, and one more in one platform through a single application. Here are the key features that are included in Avaya's all-in-one cloud communication platform:
Avaya Spaces to virtually meet with colleagues and customers on-the-fly

Team collaboration to message your team members from anywhere around the world

Call and message over

virtual telephone systems

, private or group chats, and SMS messaging

Reporting and various dashboards to see how effectively Avaya is working for your team

Send and receive unlimited faxes on most plans
User Experience
Here are some pros and cons of Avaya Cloud Office to consider. 
| | |
| --- | --- |
| Avaya Cloud Office Pros | Avaya Cloud Office Cons |
| Easy-to-use software | Difficult onboarding process |
| VoIP is configured based on your individual business needs | Audio quality has room for improvement |
| Reliable service | Certain plans are expensive  |
| Easy to manage multiple calls  | UI feels outdated |
Pricing
Avaya Cloud Office offers four different pricing plans, with each step up adding more features:
The most basic plan, Essentials, starts at $29.99/user/month

The Standard plan begins at $34.99 user/month

The Premium plan is offered at $44.99/user/month 

The Ultimate plan begins at $59.99/user/month.
But if you choose to pay up-front with the annual option, you'll end up saving up to 33 percent — that comes out to savings of about $10/user/month. Pricing plans are also slightly altered depending on the number of users that will need seats.
OnSIP
OnSIP offers a digital alternative to a traditional phone setup. The software makes sure that you stay connected to your customers no matter what.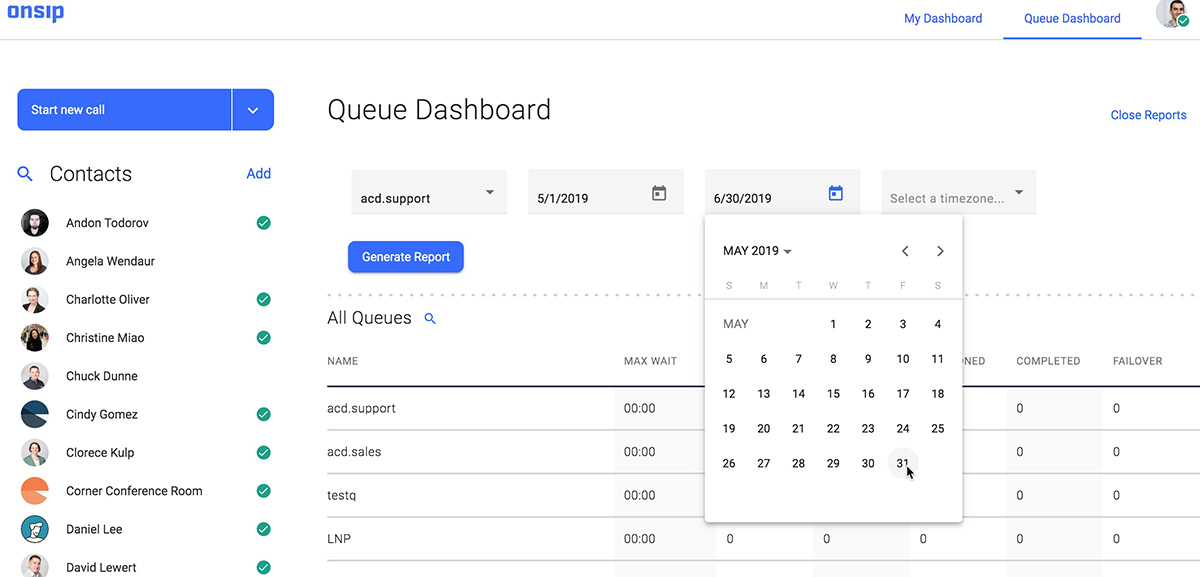 Features
OnSIP provides its customers with a no-frills business phone solution to keep businesses running from anywhere around the globe. Its smaller-scale offering makes it ideal for any business looking for a basic VoIP solution. 
The following features are included in OnSIP:
A hosted PBX solution to replace your outdated phone setup

A remote working hub for users to take advantage of free mobile and desktop apps, call forwarding and unlimited video conferencing,

sayso website chat

, voice and video, to

encourage and route inbound calls

Softphone apps to make and receive calls on your phone or laptop

Video conferencing for up to five people
User Experience
Even if you think you've found the right software solution for you, it's important to consider every pro and con before making a purchase. Here are some OnSIP pros and cons.
| | |
| --- | --- |
| OnSIP Pros | OnSIP Cons |
| Excellent sound quality | Using too many minutes can be expensive |
| Affordable product | Service isn't always reliable |
| Software is easy to configure | The product occasionally presents bugs  |
| Experienced support team | |
Pricing
OnSIP also offers a pretty simple pricing plan. The Unlimited plan, which starts at $18.95/user/month includes desk phones or headsets for new accounts with more than five users. The Basic plan begins at $49.95/account +2.9 cents per minute for calling rates.
Potential customers can try out these plans for free before committing to one option. Users can also add on the sayso voice and video chat product to their plan for anywhere between $0-$49.95/month.
What is the Best Dialpad Alternative?
Dialpad is a solid business VoIP provider, but it's not the only option on the market. This list is by no means a ranking. Each one of the tools we shared on this list brings its own unique features and customer support options to the table. It's important to thoroughly examine those offerings against your own needs to see which is the right business VoIP software solution for your business.
There's a software solution out there for everyone. Your business has its own unique needs, so if they're not met by any of the software products above, that's okay. Check out our guide to the top business VoIP providers for an even more thorough list of Dialpad alternatives. Read reviews listed for the products you're interested in to get an honest take from real customers.
Before committing to the best Dialpad alternative, consider a free trial — or inquire about one if it's not publicly advertised. With the vast majority of offices working remotely these days, business VoIP is important now more than ever. Picking the right solution for your business is critical to your employees' collaboration and productivity. The right phone solution for your business is out there, and the research is worth it to find that product.