Studies on remote work benefits show that allowing team members to work from home saves companies roughly $11,000 annually per employee.
However, purchasing the necessary software to connect a remote workforce quickly negates those savings, as the amount that businesses spend on SaaS tools is expected to double by the end of 2020.
Tools like Glip's RingCentral for Desktop streamline necessary team communication tools into a single platform, saving companies money and improving collaboration in the process.
What is RingCentral for Desktop?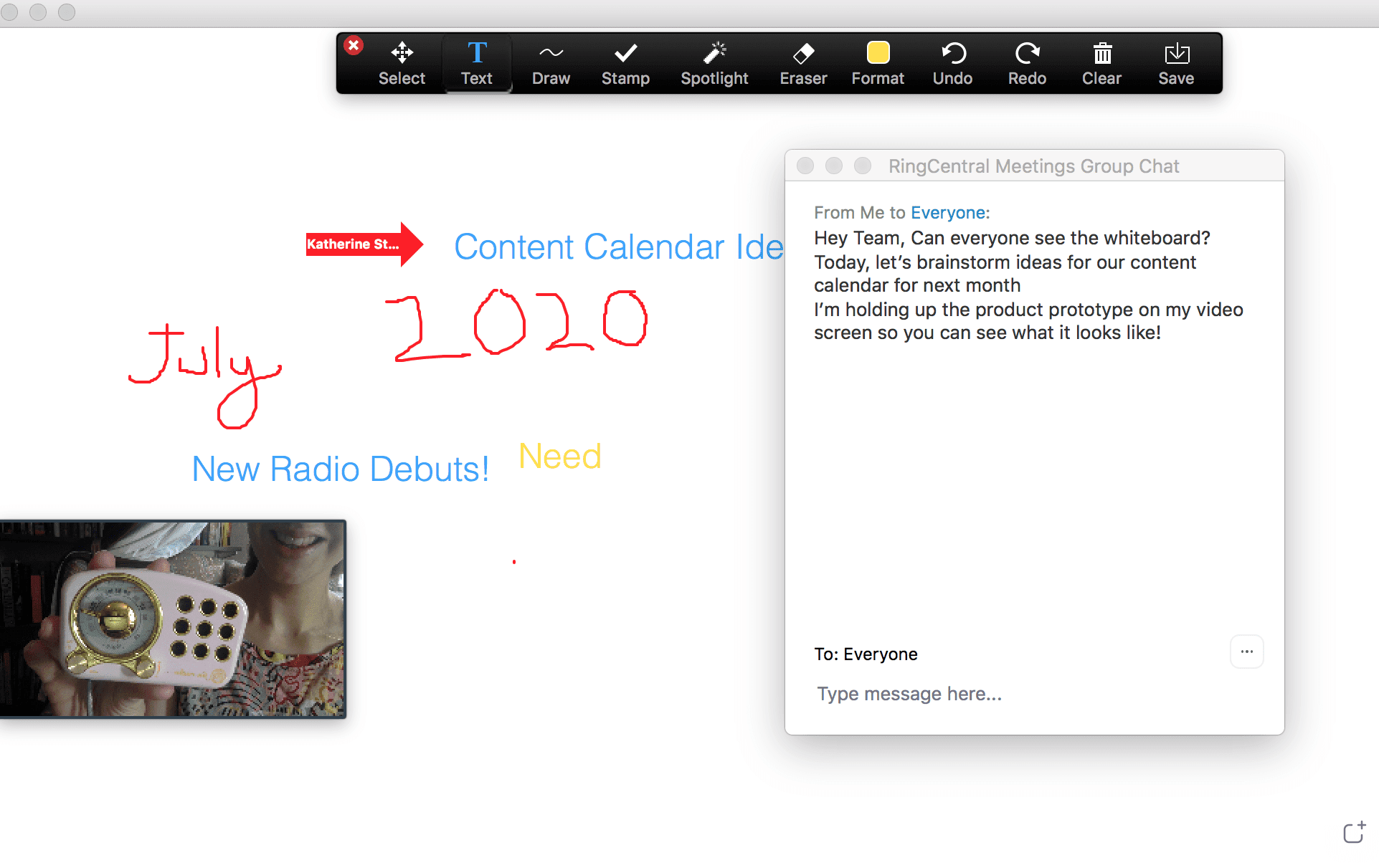 RingCentral for Desktop is a cloud communications platform that combines collaborative chat messaging, web conferencing software, and phone calls into a single RingCentral app.
It has over 400,000 worldwide customers, including Columbia University, the Oakland A's, and Insureon. Gartner reports have named RingCentral as a UCaaS Magic Quadrant leader for five consecutive years.
The software most benefits companies with a large remote workforce.
Though customers are able to purchase RingCentral's live chat messaging, video communication, and business phone plans separately, companies can save up to 30% by purchasing the bundled desktop app package.
Collaborative Chat Messaging Features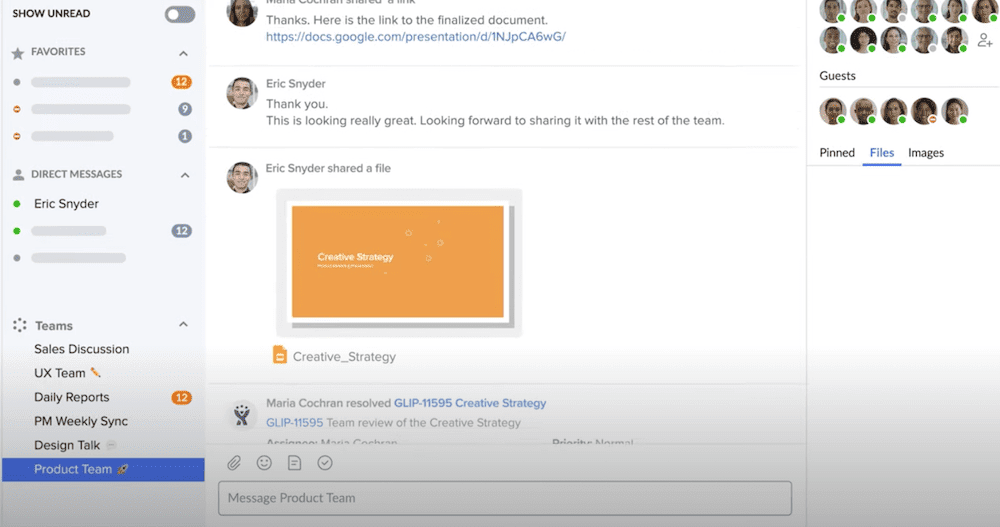 RingCentral's collaborative instant chat tool allows employees to message one another individually or via a team-wide channel.
Unlike popular Slack alternatives, RingCentral combines team messaging with basic task management features. According to the RingCentral website, 64% of users have shortened project timelines thanks to the software's collaboration tools.
Team leaders can assign tasks to specific employees or an entire team, and all assignments appear in the messaging stream.
Users can also comment on these tasks, tag each other, and upload files. RingCentral's Tasks tab gives employees an overview of current assignments, shows managers tasks assigned to an employee or team, and even allows users to set project statuses.
Tasks can be color-coded and sorted by due or assignment dates, conversations, or assignees. The drag-and-drop interface makes it easy to reorder tasks, a staple of team collaboration software. Managers can set task descriptions and automate repeated tasks.
Standard chat messaging features include:
Real-time file sharing and editing
Searchable chat archive
One-click video conference call
Ability to pin files
Polling
Save chats
Unlimited external guest users
Team member status
Host controls for chat accessibility
Video Meeting Features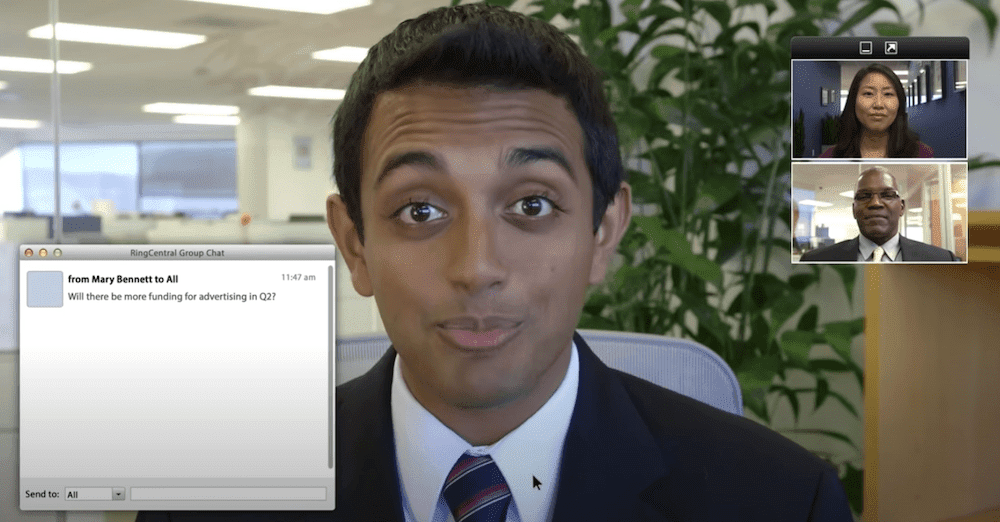 RingCentral's no-download HD voice and video conferencing platform allows for face-to-face communication for up to 200 users, with a maximum of 50 shared simultaneous screens.
This means that it's ideal for both online meetings and small-scale webinars.
Video communication is accessible on both desktop and Android and Apple iOS mobile devices, and users can switch between desktop and mobile communication in one click. Chat messaging is included with video calling, meaning users will also enjoy the features above during a video call.
Given the rise of privacy threats like Zoombombing and data sharing, RingCentral's video security policies are a huge positive. All meetings are encrypted, and the platform has undergone both  SAST and DAST tests and third-party security testing.
Click here for a copy of its privacy notice.
RingCentral's top web conferencing features include:
Unlimited cloud meeting recording
Screen sharing (entire screen, web browser, or single app)
Remote desktop control
Whiteboarding
Screen annotation
File markup and sharing
Up to 50 breakout rooms
One-click meeting scheduling
Personalized meeting rooms
Active speaker view
Mobile video calling
Multiple browser compatibility
Mute/unmute
Dial-in access
Safe driving mode
Set recurring meetings
"Call me" meeting access
Business Phone Features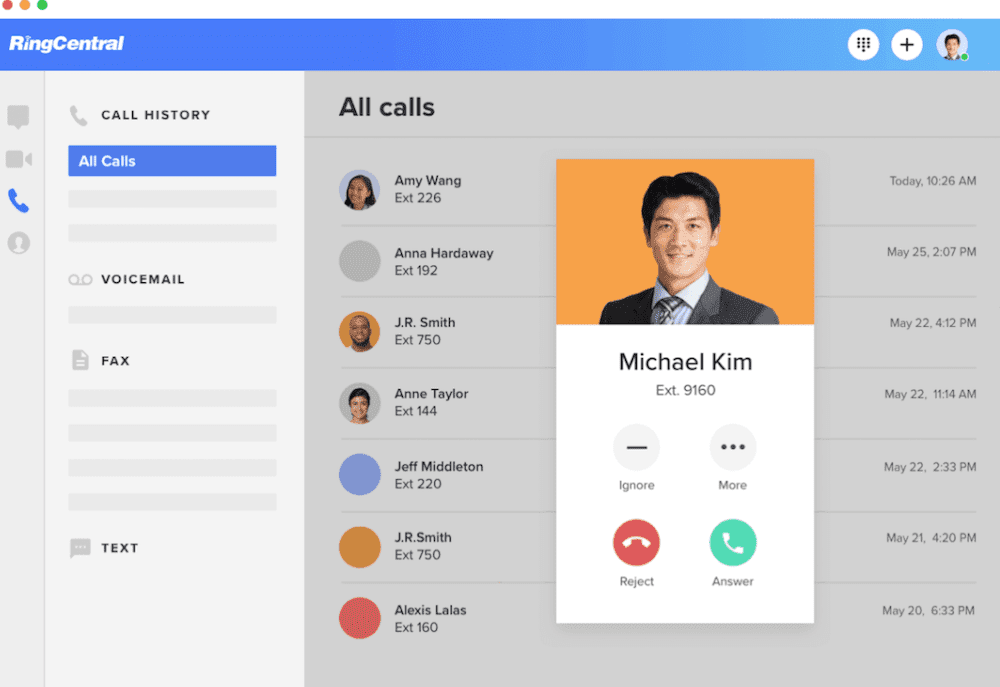 The Desktop application also includes access to a cloud business phone system with unlimited calls to the United States and Canada and Android/Apple mobile device compatibility.
Admins can select from over 200 local area codes, which means separate numbers for individual employees and departments are possible.
Users may also opt for a local smart number, meaning that incoming calls, texts, and faxes to the business are sent to a singular, all-purpose number. Extensions are available in addition to separate local numbers. Toll-free 800, 888, 877 numbers, as well as toll-free vanity numbers, are also available.
RingCentral offers international coverage in more than 40 countries as well as inbound international numbers for over 100 countries. The cloud-based Global Office streamlines communication into a singular phone system.
Team members can also set their presence status to Available, Invisible, or Do Not Disturb to let others know they're on an active call.
Additional calling features include:
Call delegation
Call screening
Call forwarding
Call flip for device switching
Call parking to access held calls from any phone in the system
RingOut one-touch calling from desktop computers or any phone
Intercom for company-wide announcements
Shared phone lines
Wi-fi faxing
Voice-to-email messaging
Visual voicemail
Set answering and pick up rules
Phone System Administration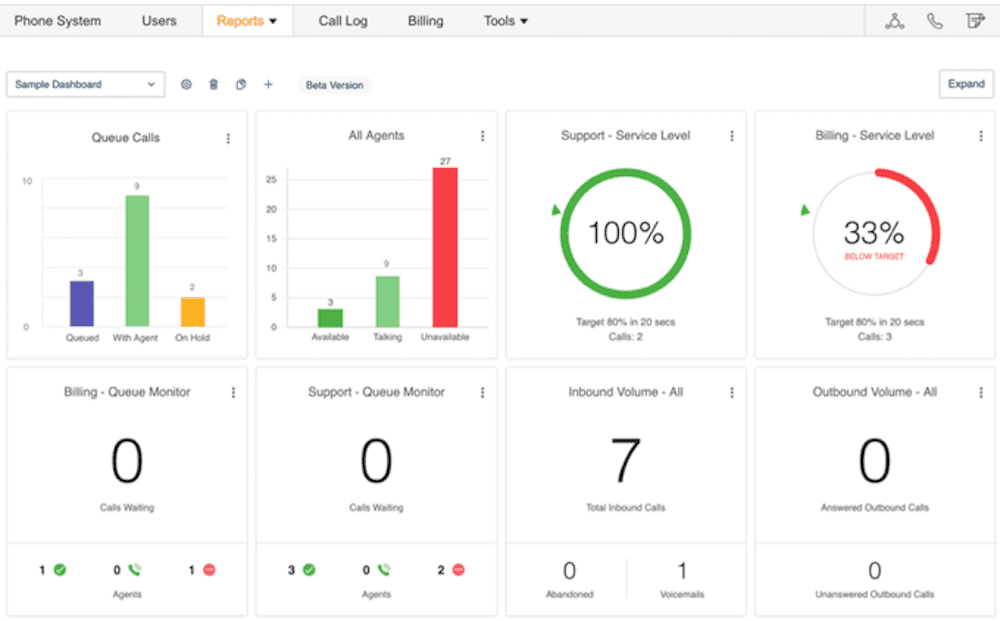 RingCentral's Business phone system offers a robust set of desktop and mobile administrative features.
In addition to Cloud PBX, users can also take advantage of RingCentral CloudConnect. This means that admins will have private and dedicated access to the cloud via Megaport, Equinix, or SD-WAN.
Multi-level IVR makes creating a flexible auto attendant system simple and allows employees self-service access to the RingCentral phone menu.
Additional phone administration features include:
Personalized contact center greeting recording
Hold music
Dial-by-name company directory
Multi-site management
Number porting for existing phone numbers
Hot desking
Employee call monitoring
Call logs
Automatic call recording
Caller ID
User templates
Free local and national directory listings
Caller ID
RingCentral Desktop App Integrations
Though RingCentral is designed to dramatically decrease app switching, team members still may prefer other app interfaces or rely on other platforms for specific features.
RingCentral, inc's Desktop app gallery contains hundreds of possible integrations, and also provides an open-source platform for users to create their own tools.
Top integrations include:
Microsoft Office
Microsoft Outlook
Google Calendar
G Suite
Salesforce
Slack
Microsoft Teams
Trello
Zapier
Box
Google Drive
Mailchimp
Github
JIRA
Zendesk
Okta
Asana
Hubspot
RingCentral Desktop Analytics and Reporting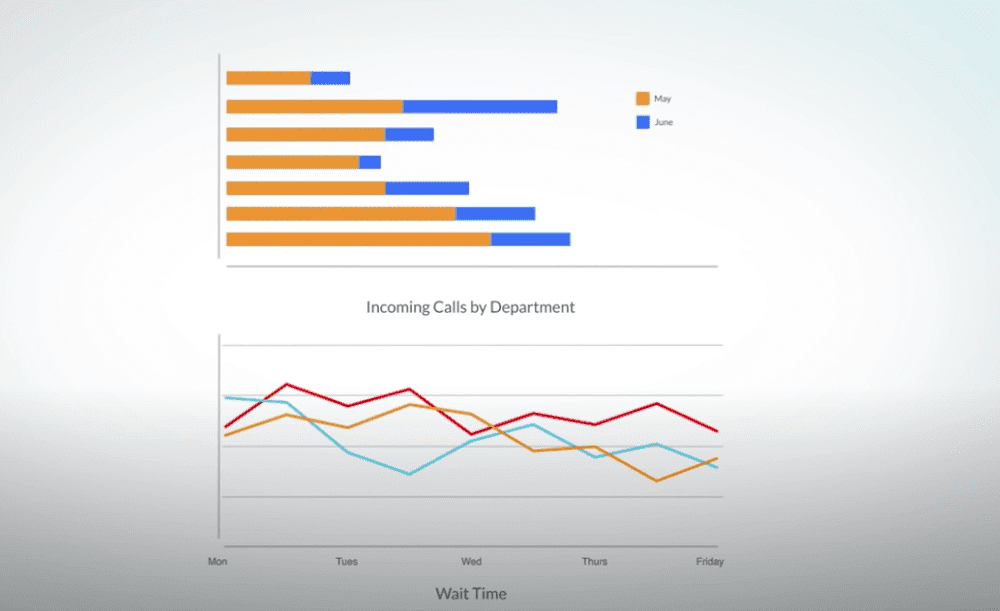 RingCentral's analytics portal provides excellent insight into the quality of customer phone calls,  online meetings, and overall user data.
Essential KPI reports, predictive notifications, and trend analysis help management to better understand company workflow and identify areas for improvement. Reports can be automatically sent monthly, weekly, or daily.
Reports can include analysis of:
Call wait time
Usage by team/department
Quality of service
Inbound and outbound calls by departments and individuals
Average call duration
Missed vs answered call ratio
Average calls per hour/day
Meeting data
Employee engagement
Device data
Pros and Cons of the RingCentral App
We analyzed recent customer RingCentral reviews of the desktop application to determine the most frequently-mentioned pros and cons.
Pros
Superb audio and video quality
Compatible hardware options available
99.999% uptime
Seamless device switching
No download required
Real-time live analytics
Robust video meeting features
Cons
Lacking sufficient customer support
Interface not user-friendly, user experience not intuitive
The interface can be slow to load
Numerous issues with SMS text messages through the app
Desk phone echoing reported often
Delay in reporting missed calls
RingCentral Desktop Pricing and Plans
RingCentral for Desktop offers four paid plans that can be paid monthly or annually, with annual billing saving users up to 33%. The most popular plan is the Premium option.
The RingCentral pricing model is based on the number of users selected, which can range from 1-999. The below table outlines the features and pricing of each plan. Though RingCentral offers a free version of its video calling app, there is no free plan for RingCentral desktop. Note that the Essentials plan does not include video meetings.
| | | | | |
| --- | --- | --- | --- | --- |
| Features | Essentials | Standard | Premium | Ultimate |
| Price | $19.99/user per month | $24.99/user per month | $34.99/user per month | $49.99/user per month |
| User Limit | 20 users maximum | Unlimited users | Unlimited users | Unlimited Users |
| Video Meeting Capacity | Video conferencing not included | 100 attendees maximum | 200 attendees maximum | 200 attendees maximum |
| App Integrations | X | X | ✓ | ✓ |
| Real-Time Analytics | X | X | ✓ | ✓ |
| File sharing and editing | ✓ | ✓ | ✓ | ✓ |
| Chat messaging | ✓ | ✓ | ✓ | ✓ |
| Team Collaboration Features | ✓ | ✓ | ✓ | ✓ |
| Voicemail to Text and Email | ✓ | ✓ | ✓ | ✓ |
| Unlimited US/Canada Calls | ✓ | ✓ | ✓ | ✓ |
| Toll-free minutes | 100 | 1,000 | 2,500 | 10,000 |
| Toll-free numbers | ✓ | ✓ | ✓ | ✓ |
| Unlimited Business SMS Texting | ✓ | ✓ | ✓ | ✓ |
| Unlimited Audio Conference | X | ✓ | ✓ | ✓ |
| Call Management | ✓ | ✓ | ✓ | ✓ |
| Call Log Reports | ✓ | ✓ | ✓ | ✓ |
| Hot Desking | X | X | ✓ | ✓ |
| Multi-Level Auto Attendant | X | ✓ | ✓ | ✓ |
| Unlimited Internet Fax | X | ✓ | ✓ | ✓ |
| Automatic Call Recording | X | X | ✓ | ✓ |
| Advanced Call Handling/Monitoring Features | X | X | ✓ | ✓ |
| Single Sign-on | X | X | ✓ | ✓ |
| Device Status Alerts and Reports | X | X | X | ✓ |
| Unlimited Storage | X | X | X | ✓ |
| c24/7 Customer Support | X | ✓ | ✓ | ✓ |
Where To Download And Available Versions
The RingCentral Desktop app can be downloaded onto Windows 64-bit EXE and 64-bit MSI systems, as well as on Mac OS x. However, current system requirements mean it is not compatible with Linux.
The app works with a wide variety of browsers, including:
Google Chrome, version 41 or higher
Microsoft Internet Explorer, version 11.x
Mozilla Firefox, version 27 or higher
Safari, version 7.x or higher
Both Android and Apple mobile app versions of the tool are also available.
The previous app, RingCentral Classic, can still be used and downloaded on Windows or Mac operating systems for those who prefer its interface. The Classic version can also be accessed via web browser.
Existing RingCentral users who want to upgrade to the new app can download it on the RingCentral website.
Click here for more information on popular integration apps, RingCentral Office, RingCentral Meetings, and more.
Is RingCentral Desktop Right for Your Company?
RingCentral for Desktop is best suited for mid-sized companies with a primarily remote workforce within the financial, healthcare, or retail sectors.
Though small businesses can benefit from RingCentral's individual plans, they may not yet have a need for the bundled services the app offers.
To see how well RingCentral stacks up against top competitors, check out our side-by-side comparison of RingCentral vs Zoom.
If you're in need of VoIP services exclusively, our interactive table on the top Business VoIP providers offers information on user reviews, key features, pricing, and more.