Interactive voice response is a technology that allows callers to interact with an automated self-service system that will help them get to the right department in the business. IVR started as a simple system that would ask callers a series of questions and direct the customer to press a specific button for each response.
Today's IVR software uses voice recognition and artificial intelligence to determine why your customers are calling. When prompted to answer a question, customers will be able to speak the response, and the system will direct the call to the right agent or agent grouping. Buttons are still an option if the voice recognition system does not understand what the customer is saying, but overall, IVR directs inbound and outbound calls without having to utilize a live operator during the process.
How Does IVR Work?
IVR has advanced dramatically since its inception. Originally, customers would use dual-tone multi-frequency (DTMF) dial pads to answer questions and input information to route calls correctly. Today, there are inbound call services and IVR containment efforts to help customers who dial your phone number for a specific need, but there are also outbound systems that call customers to give them information or help them through processes.
Modern IVR features improve customer satisfaction while allowing your team to perform several essential tasks.
Inbound vs Outbound IVR
Inbound IVR phone systems route phone calls through your system and attempt to anticipate customer expectations.
On the other hand, outbound IVR technology works by alerting existing clients about an appointment or gives them a critical emergency notification. For marketing companies, an outbound campaign using IVR allows them to automate calls to reach out to the customers using an auto dialer which can route responders to live on-premise agents.
Machine Learning
Machine learning and conversational AI ensures that a customer will not need to repeat things that they have already explained after a dropped call or being transferred to another representative. This technology may start on a website where information is collected before an agent contacts the customer, or it could be information that the IVR collects specifically so that the agent has a means of reconnection with the customer.
Sentiment and Intention Prediction
Sentiment prediction uses the recent activity of the customer to determine the possible reasons for the call. Machine learning also may review customer data in CRM databases. The system may ask if the call is in regards to a recent purchase, their current bill, or outages in the area. If it is not one of these things, the main menu options will be provided, but the IVR will be able to narrow it down to the most likely reason for the call.
Customer Adaptation
Every customer has a different level of experience when it comes to IVR calling, so they may need to be guided through the steps more thoroughly, or they may prefer a faster pace that skips some of the non-essential steps. A good IVR should be able to detect the customer's level of experience based upon their status with the company's loyalty program and the pace that they are taking while navigating through the interaction.
These systems offer menu options specific to the customer so that they get through the IVR quicker.
Proactive Calling
Proactive calling gives the business a chance to reach out to the customer before they call. Reasons for this technology include appointment reminders and payment notifications. The IVR could just be a reminder for the customer, or it could connect them to an automated self-service menu system where they will be able to change their appointment or make a payment quickly.
Proactive calling is a great way to boost telemarketing figures in real-time.
Visual and Text IVR
Visual IVR is built for communicating via a Smartphone or a website. This is ideal when there is an extensive menu of options to progress through, or the customer is in a location where they will not be able to respond to the IVR.
On the other hand, text IVR is how customers find out the status of an order or receive updates on an issue that they had with the company. Instead of going to the website and putting in a long code, the caller will be able to text the IVR to find out the status quickly.
In-Queue Self-Service
When a customer calls a company, call priority queuing ensures most of the issues that need resolution are completed using the self-service menu or immediately directed to an agent. If there is a long wait time, the IVR will list the self-service options that are available for customers.  Call center automations allow customers to serve their own needs without needing to wait for a call center agent. The IVR will also offer a callback if the self-service options are not adequate for the call.
How Does Outbound IVR Increase Engagement?

When most business owners think of IVR, they consider it to be a valuable tool that provided self-service options or a system that will effectively be routing callers to agents. Seldom do they consider the fact that IVR has outbound applications to improve customer service and expand the power of their VoIP phone service.
Increases Brand Awareness and Profit
Through reaching out to existing customers and leads, outbound IVR sends automated texts or makes calls with updates.
Moreover, while it takes talented marketing staff to put together a campaign, IVR allows for an outbound campaign to be automated. You can promote products or send notifications about new releases with outbound IVR.
Improves Customer Experience and Provides Business Intelligence
For those products that customers use every day, there's a lot of potential feedback to give and receive. Outbound IVR gives them a chance to have their voice heard and get in touch without an effort, improving their experience.
Moreover, outbound IVR gives you the chance to test out the effectiveness of marketing efforts. You'll find out which groups respond best to a given outreach effort and which sentiment your customers prefer, offering you feedback via engagement rate data. Outbound marketing efforts offer business intelligence to help you identify new opportunities.
How to Use Outbound IVR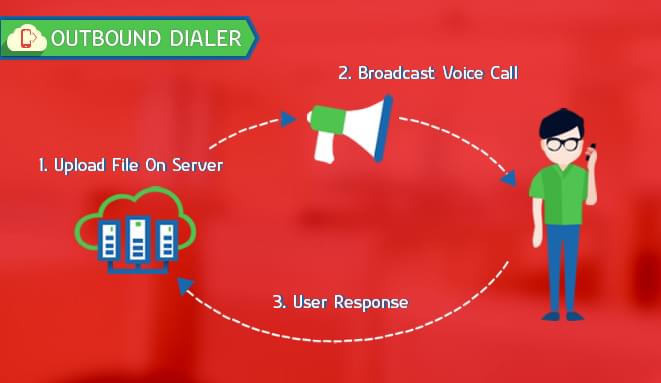 Outbound IVR, like traditional IVR, is designed to help add automation to business practices for the sake of efficiency. For example, outbound contact centers may have dedicated calling staff to alert customers about appointments, but this is a type of reminder that can be managed by an entirely automated outbound IVR.
Here are some specific applications of the system that your business should be using.
Alert Customers About Promotions
Contact centers need to be as efficient as possible, and outbound IVR helps create this kind of efficiency through heightened automation. When new promotions are pending, rather than having agents reach out to customers, an outbound IVR system uses a recording or AI software to alert customers. Rarely will an agent need to be involved, and customers quickly are alerted without using up much of their time.
The software even has functions that will allow you to reach out to specific groups of your customers to alert them about promotions that affect them.
Remind Customers About Payments
Collection practices of the past have used live agents to help bring customer accounts current, but IVR also serves as an efficient method. Outbound IVR can help customers that are behind by delivering payment reminders and alerting them about payment options.
Outbound IVR will quickly remind customers about due bill dates without the need to utilize an agent's time. Calls are made using the payment system, and multichannel options are also available for those that prefer alerts on different devices and platforms. Quick SMS texts are made with payment information and links. When a customer feels that this is in error, outbound IVRs will present the caller with the option to speak with a specialist.
Improve IVR Containment
One of the goals of IVR systems is to provide a quick and easy self-service option for your customers, but unfortunately, this isn't the way it always works out. IVR needs to be engaging so that your customers won't simply press "0" or ask for a representative.
Unfortunately, this is where IVR tends to falter. Customers tend to opt-out of the system if it is confusing or difficult to get through.
Outbound IVR is designed to increase containment thanks to automatic messaging. Your business can use this IVR to alert customers about promotions, bill payments, and as a means to qualify leads before an agent reaches out to them. Since outbound IVR is a much more focused style of IVR, the rates of call containment will be much higher. Your agents will be rarely needed with outbound IVR, but the option to speak with one will be available for customers.
Capture Customers and Convert Leads
Leads don't always take action when you want them to. When they express interest but don't follow up, outbound IVR is a tool that gives them that extra push. Sometimes, potential customers express interest but forget to follow up. An outbound IVR system alerts these leads about promotion end dates or simply reminds them to complete their registration.
Outbound systems present a reliable means of converting those leads that haven't qualified and placing them into the company's sales funnel. When the customer picks up the line, the system will automatically identify the brand and present them with promotions and reasons to consider the company.
The customer will then have the option to opt-in and can use their DTMF pad or voice to input information for billing and records. The system will even text them info for a visual IVR system, which will allow them to complete the IVR journey via a smartphone or PC.
Send Customer Satisfaction Surveys
IVR systems are often used to present callers with the option to engage in surveys about the customer experience. These IVR surveys are often skipped, but this doesn't have to be the end of the interaction. Consider using outbound IVR as a means to schedule a follow-up customer satisfaction survey. The outbound system sets up an appointment that's more convenient for the customer and this also serves as a great follow-up for live calls as well.
For those customers that decide to complete a survey at a later date or time, the IVR will schedule the call for a more convenient time. Once that time arrives the outbound IVR system will present the customer with the survey. Since it's scheduled, the customer will be more liable to complete the survey.
Automate Omnichannel Call Center Dialing
Outbound IVR is inherently omnichannel – systems reach customers through standard calling, text, and email. Because this IVR system is automated, more attempts to contact the customer are made. Effectively, call center dialers reach out to an entire calling list that might have required a huge staff using traditional calling methods.
This is also a means in which to reach out to these leads and customers on platforms that they are more comfortable with. Many customers prefer to interact with a company via phone, but a large number are looking to speak to organizations via text or email as well. Outbound systems integrated with VoIP phone service can also be used to send visual IVR links via text.
Verify Customer Identity
Fraud is a major consideration for a business, especially when digital communications channels come into the mix. Risk factors like identity theft are difficult to catch, which is why many businesses use two-factor identification as a good first step to protect your privacy online. When a company is looking to reach out to a customer, outbound IVR is used to verify their identity before an agent gets involved.
The IVR system reaches out and the customer speaks or inputs their account information and social security for verification purposes. For those customers that don't wish to speak their info aloud or use a DTMF Dialpad, the outbound IVR will send a visual IVR link that they could use from their smartphone or PC. All of these processes are completed without the need for agents to get involved, which helps decrease handle time and increase agent efficiency.
Outbound IVR Automates Customer Outreach
Outbound systems, with their strong self-service and brand-building features, will provide extensive value for a modern contact center solution. They bring automation and increase the rate of customer contact. It also helps that outbound IVR is more personalized and eschews the robocalling experience for your customers. This is because outbound IVR uses CRM system integration to ensure that every customer interaction is tailored to the caller.
If you're looking to bolster the performance of your call center, consider adding in outbound IVR functionality. When combined with call center software like predictive dialers, auto attendants, and standard IVR, your customer experience will be greatly improved.
To optimize your deployment of IVR in an outbound call center, check out our guide to avoiding costly IVR mistakes.