What are the differences between standard phones and Internet calling, and what types of VoIP telephone numbers are available?
Aside from a lower monthly phone bill, what are the other advantages of switching to business VoIP, and which features should you look for?
Table of Contents: 
What is a VoIP Phone Number?
Small business and enterprise IP phones offer a unique approach to telephone numbers.
Traditional numbers are assigned a fixed location, telephone line, and device by their phone company.
Though on-premise PBX means desk phones can still route calls, that routing is restricted to within the office's physical location.
Virtual phone numbers, sometimes referred to as access numbers or direct inward dialing (DID) remove these limitations.
DID numbers are not tied to a set phone line or device, but rather to a specific individual, branch location, or department.
They work across PSTN and VoIP service providers by forwarding calls to multiple devices, IP addresses, and other phone numbers. This means that clients can reach an employee on their office phone, home phone, or mobile device — but the employee only has to give the client the online number.
Not only does this offer a higher level of privacy, but it also means that employees no longer need to be tied to their desks, waiting for an important call to come in. Plus, virtual numbers make it much easier for callers to reach a live agent, which means more sales and better customer service.
How Does VoIP Calling Work?
VoIP, or Voice over Internet Protocol, phone service allows callers to make and receive telephone calls over the Internet.
As opposed to relying on copper wiring, VoIP technology transfers calls using the same broadband Internet connection provided by a router or WiFi network. Unlike standard phones, a VoIP network is device agnostic, meaning you can make or receive calls over your desktop computer, smartphone, or tablet.
Because you're using a device you already own to make calls, there is no need to purchase any additional equipment. (Though many IP telephony providers do have compatible hardware like video conferencing headsets available for interested parties.)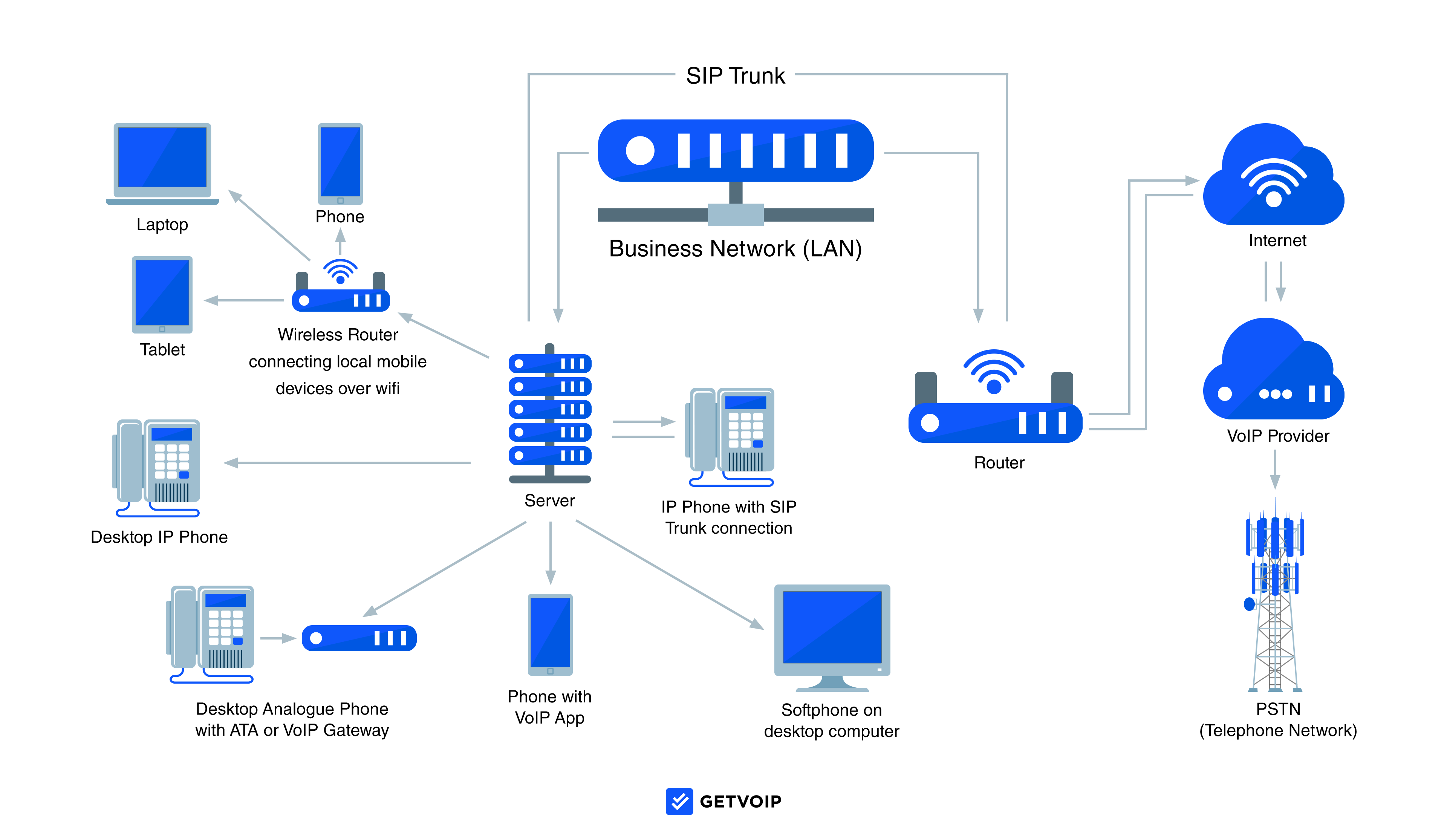 Most VoIP plans include unlimited local calling and a set number of free long-distance minutes per month. Plus, there is usually no setup fee, and advanced features are included within the monthly price, not charged in addition to the flat rate you're already paying. These systems are also scalable, meaning you'll avoid paying for features and additional phone lines that you don't yet need.
On average, companies that switch from standard phones to VoIP save roughly $5,000 a year while bringing in an additional $480 per user thanks to the increased productivity that virtual phones offer.
VoIP also supports video conferencing, SMS texting, virtual voicemail, and more — while standard telephones support audio-only communication.
Finally, virtual telephones offer a cloud-based Private Branch Exchange (PBX) service that lets users run their entire telephone system over an existing online connection, offering even more cost savings.
What Are The Different Types Of Virtual Phone Numbers?
In addition to the convenience they provide, virtual phone numbers are popular because they allow companies to choose from different types of numbers.
These include:
Local number and area code assignment is ideal for businesses that have locations in multiple cities, as well as those that depend heavily on the trust of the local community. Not only do local access numbers make it easier for callers to connect with nearby agents, they also lower distance calling costs.
Local numbers are available in all 50 states, Canada, and internationally. Note that individual providers may have restrictions on which countries they can provide numbers within.
Toll-free numbers (1-800 numbers) prevent callers from having to pay for expensive long-distance phone calls, as the charges fall to the call receiver (your company.) Because calls are placed over the Internet, you'll also be able to avoid paying high fees for international calls.
Plus, toll-free numbers offer increased credibility to businesses of all sizes, giving them a more corporate appearance.
Vanity numbers (eg., 1-800-GET-HELP, 1-866-CALL-JOE) make it easier to remember numbers and help companies differentiate themselves from their competitors.
How Is A Landline Different From A VoIP Phone System?
The below table outlines some of the most important differences between regular phones and Voice over Internet Protocol systems.
| | | |
| --- | --- | --- |
| Features | VoIP | Landline |
| Requires Internet Connection | ✓ | X |
| Requires Telephone Hardware | X | ✓ |
| High Setup Fee | X | ✓ |
| Device-Agnostic Communication | ✓ | X |
| Multimedia Communication | ✓ | X |
| Long-Distance Costs | Included in monthly plan | Charged by the minute |
| Impacted by Internet Outages | ✓ | X |
| Advanced Features Included in Monthly Plan | ✓ | X |
» VoIP vs Landline for Business & Everything You Need to Know
Landlines connect home and business phone numbers to a local PSTN or POTS telephone network via copper or fiber-optic wiring, transferring analog voice data to and from the person you're speaking with.
Though traditional phones are known for their reliability, they have downsides that mean they aren't always amenable to today's office environments.
Regular phones do offer basic telephone features like voice messaging, conference calling, caller ID, and call waiting.
But not only do these features come with an additional charge, but they're also much more limited than virtual phone systems. Regular phone services cannot offer more advanced features such as skills-based incoming call routing, video conferencing, and voicemail to email.
Though many assume that standard desk phones are cheaper than virtual telephony, between the price of the physical equipment, local and long-distance call charges, the cost of additional lines, and upcharges for features, they often end up being much more expensive than anticipated.
Plus, that equipment isn't just costly — it also takes up lots of valuable office space.
The real problem with relying exclusively on a standard telephone for business and personal communication?
They're quickly becoming obsolete.
In fact, 40% of American households no longer have a landline number– which means technology won't advance any further, and customer support will be more difficult to receive. countries they can provide numbers within.
How To Get A VoIP Phone Number
Voice over IP providers offer virtual phone numbers as a part of their plans, and businesses can add as many as they'd like for an additional monthly charger per user.
It's also possible to get a VoIP number without switching to virtual phones entirely.
Providers like 8×8, Grasshopper, and MightyCall all offer paid VoIP numbers, while Google Voice is the top free virtual telephony app.
What Are The Most Important VoIP Features?
In addition to the features offered by VoIP service providers, there are numerous other features that virtual calling systems offer.
The most important features to look for when evaluating virtual phones are:
Different types of call routing (round-robin, skills-based, priority, etc.)
IVR auto attendant for customer self-service
Call forwarding
Automatic Call Distribution (ACD)
Call recording
Find Me Follow Me
Integration with other business software
Online faxing
SMS business text messaging
Call analytics and reporting
Mobile app for cell phones
Voicemail to text and email
Call whisper for agent coaching
Video conferencing and audio conference calls
Number porting to transfer existing phone numbers and contacts
Ability to keep your old number
Softphone capabilities
Call screening and number blocking
SIP trunking
Why Should You Get A VoIP Number?
In addition to a simpler setup process, cost savings, and advanced features that improve customer service, VoIP systems provide numerous other benefits.
These include:
Increased employee flexibility and number portability
Improved communication for remote employees
Customers have a better chance of reaching a live representative
Decreased customer service resolution time
An increase in outbound sales calls
Improved customer self-service options lets employees focus on more important tasks
Additional modes of communication (video conferencing, faxing, SMS texting, etc.)
Fewer dropped calls and lower call abandonment rate
Better customer feedback through automated surveys
In-depth call analytics providing insight into productivity, number of daily VoIP calls, etc.
More office space
Short and simple installation process
24/7 service provider support
Scalable pricing
What Are The Downsides Of VoIP Phone Systems?
While it's clear that VoIP service capabilities offer many more advantages than traditional phone lines, there are a few disadvantages to acknowledge.
The biggest downside is that virtual telephony systems are reliant on the uptime and bandwidth of your Internet connection.
This may mean you'll need to switch providers in order to accommodate your new phone systems. Even then, if you lose power or experience connectivity issues, you won't be able to make or receive calls until the Internet is back up and running.
Additionally, some companies may require long-term contracts that are notoriously difficult to get out of. Ensure you have a Service Level Agreement (SLA) that clearly defines provider expectations and outlines the specifics of the contract.
Finally, be sure that you understand the VoIP taxes and fees that providers can and cannot legally charge you.
Unscrupulous companies may try to snake hidden fees, like unspecified "service charges," into your monthly bill. Early termination fees or excessive RCIP and regulatory recovery fees are red flags to watch out for. If you're uncertain as to what makes up your monthly charge, ask to see a complete cost breakdown.
Still, even with these potential issues, VoIP is still a better choice than old phones.
For best results, companies should have one standard office desk phone for backup purposes but rely primarily on VoIP calling for internal and external communications.
What Should You Look For In A VoIP Provider?
In addition to asking about available VoIP numbers, there are a few other questions to ask a potential provider.
Make sure you know which features are included and which ones will cost extra, whether or not they offer number porting, and if they have any kind of cancellation fees. Also understand their international calling rates, E911 services,  and if they can provide you with the contact information of a current client whose business communications plan is similar to your own.
Our Business VoIP Buyer's Guide is an excellent starting point for comparing top vendors like RingCentral, Ooma, 8×8, Nextiva, and Dialpad.
Read current user reviews, evaluate pricing and plans, and ensure that you choose a communication system that has all the features your team needs.
VoIP Phone Number FAQs
Below, we've answered some of the most frequently asked questions about VoIP numbers and providers.
The cost of virtual phone numbers will vary by specific provider and by phone number type. Vanity numbers are the most expensive, generally costing between $25.00-$30.00/number.
Local numbers will be more affordable, usually costing between $12.00-$20.00/month. Note that the number of minutes and the number of features included in the virtual number plan can also impact the price. 
In many cases, a VoIP provider will include one or more free phone numbers with your subscription. 
Yes. If no one answers their first virtual phone number, users can easily set up a call forwarding pattern to ring their smartphones, landline office phones, other departments, and even additional virtual numbers. 
In most cases, yes. However, you may be able to choose between signing a month-to-month contract and a year-long contract. Note that longer-term contracts generally offer better cost-savings, but there is a fee for early termination. 
Very rarely. In the majority of cases, you are responsible for purchasing your own Internet services. You may also need to upgrade your ISP to ensure that you have the bandwidth necessary to support a virtual phone system.