Close to 90% of customer service professionals say today's consumers have much higher expectations of customer support representatives than in the past.
One of the biggest challenges of the COVID-19 pandemic has been how companies can continue to provide superior customer service in an environment with fewer overall employees, largely remote teams, uncertain delivery dates, and longer support resolution times.
Contact center software is an excellent solution, but with COVID's accompanying financial crisis, many businesses fear they can't afford it.
Here, we'll review the best affordable or free call center software to try out.
Top 7 Free Call Center Software
In determining which providers to include on this list, we evaluated several key factors. To make the cut, the best call center software needed to:
Offer one free plan or an extended free trial
Have paid upgrade options or advanced add-on features
Have native Customer Relationship Management features or be able to integrate with third-party CRM software
Have a minimum of two dialing modes (Predictive Dialer, Progressive Dialer, Preview Dialing, etc.)
Some of the call center applications on this list, such as Bitrix24 and GOautodial, have features that are more similar to omnichannel contact centers than strictly call centers, allowing companies to further streamline communication.
Still, because they offer free call center technologies, we've included them on this list. Plus, if you can use the same interface for advanced Customer Relationship Management tools, workforce management, and omnichannel communication for free, all the better.
We've also included a list of pros and cons for each provider to give you a better insight into the solution's overall user and customer experience.
The best free call center platforms are:
| | | |
| --- | --- | --- |
| Provider | Best For | Feature Highlights |
| Bitrix24 | Midsize to enterprise-level support teams needing multiple customer communication channels | Kanban/Gannt Views, Advanced Team Collaboration Features |
| Qubicles | Newer or smaller businesses with few full-time agents whose primary support channel is telephone communication | Blockchain-based, Flow Call Script Designer |
| VICIDial | Enterprise-level businesses that need a completely customizable call center solution | Predictive Voice Analytics, Supports Inbound Emails and Live Website Chat |
| GOautodial | Companies with regulatory security requirements and small businesses that need advanced call and campaign management features | HIPAA Compliance, Advanced Dialing Modes |
| AVOXI | Remote companies and high-volume call centers that already have a dedicated CRM system in place | 2-Way CRM Synching, Toll-Free Vanity Phone Numbers |
| CallHippo | Telemarketing centers and mid-to-large-scale businesses that have consistently long lead lists | Advanced Call Routing Options, Call Transcription |
| Freshcaller | High volume call centers and eCommerce shops with a large number of incoming calls that want to provide a high level of customer self-service | AI Voicebot and Advanced Recording Capabilities |
Bitrix24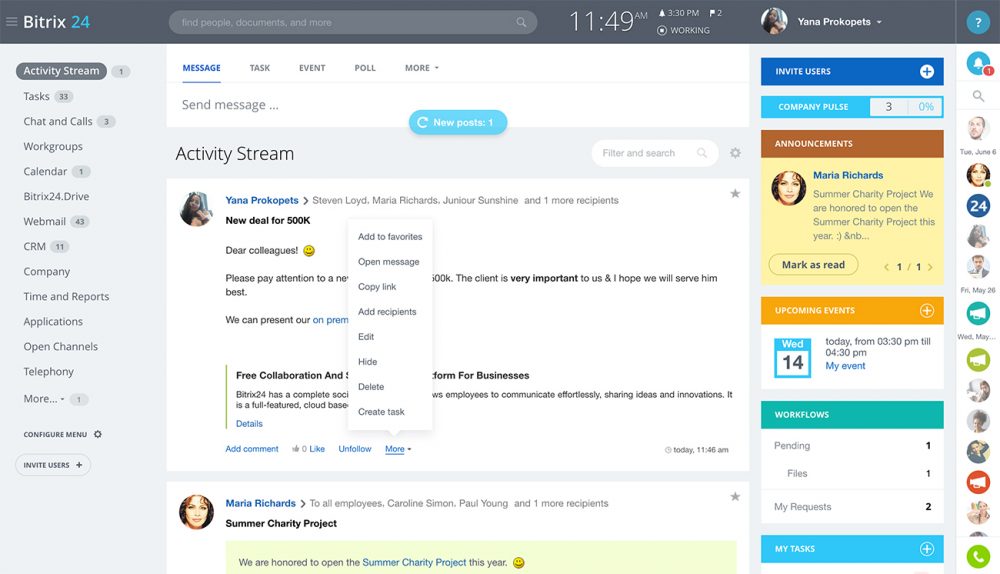 Bitrix24 is a cloud and on-premise communication and collaboration suite offering business telephony, CRM, instant message, and team collaboration features within one package.
Though a large amount of features is a bit overwhelming, Bitrix24's free version easily offers the most robust capabilities out of any other tool on this list. It provides free unlimited inbound phone calls, 100 minutes of recording calls, basic call statistics, and more for up to 12 users.
Although outbound calling is not a part of the free plan, it's available from just $0.01 per minute. Users can also opt to rent a virtual PBX system for up to $11.00/month, which provides unlimited phone lines, call routing, recording, call notifications, CRM call pops, and more.
Additional features of the free plan include:
Call queuing, transferring, forwarding, and holding
Unlimited contact storage
Voicemail and recorded greetings
Imported call lists from Excel or CSV
Chat messaging
Video conferencing
Basic Interactive Voice Response
Business hour settings
Client profiles
CTI screen pops for incoming calls
Website contact forms
Website call back request forms
Contact import from Gmail and Outlook
Social media communication channels
Sales funnels and reporting
Email connector/2-way synching
Automated replies
Kanban and Gantt board views
5GB of cloud storage
iOS and Android smartphone apps
Task management/assignment
File synching and online file editing
Call statistics and reporting
Integration with Drive, Dropbox, Google Docs
In addition to the free version, Bitrix24 offers five paid plans ranging from $19.00/month for two users to $159.00/month for unlimited users. You can also pay to rent a telephone number, get a SIP connector, or purchase the on-premise version of Bitrix24. Users can try the on-premise version free for 30 days or can get a personal demo from a representative.
| | |
| --- | --- |
| Bitrix24 Pros | Bitrix24 Cons |
| High level of customization  | Crowded interface filled with irrelevant information |
| Advanced call management features for a free tool, including basic IVR functionality  | A large learning curve, especially given the lack of user training  |
| Teamwide task management updates | Lack of user permissions control |
Qubicles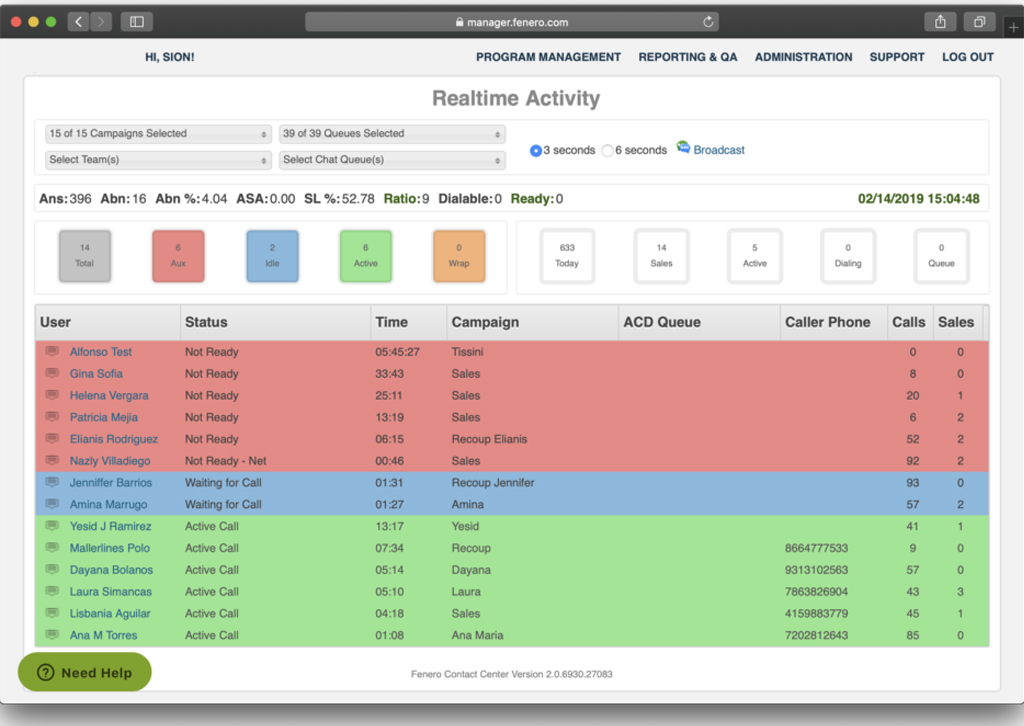 Quibicles is a blockchain-based, decentralized call center software designed for companies of any size.
There is no licensing fee, and the payment structure follows a pay-as-you-go model. An unlimited amount of users can access all Qubicles features within the free plan, within the two paid plans offering a higher level of support and training.
The Flow feature allows for simple drag-and-drop call scripting for multiple interaction types, and makes it easy for call center agents to follow a set script path based on real-time customer responses. After every call, agents can rate the call disposition, take notes, and even update their interaction scripts.
Qubicles also offers ACD call management options that make it much easier to handle unlimited incoming calls. Routing options include first available, idle time, round robin, and more. Admins can set the maximum number of calls allowed in the queue, the maximum customer wait time, and choose which pre-recorded messages should be played, based on the call flow.
The Census feature lets users import an unlimited number of contacts and lead lists into the platform. Admins and agents can then choose from several dialing options, including predictive dialing, progressive and manual modes.
Users can create advanced Interactive Voice Response (IVR) paths, purchase US, Canadian, and international business telephone numbers, and even connect with customers through live chat support.
Additional features include:
Call notifications
Real-time call monitoring
Over 30 historical call report templates
Outbound SMS texts
Agent status
Call recording
Click-to-call
Call scheduling
Customer surveys
CRM features including marketing automation and pipeline management
On-demand staff (virtual receptionists, etc.)
Call abandonment statistics
| | |
| --- | --- |
| Qubicle Pros | Qubicle Cons |
| No long-term contracts or setup fees | High-quality customer support only truly available with paid monthly plans |
| User-friendly interface with a fast setup process  | Automatic voicemail detection feature needs work |
| Automated callback option available for free, not as an add-on to the monthly plans as with most providers | Lack of unlimited call recording storage  |
VICIdial
VICIdial is an enterprise-grade open-source contact center solution without any per-user license fees — and users can get it 100% free. As of this writing, it has over 14,000 registered installations across 100 countries.
It allows for blended, inbound, and outbound calls, and includes predictive and manual dialing modes. VICIDial's interface also supports inbound emails and website live chat support.
Admins can create call lists, ring groups, host audio conferences, and take advantage of the time-saving text-to-speech tool. It's easy to set agent shifts, access call scripts, and even customize hold music.
VICIDial's application is available in 16 different languages, meaning it's an ideal solution for international corporations.
In addition to offering a hosted option, as with Qubicles, VICIDial allows pay-as-you-go expedited or more detailed client support. Users can also pay to have VICIDial build them a unique contact center solution from the ground up.
Additional features include:
Mobile Apple iOS and Android apps
CRM integrations (Paid add-on)
Callback scheduling
Predictive voice analytics (Paid add-on)
Blind and warm transfers
Skills-based routing
Call queuing
Real-time agent updates
Call prioritization
Call barge, monitor, whisper
Click-to-call
Internal chat messaging
| | |
| --- | --- |
| VICIDial Pros | VICIDial Cons |
| The hosted platform option provides high-level data encryption | Some basic features (CRM integration, AMD, and call recording) available only as paid add-ons |
| 24/7 emergency basic customer support | Requires some development experience to get the most out of the platform |
| Third-party CRM integrations  | No native post-call survey or scheduled reporting  |
GOautodial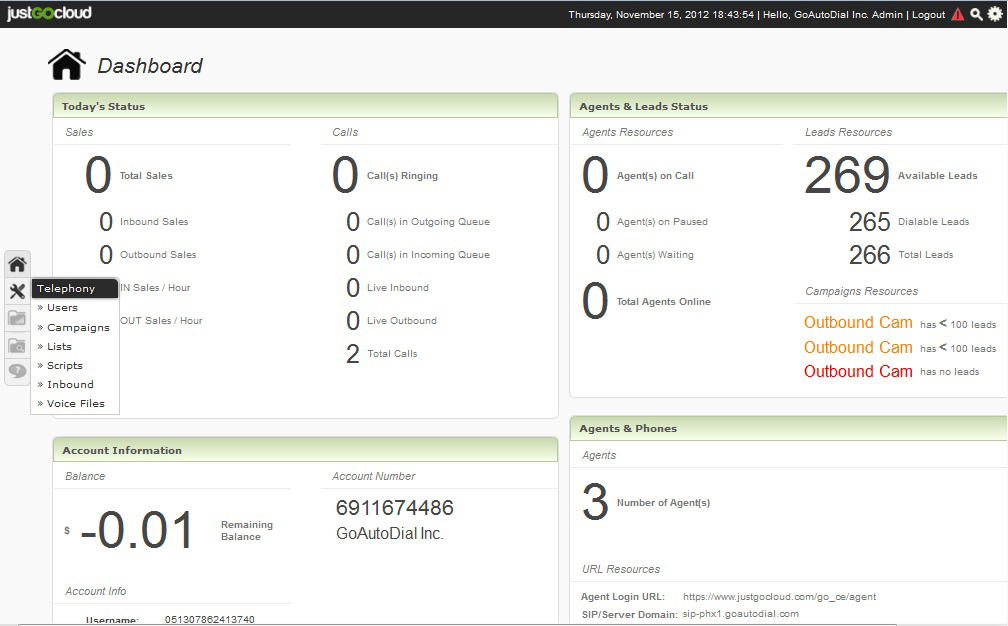 Similar to Bitrix24, GOautodial bills itself as an open-source omnichannel contact center suite.
In addition to inbound, outbound, and blended calling, it also offers third-party app integration via REST APIs.
Unlike many of the other providers on this list, GOautodial offers a 99.99% uptime in addition to being HIPAA compliant. It also comes complete with SIP and web app firewall protection designed to prevent brute-force attacks. Bring your own VoIP provider, or take advantage of the free 30-day trial of the JustGOcloud on-demand contact system.
Because it's a paid plan, users will enjoy more native features than they would with many other platforms on this list.
Top features include:
Unlimited user extensions
Personal and team-wide voicemail
Manual, predictive, and preview dialing modes
Scheduled callbacks
Automatic Call Distribution and IVR
Robo dialing
Campaign-specific caller ID
Lead filtration
Call notes, support ticket logs
Disposition analysis
Knowledge base and helpdesk
Campaign-specific call scripts
DNC blacklist
Call recording and storage
Live chat customer support
Real-time and historic call data
Listen, barge, and call whisper
GOautodial offers two paid plans: The Starter plan for $19.00/month for 5+ agents, of the GOcloud Premium plan for $24.00/month for 6+ agents.
| | |
| --- | --- |
| GOautodial Pros | GOautodial Cons |
| No contract or setup fees | Lack of omnichannel communication |
| Month-long free trial | Allows for a maximum of 10 agents per plan |
| Multi-channel live customer support | ACD and IVR not available on Starter Plan |
AVOXI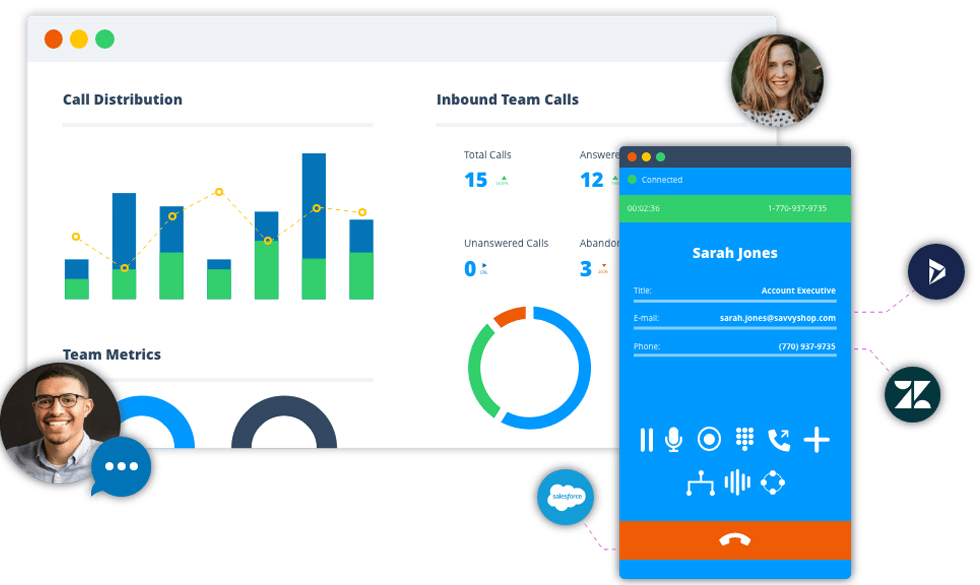 AVOXI is a cloud contact center solution with a particular focus in virtual telephone numbers.
In addition to standard call center features like call recording, a virtual auto attendant, and call forwarding, AVOXI offers two-way data synching with your preferred third-party Customer Relationship Management software solutions, including Salesforce, Zendesk, Zoho, and HubSpot.
Users can opt to bring their own carriers and take advantage of number porting, or purchase their own toll-free, local numbers, vanity phone numbers or UIFN numbers. They can also enable any AVOXI phone numbers to send/receive SMS text messages, offering another channel of communication.
All outbound calls to the US and Canada are unlimited.
Additional features include:
ACD and IVR
Call queuing and call transfer
Softphone
Click-to-call
Knowledge base and 24/7 customer support
Call blocking
CTI call screen pop
Live coaching through call barge, whisper, and monitoring
Callback scheduling
Time-based routing
Call scoring and custom dispositions
Voice messages to email
Voice message transcription
Ring groups
International calling
DID numbers
SIP trunking
WebRTC Softphone
As of this writing, AVOXI does not offer a free plan, but it does have a 30-day free trial. There is a three user minimum for their call center software, and plans start at $24.99/month for three users. Contact AVOXI for an individual quote.
| | |
| --- | --- |
| AVOXI Pros | AVOXI Cons |
| Integrates with over 50 third-party tools | Less customization than with open-source platforms |
| Virtual phone numbers in over 170 countries | No call scripts |
| Unlimited concurrent calls | No mobile app currently available |
CallHippo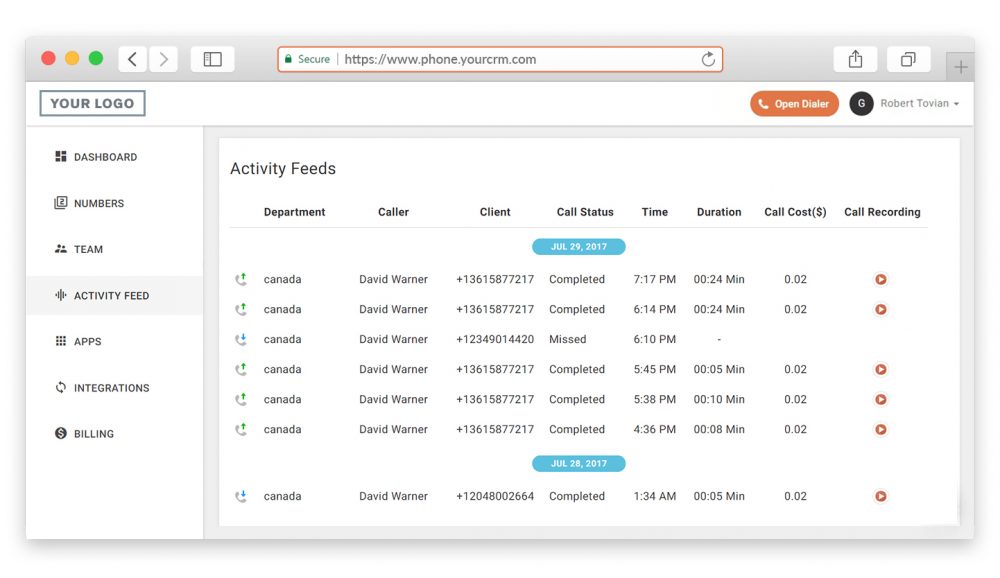 CallHippo is a virtual phone system used by over 5,000 companies including Amazon and Honeywell.
Promising to get your virtual phone up and running in three minutes, its top features include Power Dialing modes, CRM integration, and instant call logging. Users can choose phone numbers from over 50 countries, including toll-free and local numbers.
CallHippo automatically records both inbound and outbound call center interactions and can hold up to 100,000 recorded calls per account for 90 days. It allows for both warm and blind call transfers, while Smart call forwarding comes with additional features like custom greetings and hold music.
The PowerDialer tool is especially useful for getting through long lead lists, as multiple agents can be assigned to the same campaign. When one call ends, the dialer automatically places the next call, only connecting the agent when a lead is on the other line and ready to talk. Agents can pause the auto dialer at any time.
Another interesting feature is the Smart Switch tool, which lets representatives increase overall call connectivity by switching between telephony networks.
Additional features include:
Call barging
IVR call menu
Caller ID
Pause call recording
ACD
SMS messaging
A free telephone number
Round robin, fixed order, and simultaneous call routing
Call queues and advanced call paths
3-way conference calling
Call analytics on the number of calls per agent/department, average call length, etc.
Voice messages sent to email
Over 100 third-party app integrations
Apple and Android mobile apps
Global Connect for international calling
Call transcriptions (add-on feature)
As of this writing, CallHippo does not have a free version, nor does it offer a free trial. However, especially given the advanced features, CallHippo's pricing is surprisingly affordable. Choose from three paid plans: the Bronze plan for $14.00/user per month, the Silver plan for $24.00/user per month, or the Platinum plan for $34.00/user per month. Enterprise custom-built solutions are also available.
| | |
| --- | --- |
| CallHippo Pros | CallHippo Cons |
| Unlimited incoming calls | No free plan or free trial available |
| Multi-device call forwarding | Call queuing not available on the basic plan |
| Number porting | Limited native communication channels |
Freshcaller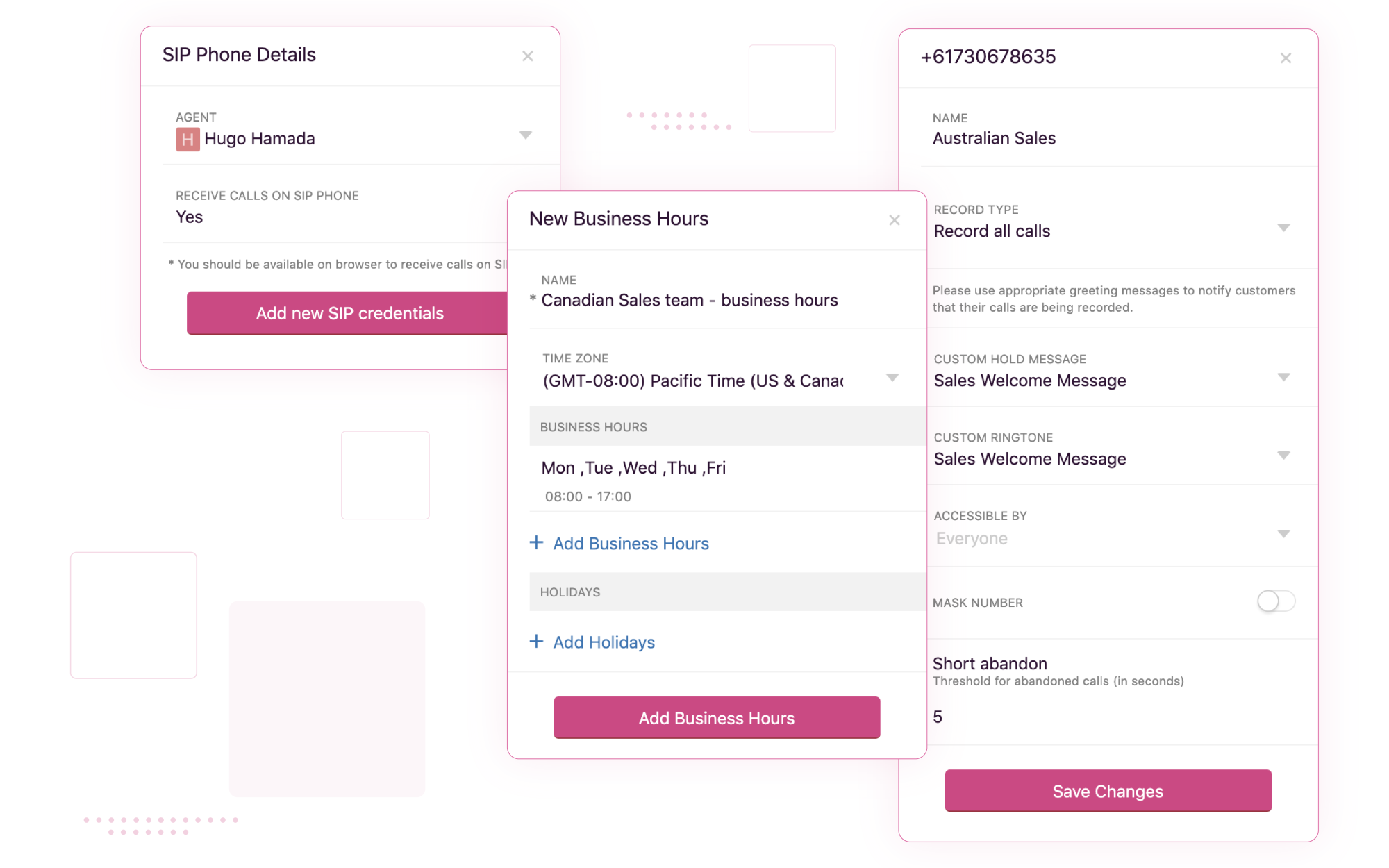 Freshcaller by Freshworks is a pay-as-you-go phone system or omnichannel communication platform (users can choose which system they prefer.)
One of the most unique Freshcaller features is the Voicebot, powered by Freddy AI. It uses artificial intelligence and voice analytics to determine customer intent and disposition and then provides pre-recorded automatic responses to common questions. This means agents won't lose time answering the same questions over and over again and offers a higher level of 24/7 customer self-service.
It also provides a plethora of ACD call routing options, including business hours routing, holiday routing, most idle routing, and more. Plus, callers automatically get frequent updates about their position in the queue if they've chosen to wait on hold instead of scheduling a callback.
Freshcaller offers advanced reporting capabilities, such as team and individual analytics, call volume reports, and data on call wait times, handling times, and call abandonment rate. It integrates with popular tools like Freshservice, Freshdesk, Salesforce, and HubSpot CRM.
Additional features include:
Number porting
Multi-level IVR
Android and iOS mobile apps
Pre-built and custom reporting templates
Advanced supervisor controls including live queue monitoring, service level metrics, and average call response time
Call conferencing
Scheduled callback
International, local, and toll-free vanity numbers
Call recording
Custom greetings
Caller ID
Call tagging
SIP connections
Up to 5,000 free incoming call minutes/month
Warm transfer
Call barging, monitoring, whispering
The free version of Freshcaller allows for unlimited agents, (with pay-per-minute phone calls) inbound call center caller ID, desktop notifications, call notes, call metrics and KPIs, and custom greetings. Users can also buy local and toll-free numbers.
There are four paid plans available, ranging in price from $15.00/agent per month to $69.00/agent per month. There is a free 21-day trial for all paid plans.
| | |
| --- | --- |
| Freshcaller Pros | Freshcaller Cons |
| Bring Your Own Carrier | No unlimited inbound calling  |
| Smart Escalation Matrix | IVR not available on free or basic paid plans |
| Omnichannel plans for messaging, phone, email, social, and live chat  | Helpdesk software features need improvement |
What Are The Top Paid Call Center Software Providers?
If you've tried out several of the free call center solutions on this list and still haven't experienced an uptick in customer satisfaction, you may be willing to explore paid options.
Paid tools will have more communication channels, better third-party software integrations, and more advanced features that you won't have to build yourself.
Plus, most platforms still offer at least a two-week free trial. Use our interactive guide to call center software to learn more about top providers like Five9, Twilio, Talkdesk, and Dialpad.