Call center software includes essential business phone system features like real-time call metrics, dedicated phone numbers, and virtual voicemail.
Call routing is a particularly valuable feature, as it improves the overall customer journey by shortening call wait times and connecting callers to the agent who is best suited to help them.
But what exactly is call routing, and how do you deploy it?
Table of Contents 
What is Call Routing?
Call routing is the business telephony process of handling and transitioning live phone calls to a certain employee, department, or team member, based on pre-established criteria.
Call screening, in contrast, provides you with the information your business needs to be able to direct the call to the right person, such as a caller's name and phone number.
Call forwarding, while similar to a call routing system, is the process of automatically sending callers to another phone number if the first phone line isn't available during standard business hours. (For example, forwarding calls from an agent's business calls phone to their cell phone after 5:00 PM in their local time zone.)
It takes the average agent 28 seconds to answer an inbound phone call.
While this might not seem like a long time, consider the fact that 60% of customers will only wait on hold for a maximum of one minute before hanging up.
Additionally, note that being connected to an uninformed agent is consistently mentioned as the number one reason why customers will stop doing business with a company.
Call routing solves both of these problems.
With intelligent call routing, the system administrator instantly connects the caller to a specific line or customer support without putting them on hold.
Types of Call Routing
Direct call routing connects customers to specific employees or departments without the use of an automatic call distributor. Instead, callers choose from multiple phone numbers that send them to the party they're looking for.
However, it also means busy signals, poor call management, long customer wait times, and higher call center abandonment rates.
To avoid this, use these alternative automatic call distributor (ACD) routing strategies for your contact center.
Automatic call distribution routing is a business telephone software system that connects incoming callers to the specific agent or department best suited to assist the caller based on predefined settings.
It also:
Creates customer call waiting queues
Collects phone system usage data
Allows for call monitoring and coaching
Allows for social media and CRM VoIP integrations
Priority Routing
Priority routing options assign callers to agents based on either the urgency of the call or the overall value of a customer.
High-value clients can be sent to a VIP queue that will connect them only with top agents, while other phone calls are sent to a general queue.
Skills-Based Routing
Skills-based virtual phone system routing ensures that callers speak to the agent who has the knowledge and training required to assist a customer with their specific issue.
For example, it connects a customer with a question about an unfamiliar account charge to the billing department as opposed to an HR representative who is unable to access a customer's account history.
Skills-based routing is also utilized in a sales environment.
It sends a potential customer who clicked on an ad before calling to the representative with the greatest knowledge of that specific product (or the highest sales closure rate.)
Least Occupied Routing
Least occupied routing connects the inbound call to the agent that has had the least amount of activity or calls that day.
This is especially helpful for customer service and support departments, as it prevents individual representatives from getting overburdened with calls.
Round Robin Routing
Round robin routing is somewhat similar to least occupied routing, except that it is more focused on evenly distributing sales calls among agents.
System administrators create a business VoIP algorithm for managing incoming calls to the sales team, creating a more equitable sales department.
Predictive Behavioral Routing
Predictive behavioral routing (sometimes called intelligent routing) uses live and historical call center data to connect the caller to the agent who will be able to provide the best answer as well as which agent the caller is the most likely to prefer.
This routing strategy uses Artificial Intelligence (AI) to evaluate factors like the caller's preferred communication channel, their purchase/customer service history, and the caller's personality and behavioral profile.
IVR and Call Routing
ACD software also connects with hosted IVR technology, which allows customers to choose from menu options or enter/speak custom responses about the reason for their call.
For example, customers may select their language preference in the call center IVR menu, meaning that they'll be forwarded to an agent who speaks their chosen language.
They may "press 3" to be connected to a specific department, or briefly describe the reason for their call to be connected to the right representative.
Call Routing Best Practices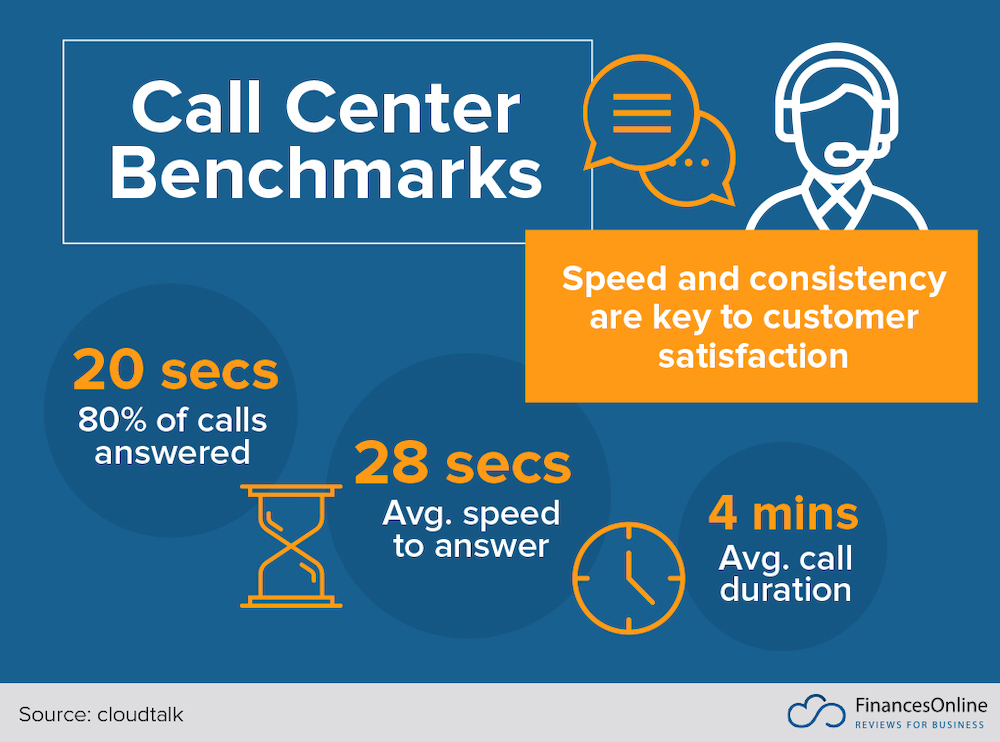 The number-one mistake that companies make when setting up their virtual phone system?
Including far too many automated interactive voice response menu options before connecting the caller with a live representative.
Keep IVR menu options concise to prevent callers from hanging up, and consider when creating a separate phone number for a department would be more beneficial to the customer.
The same goes for call queues, especially during a busy time of day or season when one department can become overburdened by a sudden surge in calls. In addition to increasing the number of available agents at times when departments see a higher call volume than normal, implement a call-back option.
A call-back option prevents customers from having to wait on hold when all live agents are busy and instead calls them back when a representative is available.
Finally, ensure your company invests in software that allows users to keep track of previous customer interactions, notes, and files.
The last thing customers want to have to do is explain the same problem to three different representatives every time they call.
In summary, to create an effective call routing strategy, users should:
Keep pre-recorded IVR prompts brief
Ensure the routing system integrates with your CRM software
Provide callers with an estimated wait time
Offer callers a callback option
Color-code or tag caller responses
Implement automated customer surveys
Create (at least) weekly call center data reports
Record calls and review the recordings to monitor agent efficiency and understand recurring issues
The Benefits of Call Routing
Call routing rules offer numerous benefits to both callers and employees, including:
Reduced wait time
Decreased call abandonment rate
Fewer voicemails and missed calls
24/7 communication
Improved customer satisfaction
Faster resolution
Potential for increased sales revenue
Specific call availability times on a per-agent basis
Ability to transfer/forward calls
More balanced employee workload
Custom greetings and menu options
Better customer self-service
Prioritizing VIP clients
Cons of Call Routing
Routing calls is likely not ideal for smaller businesses and teams that place a high level of importance on personalized communication.
For example, if a customer calls a local retailer they know has only four employees, they may be put off by the idea of having to go through a call menu to connect with the person they're looking for. Consider a standard small business phone service instead.
Additionally, advanced business telephony systems are not a wise choice for companies that cannot yet afford a dedicated IT department or an employee managing the software's programming and updates.
Top IVR Systems
IVR systems drastically improve the call routing process by collecting information regarding caller intent and sending it to the agent, ensuring they'll be better prepared to assist the customer.
But what features should you look for in an IVR system to route calls, and which providers should you consider?
Our interactive comparison table on IVR systems includes information about IVR systems from Five9, Plum Voice, Genesys, and other top providers.
Call Routing FAQs
Below, we've outlined some of the most common questions related to call routing for standard and toll-free numbers.
Frequently asked questions
There are several options if no representatives in the call routing path are available to take the call. The most obvious is for the call to be sent to an individual agent's or department's voice mailbox. 

However, we recommend giving callers the option to schedule an automatic callback if all agents are busy. This allows callers to choose a convenient date and time for a representative to return their call, and prevents customers from having to wait on hold for long periods of time. 
Our post on customer callbacks provides additional information and advice.  
Call routing is a top feature of VoIP phone systems, most of which will provide advanced real-time and historical analytics such as:
Average phone call length
Daily call volume
Number of missed or abandoned calls 
Agent-specific statistics
First call resolution rates 
Average call wait time
Customer sentiment
Percent of calls that ended in a sale
These intelligent call tracking analytics and data will help you to improve your routing process, ensure that customers are connected to the most helpful agent, and cut down on your contact center's call abandonment and callback rates. 
Ring groups are a call strategy where multiple agents in a department whose phone numbers simultaneously ring when a relevant inbound call comes in. 

The first agent to answer the call takes it. These ring/call groups are an excellent way to provide faster customer service and to increase first call resolution rates. 
In most cases, an efficient call routing strategy means that callers are connected to an agent able to solve their issue or answer their questions. 

However, some tickets are more complicated, more urgent, or come from a high-priority client. 
In this case, you may wish to route and forward inbound calls according to your business's escalation matrix. An escalation matrix is the routing roadmap that calls follow when a ticket remains unresolved and/or the issue at hand is more serious. 
For example, a customer calls in to report a billing issue. First, they'll be directed to a billing department representative. Next, they'll be directed to the billing department manager. If the issue remains unsolved, they may then be transferred to the head of the customer service department, then the CFO, and so on. 
Additional information is available in our escalation matrix design overview. 
Call routing is a feature of business VoIP and call center software. 

Though exact pricing will depend on features and individual vendors, expect to pay anywhere between $60.00 and $120.00 per agent per month for contact center tools, and between $20.00-$25.00/user per month for standard business VoIP platforms.