The right call center software makes all the difference, especially considering that live agent support is the preferred means for customers when being contacted by a business. For the best ROI, you're going to want every possible tool in your toolbox to ensure that you get the results you're seeking. Two tools that can optimize your agents' performance include call priority queuing and IVR (Interactive Voice Response).
What is Call Priority Queuing?
Call priority queuing is a way to sort incoming calls to each agent to improve the efficiency of your call center software.
Call queues are a necessary part of any call center, especially on days with high call volumes. Some call center dialers can reduce this, but in most scenarios, some customers have a higher priority than others.
Queuing begins at two or more calls and most phone systems use a ranked priority system that determines which calls are the most important. For example, if there are four contacts being made and only three available agents, the calls will be assigned a priority between one and four. The last call, which has the lowest priority, will have to hold.
Other systems use a round-robin pattern to send calls to the next available agent so that the number of calls each one handles can be evened out. Inbound call centers customize queue settings and auto attendants so that, even if all calls are coming through a single phone number, the call flow is evenly distributed.
What is Interactive Voice Response (IVR)?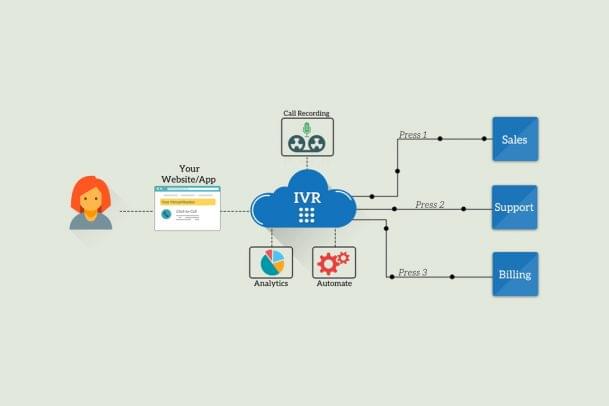 Interactive Voice Response systems are automated telephony systems that can serve as a precursor to the direct customer service experience. An IVR system can be a valuable tool when you're trying to collect info from customers. If you've ever been on a call where you've been asked to press a key or utter a menu option, then you've used IVR systems before.
Sometimes, IVR systems can walk a customer through a fully automated process, and other times, they present the agent with the info he or she needs to address the customer. IVR systems utilize a database to store gathered information. To ensure that companies are optimized in their customer service, several software solutions are designed to intelligently access this information when needed.
In many cases, IVR systems use a prerecorded voice prompt, but an increasing number of systems are putting AI-powered voice systems into practice. These systems make the customer feel more directly addressed since they are personalized based on the customer's info, so a rapport can be built.
Our interactive guide to the top IVR systems includes features, user reviews, and a breakdown of how each provider is tailored to your contact center.
How Do Call Queues Work?
Call queues in modern call centers work through IVR systems to reduce the amount of time that callers wait for the next agent.
IVRs gather information about a call and assign it a priority so that it can be addressed as needed. This means that the customers that have answered or dialed in details that bump them up in the priority list will get responses quicker. This can also be used to reduce the average time in queue for all of the calls.
Reducing the average hold time, even after business hours, is vital to the customer experience and brings several benefits.
Providing VIPs with the Attention They Need
When VIPs reach out, you need to get to them as soon as possible. Call queuing and IVR can assist by helping these VIPs opt into the system so that it can push the call out immediately to a specialist. For those that need specialized care, the IVR system can even ensure that skills-based routing is also applied so that the right agent answers.
Prioritizing Large Sale Opportunities
Various sales opportunities should have different priorities as well. For example, if a caller is intending to call in to purchase a more expensive service or product, he or she shouldn't be held on hold for long periods. Having an IVR system that screens for these opportunities and queues the call appropriately increases a company's profits. These systems also avoid creating frustrated customers who opt to hang up rather than purchase.
Addressing Urgent Customers
If a customer is facing a unique and utterly frustrating issue, then your system may want to promote this customer further up in the line. IVR can accomplish this through vocal or dialed prompts. This will ensure that a form of triage is created, which can save companies from losing customers. This is also an excellent system for managing legacy and long-term customers, which is how many modern companies tabulate their customer's total lifetime value.
How Do Call Queues Improve Customer Support?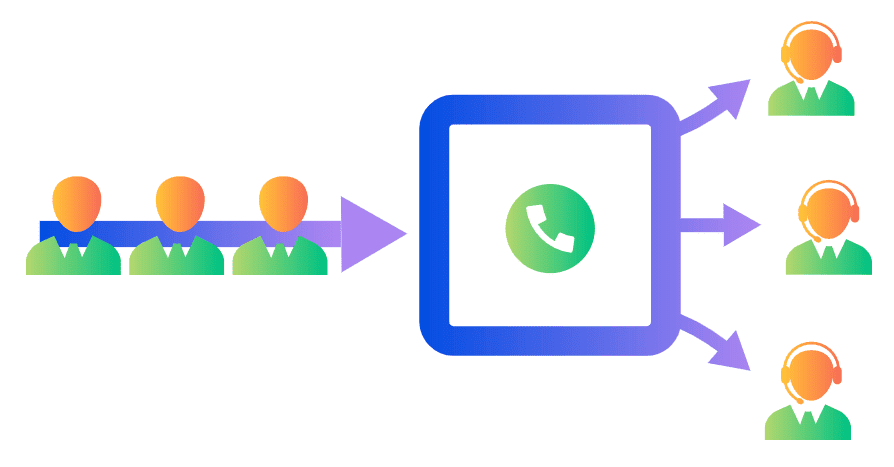 Anyone who operates a contact center is going to understand that the process must be streamlined to retain customers and improve the experience. Customer experience is vital on calls. If not, they'll hang up when the call goes overlong. For this reason, call queuing, and an IVR experience that feels natural and smooth is critical for the success of your business.
If you want to stand out, you're going to have to take steps to make sure that every customer experience negates the possibility of frustration.
Give a Higher Degree of Personalization During Contact
One of the best features of IVR is its ability to gather critical information about each case. By the time the customer is aligned with an agent, the agent should have enough info to form a rapport with the customer.
When a customer feels really "seen," then he or she will typically rank the experience higher. Call queuing, when combined with technology that may detect the emotional state of the customer, can also aid agents in helping reduce the frustration of some customers by immediately addressing the issue when connected.
Reduce the Incidence of Long Holds
A quicker resolution cycle for customers is always preferable. Many communications companies, like Salesforce, are employing technologies specifically designed to reduce this downtime. Call priority queuing is a tool explicitly designed to reduce wait times so that customers with specific needs are provided with a timely response.
Send the Right Calls to Skilled Agents
Since IVR is designed to not only manage customers in the queue but to also gather information about them during the wait, it's perfect for allocating customers correctly. For example, when a customer has questions about a particular feature of a product, the system can gather this information via IVR prompts. Once this information is retrieved, the system can route calls to the agent that specializes in this aspect of the product.
With visual IVR systems, prompts help direct outbound calls accurately.
Call forwarding offers solutions to customers needing special attention. In an era when even small businesses are expected to have a toll-free number for customer support, call handling must be managed by experts. A study by Talkdesk found that this is the number two desire of customers after getting a quick resolution to the call.
Trends in IVR and Call Queuing
Despite both of these technologies being decades-old, it should come as no surprise that technologies have been steadily evolving with call centers. Technology brands understand the needs of customers, and here are some ways that new technologies are driving the improvement of IVR containment and call priority queuing technologies.
IVR combined with Artificial Intelligence
In recent decades, IVR has become a standardized practice for dealing with customers. With the advent of more AI-based solutions, we're starting to see some evolution. With omnichannel AI products being produced by brands like Plum Voice and Inference Solutions, the allocation experience is becoming more natural.
Both of these brands are using AI to walk customers through the process so that they can be sent to the correct agent. In the case of Inference Solutions, the AI bots, which are called IVAs, are even trainable so that they can provide the best solutions for the customers.
Priority Alerts
Every company has priority accounts, and a good IVR can not only work with call priority queuing to get the calls to an agent, but some systems have priority alerts for agents. When a VIP or key partner calls in, a ringtone can play that will alert agents that a call is coming through needing immediate attention. This is a great way to ensure that the staff is well-prepared.  It'll also allow more skilled reps to take the call if needed.
SMS
State-of-the-art IVR solutions grant companies the ability to send out customer satisfaction surveys and polls via SMS after the customer is done with their call. This is a great way to receive feedback from customers about the customer service experience. SMS messaging can also be used to send these same customers promotions and product updates after their call is completed.
Top IVR Systems for SMBs and Enterprises
Finding the right solution for call queuing and IVR is critical, but what about providers? Providers in this space can offer a varied experience, especially when it comes to support, built-in features, and user experience. Here are three providers that offer a very well-rounded experience for multiple types of organizations.
Five9 is a cloud-based call center solution that can be used for both inbound and outbound calls. Five9 uses its own AI to manage the customer and send it to the appropriate agent. The software uses speech recognition to determine the customer's needs, and the process of setup is relatively straightforward for a call center.
It's inbound and outbound IVR ensures calls are optimized to reduce call time.
| | |
| --- | --- |
| Pros | Cons |
| The AI is powerful enough to manage many customer inquiries. | This software is a bit on the expensive side compared to other IVR systems. |
| The data gathered can be used by agents to reduce call time. | Five9 has a ton of features, so it can be confusing for new users. |
| There is a reporting feature that includes a dashboard and metrics. | |
Best For
Five9 has a lot of built-in customizability, and any company that needs to adjust its IVR for different customer needs can use this solution. This is due to the AI-based nature of their IVR system, and to enhance the experience, the support structure is very robust.
While Genesys isn't AI-based, it provides a very robust experience for contact centers thanks to its omnichannel design and multiple deployment options. Genesys provides agents with a "360-degree view of the customer" so that their needs can be met. Since the software can be deployed on a browser of on-premise, it has the versatility that modern call centers need.
| | |
| --- | --- |
| Pros | Cons |
| Genesys can handle inbound and outbound communication. | Any extra features come with increased costs. |
| There are several communication channels that the software can recognize. These include email, telephone, fax, and webchat. | The dashboards could use some modernization. |
| It has built-in contact center virtualization, which can help manage workflows and assign the appropriate agents to tasks. | |
Best For
Any organization that wants to provide a true self-service opportunity for its customers would be well-served by using Genesys. This is useful for reducing queue times, but when a live agent is required Genesys will collect the needed information so that the call can have a fast turnaround.
A cloud-based solution, Plum Voice is one of the global leaders. Plum Voice is a great solution for customers with confidential information because it is HIPAA and PCI-DSS level 1 compliant. Since the technology depends on the cloud, the software doesn't depend on a dedicated call center to provide high-quality IVR functionality. It even provides call tracking metrics that companies can use to improve the contact experience.
| | |
| --- | --- |
| Pros | Cons |
| Plum can be run entirely via a web browser, which means that it's OS agnostic. | The text-to-speech feature sounds more robotic than what's available from other providers. |
| The documentation and the support for Plum are very high-quality. | There's a slow rollout of new features, and when new features are implemented, they are not always communicated. |
| The UI has drag-and-drop functionality that's very easy to navigate. | |
Best For
With Fuse+, which is a proprietary technology available through Plum, users can make multiple IVR recordings quickly. This is especially true thanks to the cloning technology, which can help users quickly make similar-sounding recordings. Anyone that has a business where there needs to be branching paths of customer interaction in the IVR script will find this valuable.
Prioritize Call Queues Improve Customer Experiences
Throughout the industry, keeping the customer happy is the number one goal, which is why the right software solutions are essential. Call priority queuing and IVR are great ways to improve the call experience for both your customers and your agents.
Making sure that your customers are addressed and their wait times are reduced are great ways to facilitate a better experience. If you're wondering where to start, take a look at our comparison of IVR software covering key features of each provider so that you can find the one that fits you best.