How is your company managing its first point of contact with your customers? For many brands, the interactive voice response system, or an IVR system, is where the sales funnel and lead management processes begin. An IVR intelligently routes calls to the right departments using an automatic call distributor (ACD) and gathers information about the customer so that the agents are well-prepared for the interaction.
IVR systems use touchtone inputs or the customer's voice to guide the customer through the contact process. When done right, a good IVR manages most calls received on your business phone number without the need even to engage an agent thanks to self-service features for things like bill pay, finding out account balances, and scheduling.
According to Gartner, 85% of customer interactions will be done without an agent thanks to IVR routing systems this year. Still, IVRs can fail to guide the customer correctly if mismanaged, and when your IVR is ineffective, you'll need to take a look at your call flow.
What is IVR Call Flow?
IVR call flow is the path that a customer takes that allows them to be routed to the correct department within your organization. The system is a prerecorded message or artificial intelligence IVR application that will give the caller options that they consider to contact the department or the individual that they need to speak with during the call. The first menu that a caller reaches will help to direct the caller or select the language of the call, but more than one menu is common for a more accurate picture of the customer's needs.
To make the system more effective, several elements will need to be in place, including speech features, touchtone key elements, voicemail options, and more. If the system is not designed correctly to avoid common IVR mistakes, there is likely to be a high rate of abandoned or misrouted phone calls. This is frustrating to the customer, and a lot of transfers from misdirected calls cost the company more. This is because a customer is less likely to run through the system and will instead tie up agents that could be assisting the customers that need specialized help.  When this happens, administrators find themselves struggling to optimize.
Businesses that use inbound as well as outbound IVR need simplified menus so that customers reach the right departments easier. When the map is clear and concise, the caller will have an easier time getting the results that they seek. Ideally, an IVR system should anticipate the needs of the caller before they get on the phone. Each menu has an IVR flow design that handles the most common scenarios first, which will improve the customer's experience overall. Here's an IVR call workflow that shows how your flow appears.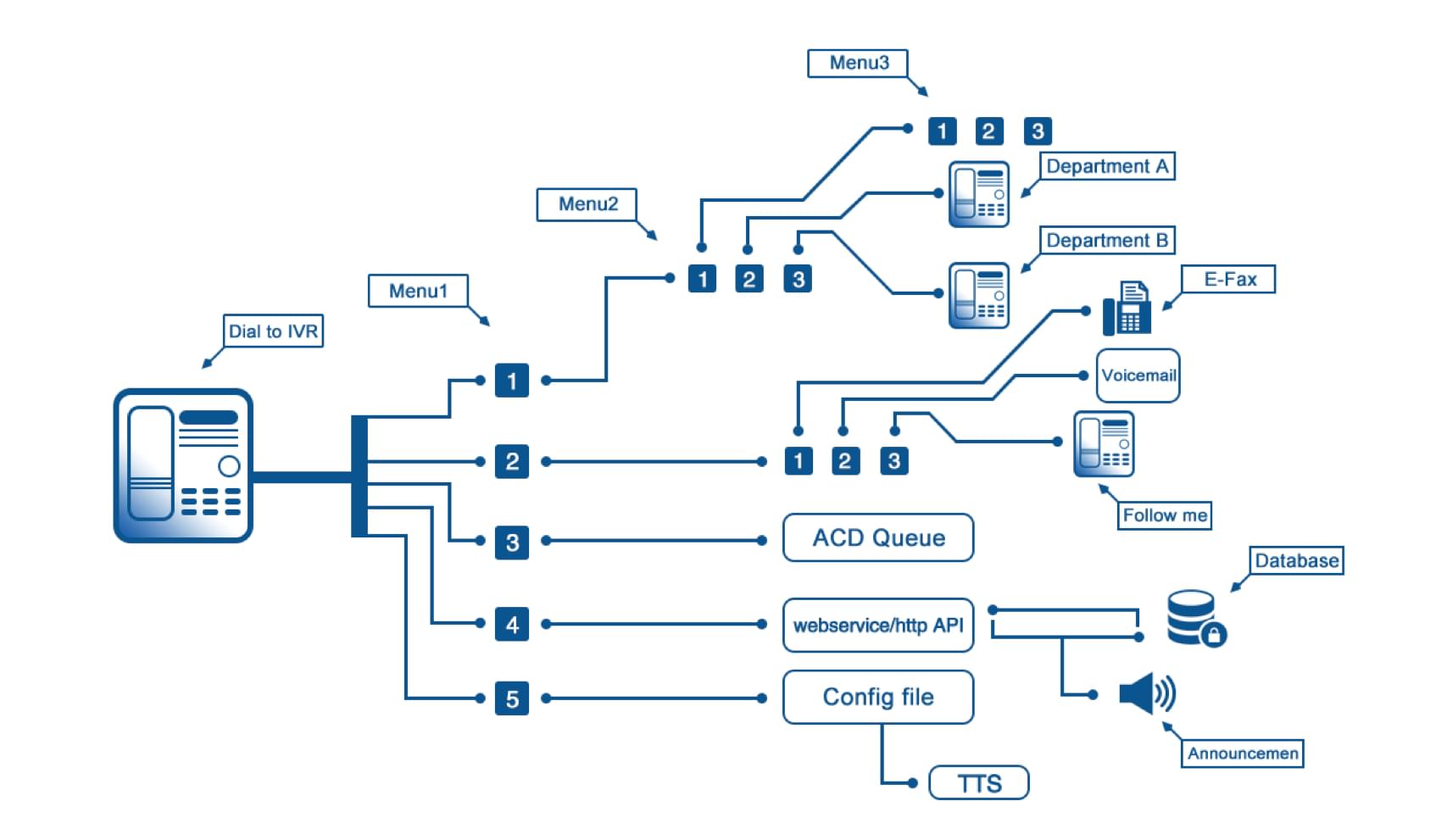 What are Benefits of IVR Call Flow?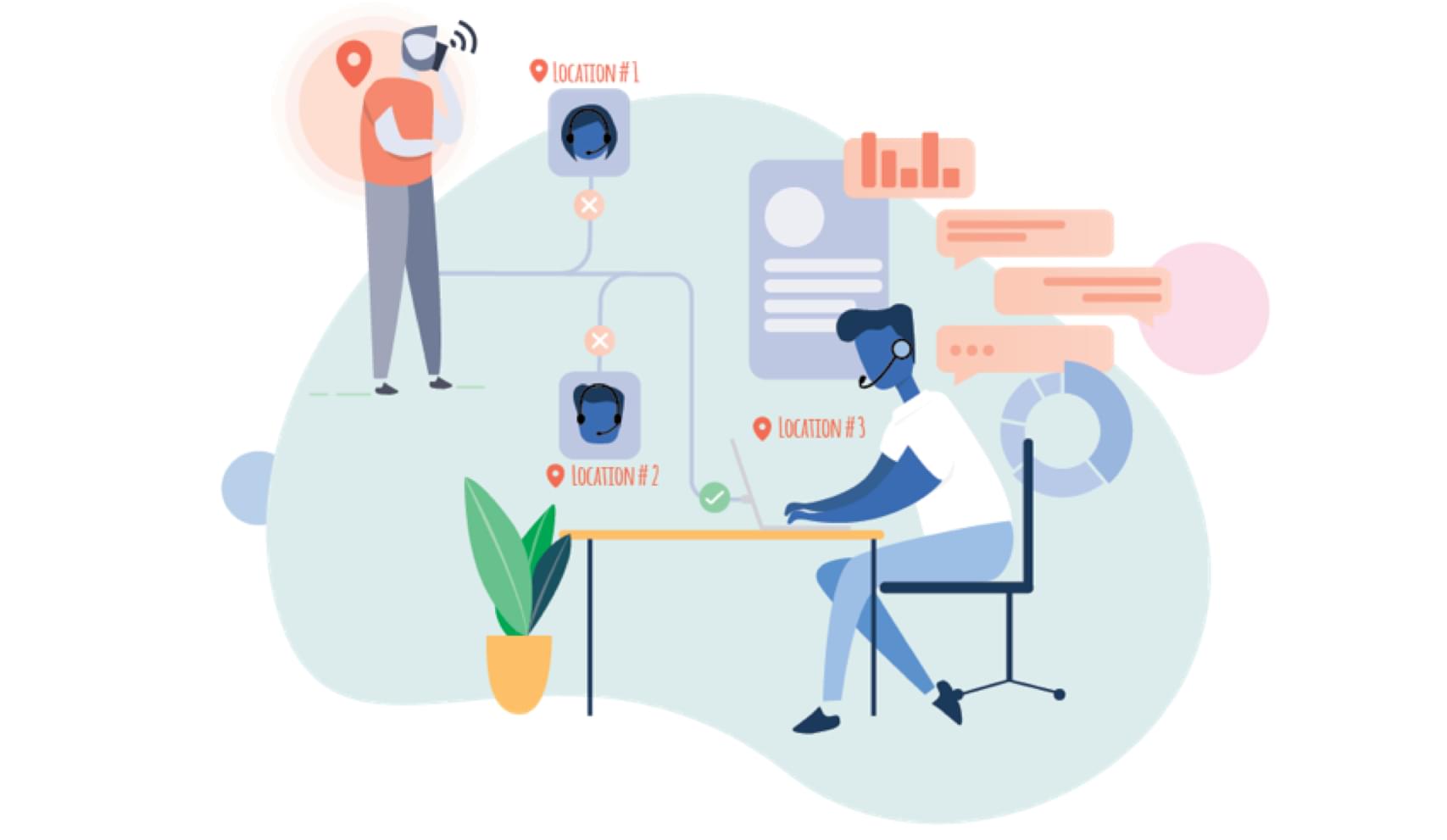 IVR allows a business to optimize its call flow by filtering out calls that don't produce leads. The agent deciphers the caller's needs before interacting with them, which is a massive timesaver. Optimized call flows decrease the number of misrouted calls and reduce call routing costs for the businesses.
An optimized system allows you to bypass long call times that make customers irritable. If the caller is reaching out to the company for something simple, the IVR system provides them with a point of contact that addresses their needs. In many situations, the caller uses the self-service options in the system, which includes paying a bill, getting answers to frequently asked questions, or scheduling appointments. This is all done with simple information like account numbers or credit card information.
Without agents needed for every call, business costs are reduced because the agent's time is used more productively. Automating the process of customer service and not always engaging agents for every customer issue is called IVR containment, and higher rates of this is something your business should be aiming for.
An optimized call flow helps the customer receive quality customer service at the first point of contact with a brand. Since a good IVR call flow reduces the need for agent contact, this structure gives a business 24-hour customer service without having employees present outside of business hours. If the IVR system does not have the self-service option that a customer needs, it'll provide the opportunity to speak to an agent or get a return call during regular business hours.
Important Metrics to Optimize
Tracking the success of improved IVR flow requires watching the results. Here are three metrics that will show you how well your optimization is performing.
Transfer Rate
An IVR's ability to precisely route calls to the right department or complete customer processes determines the system's success. If your system is bouncing callers to various departments during the process, there's an issue because the caller should be sent to the right agent group with as few transfers as possible – the last thing you want is to tie up multiple reps with calls that shouldn't have been routed to them in the first place.
With a high number of customer bounces, you'll need to take a look at the setup of your IVR menus because, clearly, the information isn't being relayed to the caller correctly. Consider using skills-based routing to quickly transfer calls to the most appropriate agent rather than using long queues.
Task Completion Rate (TCR)
The TCR of an IVR system is an indicator of how often a user runs through an IVR interaction without hanging up or asking for an agent. Task completion rate requires that the business identifies target tasks for customer interactions – what's the customer calling in for? How many tasks happen, on average, per interaction? For example, inputting login information into a system is deemed a task. Does the customer get frustrated when logging in and hangs up before completion?
When customers are making reservations through your IVR system, are they merely bypassing the IVR menu prompts and trying to reach an agent instead? If so, then the completion rate for this task in your system would be low, and you want to attempt to streamline the process for those trying to book. Customers that have difficulty understanding menu items or are bored with choices will quickly bypass them, which lead to low TCRs.
Predictive behavioral routing will keep your callers from trying to bypass IVR by directing callers to their destination faster, increasing overall task completion rates.
Average IVR Handle Time
Proper call flows are essential for managing the caller's time – no customer wants to be tied up with an automated system for a half hour. With this in mind, you should continuously look at how long each customer spends in the system – most interactions should be less than five minutes long unless there's direct interaction with a rep to help resolve pressing issues.
Average IVR handle time starts with the initial contact and takes into account things like hold time and time being bounced from department to department. Simpler transactions like bill pay should be the shortest, and things like booking and reservations may take a few minutes on average. Unclear menus, poor voice recognition, and misrouting through the IVR system increases the customer's time on the phone and contributes to suboptimal customer service experiences.
How to Optimize Your IVR Call Flow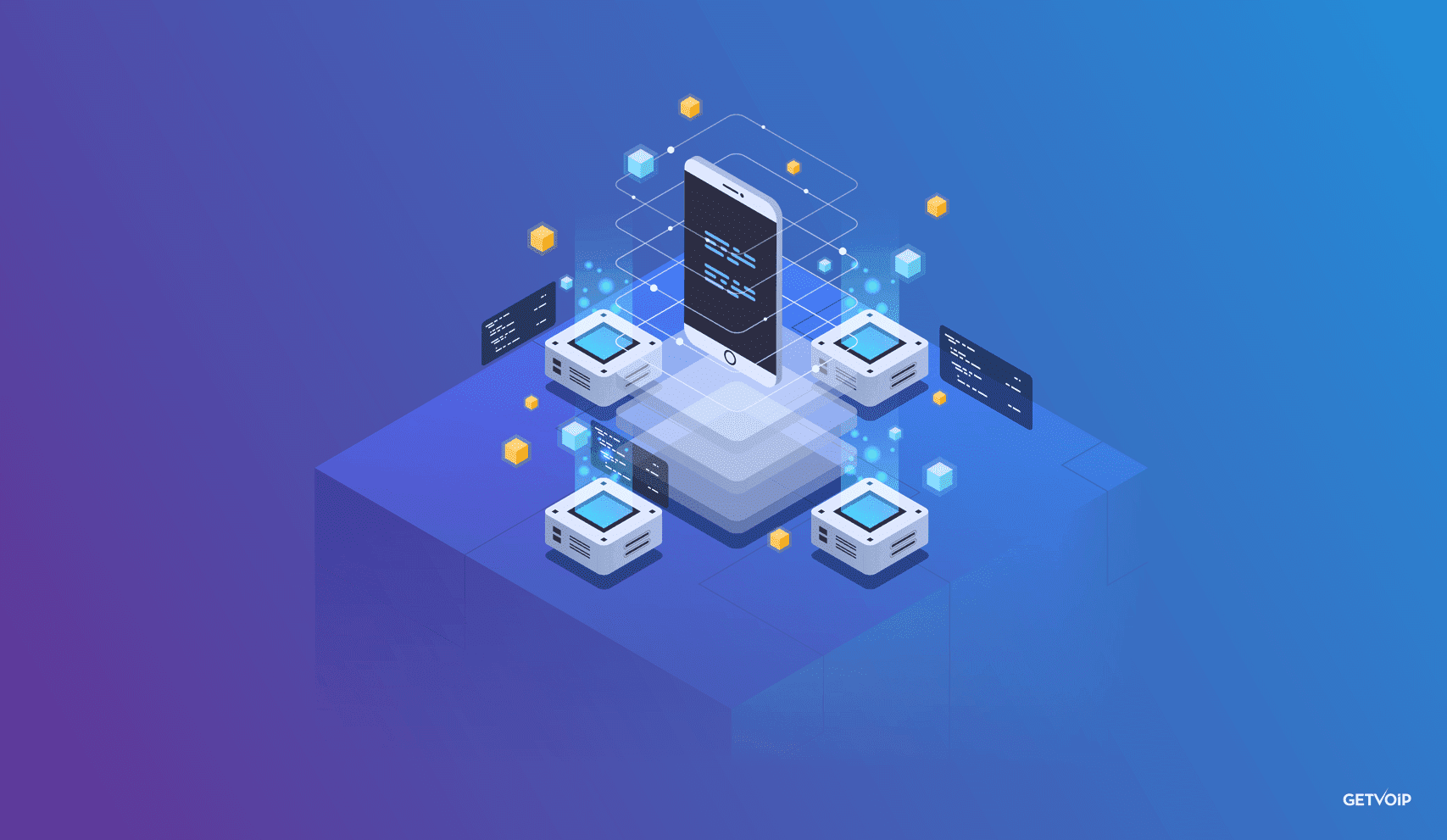 User-centric optimized IVR call flows have several critical benefits, but let's take a look at a few use cases where businesses notice something is wrong with their IVR processes and address the issue using IVR techniques.
Use Case 1: Low TCR
A business notices that their task completion rate (TCR) is low. A low percentage of complete tasks indicate that there's a breakdown somewhere in the company's IVR processes. Upon review, they notice that their IVR system doesn't sound human enough and decide to shed the computer voice and bring in prerecorded IVR messaging for their menus. To add this human element, the business has some options:
Use an IVR studio: There are professional IVR voiceover studios that help build customizable recorded messages.
Use current talent: Many businesses use existing receptionists to record IVR scripts for menus.
Use more human-sounding AI: Conversational AI and other systems emulate the flow of natural conversation using machine learning.
Any of these options adds a level of personalization that makes the process more palatable for inbound calls to your business. Even using AI that's designed to sound more human helps the process. The goal is to make the experience as lifelike as possible so that dialers are less inclined to opt out of the system.
The business opts to use an existing receptionist to record short, but natural sounding IVR menus using audio files, and their task completion rates increase.
Use Case 2: Customer Feedback
The best tool to use to evaluate your service is the customer satisfaction survey. These surveys help you identify sticking points in the service process. A company experiencing a lower TCR decides to "trim the fat" on their IVR system. To do this, they opt to evaluate their service by providing a customer feedback section after callers complete their calls to the company.
These post-call surveys paint a compelling picture of the entire customer service experience and help the company evaluate the effectiveness of the IVR call flow as well as the service level of any involved agents. Customers tend to be honest when providing feedback, so if they felt that the IVR experience was:
Too verbose
Too complex
Ineffective at routing the customer to where they wanted/needed to go
There's a need to make the process more streamlined. With the customer's feedback after interaction with the system, the company makes tweaks to the system that improves the experience for other callers. This is a low-cost option because there's no interaction – like the best IVR interactions, the process is entirely automated.
Use Case 3: Updating IVR
An organization has an aging IVR system that's been effective for years but is beginning to lose ground with newer customers. The menus are brief, human-sounding, and are available 24/7, but TCR is trending downwards.
To keep their IVR as self-service oriented as possible, the business opts to try a multichannel approach – visual IVR. The IVR system gathers the information about the caller and reaches out to them on another platform to gather pertinent information. Instead of navigating through phone menus and dialing dual-tone multi-frequency (DTMF) keys, the customer will receive a text message with the full menus or will be sent a link where they can navigate the menus via a browser.
Once completed, the company has an agent who is furnished with all of the IVR data to reach out to the customer and give them the help they need. Because the customer has already run through the IVR system at their pace, the process is less stressful, and the agent will be prepared enough to provide faster resolution to the issue, which saves the company time and improves completion rates.
Use Case 4: Dropped Calls
Dropped calls are common with businesses that use an inbound IVR system. If a company tends to have a lot of dropped incoming calls, it is likely that the caller is having difficulties with the menus. This could stem from several different reasons, which include:
Complex menus
IVR takes too long to navigate
It's difficult to understand the IVR
To make the menus more manageable, always make the selections simple without taking up a lot of time. When a caller is listening to a to the menu options, each set of menus should take less than eight seconds to get through. Instead of saying "to reach a representative in the tech department, please press 2," it is better to simply say "for tech, press 2." When these menus are too long, the caller gets bored and ends the call before having their issue resolved.
Instead of hanging up, the caller could also just press "0" to be transferred to an agent. This should be an option, but it should not be available right at the beginning of the menu. Ideally, this option is presented during the third menu, so the caller has the chance to select from some of the more common needs in the IRV system, which often results in them using the self-service option.
Potential Issues To Lookout For:
When your call flow is not up to par, there are often flaws in the system that will cause issues. When a system gives the option for a caller to simply press a button to reach an agent at the beginning of the call, they often press that button to skip giving information to the system. Of course, this may get them to the agent more quickly, but it is likely to give them to an agent that is not prepared for their call.
When an agent is not prepared, they may need to take additional information from the caller to help them. They may also need to route the call to another department to better serve their needs. Each additional call transfer costs the company money under some provider plans, so making sure that the options are easy to use is critical.
Ideally, IVR menus need to be clear and concise so that the customer reaches the correct location without extended hold times. When hold times are excessive, or menus are confusing, callers hang up without a resolution, which requires them to call again at another time. If the menu is simplified, agents will be available at the end of each menu chain, and less misrouted calls will result.
IVR Systems for Optimal Call Flow
Some IVR providers have systems that are easy to configure so that you can optimize your call flow. These VoIP providers help handle larger call volumes while making sure that each lead is not time-consuming or costly.
Five9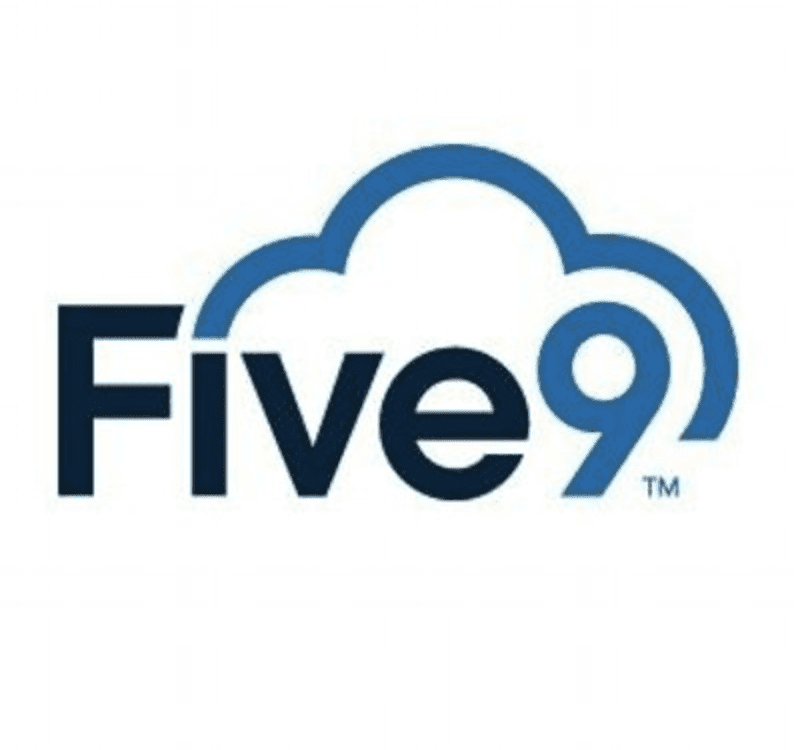 Five9 is a cloud-based contact center provider that has been creating connections for customers since 2001. They work with contact centers to optimize inbound call routing for a better call flow. They offer self-service options that are very intuitive and easy for the caller to comprehend. If the caller cannot find the right option, they can always connect to an agent for assistance.
Five9 can integrate various call center software to streamline and optimize the  the caller experience. Drag and drop menus allow infinite customization.
Reasons to select Five9 include:
Drag and drop functionality
Customer callback options
Integration is straightforward
Twilio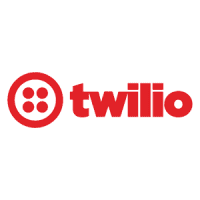 Twilio is a global cloud-based provider that powers communication between businesses. Originating in 2008, this is a company that provides a structure that you can use to build your IVR system and optimize your call flow so that it suits customer and business needs. Adjusting preferences in the system is easy to manage, and there are a lot of software options, which gives you more flexibility when programming.
Because of the flexibility of Twilio's IVR system, incorporating voice solutions and omnichannel features is simple. Coding an IVR system is intimidating, but Twilio's a low-cost solution that benefits businesses.
Reasons to choose Twilio:
Customizable
Simple Integrations
Pre-built templates are available
NICE inContact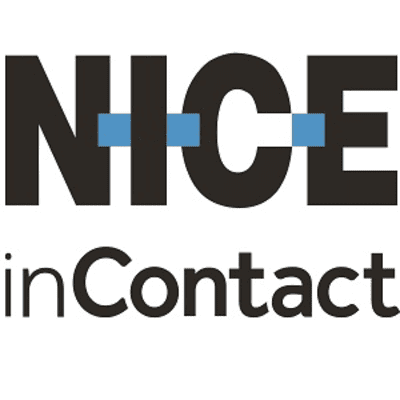 Founded in 1997, NICE inContact is another provider that has cloud-based solutions for global contact centers and businesses. The IVR system is designed to help automate communication with the customer, so it provides keypad and speech recognition. For companies with multiple contact centers, the information the customer inputs will get transferred with the call so that it does not need to be collected again.
If there is not an agent available for the caller to speak with right away, the option for the customer to get a callback will be presented using information gleaned from the caller ID or the customer.
Reasons to consider NICE inContact:
Easily customizable
Multilingual text-to-speech functionality
Customer callback
Fluid IVR Improves Customer Experience
Businesses need to be fluid with their IVR systems to excel – they need to be willing to make changes at a moment's notice in order to optimize the customer experience and increase self-service rates. Poorly designed IVR call flows reduce efficiency, tie up agents with needless calls, and will, at worse, drive customers away from your brand.
Ask yourself these questions:
Does my provider make it easy to make minute changes to my IVR?
Are my IVR menus too complex for the customer?
Does my IVR provide information quickly to the customer?
How human does my IVR system sound?
The best IVR systems will be fluid and sound natural, so take a look at yours and make the changes you need to enhance your business's critical first point of contact with the customer. A well-functioning IVR system is just one integral part of modern customer service, so check out our interactive comparison tables of call center software to see what other technologies keep customers coming back to your brand.