Business VoIP is one of the best ways to empower your business while saving capital at the same exact time. By utilizing your internet connection to make phone calls, your business is freed from having to purchase and maintain costly hardware to ensure the service is working properly. One piece of hardware that can be omitted completely is the IP desk phone. Now, we don't think IP desk phones are going away anytime soon, but thanks to Business VoIP another option exists.
Enter the softphone, the desk phone's digital counterpart. Softphones allow us to leverage the power of VoIP without the need for a physical desk phone. Whether your business is looking to outfit a contact center without having to pay the cost for extra IP desk phones, or wants a new way to enable mobility for the team, softphones are the perfect complement to any VoIP solution.
While most VoIP providers include their own softphone as part of their service, there are many that don't. That's where a third-party solution comes in, one like Bria 5 or ZoiPer5. We wanted to take a close look at these popular choices to help your business find the right match for their VoIP service.
What is a Softphone?
Before we get into breaking down each solution, it's a good idea to lay the foundation for our comparison. To do that, we should first define what a smart phone even is, and what users can generally expect from one of these apps.
A softphone is essentially just a digital phone: a piece of software used to make phone calls from over a computer. Computer, of course, has grown to mean more than just desktop or laptop, but can even include smart phones and tablets as well Softphones are generally utilized for VoIP calls, but they can also be used to make PSTN calls.
Soft phones generally have a dial pad that mimics what we would expect to see on any standard phone, just designed for use on a computer, meaning with a mouse and keyboard. Users download soft phone "clients " either form their VoIP provider, or dedicated third-party solutions, meaning they are not created and offered through a VoIP service directly. In this case, we're taking a close look at two of the most popular third-party solutions.
Why Use a Softphone?
Some of you may be wondering why softphones even exist, and why anyone would bother with dialing on their computer instead of just using their smartphone. Well, there are a few cases where a softphone might actually be more useful than relying on your standard cell service, or situations where a cell phone won't cut it.
Contact centers can utilize softphones to help cut down on the cost of purchasing standard desk phones. Instead of purchasing and maintain the hardware required for standard IP desk phones, equipping agents with a softphone and a call center headset can be much cheaper. Many CRMs also allow softphone integration so agents don't have to flip between multiple windows, or worry about using a desk phone and typing on their computer at the same time.
Small and midsize businesses can also help cut costs drastically with softphones. Again, with a softphone there is no need to purchase a desk phone, and purchase any other equipment like switches or standard hardware PBXs to power the phones — just utilize a virtual PBX for even further cost savings.
Traveling employees will benefit greatly from a softphone as well, allowing them to always place calls wherever they are, and however is most convenient for them. By utilizing a softphone with a VoIP service, your employees can always place calls through your VoIP number instead of relying on cell service, which might bring in any extra costs, say for a long-distance call. The softphone can be downloaded on a laptop, tablet or even smart phone to allow access to that VoIP service anywhere in the world — not just at their desk bringing true mobility.
So, the idea at first might sound a little outdated, but that's far from the truth. Softphones are probably the number one choice for contact centers, and still stand as a great choice for any business.
In fact, there's a reason a good number of VoIP providers offer softphone clients with their service. But for those that don't, stand-alone third-party solutions are a great option.
Our Choices: Bria 5 vs ZoiPer 5
So, for our head to head comparison, we will be revisiting two softphone providers we took a look at in the past, Bria and ZoiPer. As two of the most popular softphone clients, these apps have been receiving updates since our first look, and have both recently released their latest versions.
We wanted to take a close look at each solution to compare how they look, how they work, and all the options available to users. Let's dive right in.
| | | |
| --- | --- | --- |
| Features | Bria | ZoiPer |
| Operating Systems | MacOS, Windows | MacOS, Windows, Linux |
| Mobile Apps | Yes, iOS and Android | Yes, iOS and Android |
| Accounts | SIP, XMPP | SIP, IAX, IAX2, XMP |
| Audio Codecs | G.711, G.722, G.728A, G.729B, GSM, Opus, SILK HD, Speex | GSM, G.711, iLBC20, iLBC30, G.729, Speex, G.726, Opus |
| Video Codecs | H.263, H.263+, H.264, VP8 | H264, VP8 |
| Presence and IM | Yes | Yes |
| Contact List Integrations | Outlook, Windows/Mac Address Book, iOS/Android Contact List, XMPP, LDAP | Outlook, Windows/Mac Address Books, iOS/Android Contact List, LDAP, XMPP, XCAP, CSV files, LDAP |
| CRM Integration | Yes | Yes |
| Encryption/Security | TLS and SRTP | TLS, SRTP, ZRTP |
| Languages Supported | English, French, Spanish, Portuguese, Italian, German, Chinese (Mandarin), Dutch, Japenese and Russian | English, Russian, Ukranian |
So right off the bat, the question many will have is: how much is this going to cost me? And thankfully, a license for either solution, Bria 5 or ZoiPer 5, will run you about the same, save a few dollars. Full access to the Bria 5 client and all of its features comes in at $49.99, meanwhile ZoiPer 5 only sets you back $47.10, this is converted from their listed price of €39.99.
For roughly $50, however, both solutions gain you roughly the same features: basic call controls like redial, hold call forwarding, and call transferring. But beyond just simple calling, both solutions offer users with instant messaging and presence indication, as well as video calls, and even some really robust features like call recording (which your business should absolutely be using) and auto answer or do not disturb settings.
Overall, either solution will net you everything your business needs, even for contact centers. CRM integration and available APIs allow both of these apps to be integrated into other business tools, and users can even integrate these softphones with many popular contact managers to import their massive contact lists.
Only when you truly start to look close do you notice a few differences — for a bit more money Bria 5 also offers Screen Sharing, one of our favorite over looked features, as well as file transferring, corporate chat rooms and even five-party audio conferencing.
Bria 5 – $49.99
ZoiPer 5 – $47.10

Call display
Voicemail with message waiting indicator
Redial
Hold
Do Not Disturb
Call history
Call forward
Call transfer
Call record
Auto answer
Five-party audio conferencing (hosted locally)
Three-party audio conferencing (hosted locally)
1080p Video calls
IM and presence
IM conferencing (group chat)
Corporate chat rooms
File Transfer
Screen Sharing
Contact integration
Contact management: sort, filter, or group

IM and Presence
Call conferencing
Call transfer
Encryption
Drag and drop calls and contacts to transfer or combine calls into a conference
Video calls
Click 2 Dial
Voicemail
Call forwarding
Auto answer
Instant messaging
Lockdown and account provisioning
Unlimited event rule handling
Voicemail message waiting indicator
Automation tools
Call recording
Call forward
Call transfer
Call history
Contact integration
Verdict: Draw — At the end of the day, the two are incredibly comparable, but for just a few more dollars (literally) Bria 5 happens to bring just a tiny bit more to the table. But, on the other hand, if your business is looking to cut costs in anyway, then a ZoiPer 5 purchase will still gain all the features your business would need at a slightly lower price point without really missing much.
I always like to preface my design comparisons with a quick note: design is subjective in nature. Just because I like the way one app looks over another, doesn't mean that everyone else will agree. However, there are some aspects of design that are a bit more objective. For example, a poorly designed interface can make it difficult to navigate the app, or leave users confused. A well-designed application always brings the user experience into mind, and should be both pretty and effective.
When comparing ZoiPer and Bria, I noticed a few key differences in their overall designs and user interface layouts that lead to completely different user experiences. But, before we jump into the user experience, I wanted to highlight a few of these key differences, as well as my opinions on the design of each app independently.
Bria 5
Now, both of these apps are designed and follow a fairly similar principal — after all they pretty much do the same thing. For starters, Bria 5 opens up to a clean and simple window that displays the most important information as large as possible.
Right away, when opening the app for the first time, users are greeted with a large and clear interface: everything that's important is big, and not in a distracting way. The dial pad and its buttons are large.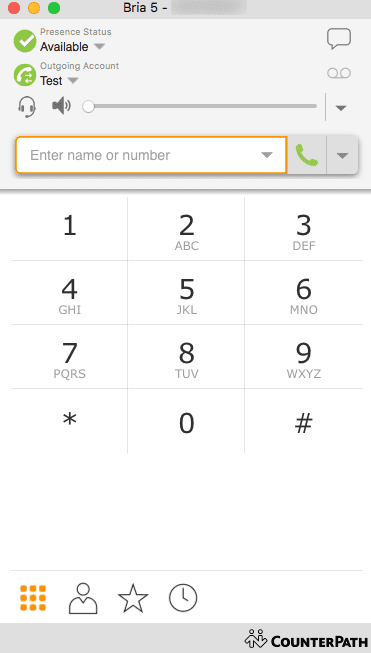 The bottom of the app has icons for navigation, which are clear and large. Sections are clearly distinguished with different colors and borders that also utilize drop shadows to make a clear distinction between different sections. All of this works to be the user identify actions they can take with ease.
At the top of the app, users can easily see their current presence status, and gain access to a drop-down menu to change their status. Right below that, a really nice addition, are audio controls. Right from the top of the app, no matter what screen users are looking at, they can quickly alter their volume and microphone settings.
Alongside the top there are also buttons to show the message window and open up current text conversations, as well as access to voicemail recordings.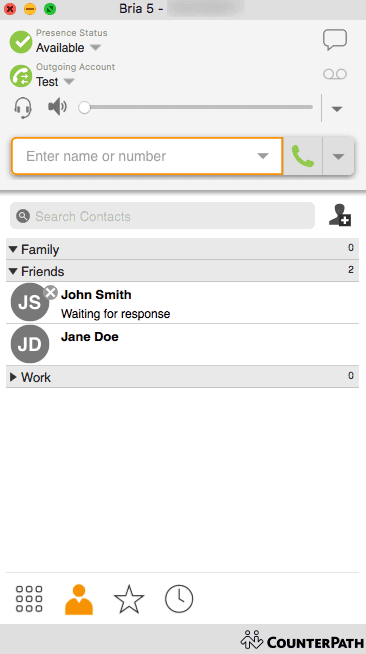 Flipping through the icons on the bottom of the app takes users from the dial pad to contacts, favorites, or history. Each section replaces the dial pad with new information. I personally really like how the contacts section is broken up between groupings, family, friends and work. This helps you stay organized. Favorites and call history cleanly list out their respective content, with call history showing the contact's name, phone number and the day and time the call was placed. Its all clear and easy to see at a quick glance.
I really enjoy how clean and simple the whole app is, the important buttons are nice and large, making them easy to identify at a quick glance. You always know where you are, and where you need to be. There's no extra clutter, and Bria makes it easy to stay organized.
ZoiPer 5
So, as I said before, both of these apps follow a very similar design. They both roughly do the same thing, so there really isn't much reason or ability to drastically change up the overall design. However, coming from Bria, you might notice one key difference: icons and text aren't nearly as large as they are in the Bria app.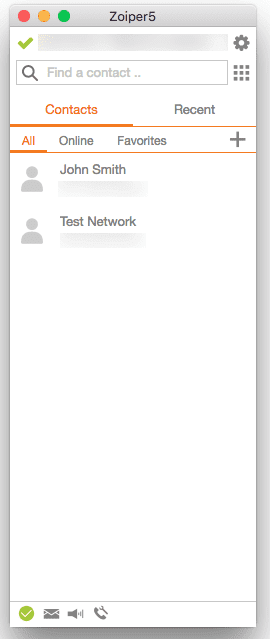 ZoiPer starts as a slim window just like Bria, but opens right up to the contacts page. Names are slightly grayed out, and the app is separated by orange lines to break up different sections. However, icons are much smaller, and certain controls like audio options are hidden insight a settings menu.
The top of the app has a button for that settings menu, but its small and tucked in the top right corner. To access the dial pad, users must click on a small icon right next to the search field. Right below there, users can flip between Contacts and Recent, as well as All contacts, Online contacts, and favorites. There doesn't seem to be as many organization options as in Bria, but overall the list of contacts is presently cleanly, with icons and avatars to help differentiate and identify contacts quickly.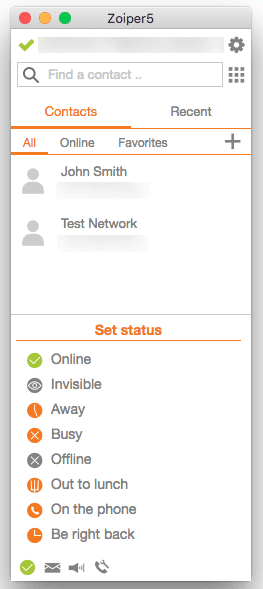 Just like in Bria, the bottom of the window has icons for more navigation, but these are tiny and almost tucked away — they don't really jump out at you. These buttons allow users to jump between their status, volume controls, voicemail, and call settings. So, while its nice that these actions are easy to get to, but they aren't as easy to notice and access as Bria which makes its icons and buttons larger and easier to read. Some might prefer this subtly, but I found that it made navigation a bit more difficult since everything was so tiny.
Overall the app is still very clean and well put together, but I kept finding myself preferring Bria's more in-your-face design that emphasizes the important actions just a little better.
Verdict: Bria — Both apps are very well designed, and make it easy to access the controls and settings you need. However, Bria 5 just goes a little bit further in ensuring their interface leads to a seamless user experience. Everything is clean, large and easy to locate and major settings like audio controls aren't hidden behind any buttons.
Arguably even more important than the design of an app's interface is the user experience of an application. If the user experience is poor, people just won't use the app. Now like I said, a good design will facilitate a good user experience, and its essentially the job of the designer to create something that not only looks good, but works well too.
User experience is all about what its like to actually use the app — this could mean simple things like how easy it is to change settings, or more complex situations like how these apps handle incoming calls and messages. While their designs were fairly similar, the user experience of Bria 5 and ZoiPer 5 play out a bit differently.
Bria 5
Right away: I really enjoy the design of Bria 5, I like the large icons, I like how the app is broken up with shadows and different colors to differentiate sections. Overall the design is clean and does a great job of facilitating where you are in the app, and clearly showing users how to navigate through the different sections. This continues a bit when you begin to actually use the app, and explore its different functions.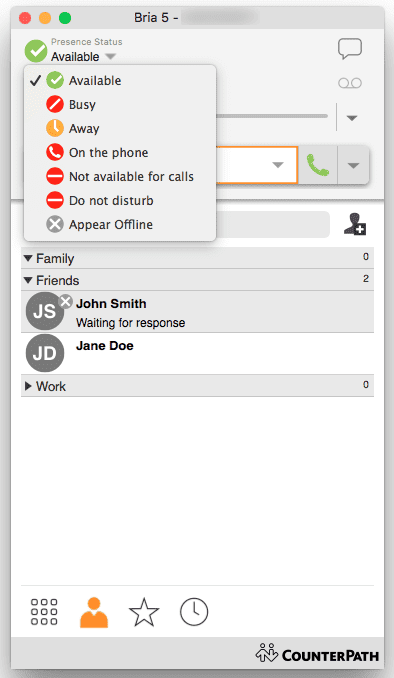 Navigating through the app itself, with its four bottom icons, simply changes the view of the window. This allows users to quickly jump from a dial pad to their contacts, or vice versa. However, one thing to note here is that Bria 5's dial pad is limited to its own section, meanwhile on ZoiPer, users can view the dial pad when looking at their contact list or any other window.
What I really enjoyed about Bria 5 was how it handles communicating with others. Calling someone brings up a new section right above the dial pad to show the number that you called, and call status. So this neatly remains in the same window.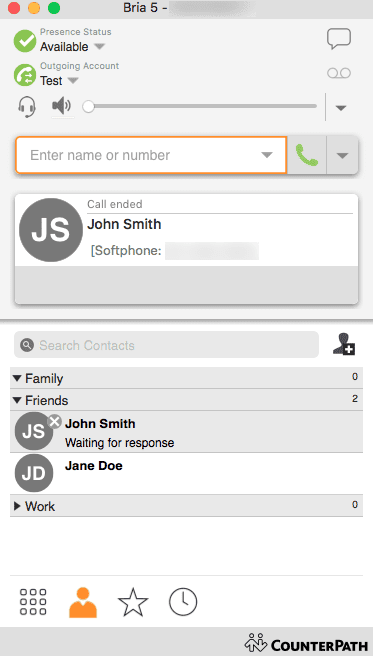 The same applies if you call directly from the contact list, and clicking on a contact on this list opens up a pop up which displays all of their available contact points, and the ability to call or message them right from that window.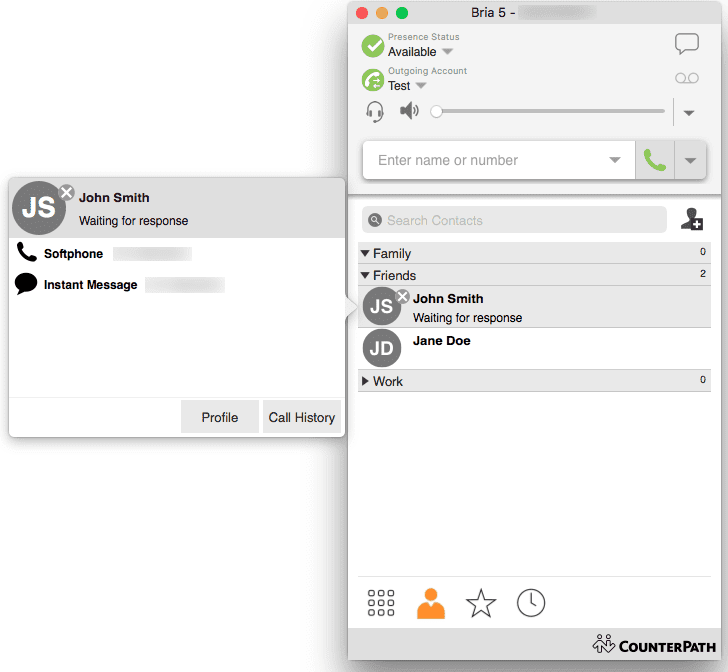 But what's more interesting is when you want to begin a text conversation with someone, Bria 5 opens up an entirely new window that would house all of your messaging conversations. This is great because it allows you to still access your contacts list and dial pad while keeping your conversations visible at the same time.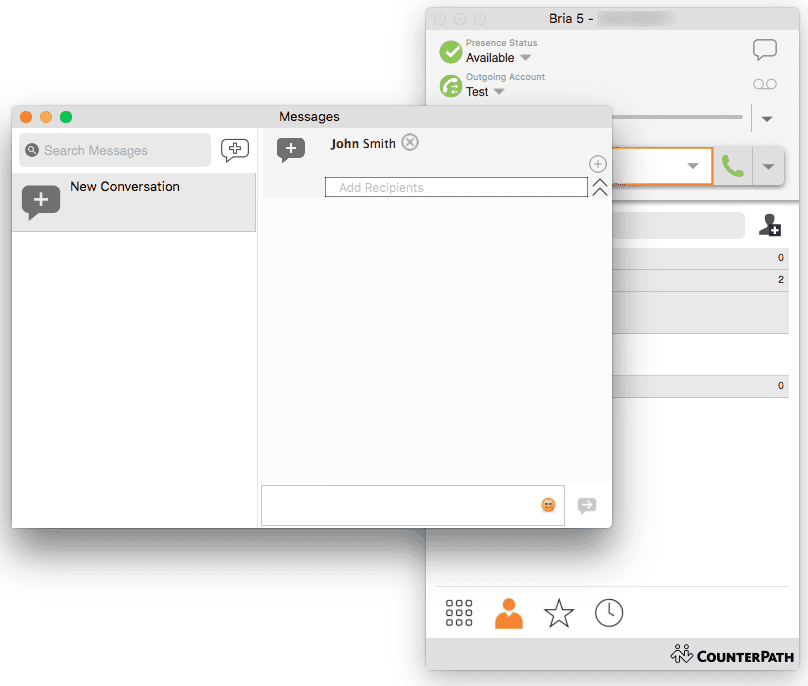 The same happens for opening the settings menu and adding new contacts, as well — separate dedicated windows are open, so users don't have to lose the context of their calls or conversations.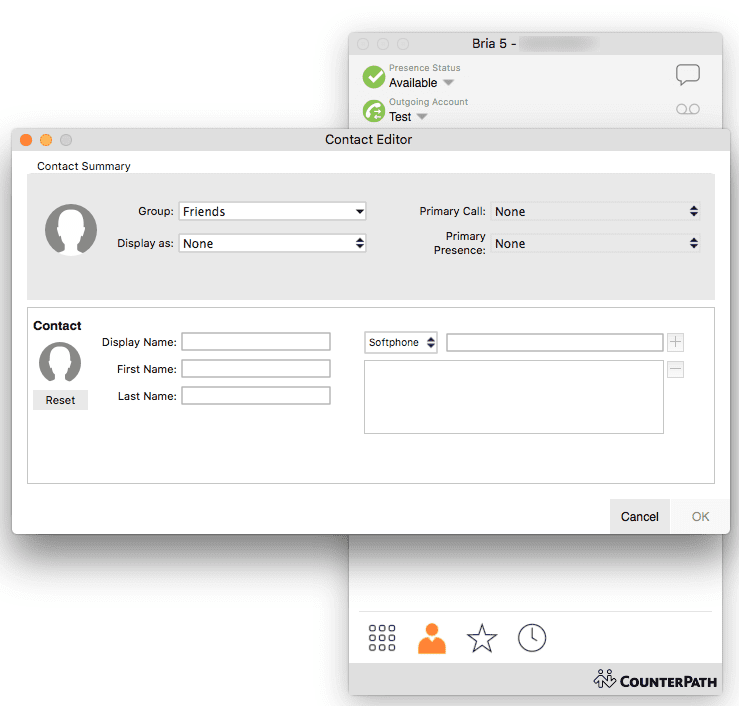 This leads to a very cohesive experience: navigation is easy and clear buttons and actions are obvious due to their design, and opening new windows for conversations, as well as quick access to contacts helps you stay organized without losing context.
ZoiPer 5
On the other hand, ZoiPer 5 handles the entire user experience quite a bit differently. What is very nice is how users can access the dial pad no matter what screen they are looking at, whether at their contacts or call history. There's just a button you click and a dial pad pops up on screen. So, points for ZoiPer there. However, ZoiPer also handles other actions quite a bit differently.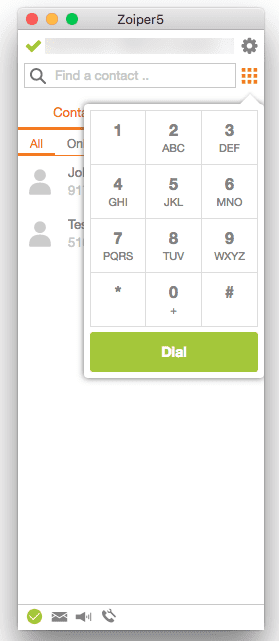 While Bria 5 always opens a new window for conversations or for settings, ZoiPer instead expands its window. Whether you initiate a voice call, video call or text message, the ZoiPer window simply expands to the right to open up a chat window with that contact. From here users can call or video call, as well as see their entire chat history.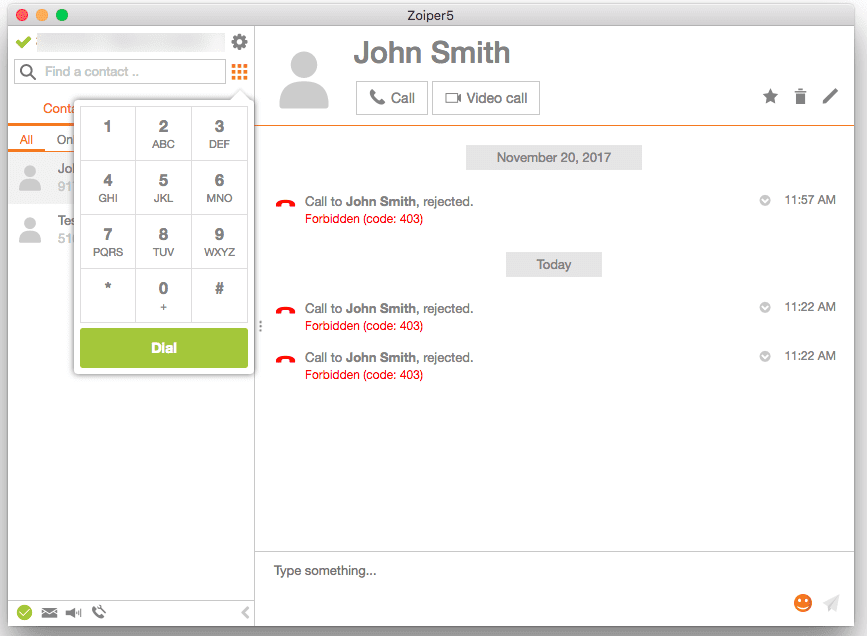 But this happens no matter what, even if you're just trying to place a call. In fact, placing a call removes this text message window, and instead leaves uses with a black screen with even more call control buttons.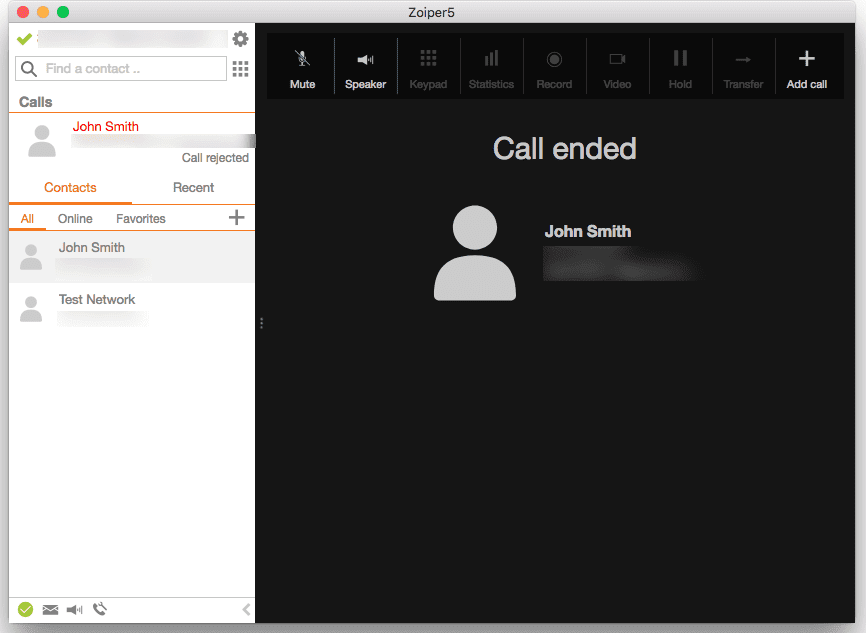 These call control buttons are helpful, users can access the dial pad or record the call without flipping to a new window, but their chat conversation is lost. Contrast this to Bria 5 where chat windows are separate from the dial pad and calling, and it just seems to make a bit less sense. The same exact thing also happens when you try to access the menu — instead of opening a new window, ZoiPer 5 blocks off your contact list and conversations and changes the window to a new settings display.
I understand the benefit here to a degree, less windows means its easier to manage because everything is always located on this one single screen. However, it made ZoiPer feel a bit more cluttered, and like you had less control over where you wanted to be. Something truly odd I noticed was when attempting to change a setting, or even add a new contact, there is no "submit," "apply," or "ok" button to save changes. I had to click on another part of the window, which then greeted me with a "are you sure you want to save this?" prompt. That just seems like something is missing.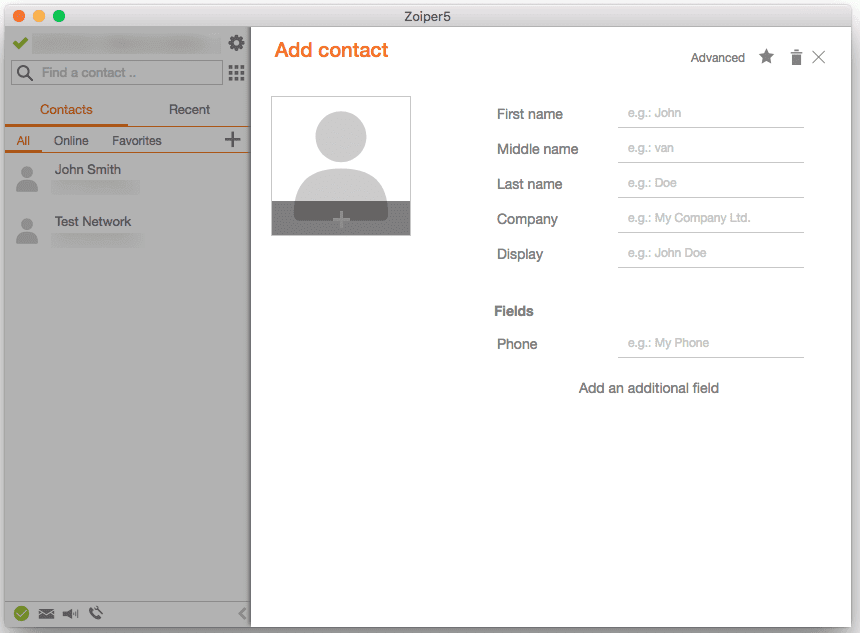 When using Bria 5, everything felt more cohesive and laid out (there were no missing buttons), you could have a floating chat window and converse with one person, while initiating a call with someone else in the main dial pad window. The experience for ZoiPer isn't bad by any means, and some might even prefer this style of handling conversations and windows. However, it loses some of the flexibility that Bria has.
Verdict: Bria 5 – ZoiPer definitely gains points for a few of their UX choices, like making the dial pad available no matter what screen you're on. However, Bria 5's design lends itself towards a more cohesive user experience. Navigation is simpler, calls don't force the app to expand in size, and the fact that the app spawns new windows for settings, conversations and adding a contact helps a lot.
At the end of the day, either Bria 5 or ZoiPer 5 would be a solid choice when it comes to a softphone. Many VoIP providers do include softphones, but these tend to be limited in their functions, and its very possible that your business' VoIP provider doesn't even offer one. When it comes to third party choices, Bria 5 and ZoiPer 5 are the two most popular options for a good reason.
If you're looking to squeeze the absolute most out of your money, then Bria 5 is a great choice with a really simple and clean UI that provides a solid user experience. If you're looking to save a tiny bit of cash, and still get everything you need, then ZoiPer 5 can help cut down the cost without losing any of the major functions and features needed.
Depending on your needs, the choice might come down to preferene. But, if I had to choose, I'd stick with Bria 5 due to its easy to understand UI and superior user experience.