It's no secret that billing issues are one of the most common customer service problems.
Studies show that in the banking/financial industries, billing questions are the number-one reason for calls to customer support lines, the second most popular reason for support calls to Internet service providers, and that nearly ¼ of calls to healthcare providers are related to billing.
Not only do billing complications damage the overall customer experience, but they also take up lots of valuable agent call time.
The solution?
IVR payments, which allow customers to automatically pay bills over the phone without speaking to a representative.
Read on to learn more about how payment IVR tools can benefit your business regardless of its size or the industry it operates within.
Table of Contents: 
What Are IVR Payments?
IVR payment is a VoIP phone system and contact center tool that allows customers to make bill payments over the phone without needing to connect to a live agent.
IVR payments work much like a typical IVR (Interactive Voice Response) solution, which collects customer data and connects callers to the proper agent based on the caller's spoken or keypad entry responses to predetermined questions.
Prerecorded IVR call scripts and call menus are familiar to us all. Whether you're briefly stating the reason for your call, entering in your account number followed by the pound key, or saying words like "representative" to speak to a "real person," you're using IVR.
IVR payment tools let customers make automatic and secure payments over the phone by entering their credit card or debit card number into the keypad or by reading them out loud. Customers can send ACH payments with eChecks. This keeps agents free to handle more detailed customer issues, make more sales calls, and ensures that customers can pay their bills at any time.
In addition to collecting payments, IVR payment systems include other features such as:
SMS message receipts/payment confirmations
Omnichannel payment collections
Automated recurring payments
Real-time IVR payment reporting and analytics
Script/campaign editing
Outbound IVR call or SMS payment reminders/late payment notifications
Call routing and call flow design options to connect customers to live agents
CRM integration
Credit card decline management
Account and available credit lookups
Partial or multiple payments
How Do IVR Payments Work?
IVR payment solutions either integrate with your existing IVR or contact center software or are a feature of an Interactive Voice Response platform.
When a customer is connected to the IVR, they're presented with a call menu that prompts them to provide payment information like account number, credit/debit card information, invoice number, or phone numbers associated with the account.
Customers provide this information by speaking on the phone or by entering the information via their phone keypads.
If the customer chooses the dial pad option, the system uses DTMF tone technology to process the transaction.
If the customer speaks their answer on the phone, AI Natural Language Processing (NLP) and Voice Recognition decipher the speech and process the transaction with your payment provider based on "learned" or programmed keywords and phrases.
Using CRM integrations, voice recognition, and stored account data, the IVR payment tool will also be able to verify the caller's identity.
Callers can switch to agent-assisted payments from IVR self-service payments at any time.
Usually, the process takes no more than five minutes from start to finish.
Benefits of IVR Payments
In addition to streamlining the overall payment process, there are other major benefits to using Interactive Voice Response technology to collect customer payments.
Increased security, fewer late payments, and higher customer satisfaction levels are just a few ways in which IVR helps to grow your business.
Fewer Late Customer Payments
Roughly 46% of consumers pay at least some of their bills late.
Especially given how much businesses of all sizes have been impacted by COVID-19, too many late customer payments can get your company in serious financial trouble.
IVR payments make it much easier for customers to remember to pay their bills thanks to automated payment reminders, access to account balance and payment status updates, and by letting customers set up recurring automatic payments.
Customers are also more likely to pay on time if they can make payments 24/7, on their own schedules. They can also easily update their addresses or credit cards on file, preventing bill payments from being blocked or declined due to a change of address or closed bank account.
Finally, IVR's high level of self-service frees up more of your agents, so that if a customer needs human interaction regarding payment plans or billing problems, there's a much higher likelihood they'll get someone on the phone the first time they call in.
Decreased Operating Costs
It's no secret that credit card processing fees can run up to 3.5% of the total cost of the transaction.
While this might not initially sound like a lot, additional fees like charge-backs, insufficient fund penalty fees, and other incidentals on top of transaction fees quickly add up.
ACH bank transfers have much lower fees than traditional credit card transactions, saving you potentially thousands of dollars a year.
Plus, since you've better optimized your employees, you'll be able to save on the costs of having to hire additional agents to collect and manage billing issues.
So how much money could IVR payments save you?
When you consider that manually collecting payment information over the phone costs roughly 70 cents per transaction, while online and automation payment collections cost only about 6 cents per transaction, it's quite a high amount.
Increased Security
The average credit card data breach costs companies about $3.86 million — especially for small businesses, that's more than money enough to force companies to close their doors for good.
IVR tools have numerous features designed to provide clients with secure transactions.
First, IVR payment tools are NACHA and PCI compliant, which means they feature firewalls, restrict access to cardholder data, offer data encryption, and more to keep customer data safe.
They also offer voice recognition authentication services using voice biometrics and require customers to verify their identity by entering in account numbers or passwords. These systems then compare the caller's phone number to the telephone number that is associated with the account.
Finally, because credit card data is collected via IVR instead of by a human agent, clients can rest easy knowing that their personally identifiable (PII) information is not vulnerable.
Faster Billing Dispute Resolution
Dispute resolution doesn't just take up valuable agent time.
For every $1.00 spent, chargeback fees cost companies an average of $1.50 each.
Interactive Voice Response payment systems keep detailed call logs, call analytics, customer information, and transaction history.
This information is a huge help when it comes to handling customer billing disputes, as agents can quickly pull up payment history, account information, and resolve the issue on the first call.
Which Businesses Should Use IVR Payments?
IVR payments are an ideal solution for companies across many industries that process a high volume of daily or weekly orders, encounter a frequent number of billing disputes, or simply want to provide customers with a self-service payment option.
Top IVR use cases include:
Banks and debt collection agencies to check and pay balances
Storage facilities and property managers to process and manage recurring monthly rental fees
Collecting utility payments
Renewing, paying for, or upgrading subscriptions to month-to-month services
Collecting non-profit or political donations
Collecting healthcare/hospital bill payments
Top IVR Payment Providers
The below table compares the features of the top IVR payment providers, as well as information on the types of businesses that would most benefit from each platform.
| | | | | | |
| --- | --- | --- | --- | --- | --- |
| Providers | Agile Payments | Payment Vision  | PCIPal | BillingTree Payrazr | Eckoh |
| Top Features | Stored payment methods, SMS receipts, bank account verification | Check by phone payments, ability to set custom processing rules | PCI DDS descope, professionally recorded prompts | Debit card only processing, two-way text message payments  | CallGuard security measures, accepts PayPal, Google Pay, and Apple Pay |
| Best For | SaaS application providers and companies that need their IVR payment tool to integrate with their POS system, subscription-based businesses  | Call centers, collections agencies, law firms, and additional companies needing advanced account receivable management  | Nonprofits, eCommerce shops, and small-scale financial firms that already have an existing IVR system but more robust IVR payment capabilities | High-volume payment processing for enterprises that also need to offer omnichannel payment options to customers | Online retailers that need remote agents to be able to accept payments, especially popular within insurance and utility provider business sectors |
Agile Payments

Agile Payments is a completely customizable IVR payment solution that collects customer data via keypad and natural language processing.
Agile Payments do not offer out-of-the-box solutions, allowing you to choose which specific features your company will benefit from.
In addition to payment via IVR, Agile also offers Payfac, or Payment Facilitator, capabilities. The payfac serves as a sub-merchant account for your business that allows you to process payments for your own clients. This gives small businesses and startups much more control over their processing solutions.
Agile also offers Bill Pay, a complimentary product to IVR that is a web-based billing and invoice lookup tool. This is especially helpful to larger companies that need to search invoice records frequently.
Additional features include:
Stored customer payment methods
Recurring billing API
Payment gateway integration
Credit card decline management
Bank account verification
Payment verification and confirmation numbers
Text message receipts
Multi-currency payments
CRM integration via RESTful APIs
Language preferences
Account balance updates
Funding reports to improve payment reconciliation
Agile Payments charges a one-time $12.00 initiation fee, and monthly pricing begins at $20.00/month based on the features chosen.
Payment Vision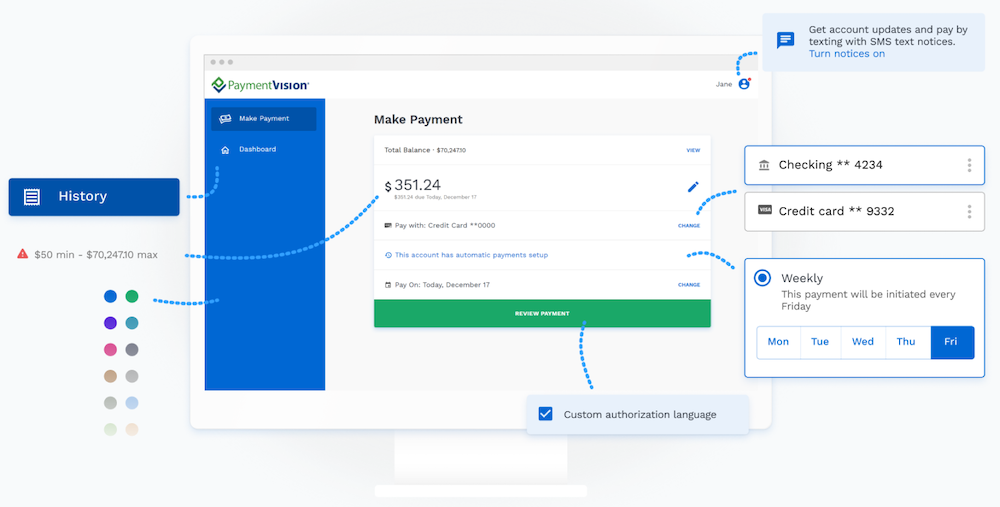 PayIVR by Payment Vision is a one-time or recurring IVR bill payment platform that collects client information via voice recognition or touch-tone keypad entries.
It sends automatic real-time payment notifications to your company's phone system, making it easy to keep track of customer billing.
One of its best features is that it allows customers to set up their own payment schedules so payments in specific amounts will be withdrawn automatically on the set dates. Admins can also restrict certain credit cards, avoiding high processing fees associated with some card issuers.
Payment Vision also accepts checks via the phone by instantly verifying ABA/routing numbers. In addition to collecting check payments, the check-by-phone feature lets agents access account information and view past checks, and update payment statuses. Clients will no longer need to mail in checks to pay.
Additional features include:
Electronic signatures
POS integration
Omnichannel bill payment
Multilingual menu options
Mobile phone payments
Account validation
Custom branded virtual terminal
Text to pay
Multi-layer authentication
Tokenization for sensitive data
PaymentVision pricing is not available online, contact the company directly for a quote.
PCIPal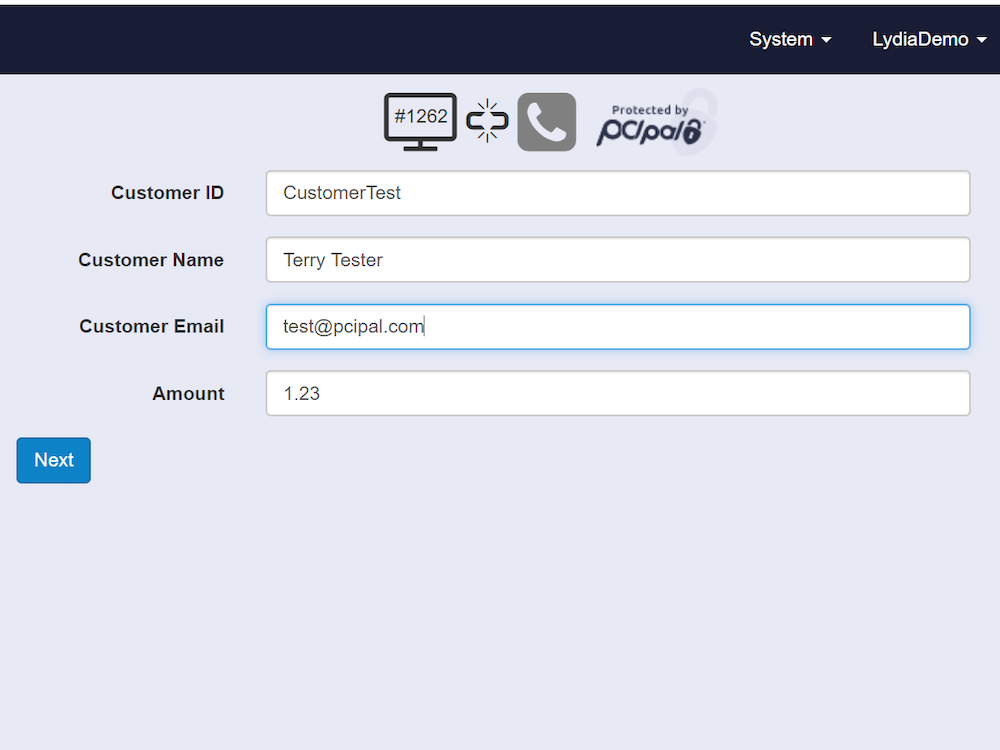 PCIPal is an IVR payment solution that integrates with your existing IVR platform and offers omnichannel payments in addition to payments over the phone via speech recognition or touch-tone entry.
If needed, PCIPal can serve as your company's primary IVR platform.
All payments are managed via the PCIPal secure cloud, and payment information is sent directly to the provider.
Additional features include:
DTMF masking
Ability to switch to live agent
Multilingual menu options
Professionally recorded voice prompts
Automated payments
Identity verification
Pricing is not available on the PCIPal website.
BillingTree Payrazr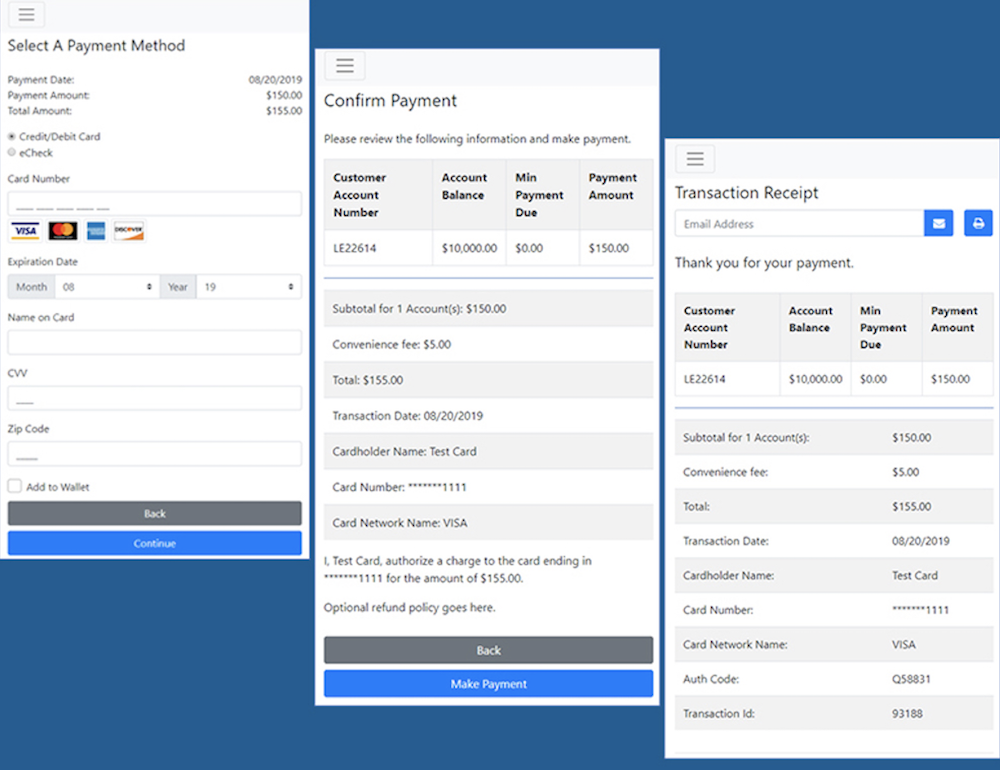 Payrazr IVR from BillingTree is a telephone payment system that combines touchtone prompts and voice recognition to let customers make one-time or recurring payments.
Like Agile Payments, it also offers a complimentary online payment portal and also lets customers pay via text message, online, or with an existing POS system. In short? Payrazr offers omnichannel payment solutions with IVR technology.
Payrazr is one of the few providers to offer Debit Card Only processing, which allows companies that can't collect credit card payments to benefit from IVR bill payments.
Additional features include:
Payment dashboard with real-time updates
Daily payment reports
Pay multiple bills in one payment transaction
Post-dated payments
Online statements and digital invoices
Pricing is not available on the Payrazr website.
Eckoh

Eckoh IVR Payments collect credit card information via touchtone and natural language processing and can be integrated with your existing IVR solution or serve as your complete IVR provider.
The agent control panel interface shows customer order information like the card type, amount and currency, and transaction source. However, its CallGuard feature blocks credit card data from being stored, replicated, or even seen by agents or your contact center software.
Users can pay not only by credit or debit card, but also via Apple Pay, PayPal, or Google Pay.
Eckoh offers cloud-based, hosted, on-premise, or remote deployment, making it easy to choose the ideal option for your business. Its pricing is quote-based and unlisted on the company website.
Additional features include:
CRM integration
Bulk payment handling (multiple payments collected at once)
Call recording with audio tokenization tones for card number entry
Real-time payment error notifications for callers and agents
Temporary call and call recording muting while customer reads card numbers
Analytics like average payment handling time, payment call volume prediction, and average number of payments taken
Agent-assisted payments
Discover Contact Center IVR Systems
The IVR providers mentioned above are ideal for companies of any size looking to streamline their billing processes, but there are several other IVR systems with advanced features and functionalities to consider.
To learn about additional IVR providers like NICE inContact, Five9, Twilio, and more, check out our interactive comparison table of the top IVR solutions.
Stop losing valuable time to resolving complicated billing issues, following up on late payments, and taking orders over the phone.
Instead, use IVR payment solutions to optimize your agents and provide your customers with quick and easy self-service payment options.
Payment IVR FAQs
Below, we've answered some of the most frequently asked questions about IVR payments.
PCI DSS stands for "Payment Card Industry Data Security Standard." 

It's a set of credit/debit card payment security standards created by American Express, KCB International, Visa, Mastercard, and Discover. Its main goal is to protect credit card holders from fraud and data theft and is required for any company that will accept credit/debit card payments. 
There are 4 levels and 12 set requirements for PCI compliance. More information can be found here. 
Though specific installation process information will vary on a per-provider basis, in general, it takes between 24-72 hours to set up your IVR payment solution. More complex tools, especially those that must be integrated with existing software, may take up to four weeks.  
The cost of IVR payment tools depends on several factors, including available features and whether your IVR system is a standalone payment tool, a complete IVR solution, or a part of a larger contact center software package. 
How much you'll pay is also influenced by the number of telephone lines you'll need, as well as if those phone lines are in-house or hosted elsewhere. 
In general, you should expect to pay between roughly $750-1500 per line (including startup costs.) Note that the cost per call with an IVR system is about 7 times cheaper than the cost per call of using a live agent. 
While IVR payments are specifically designed to handle billing over the phone, standard Interactive Voice Response tools offer additional functionalities.

These include:
Advanced call routing options

Call scripting

Call queuing

Automatic callbacks

CTI screen pops

Customer survey management

Text-to-speech and voicemail