Call center software allows for more streamlined customer communication, personalized support, and real-time analysis of agent productivity.
According to the NICE inContact company website, Omdia ranked this provider as the #1 multichannel cloud contact center solution for 2020-2021, while Gartner's Magic Quadrant awarded it the highest overall position for execution abilities in 2019.
With users in over 100 countries and 15 years of experience in the cloud, it's clearly one of the top contact center platforms on the market today.
But what makes its features so effective, and does it really live up to the hype? Most importantly, what does it cost, and is it right for your current and future company size and business needs?
Sections:
What is NICE inContact?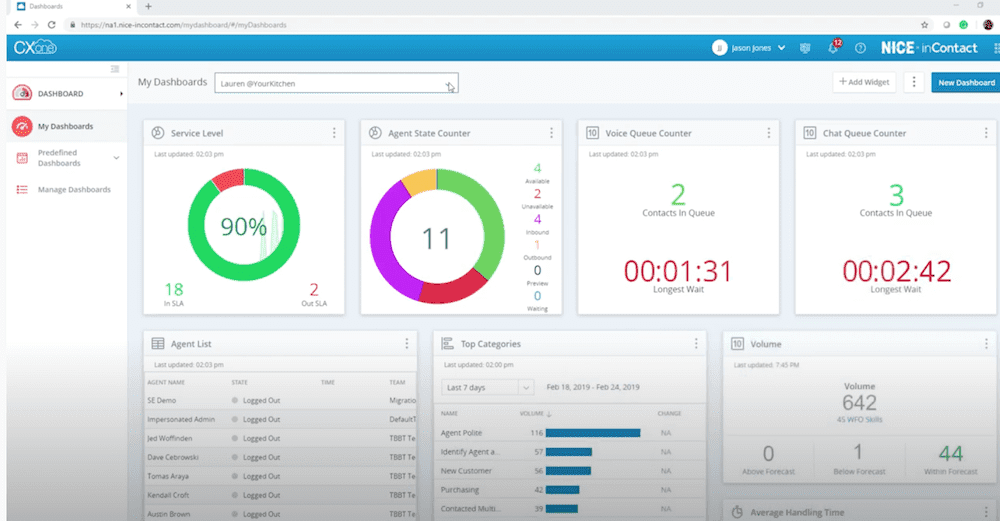 NICE inContact CXOne is a unified customer experience cloud contact center software that manages omnichannel routing, customer analytics, and workforce engagement within a single platform.
Below, we'll outline the contact center's pricing structure and the main features and the specific capabilities they provide.
NICE inContact Pricing
Like most contact center SaaS, the pricing structure is quote-based and not publicly available on its website. In other words, you have to contact NICE inContact's sales department and find out your quote.
This is exactly what we did – we contacted NICE directly to provide you with at least a general idea of their baseline pricing.
Its tiered, pay-as-you-go pricing structure gives users the ability to easily add or remove call seats on an as-needed basis, and prevents users from paying for features they don't yet need.
NICE inContact offers over 400 different types of services available within bundled packages or a la carte. Their most popular product is the core package, which usually ranges in price from $90-$100 per user, per month depending on the specific features required.
The core package includes:
User license and access to system login
Live reporting dashboard
Basic historical reporting and analytics
5 GB of call recording space per license
Call scripting
IVR
3 voice queuing ports per agent
Integrations with third-party tools incur a one-time charge per integration. Though this isn't ideal, remember that there is no hefty hardware charge, overwhelming installation fee, or continual maintenance fees.
Note that advanced omnichannel communication, workforce management, and more detailed analytics/reporting tools are not a part of the core package and must be added on.
Most customers sign a two-year contract with NICE inContact, though pricing concessions are made for those who wish to sign a three-year contract or longer. One year SLAs and contracts are available but may result in a higher rate or additional fee.
Omnichannel Routing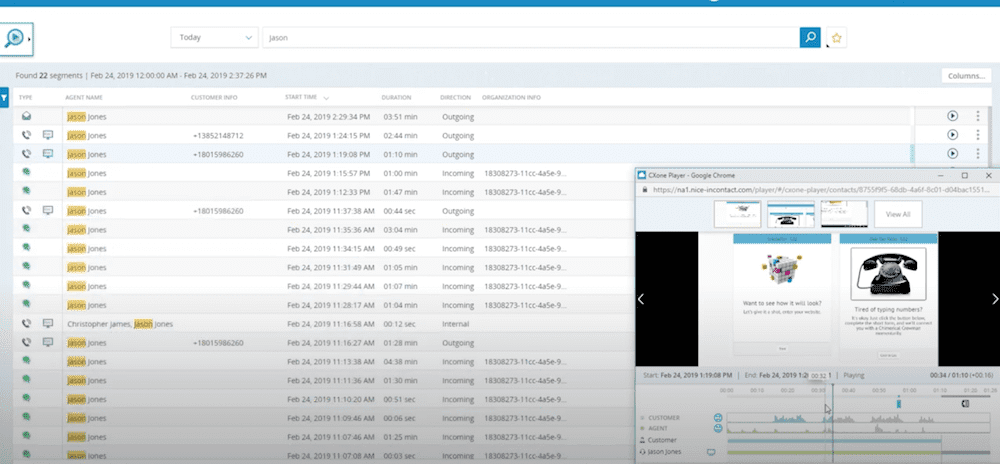 The provider's omnichannel routing capabilities connect customers to representatives on more than 30 digital channels in addition to a large or small business phone system.
Predictive behavioral call routing, ACD and IVR capabilities, and a unified agent interface allow for a more streamlined customer service experience and improved agent productivity.
Automatic Call Distributor
Automatic Call Distributor (ACD) uses Artificial Intelligence to power digital-first skills-based routing and customer self-service across its Universal Queue. This means customers can connect with the most qualified agent on the communication channel they prefer, whether that's chat messaging, email, Voice, or SMS text messaging.
When agents initiate outbound or receive inbound calls and communication over any channel, a Customer Card automatically pops up.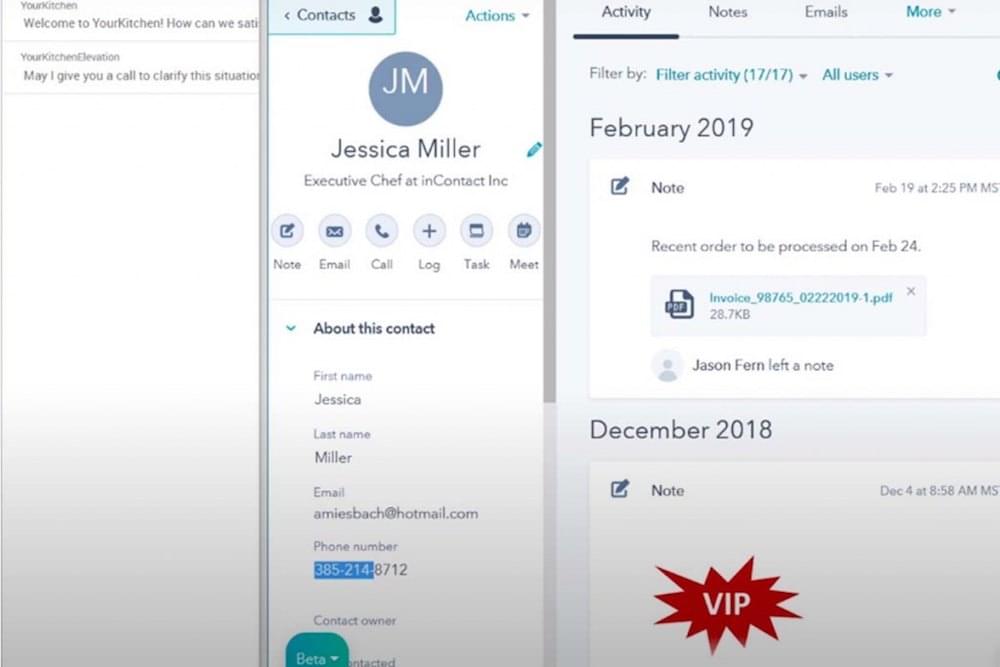 This Customer Card, which integrates with CRM software, provides agents with information on customer data, sentiment, conversation history, and more. This allows for a more personalized customer interaction, lowers call abandonment rates, and leads to faster customer resolution.
Omnichannel Session Handling allows agents to seamlessly switch from one channel to another mid-conversation, and pick up right where they left off.
Interactive Voice Response
CXOne's Interactive Voice Response (IVR) frees up agents by allowing for customer self-service via phone.
Thanks to natural speech analysis, customers state their needs and are then guided through relevant automated menu options. The system also supports touch-tone responses, text-to-speech, and allows users to create their own IVR call flow.
Schedule automatic callbacks, access IVR analytics, and boost first call resolution rates by connected customers to a live agent only when necessary.
Automate time-consuming tasks like data collection, bill paying, and account updates, and integrate your IVR and automatic call distribution systems on a single platform.
Interaction Channels
One of NICE inContact's best features is the high number of interaction channels it offers to both customers and agents.
Live omnichannel communication and cross-channel conversation updates prevent customers from having to repeat themselves and allow agents to handle multiple interactions at once.
Available communication channels and capabilities include:
Inbound, outbound, and blended voice calling
IVR self-service
Voicemail
Inbound email
Manual or agent-less outbound email
Advanced live website/customer support chat
Automated chatbots
Agent-customer co-browsing
Video chat
Proactive chat
Facebook Messenger
Twitter Direct Messages
Instagram
WhatsApp
Inbound/Outbound SMS messaging
Predictive Dialer Call Center Software
NICE inContact's Personal Connection is a no-pause predictive dialer software designed to help agents get through call lists faster and increase customer talk time.
Its top features include:
Preview, progressive, proficiency dialing
Manual and agentless dialing
TCPA and Do Not Call List compliance
Cell phone number verification
CRM integrations
Live call list updates
Customizable dialing speeds and ratios
Proactive customer outreach
My Agent eXperience (MAX)
MAX is a digital-first contact center agent interface designed to work across multiple channels to streamline customer information and interactions.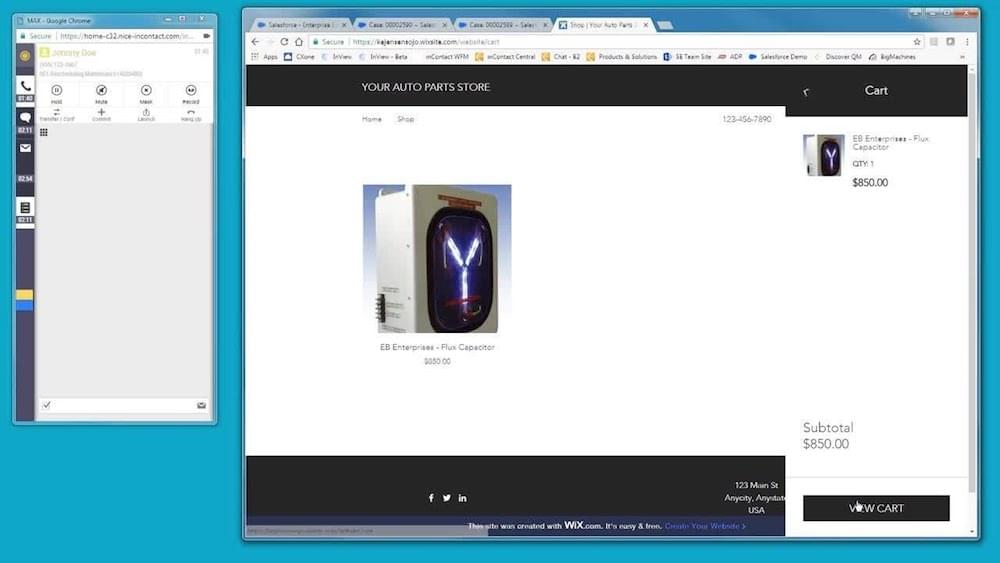 It provides live omnichannel conversation updates and allows agents to connect with customers across multiple channels within a single dashboard.
Within MAX's intuitive dashboard, agents can add notes, update customer cards, and initiate an escalation matrix if needed. The interface also allows agents to place customers on hold, mute them, record calls, or transfer them to another representative.
Synchronized customer data, CRM integration, and workforce tools allow agents to not only provide more personalized customer experience but also to monitor their schedules and current call queue.
MAX also provides live agent status update information, agent reports, and an employee knowledge base for even faster customer resolution.
CXone Platform Analytics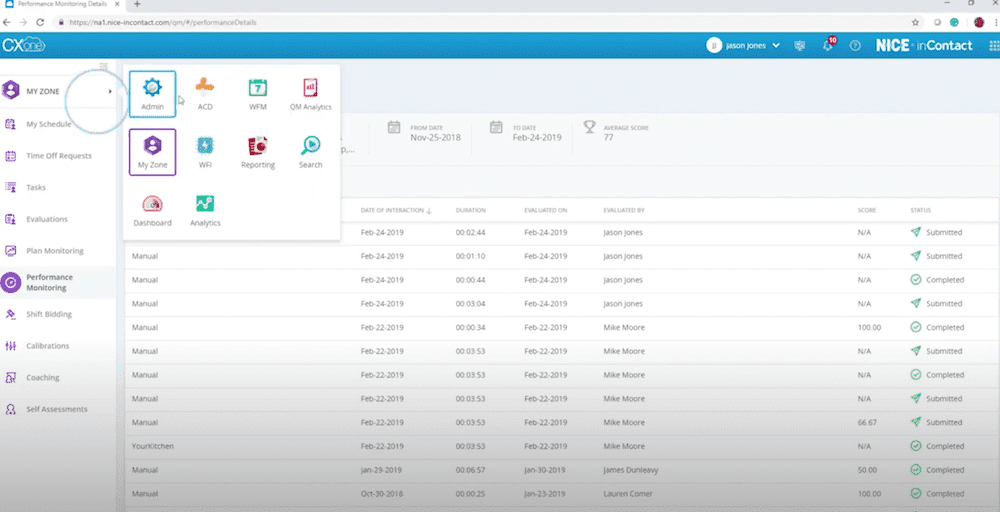 Incontact's call center analytics software provides interaction analytics, productivity insights, customizable reports, and performance management tools that allow for data-driven decision-making.
Users can choose from over 250 call center metrics to receive live and historical interaction analytics. This helps managers to identify customer trends, common pain points, and better manage risk, while the real-time early warning system allows for more of a proactive response.
Feedback Management is inContact's omnichannel customer survey tool, allowing for more actionable, unbiased insights. Surveys are available via email, SMS text messaging, and IVR.
These surveys allow managers to identify and reward top performers, understand which agents need more coaching, and get a more accurate, detailed read on customer experience.
Additional Analytics capabilities include:
Interaction categorization by discussion topic and customer sentiment
Speech and text analytics
Call recording transcription
Word clouds of common customer keywords
Compliance analysis
Resolution time predictions
Salesforce/CRM data importing
Filter by date, call duration, agent, and more
90 pre-built report templates
Campaign performance analytics
Employee surveys
Agent status, skill performance, service level analytics
Microsoft Excel integration
Agent gamification for friendly competition
Training program analysis
CXone Workforce Engagement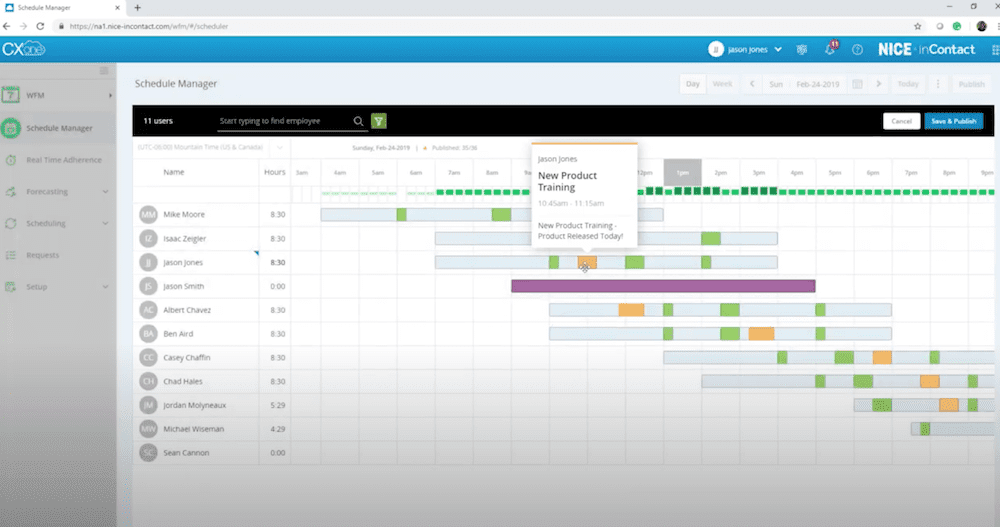 NICE inContact's Workforce Engagement and Optimization (WEM) tool provides greater employee flexibility, improved workload management, and workflow forecasting that allows users to better plan for the future.
WFM tools allow agents to request shifts, view their schedules, and receive real-time notifications of approvals or changes.
Additional WEM features include:
PTO request management
40+ forecasting algorithms
"What if" planning
Automated remote work requests and functions
Quality Management Analytics provide highly detailed information on customer sentiment and feedback. This information is then automatically sent to the agent after an interaction is completed. You can rank agents by average call quality rating, evaluate their performance in categories like politeness and customer acquisition over time, and categorize insights automatically.
Call and screen recording capabilities that meet GDPR, PCI and HIPAA requirements provide compliance records and allow for a deeper understanding of customer insights.
NICE inContact Integrations
Thanks to its open cloud foundation platform, this provider offers exceptional integration options and high-level customization through RESTful APIs and its Developer Community.
These integrations, which operate within a single end-user interface, include:
Salesforce
Microsoft 365
GSuite
Microsoft Teams
Zoom
RingCentral
LogMeIn
Oracle
Zendesk
For a full list of integrations, go to their integrations page.
Who Should Use NICE inContact?
Over 430,000 agents and more than 85 Fortune 100 companies use NICE inContact.
Top customers include Teleflora, Valvoline, Radisson Hotel Group, ClearChoice Dental Implants,  and Inverva Health.
Though smaller or newer businesses can get excellent customer insights from the software, it's best suited for enterprise-level companies with a high daily call volume or heavy contact across multiple channels.
Common use cases include telemarketing, healthcare providers, financial services, and government agencies.
Healthcare providers use the software to automatically collect patient billing information, send automated appointment reminders, and manage EHRs. Lending companies and banks use it to contact customers in the event of potential credit card theft, provide account balance updates, and collect customer loan qualification information. Within the government sector, NICE inContact reviews and user ratings say the tool is ideal for fundraising, campaign phone baking, and communicating with constituents on the channel of their preference.
NICE inContact Customer Experience
Users agree that NICE inContact's call center and cloud customer experience platform offers many benefits to team members like deeper insight into customer journeys, increased agent productivity and performance, and better overall customer satisfaction for organizations of all sizes.
However, there is a steep learning curve to some of the features, (especially the analytics and reporting tools) and the complicated pricing structure is a turn-off for many.
The below pros and cons list was developed based on consistent mentions in user reviews across the web.
| | |
| --- | --- |
| Pros | Cons |
| High uptime, reliable service | Cluttered dashboard views for account managers |
| Increases agent talk time through IVR and task automation | Onboarding process needs improvement |
| Ease of third-party software integration | Workforce Management features slow to load, forecasting tool needs improvement |
| High level of report customization, excellent KPI analytics | Slower than average customer support response time |
| User-friendly and intuitive interface | Salesforce integration especially buggy |
» NICE inContact User Reviews on GetVoIP
» NICE inContact User Reviews on SoftwareAdvice
NICE inContact Alternatives
If NICE inContact isn't the right fit for your company, consider some of its top competitors, which include:
The below table outlines the top features, ease of use, and basic pricing information on these alternatives.
Features
Genesys

 

Five9
Twilio
Talkdesk

Pricing

Quote-based, Genesys PureCloud from $98.00/month per user

Quote-based, from $100.00/month per user

Quote-based, 

Twilio Flex from $150.00/month per user 

Quote-based, Professional Plan from $65.00/month per agent

ACD

✓

✓

✓

✓

IVR

✓

✓

✓

✓

Live Customer Data Screen Pop

✓

✓

✓

X

Customer Surveys

✓

✓

✓

✓

CRM Integration

✓

✓

✓

✓

Call Recording

✓

✓

✓

✓

Softphone

✓

✓

No native softphone capabilities 

✓

Auto Dialer

✓

✓

✓

✓

Omnichannel Communication

✓

✓

✓

✓

Social Media Messaging 

✓

✓

✓

✓

Natural Language Processing

✓

✓

✓

✓

Text/Speech Analysis

✓

✓

✓

✓

Advanced Workforce Optimization Tools

✓

✓

✓

Add-on only
Further Reading on Call Center Optimization
NICE inContact call center software allows information technology support and help desk teams, customer service departments, retail telemarketing companies, and others to provide more personalized customer interactions without losing valuable time to routine tasks and miscommunication.
However, your company may have more specific needs that this platform is not able to meet, such as stronger team collaboration features or additional software integrations.
Our head-to-head comparisons of popular NICE inContact alternatives like Five9 and Genesys allow you to evaluate which tool has better features, user satisfaction, and pricing structure for your company.