The rise of the remote workforce, especially due to the COVID-19 crisis at the start of 2020, has created a booming demand for business communications solutions.
But it's not just internal communication that benefits from business communication software (BCS for short.) Recent studies on customer communications show that the average consumer uses at least 3 connected devices for business communication.
Today, seamless experience when it comes to both internal and external communication is essential.
The below business communication solutions will help you to stay in constant contact with clients and employees no matter where you are or how you prefer to connect.
Here are the types of business communications solutions we'll cover:
Requirements For Featured Products
The top business communication solutions at the beginning of each product type section were required to meet a set group of standards to be chosen for a featured spot.
At least one tool in each featured section must offer a free plan, and additional featured tools should be within the average price range for their service category.
Requirements for featured products include:
Each section includes one tool with a free plan and one paid plan in the average price range of the software type
Each tool must offer basic integrations with other business communications tools (GSuite, Slack, Microsoft 365, etc.)
Must rank on page 1 to 2 of organic Google Search results for the primary category/keyword
Must offer several customer support channels ( 24/7 phone support, live instant messaging, dedicated account representative, etc.)
Tools can be used by both large and small businesses across multiple industries (no "niche" industry products)
Product has a high standard for user security (Two-factor authentication, data encryption, password protection, admin access control, etc.)
Business VoIP allows team members to make and receive calls from any device, increasing employee flexibility and availability.
Plus, companies have been able to reduce their business communication costs by up to 50% after switching to VoIP. Users also save on costly setup costs like cabling and phone hardware.
Top VoIP telephony features include:
Virtual voicemail and voicemail transcription
IVR auto attendant for customer self-service
Unified communications
ACD (automatic call distribution)
Call forwarding, routing, blocking, screening, and other advanced call management features
Business SMS text messaging
Call analytics
Scheduled callbacks
Call recording
Online faxing
1. Nextiva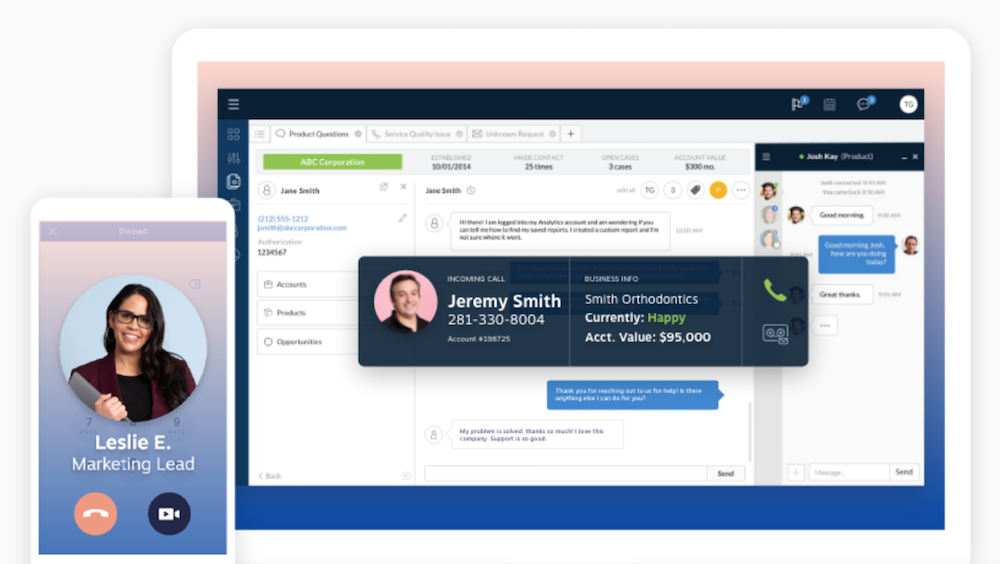 The cloud-based Nextiva business VoIP business phone system includes some of the best solutions for small and enterprise-level businesses and is trusted by top businesses like Taco Bell, the YMCA, and The University of Arizona.
Users can select a standalone VoIP calling service or can purchase omnichannel business communication packages that include features like video calling, team chat messaging, and automation —  ideal for call centers.
Nextiva integrates with CRM software like Salesforce and Zendesk, providing detailed call pops with customer data for incoming calls.
All VoIP voice calls are encrypted, 24/7 support is available, and Nextiva boasts a 99.999% uptime. While Nextiva is compatible with most VoIP phones, it also offers phone hardware that integrates seamlessly with its VoIP software.
For more information, read our breakdown of Nextiva pricing and plans.
2. RingCentral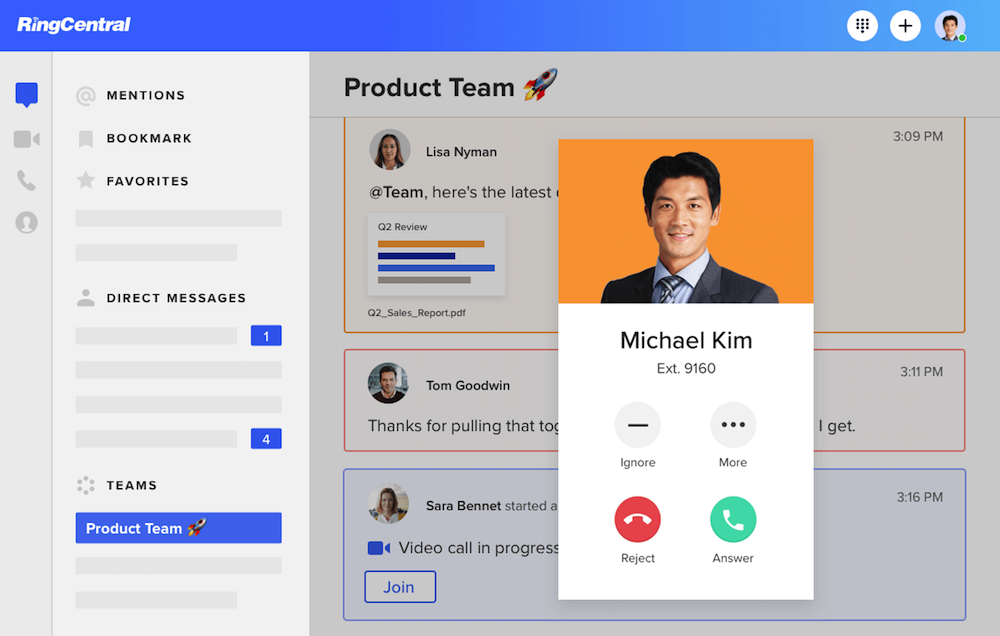 RingCentral Office is a cloud business telephone system that combines team messaging, virtual telephony, call analytics, and video calling.
Top features include RingOut one-touch calling, cloud PBX, unlimited calling within the United States and Canada, and audio conference calling for up to 40 participants. Call queuing, call waiting, and call parking are just a few of RingCentral's advanced call management features.
It offers integrations with essential tools like Zendesk, GSuite, Microsoft 365, and Salesforce.
Like Nextiva, RingCentral also offers compatible phone hardware for sale in addition to BYOD options.
It offers 24/7 customer support, TLS call encryption, and HTTPS/SSL.
See our post for additional information on RingCentral pricing and plans.
More Business VoIP Solutions
Though video conferencing was already a popular method of business communication before the COVID-19 pandemic, it became essential at the start of 2020 as the virus caused the vast majority of American companies to transition to remote work.
Web conferencing software allows for real-time face-to-face internal and external communication, ideal for one-on-one video meetings or webinars with hundreds of attendees.
Essential features include:
Password-protected waiting rooms
Screen sharing and remote screen control
Meeting recording
In-meeting chat messaging
Breakout rooms for smaller discussions
Whiteboard tool
Integrations with other business communication tools
Admin controls to mute, remove, give hosting privileges to, or block attendees
1. Zoom
Zoom is the fastest-growing video conferencing software, with close to 13 million active monthly users.
It has four main plans to choose from, including its free basic plan that allows for unlimited one-on-one meetings and up to 40-minute meetings for a maximum of 100 attendees.
Zoom breakout rooms allow hosts to break up larger meetings into smaller discussion groups. While on video calls, users can upload and co-annotate files and presentations in real-time. Screen recording and transcriptions are also available.
Zoom integrates with tools like G Suite, Outlook, Salesforce, and Google Drive.
Although Zoom has struggled with security issues in the past, improvements like SSO, password-protected meetings, stronger admin controls, and AES-256 encryption have made it more secure.
Popular uses for Zoom include virtual classrooms for remote learning, telehealth appointments, and local government town hall meetings.
2. Cisco WebEx
Cisco WebEx is another popular web conferencing software with over 324 million users in total.
WebEx offers 5 plans, including a free plan that allows for 50-minute meetings for up to 100 participants, screen sharing, and breakout sessions. Popular integrations include GSuite, Office365, Salesforce, and Slack.
Standout features include live polling, an attention indicator tool, meeting attendance taking, and Noise Detection and Suppression. Users can click the "Meet Now" button to instantly transition from a text-based chat to a video call.
WebEx's security precautions include end-to-end encryption, password-protected meetings, meeting locks, and encrypted cloud recordings.
To learn more about these top two web conferencing solutions, read our detailed comparison of Zoom vs WebEx.
More Video Conferencing Tools
Though some video conferencing platforms also offer webinar capabilities, some prefer to host online events using standalone webinar software.
Though the average webinar attendance rate is 44%, using the right tools can boost that attendance rate even higher — especially given the jump in using webinars for lead generation and education during COVID-19.
Essential features include:
On-demand and live webinars
Handouts feature
Q&A Session
Active speaker view (ideal for panelists)
In-presentation offers
Webinar analytics
Invitation and follow-up templates
Social media platform integration
Live polling, virtual hand-raising, breakout groups
Pass presenter tool
1. GoToWebinar
GoToWebinar by LogMeIn is a no-download webinar platform that can host up to 3,000 participants and allows users to create live, on-demand, serial, and recurring webinars.
It's primarily designed for companies that use webinars for lead generation, or for those that sell their webinar content as a product. It's also a popular choice for employee training webinars.
Custom registration forms, automatic attendee reminder emails, and branded templates are standout features that make the webinar scheduling process much easier. Webinars can be recorded and sent to attendees afterward, and hosts receive engagement data just 15 minutes after the webinar's close.
Attendees have the chance to send in their questions before the webinar begins, which makes tailoring the right content even easier.
It offers four different paid plans, but no free plan.
2. Join.Me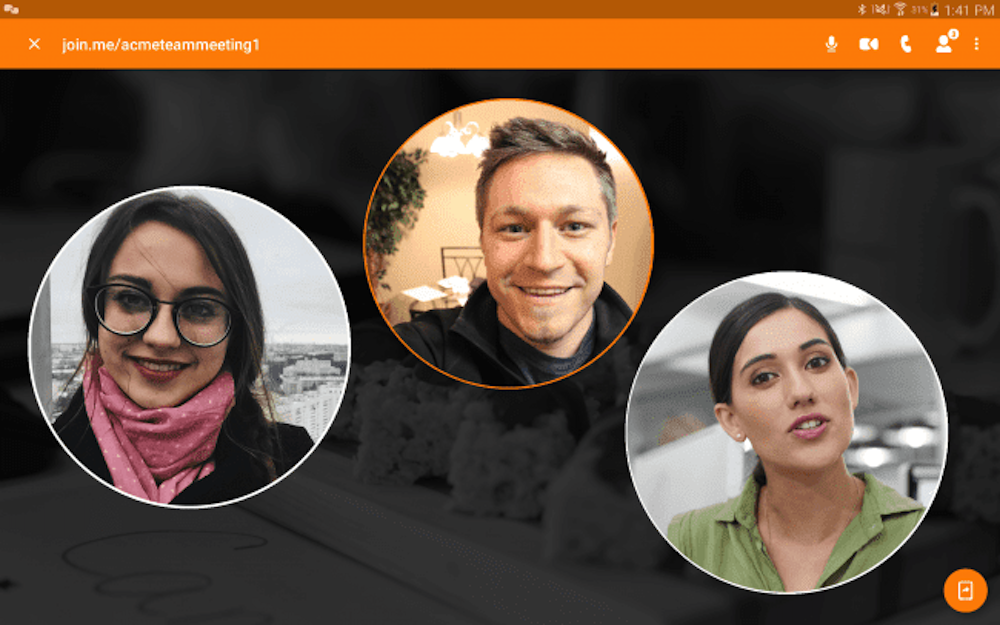 Join.Me is a personalized webinar platform best known for its unique interface, which shows attendees onscreen as circular "bubbles" as opposed to on rectangular interlocked screens.
It can host up to 250 maximum attendees and 10 simultaneous shared screens, meaning it's ideal for mid-sized companies, corporate meetings, and employee training.
Top features include screen sharing, whiteboarding, file sharing, chat messaging, and advanced host controls.
Available integrations include GSuite, Zaiper, Outlook, Slack, Office 365, and Trello. It also provides 356-bit TLS encryption, webinar attendance locks, and two-step authentication for added security.
Our past research shows that free webinar software is difficult to come by for users who need more than just the most basic of webinar capabilities. Join.Me, however, offers the best pricing options, with the cheapest of its three available plans costing just $10.00 per month.
Our complete review of Join.Me's pricing and plans provides additional information.
Other Webinar Software
Project Management Software
Project management software allows admins to assign clear tasks and subtasks to team members, leading to stronger team collaboration and freeing up employees for more important projects.
Essential project management features include:
Task and subtask assignment
File uploading
Task commenting and task status updates
Multiple board views
Time tracking
Workflow management
1. Asana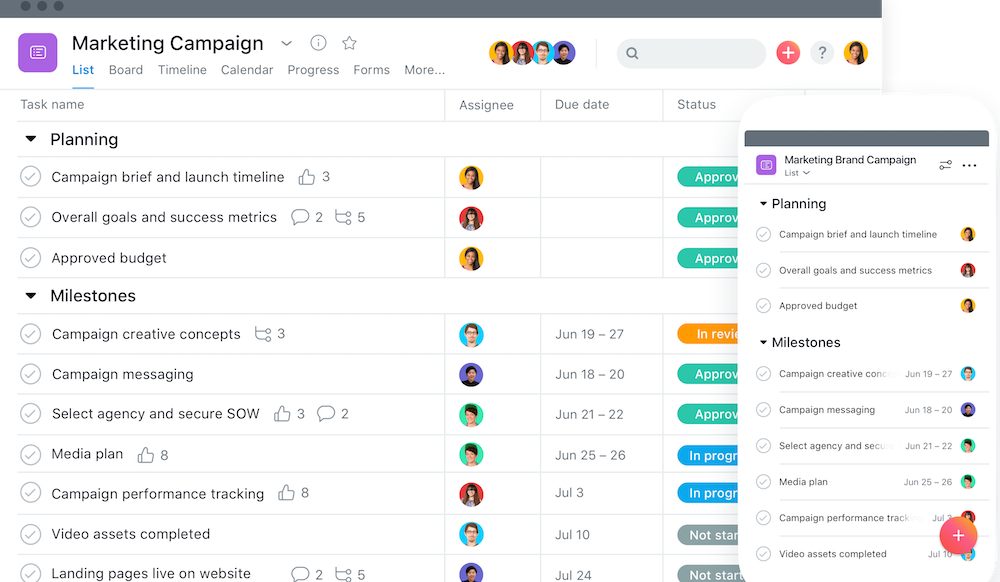 Asana offers a robust free project management software plan and three paid plans.
Users can create unlimited tasks, projects, file storage, and activity logs. Teammates can assign tasks to one another, write comments and tag users, create deadlines, and complete tasks in a to-do list format. Gantt timeline project views, Kanban boards, and calendar views are also available, as are workload management tools.
Each user has an individual inbox that lists completed, in-progress, and upcoming tasks and task status updates are available.
Additional features include:
Data exporting
Subtask creation
Custom rules builder
Unlimited guest users
Integrations with Salesforce, Creative Cloud, Slack, and more
Milestones
Private project and team creation
Time tracking
2. Wrike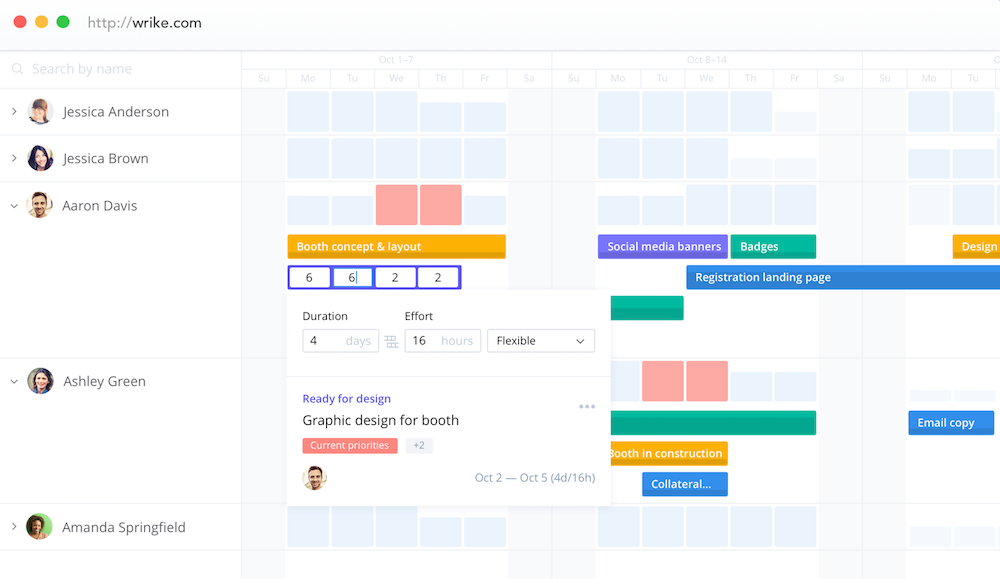 Wrike is a work management platform with over 20,000 customers including Dell, Siemens, Airbnb, and Okta.
It offers multiple project views including list, spreadsheet, calendar, forms, and Gantt chart views. Multiple users can be assigned to a single task, and users can easily upload multiple file types.
Users can assign tasks and subtasks as well as set task dependencies, which prevents users from going forward with a project until a certain task has been completed.
Wrike currently offers one free plan and three paid plans.
Top features include:
Task status updates
Color coordination
Real-time progress reports
Online document editing
Project templates
Project time tracking
Integrations with Google Drive, GSuite, Microsoft 365, JIRA, Slack, Github, and more
More Project Management Software
Team Communication/Collaboration Software
Team collaboration and communication software allow internal team members and guests with access to these tools to instant chat message one another, have video meetings, edit and collaborate on documents in real-time, and more.
Users can create public and private communication channels on team communication tools get a quick clarification on questions that don't require a larger meeting or a separate email.
This prevents workflow stoppages, encourages teamwide participation in planning and executing projects, and allows managers to send quick company-wide announcements.
Top features include:
File sharing and editing
File version control
Channel and user tagging
Document synchronization
Calendar tools
Reply threads and reactions
In-app phone and video calls
Click-to-call or click-to-video-call
Message and file storage
1. Slack
Slack is easily the most recognizable team collaboration tool and is best known for its instant chat messaging interface.
Users can create their own topic/department channels and set them to public or private. Users can react to messages with emojis and reply to threads instead of clogging up channels for a conversation between just a few individuals.
In addition to chat messaging, paid versions of Slack also allow for video calling, voice calling, and screen sharing. It's easy to instantly transition a chat conversation to a video call.
Slack offers one free plan and three paid plans.
Additional features include:
Searchable chat history
User status updates and profiles
Do Not Disturb/Snooze notification
Integrations with Microsoft 365, Google Calendar, Zoom Google Drive, and over 2,000 more business communication tools
Unlimited message history
Up to 1TB per storage member
2. Microsoft Teams
Microsoft Teams is a team collaboration tool that combines video calling, chat messaging, audio phone calls, and real-time file editing within a singular interface to take internal communication to the next level.
Users can schedule a meeting ahead of time through calendar app integrations, or simply click to turn a chat into a call. Meeting recordings, file storage, and unlimited chat messages are all included, and users can host larger online events for up to 10,000 people.
Teams offer one free plan and three paid plans.
Additional features include:
Over 250 app integrations
Custom meeting backgrounds
Searchable message history
In-chat file attachments
Web versions of Word, Excel, and PowerPoint
More Team Communication Software
Customer Support Software
Customer support software allows agents to communicate with customers over multiple communication channels, providing both live support and automated responses from bots depending on current communication needs.
It makes support ticket management tracking easier and speeds up the overall resolution process. These tools also provide insight into customer information and history through CRM integrations, speeding up the resolution process.
Customer support software also serves as an information hub regarding products/services, billing resolution and order updates, and other more general queries.
1. Zendesk
Zendesk is an omnichannel customer support software trusted by over 200,000 clients.
Connect with customers and manage support requests over social media, live website chat messaging, SMS texting, phone, and email. Team members are provided with knowledge bases and customer information from across multiple data sources, allowing them to provide the best possible assistance.
Zendesk offers five Customer Support Suite plans, all of which are paid.
Additional features include:
Skills-based routing
Multiple ticket forms
Custom business rules
Performance dashboards and customizable metrics
Customizable support dashboards
Branded interface
2. Freshdesk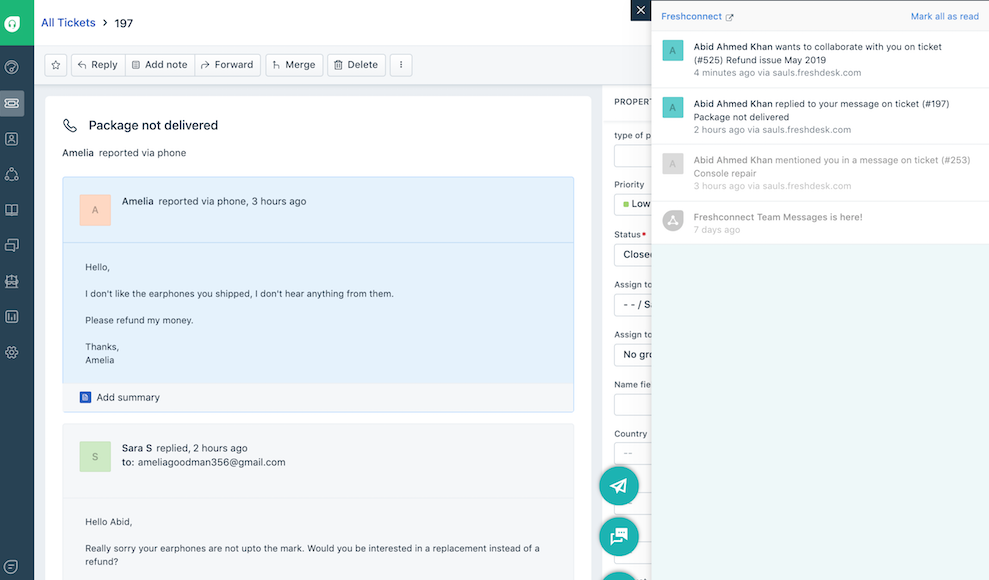 Freshdesk is a customer support app that can move customer queries from any channel into the Freshdesk unified dashboard, making it much easier to avoid ticket loss.
Users can prioritize and organize support requests, update ticket status, and take advantage of automated canned responses. Collaborative ticketing as well as ticket merging for similar issues sent to multiple agents is also possible.
Freshdesk offers one free plan and four paid plans.
Additional features include:
CSAT surveys
Multilingual knowledge base
Email and social media ticketing
Round-robin and skills-based routing
SLA management
Ticker trend reports and performance reports
App integration
Customer segmentation
More Customer Support Software
Social Media Management Tools
Over half of social media users say they use their favorite social platforms to research companies and make buying decisions.
In addition to being a huge part of your marketing strategy, social media channels are also an important part of customer service and customer feedback/interaction.
The right social media management tools should allow you to post simultaneously across multiple platforms, provide hashtag suggestions, create automatic responses to messages, and of course, schedule future social content.
1. HootSuite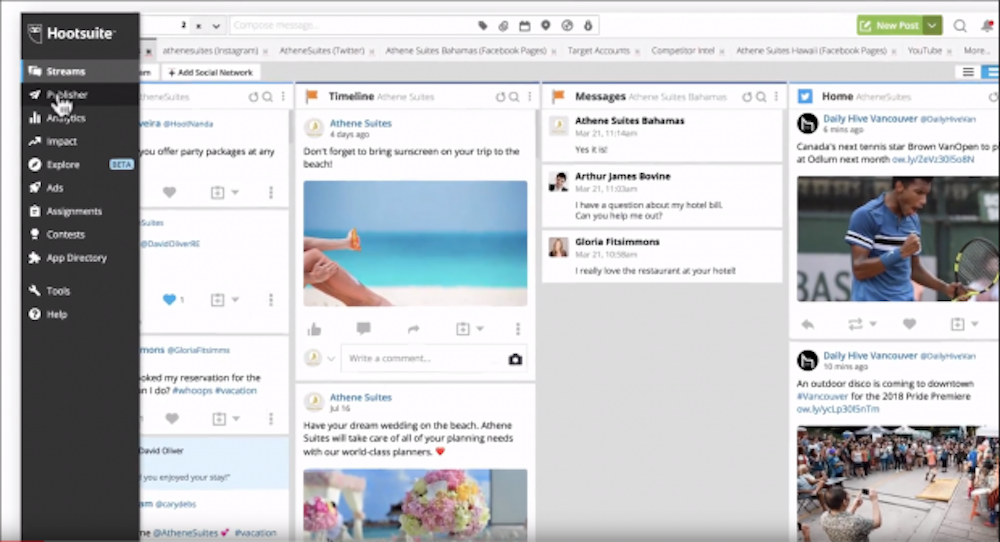 HootSuite is a social media management and marketing platform trusted by more than 800 of Fortune 1000 companies.
It allows users to create and schedule posts in a single platform for publication across multiple social media channels, including Twitter, Facebook, Instagram, LinkedIn, YouTube, and more.
Additional features include:
Social media ad analysis and optimization
Post creation assignment and social team creation
Integration with Adobe, Google Drive, Salesforce, Dropbox, and more
Access to HootSuite Academy training
Trend monitoring
In-interface social post sharing, liking, and commenting
Private social media message management
Campaign analysis
HootSuite offers one free plan and four paid plans for up to 35+ platforms and over 10 users.
2. Buffer
Buffer is trusted by over 75,000 clients including Spotify, Shopify, Huckberry, and Food52.
In addition to combining all social media platforms into a single interface for post scheduling, Buffer also provides detailed analytics on individual posts, hashtags, and audience engagement within the same dashboard.
It automatically generates exportable daily customizable reports, allows users to schedule the first post comment and create multi-photo posts, and even enables social media shoppable posts.
Users can easily schedule both permanent posts and 24-hour stories.
Buffer offers one free plan and 6 paid plans.
More Social Media Tools
Sales Team Management Software
Sales team management software helps managers and sales team members understand target KPIs, provides current client insights and is often a tool by which managers evaluate representative success and productivity.
It allows employees to keep track of their current leads and sales pipelines, streamlines the data entry process, and identify trends.
1. SalesHub by HubSpot
Sales Hub by HubSpot is a sales team management tool used by Casio, Legal Zoom, and Motley Fool Wealth Management.
It provides agents with email templates and tracking that sends employees a notification when the lead has opened an email, making it easy to know exactly when to follow up. Agents can use the tool to prioritize sales calls, make and record calls from their web browsers, and then automatically update their CRM systems with the call results.
Additional features include:
Lead rotation automation
Predictive lead scoring
Trend/sales forecasting
Productivity reports and performance rating
Deal pipelines
Quote management
Live chat
Call tracking and recording
Accounts-based marketing
Sales Hub offers one free plan and 3 paid plans.
More Sales Team Management Software
Every dollar spent on email marketing has an average return of $42.00 — meaning that investing in the right email marketing software can significantly increase your profits.
Email marketing software gives insights into which segment of your market should receive emails about specific products, the best time of day to send out emails, and which subject line gives you the highest open rate.
Essential features to look for include:
Pre-made email templates
A/B Testing
Email segmentation
Drag-and-drop email design interface
Open rate, link click, and subscriber analytics
List management features
Email automation
eCommerce integration
1. Mailchimp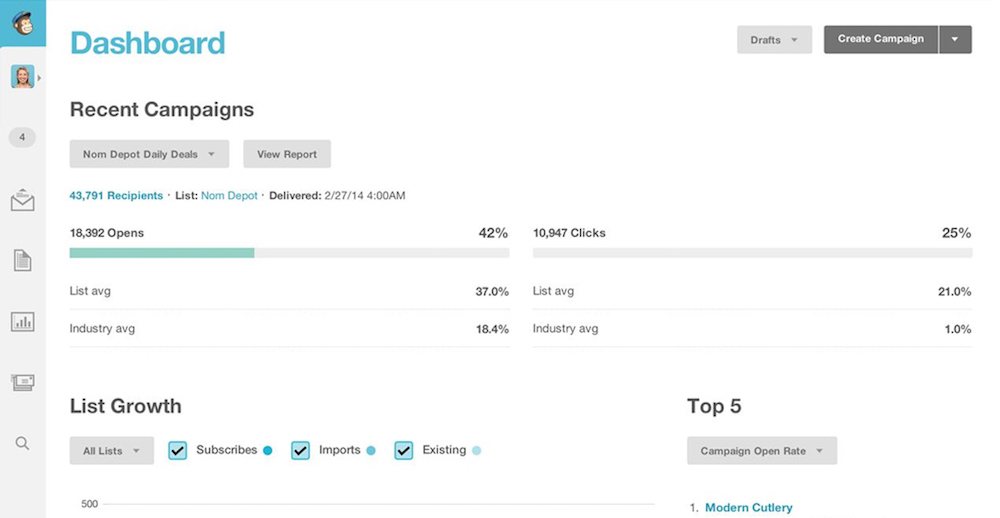 Trusted by over 20 million customers, MailChimp is easily the most well-known email marketing platform.
Its intuitive drag-and-drop interface and robust email template library are beginner-friendly, but the capabilities and insights it provides are suitable for large-scale enterprises, too.
It offers a free plan for sending emails to up to 2,000 contacts, marketing CRM integrations, website building tools, forms and landing page creation, and a MailChimp domain. MailChimp currently has three available paid plans for up to 200,000 email subscribers.
Top features include:
Landing page creation for lead generation
Customer journey creation for automated marketing workflows
Real-time analytics per email
Behavioral targeting and market segmentation
Custom branding
Send time optimization
1. Constant Contact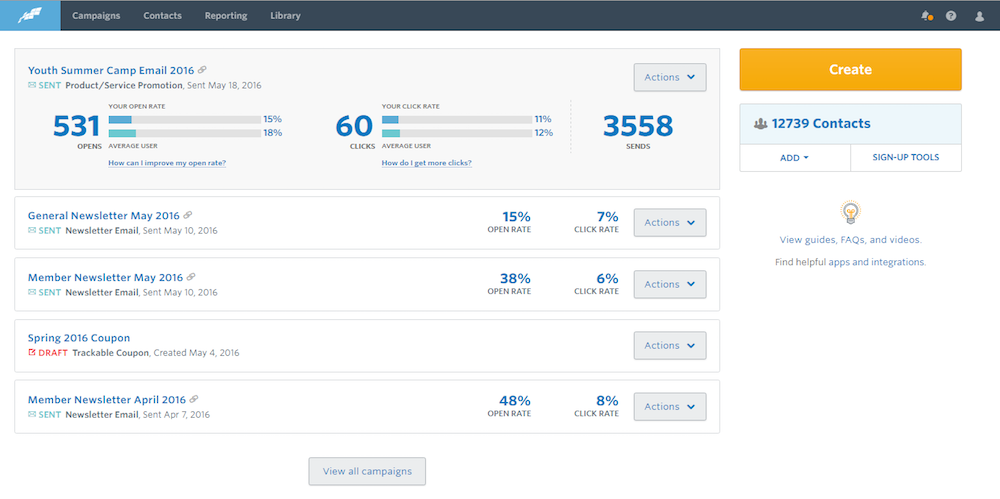 Constant Contact has over 600,000 current customers and has numerous email marketing services templates and strategies for multiple industries including payroll services, nonprofits, financial management companies, and medical professionals.
As of this writing, Constant Contact does not offer a free plan and has two available paid plans.
Top features include:
Automatic email resends to non-openers
Welcome emails to new subscribers
Contact segmentation
List management tools
Triggered emails
Email marketing calendar
Email templates and a drag-and-drop interface
eCommerce integration
More Email Marketing Tools
Customer Relationship Management (CRM) software is an upgraded digital version of a Rolodex.
It acts as an online database of real-time customer data like personal notes, sales history, current orders, and more. It helps to connect departments and agents that may end up speaking with the same client.
CRM software provides insight into customer journeys and leads to a more personalized customer service experience.
1. Salesforce 
Salesforce is a cloud-based integrated CRM solution that has helped users increase customer retention by 45% and gain an average of 44% more leads.
It combines information relating to marketing, sales, commerce, and customer service into one centralized platform that offers a 360-degree view of customers. Salesforce's app exchange allows users to customize their software's functionality and identifies clear touchpoints throughout the customer journey.
Top features include:
Case management
Service contracts
File sharing and collaboration
Case auto-assignment
Lead management tools
Omnichannel routing
Milestone tracker
Opportunity tracking for cross-selling
Email templates
Salesforce doesn't offer a free plan, but its Sales and Service cloud platform has four available paid plans.
2. Zoho CRM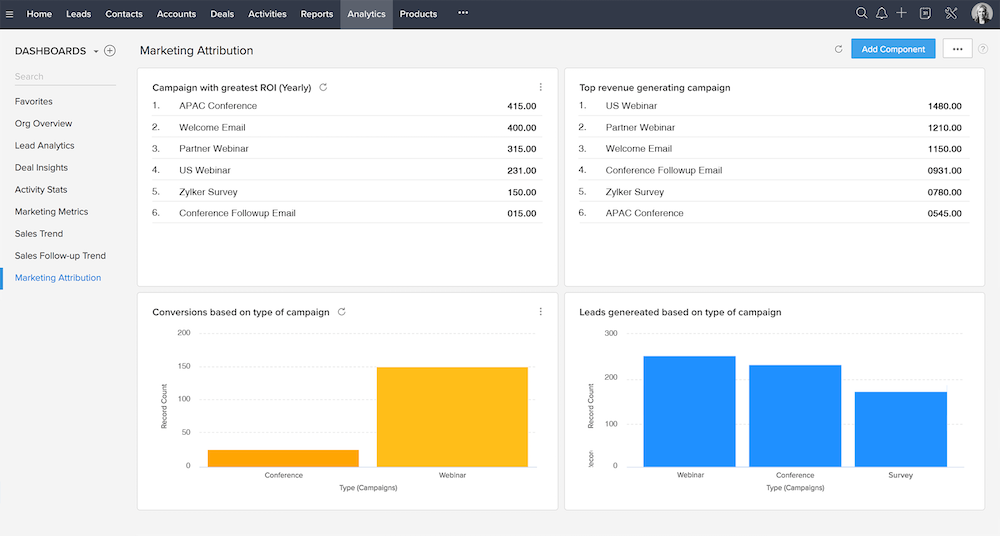 Zoho CRM serves 150,000 companies across 180 countries, including Amazon, Netflix, and Suzuki.
It includes lead, deal, contact, and workflow management automation. It also has a sophisticated approach to process management that allows admins to design an escalation matrix, assignment and approval rules, and a scoring system.
It evaluates customer journeys, allows for omnichannel customer support via several communication systems, and offers lead and deal predictions.
Top features include:
Mass emails
Customized dashboards
Team collaboration tools
Performance management features
Customer and agent analytics
Scheduling automation and management
Web forms
Marketing automation
Zoho CRM offers one free plan and four paid plans.
More CRM Software
Helpdesk Ticketing, Knowledge Base, and Self-Service Platforms
Helpdesk ticketing software and self-service platforms allow customers to access a business knowledge base that answers their product or IT service questions, eliminating the need to connect with a live service representative.
These tools also help to manage customer support queries, creating a digital ticket of the inquiry and notifying agents if a conversation is needed. Help desk ticketing also tracks customer support requests across multiple channels.
1. Kayako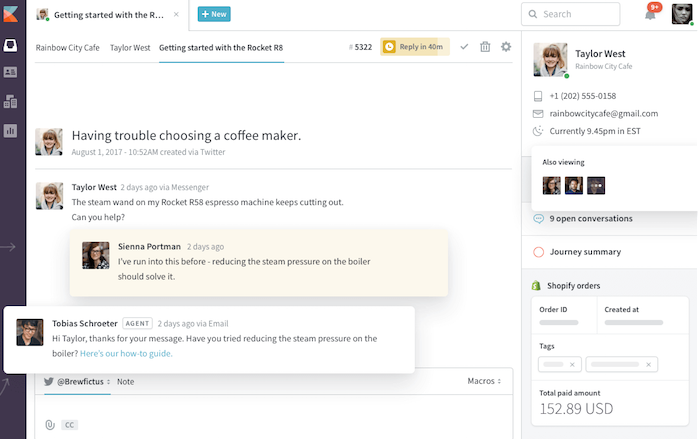 Kayako is a help desk platform providing deep insights into the overall customer journey across multiple communication platforms. It also helps users create a Help Center, so that customers have access to self-service 24/7.
Top features include:
Multi-lingual support
Canned responses
Live chat support
CSAT scores
CRM integration
Customer ratings for support articles
Help Center search bar
Though Kayako doesn't offer a free plan, it has three affordable paid plans from $15/agent per month.
More Self-Service Platforms
Cloud storage software provides additional secure storage space for files by sending them to multiple servers over the Internet, as opposed to storing them exclusively on a computer's hard drive.
Users can then access, share, and edit/update files through a password-protected online interface.
Top cloud storage benefits include its affordability, better options for data recovery, automatic file syncing, and better security measures than standard hard drive storage.
1. Google Cloud Storage
Google Cloud Storage offers unlimited scalable cloud storage space for files with no minimum individual file size and maximum individual file size of 5TB.
Pricing is determined by the type of storage you use, the amount of space you need, and the length of storage time you'll require.
Top features include:
Worldwide storage accessibility
Multi-region/dual-region storage for geo-redundant data
Object Lifecycle Management
Data transfer professional services
Object versioning and object holds
Encryption keys
2. Odrive
Odrive unified cloud storage lets users access files from numerous storage applications like Google Drive, Dropbox, Box, Facebook, Sharepoint, and more within a single interface.
It syncs files to a user's computer to transform cloud files into local ones for easy file sharing, collaboration, and storage.
It offers a robust free account with standout features like:
Single Sign-on
Desktop file sync for Mac and Windows
Automatic file synching
File and weblinks sharing
File manager integration
External storage synching
A paid premium account is also available, offering features like unsyncing to free up space, file backup, and automatic file encryption.
More Cloud Storage Software
Additional Reading on Top Business Software
Want to learn more about the features, available plans, and user experience of some of the business communication tools highlighted here?
Whether you're primarily interested in team collaboration tools, video conferencing software, or other technology solutions, our database of the top business SaaS applications provides you with the most up-to-date information possible.
Read user reviews, see head-to-head comparisons of popular software within each category, and determine which tool best fits with your budget and current business phase.