There are plenty of remote work benefits for companies to take advantage of given that employees who work from home save the average business roughly $11,000 each year and are up to 15% more productive than in-office employees
Whether COVID-19 has forced you to suddenly transition your office team to remote employees or if you've already been working from home for years, your priority is to give clients and coworkers the same level of seamless communication a traditional workplace provides.
Though you've selected top-quality web conferencing software and team collaboration tools, you're still noticing gaps in communication. Maybe it's not the software that's the problem, but instead the equipment you're using.
Whether you're buying video conferencing headsets to improve your own home office environment, or if you're evaluating headsets for remote team members, you need to know the kinds of features 2020's best web conferencing headsets offer.
Features to Look For in Video Conferencing Headsets:
Given that poor communications between team members cost companies with 100 employees over $400,000 annually, selecting video conferencing headsets that offer more features — even if those features come with a higher price tag — is well worth it.
A recent Deloitte study found that companies with stronger team collaboration and communication are two times more likely to outpace their competitors.
While choosing the right office headset might seem like a small detail, selecting conferencing headsets that offer the below features will have a powerful impact on productivity and profitability.
Finally, make sure the headset is specifically designed for conference calls. While you may be tempted to try to make a stereo headset or gaming headset work, they likely won't have the features you need for a successful video conference or the correct system compatibility.
A Comfortable Fit
A comfortable fit should be your first priority when shopping for a headset to pair with the free video conferencing software your business is using.
After all, no other features will matter if you can't stand to wear your headset for more than a few minutes.
Examine the weight, ergonomics/fit, and the overall style of the headphones. Would you prefer in-ear headphones, an on-ear option, or over-ear headphones that provide excess padding? Do you need a monaural (one earpiece) or a binaural (two earpieces) video call headset?
To ensure that audio doesn't get loud enough to damage your hearing, look for options with a sensitivity rating of 110 decibel-milliwatts.
Audio Quality
You need crystal-clear HD audio capabilities to keep team communication going smoothly — especially if you're frequently on calls with multiple people at once or using a free web conferencing app.
Noise-cancelling headsets further block out distracting background noise, which is especially helpful for those working from home with children or in an urban area. You need to be able to briefly mute a call or adjust the noise-canceling settings on your headset, as well.
Look for a headset with a large driver and microphone air-shock filters to suppress sounds of heavy breathing and clicking. The microphone should also be adjustable, so you can put it directly in front of your mouth when on a call.
Finally, check out the headset's frequency response, which is the range of pitches/sounds you'll be able to hear while wearing the headphones. Anything within the 20 Hz to 20000 Hz range is a solid choice.
Wireless vs. Wired Headsets
Though wireless headsets allow for much more flexibility, the Bluetooth connection can sometimes cause audio lag.
DECT wireless headphones have a larger pickup range than Bluetooth ones, but can't connect to your mobile devices like Bluetooth headsets.
Look for options that offer between 20-30 hours of battery life to avoid having to constantly recharge your headset.
Wired video conferencing headsets are more affordable, offer a higher sound quality with fewer lags and less interference, and don't require battery charging.
However, they also tie you to your desk.
Compatibility
Make sure that the web conferencing headset you select is compatible with your current VoIP hardware and that your desktop/mobile device works with Bluetooth.
Additionally, consider if you'll need headsets with UC or MS certification.
MS headsets are optimized for Microsoft Skype, while UC (Unified Communications) headsets work with most Skype for Business alternatives.
The 8 Best Video Conferencing Headsets
The below video conferencing headsets available on Amazon offer different levels of audio customization, a variety of fits and styles, and remote control capabilities.
Some have adjustable boom microphones, while others offer in-line options.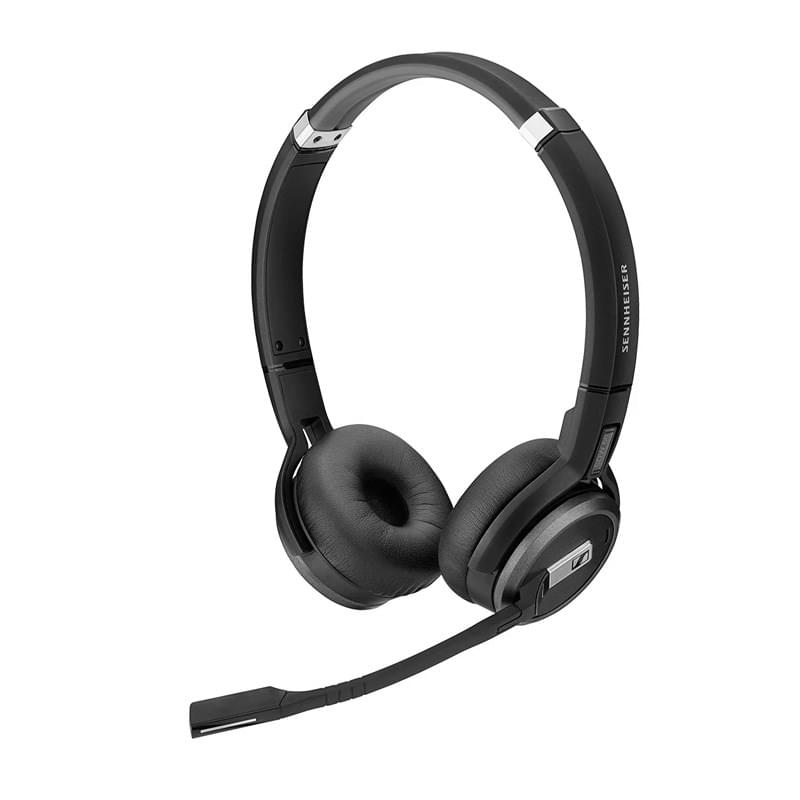 The Sennheiser Impact SDW 5000 DECT wireless headset bills itself as a "communication hub" — and given that it offers 39 product variants, triple connectivity, and a dual microphone system, it's easy to see why.
Users can choose between monaural and binaural models and select between on-ear headphones, ear hook, neckband, or headband. All models include a 360-degree rotating boom microphone.
It comes with a base station that allows users to control headsets and call management options remotely. The Impact has 14 hours of battery life, but can also recharge for up to 7 hours of use in just 30 minutes.
Additional Features
Wideband audio
3 hearing profiles
UC and MS certified
Busy light indicates user is on a call
Protected Pairing and 128-bit authentication
Own-voice detection technology
Auto-sleep mode
Hot desking
Hearing protection
Pros

Cons

Comfortable enough for all-day wear
Wireless range up to 590 feet
Extensive list of features/capabilities

Expensive
Heavier than most headsets
Shorter battery life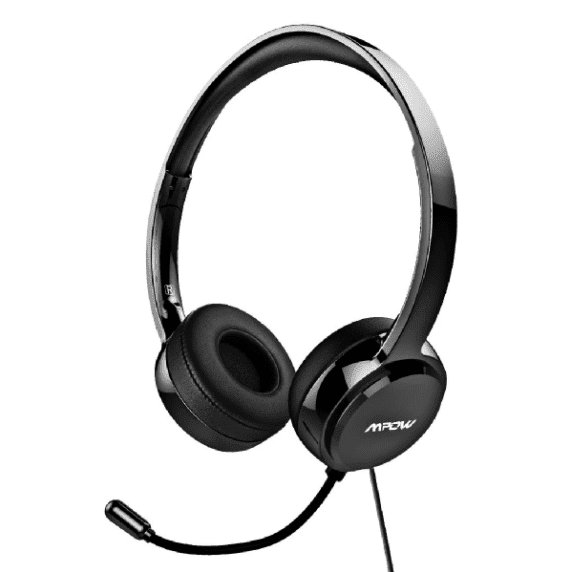 The MPOW BH071A headset is the most affordable option on our list, but offers a robust amount of features for its under $30 price point.
It's an on-ear wired binaural headset with an adjustable boom microphone and 3.5mm jack and USB plug connectors that make it compatible with desktop and mobile devices. It works with Mac OS, Android, and iOS operating systems.
Note, however, that while it does come with noise reduction capabilities, unlike the other video conferencing headsets on this list, it does not have a specific active noise cancellation feature. This means it's a better fit for those who have a relatively quit work-from-home environment.
Additional Features
Unidirectional microphone optimized for voice phone calls
Compatibility with Dragon Speak for transcription
Inline remote control
Mute feature
Sweat-resistant ear pads
7.8 foot cable
Digital stereo sound
Noise reduction sound card
Ear cuffs with 90-degree rotation
Pros

Cons

Affordable
Compatible with multiple operating systems
40mm driver

No noise cancellation feature
Uncomfortable after a few hours of wear
Flimsy construction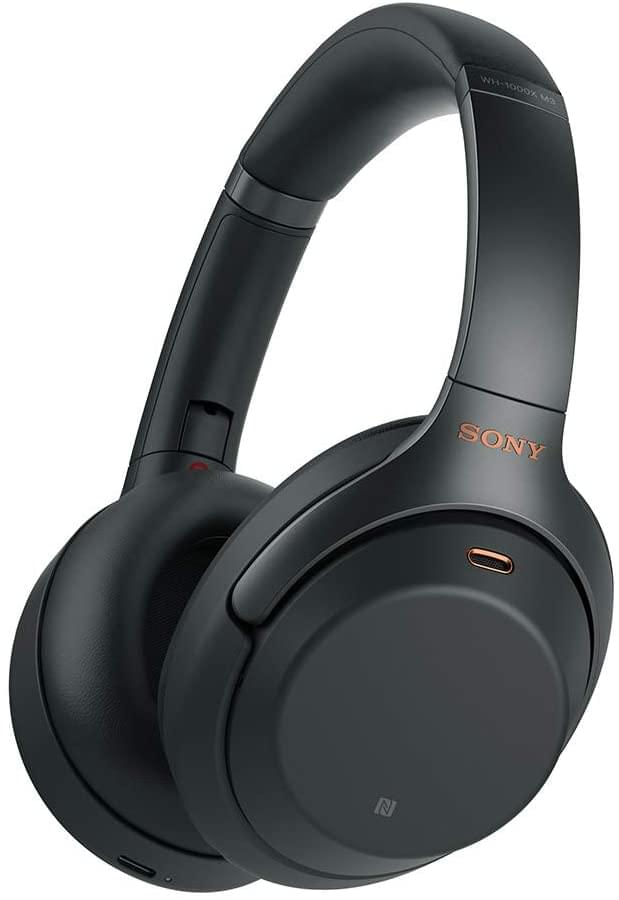 The Sony WH1000XM3 is a lightweight wireless over-ear microphone headset ideal for remote employees who spend most of their day making calls or attending video meetings.
The WH1000XM3 also offers superior battery life. It takes three hours for the headset to provide up to 30 hours of battery life, and only 15 minutes to reach a five-hour charge.
Team members who may experience frequent interruptions from younger children when working from home will appreciate the Quick Attention feature. This allows users to lower their audio volume to a whisper and momentarily decreases noise cancellation.
The Atmospheric Pressure Optimizer feature, which automatically adjusts to cancel out airplane noise  for those who do business on-the-go.
Additional Features
Alexa, Siri, and Google Voice Assistance
Noise cancellation
Mobile Headphones Connect smartphone app
Analog audio amplification
Foldable for travel
40m indoor Bluetooth range
Earcup touch controls
Ambient audio
Pros

Cons

Comfortable fit
High-quality audio
Ideal for travel

Slow to pair new devices
Expensive
Inconsistent Bluetooth range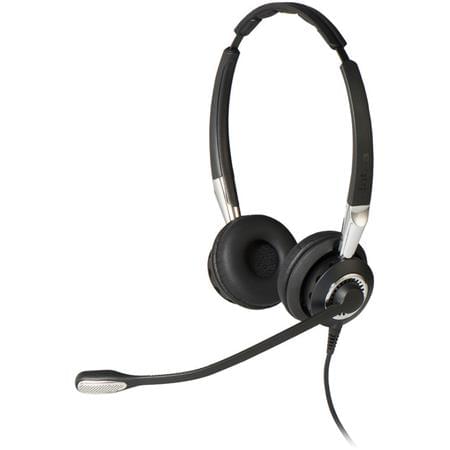 The Jabra Biz 2400 is a wired web conferencing headset that comes in both monaural and binaural options, each with a 360-degree adjustable boom microphone.
It's especially popular among open-office workers and a top choices for call center headsets thanks to its excellent microphone and noise-cancelling headphones. The Biz 2400 has an Air Shock microphone to lower breathing sounds, clicking, and popping. Its PeakStop technology is designed to absorb sudden loud noises, protecting your hearing.
The Biz 2400 's 20 variations work with both USB and QD devices to connect to a desktop computer or any of the top IP phones.
Additional Features
Bluetooth mobile connection
Programmable remote buttons
HiFi Sound
HD Voice Audio
Ergonomic headband design
Neodymium speakers
Variety of wearing styles
Omni-directional microphone
Pros

Cons

Kevlar reinforced cord
Works with a variety of telecom systems
Affordable midrange price
Lightweight

Hollow-sounding audio
Smaller earphones
Tight fit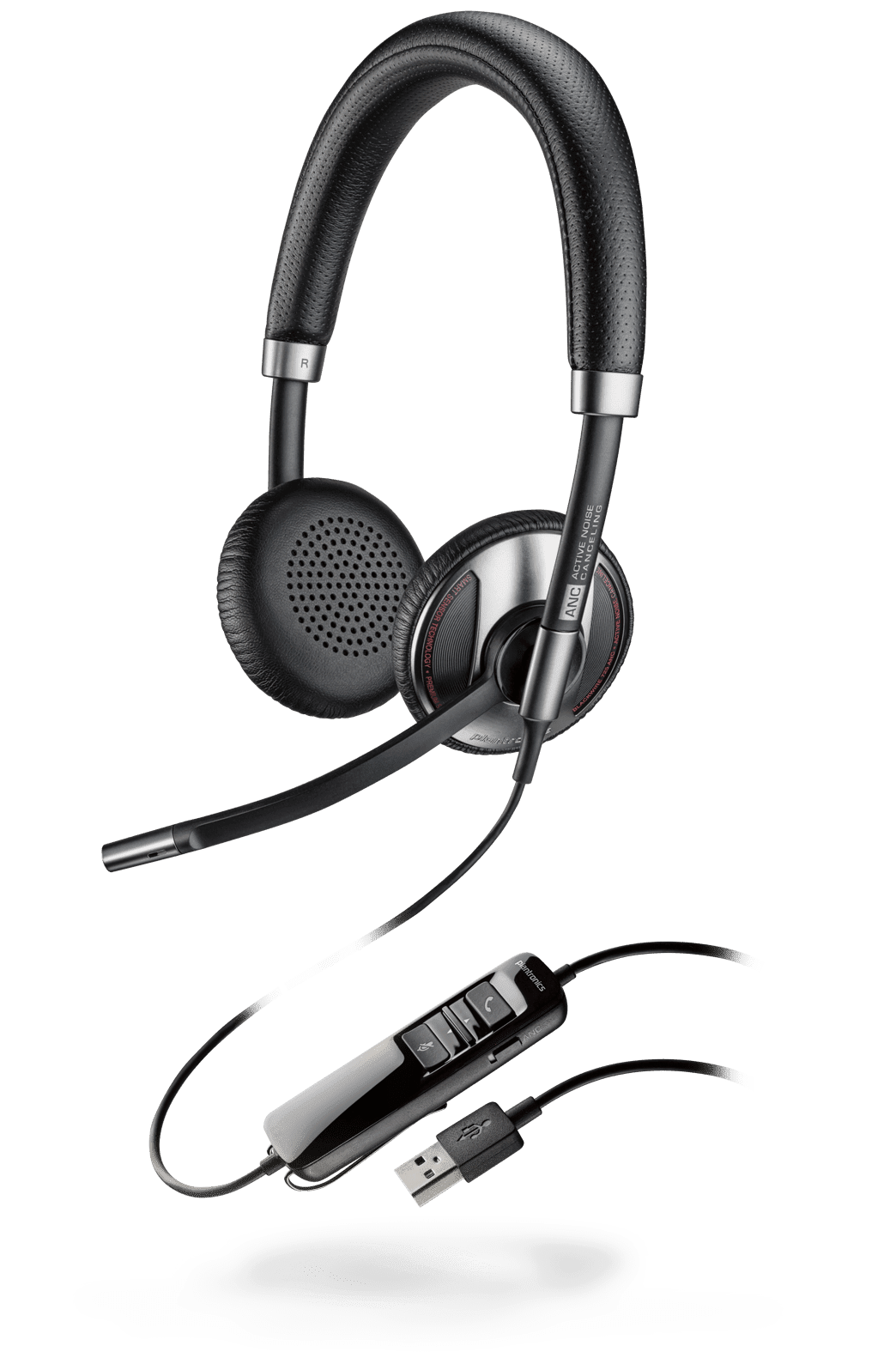 The Plantronics Blackwire C725 is a binaural, on-ear wired USB headset with an adjustable boom microphone, meaning that it works only with PC and Mac desktop computers and not mobile devices.
Both the headphones and the microphone have noise-cancelling capabilities to cancel out low-frequency sounds and other distractions. It also includes SoundGuard technology to protect the user's hearing.
It also uses Digital Signal Processing and wideband audio to provide an excellent sound quality suitable especially for busy, loud environments.
Additional Features
Two-year warranty
EQ feature for optimal voice quality
Automatic EQ adjustment
In-line remote controls
Smart sensor technology
Folding ear cushions
Pros

Cons

Answers calls automatically when user puts on the headset
High-performing noise cancellation feature
Durable

Microphone remains on even when not on a call
Doesn't work on mobile devices
Metal headband causes discomfort
The RHA T20i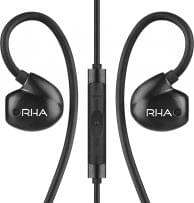 is an in-ear, copper wired binaural headset with stainless steel earbuds.
Each headset comes with silicone, double-flange, and foam earbud covers, allowing users to select the option most comfortable for them. Moldable over-ear hooks ensure the headset stays in place and allow for greater noise cancellation.
This is the right choice for team members who don't need remote work tools with too many additional features, and who are primarily concerned with high-quality audio. Finally, the RHA T20i is MS Certified, meaning it's currently one of the best Skype headsets available.
Additional Features
Injection-molded earbuds
Handmade driver
DualCoil™ driver technology
3 tuning filters for audio frequency customization
Apple-compatible in-line remote and microphone
Google Assistant and Siri Voice Assistance
Pros

Cons

Three-year warranty
Highly customizable fit
Bass, Treble, and Reference audio settings

Not compatible with Android devices
Heavy cord and earbuds
Ineffective noise cancellation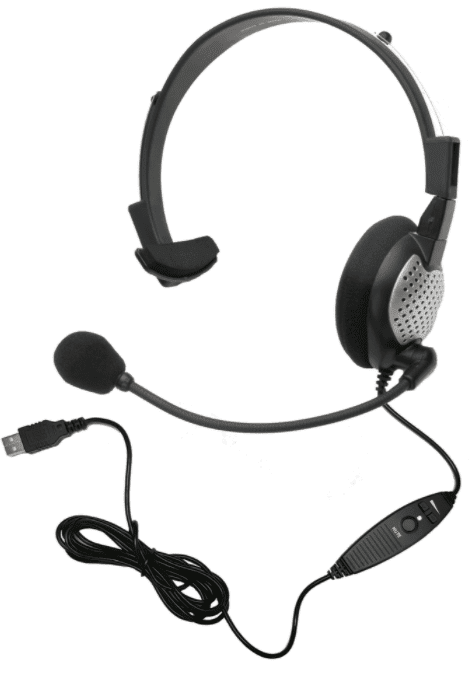 The Andrea Communications NC-181VM USB is a wired, reversible monaural on-ear headset with an adjustable microphone boom.
It's a good fit for those needing voice recognition capabilities, making meeting dictation and note-taking quick and easy. In addition to noise cancellation, this headset comes with a mute button and a microphone windsock feature to cut down on clicks and breathing pops when speaking.
Additional Features
8 feet of wire length
1-year warranty
In-line volume control
Stainless steel headband and foam ear cushion
USB sound card
Free download of Andrea noise cancelling software
Pros

Cons

Affordable
Excellent voice recognition features
Adjustable microphone

Not as long-lasting as other headsets
Headset pad unfit for long periods of wear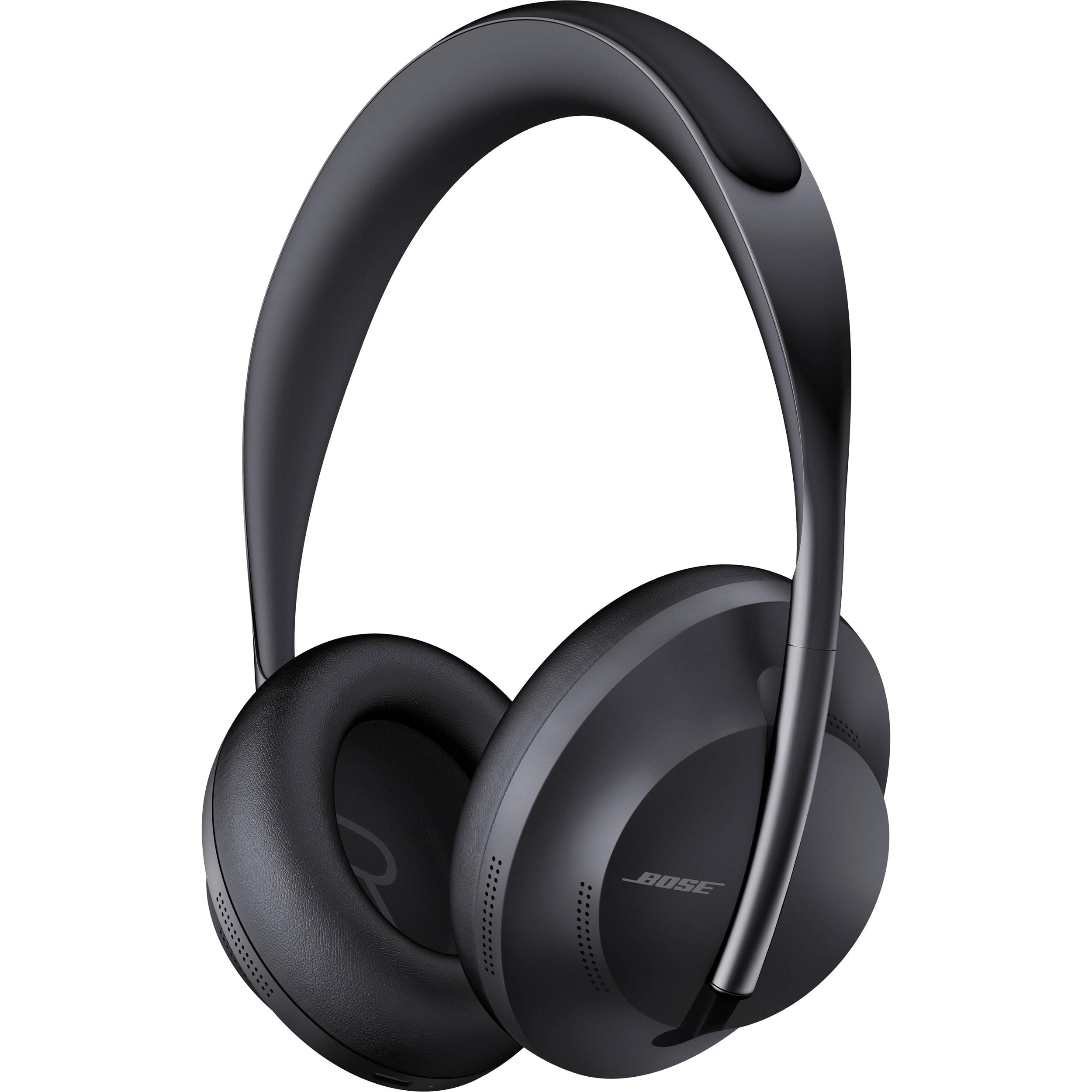 The Bose Noise Cancelling 700 Headphones are wireless, binaural over-ear headphones that perfectly exemplify Bose's reputation.
These headphones are lightweight with both rubberized and foam padding for maximum comfort during conference calls.
The noise cancellation offers 11 different strengths of cancellation to keep out background noise.
The four-microphone system is capable of entirely isolating your speaking voice from background noise.
2.5 hours to charge the batteries for a maximum of 20 hours, but a quick 15-minute charge gives you 3.5 hours of use.
Additional Features
Bluetooth range of 33 feet
Anti-stick touchpad controls on headphones
Voice-enabled virtual assistant with Alexa, Siri, or Google Assistant
Bose mobile app
2.5mm audio cable and 3.5mm jack
Bose AR
Pros

Cons

Comfortable enough to wear all day
Four microphones offer greater speaker clarity
Customizable noise cancellation
Charging case provides 40 extra hours of battery life

Expensive
Problems pairing multiple devices
Headphones overheat when noise canceling feature is enabled
How Collaboration Software Improve Remote Communications?
Once you've chosen which options from the above video conferencing headsets will work best for yourself or your employees, you need to explore additional ways to improve remote team communication.
Free online collaboration tools like Wrike, Zoom, Asana, and Slack provide valuable features like screen sharing, chat messaging, in-app file editing, and task management.
Our interactive table of team collaboration software breaks down the pricing, features, integrations, and more of the top business communication tools to ensure your team stays connected no matter where they're working from.
Disclosure – The GetVoIP team writes about stuff we hope you'll like and strives to offer the best recommendations we can. Our team has affiliate partnerships and may collect a referral commission from your purchase based on our recommendations. This does not influence the content we publish, but only supports our honest efforts to offer you the best and most transparent information. All recommendations are based on our independent research and hands-on experience.