Months before it became headline news in March 2020, the CDC was looking to mitigate the spread of Coronavirus or COVID-19. Well before the pandemic escalates to the level of quarantine, schools, institutions, and employers are taking this chance to teach everyone about social distancing.
Universities are moving to online learning as quickly as possible. Tech companies like Google are implementing voluntary work-from-home policies. While not every employer or employee has the opportunity for remote work, those who do are encouraged to. However, it's vital for employees to remain productive and to run efficient meetings even when employees aren't in the office.
While companies already rely on time tracking and project management software like Asana, Trello, Toggl, Jira, or Basecamp, most of these tools fail to generate real team connectivity. Kanban boards and Gantt charts can help as team productivity tools, but communication is an important element missing from productivity tools.
Making the switch to remote work can induce panic in smaller businesses but everyone must build a sustainable remote work and social distancing infrastructure in case of emergency. The right team collaboration and remote work software will maintain business growth even when the office is a ghost town.
Team Collaboration Software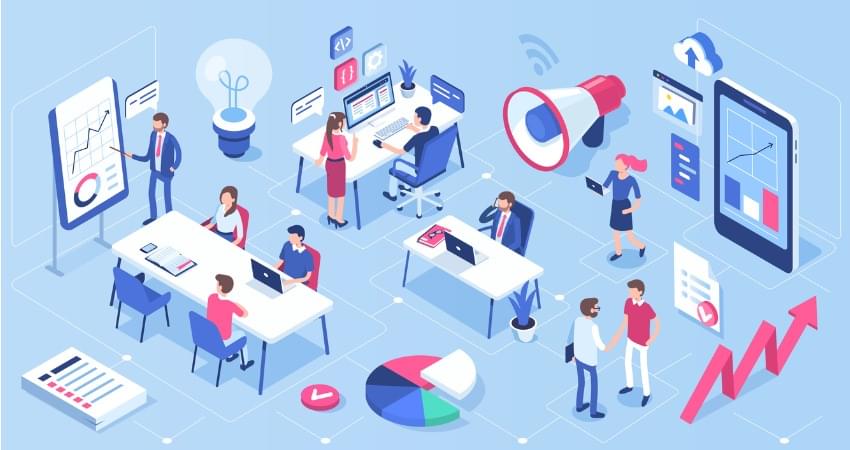 The best team collaboration tools are either browser-based or app software that helps teams to stay in touch with one another. In one unified platform, teams can keep track of conversations, productivity, emails, and even files that are shared within a business. Multiple channels allow for teams to break down as granularly as necessary to maintain organized discussions about every aspect of a project.
While Slack is a household name for team collaboration, there are dozens of Slack alternatives that provide even more features than the popular free solution offers.

Essential Team Collaboration Features
With activity streams, calendar integrations, file sharing, versioning, and capabilities you expect in project management tools, team collaboration organizes remote team members no matter what obstacles they face. Everyone will feel connected to work no matter if bad weather keeps employees at home or if a pandemic threatens employees on their commute.
Activity Streams
No matter the size of a business, there are always multiple projects in the air at once. Long-term and short-term projects can be accounted for with activity streams. Dependencies can be linked together so that team members will know to prioritize work that their coworker is waiting on, even when they're time zones apart.
Paired with instant messaging tools and mobile apps for team collaboration tools, remote employees and freelancers in different time zones can be a part of team communications.
Calendar Integration
For project managers and team members, managing different schedules and conflicts can require a lot of legwork. When in an office, it's easy to stick your head around the corner and see if Susan can meet about Mike's project on Monday. During times of social distancing or when remote working, calendar integration lets you know when the best time for a meeting will be.
These tools offer the ability to create tasks, deadlines, and to-do lists while adding collaborators along the way.
Remote File Access
Teams that are on the move or who are apart from one another can struggle to keep files organized. Remote file servers require set up and maintenance, which isn't possible for businesses of every size. Thankfully, remote file access is available when using cloud-based file storage via team collaboration apps.
While few team collaboration software allows for cloud storage, most integrates with common sharing tools like Github, Dropbox, and G-Suite or Google Drive.
File Versioning
In the world of software, journalism, medicine, law, or anywhere you find documents shared by multiple collaborators, versioning is a must. If Jane has been working on major changes to a document all day and doesn't know about the work Larry will be doing just before he leaves, she could have her work overwritten without noticing it.
Version control alerts collaborators when changes are made, will update documents automatically, or allow people to work on a document simultaneously. With changes logged in the document tracker, everyone will know what happened during the lifespan of a project or document. In most cases, the work you're doing can be exported in a familiar file type compatible with Microsoft Word, Excel, or Google Docs.
Top Team Collaboration Providers
Web Conferencing Software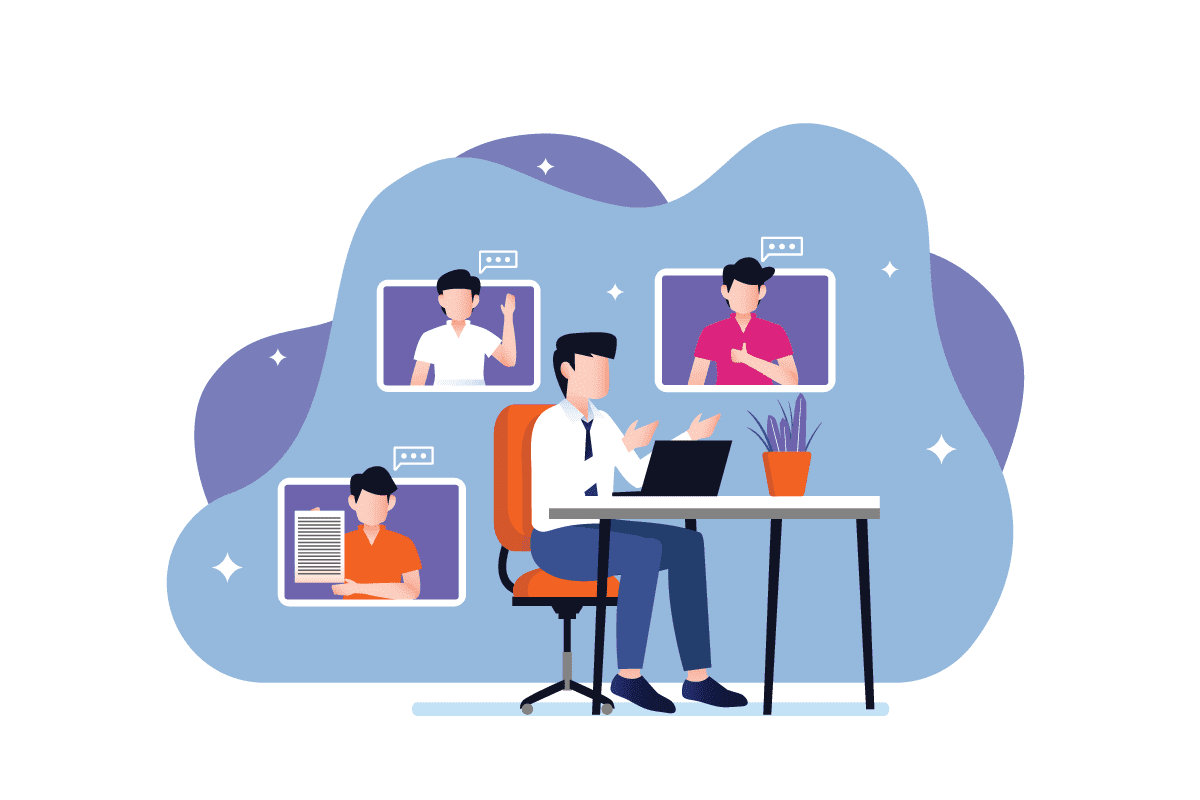 Face-to-face communication is essential to avoid miscommunication. This is especially true when covering the details of complicated projects and directing employees. Given that tone of voice can lead to serious misunderstandings, the utter lack of it in text-based communications sets team members up for problems.
With web conferencing software, team members can interact intimately regardless of social distancing or the barrier of remote work. Web conferences can be set up between two parties or with hundreds of live viewers, able to chime in, text chat, or share their screens. Conference bridge calls keep your team connected during your regularly scheduled meetings, even during a quarantine.
Web conferencing offers broader capabilities than free tools like Google Hangouts or social media video calls. You can screen share and send important screenshots, set up training webinars, or quick check-ins when your team needs one. Instead of sending Powerpoints or Google Docs that may never get seen, web conferencing allows you to communicate with all fellow remote workers at once.
Essential Web Conferencing Features
The greatest strength of web conferencing software is its ability to take the experience of watching a video and to make it feel as interactive as an in-person meeting. When discussing issues over the phone or via video chat, it's important to be able to show examples of the issue being picked apart. Screen sharing, whiteboarding, and co-browsing are just a few of the ways that these solutions embrace collaboration, regardless of where team members are physically located.
Screen Sharing
Software developers, writers, and designers all rely on screens to display their work. If a project is in progress, a one-click solution like screen sharing allows all web conference attendees to be looking at the same issue at the same time. Getting feedback on a specific issue has never been easier thanks to screen sharing.
Thankfully, this is such a popular feature that it's easy to find free web conferencing apps with screen sharing.
Whiteboarding
The spontaneous brainstorming of the past has been moved into video conferencing. Collaborators can pick up the virtual marker and draw out diagrams and make lists in real-time using online whiteboards or web conferencing with whiteboarding. Most whiteboarding also allows for drag and drop right from your desktop to the conference.
With save and send features, these brainstorming sessions can be instantly shared and edited by your team, even if everyone is sitting at home.
Co-browsing
Whether you're building a website or doing research, joint navigation through co-browsing allows everyone to be literally on the same page. When leading a team or a presentation through a variety of options on a site, co-browsing does what screen sharing can't. It allows everyone in the web conference along a guided path without having to start from scratch on their own.
Expect tools to be compatible with Firefox, Chrome, IE, and Safari.
Top Web Conferencing Solutions
Mobile VoIP Apps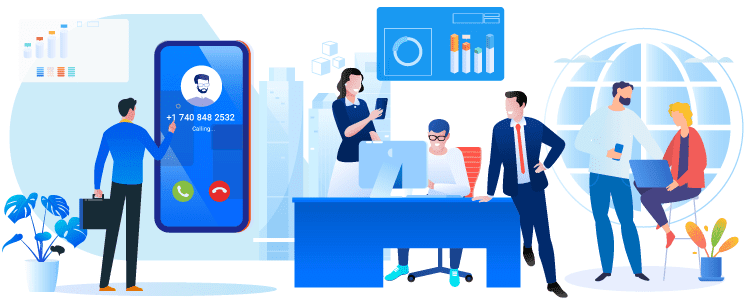 While enterprise VoIP solutions have helped businesses to create their own call centers and deploy unified communications throughout a company, mobile VoIP keeps those behemoths flexible. Mobile VoIP apps allow your team to access integrated communication tools while working remotely. Teams will stay connected and customers will get the same kind of service and support they expect no matter where your staff is scattered.
Beyond just productive time management and task management, these remote work tools offer a familiar user experience of chatting or conferencing on a native Android device or iPhone.
Essential Mobile VoIP Features
Mobile VoIP apps provide only a portion of the entire suite of solutions you expect while in the office, but with the help of integrations, they can bridge the gaps during an emergency. Apps offering call flipping, shared call appearance, and video meetings make your team device-agnostic without forfeiting the quality of service customers expect.
Call Flip
Call flip is a feature necessary for teams on the go as it allows users to transfer a call from one device to another. While a call is still underway, a desk-bound employee can go check on something in the warehouse while connected to a mobile device. Remote staffers can make calls from their laptops at home and transfer to their mobile devices while moving to a quieter space.
Shared Call Appearance
When employees are working remotely, you don't want your business number to go unanswered. Businesses also need to be able to call from an official line rather than from a bevy of personal devices.
With shared call appearance, one number will show up during outbound calls no matter how many devices are making calls. While one remote staffer is making a call using that number, the same number can be used for a second separate call. Shared call appearance keeps businesses functioning as usual as far as your customers and clients are concerned.
Video Meetings
While web conferencing software offers a long list of features vital to team collaboration, quick video meetings can be made with mobile VoIP apps. Rather than firing up another piece of software, last-minute video meetings can hash out issues that arise when workers are remote. Social distancing with mobile VoIP apps allows staff members to virtually pop their heads into an ongoing meeting.
Top Mobile VoIP Apps
Call Center Software and Dialing Tools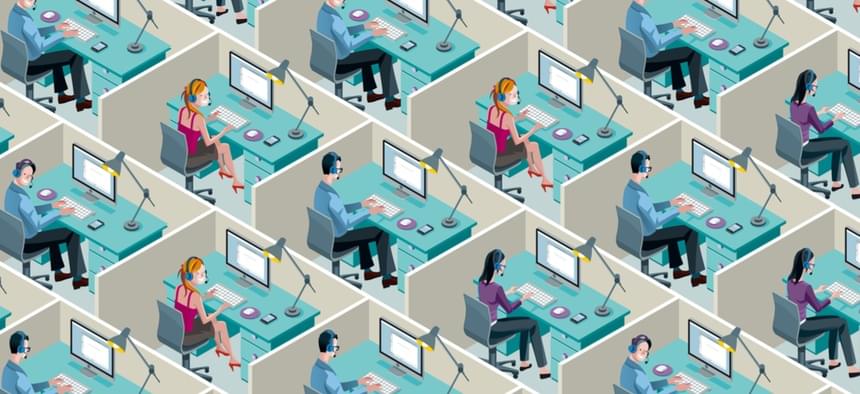 If you're worried about the idea of a whole team coming down with a virus, the image of a crowded call center should make you shudder. If you've considered replacing your outdated dialer hardware and desk phone system with call center software, now is the time.
With just a day or two of setup and testing, companies of just about any scale can move their operations remotely. Provided they have a dedicated mobile device and a computer with the software installed, they can jump into any of your call center campaigns at any moment.
Essential Call Center Software Features
Call center software solutions include a wide range of features necessary for enterprise contact centers. The top call center software providers offer essential features like auto dialers, IVR, and call logging tools at every tier of their subscription services.
Auto Dialers
Auto dialers used to be hardware solutions that automated the dialing process to run through a list of phone numbers for a call center. The top call center dialers today are software solutions to run through numbers quickly while integrating with CRM software to provide outbound call center agents with up-to-date customer info.
While using an auto dialer, the software can run through a list of numbers and route calls to customers while automatically hanging up on disconnected numbers, fax machines, and busy signals.
IVR Systems (Interactive Voice Response)
IVR systems are a must-have for inbound call centers. If your business runs a support line, callers will be able to toggle through a menu by speaking their concerns to the system. The AI system then routes callers to your remote agents who are connected via their home internet connection.
IVR systems route calls about basic information to recorded responses and send urgent calls to live agents.
Call Logging and Call Recording
Logging information about inbound or outbound calls is vital for optimizing a sales funnel. Knowing the last time your team had contact with a customer, what it was about, and what products or services they prefer provides information about where they are in their decisionmaking. With each contact, the team will build a body of data that can be parsed by marketing to decide which new services or products to offer and who they should target.
Call recording software integrated into these tools allow you to capture anomalous calls or calls handled by top agents. These calls can be used for training purposes. Call recording is also an important legal tool for compliance in the highly regulated industries of finance, medicine, or government.
Top Call Center Software Providers
Preparing Businesses for Social Distancing Keeps Growth on Track
Whether we're looking at a climate event, a pandemic like Coronavirus, or a local tragedy, providing staff with the tools to work from home keeps your business from taking a hit. In March 2020, the U.S. stock markets took a hit as the COVID-19 pandemic caused states of emergency around the country. Governors of New York, New Jersey, California, and Washington state urged people to avoid crowded public transit and to work from home.
While there's some panic around these last-minute remote work policies, there are also benefits of remote work that include improved mental health and overall job satisfaction.
For companies new to the software that enables remote work, this could cause its own sort of panic. However, the teams that will make the most of this stressful time will be the ones who have set up and onboarded their staff using top business VoIP and team collaboration software.