Studies on the state of contact centers show that auto dialer software makes agents and sales teams 200-300% more productive per hour when compared with manual calling.
Predictive dialing software like Xencall increases the number of calls in-house and remote agents are able to make, but unlike its competitors, it also has a built-in CRM platform that integrates with Voice Over Internet Protocol phone systems.
Not only does Xencall reduce the number of communication tools your large or small business needs, but it also improves customer satisfaction and increases sales.
What is Xencall?

Xencall is a browser-based predictive dialer and CRM software with Voice Over Internet Protocol phone system integration.
It has inbound and outbound Automated Call Distribution (ACD) and Interactive Voice Response (IVR) capabilities, and is an ideal both in-office and remote work tool.
No downloads are required to use the software, and it is compatible with both Chrome and Windows operating systems. As of this writing, however, Mac OS is not supported.
According to data from the Xencall website, the platform has helped companies increase their sales by a whopping 300%.
Xencall Features
Xencall contact center features fall into one of four main categories:
ACD features for incoming calls and VoIP
Built-in CRM features for lead/customer analysis
Predictive dialer features for outbound calling
Admin files, abilities, and analytics
Automatic Call Distribution and VoIP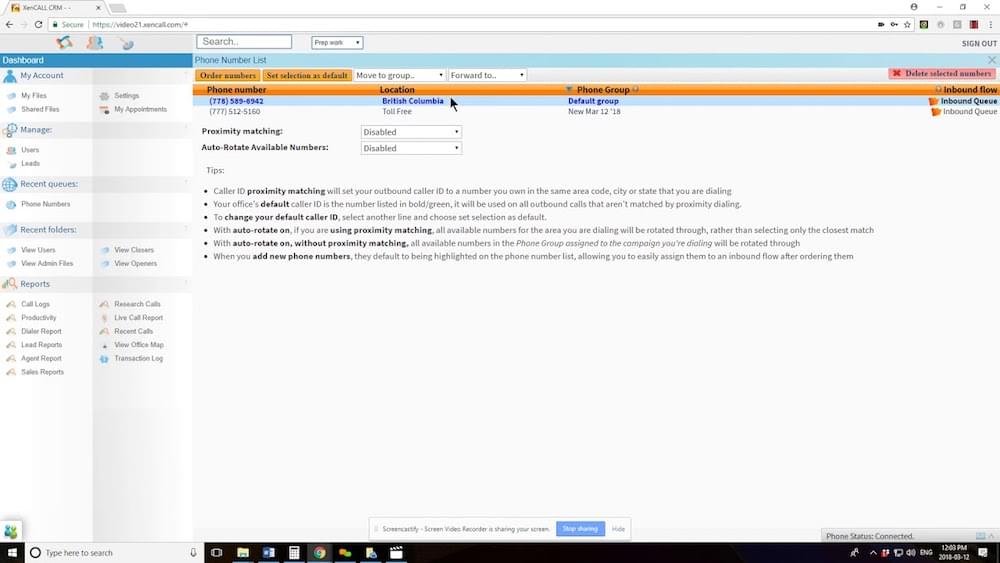 Xencall's ACD system ensures that incoming callers are routed to the agent or department who is the most qualified to assist them.
For example, if a lead calls in with a question about a specific product, ACD technology sends that caller to a representative who specializes in selling that same product — not someone from the IT or HR departments.
Agents can also intercept inbound calls from leads they have already contacted to ensure strong customer relations are developed.
Administrators can set their own answering rules with Intelligent Call Routing, (ICR) through third-party API integrations, or via customizable interactive voice response (IVR) and voicelog technology.
Calling queues can be based on agent skill or the availability in addition to specific answering strategies like round robin, client priority, or agents with the highest closing rate.
Additional Xencall VoIP features include:
Caller ID
Caller ID proximity matching
Conference calling
Escalation matrix management
Call recording and call monitoring
DNC announcements
Unlimited and simultaneous inbound queues
Live transfer queues
Number forwarding
User extensions
Hold music
CRM Software
Xencall's CRM VoIP integration software features allow agents and managers to track interactions and call histories throughout the customer life cycle.
Lead Profiles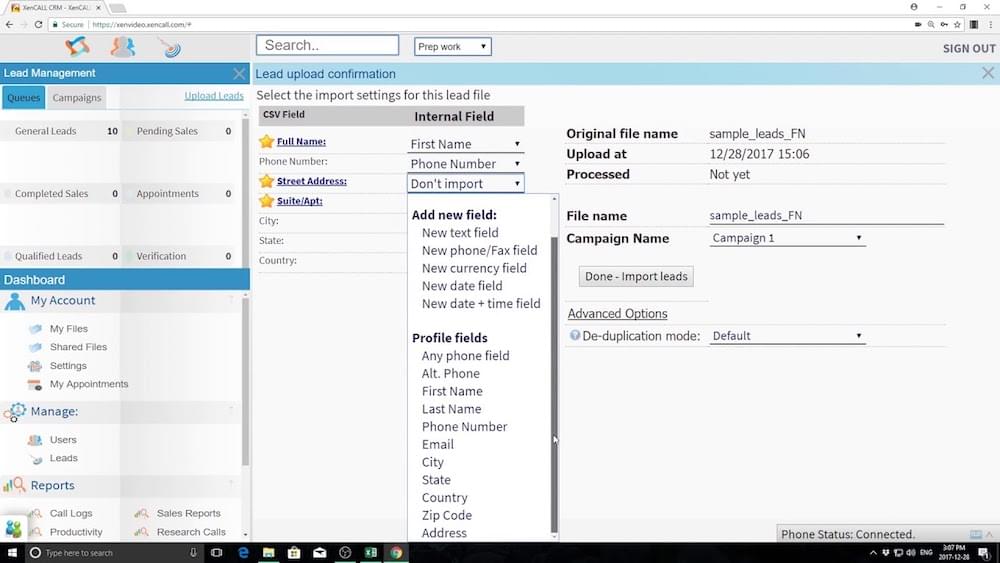 When agents make or receive calls, the CRM system automatically displays a lead profile.
These profiles show the origin file (which call list the lead came from), as well as the specific campaign and call script that the agents should follow when speaking with the lead.
Lead profiles also display contact history, current or past account manager information, billing information, and the lead's address and time zone. Agents can also access and write any additional notes regarding their interactions and calls with the lead.
Call Results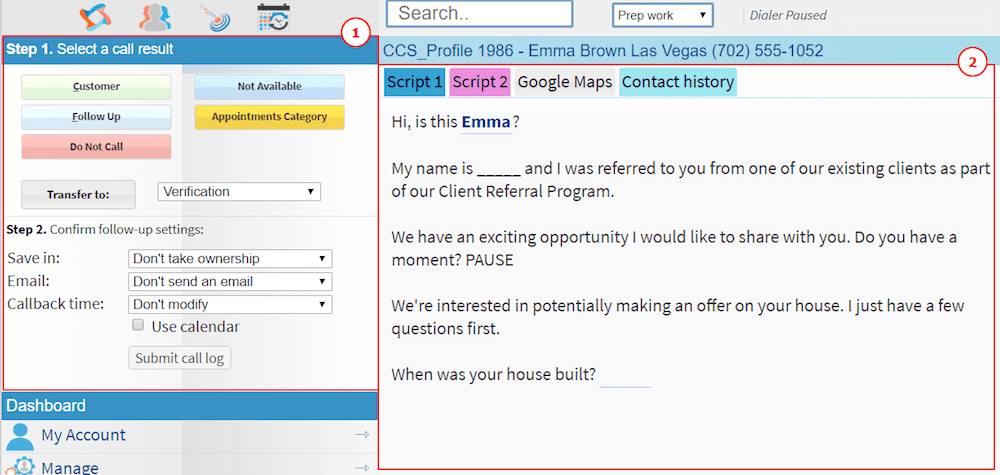 Once the call ends, agents can select a call result, which include:
Do Not Call
Not Available
Follow Up
Set Appointments
Sale Made (Customer)
Department call was transferred to
After the call result is dispositioned, agents will then create any necessary follow-up instructions.
This is where agents take ownership of a lead, send emails or SMS text messages, book a return call or an appointment on the calendar, or note that they have been placed on the DNC list.
Finally, agents rate the overall quality of their call from one to five stars.
Agent Availability Modes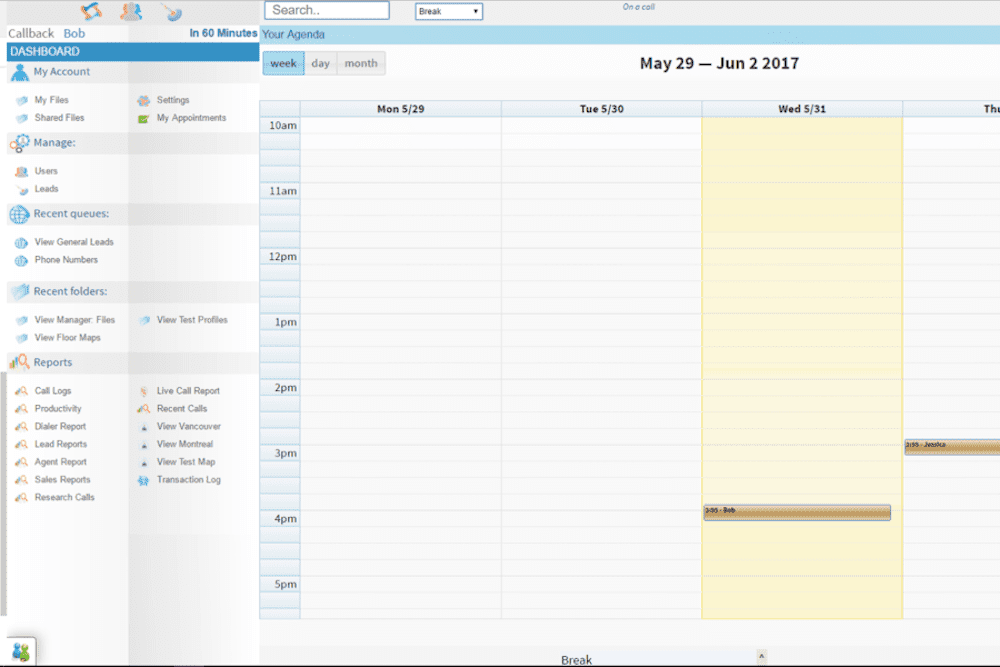 Agents can also set their availability mode and status to:
Ready
Break
Lunch
Training
Meeting
Last call
Inbound calls only
Search bar
Predictive Dialing
Xencall's AI Dialer is an intelligent predictive dialing system that drastically increases the number of calls agents can make per day.
Note that Xencall's predictive features are both FCC and FTC compliant.
Agents are assigned to specific lead queues according to predetermined settings, like call center agent skills. Admins can rank specific representatives as "primary," "backup," or "tertiary" to ensure leads get the highest possible level of service.
When agents set their availability mode to "ready," the software begins making calls in the background. Once a lead answers the call, agents receive an alert and automatic access to the lead profile and other information contained within the CRM system.
Background Dialing Speeds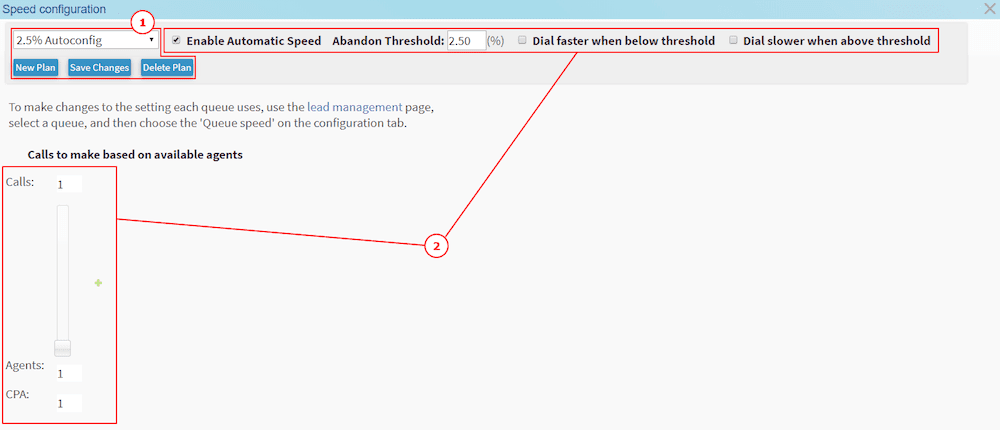 Administrators can adjust the background dialing speeds or use the default speed, which automatically adjusts to a 2.5% abandon threshold based on the current number of agents and the calls to connect ratio.
The aggressive manual speed makes three outgoing calls per agent. The auto-dialing speed setting adjusts the number of calls to meet a predetermined abandon threshold percentage.
Admins can update, delete, or create new plans at any time. They can also increase or decrease the specific number of calls per agent.
Cold Call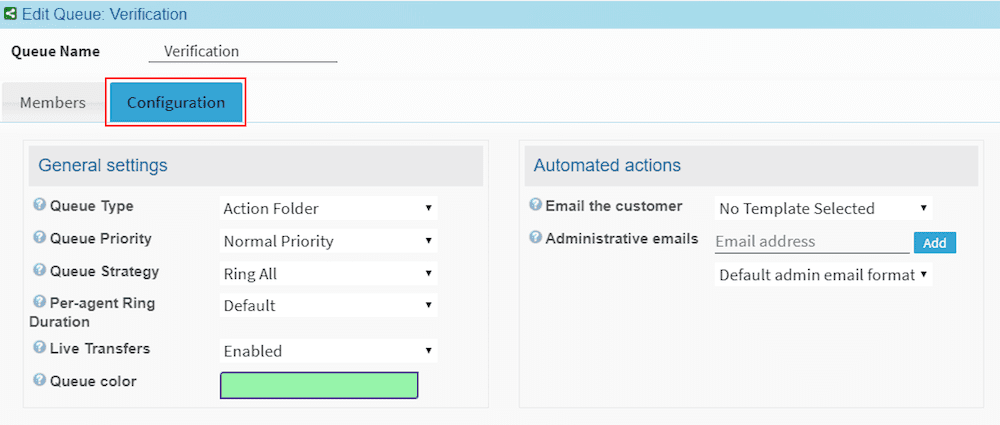 Xencall's Cold Call feature dials only one lead at a time, which is ideal when calling high-value leads or even when training new agents.
To make a manual call, agents simply click on the phone number displayed in the lead profile and enter in call results as they normally would. When an agent is ready to make another call, they select the "Get Next Leads" button.
If an agent needs to make a call to a specific lead or client, they can look up their name in the CRM search bar.
Prerecorded Messages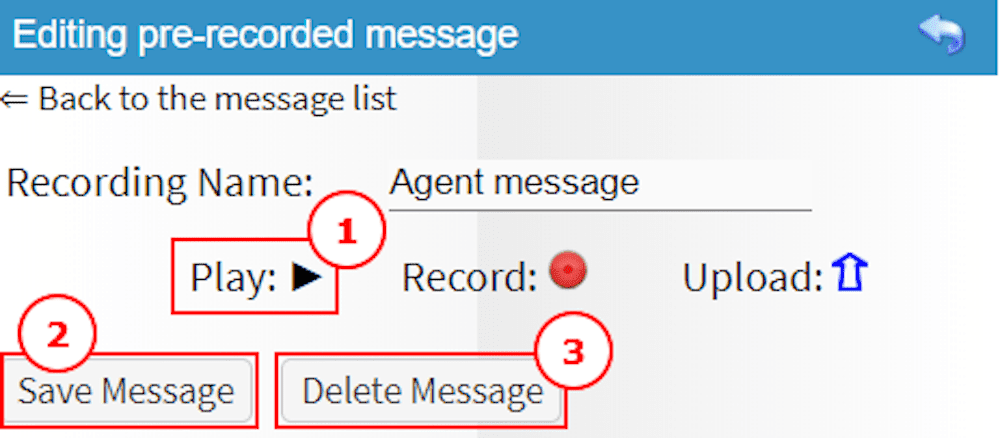 Agents can also opt to leave prerecorded messages on a lead's voicemail or choose messages that play when a lead answers the phone.
Admins can create, edits, and save prerecorded messages in the dashboard.
Callbacks and Appointments

If an agent selects the follow-up call result or is assigned to make a follow-up call, they will receive real-time callback reminder notifications in the dashboard.
Callback notifications also display up to 5 upcoming calls to return and any that have been missed or are overdue.
The appointment calendar displays a list of all calls to return or, if applicable, upcoming in-person appointments.
This way, clients don't have to rely on social media to make appointments.
Admin Files, Abilities, and Analytics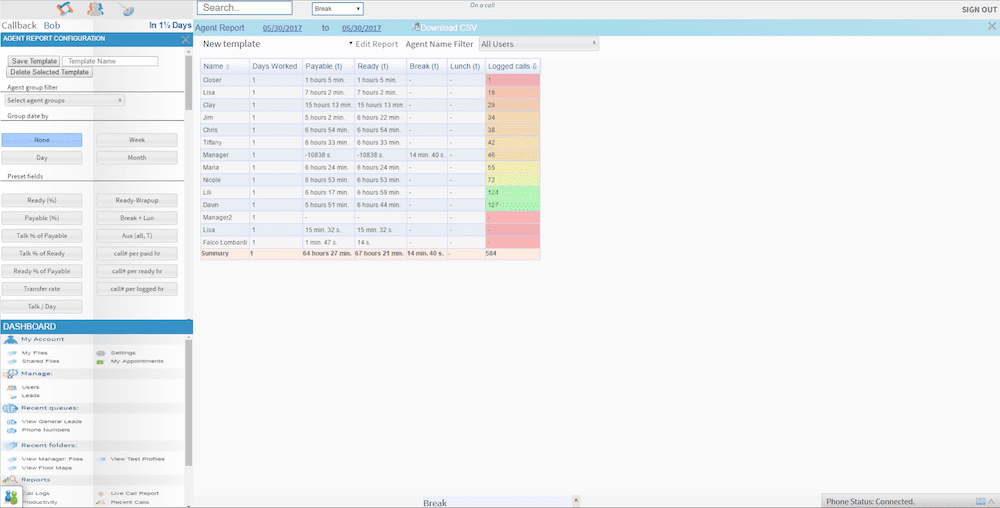 Administrators have access to special management features in Xencall, including task automation.
Managers can automatically receive reports, pause, mute, or unpause agents, or set recurring tasks.
The Office Map feature allows admins to monitor agent status in real-time.
Admins can update the map at any time to add or remove agent stations, extensions, see current agent statistics, or access an agent's current call queue strategy.
Team leaders also have access to employee productivity and call analysis reports, including:
Audit logs
Call logs
Productivity reports
Dialer reports
Lead report
Agent reports
Sales reports
Live call reports
Transaction logs
Call Management
In addition to viewing agent statistics, admins can also access call management features.
They can listen in on a live call without the agent or the person being called knowing, or whisper to coach the agent through a call without the lead's knowledge. The barge feature allows admins to directly join or take over a telephone call.
If there is a serious issue, agents can interrupt and end an agent's call, contacting them directly.
Admin Files
While agents can create their own notes and files, administrators can upload and edit companywide files like call scripts, email templates, and SMS templates that are accessible to all representatives.
They can also upload documents regarding specific products or services, a list of questions to ask clients, or any other relevant information within the file system.
Xencall Integrations
Though Xencall does not offer the level of integration capabilities of some of its competitors, it does integrate with some popular CRM and team collaboration software.
Integrations include:
Google Calendar
Mailchimp
Zapier
Zoho
Salesforce
Redfin
Google Maps
Hubspot
Keap (formerly InfusionSoft)
Teledrip
Podio
Who Should Use Xencall?

Xencall best serves companies with a high number of agents and representatives who make dozens of short, outbound calls to consumers every day.
It is designed to eliminate the lost time of manual dialing, also allowing agents to make more calls per hour and therefore generate more revenue.
However, unlike other predictive dialing platforms, Xencall's CRM features mean that it is also suitable for more long-term client interactions as well as leads that require more than one call to close a sale.
Xencall is primary used to manage B2C call centers and telemarketing agencies, with more specific use cases including:
Lead generation for car warranty sales
Client appointment booking for home improvement service providers
Direct-to-consumer health insurance sales
Fundraising for nonprofits or political campaigns
Loan pre-qualification
Travel agencies, real estate professionals, and timeshare sales
Xencall User Experience
While users agree that Xencall's overall ease of use and intuitive interface are its best features, Xencall reviews show they also feel the lack of a mobile app and poor overall customer support and help desk leave much to be desired.
The below Xencall pros and cons have been compiled from an analysis of user reviews.
Pros
Unlimited data storage and users
Integration with third-party lead campaigns
API integration
Call screening capabilities
Task automation
Multi-line dialing
Live chat feature
Ease of file organization
Robust reporting and analytics
All-in-one system
Cons
No mobile app
Poor customer service
Frequent mentions of some features failing to work
A lower level of customization
Lack of transparent pricing structure
Xencall Pricing and Plans
Similar to Five9 pricing and plans, information about Xencall pricing and plans are not publicly available on the company's website.
Xencall follows a user-based pricing model, meaning that it may not be ideal for startups or companies on a tighter budget.
Users are billed on a monthly basis, and factors influencing pricing include the number of active users and desired phone lines.
Limited pricing information shows a free demo is available, but users must provide their company name, contact information, and other basic information.
Is Xencall Worth It?
Because Xencall's pricing isn't publicly available, it's difficult to decide if the software is truly "worth it" or offers good value for money.
However, the high overall user satisfaction, robust all-in-one CRM and dialing features, and virtual telephony integration suggest it's likely worth contacting Xencall's sales department for a quote.
Additional software for call centers and Xencall alternatives like Twilio, Talkdesk, and Dialpad may be a better choice for companies that need a higher level of customization and who want to provide great customer service.
Learn more about essential call center software features, technologies for call centers, pricing structures, and CPaaS and SaaS providers with our interactive comparison tables.