Workflow management software like Monday.com and team collaboration software like Wrike allows team members to create a roadmap for projects and keep track of upcoming deadlines.
But these tools don't allow for real-time brainstorming, editing, and project planning.
Not only does this mean important details and ideas get buried quickly. It also means team members are following instructions as opposed to collaborating in real-time.
The best online whiteboards let team members make real-time notes, drawings, edits, and more together on a shared virtual whiteboard with online collaboration features.
Which Features do the Best Online Whiteboards Have?
The best online whiteboards take real-time collaboration to the next level by offering features aside from just live note-taking and drawing.
The best online whiteboards have:
Audio/video calling features
Chat messaging tools
Board version and revision history
Pre-made template library
Sticky note features
Commenting tool
File and image uploading
Smart shape and image recognition
Multiple file format saving options
The Best Online Whiteboards in 2020
The best online whiteboards don't need to have all of the above features to allow team members to brainstorm or explain concepts to clients.
Whether you're looking for a simple or more robust interactive whiteboard tool, you'll find what you're looking for in the best online whiteboards below.
Whiteboard Fox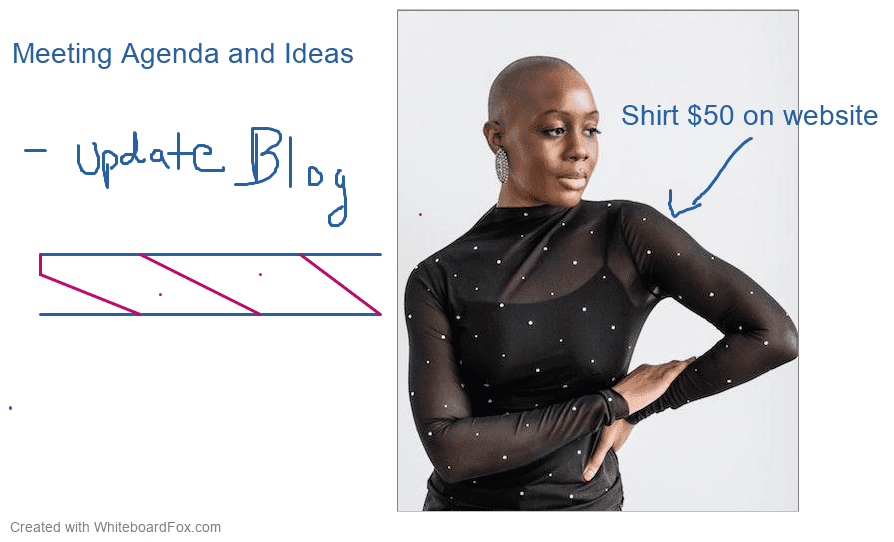 Whiteboard Fox is a completely free browser-based virtual whiteboard application. It's accessible in Google Chrome, Firefox, and Safari.
To enable real-time whiteboard sharing, users send a copy of the whiteboard's link to other team members. Whiteboard creators can also give attendees the ability to make real-time edits or allow for view-only access.
It uses a sandbox-style whiteboard and users can use the snapshot tool to take sharable photos of valuable content. They can also use the replay feature to see previous edits and copy all the content onto another whiteboard for further edits.
As of this writing, it is not possible to save created boards in Whiteboard Fox. Screenshots are the only way to preserve past work.
Additional Whiteboard Fox features include:
Zoom In/Out
Freehand drawing
Ruler tool
Add text
Add images
It is a bare-bones app ideal for teams looking for free whiteboard tools that are ideal for visually explaining ideas, brainstorming, or note-taking. It's also popular among online educators and tutors as a tool to explain everything they're currently teaching.
Cost: Free
Ziteboard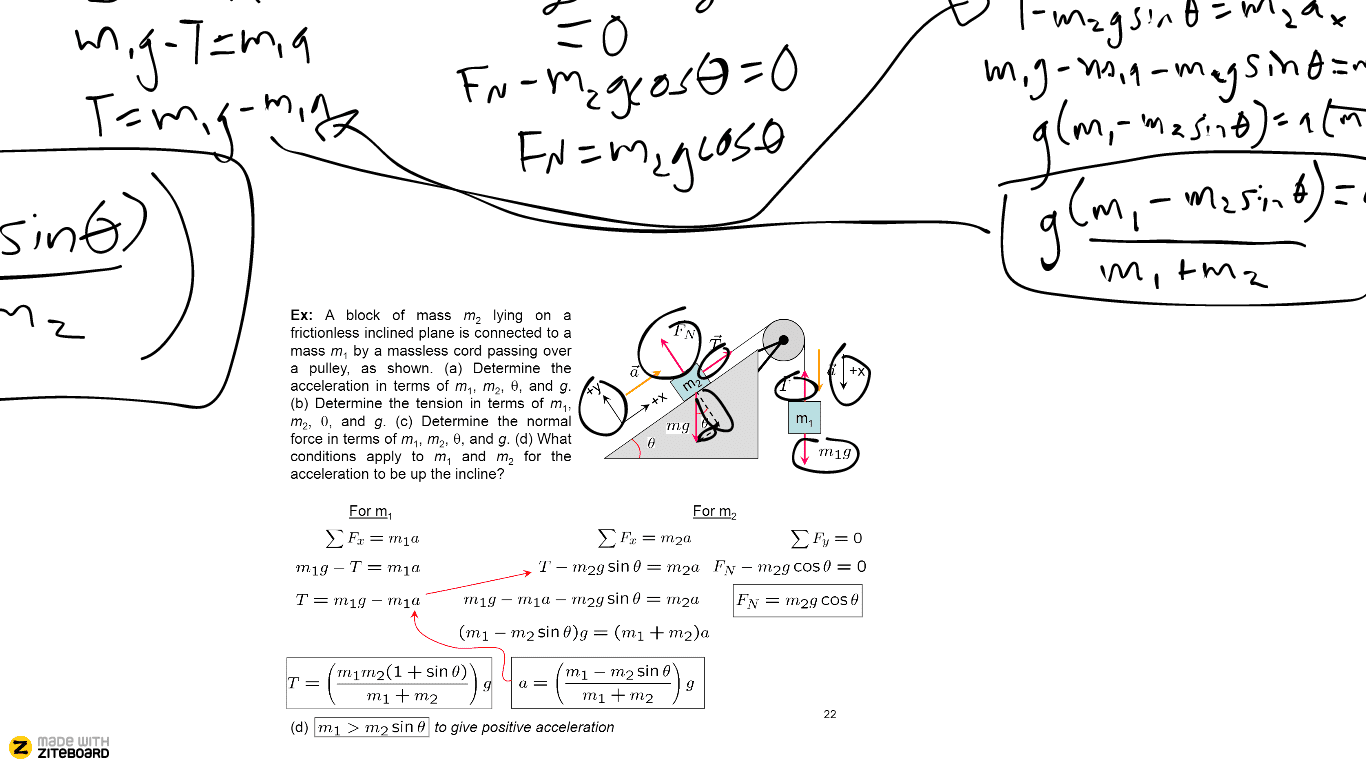 In addition to whiteboard drawing features, Ziteboard also includes voice, text, and video web conferencing. This way, users don't need to open multiple applications at once to collaborate on a company-wide groupboard.
Ziteboard offers an unlimited sandbox blank canvas with a white background. Users can also export whiteboards as PDF pages and PNG and SVG files to Illustrator or Photoshop.
They can also import PDF files and images onto a board to mark up company files and projects within the whiteboard experience.
Additional Ziteboard features include:
Smart shape creation tool
Android mobile app
Embedded whiteboards on websites and WordPress
Wacom and iPad optimization
Whiteboard navigation and search tool
Sticky post-it notes
Branded whiteboard
Ziteboard is ideal for users who need to be able to edit previous files, save whiteboards, and communicate with team members over video and audio chat.
Cost: Free version, paid versions between $5-$9/ per month
Conceptboard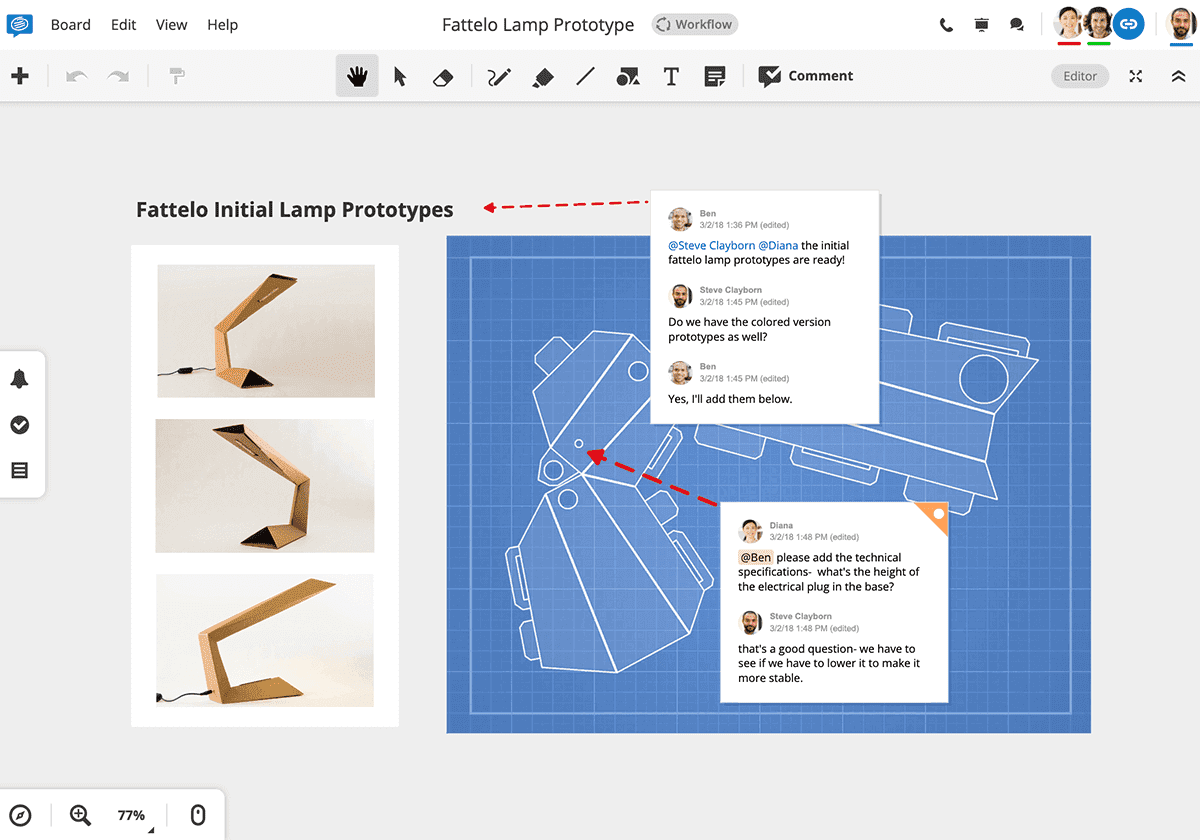 Conceptboard is a real-time, sharable visual collaboration tool used by Siemens, T Mobile, and Corsair.
It has numerous use cases including design collaboration, online education, webinars and workshops, project planning, and journey mapping.
Conceptboard offers an infinite canvas and improves team collaboration by assigning each user their own labeled and color-coded cursor and drawing tool. It also has voice, video, and messaging chat capabilities.
Users can upload files, images, pre-made Conceptboard templates, and even embed audio and video files into their whiteboards.
Other Conceptboard features include:
Sticky notes
Pre-made charts and diagrams
Up to 50 participants per board
Guest editing capabilities
File storage
Board version history
Conceptboard is easily one of the best online whiteboards on our list. It is a great fit for large companies that work primarily within a visual medium or frequently use visual aids in meetings. It's also useful to companies that rely heavily on team-wide collaboration and plan to look back at their whiteboards while working on projects and tasks.
Cost: One free plan, three paid plans starting at $6 per month
MURAL
MURAL is a real-time digital workspace used by over 40% of all global Fortune 100 companies.
Though it's primarily a virtual whiteboard, it offers numerous features that put it on par with popular team communication software.
These features include:
Video, audio, and chat messaging
File storage
Multi-user editing capabilities
Ability to share, export, and import files
Team member activity insights
Unlimited workspaces
Searchable boards
Polling tool
Version history
Mural also offers multiple board layout options, including:
Mind maps
Flowcharts
Sticky notes
Storyboards
Diagrams
Lists
Pre-made template library
MURAL is ideal for companies within the design and development industries that frequently need to collaborate in detail with those both inside and outside of their organization. It's also a good fit for entirely remote teams, as it makes learning how to plan and create a training webinar simple. What makes MURAL one of the best online whiteboards for teams that rely heavily on numerous team collaboration tools is that it integrates with platforms like JIRA, Slack, Microsoft Teams, and more.
Cost: No free plan, paid plans from $12 per month to $20 per month and higher
Microsoft Whiteboard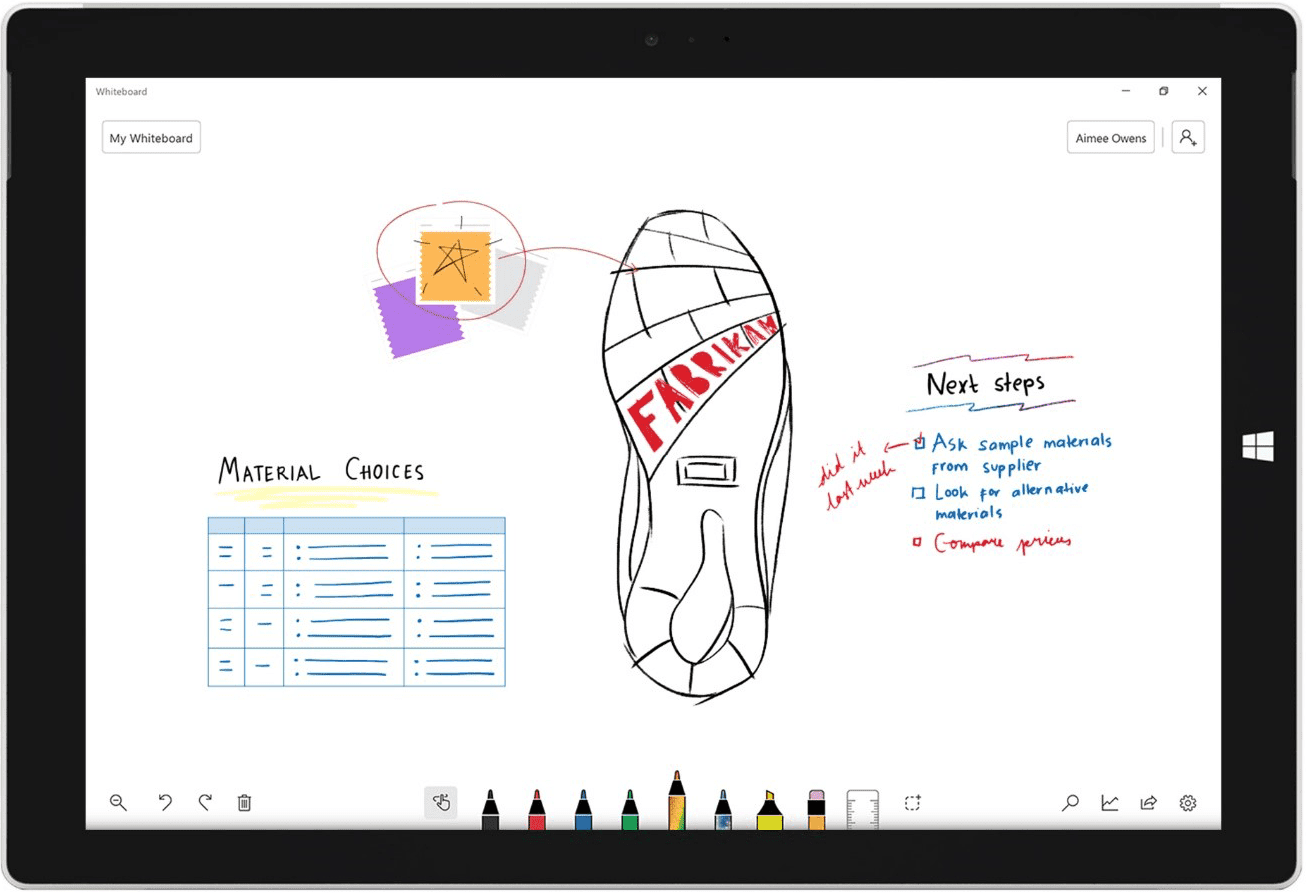 Microsoft Whiteboard is an infinite cloud-based digital whiteboard app that's completely free to use.
It works with a stylus, keyboard, and fingertips. It has one of the largest color ranges out of any other tool on our best online whiteboards list. Its best feature is its intelligent object recognition tool, which automatically improves or replaces hand-done drawings with clearer, more detailed versions.
Whiteboard integrates with Microsoft Teams, so it's easy to share pre-made or live whiteboards you can start drawing on in video meetings.
Top Microsoft Whiteboard features include:
Whiteboard autosave
Stackable images/objects
Sticky notes
Object resize
Customizable pen thickness
Drag-and-drop Bing image search
Written notes to text and table conversion
Microsoft Whiteboard has two versions, Whiteboard for Commercial and Whiteboard for Education. It also has an Apple iOS version, making it an ideal choice for on-the-go collaboration.
Cost: Free
Witeboard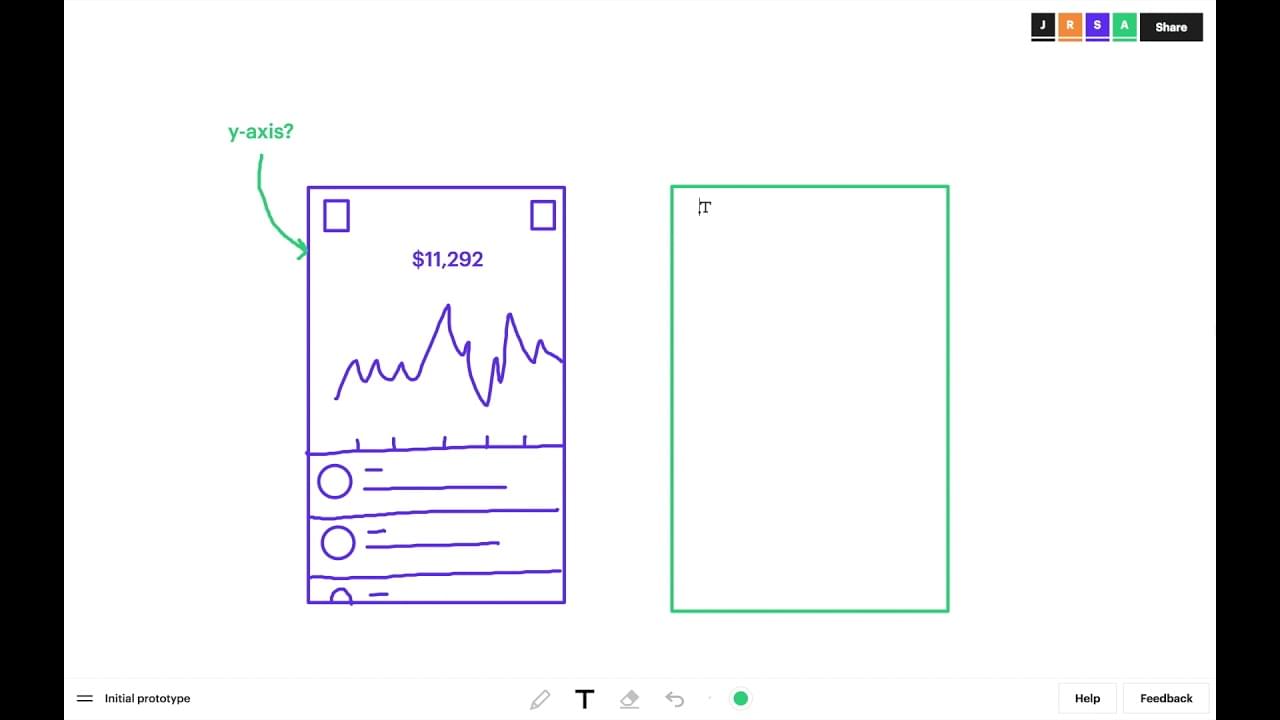 Witeboard is one of the most user-friendly whiteboards on this list.
It's an entirely free web browser-based digital canvas with a clean UX design. Boards are shared with others in real-time via a link.
Users select from whiteboard or blackboard backgrounds, see version history, and take advantage of shape detection features. Boards can only be saved as image files.
Though it integrates with Slack and screen sharing apps, it does not offer native audio, video, or chat messaging features. Witeboard is best for small teams looking to jot down notes or explain basic concepts during meetings that they won't need to refer back to in the future.
Cost: Free
Miro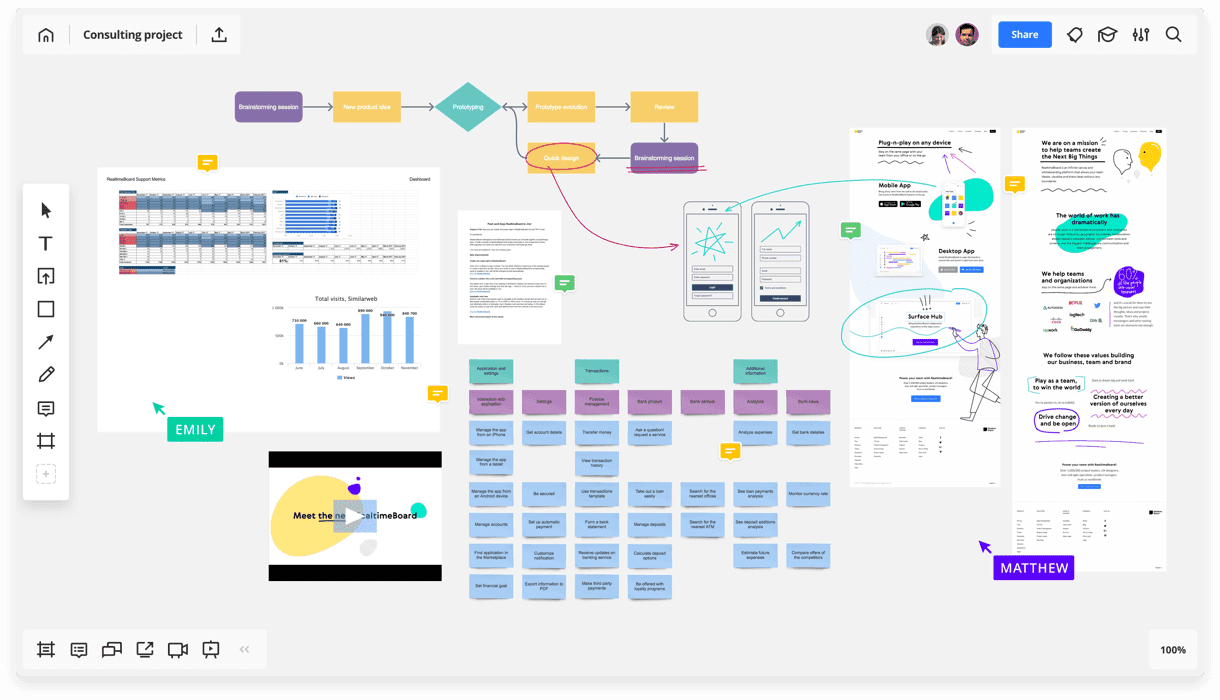 Miro is an online collaborative realtimeboard platform with over 5 million users including Twitter, Netflix, and Spotify.
It offers audio and video conferencing, screen sharing, and has a native chat messenger in addition to Slack integration. Anyone inside or outside of your organization can access the board via a link and edit it in real-time. Team members can also follow users so they don't miss updates.
Miro boards have a checklist feature that makes staying on schedule easy, and users pin files, images, and videos to boards to edit and collaborate.
Miro's features also include:
Maximum of 50 simultaneous users
PDF, JPG, and CSV board exports
External editors/collaborator access
Single sign-on
Board commenting
Anonymous users
Kanban views
Group polling
Time tracking
Pre-made template library
Jira, Trello, and Zapier integrations
Miro is especially popular among UX designers and product development teams and is ideal for large-scale corporations who need a whiteboard platform with additional team collaboration features like video conferencing and integration offered by Asana pricing plans
.
Cost: One free plan, three paid plans starting from $8/month
AWW App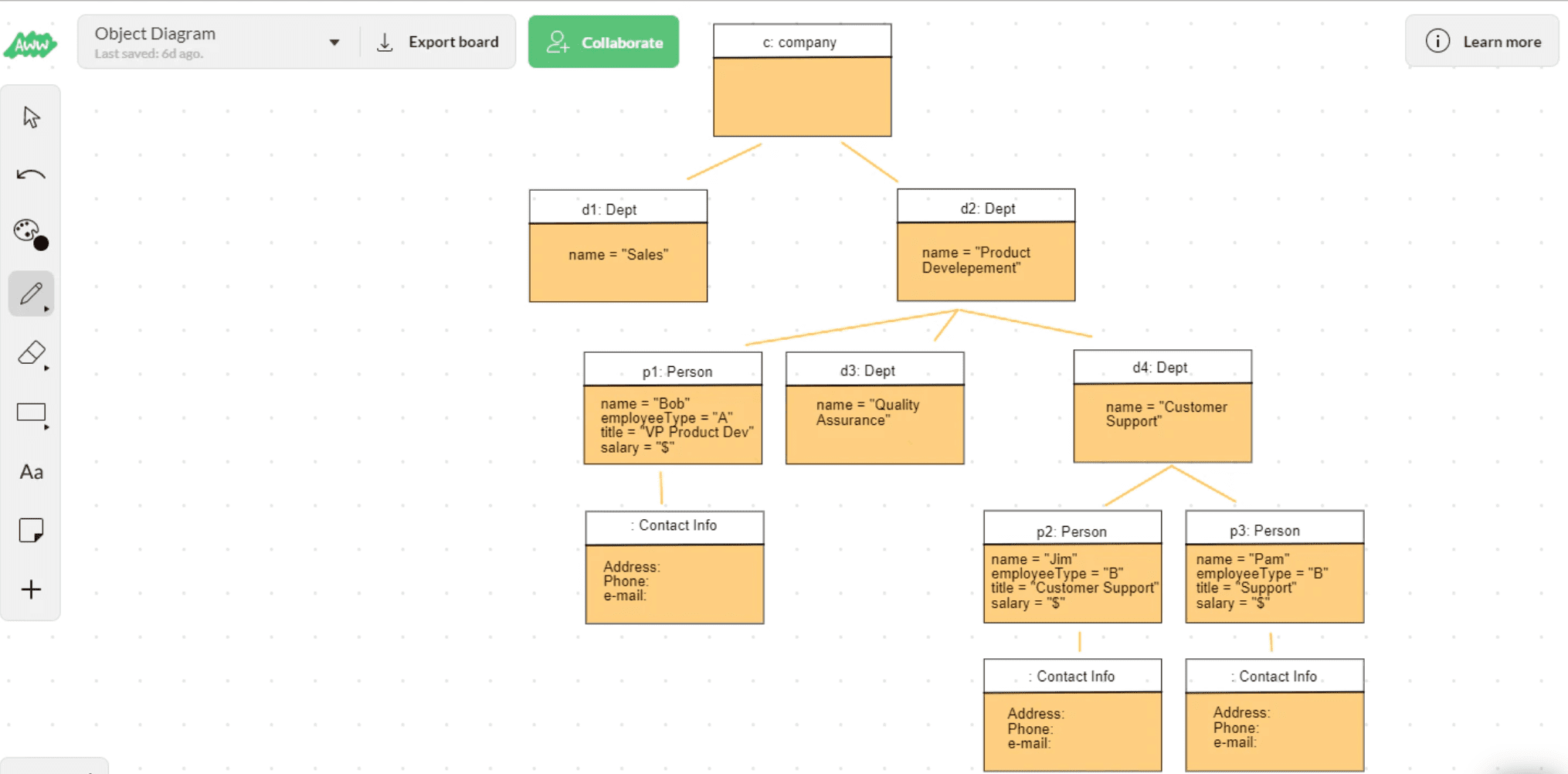 The AWW App, short for "A Web Whiteboard," is the perfect combination of ease of use and above-and-beyond collaboration features. It's the preferred tool of clients like Home Depot, IBM, and Microsoft.
It offers real-time viewing and editing of boards, and users can access them via a shared link or in the in-app board storage space. It also has the best host controls out of any of the apps on this list. The host can manage participants to decide who can edit, access, or share the board.
While editing, users can communicate via audio, text, and video chat, meaning there's no need to use a video calling tool like Skype or Zoom. Each participant also has their own labeled pointer.
Additional AWW features include:
Unlimited board participants
Pre-made templates
Board analytics
PDF file upload
Adjustable pen size/colors
Sticky notes
Version control
Infinite canvas
Unlimited in-app storage space
Board PDF and image downloads
Google Classroom integration
Automatically saved board repository
Copy boards
AWW is ideal for planning how to host a virtual conference, planning a product launch, or mapping customer journeys. It also has a specialized plan for educators, si it's an excellent addition to teachers using Zoom for Educators.
Cost: One free plan, three paid plans starting from $10 per month
Limnu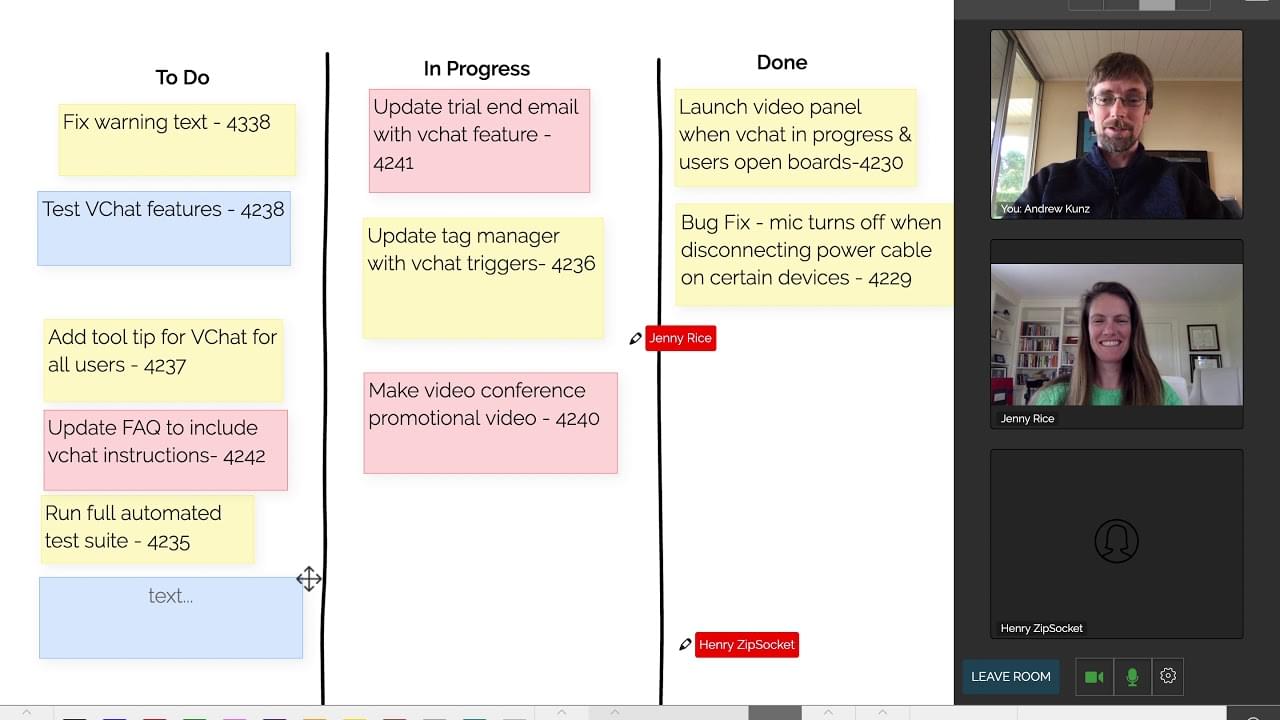 Limnu is a sandbox-style online whiteboard tool used by BuzzFeed, Pinterest, eBay, and more. It can host up to 350 simultaneous board viewers and offers video, chat, and audio web conferencing.
Users can post status updates, create a custom activity feed, and make comments, and vote on ideas. It includes numerous drag-and-drop templates, offers document version control, and allows for user tagging.
Its top features include:
File uploading to boards
Stylus, mouse, and touch screen drawing
iOS mobile app
Slack integration
Survey feature
User status
Native calendar tool
Content search bar
Limnu is ideal for primarily remote teams, especially those who work in product design. It also has a specialized plan for educators.
Cost: Free 14-day trial, two paid monthly plans from $5 per month to $8 per month
Stormboard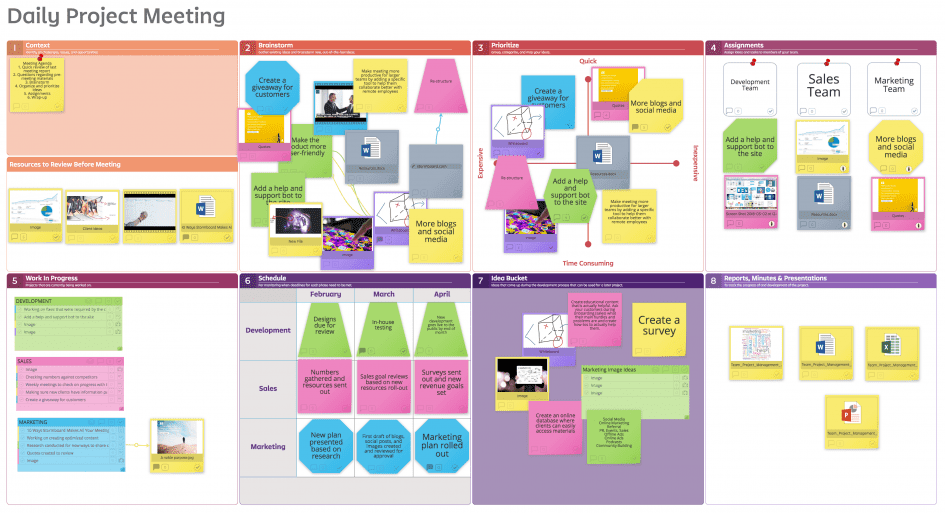 Stormboard is a no-download, device-agnostic digital workspace ideal for brainstorming sessions and live edits.
Stormboard makes it easy to organize whiteboard notes (called "Storms")  after a meeting with a simple drag-and-drop interface. It lets users comment on past notes and turn them into tasks to assign to team members. Users can update task statuses and collaborate within saved whiteboards.
Many businesses end up using Stormboard for both brainstorming and project management.
Once a board is finished, it can be exported as a PDF, document, spreadsheet, or PowerPoint presentation. It also lets users save files to Google Drive.
Additional Stormboard features that make it one of the best online whiteboards are:
Live editing
100s of pre-made templates
Infinite canvas
User voting plugin
Chat messaging tools
Video, image, and document file uploads
Android and Mac iOS mobile app
Integration with Slack and top Slack alternatives
Stormboard is ideal for employees using a variety of devices to connect with one another. It also works well for teams who need to combine mind mapping and brainstorming features with project management capabilities.
Note that it does not have native video calling or audio features.
Cost: One free plan, two paid plans ranging from $10 per month to $16.95 per month 
Is Paying for an Online Whiteboard Worth It?
Paying for the best online whiteboards is well worth it.
Free online whiteboards don't include audio/video conferencing, limit the number of users who can access the board, and lack essential collaboration features.
Unless you're planning on using it only to jot down temporary notes or doodle during meetings, opt for paid plans from the AWW app or Miro. These are the top two online whiteboard platforms on our list.
Curious about what other team collaboration tools will integrate with an online whiteboard? Looking for a web conferencing solution with a whiteboard feature? Our interactive comparison tables break down the top features to look for to improve remote team communication.