Whether you're messaging with a customer on social media or chatting with a visitor on your company's website, business communication today requires you to connect with consumers on multiple channels.
Recent studies show that companies with an effective omnichannel communication strategy retain close to 90% of their existing clients — while businesses with a lackluster strategy retain only 33%.
Platforms like the 3CX Business Phone System streamline internal and external communications by streamlining popular channels into a single interface.
Here, we'll break down the available features, prices and plans, and user experience that makes the 3CX system stand out from competitors.
Table of Contents: 
Available Communication Channels
Plans and Price Range
Standout Features
Who Should Use 3CX

VoIP voice calling via PBX

Video Conferencing 

Live website chat

SMS Text 

Team chat messaging

Messaging

Facebook Messenger 

Standard Plan: Free

Pro Plan: $1.08/user per month

Enterprise Plan: $1.31/user per month

Integrates and syncs with popular CRM solutions

Advanced call queuing functionality 

Choose from hosted or on-premise management 

Free unlimited extensions

Apple iOS and Android mobile apps

Remote workforces 

Companies with a high daily call volume

Midsize to Enterprise level businesses that often require internal team collaboration

Healthcare providers, Hotel businesses, retail/customer support call centers  
3CX Pricing and Plans
According to the company website, the 3CX Phone System can save users up to 80% on the costs of telco communication.
Here, we'll examine the Unified Communication platform's available plans to help you better determine how much you can expect to save.
The price strategy for 3CX is based on the number of concurrent calls, as well as the number of users and the corresponding suggested number of licenses. There are available solutions for small businesses and large corporations, and the plans offer a high degree of scalability.
All plans, including the free plan, come with the below standard features:
Unlimited phone extensions
iOS and Android smartphone apps
Select your own SIP trunk provider
Auto-attendant
Chat message platform
Click2Call browser extension
Intercom
Voicemail and the ability to receive voice messages via email
A high number of simultaneous calls and ringing (user extension and mobile device)
Call parking
Busy lamp field
Plug and play hard phone provisioning and headphone plugin integration
Integrated fax server
Phone directory
Up to 25 video conference participants
Screen and PDF sharing
Whiteboarding and polling
Website live chat
Call logging
The below table for the two paid plans is based on the cost of 25 users and 8 licenses.
| | | |
| --- | --- | --- |
| Features | Pro Plan | Enterprise Plan |
| Price  | $1.08/user per month ($325 annually)  | $3.31/user per month ($394 annually)  |
| Daily Backup | ✓ | ✓ |
| Minimum Hosted Memory | 1 GB | 2 GB |
| Voicemail Transcription | ✓ | ✓ |
| Custom FQDN and SMTP Server | ✓ | ✓ |
| CRM Integration | ✓ | ✓ |
| Hotel PBX Capabilities | ✓ | ✓ |
| Dial-in Access for Web Conferencing | ✓ | ✓ |
| Maximum Number of Web Conference Participants | 100  | 250 |
| Contact Center Functionality | ✓ | ✓ |
| Call Queue Management | ✓ | ✓ |
| Real-time Analytics | ✓ | ✓ |
| Automatic Callback | ✓ | ✓ |
| Call Recording, Transcription, and Transcription Search | ✓ | ✓ |
| Call barge, Listen in, Call Whisper | ✓ | ✓ |
| Hot Desking and Call Flow Designer | ✓ | ✓ |
| Call Bridge | ✓ | ✓ |
| Advanced Call Routing Options | | ✓ |
| Support Ticket | $75.00 | $75.00 |
3CX Features and Functionality
3CX offers a wide variety of VoIP features, video calling capabilities, and third-party software integrations.
A higher level of customization is also available since 3CX is an open standards (open-source) PBX system operating within a secure, private cloud.
It is compatible with Google Chrome, Linux, Firefox, and Opera browsers, as well as Windows and Apple computers.
Mobile applications are available with iPhones and Apple devices, Android devices, and even Raspberry Pi.
Supported SIP phones include Yealink, snom, Grandstream, and more.
A list of additional compatible IP phones can be found on the 3CX website.
Below, we'll outline the software's best features, which include:
Virtual Telephony and Call Management
Web Conferencing
Live Website Chat and Facebook Messenger
SMS Texting
Software Integrations
Virtual Telephony and Call Management
3CX lets users choose between hosted IP PBX  and on-premises cloud-based management for its 3CX PBX business phone feature.
Users can make and receive Internet calls via compatible traditional telephones, via the softphone app in desktop computers via the Web Client interface, and from the mobile app. A 3CX Google Chrome extension is also available.
Call forwarding means that inbound calls on business phone numbers can be directed to multiple phone numbers, including an agent's cell phone, home phone, or another private phone number. These calls can also be forwarded to other office extensions and departments.
As of this writing, users can take up to 16 simultaneous calls across multiple phone lines.
The standout features are the call routing and call queuing options.
Call routing options include:
Round robin routing
Skills-based routing
First available routing
Shortest talk time routing
Longest idle time routing
Call blasting and hunt groups
Fewest answered routing (calls directed to agents who has answered the least amount of calls in a set period)
Call queueing and call paths allow users to set maximum wait times before calls are forwarded to additional phone numbers, departments, or agents.
In addition to setting customized call forwarding rules, users can configure:
Automatic callbacks
Estimated wait times
Maximum number of callers in queue
Priority queuing
Wrap-up time
Virtual voice message tools automatically record voice messages via voice-to-text and send either audio MP3 attachments or transcripts to email. Users can receive push notifications on their virtual phone system when they have a new voice message and can search message transcriptions.
Additional features include:
Caller ID
Unlimited phone extensions
Call presence and current agent status
Call recording
Call monitoring
Customizable greetings
IVR auto-attendant/virtual receptionist
Hold music
Analytics on talk time, call abandonment rate, call history, and more
Missed call notifications
DID
Web Conferencing and Chat Messaging

3CX offers browser-based webRTC video conferencing for up to 250 participants on desktop computers, smartphones via the Mac Apple and Android apps, and on additional mobile devices.
The team instant messaging feature can be used during a video call to share files of up to 64MB each, tag users, and to create public and private message channels or groups. Internal employees can transition to a video call from a chat message with one click, as can website visitors communicating with agents via live chat support. Video calls can also be scheduled in advance with emailed invitations.
When creating ad-hoc conferences, users can add notes, set the subject of the call, share meeting locations, and choose the call type from options.
The web meeting tool comes with host controls like the ability to hide participant names, make everyone an organizer, mute/remove/block participants, and configure participant remote desktop control.
Additional video calling and chat features include:
Attendee list and participant profiles
Meeting recording
Recordings emailed to participants after a conference
Share PDFs
Screen sharing
Whiteboarding
Polls, surveys, and reactions
Virtual hand raising and Q&A
Personalized meeting rooms
Live Website Chat and Facebook Messenger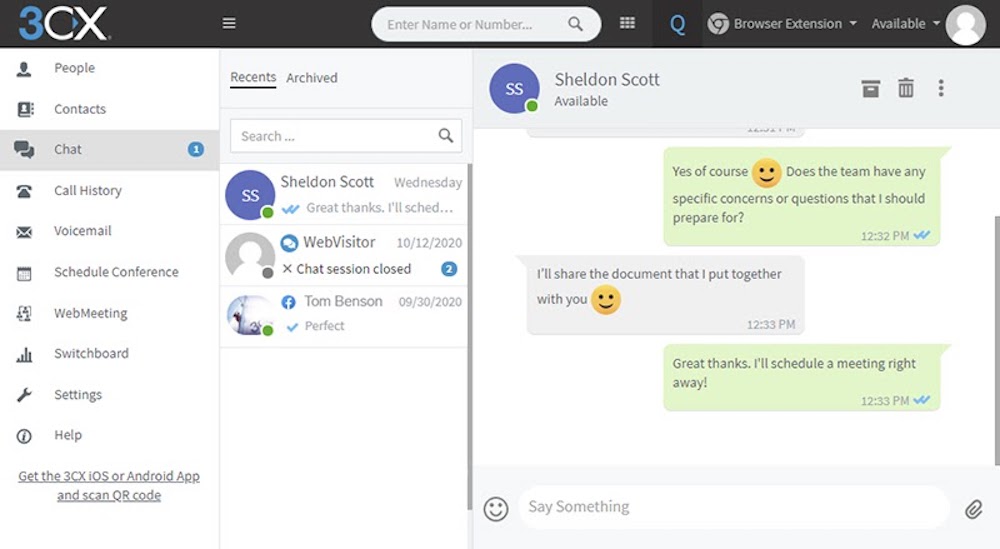 Live website chat instantly connects site visitors with agents and representatives to increase conversions and improve the customer experience and overall business workflow. It also allows agents to communicate with customers without having to give out their personal contact information.
Real-time chat syncing means that conversation history is instantly updated across the entire system. Therefore, if the chat is transferred to another agent or if a different agent handles the chat later, everyone is able to pick up the conversation right where they left it — and agents are better prepared to properly assist customers.
The chat feature can also work with an integrated CRM system to provide customer order history, contact details, and information about past interactions.
If visitors wish to elevate the chat session at any point, they can click a button to instantly transition to a phone call or video call.
In addition to website chat, agents and customers can communicate via Facebook Messenger and access the same features.
As with phone call queuing, both Facebook messages and website chats can be automatically assigned to a department/user or directed to the chat queue. Tickets can be sent to specific agents, or to the first available agent.
Additional chat support features include:
Chat transfer
File sharing and image sharing (JPEG, PNG, Adobe PDF, MS Office, Plain and Rich Text)
Block anonymous chat requests
Automatic ticket synching with CRM systems
Real-time notifications on desktop and mobile devices
SMS Text Messaging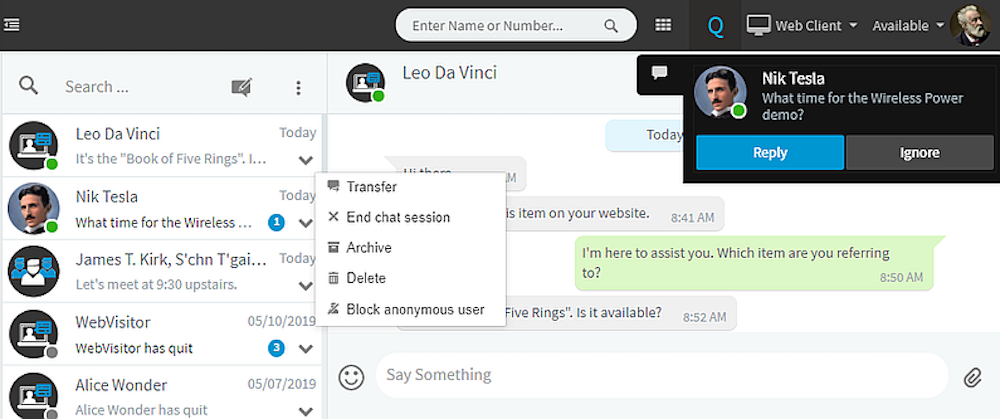 Employees can write business SMS messages via their business phone number from their desktop computer chat management console and can communicate with coworkers and clients within a single dashboard.
Texts can be composed and read on desktop computers and mobile devices, as well as within mobile apps.
As with other calls and chat messages, texts can also be prioritized and placed into queues or directly routed to individual users.
Additional texting features include:
Ability to send links
Send MMS messages
Access to texting analytics (average response time, etc.)
Access CRM contacts in the text message portal
Send and receive appointment reminders
Software Integrations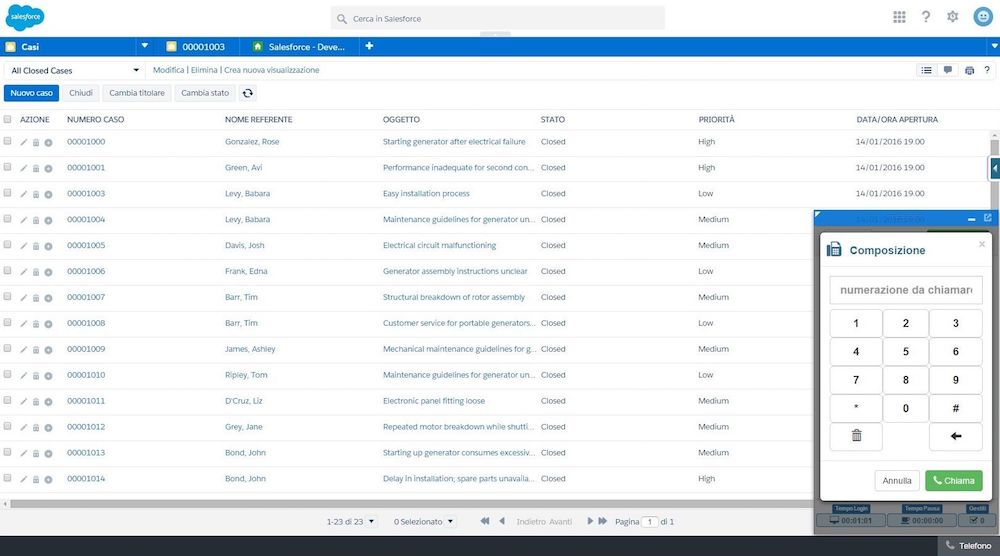 3CX integrates with top team telecommunications and CRM software, including:
Salesforce
Zendesk
Microsoft Outlook
Office 365
Bitrix25
Nutshell
FreshDesk
Zoho
Hubspot
Additionally, the 3CX Hotel Module integrates with top hospitality management software and Property Management Systems like Roommaster and Micros Fidelio. This makes it easy to set wake-up calls, room status, manage guests' phone bills, and more.
Overall User Experience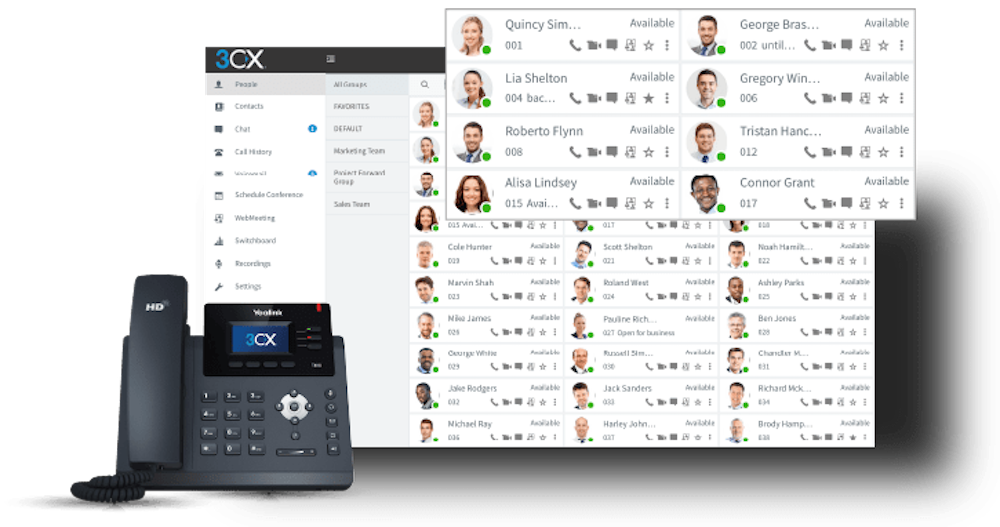 In 2020, 3CX won PC Pro's Technology Excellence Award for Business Software of the Year and was recognized by Winnmag Pro and Baaz as one of the Best Business Communication Solutions.
While the platform has received professional recognition for its Business Phone Service, what do real users think of it?
We developed the below pros and cons table based on current user reviews and customer feedback.
Pros
Cons

Cost-effective, especially for teams that don't need advanced call management features and have their own CRM system in place. Small businesses can often get by on the free plan.

Call log history and analytics lack essential

communication KPIs

, and instead focused on broader, more general information.

Auto-provision feature for plug-and-play phones makes installation and setup simple and fast. Plug-and-play also means the hardware is portable. 

The web conferencing feature needs improvement, as it lacks the functionality and features compared to popular tools like Zoom and Microsoft Teams.

Live website chat feature means customers can easily communicate in real-time on a company's website or their Facebook Messenger account. Agents can automatically transition to a phone call from the live chat interface if needed.

The expensive support ticket system means users often lose time trying to repair issues on their own, and phone support is only available 24/5.

The call transcription search bar makes it easy to find specific customer complaints, as well as to search by keyword to understand common issues. 

The softphone interface is not intuitive, outdated, and can make it difficult to effectively manage calls on desktop computers.

Video conferencing does not require users to download an app for access. 

Call routing features are not as advanced as larger companies often need them to be.
Who is 3CX Best For?
3CX is an excellent choice for mostly remote companies that have a moderate to high daily call volume, but still need a business phone system that allows for a good amount of team collaboration and internal communication. 
As it offers free unlimited extensions, it's also a good option for companies with larger customer service departments or sales representatives. 
Additionally, because it's an open platform solution, 3CX users will be able to select their own cloud providers, choose their own hardware, and use their own SIP trunk. Users can opt for either on-premises or cloud-based hosting, allowing for a greater level of control. 
This also makes it a smart choice for businesses that need a high level of customization when it comes to their business communication platforms.
Top 3CX Alternatives
Before you make a final decision about using the 3CX phone system, you may want to explore additional options.
The below table outlines additional competitors, including:
Provider

Genesys

Avaya

RingCentral

Nextiva

Zoom Phone

GoToConnect

Pricing

Quote-Based

4 paid plans from $19.99/user per month to $49.99/user per month

4 paid plans from $19.99/user per month to $49.99/user per month

3 paid plans ranging from $22.00/user per month to $32/user per month

3 paid plans ranging in price from $8.00/user per month to $30.00/user per month

3 paid plans ranging in price from $24.00/user per month to $39.00/user per month

Top Features

BYOC

Advanced speech recognition and analytics

Numerous call routing options

Multi-channel canned responses

Unlimited Online Faxes

Industry-specific third-party software integrations

HD quality voice and video

24/7 customer support

Simultaneous screen sharing

Local MP4 Recordings

Advanced web conferencing functionality (live streaming, remote desktop control, etc.)

Conversational AI for improved call routing

A wide array of compatible hardphones

Advanced IVR routing options

Shared voicemail boxes for ring groups, as well as shared call appearance 

Call monitoring and coaching features like call whisper, call barge, call takeover

Custom hold music and custom hold messages, allowing you to pitch products, services, and make special offers to callers on hold 

Advanced call flow and dial plan editor

Advanced screen sharing features 

Advantages Over 3CX

SMS Routing

Workforce engagement management tools

Quality of service reports

Unlimited Storage

More intuitive user interface

Stronger team collaboration features

Stronger, more detailed analytics and customizable reports

Available CRM suite add-on

Native customer survey tool

Excellent video conferencing solutions

More competitive pricing models

Pre-call announcements to better prepare agents for calls

Better user interface and image/video quality 

Best For

MLBs needing advanced customer self-service options like appointment scheduling, or telemarketing companies 

Companies of any size that frequently collaborate on files, as well as businesses who need a solution with lots of unlimited communication options

Midsize to large businesses that heavily rely on video communications, as well as those needing advanced

team collaboration tools

  

Enterprise-level corporations with geographically diverse employees needing a platform with all-in-one communication capabilities 

Existing Zoom Meetings customers who want to add on a lower-cost business telephone, as well as small or newer businesses that need a metered "by-the-minute" payment plan

SMBs with mostly remote and mobile teams that need to be accessible across multiple devices, as well as call centers that need highly customizable call paths
Learn More About Unified Communications
Need more information on what to look for in a Unified Communications solution?
Our interactive table on the top business communication and VoIP  (Voice over Internet Protocol) providers outlines the top unified communications features and call center features your platform should have, offers more information on popular tools, and includes feedback from existing users.
3CX FAQs
Below, we've answered some of the top FAQs about 3CX.
Frequently asked questions
Advanced 3CX tech support package for hosted platforms is not included in the base price, and can be purchased as an add-on feature for $75.00. Advanced support assists with configuring supported IP phones and SIP trunks. Basic customer support is available 24/5.
Backups include system configuration information, call history data, and other essential information. Note, however, that recorded files and voicemails are not backed up, and should be archived by users.
As of this writing, 3CX on-premise hosting works with Raspberry Pi, Linux, and Windows, as well as cloud-based operating systems from Google Cloud, Azure, and Amazon.
Update 5 Alpha outlines 3CX's E911 capabilities and ensures that emergency services automatically receive calls dialed from your business phone numbers. Admins can also create their own emergency number routes and options in online portal templates.
As of this writing, Facebook Messenger is the online social media platform that is a part of the communication system.