When collaboration and connectivity are a priority for your business, 3CX is a hosted PBX provider that delivers. It's a solution that's suitable for organizations of most sizes that require VoIP phone lines for communication. With a 3CX phone system, a small business that is transitioning to using VoIP will have several useful calling and communications tools at their fingertips without a traditional phone bill. 3CX has flexible pricing options that larger businesses will find appealing for their business phone systems and call management.
What is the 3CX Phone System?
3CX is a global provider in business VoIP that offers IP phones and cloud PBX with unified communications features for businesses.  It's an easy to manage solution that helps reduce telephony costs for the company by shifting communications to the internet. The open platform allows you to select SIP trunks and choose from the supported IP phones that fit your needs. More office extensions are easily added to the system when you need to scale.  Licensing is not required for each extension, but businesses are required to pay for each simultaneous call placed.
3CX was first established in 2005, which was when VoIP first started hitting it big in the communications market. Since then, the 3CX phone system has experienced exponential growth and has become a solution that's on par with other top providers for small to medium companies. When it comes to cost, they have plans that are similar to Grasshopper pricing at the base level for small business owners. There are also enterprise-grade tiers that offer competitive pricing for larger businesses that need extended integrations and contact center features. 3CX is a provider that operates with a strong global presence – it currently has 12 offices around the world.
What Does 3CX Phone System Offer Your Business?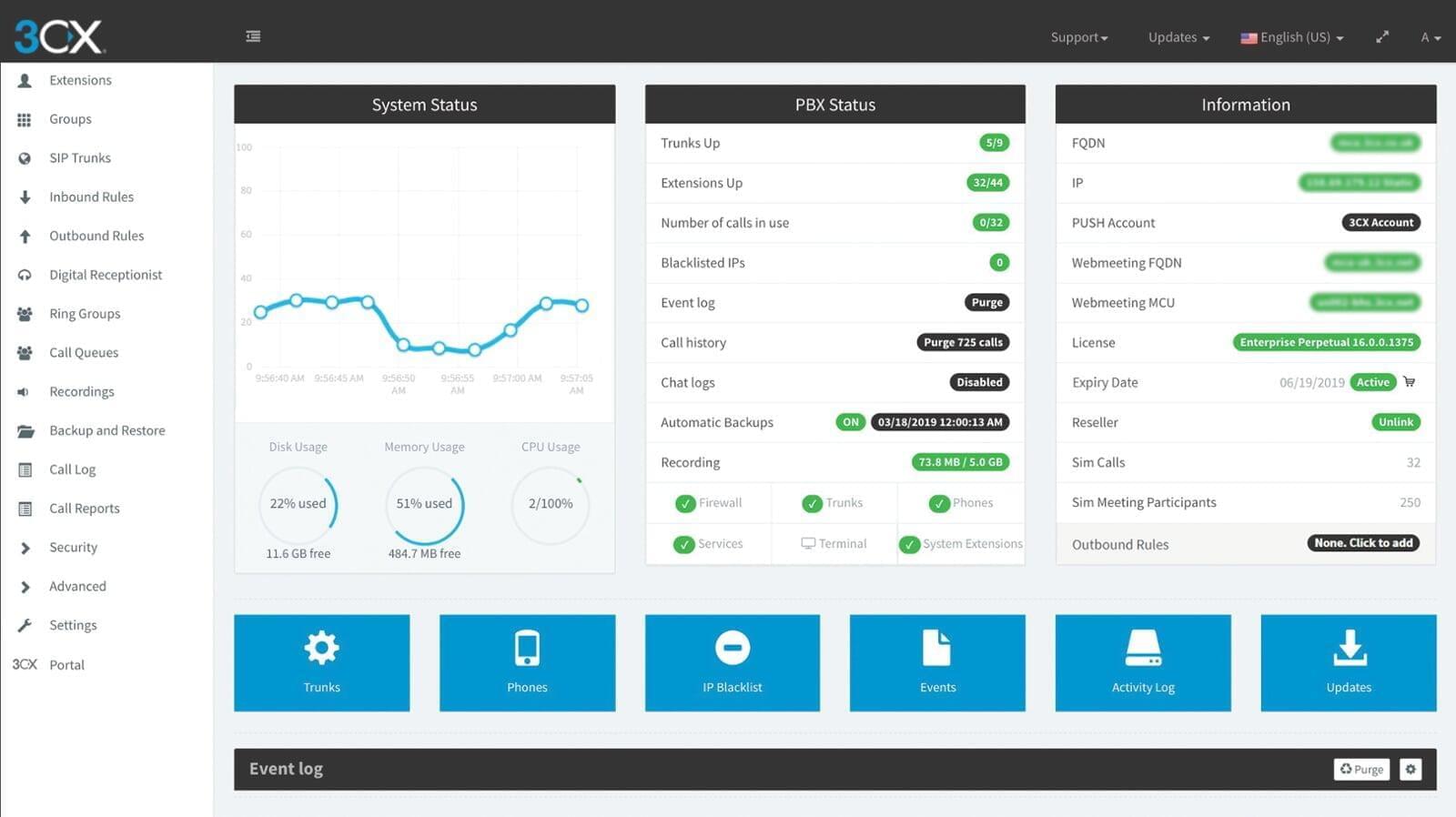 First and foremost, a hosted VoIP system like the one offered by 3CX provides you with a reduced IT infrastructure. With on-premise PBX, you have a dedicated IP-PBX in your server or phone room that will need updates and occasional maintenance. On your end, hosted VoIP is entirely software-based; the actual PBX servers are located remotely, and in the case of 3CX, there are multiple locations that house servers around the world.
How Reliable is the 3CX Phone System?
Like other hosted VoIP providers, 3CX prides itself on geo-redundancy – If a server goes down in Germany for whatever reason, servers in places like Australia and Hong Kong will pick up the slack so that you won't lose calls. It's very hard to lose service entirely with 3CX – if you have access to an internet connection, you make phone calls and collaborate, even when a server is disabled.
What Communications Features Does 3CX Provide?
3CX offers call control, conference calls, and unified communications to its subscribers, so the platform provides an all-in-one communications profile for your business. Employees call and are reached by inbound phone calls from customers, and they use chat software, video conferencing, and file sharing with their team members and colleagues.
These communications tools are becoming increasingly critical to modern business, and providing means for your customers to reach you boosts satisfaction. 3CX also has an easy install – most users will work from the web client, which provides extensive call control and takes less than 20 minutes to set up in its entirety.
Does a 3CX Phone System Grant Scalability?
One of the major complaints that businesses with primary rate interface (PRI) systems cite is that these calling solutions are only scalable in batches of 23 lines. This means that upgrading your system locks you into this specific number, which will cause management headaches if you only need a single line. With 3CX, you use your network infrastructure for calls, and adding lines on a line-by-line basis is easy – you provision new dialing options by adding a new company email account.
It's also worth noting that access to 3CX VoIP phone systems is now free for new subscribers for an unheard-of three years. This is a result of the recent global pandemic, which has increased the number of remote employees. This offer is for their Standard Edition, and having the provider for this period facilitates better communications between your employees as they work from home.
3CX Phone System Pricing and Plans
3CX charges you based on the number of simultaneous calls you'll need. This differs from other providers that charge based on the number of extensions or users. Here's a breakdown of 3CX's pricing and plans – the pricing listed below is based on having 25 simultaneous users.
| | | | |
| --- | --- | --- | --- |
| | Standard | Pro | Enterprise |
| Pricing | Free | $1.08 – per month, per user | $1.31 – per month, per user |
| Smartphone Apps (Android and iOS) | Yes | Yes | Yes |
| Office 365 Integration | No | Yes | Yes |
| CRM Integration | No | Yes | Yes |
| Maximum Number of Web Conferencing Participants | 25 | 100 | 250 |
| Call Recording | No | Yes | Yes |
| Call Center Features | No | Yes | Yes |
| Custom IP Phone Logo | No | No | Yes |
3CX Hosted PBX: Getting Started
Before I get into the nitty-gritty of the review, I wanted to explain a situation that I encountered when trying to get my trial version of the 3CX setup. The setup process is very easy with 3CX – they virtually walk you through getting your on-premise or cloud-based PBX up and running so that you can start communicating. Unfortunately, while I was setting it up, I entered my credentials incorrectly because I misunderstood the login process.
3CX told me I was incorrect, and after three attempts, my IP was blacklisted. Being a bit stubborn, I tried again with my phone, which was on a different IP (my cellular network). I still hadn't realized my mistake, and as a result, my IP was blocked on that end as well. When I tried to log in on my desktop, I received this message: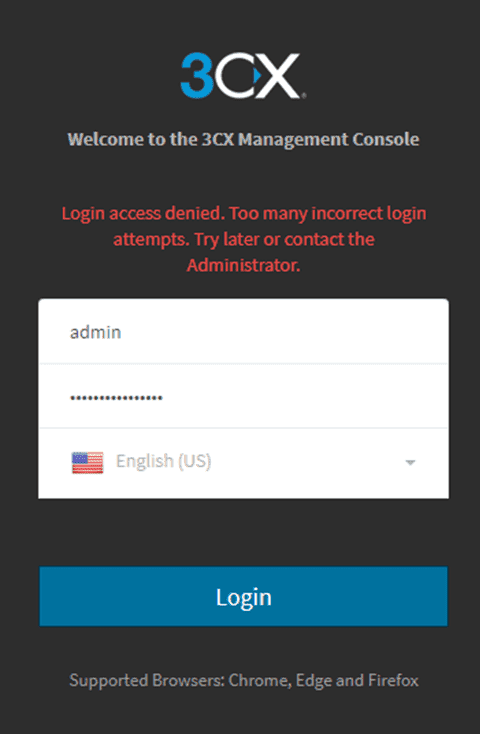 I checked my emails from 3CX, and they provided me with details about the blacklisting as well as information about the IPs that tried unsuccessfully to access the service. While it was an inconvenience, it's noteworthy that 3CX is very dedicated to your account's security. I was able to restore service after a day and personally un-blacklisted the affected IPs, but this is a sure sign that 3CX is a secure provider.
3CX Hosted PBX: A Hands-on Review of Features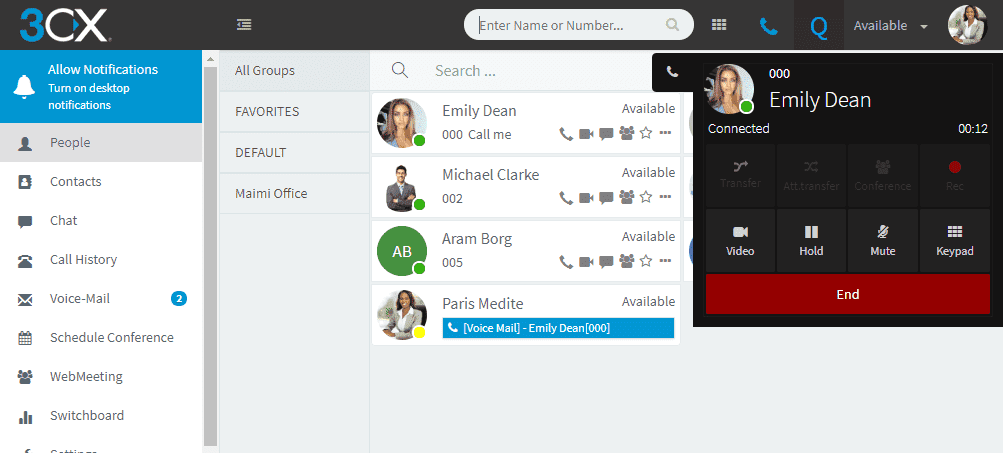 Once I was able to get set up and ready to go, I took a look at some of the features and functionality of the platform. In this part of the guide, we'll be looking at details of the service such as how it works on softphone applications, its integrations, and installation features and everyday uses of the platform.
Softphone Features
When it comes to the hardphone vs softphone debate, I prefer softphones because they allow calling on most Mac or Windows PCs. Softphones help businesses deploy faster because they allow you to completely eschew the need for desk and physical SIP phones. Instead, you'll need a headset that moves with your agents/employees. The 3CX phone system makes this easy by providing softphone apps for MacOS and Microsoft Windows as well as smartphone operating systems like Google's Android and Apple's iOS.
Here's an image of the Windows version: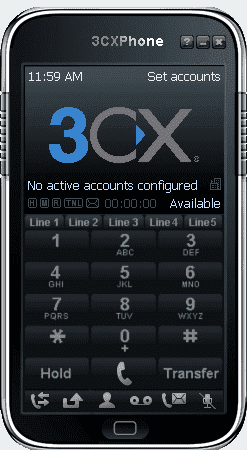 The 3CX softphone application is configurable for any on the company's approved list of SIP trunking providers. You'll need a headset if you're going to be making calls on PC, but using the softphone is very easy – it grants access to voicemail, allows for transfers and holding, and has a simple button interface. I particularly liked the line management features – it's easy to switch to other lines in the visual interface.
If there were aspects the 3CX desktop softphone that I didn't like, it would be that the 3CX support team doesn't directly provide assistance for the softphone and that 3CX doesn't provide updates. The 3CX mobile apps are more supported and I liked the fact that the UI is very clean-looking and the buttons are larger and easier to press using my Samsung Galaxy's touch interface.
Office 365 Integration
Office 365 integration doesn't start until the Pro tier, so those with the Standard Plan will have to upgrade. I admit, configuring this took a little while, but 3CX has a detailed guide that walks you through the various steps. Once you've configured the plugins, users on your network will have their 3CX extensions kept in sync with their Office 365 accounts. This way, contacts on the system include email and extension information and a one-click dialing method for reaching coworkers and leads without changing tabs.
One of the features that I thought was useful was the status sync. As you set events in your Office 365 calendar, 3CX will automatically set statuses. For example, if you have a meeting at 3 pm with shareholders, 3CX will set your status to "Away" so that colleagues know not to disturb you. This is quickly managed within the calendar – you simply adjust the "Show As" option to:
Both of these automatically convert from "Busy," "Working Elsewhere," or "Out of Office."
Security Reminders
Failure to be proactive with security leads to VoIP security vulnerabilities that put your whole network at risk. As I mentioned, I ran face-first into some of the security features of 3CX, and I found their initial security features to be very impressive. After sign up, they also provided daily security reminders to let me know what IPs accessed calling features on the 3CX account. This is useful in industries where keeping track of VoIP use is critical.
3CX takes a "herd" approach to security where the more experienced users like the admin have a quick method to blacklist IPs that aren't supposed to be accessing your 3CX phone system features. This control allows for whitelisting as well, so when this is done by accident (as happened with me), then it's simple to delete the IPs from the blacklist inside of 3CX's console.
While I didn't have two PBX systems running during this stage of testing, I did also appreciate the inclusion of a sync feature for blacklisted IPs. With this, you simply import or export entries into your other PBXs so that you're protected from future attacks across all of your systems.
I was also able to restrict access to the management console, so only the specific IPs I wanted to grant access were able to change settings. This is useful for those businesses that worry that individual machines used by employees or even outsiders could introduce vulnerabilities to the VoIP system at large.
3CX Phone System Bridges
Creating bridges is essential for mid-sized businesses and above; you want your employees to be able to quickly dial an extension so that they can reach colleagues with ease, even if they are a continent away. When creating a system bridge under 3CX, one location needs to be made the "master" bridge, while the other one needs to be the "slave" bridge.
To test out this feature, I went into the console menu option "SIP Trunks" and clicked the "Add Bridge" tab, which allowed me to quickly set up my 3CX connection as the "master" bridge. After this, it was simple to establish another phone system as the "slave" bridge, which I then connected via 3CX's SBC tunnel connection. This allows all SIP and RTC traffic to be sent on a single TCP port via 3CX's tunnel.
The process was a bit complex, but their guide made it significantly easier. Once it was set up, it was like having two connections in one. With 3CX's phone system bridges, you have the option of setting user presences, and each 3CX phone system will have its outbound rule prefix. This is a number that will be used before the extension to reach the other system. For example, if you establish a satellite office as 7, users in other offices will have to dial 7200 to reach extension 200 on that system.
The phone bridge feature allows admin to set the maximum number of simultaneous calls on a bridge as well as set an authentication password if changes to the bridge system need to be made from the slave 3CX system.
Compatible 3CX VoIP Providers
3CX is compatible with a wide variety of SIP trunk providers. There is a list of preferred providers that will work best for businesses looking to expand their communications. Each provider is tested using different builds of 3CX, and support is offered to help you configure and manage the solution. With the preferred providers, the PBX becomes a plug and play option that requires minimal setup.  Let's take a look at three of the preferred VoIP providers that are compatible with 3CX.
Nexmo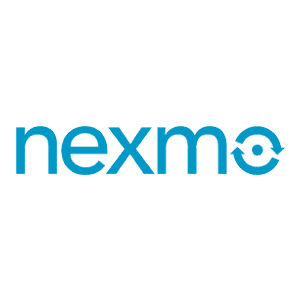 Nexmo is a provider that was acquired by Vonage in 2016 and serves as Vonage's voice and SMS API. Nexmo embraces open standards for adding features and connectivity to your communications stacks and is very developer-friendly. The platform allows businesses like yours to reach customers via the web using WebRTC-based live video or on their devices via video, voice, and text messaging.
Calls made on the platform are protected via the voice verification API, which keeps customer information secure during their interactions with your brand. We covered Nexmo as a great Twilio alternative thanks to the 650 carriers that are connected to their network and its tendency to avoid aggregators when connecting to carrier networks.
When used as a SIP trunking provider for 3CX, Nexmo provides:
Audio fax support
Single account support for SI mode
Anonymous calling
An online trunk management portal
Flowroute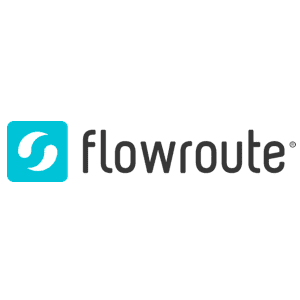 Flowroute is a cloud-based provider that was established in 2007. The platform provides messaging and voice services for inbound and outbound calling using cloud-based PBX providers.
Flowroute also serves as a provider for Voxbone's iNum initiative, which is a project that was organized to create a global dial code for business communications.
When used as a SIP trunking provider for 3CX, Flowroute provides:
Single account support for SI mode
Anonymous calling
An online trunk management portal
302 division support
Callcentric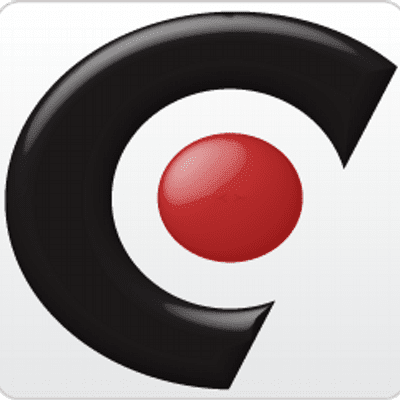 Callcentric is a VoIP provider that originated in 2001. They provide plans on a global scale that offer businesses inbound and outbound calling and SMS messaging to communicate.
The service that Callcentric offers is flexible and works with your provider's PBX to bypass traditional phone lines.
Callcentric reaches all areas of the United States as well as 35 countries worldwide.
When used as a SIP trunking provider for 3CX, Callcentric provides:
T38 Bypass fax support
Automated SI modes
An online trunk management portal
3CX Phone System Security Is Better Than Most Hosted PBX Providers
During my testing of the 3CX phone system, I was impressed with aspects like security, scalability, and how unique the pricing structures for plans were. 3CX offers an experience that's different from some other major VoIP providers, especially since pricing is entirely based on the number of users and the volume of simultaneous calls.
Most businesses looking for simplicity will value what 3CX has to offer because most processes are covered by an extensive online documentation framework that they have on their site. I used it to test out various features, and everything is laid pretty bare so that I ran into very little issues when getting set up. They even have an install wizard for on-premise and cloud setups that will have you ready to go in about a half-hour.
Did I run into any aspects of the 3CX phone system that I didn't like? First, support tickets cost about $75 for all plans, which gets expensive if you're having issues with your install. You'll find that some desk phones aren't compatible with 3CX, which may add some expense if you're thinking of switching or have unsupported devices.
In the grand scheme of things, these are minor foibles – as a communications tool for just about any size of an organization, 3CX is a valuable provider that delivers a good level of flexibility and scalability. Of course, the VoIP market has several providers that may better fit your needs. Check out our managed list of business VoIP providers to determine if there's one that may provide your company with more value.