Roughly 80% of today's companies use some kind of social collaboration tool to streamline communication both inside and outside of the office. Team leaders implement team chat tools to combine the need for a task management tool the ease of using a social media app.
Unfortunately, not all team collaboration software is created equal.
While Slack is the best-known and most popular team collaboration tool (the most recent statistics put the number of organizations using it at well over half a million) that doesn't mean it's right for your company and team.
Perhaps you're already using Slack, but feel it doesn't provide the features and compatibility you need.
You're looking for alternatives to Slack that are intuitive to use and easy to integrate with your other software.
Here, we'll provide you with digestible tips on what project managers feel works well about Slack, and where it falls flat. Then, we'll discuss the features you should look for when evaluating other team collaboration tools. Finally, we'll provide brief overviews of other popular social collaboration tools businesses use today.
Why Seek Slack Alternatives?
Slack has long prided itself on being the ultimate alternative to email. It offers some features of the most popular project management tools but small teams might use it more like a messaging app while relying on third-party apps to supplement features.
It is a real-time, user-friendly chat app that allows you to communicate with everyone on your team simultaneously in a public channel, or with smaller groups of people in private channels.
Top Slack Features
Mobile app and desktop accessibility and synching
File sharing with Google Drive, Dropbox, WeTransfer, Adobe Creative Cloud, and more
Shared screen during video calls
Searchable conversation history in individual and group messaging
Customizable workflow to streamline help desk requests, onboarding, etc.
App directory for integration with popular software including Office 365, G Suite, Atlassian, and others
Shared channels for communicating with external vendors, clients, and other companies
Common Problems With Slack
While Slack certainly has numerous helpful and innovative features, for many project managers, it's simply not enough. They need more than a team chat app or free solutions like Skype conference calls or Google Hangouts. They also need to strategize, keep track of tasks, understand who is working on what, and to be able to address potential issues as soon as they happen.
The biggest issue with Slack is that, while it offers excellent real-time instant messaging features, it doesn't offer a higher level of project management and collaboration. Users expressed frustration with the fact that to create and review project timelines, assign tasks, and even use certain apps/software programs, they must rely on other tools in addition to Slack.
Other common problems with Slack include the following.
Clogged Channels
Channels can get clogged with multiple conversations and team messaging in Slack. This leads not only to a lack of productivity, but also means Slack often becomes a distraction from work (think "water cooler talk").
Lost Conversations
It's difficult for specific team members to locate relevant information in Slack.
For example, when users sign off for the day or leave their computers for a few hours, they return to Slack to see notifications that show only the number of messages they've missed. Unless directly tagged, users have no way of knowing if they've missed essential announcements or information unless they wade through all of the channel's unread messages — something most employees don't have time for.
Missing Progress
Users cannot track the progress of specific tasks in Slack. Slack doesn't offer a way to assign specific tasks, doesn't have a "checklist" or to-do feature, nor does it include a way to mark tasks as complete or adjust project deadlines.
Limited Calling
Slack has limited conferencing and calling features. In Slack, only 15 people can be on a conference call at once.
Weak Integration
Limited Slack integrations means you can't update documents or files within Slack. Each time it's changed, it will need to be re-uploaded and it can't be changed without moving out of the interface. Slack users must navigate away from Slack to other tools like Google Docs if they want to edit a document.
Limited Free Version
The free version limits accessible message history and allows a maximum of 10 app integrations. Users only have access to and the ability to search through the 10,000 most recent messages.
Rigid Interface
Slack offers users no ability to customize the dashboard or change the user interface. Slack's interface looks like a standard "chat window," which can pose challenges to those who prefer to work visually or who need to be able to re-order specific threads or project channels. Many companies prefer an open-source task management tools.
What Are the Features of Top Team Collaboration Tools?
If you've decided to replace Slack entirely in your workspace, or if you're interested in adding in other team collaboration tools to give you more of what you need, you have to know which features to look for. Chat software with emojis can be fun for improving team rapport but that won't help you get work done.
When evaluating the best Slack alternatives, consider their ability to provide:
Stronger meeting/calling features like call reminders/scheduling tools, recording calls, and a higher cap on the number of people allowed on a call
Sub-topics in larger channels to keep important information organized
Ability to communicate with those outside your organization with end to end encryption
Indefinitely preserved/accessible conversation history
Task automation for "busy work"
Unlimited number of users
Project timelines, checklists, and other team monitoring tools
Report generation
In-app file creation/sharing
Calendars/Scheduling tools
Seamless integration with other team collaboration tools
Top 7 Slack Alternatives For SMBs and Enterprises
Now that you know more about the most important features to look for, let's examine some of the most popular Slack alternatives and the specific features they have to offer.

Zulip calls itself "the world's most productive team chat," and is an excellent choice for those who are looking to eliminate the "clutter" of chatter that buries relevant information in Slack. With Zulip, team members subscribe to "Streams," which are specific chat channels. The best feature of Zulip is the level of organization provided within each unique Stream. Streams are divided up into smaller topics. For example, if you and your team were tasked with organizing an event, your Stream might be labeled, "Year-End Holiday Party." Sub-topics like "budget," "entertainment," "guest list," and "catering" would all be listed as more specific chats underneath your main Stream of "Year-End Holiday Party."
Other competitive features of Zulip include:
Free version includes 10,000 searchable messages and 5GB of storage, no limits on the number of users
90 native integrations
Prioritization of asynchronous communication
Ability to create bulleted lists in Zulip
Markdown code blocks for Mac, Android, and Linux developers
Message editing capabilities
Push notifications including notifications for chosen "alert words"
Ability to "star" important messages, and organize those starred messages in a unique channel
Can import Slack, Mattermost, and other team collaboration tools your Zulip workspace
Best for:
Those looking for a more comprehensive freemium plan than Slack offers
Larger companies who struggle with relevant/important information getting lost in group chats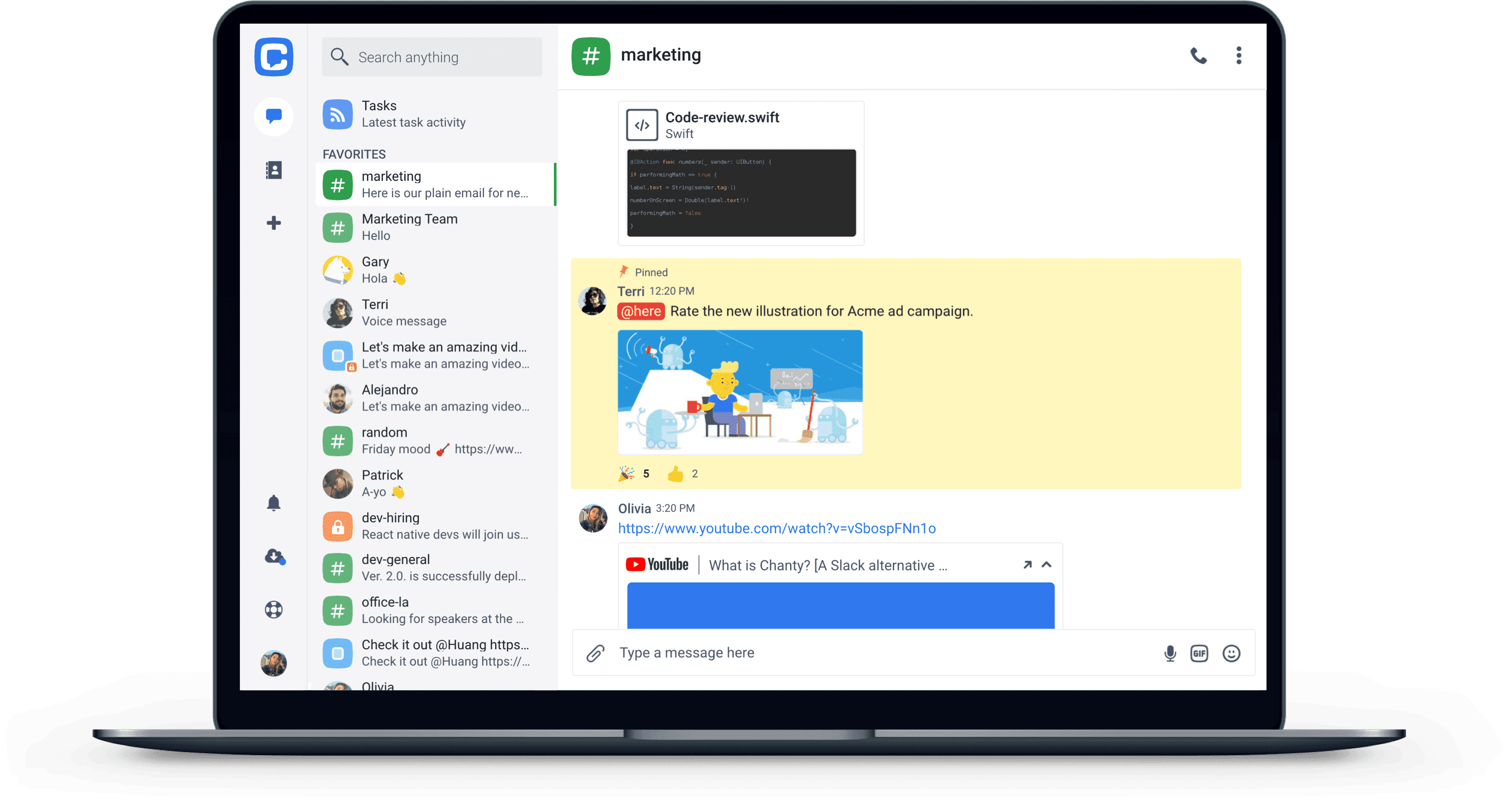 The team collaboration tool from Chanty is based around the "TeamBook" feature, which is much better organized than Slack's communication app dashboard. Instead of simply dividing up conversations in different channels, Chanty's TeamBook organizes lists/channels according to tasks, team members, public/private direct messages, calls, shared files, pinned messages, shared links, and searchable message history.
Other features include:
"To-do" lists that your entire team or specific employees can view/manage
The chance to both assign specific tasks to team members, monitor progress, and adjust deadlines in the Chanty TeamBook
The ability to pin important messages/links for easy access
Can switch to Kanban "board" view in TeamBook as well as standard chat
Ability to archive important past conversations as opposed to simply deleting them
More affordable than Slack, completely free plan available
Video conferencing
Integration with Asana, Mailchimp, Trello, Basecamp, Google Drive, and more
Best For:
Those who value an intuitive user interface
Those who want a paid plan, but who still need a more affordable alternative than Slack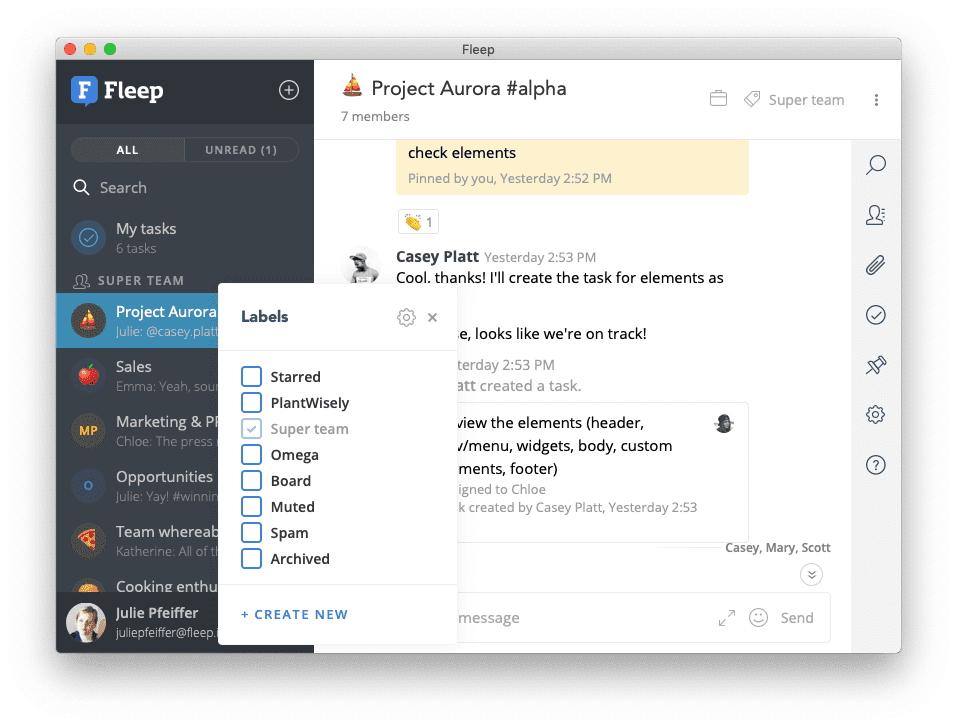 Fleep is an excellent social collaboration tool for those who frequently find they need to connect with people outside of their own company. Slack is seen mostly as an internal communications tool, while Fleep offers network-based external communication. You can communicate with anyone, from any company, who has a Fleep account. You can also invite your clients or anyone else you need to work with to chat with you — and they only need to provide their email address to get connected with you on Fleep.
Additionally, Fleep sorts conversation according to people, not according to channels/topics. (Traditional "Team" channels are available with Fleep.) This means that, on Fleep, you'll view your conversation history with a specific person, like Jim from accounting or Susan at the non-profit your company supports. Your entire chat history with an individual is in one channel only, not spread across multiple ones like in Slack.
Fleep also features:
A "pinboard" for every conversation channel to highlight the most important information
An in-conversation "Taskboard" that allows you to assign and monitor tasks
An in-conversation "File Drawer" that stores every file you've ever uploaded/shared within a complete conversation history
Read receipts and writing indicators
The ability to mark yourself as "available" and not simply "online"
Integration with Whereby, allowing for audio and video calling
Integrations with Zapier, Slack, Trello, Google Drive, JIRA, and more
An excellent free plan offering unlimited 1-on-1 conversations, integration with native apps, complete message history, 10 GB of storage, and a maximum of three "team" channel conversations
Best For:
Those who need to connect with people outside of their own company/organization
Those who prefer to view their conversation history by a user as opposed to by topic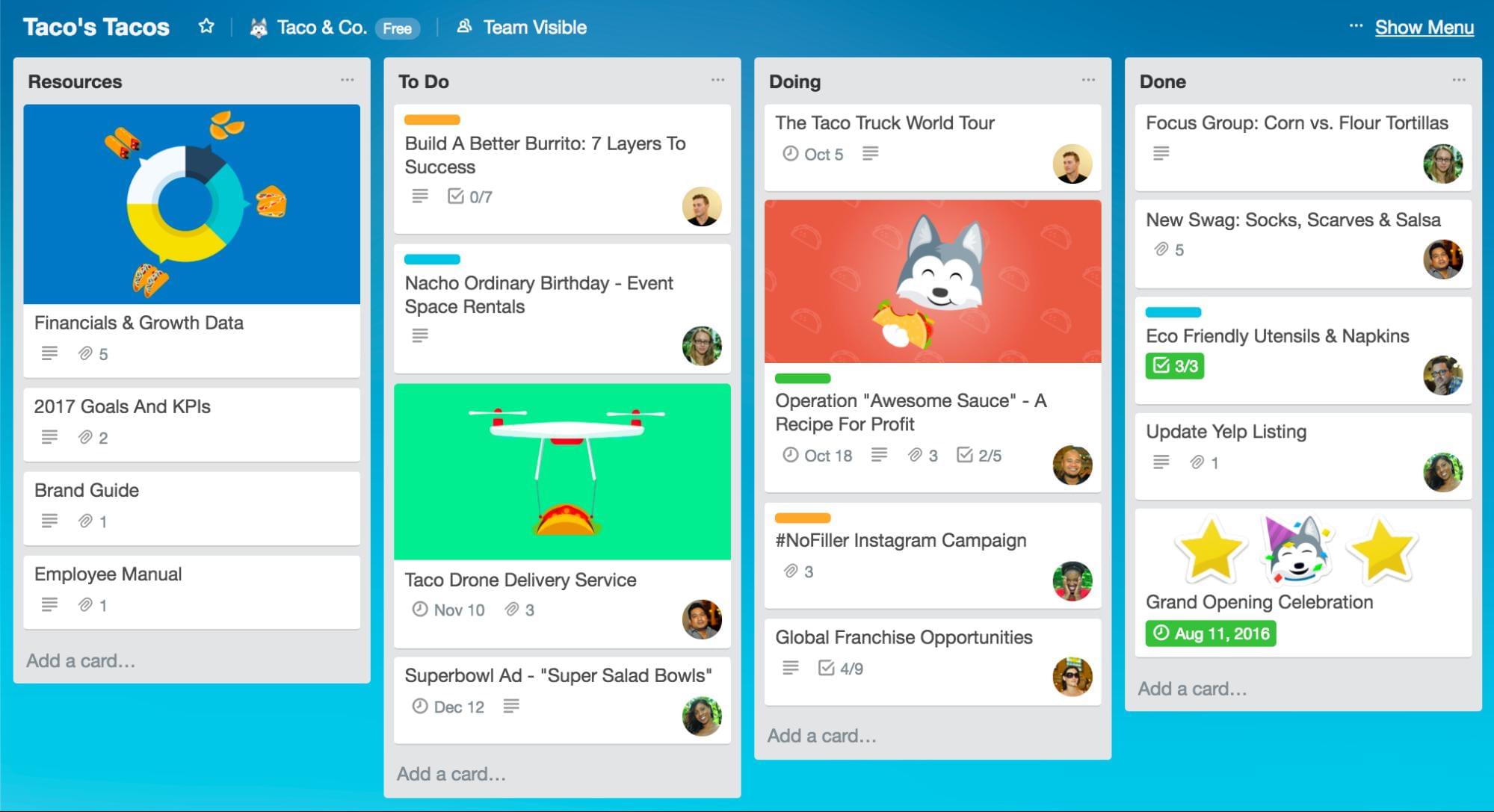 For those who prefer a more visual approach to team collaboration, Trello is likely the best solution. This software allows users to create individual boards that represent a project. These boards are filled with cards, which can then be shared with relevant team members. You can opt to share your board with your entire team, but send out specific cards only to relevant team members. This allows you to efficiently assign and monitor tasks without losing sight of the big picture.
Popular Trello features include:
Omnichannel synching to ensure all team members share files, updated across multiple devices (including omnichannel push notifications)
The ability to add in-line comments, checklists, due dates, and files to cards
Task automation through Butler, allowing you to create rules, buttons, commands, and more
Drag/drop editing
An archive of past cards/boards
"Power-ups" that allow you to connect apps to your Trello boards such as Slack, Salesforce, Google Drive, and more
Detailed data filters that allow users to find the exact information they need quickly
Best for:
Visually-based communication
Those who need to integrate a large number of other business tools/apps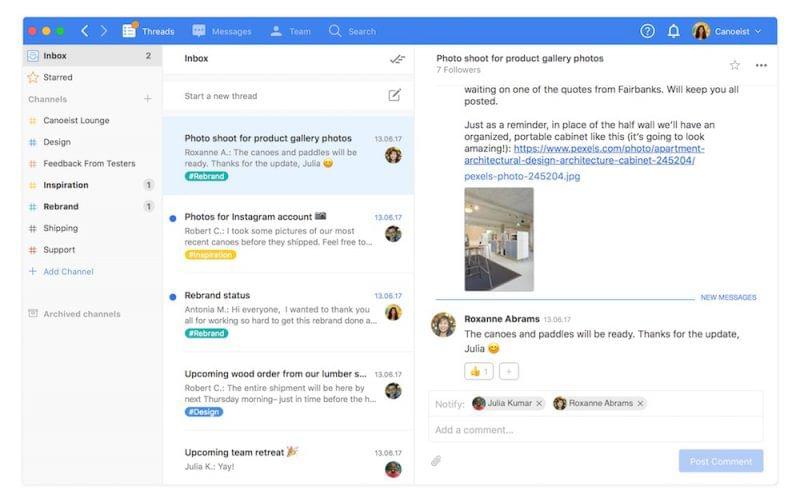 The messaging tool from Twist is focused on the idea of "threads" as opposed to endless strings of individual messages that may not always be relevant to the ones above them. These threads are preserved for as long as your company chooses to use Twist — unlike Slack, which routinely deletes older chats and messages. You can then prioritize the list of threads displayed in your screen's center, meaning that the most relevant information for you/your daily tasks never gets buried. Many also love the fact that Twist doesn't offer any kind of online presence alert — meaning that no one else on your team will be able to know when you are or aren't online.
Other features include:
Free plan preserves one month of conversation history and offers 5 integrations
Nonprofits and companies in the education sector get special discounts
Integration with Zapier for audio/video calls
The "Time Off" feature that allows you to limit your availability when needed
The "Ada bot" for in-app help navigating Twist
Filtered search options, including by date or channel
Best For:
Those that don't require too many integrations
Companies with a large number of remote workers
Companies who use messaging tools at a more moderate level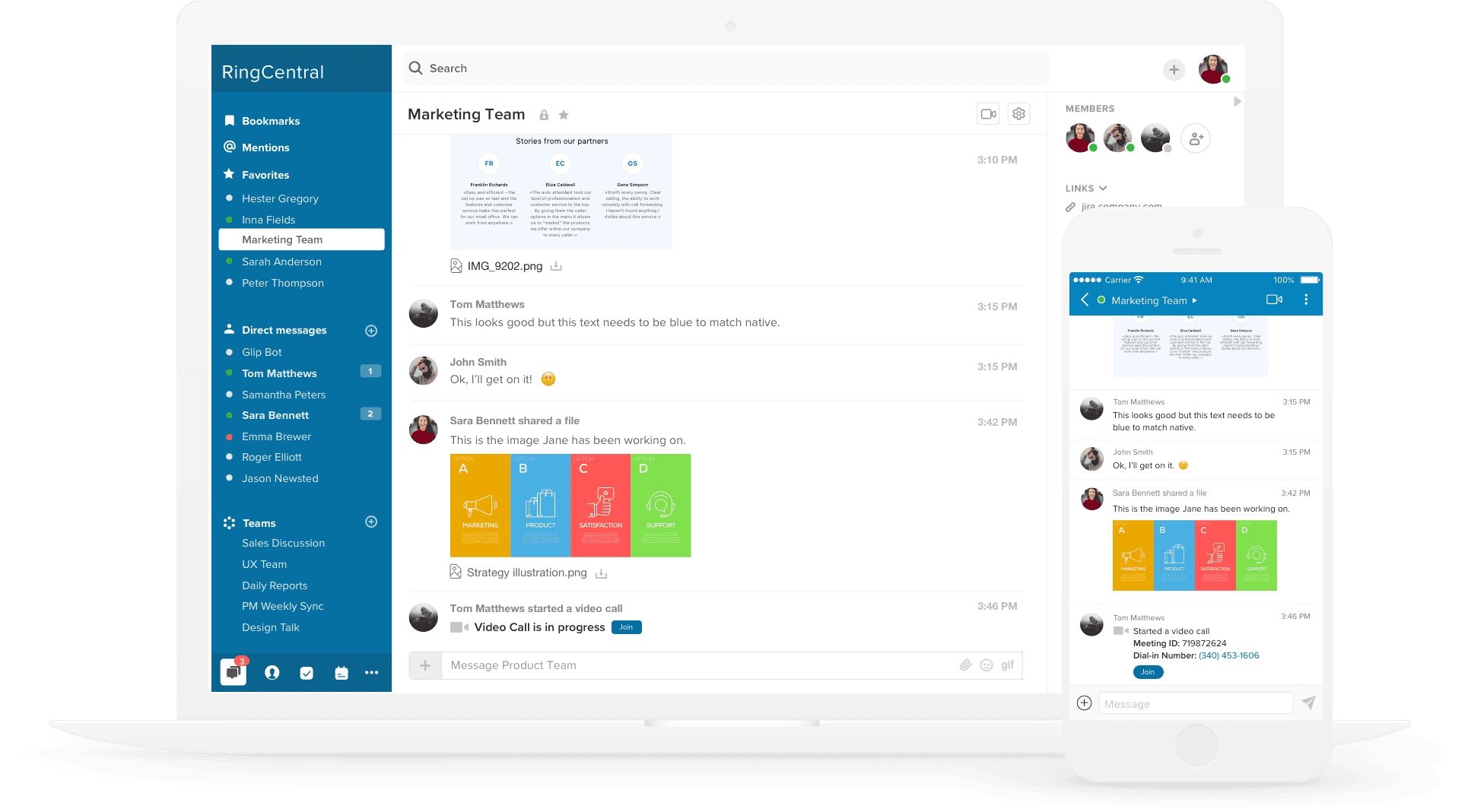 RingCentral's team collaboration tool aims to create one centralized platform for all major business communication needs, eliminating the need to switch from app to app throughout the day. It's primarily focused on making free file sharing as simple as possible within the chat interface. When you share a file in Glip, you can choose to upload it from a variety of different apps — and make comments on those files without ever having to leave Glip. We've covered Slack vs Glip before, but here's a brief rundown to what they offer in addition to offering an unlimited number of chat users:
Free chat tool allowing for unlimited users and messages
Unlimited file storage
Free video chat and screen sharing (one-to-one or multiple team members)
Integration with other team collaboration tools like Asana and Trello
The ability to upload files from Google Drive, Box, EverNote, Dropbox, OneDrive, and more into the Glip interface
An in-platform team calendar
Team collaboration features that allow you to create/manage projects, post tasks, attach files and create checklists
Best for:
Those who share a large number of files on social collaboration tools
Those who need more storage/file space than most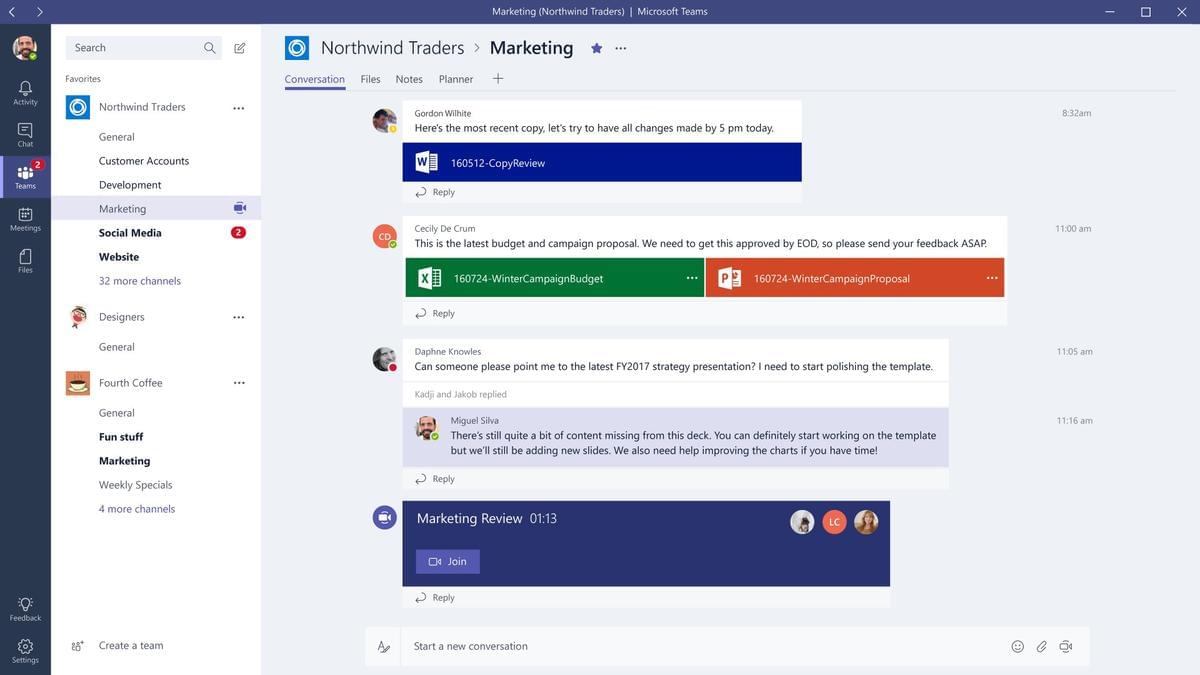 Finally, let's take a look at Microsoft Teams — easily Slack's biggest competitor. Microsoft Teams is much more geared towards "project management" than just chatting alone, which may or may not be useful to your company. If you're looking to "level up" from just a chat app, consider Microsoft Teams. In addition to offering messaging services, it is completely integrated with Microsoft Office 365. This means you can update and access PowerPoint, Word, Excel, SharePoint, and other Office 365 tools without ever needing to leave the app.
Microsoft Teams also offers:
Built-in video conferencing
Integration with the Microsoft Phone System
Recordings/transcripts of meetings
Global audio conferencing
Scheduling/shift management
Location sharing and screen sharing
Unlimited access to message history
Up to 250 people allowed per voice/video call
Best for:
Office 365 Users
Those Who Prioritize Conference Calling
Slack Alternatives Upgrade Team Collaboration
While Slack may be the right team communication tool for many companies, others need more features than what Slack currently offers. We've found that most teams use Slack in addition to one or more of the options we've covered in this guide, due to some reason such as the number of Slack integrations.
When making your final decision, understand the integrations that each of these tools allows for. You'll need to ensure that they'll work with the apps and software you've come to rely on (and that your team feels comfortable with.)
You might also consider taking a poll of your team members or having a quick meeting to learn more about the way they prefer to communicate, making your decision about which of these options to go with that much easier.
You'll find that making the right choice regarding your preferred communication tool improves company morale, increases productivity, and even boosts sales and customer satisfaction.