The steady rise in remote and blended workforces means teams of all sizes rely on instant chat messaging applications like Slack for seamless business communication and collaboration.
These tools allow team communication in real-time, share and edit files, tag each other in comments, and create group channels — regardless of their differences in location.
While about 65% of current chat app users communicate via Slack, over 90% of teams use more than one team chat tool to keep the flow of communication running smoothly.
In short?
While Slack may be one of the most well-known instant messaging platforms, it's far from your business's only option.
This list of the 10 best Slack alternatives will introduce you to chat apps that may be more effective for your business. You can opt to replace Slack altogether or use any of these tools along with it for even stronger collaboration.
Top Slack alternatives we'll cover are:
Why Consider Slack Alternatives?
Given Slack's undeniably enormous user base, it's clear that the tool isn't all bad.
Slack is intuitive, offers a free version, has a searchable conversation history, and automatically syncs messages across mobile and desktop devices.
Slack integrations let users work with popular third-party business tools within the Slack interface.
However, there are some downsides.
Common Slack problems include:
The free version limits file storage to 5GB, allows for a maximum of 10 third-party integrations, and keeps only up to 10k recent messages
Lacks native task management and project management capabilities
Clogged channels can bury important information
Constant messaging is a distraction/decreases productivity
An inefficient notification system means users must read all missed chat messages to ensure they haven't missed key information
Limited conference calling/video calling features
Lack of interface customization
As of this writing, Slack offers four plans in total. There is the Free Plan, the Pro Plan for $6.67/user per month, the Business+ Plan for $12.50/user per month, and the quote-based Enterprise Grid Plan.
Essential Features to Look for in Slack Alternatives
When evaluating Slack alternatives, make sure they have essential chat and team collaboration features — otherwise, they'll likely be even less effective than Slack.
Key features to look for include:
Both public and private channels
User mentions, user tagging, message reactions
User status (Online, Away, Do Not Disturb, etc.)
In-line direct message replies
Message flagging and pinning
Operating system compatibility
Custom notification reminders
Message editing
Shortcuts and slash commands
Integration with your preferred third-party business tools
Task automation
Sub-topics in larger channels
Calendar/scheduling tools
Automated not messaging/updates
In-app file creation, editing, and sharing
Strong native audio and video calling functionality (meeting recording, call reminders, screen sharing, etc.)
Saved and searchable chat history
Task management and project management features
Analytics and reporting
The Top 10 Slack Alternatives
The below best 10 Slack alternatives include features Slack currently lacks, offer plans (many including free versions) for any price point, and benefit a variety of small businesses, startups, and enterprise-level companies in countless industries.
Provider
Microsoft Teams
Google Chat
Cisco Webex Messaging
Flock
HighSide
Chanty
Zoom Chat
Rocket.Chat
Fleep
Troop Messenger
Pricing

Free Version (Yammer not Included)

Business Basic Plan for $5.00/user per month (Yammer Included)

Business Standard Plan for $12.50/user per month (Yammer Included)

Free standalone app (Google Chat only)

Google Workspace Business Starter Plan for $6.00/user per month
Google Workspace Business Standard plan for $12.00/user per month
Google Workspace Business Plus plan for $18.00/user per month
Quote-based Google Workspace Enterprise Plan

Included as a part of Webex Suite Basic Free Plan
Meet Plan for $15.00/user per month
Call Plan for $17.00/user per month
Webex Suite Business Plan for $25.00/user per month
Quote-based Webex Suite Enterprise Plan

Free Starter Plan
Pro Plan for $4.50/user per month
Quote-based Enterprise plan

Team Plan for $5.00/user per month

Business Plan for $12.00/user per month
Enterprise Plan for $20.00/user per month
Government Plan for $33.34/user per month

Free Version

Business Plan for $3.00/user per month

Free Basic Plan
Pro Plan for $14.99/license per month
Business Plan for $19.99/license per month
Enterprise Plan From $19.99/license per month

Free Community Plan
Pro Plan for $3.00/user per month
Quote-based Enterprise Plan

Free Basic Plan

Business Plan for $5.00/user per month
Quote-based Enterprise Plan

Enterprise Plan. for $5.00/user per month
Superior Plan for $9.00/user per month
Premium Plan for $25.00/user per month

Top Feature

Team Templates

Chat accessibility within Gmail, including forwarding Google Chat messages to Gmail accounts

Team and Space Moderators

To-Do tool with coordinating automated reminder and assignment bots
Extensive and advanced security features and certifications

Team Book interface

Personal Space

Team Inbox
Pinboard tool
Orange Members
Best For

SMBs working within the Microsoft 365 space (Word, PowerPoint, Excel, etc.)

SMBs working within Google Workspace (Docs, Slides, Sheets, etc.)

Teams prioritizing chat tools with extensive features

Remote teams prioritizing automation
 Companies of any size working within fields relating to highly sensitive data (government, military, etc.)

Short-term task-focused small teams 

Current Zoom users that often work with external users

Companies that communicate over multiple messaging apps/channels, including social media

Teams needing advanced task management and note-taking features

Teams with a large amount of external collaboration
Microsoft Teams
Microsoft Teams is easily Slack's biggest competitor — especially since Teams replaced Skype for Business.
Microsoft Teams is not a standalone chat app like Slack. Rather, it's a team collaboration/communication app offering instant chat messaging, voice calling, video calling, and more.
Here's what MS Teams' chat dashboard looks like: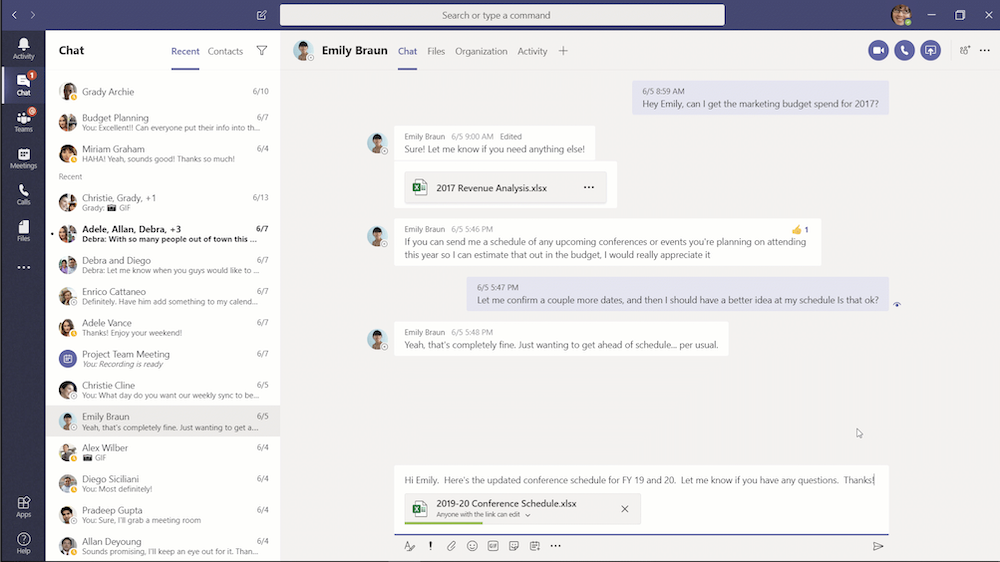 The Instant Messaging feature, pictured above, is available on all plans, including the free version.
Though Teams offers over 250 integrations, its robust native features, especially regarding project management, mean you may not need them.
Think of Teams as a collaborative workspace tool as opposed to a basic chat app.
One of the latest Team Messaging updates is the ability for users to reply to specific chat messages, creating better-organized threads and preventing clutter in high-volume channels.
Message Delivery Options allow users to flag key messages as Important (where messages are marked as "IMPORTANT" in the chat) or Urgent (where recipients are notified every 2 minutes for 20 minutes.)
Users can also share pre-recorded video meetings directly in Teams Messaging through the Stream library of recorded meetings.
For even better channel organization, try Team Templates, which include pre-made channels with relevant apps already included (See image below.)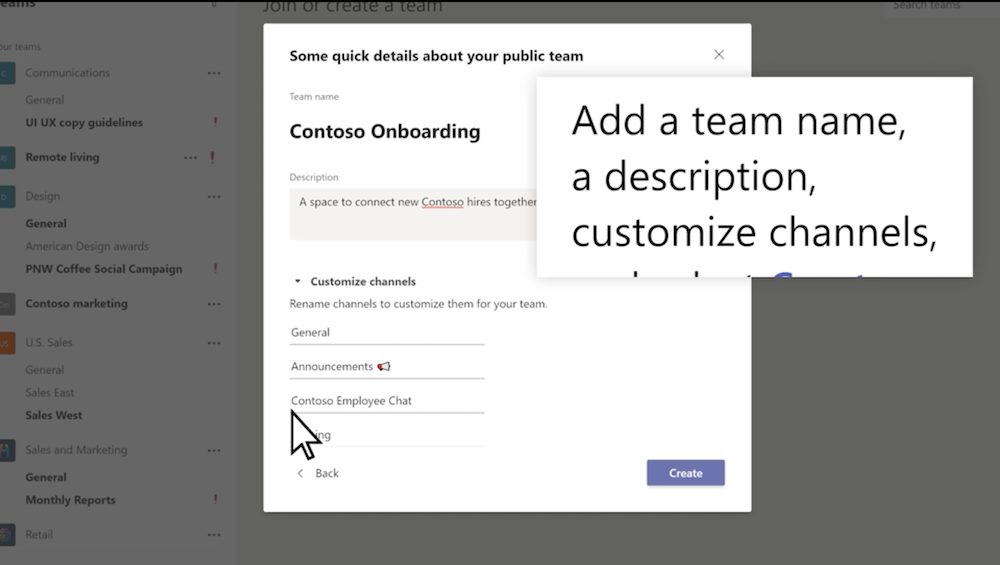 Popular Team Templates include employee onboarding, incident response, help desk resources, patient care, and more.
Microsoft Teams chat features we like:
One-on-one and group chats, user tagging/mentions
Advanced chat formatting options like font/font size/font color choice, highlighted text, lists, code snippets, tables, etc.
Multi-lingual message translation
Up to 1 TB/user of in-chat file attachments from One Drive, SharePoint, user desktop
Channel files tab (library) of all previously uploaded files (stores up to 1 TB/organization)
Real-time file collaboration in Microsoft Office apps like PowerPoint, Word, and Excel
Hide and retrieve chat messages
Delete entire chats or individual messages
Emoji, GIF, stickers, badges, and custom caption reactions
In-message video meeting invitations with all channels members automatically added to invite list
Record meeting or access all recorded meetings
In-message link sharing
300-person group chat/channel capacity
Unlimited chat messages and message searches
Real-time collaboration in Microsoft 365 apps
Searchable chats by user name, keyword, or filter (saved message, replies, unread messages, etc.)
Microsoft Task app for project management, to-do lists, task assignment, and more
"Approval" messaging where users can get in-chat approval from admins/managers on certain tasks
For more details, check out our Slack vs. Microsoft Teams comparison.
Operating System Support/Functionality
Apple iOS and Android mobile apps
Google Chrome, Microsoft Edge, Safari 14+
Linux, Mac, and Windows
Microsoft Teams is Best For:
SMBs that need advanced task management and collaboration tools within their remote workforce
Businesses already operating within the Microsoft 365 workspace
Teams needing a comprehensive free chat tool
Businesses with a high daily chat volume
Microsoft Teams Plans and Pricing
Teams offers one free plan and paid plans ranging in price from $5.00-$12.50/user per month
Google Chat
Google Chat (the latest iteration of Google Hangouts) can be used as a standalone chat application or as a part of the Google Workspace (formerly G Suite) family. Most users access Google Chat via their personal or business Gmail accounts.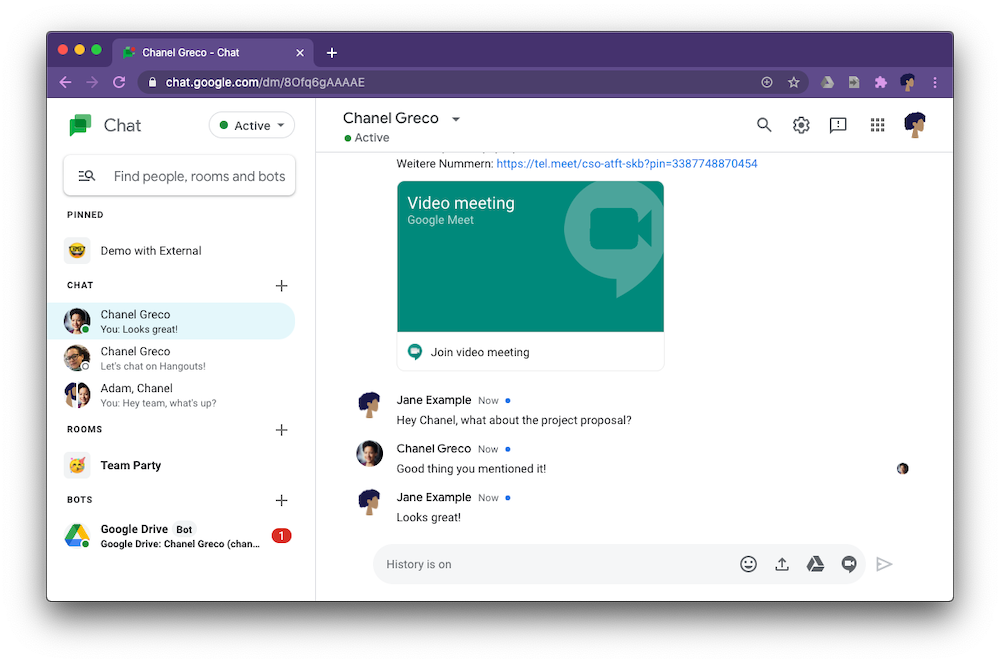 Users can communicate via one-on-one messaging or in message channels, called Spaces. Spaces can be made for internal or external participants and can be created out of existing group chats or from scratch. In Spaces, users can share files, start an audio call/video meeting, search chat messages, give feedback, and more. These virtual rooms can have up to 8,000 members, translate 28 languages, and allow for task creation/assignment.
One of the most interesting features is that users can directly forward individual messages to their Gmail accounts, making it easier to keep track of key information. Users can also access Google Chat directly from their Gmail accounts, as seen in the image below.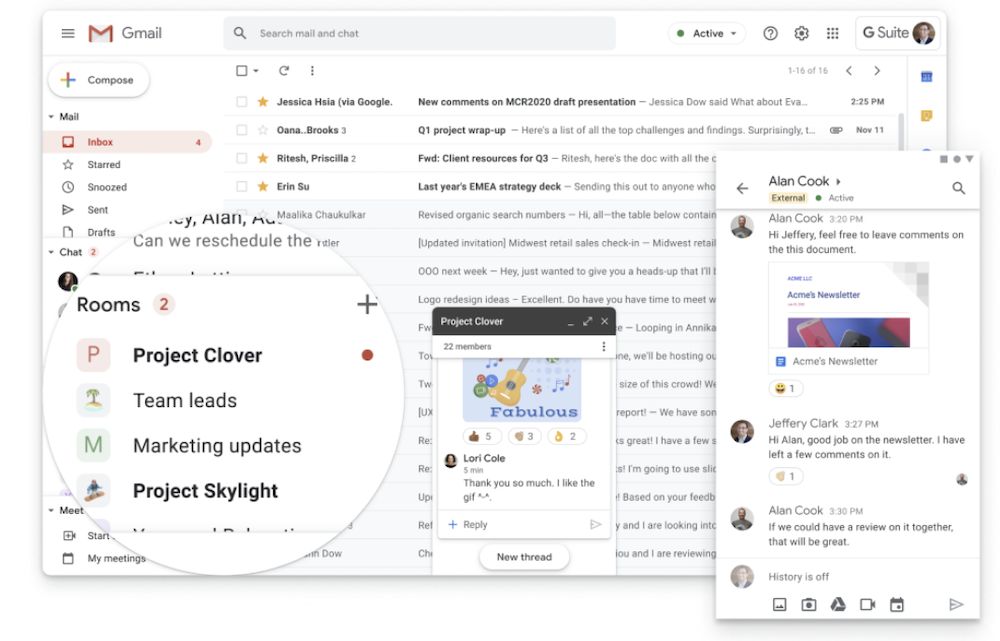 Users can also access and update their Google Calendar directly in the chat sidebar, share their calendar/individual events with other chat participants, and invite guests to calendar events.
In October of 2021, Google Chat updated its features to allow users to mark channel and direct messages as unread.
Google Chat features we like:
Turn message history on/off
Share files from Google Docs, Google Drive, Google Slides, Google Sheets, or user desktop with automatic file synching
React to messages with emojis, share GIFS
Threaded message replies
Custom and standard message notifications
Typing indicators and read receipts
Dark mode
Designated Team Leaders
Group task assignment
Mobile data and WiFi messaging
User tagging
Automation bots via JIRA and Salesforce integrations for scheduling meetings, tracking to-do lists, and more
Block or deactivate spaces
Operating System Support/Functionality
Apple iOS/Android mobile apps
Google Chrome, Firefox, Safari, Microsoft Edge
Linux, Mac, and Windows
Google Chat is best for:
Companies that primarily use Google Workspace tools like Sheets, Slides, Forms, and Docs
Team members that rely heavily on Gmail/email and want to chat with coworkers in their email interface
Businesses that want to use multiple team chat tools
Startups/solopreneurs that need more basic chat features with a clean interface
Google Chat Pricing and Plans:
Google Workspace, which includes Google Chat, offers one free plan and 4 paid plans ranging in price from $6.00-$18.00/user per month.
Webex Messaging
Cisco Webex Messaging is the UCaaS software Webex's instant messaging tool, meaning in addition to chat, users can communicate via other channels like video and audio calling.
Note that while Cisco Jabber is still available, it requires users to have a paid Webex account and, based on our attempts to download/access it, it's a safe bet that Webex is actively phasing out Jabber.
Instead, the focus is on Webex Messaging, as seen below.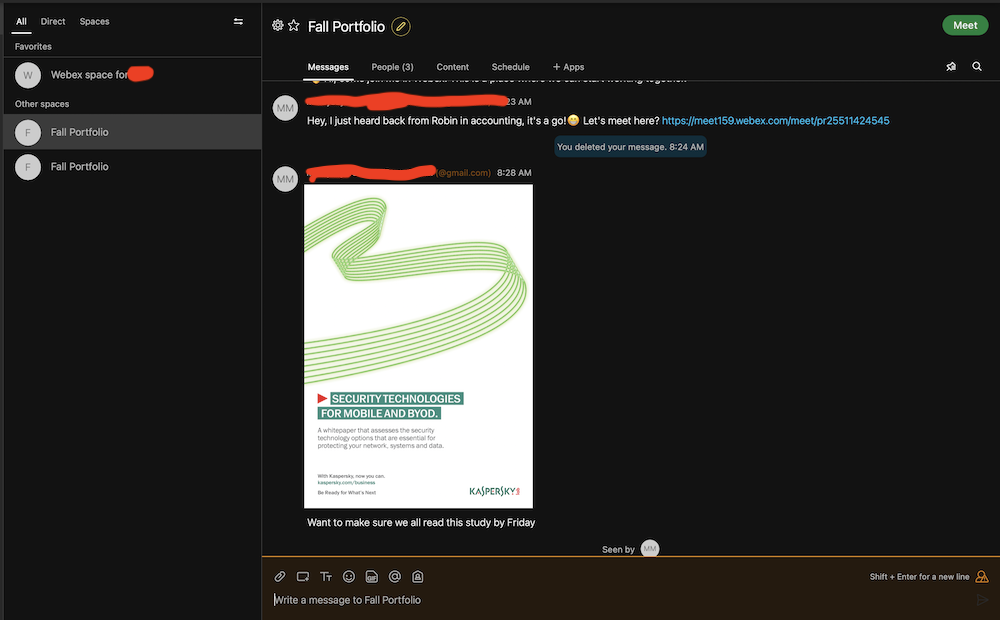 Here, users create Spaces and/or Teams for internal and external messaging. Teams are larger, more general message groups and Spaces are smaller, more specific messaging groups. For example, a "Team" might be your Sales Department, whereas a space within it could be a group of salespeople all working on the same presentation.
When a user accesses their Spaces, they'll first see new spaces they've been added to, unread/new messages, and any mentions. Users can also filter Spaces to see only unread messages or filter by the options seen in the below image.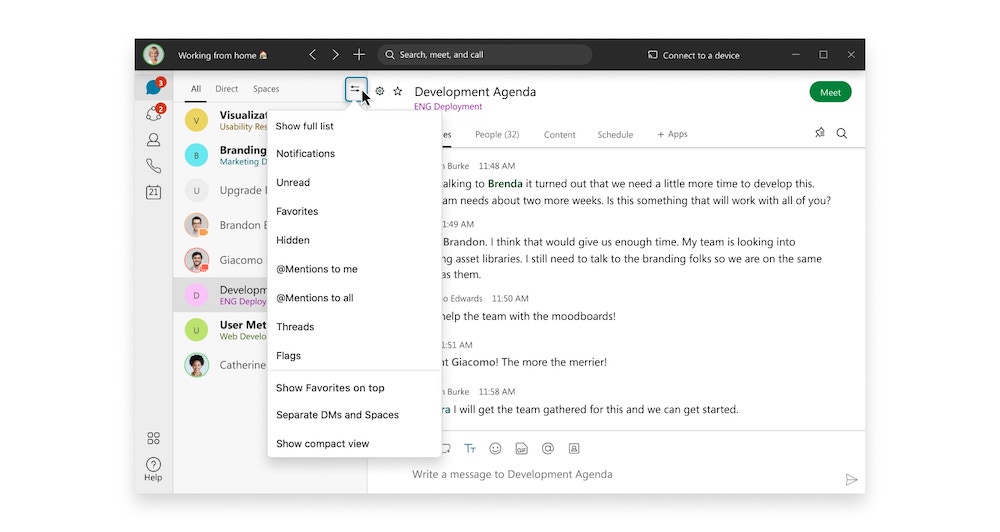 Another helpful feature is the Quote response, where a user can directly quote a previous message to prevent users from having to scroll up to find up what the new message is responding to.
Perhaps best of all, users can designate Moderators for Spaces and Teams.
Moderators control who gets added to the Space/Team. They can also delete messages, block specific messages from specific users in a SpaceTeam, archive the Team/Space, disable mentions, and even turn on Announcement Mode (where only the Moderator can post.)
Webex features include:
Over 100 third-party integrations
Co-edit documents in real-time via OneDrive and SharePoint
Individual user tagging, channel tagging
Automatic meeting recording storage/transcription
GIF and Emoji reactions
Message flagging and pinning for key messages
Favorite contacts/Spaces
Message drafts
Mark messages as read or unread
Message threading
Message forwarding
Compact view
In-app calendar and scheduling
More information on Webex can be found in our Cisco Webex review.
Operating System Support/Functionality:
iOS and Android mobile devices
Mac, Linux, Windows
Chrome, Internet Explorer 10+, Firefox, Safari 7+
Webex Messaging is best for:
Teams that prioritize ease-of-use
Businesses that need more control over who can post what in chats/could benefit from a moderator
Teams of any size wanting an instant messaging tool with a large set of unique features
Webex Pricing and Plans:
Webex Messaging offers one free plan and 4 paid plans ranging in price from $15.00-$25.00/user per month.
Flock
Flock is a shared collaboration space and chat messaging app also offering video/audio calling and advanced productivity tools.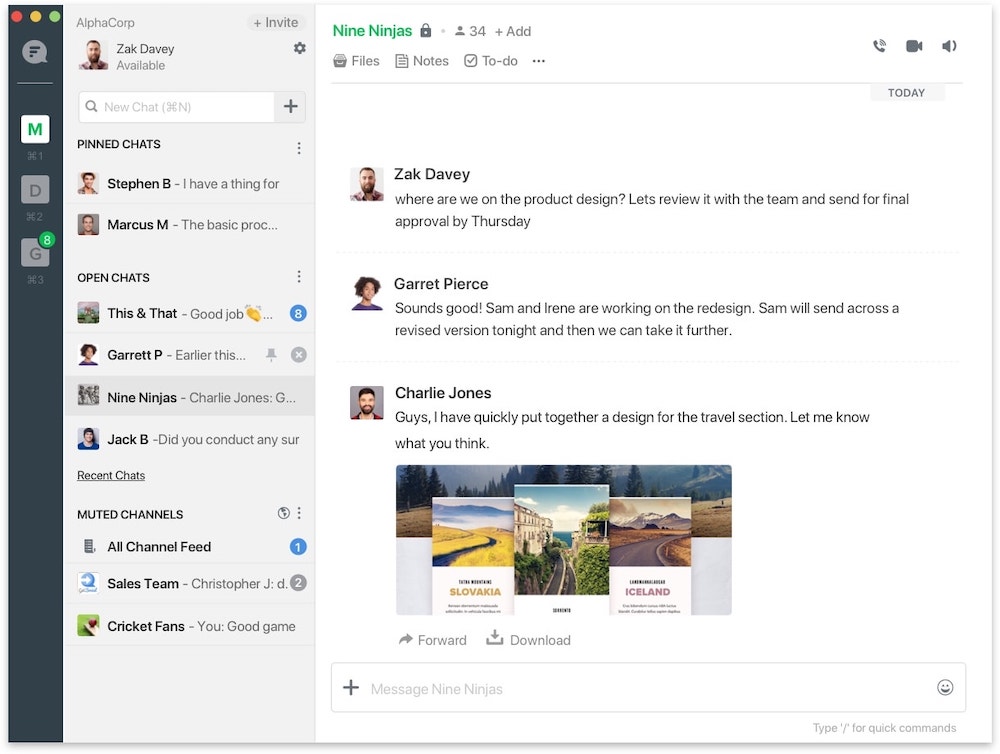 Flock is mainly focused on providing an exceptional array of collaboration features most chat apps don't offer. In addition to standard chat messaging, users can also create individual and team-wide "To-Dos," seen below.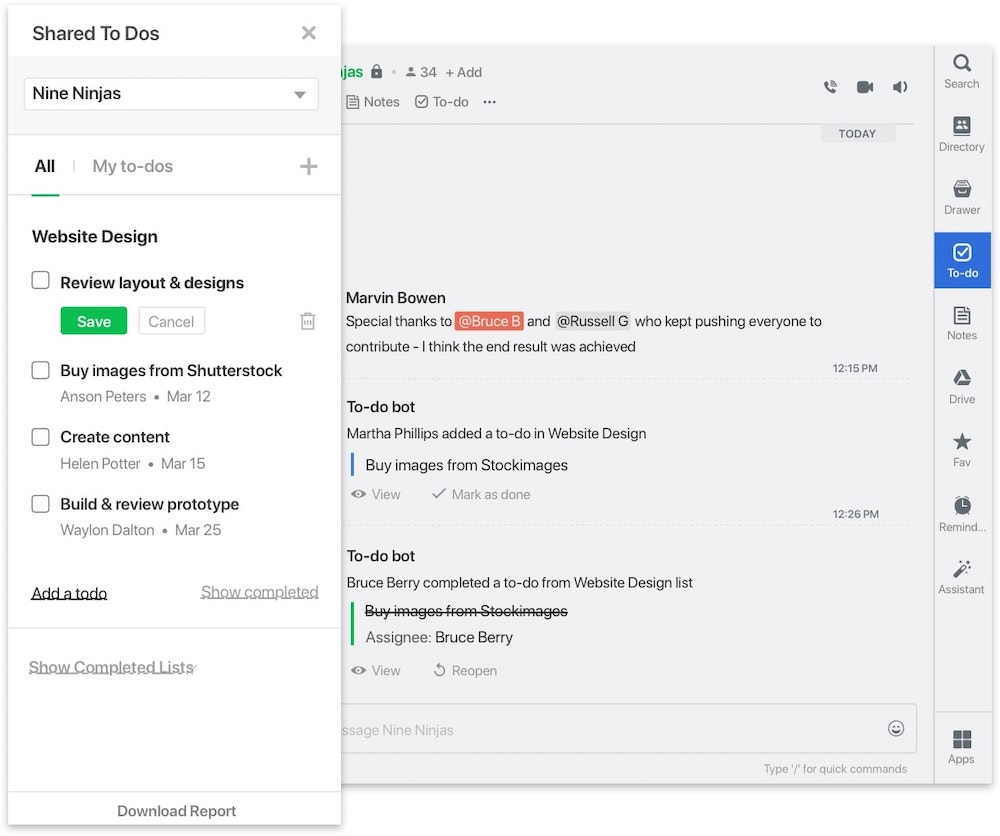 Users can turn messages into To-Do list tasks, check off completed tasks, and assign other tasks to others. When a user is assigned a task, the To-Do automated bot instantly sends them a notification letting them know. Users can set due dates for To-Dos, get reminders at set intervals, and re-assign tasks to others if needed.
One of Flock's most unique features is that it allows users to send/receive Voice Notes as well as typed chat messages. Voice Notes help users to better communicate their tone and save time by allowing users to record longer messages instead of having to type them out. It's also great for users on the go who can't safely type. See the Voice Notes interface below.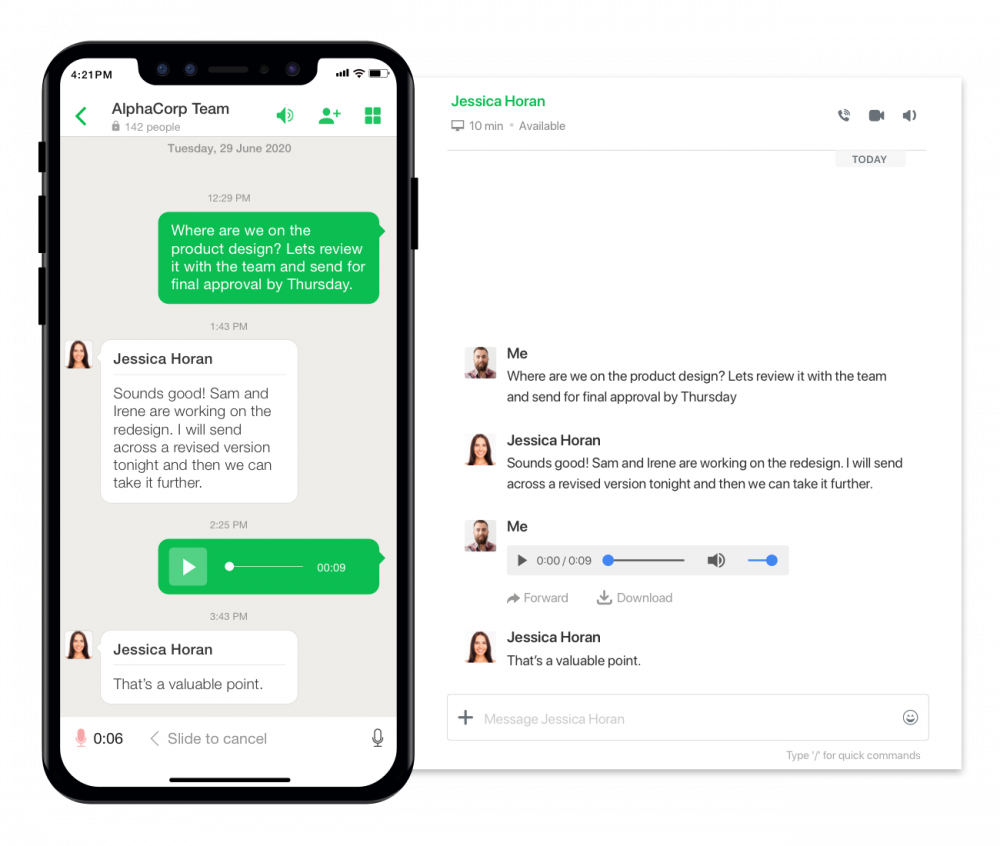 Users can also set general reminders for themselves or others via the Reminder Bot, which sends a one-time or repeating reminder message every 15 minutes, 30 minutes, 1 hour, or custom time.
Flock also has in-messaging polls that allow for custom questions, let team members vote for multiple options, and create poll result reports.
Flock features we like:
Unlimited public/private messaging and channels with unlimited message search
All Channel feed displays all new messages in a single interface, even if from multiple channels
File Sharing via the Attachment Picker from user desktop, OneDrive, Dropbox, Google Drive
File sharing size of 100 MB/file, 5 GB shared file hub storage
Read-only or co-edit file access
Channel muting and Channel Admins
Smart Channels for pre-defined criteria to automatically add members to certain channels
Auto-Join Channels and Announcement-Only Channels
In-app sharable notes
Unlimited integrations
Process automation for custom workflows, onboarding, reimbursement claims, etc.
Code snippet sharing
Dark mode
Chat pinning
Chat search
One-way announcement channels
Company directory
Bookmark messages
Operating System Support/Functionality
iOS/Android mobile devices
Windows and Mac OS
Firefox, Google Chrome, Safari 10+
Flock is best for:
Teams that need extensive collaboration features
Geographically diverse remote teams that need to re-create the in-person office environment virtually in a chat tool
Teams that want lots of automation options regarding notifications, onboarding/training, reminders, task assignments, etc.
Flock Pricing and Plans:
Flock offers one free plan and 2 paid plans starting from $4.50/user per month.
HighSide
HighSide is a team collaboration, voice/video calling, and chat application designed for remote teams needing a platform to discuss topics and share files about highly sensitive subjects.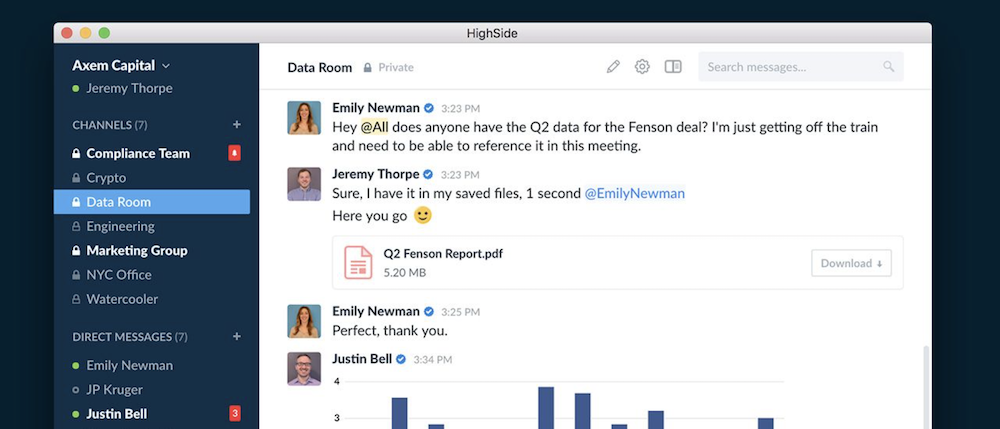 It was created as an alternative to less secure remote communication tools like Zoom during the COVID-19 pandemic. During the height of COVID, industries with tight security and compliance standards were wary of using software to talk about topics they previously discussed only in person or in secure facilities.
HighSide users prioritize security above all else and mostly work within the government, scientific and military services, or the financial sector.
HighSide offers advanced features related to security and privacy concerns like access control, secure sharing, identity authentication, data protection, and cybersecurity as a whole.
It's especially celebrated for its file-sharing features like version control, read-only access, syncing and co-editing, and encrypted file sharing. HighSide's Data Access Management tool (seen below) lets admins set rules according to data type, user location, and authorized devices. Files can be drag-and-dropped in the SecureDrive, locked, and even locally synched offline.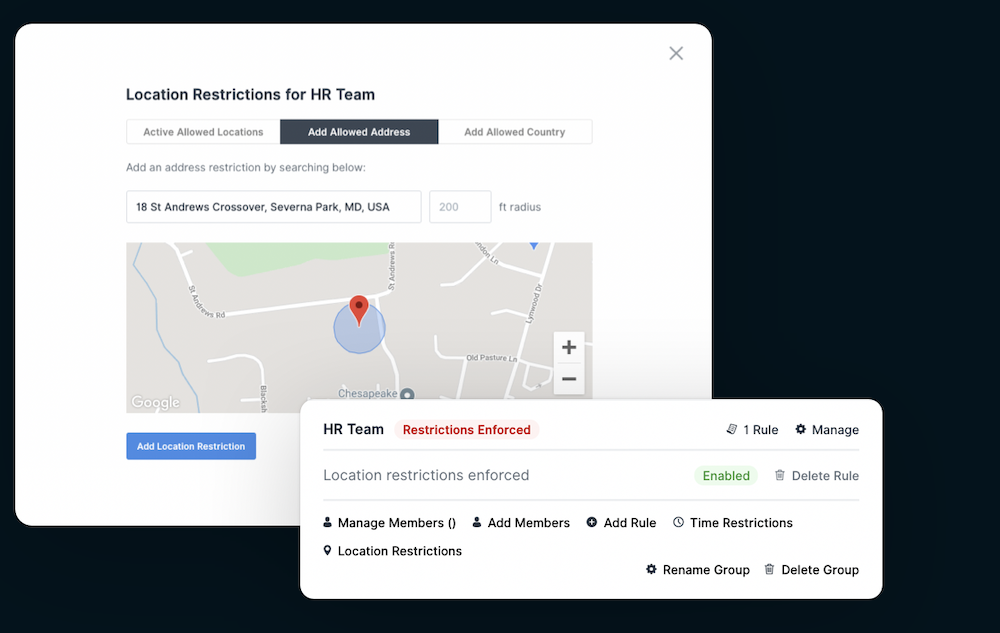 Highside features we like:
Public and private chat channels
In-chat voice/video calling
GIFs, Emojis, and reactions
In-line message replies/deletion
Real-time, cross-channel conversation history search filtered by date, sender, favorite messages, channel, etc.
Assign channel member roles (Admin, Team Member, Guest User, etc.)
Event Logging and Zero Trust Model
HighSide extension for Microsoft Teams available
Location and time-based end-to-end encryption
Data auto-wipe for stronger infosec if a device is lost
Ability to automatically create data rules based on existing security policies when integrated with identity management tools
HIPPA, SEC, FCA, DoD, ITAR, and CMMC compliance
Unlimited storage and support for all file formats
Custom data retention policies
Third-party/guest access with strict access control and custom rules
Operating System Support/Functionality
Mac OS, Windows, Linux/Ubuntu
iOS and Android mobile devices
Note HighSide is available only as an app, not via web browser
HighSide is best for:
Teams that work in confidential/secure sectors and have strict compliance regulations
Teams that collaborate on files daily
Businesses that need control over file access, user permissions, sharing capabilities, editing permissions, and more
Highside Pricing and Plans
HighSide offers 4 paid plans ranging in price from $5.00-$33.34/user per month.
Chanty is a user-friendly Slack alternative designed around its unique Teambook interface.
The Teambook dashboard doesn't simply show lists of channels and users when team members log on. Instead, each individual can review their current tasks, one-on-one, private, and public conversation updates, recent calls, pinned messages, shared files, and more. The Teambook interface is illustrated in the image below.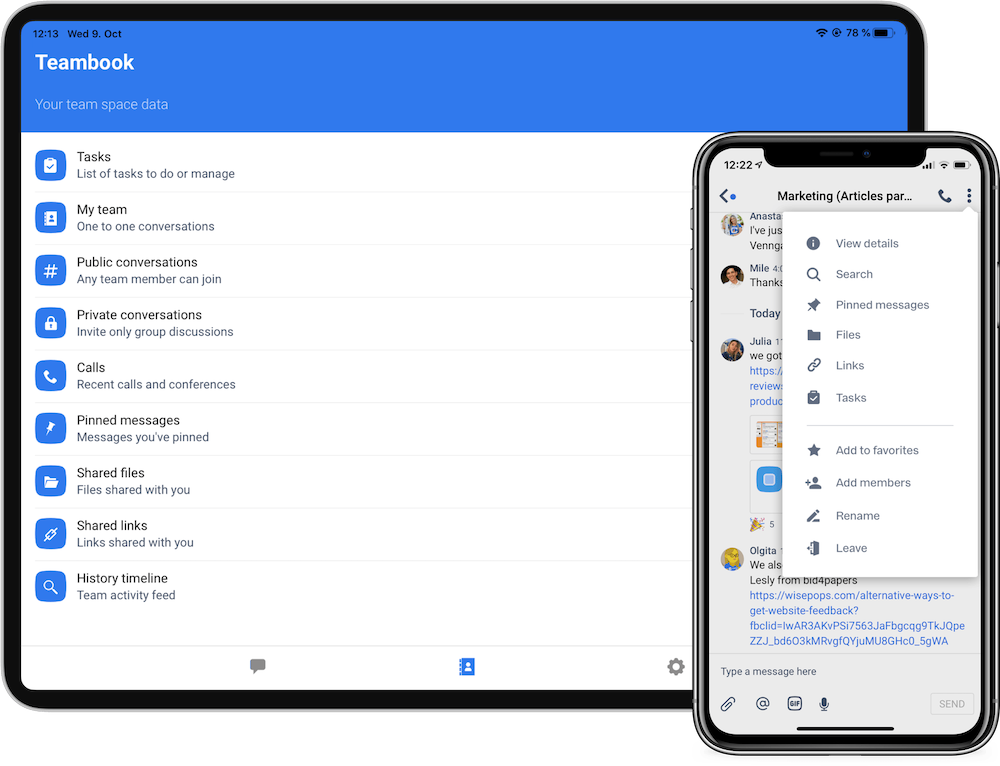 This makes for a much less cluttered messaging solution and prevents team members from having to search Conversations (channels) to find the information they need.
One of Chanty's standout features is its in-Conversation task management tool, seen in the image below.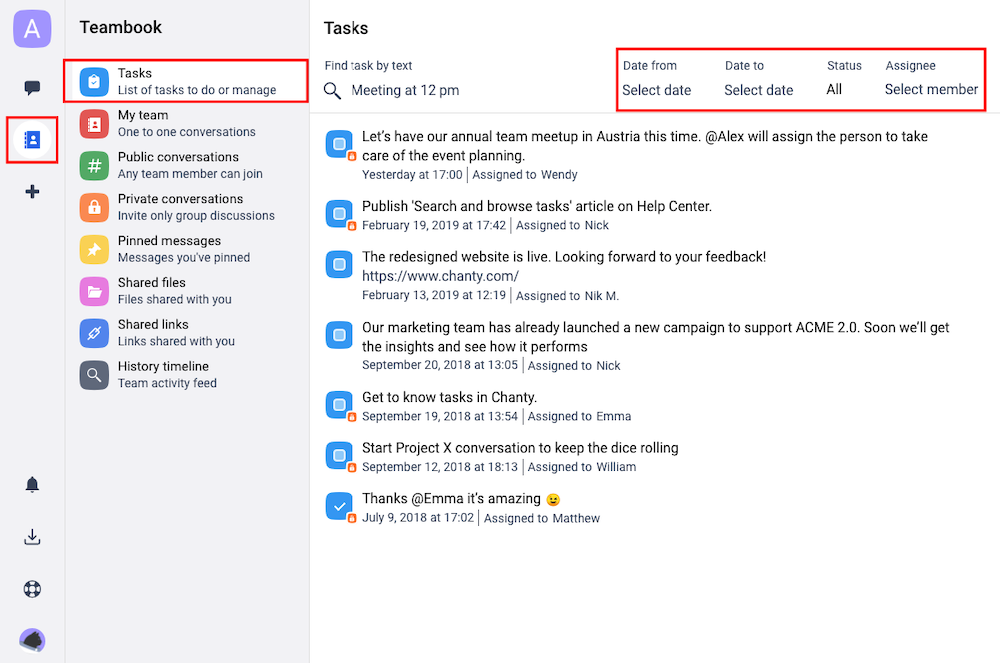 Users can create public or private tasks from scratch or turn a message into a task. From there, users can assign/reassign tasks, write detailed task descriptions, create task-related message threads, and even filter tasks by date, status, and assignee.
Another feature that sets Chanty apart from its competitors is its Kanban board view. Users can create boards for individual topics or tasks, can prioritize tasks, and organize them into "To-Do" or "Done" columns, tag other users, add images and links, and rearrange board order. The Kanban view is shown in the below image.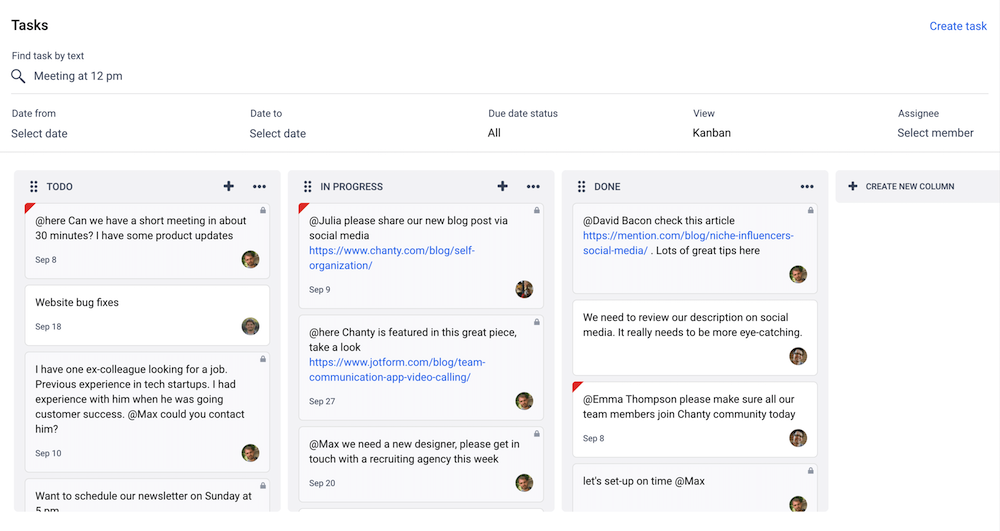 Chanty features we like:
Code snippet sharing
Add external guests to team spaces
Record and share voice notes
Assign team roles and permissions (Admin, Owner, Participant, access to entire Team Space or just select Conversations, etc.)
User and team mentions with real-time custom push notifications
Messaging forwarding
File and link sharing, file repository
GIFs and Emoji reactions
Message pinning, pinned message channel
Archive important past conversations
Video conferencing and voice calling
Team activity feed
Integration with Asana, Mailchimp, Trello, Basecamp, Google Drive, and more
Operating System Support/Functionality
iOS and Android mobile app
Windows, Mac, Linux (Fedora/Debian)
Google Chrome, Safari, Edge, Firefox
Chanty is best for:
Small teams of 1-5 focused on daily small tasks as opposed to long-term projects
Teams that want access to Kanban views
Businesses using numerous third-party integrations within their team chat app
Chanty Pricing and Plans
Chanty offers one free plan and one paid plan for $3.00/user per month.
Zoom Chat
Video conferencing giant Zoom now offers Zoom Chat, (sometimes referred to as Zoom Business IM) a persistent chat tool for use both during and outside of video calls.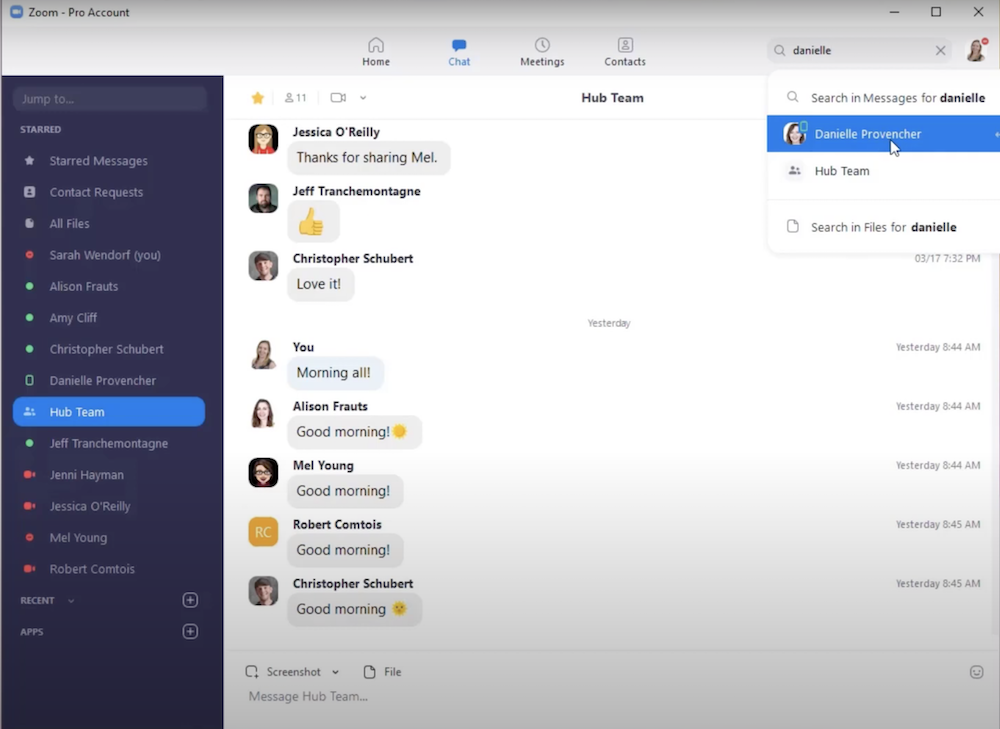 Users can instantly start a video/audio call within Zoom chat or schedule/manage upcoming meetings in the chat interface.
One of the top features is the user Personal Space, which serves as a kind of private whiteboard. Here, each user can upload screenshots, files from their desktop or from tools like Google Drive, Dropbox, Box, or OneDrive, record voice notes for themselves or to share with others, type out personal notes, and more. To better organize personal notes in their private Space, users can reply directly to images/messages, save and share them, star them, or choose the "open file" option to instantly access files.
A screenshot of the Personal Space tool is shown below.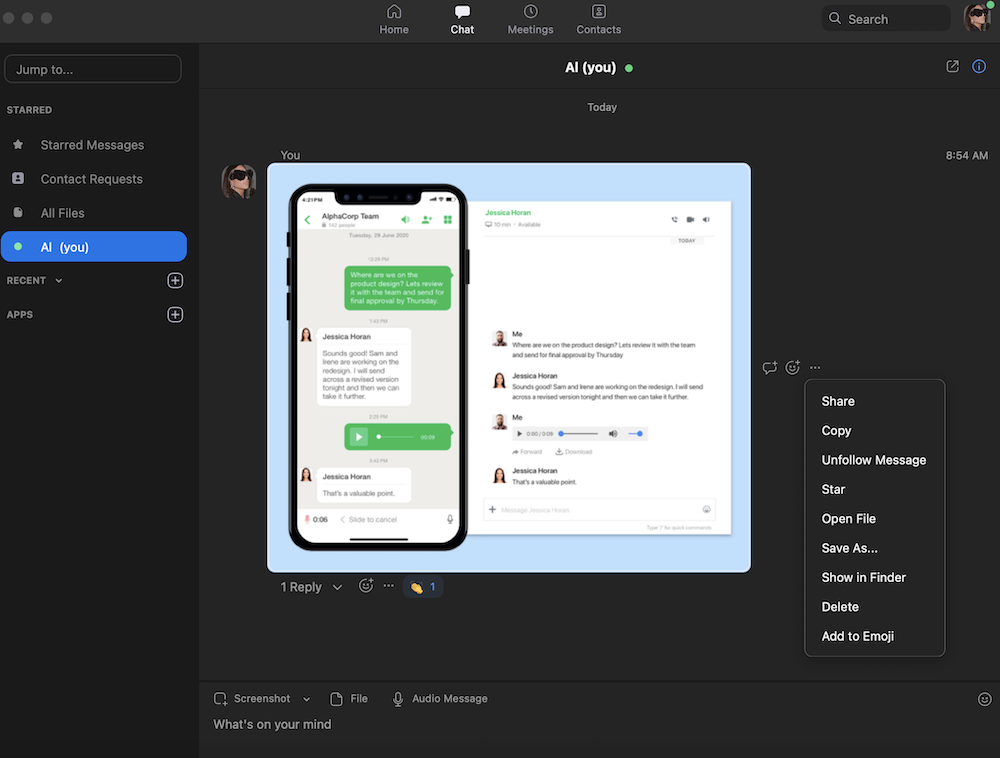 Another key feature is the chat search tool, which is more advanced than what many other providers offer. In addition to typing in keywords, users can also search via filters like sender, specific channel, starred messages only, most relevant, and most recent.
Zoom Chat features we like:
User mentions/tagging
User presence status (Available, Away, Do Not Disturb with set DND status intervals from 20 minutes-24 hours)
Drag-and-drop file sharing
Synced/searchable Content (file) Library
Third-party app integration
Share saved whiteboards or meeting recordings in-chat
Message threading
Save/star/pin messages
Emoji reactions
10-year chat history
Quote messaging
Edit sent messages
Custom notifications
Share code snippets
Voice Notes
View Contact Requests
Add contacts from existing Zoom workplace or external Zoom users
Automatic message/thread following
Unfollow/delete messages
Public/private channels with one-on-one and group messaging
Operating System Support/Functionality
Apple iOS and Android mobile applications
macOS, Linux, Windows
Google Chrome, Firefox, Microsoft Edge, Internet Explorer, Safari
Zoom Chat is best for:
Current Zoom Phone and Video users
Users that want a central in-chat hub for work-related notes and files
Users that frequently collaborate with others outside their organization
Zoom Chat Pricing and Plans
Zoom offers one free plan and four paid plans from $14.99-$19.99/user per month.
Rocket.Chat
Rocket.Chat is an open-source centralized chat and collaboration app providing a central communication hub for employees, customers, vendors, and business partners.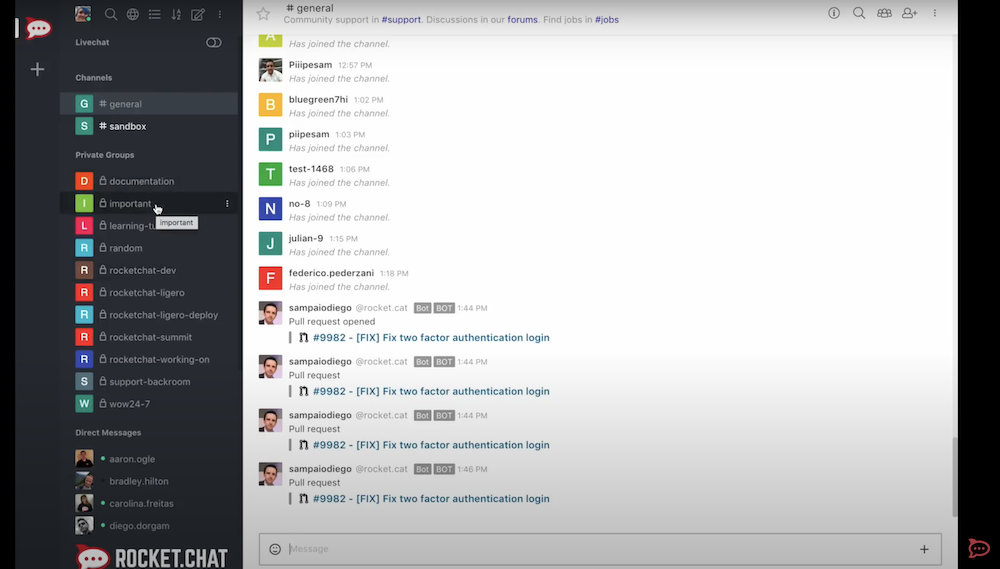 It is unique in that it streamlines multiple third-party chat messaging tools within the Rocket.Chat interface. So, instead of constantly switching between messaging apps, users can access instantly view and respond to chats from tools like WhatsApp, Facebook, Instagram, Twitter, SMS texting, email accounts, Telegram, and more.
Recently, the platform has re-affirmed its commitment to data privacy and now offers end-to-end encryption, HIPAA/GDPR/CCPA/LGPD compliance, and automatic data triaging. Burnout messages let users communicate in a private chat channel that does not store message history and self-destructs after a set period of time.
Rocket.Chat also offers an excellent customer service chat messaging solution, letting users respond to external customer messages within the omnichannel Team Inbox (seen below.)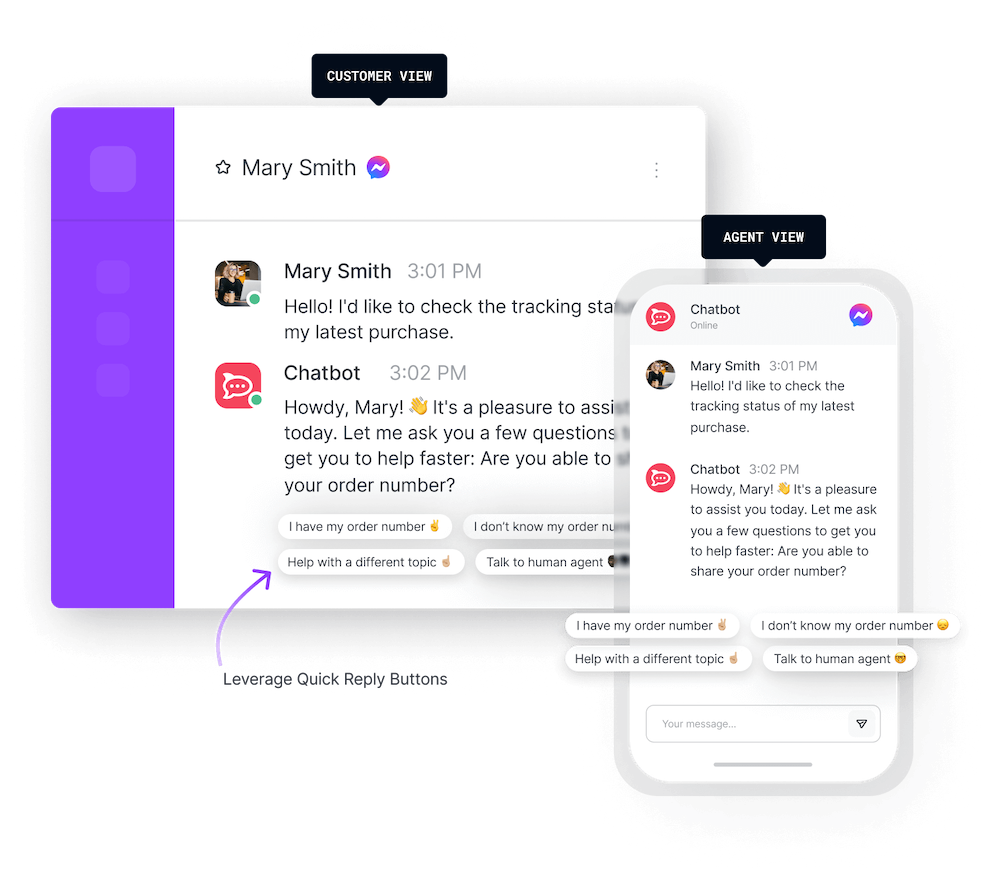 Support agents or bots can quickly send automated canned responses, pull information from integrated CRM systems, provide a queue waiting time, and automatically create support tickets in the chat app.
Rocket.Chat features we like:
Unlimited integrations
Free audio/video calling in chat
Emojis
File sharing
Broadcast channels
Searchable chat history
User mentions
Push notifications
Recall (unsend) messaging
Message delivery time/read receipts
Message threading
SMS messaging and CRM integrations
Automated chat routing
Priority assignment
Chat tags
Online ticket creation
Operating System Support/Functionality
Apple and Android mobile app
MacOS, Linux, Windows
Google Chrome, Internet Explorer, Microsoft Edge, Safari, Firefox
Rocket.Chat is best for:
Teams that need a central location for multiple messaging tools, especially social media messaging
Businesses/developers that want a highly customizable, open-source chat solution
Customer support teams that often need to collaborate internally/externally simultaneously on a chat app
Rocket.Chat Pricing and Plans
Rocket.Chat offers one free plan and two paid plans starting from $3.00/user per month.
Fleep
Fleep is a chat application offering stronger in-chat collaboration features than many competitors. It also offers audio and video calling accessible directly from the chat tool.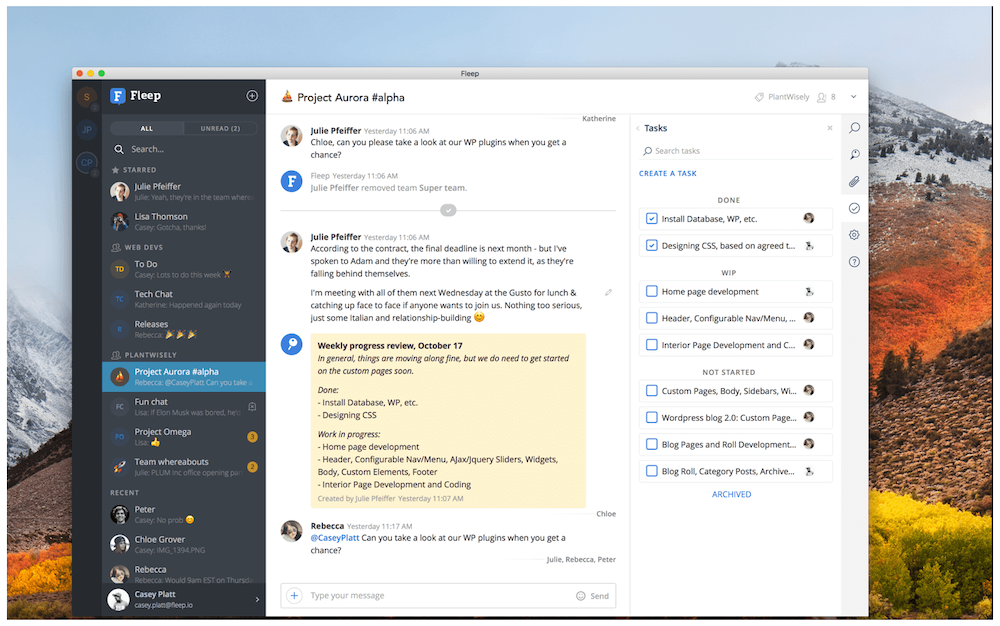 It does this primarily via its Pinboard tool, which is a virtual sidebar notepad containing key pinned messages, links, notes, contact information, and more for easy, instant access to the most important news of the day. Users can delete, copy, edit, quote, and find the original message directly in pinboards, an example of which is seen below.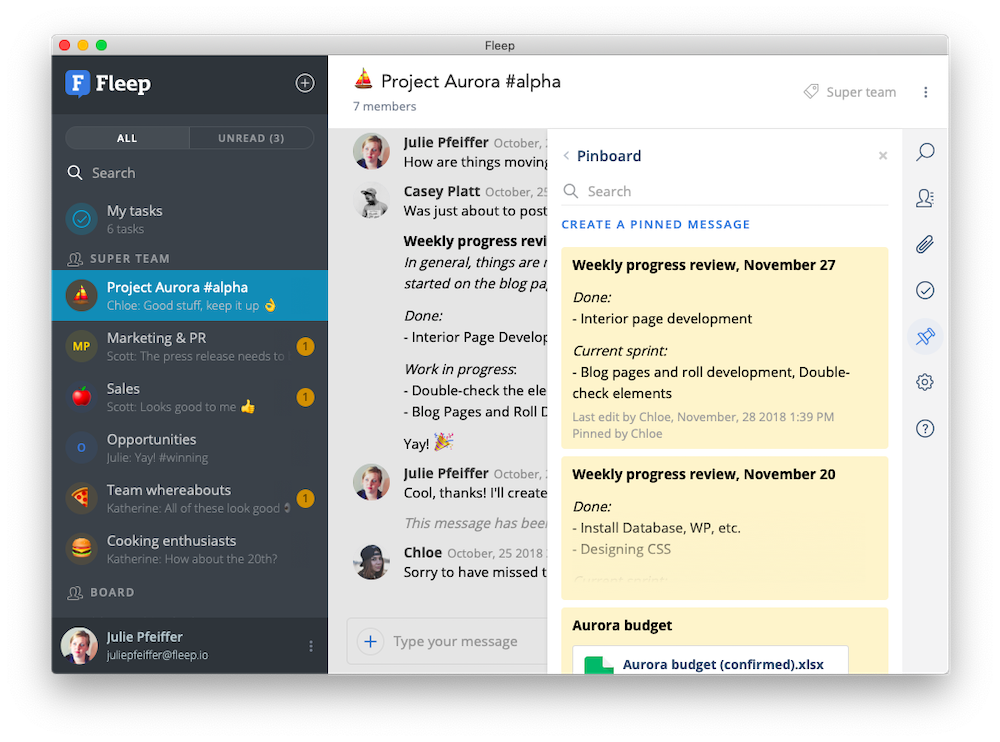 Fleep lets users "work across company borders" by letting users search for clients/other users on Fleep and automatically add them to the current workspace. Users can also invite external users to chat and join Fleep. This means no more switching between multiple accounts/workspaces to connect with others.
Users can also create and manage tasks in the messaging interface, assign them, update task status, search tasks, and share relevant files.
Additionally, Fleep lets users sort conversations according to people, not only according to channels/topics. (Traditional "Team" channels are available with Fleep.) On Fleep, the user will view their entire conversation history with a specific person, like Jim from accounting or Susan at the non-profit your company supports. The entire chat history with an individual is in one channel only, not spread across multiple ones like in Slack.
Fleep features we like:
"File Drawer" that stores every file you've ever uploaded/shared within a complete conversation history
Read receipts and writing indicators
User presence and status updates, including when the user was last online
Unlimited one-on-one and group conversations
Access control and user permissions, including implementing a company-wide file retention policy
100 GB file storage
Integrations with Zapier, Slack, Trello, Google Drive, JIRA, and more, as well as public Fleep API
Operating System Support/Functionality
Apple iOS and Android mobile apps
Windows, macOS
Not web browser compatible, the application only
Fleep is best for:
Teams that require frequent communication
Teams that prioritize task management
Teams that need to organize conversation histories by the user, not just by channel
Fleep Pricing and Plans
Fleep offers one free plan and two paid plans from $5.00/user per month.
Troop Messenger
Troop Messenger is a comprehensive messaging app with instant messaging, audio calling/voice messaging, video calling, and the ability to share files.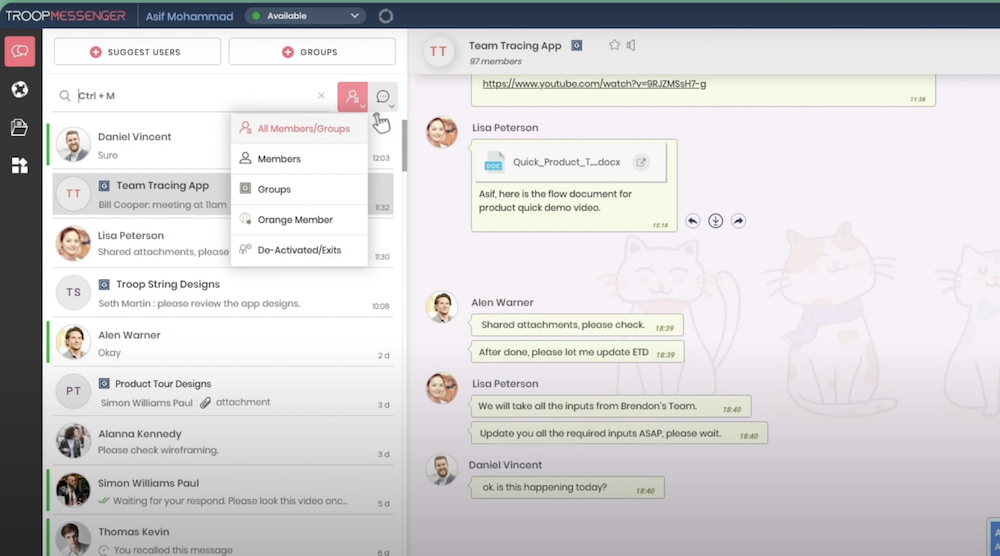 Top chat features include a recall (unsend) tool, instant single or full-conversation message copying, and real-time delivery and read receipts and updates. Users can also forward messages and attachments to other users in current or other channels and create unlimited groups.
The Burnout feature is especially popular, as it automatically creates and deletes private chats within a set time period, allowing for superior security and privacy. The dashboard interface lets users instantly transition from messaging to a video call with screen sharing and remote screen control, or audio conference/one-on-one calls.
Another neat feature is the Forkout tool, which lets users blast messages to multiple team members or channels at once. (Shown below.)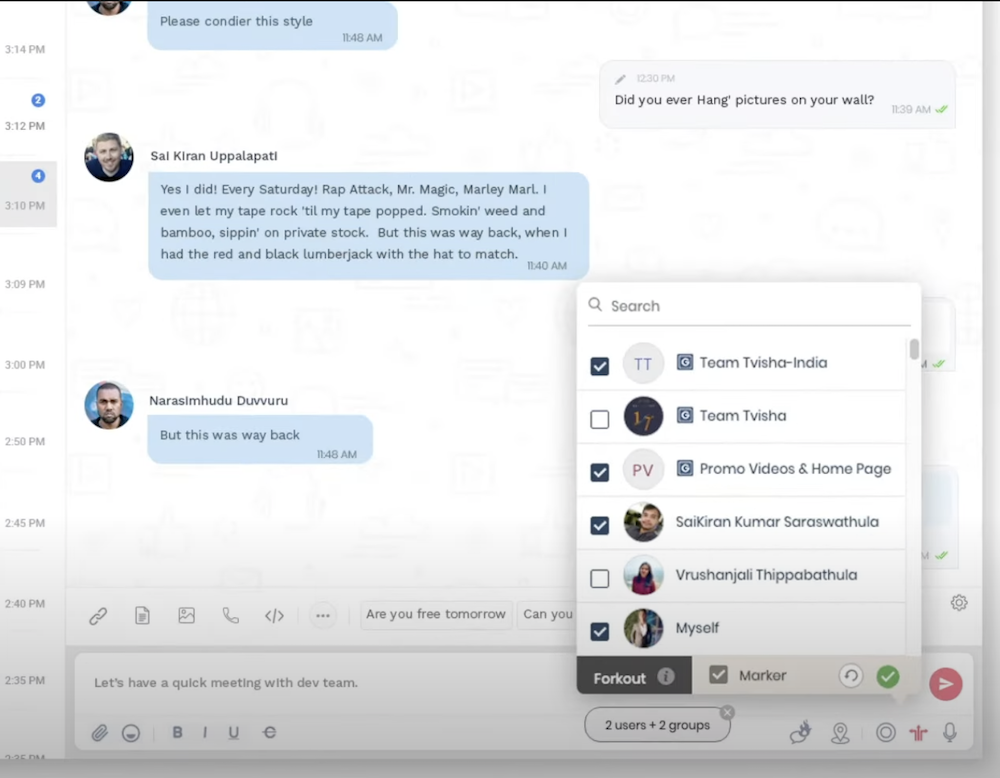 Admins can also designate "Orange Members," which are external vendors, clients, and contractors that are invited to collaborate in an internal team workspace.
Troop features we like:
Set "Respond Later" messages and receive reminders
Message broadcasting
Live location tracking
Messaging editing
Designate favorite users
Message flagging
Glocal search to filter by group, topic, user, keywords, or time/date range
Search by video, file, location, or images
Unread message filter
Custom wallpapers and font
Operating System Support/Functionality
Apple iOS and Android mobile app
Linux, Windows, macOS
Application only, no browser version
Troop Messenger is best for:
Remote teams that often collaborate with external users
Businesses that discuss senstitive topics/have privacy concerns
Team admins that need to track remote employee location
Troop Pricing and Plans
Troop Messenger offers three paid plans from $5.00-$25.00/user per month.
Additional Information on Popular Slack Competitors
Whether you decide to completely replace your business's instant messaging platform from Slack to an app on this list, or if you'd like to use any of these apps in conjunction with Slack, the options listed here will streamline internal and external communication while allowing for more effective team collaboration.
Curious to learn more about the tools listed here, as well as other options?
Check out our breakdown and an interactive table of the best team collaboration tools to learn more.
FAQ About Instant Messaging Platforms
Below, we've answered some of the most frequently asked questions about instant chat messaging and team collaboration tools.
Though for the most part, chat apps reasonably protect a user's right to privacy, there are a few instances in which an employer may be able to access a team member's private channels or direct messages.

If an employee is a part of a lawsuit, managers can submit a formal request to the chat platform to view the messages. However, in most cases, the employee must give consent in order for these apps to give employers access to their private messages.
Note that analytics and reporting tools may show the number of messages employees have sent in private channels/chats -- but not the content of the messages themselves.
If you move to a different department, position, or leave your current company, you'll be able to transfer the ownership of your chat to another user. In other words -- the entire chat application won't disappear just because the current owner is leaving the workspace.
Each application usually has a specific ownership transfer process.
Though exact costs will vary based on the provider chosen and the specific features and plan you need, the good news is that most of the chat apps mentioned here offer a free version. Paid team collaboration tools usually cost anywhere from $8.00-$10.00/user per month.

As with any business communication tool, your specific compliance requirements will vary based on your industry, company, country, and provider SLAs.
Note that there are many HIPAA-compliant chat tools created specifically for the medical industry, like MedChat and Well.
To ensure you're ready for compliance audits and help to keep messages secure, you may wish to disable message history, enable two-factor authentication, and frequently change your password. Above all, be clear with team members about what kind of sensitive data can and cannot be discussed over chat messaging.