In October 2019, Salesforce CEO Marc Benioff addressed a TechCrunch Disrupt conference audience declaring that we were seeing the end of capitalism as we know it. This comes after a record year of profits and stock prices for the company.
While this sounds like an indictment of a whole ideology, Benioff isn't stepping down in favor of handing the keys to his employees. However, with climate reports, political upheaval, and widespread consumer alienation leading the news in just about every broadcast outlet, it's hard to ignore the changing customer needs and wants.
In order to serve your customer base, the era of pure profit over everything else has come to an end. What's become more important are customer experiences, one-on-one customer interactions, and personalization. Customers' needs are more complicated than figures and demographics.
The billionaire CEO of Salesforce stated that the "new kind of capitalism that is going to emerge is not the Milton Friedman capitalism, that's just about making money." The gutsy CEO is known for taking stances on climate change, homelessness, and inequality to manage the relationship between a business and the world that it operates in.
Whether you oversee a billion-dollar corporation or a small business with no employees, the future is all about connectivity.  The key to this changing marketplace requires a customer experience strategy focused on communicating with customers and employees.
Shift From Customer Service to Customer Experience
Knowing the difference between customer service vs customer experience is vital to taking a holistic approach to serving clients. Customer service is a small piece of the puzzle that can assist with sales, troubleshoot issues, or follow up with clients. Customer experience is the entire sum of their journey with you.
Customer service teams must remain focused on direct customer engagements and the way that your staff supports customers. Customer experience occurs when you're not around. Customer experience management takes into account the systems you set up for your clients that they interact with when you're not around.
Rather than living in a defensive crouch you can use your customer experience approach to be proactive in building customer relationships. When you prioritize your customers without asking for a reward or a response, customer loyalty comes easily. Customer satisfaction surveys are a great way to get some valuable data from your most loyal customers.
Improve Customer Experience By Surveying Your Clients
If you're in the B2B space, your clients might only be asking profit-generating questions from their own customers. You can tell from the types of services and products they request from you.
If you're at the consumer level and you're only asking superficial questions, you're going to miss out on this changing marketplace.
You should be surveying your clients at every level. Not only to measure your customer lifetime value but also because surveys are a tool for customers to learn about the priorities of a service provider. You need to know not only how well your products and services are performing but how your customers feel about your business.
Modern customers want to feel connected to a brand in the new marketplace. They want to know that a brand is doing good in the world. They also want to know that the stakeholders on the front lines of your business believe in the brand as well.
Take our advice on the art of an effective customer satisfaction survey before you build your own feedback form. Here are a few tools to consider when building one.
Zoho Survey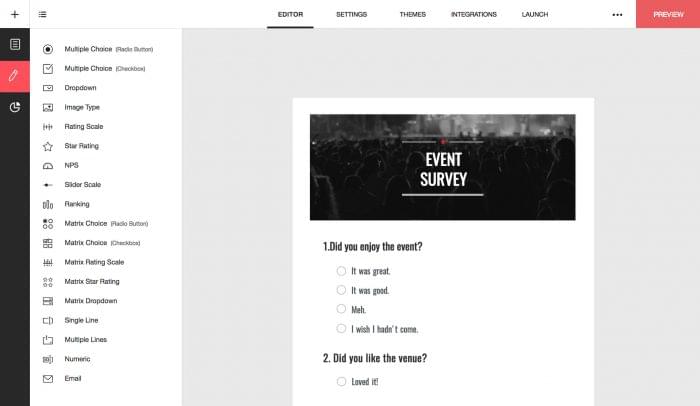 Zoho's survey tool is perfectly integrated into their CRM. If you're already using the Zoho CRM platform, you can collect data that you can turn around and use immediately. Real-time data collection allows you to make changes to improve a customer's experience as soon as you see an issue.
The Zoho Survey allows for 25 different question types. You'll collect data that can shape your goals for the next period to coincide with what people want from you.
Remember to leave room for some expository responses from your customers. This way they can go into detail about what they're looking for from a business like yours. If they feel that your customer service or customer support teams have been cold to them in the past, listen up and earn a second chance to serve them.
Hubspot Forms Builder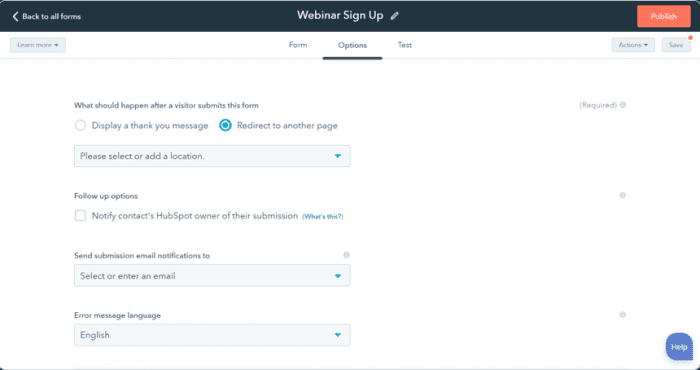 Users of the free CRM from HubSpot have put time into implementing the software because they want to serve their customers better. Hubspot forms offer one of the top CRM solutions around at no cost and with unlimited storage. Use this to your advantage to store as much customer data as possible.
If you're a small- to mid-sized business, you know all too well how hard it is to gather each lead. Whether you got your leads to travel down your sales funnel because of traditional marketing or by holding their hand, those customers aren't promised to you tomorrow. In a changing marketplace, you have to offer a more personalized customer journey.
Send out forms using their preset question types and drag-and-drop editor. Survey interaction can trigger a notification email to continue following up with customers or to notify your staff that they should interact with the lead. Customers will be more likely to prefer this level of messaging over email marketing that most digital marketing efforts attempt.
Survicate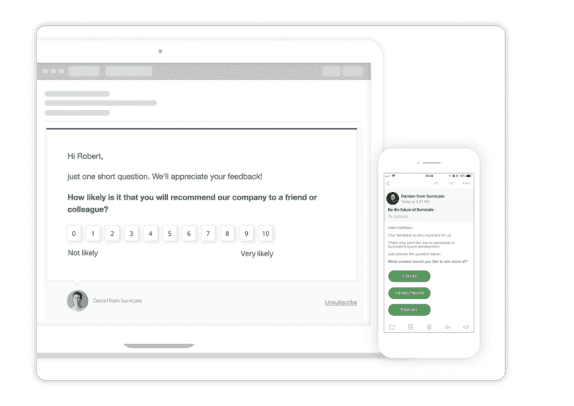 Survicate is a company that centers on customer feedback tools as their main focus. They have customizable and intuitive interfaces that make quick, mobile feedback forms easy to use and engaging.
For users of HubSpot, Salesforce, MailChimp, Intercom and more, expect easy integration and interactivity.
They understand that collecting feedback is as important as the ability to act on it. As the aims of companies need to change, having simple integration is a must.
Setting New Standards
While you might want to have feedback collected in your system to start implementing changes, there's no good reason to wait. Look around at what other industry leaders, like Benioff, are both saying and doing to see good examples of providing great customer experiences.
An influential group of CEOs who call themselves the Business Roundtable stated in August of 2019 that corporations are responsible for improving society. This may come as a shock from a group led by JPMorgan CEO Jamie Dimon, but this is a consortium operating in a post-Occupy Wall Street world.
The world changes whether your business does or not. With a rising number of young customers demanding more than the promises "iDevice" personalized consumption from recent years, it's up to you to set new standards.
Equity over Tolerance
Whether it's gender, racial, religious, or LGBTQ equity, more companies are being called to put their money where their mouth is. Customers will find out via social media, whistleblowers, or tools like Glassdoor if you're not hiring and paying people equally for equal work. Even casual customers will pass on your brand if it turns out you're not trying to solve these issues.
While the previous generation's hurdle was related to representation, this generation is working to remind companies to graduate from tolerance to equity. Marc Benioff shines here again as an example of a CEO willing to put millions into fixing pay equity at his own company.
Calling for an open hiring process isn't enough. Consider retraining your HR and hiring staff to deal with implicit bias. Tackle the issues head-on and your customers will flood your lines with phone calls to applaud your bravery.
A New Kind of Philanthropy
Corporate activism is under a new kind of scrutiny thanks to the number of investigative journalists uncovering different kinds of collusion. When a business contributes to a non-profit or issue-based campaign only to get something out of it later, people will likely find out. In some instances, this kind of exchange is even up for legal scrutiny.
Philanthropy by companies and corporations is always going to be viewed with a skeptical eye. If you're getting involved with a big national charity, you will get some support via word-of-mouth but you're sure to get detractors.
Instead of donating your money to some large national group, put more time into local charities and organizations. While sending $10,000 to an international wildlife fund might look good, if you have any hand in changing animal habitats, customers could scrutinize your efforts. Instead, make a monthly corporate effort to bring your staff to clean up a local park or habitat.
Your efforts may only be covered locally but the fact that it's happening in your local customers' backyard will make your efforts more sincere and tangible. Building a local customer base is important for any business.
Climate is Everything
With talk in the news about a "green new deal" and "green-collar" jobs, some industries and companies might feel left out. However, there are so many ways to get involved in helping the planet.
Even major energy companies are starting to invest in renewables. This is notable because when these companies are seeing the value of putting their time and effort into future technologies, they're telling the rest of us the value of renewable energy.
If you're not sure where you should take your environmental efforts, reach out to your customers with a survey. Give them a few options for actionable steps that your executives feel are achievable goals. When you pair concrete goals with customer feedback, your customers will feel like they have a hand in the future of our shared world as well as in a company they trust.
Using Your CRM in New Ways
Once you start implementing these efforts, it's important to check in with your stakeholders, staff, and customers. You can't please every new customer with your first effort, but when you're listening and working hard to set your sights on something other than profit, happy customers will be on board.
Your customer relationship management tools can help you to improve customer experience by looking at every step of the journey. Every touchpoint is an opportunity to centralize your customers over your brand. Your CX strategy is the weapon in the battle against churn and to ensure that you replace bad experiences with good customer experiences.
Profile Your Customers
While you may not win over customers just because you've decided to think more about them, you certainly won't be punished for your efforts. Learning about who your customers are, what they're interested in, and what they like about you helps build a more responsive brand.
Find out what kinds of companies customers work for and which kinds of brands they prefer to work with. If you've been thinking about expanding, make sure that you're taking your customers' areas of interest into account. One slight adjustment could bring thousands of potential customers into the fold.
For larger businesses with many socially-conscious efforts, this data lets your customers know about your work that's most aligned with their interests.
Get Feedback During Important Touchpoints
Your customers may not be thinking about you as often as you like. If you ask customers for feedback at the wrong time, you also risk irritating them. Much like the way you'd time in-person interactions, catch them when their interaction with you is the most fresh.
Also, consider looping your staff into this process. Knowing what they're concerned about can help you to amplify things they care about. When you signal boost their interests, they'll share what you did proudly and speak highly of your company.
When dealing with customers, get their feedback at the time of their purchase or when they've just finished a customer service call.
Get feedback from your staff following their training or onboarding process. See what elements of your business or project they're most excited about. This will make it easier to align your efforts with their interests.
When you support things your staff is interested in, you don't have to work so hard to market and advertise your efforts. They'll do most of the heavy lifting for you.
Centralizing Customer Experience Won't Diminish Profits
When you put in the effort to support your customers and their interests, you'll only see positive returns. While we live in a politically tumultuous time, you can make a grand gesture without alienating your audience or any of your supporters. Performing ample demographic research ahead of time allows you to see solid returns from your efforts and ensure customer retention.
If it's not in your nature to be a social justice crusader, there are lots of positive benefits to supporting even just your local community. Sponsoring a charitable 5K, roadside cleanup, or a fundraiser for a locally beloved resource will have a ripple effect. These are underrepresented elements of customer experience with your brand.
As your company grows and expands, you'll build better communication with other businesses and potential customers in your region. You'll even plant the seeds for more efficient communication at your office.
If you need a tool to handle all of this data, check out our breakdown of the best CRM software for businesses of any size and budget.