If you've ever needed a completely free number and phone line that's capable of both calls, and even texts and voicemail transcription, then Google Voice was pretty much your only option. Sure, there are Google Voice alternatives, but they usually have a bit of a trade-off. Google Voice's only major trade off was sometimes spotty service, but hey when you gain a free fully functional phone line, its hard to complain.
But Google Voice has been in a weird place for a while. Well, it was in a weird place, but now it looks like Google is finally moving things along. With a recently announced Google Voice update, Google brings a much needed refresh to the app, along with a couple of new features almost necessary to a phone at this point. But, the real story here is not necessarily the update, but what this could mean for the future of not only Google Voice, but the company's other messaging and calling apps overall – will Voice evolve to replace your standard Business VoIP solution, or even Unified Communications platform?
Google What?
Originally introduced back in 2009, Google claims Google Voice has gained millions of users, but that number surely has shrunk by now. At the time, Voice served as an interesting and unique solution to an annoying problem: how do you have all your phones in different locations ring at once? By signing up for Google's service, and adding in your existing phone number, you could have Google Voice ring you for important calls wherever you are – even if they came in on your desk phone and you're out of the office. But, as the years passed and VoIP adoption and technology grew, the overall need for something like Google Voice had quickly been reduced. At this point, the major benefit of Google Voice is merely a standard feature from just about all Business, and even home, VoIP providers.
But that doesn't mean Google Voice is completely useless, I previously wrote that using Google Voice for business is a great option if you're a small one man gig, or a start up and need to completely minimize costs in anyway. Or, if you really just want a second line to hand out for a specific purpose, say avoid spam or keep a personal line free, then a Google Voice number is a great way to stand out and establish that independent line. And with Google's recent changes, Voice got a bit of a modern boost. It really seems like Google is taking the app a bit more seriously now.
The Recent Update
In their own blog post about the update, Google themselves admitted that it has been at least "several years" since the team had made any significant updates or changes to the Google Voice apps, both web and mobile versions. In fact, the blog post specifically pointed out that there were only around five or so "significant updates" pushed to Google Voice.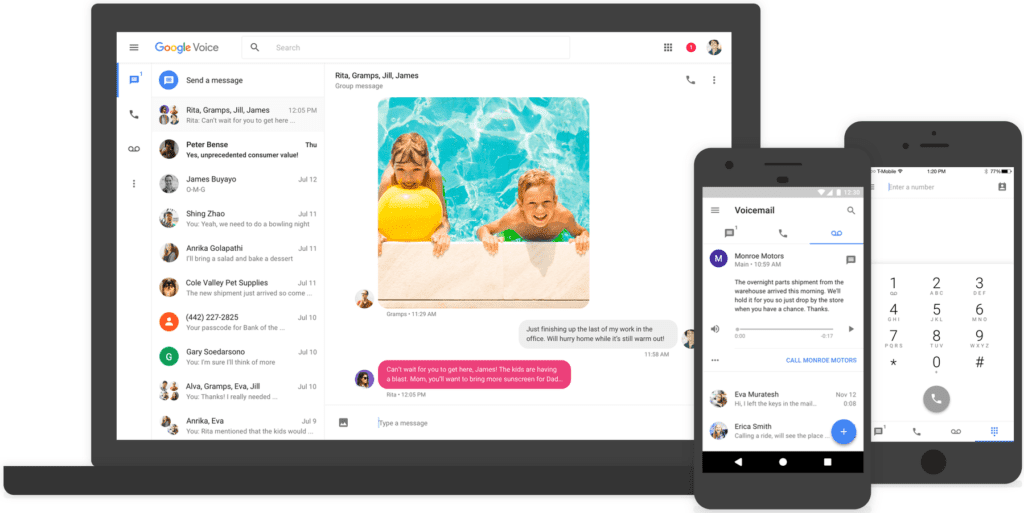 Well, Google has finally pushed out another significant update for their "phone number that's tied to you, rather than a single device or location," as Google said themselves. Pretty much, with this new update users gain a couple of missing features, support for even more message types, and of course a new visual redesign. The major changes in this update for Google Voice include:
A modern design refresh with deeper organization.
Conversations stay in one continuous thread to easily access and read all messages.
Added support for group messaging and photo MMS, along with in-notification replies for smart phones.
For their Spanish speaking users, Google is introducing voicemail transcription in Spanish.
Google also stated that all Google Voice apps will be gaining even more new features and updates in the future, but as to exactly what that means, we'll just have to wait and see. The update first rolled out on Android phones, with an iOS updated app following shortly.
Just an important note, if you're a web based user, and don't see the new update, you'll have to download and log into a mobile version first. After that, logging in online will bring up the new refresh and added features.
The New Design
So right off the bat, the biggest change is obviously the massive design overall. Google Voice's old UI design made sense, back in 2009 when it was first introduced. So we can't knock them for that. The old design also pretty much borrowed the Gmail layout, but instead of a list of emails you had all of your texts, phone calls (sent, received and missed) along with voicemail transcripts lumped together in the same field. It wasn't impossible to navigate, and we know Gmail is a powerful platform – for example you can even use Gmail to send faxes. But the problem was that with Google Voice, while it kept a familiar them that made sense for consistency between apps, it really lead to awful telephony organization. But this is what the new Google Voice looks like: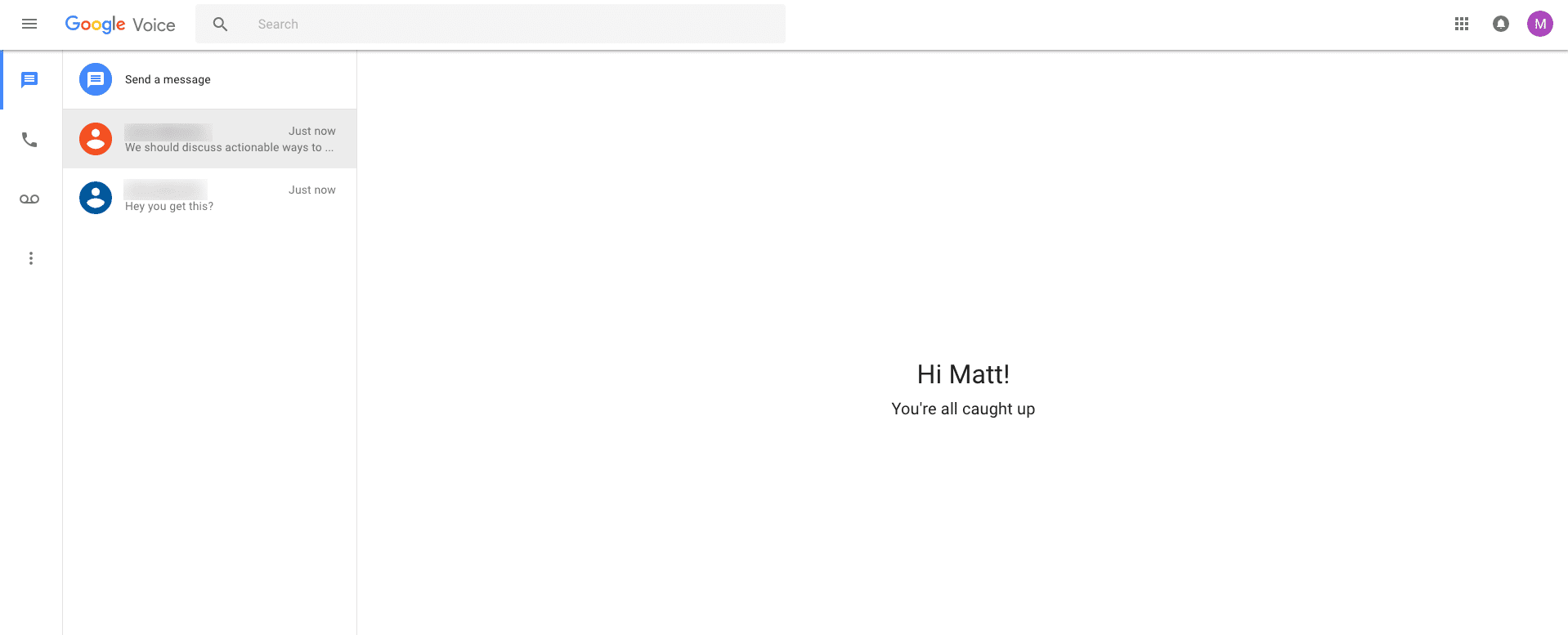 So now Google Voice helps keep things organized with three separate tabs for your Messages, Calls and Voicemails. The design itself is simple, of course using the flat elements we've all grown to know, with a lot of white space, and almost zero text with mostly icons for navigation. It works, I can't deny that, and simple is always better. With only four menu options to choose from, Messages, Calls, Voicemail and Settings, it makes most sense to keep everything nice and simple.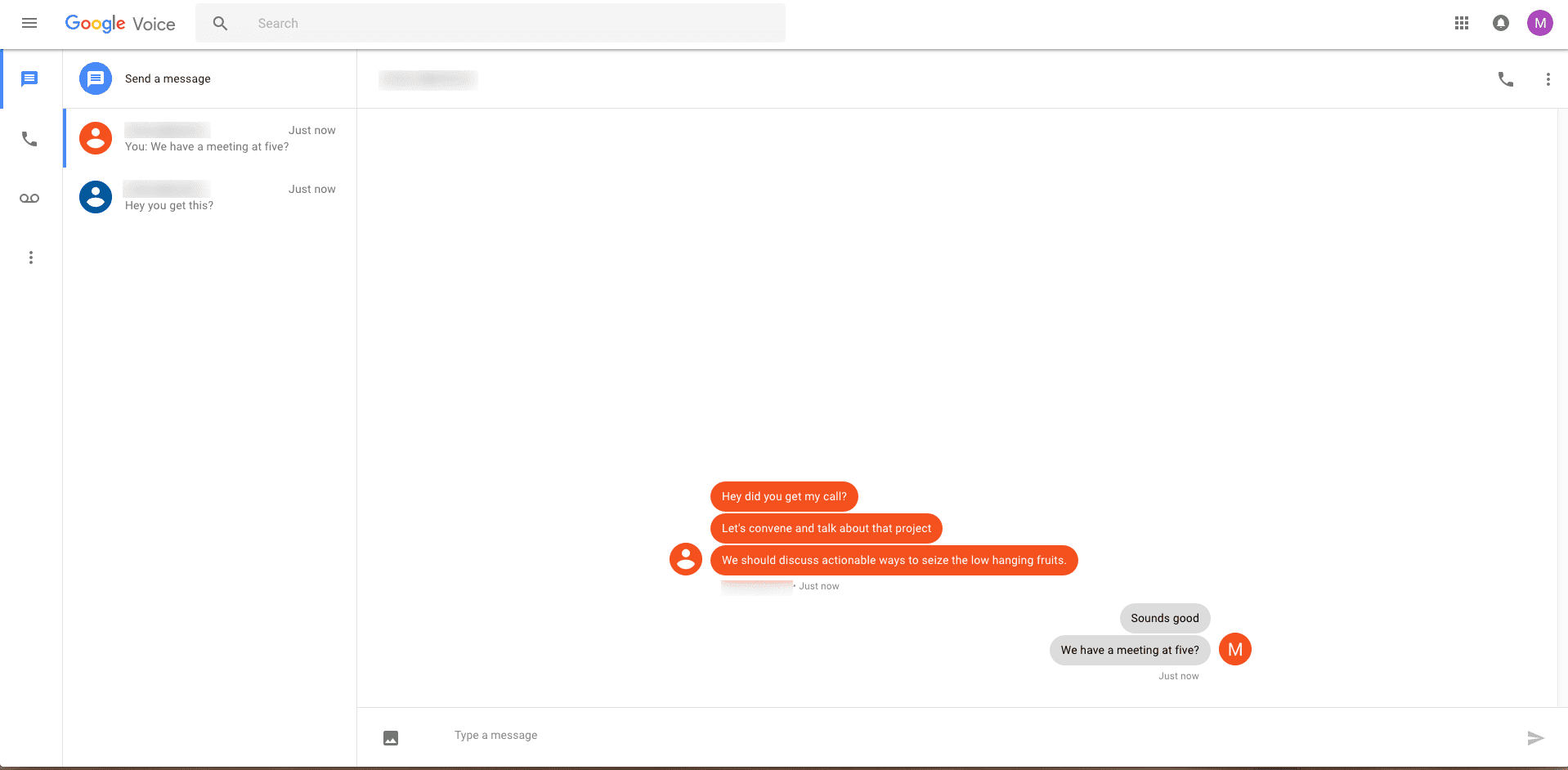 Each section keeps the same layout and design, just separates everything based on the content. For a quick breakdown, the top left of the screen houses a "Menu" button which pulls up a bigger menu with Messages, Calls, Voicemail, Archive, Spam, and Mark All As Read buttons, along with quick access to your calling credits, settings, help and feedback, and even a link to the older legacy version of Google Voice.

Clicking on Calls or Voicemails instead of Messages again simply changes the context, and keeps the same overall layout. On the left is your quick access icons: a list of all calls, messages or voicemails. Above your list of calls or texts depending on which menu you are in, there is a "Send a Message" button. The largest section of the app, right in the center, houses the context of each interaction – where you'll see and interact with your texts, or any call or voicemail information. Color is sparingly used throughout to distinguish between contacts and different calls. A new selection of buttons that help with navigation appear on the top right and bottom right when you select a specific transaction to look at in detail.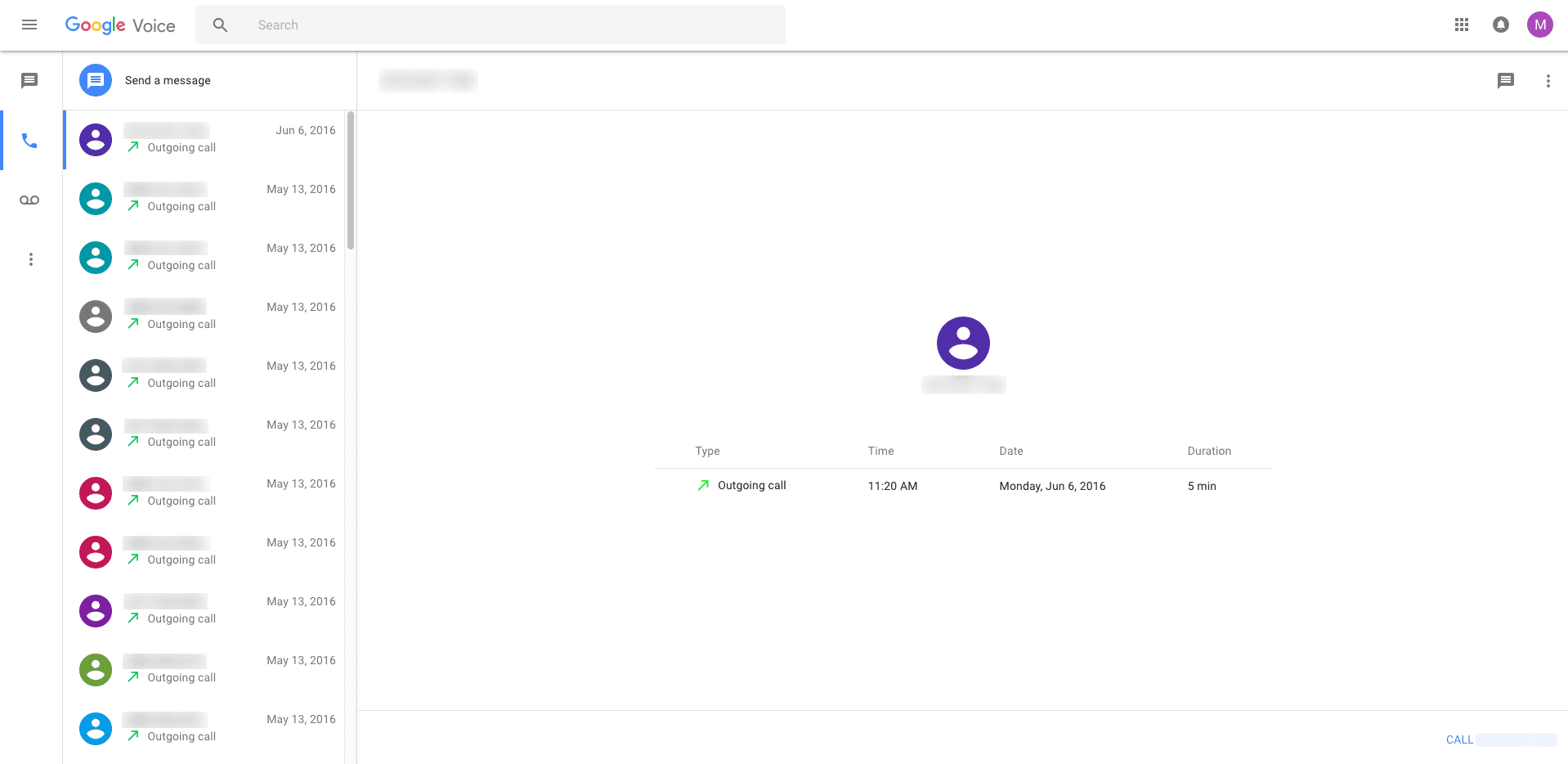 When you click on a specific call, for example, you gain detailed information such as the call type, time, date, and duration. But you also get a nice little "Call #" button at the bottom right for a one click calling experience, and on the top right below the Google Voice header, where search is also located, you gain a "Message #" button along with a number menu drop down for more advanced features, including People & Options, Archive, Mark as Spam, Block Number and Delete.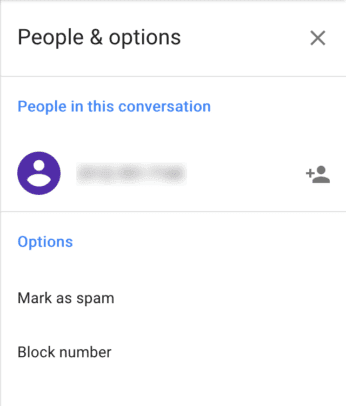 Clicking People & Options opens up another menu bar on the right which shows the contacts and phone numbers listed in the conversation, a quick Add Contact button, and even more options like Mark as Spam and Block Number. The more in depth settings options also look something like this.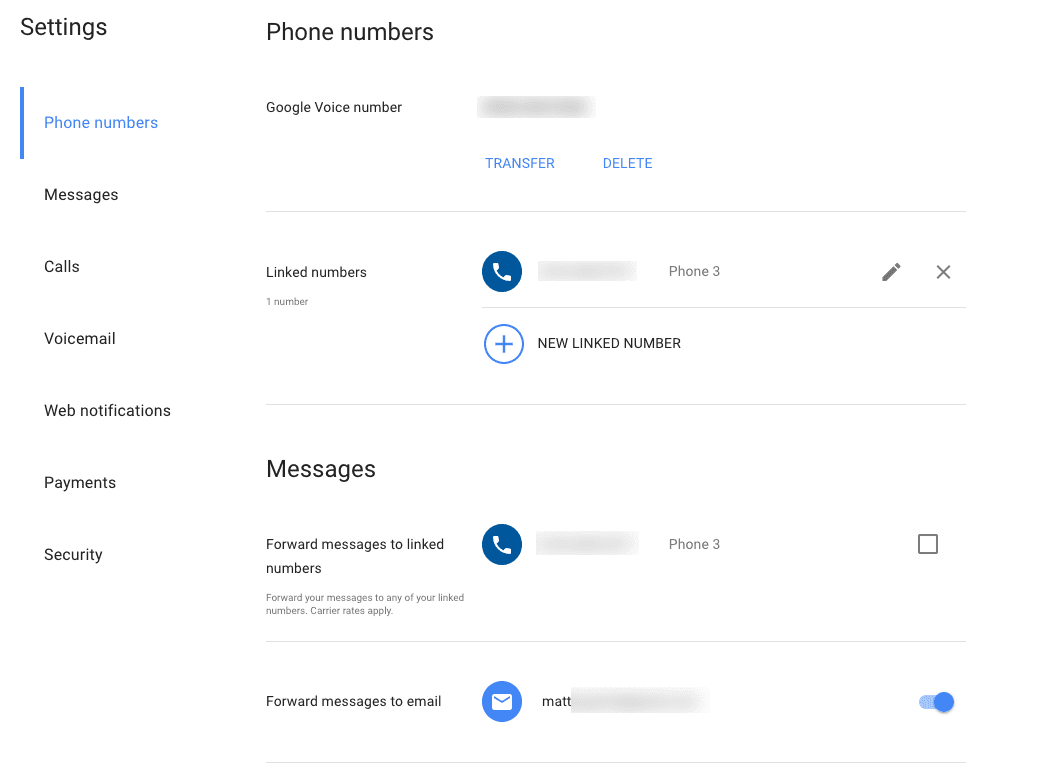 Overall, it's a really simple design that doesn't feel too empty. At this point we all recognize Google using lots of white space, just look at the standard Google homepage with just a logo, a search bar and more white space. It's no surprise they continued the theme here, and managed to bring Google Voice into the modern age of design. The increase in organization is just a great user experience boost as well, along with threaded messages to help keep track of your texts better, and even expanding support for group and picture messages.
A Big Mix of Messaging Options
Google's array of messaging apps is nothing short of confusing. Google Voice filled a fairly obvious role when it was first introduced, one that has since been replaced by both technology advancement, and even Google's advancement. Hangouts replaced the calling and texting functions, in fact if you want to make a call from Google Voice online, it simply uses the Hangouts plug-in just with your Voice number. Then Google went ahead and introduced Allo and Duo which only further added to the confusion.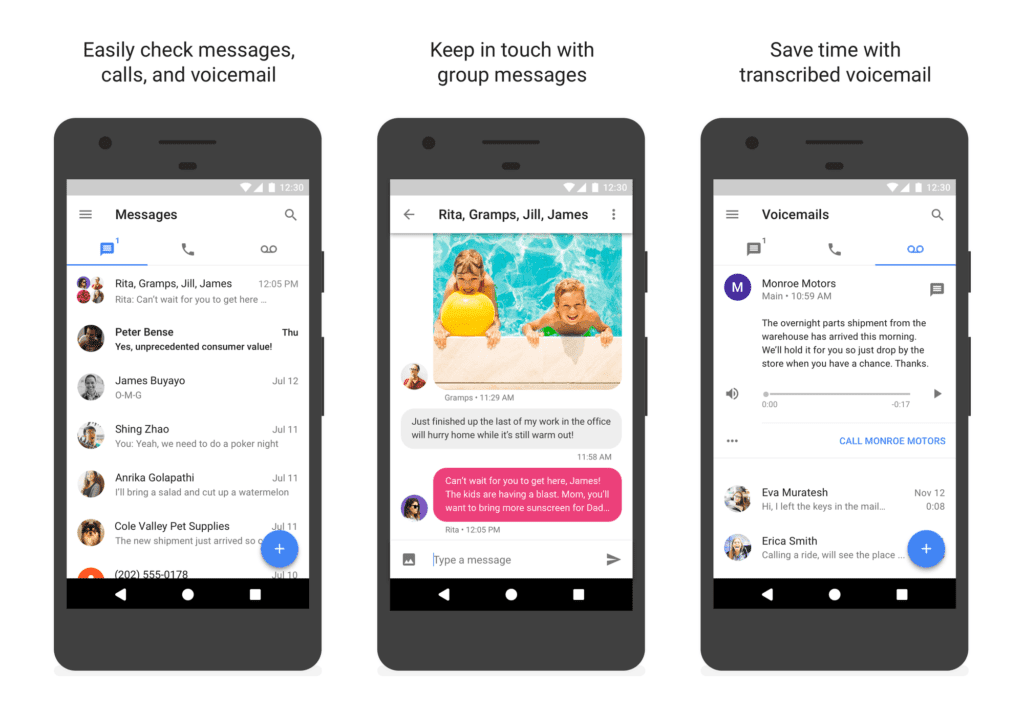 I'm sure internally Google has a distinction between consumer and business solutions, and might even have a plan to bring everything together and package it nicely, or at least help make those distinctions more obvious. Regardless, Google is clearly expressing their desire to keep growing the Voice platform, and to keep the updates rolling. While I don't see much of a reason to solely adopt Google Voice as your primary number, whether that's for business or personal use, Voice still is a great way to gain access to a secondary free phone line. One great use can even be very basic customer service, allowing agents to log into their Google Voice page to access a soft phone, as well as texting capabilities right in their browser, or even with the mobile app.
Will Google Voice Have a Future?
But why does Google care about Voice, and why do they want to push it again? The fact that it wasn't updated in so many years shows how little Google cared, at least at one point, about Voice. But then again, it was updated with more than just a new coat of paint, and Google said they plan to keep the updates rolling.
So just how they want Voice to slot into their solutions is a bit of a toss up, but then again isn't that what we're used to from Google? With so many different internal teams working on so many different projects, at this point we should be fairly accustomed to Google outright dropping support or forgetting about solutions, or overlapping gray areas. Google Voice on its own is still a unique option out there, and all the alternatives I scoured for still didn't offer the free phone number, along with free calling and texting capabilities without some kind of catch.
Is there room for Google Voice in the future of communications is shifting to messaging? A space where options like Facebook Messenger and WhatsApp are taking over the consumer space, and more robust dedicated options like Slack, Spark and Microsoft Teams are already on the market. I'd be curious to see where Google, or at least the Voice team, looks to move the solution – maybe it'll finally combine fully with hangouts, or even Allo and Duo for a complete Google UC option.
Image credit to Google, and the Google Blog.