Google Voice, the company's VoIP service, was established in 2009 with an invite only system, but has since been made free for anyone to use. With Google Voice, users can obtain a single phone number to be used on all of their devices. No longer do you have to give out an office, cell and home number – with Google Voice, whenever your number is dialed it will ring each phone and device you sync to the service and specify. If you already have an existing number and would rather not deal with the headache of switching numbers, Google Voice will even let you port in your existing number from any mobile carrier.
With no usage fee, free calls and texts to US and Canada, as well as cheap international calls, Google Voice seems like an easy way to minimize phone costs and navigate away from expensive residential VoIP providers and plans. But can you rely on the service as your primary phone? At first glance Google Voice seems to stand alone and hit all the points. However, as with most services, Google Voice does have its downsides as well – some which might make you think twice before relying on the service for your primary telecommunication needs.
Pros:
1) Never Miss a Call with One Number for All Your Phones
One of Google Voice's major selling points is the ability to route all of your devices under just one single phone number. Upon creating a Google Voice account, you are provided with a dedicated Google Voice phone number. You can choose from a list of available phone numbers with the option to select specific area codes from around the country, you can even search for certain numbers or letter combinations.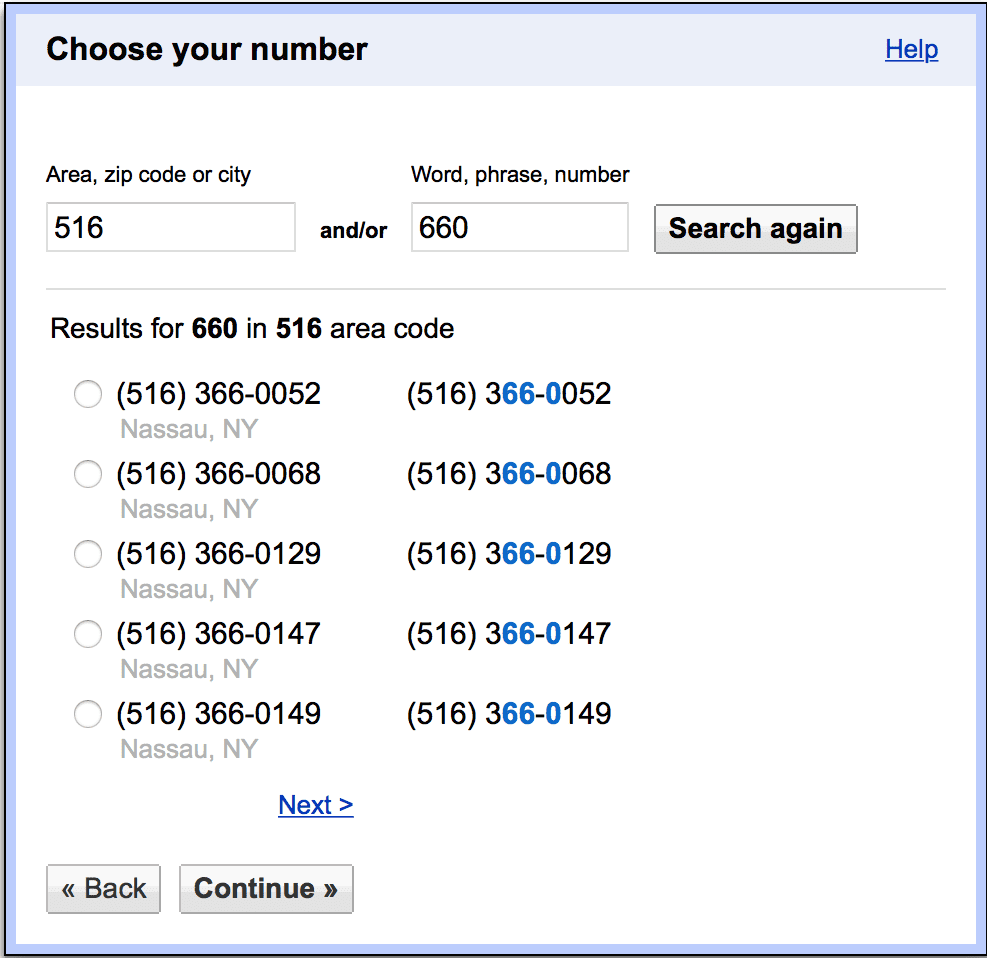 This new dedicated number can then be linked to your cell phone, house phone, work phone or any additional lines. Whenever someone calls your Google Voice number, it will ring every device linked to your account. You can of course also make outgoing calls from all of these devices as well, even including your computer. No matter which device you dial from, the receiver's caller ID will see your new Google Voice number. This number consolidation will make it easier to always stay on top of your communications and be available at a moment's notice, or even let you use your computer for the sake of convenience.
2) Digital Integration
Not only can you receive and make calls from all of your devices, but Google Voice also integrates seamlessly with a user inference familiar to those already utilizing Google services. Read and send free SMS text messages, access voice mails and call history, or make and receive video calls, all from a page that resembles a Gmail inbox. You can do this all right on your computer, or download an Android or iOS app to access it all on the go. While there are other methods on the market that allow you to text through your computer, they rely on an application to be installed on your phone and connectivity to the device. Google Voice will allow you text online, through your Google number, even when your phone dies.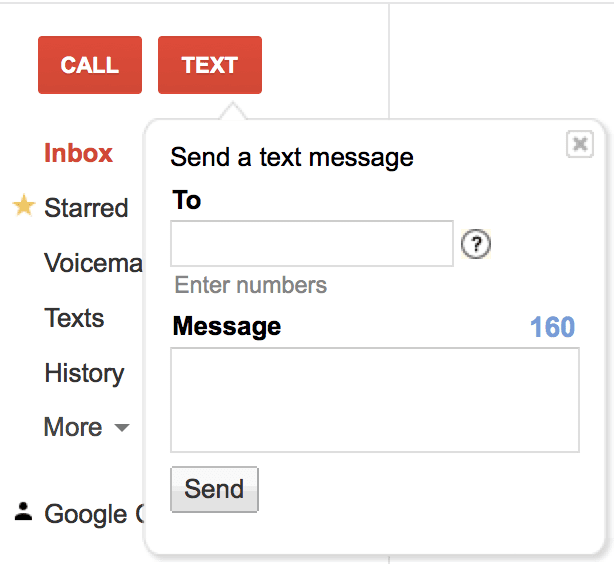 If you don't like listening to voicemail, Google Voice will provide written transcripts of any message left at your GV number, with a color indicator showing how accurate the text to voice translation is. Of course you can listen to the recordings as well if it ever gets something wrong. Beyond usability and call functions, Google Voice even has some extra features like the ability to set specific voice mail messages to certain callers. This level of digital integration empowers you to never miss a contact again.
3) Want to Keep Your Number? Google Voice Port Number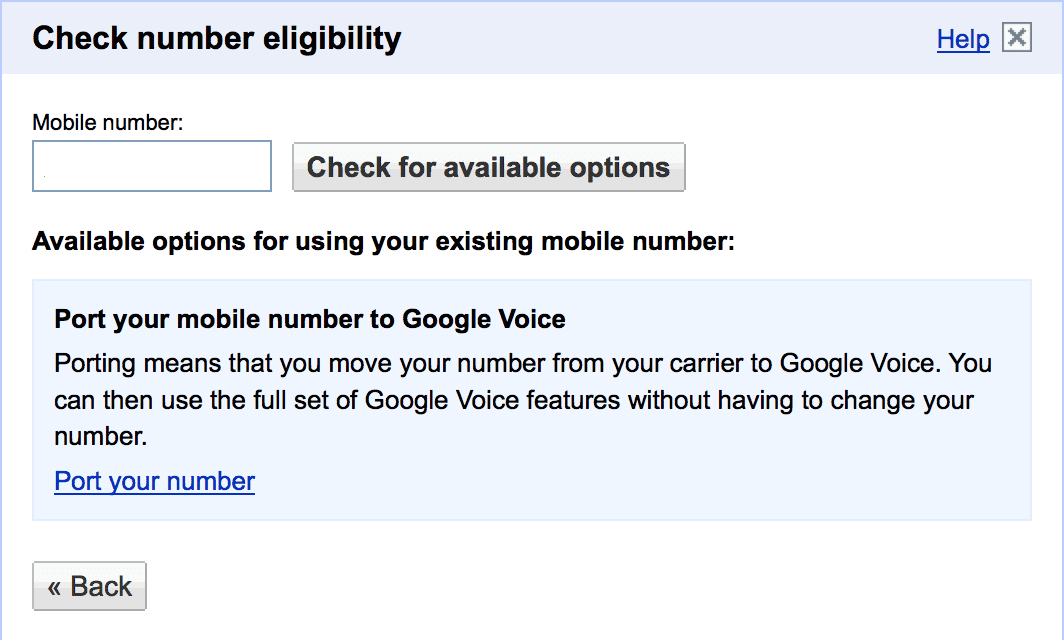 If you already have an established mobile phone number and would rather not deal with the hassle of printing new business cards and changing all your contact information, Google Voice will let you port over your existing number. The Google Voice port number process will replace your dedicated Google Voice number if you chose to adopt one previously. It is important to note the possibility of a day or two dead zone, as your number is being ported you may not receive any calls or texts. Upon porting to your old number, any dedicated Google Voice numbers linked to your account will also be removed within 90 days. With the availability to utilize your existing number Google made it easy to consolidate everything under one roof; however, number porting does have its limitations, as discussed in the cons.
4) Mid Call Flexibility
Google Voice provides a powerful set of tools behind the scenes to setup your phone service as you see fit, and continues to empower users with an array of features to improve your call experience. Before you answer a call, Google Voice relies on your address book to link names to numbers for Caller ID. However, if it does not find a match, Google Voice will ask the caller to record their name for you – an Audio Caller ID. You can even turn on call screening so every caller will have to supply a vocal identification.
Once you pick up, Google Voice will allow you to switch devices during a phone call, without interruption, since your one number can always be linked to more than one device. If your cell phone is about to die, you can switch over the call to your desk phone or even your computer to keep the conversation going. Google Voice even lets users easily record their phone calls from the web based application, which you can start and stop at any point during the call.
Cons:
1) No Emergency Calls
Possibly the largest downfall of relying on Google Voice to supplement your primary phone line is the inability to make direct emergency calls to 9-1-1. If you decide to substitute a phone provider and port your number over to Google Voice, you will have to work out an alternative to making emergency calls.  As stated in the Google Voice Terms of Service:

One work around, if you did not port your number, is to make an emergency call without dialing an area code. Google Voice will not make calls with only a seven-digit number, and will bypass the Google Voice app to call directly from your phone. However, if you did port your number, you will have to access an alternative method of making emergency calls. More about 911/E911 and VoIP here.
2) No Real Support When Things Go Wrong
If there is an issue with your line, phone numbers, or overall service you can normally call, email or speak in person with a representative from your phone company. Unfortunately, Google does not provide any form of one to one customer service for any service related to Google Voice. Users can access Google's online help page which contains answers to most frequent asked questions or issues. Additionally, if you have an issue that isn't covered in any of the frequently asked questions, users can post on the Google Voice Help Forum.

While this does not provide direct, quick feedback it is easiest way to attempt to directly contact Google for assistance with Voice. However, users seem to be left without a direct response from Google for more than a day. Users at one point reported issues with duplicate phone numbers – having their Google Voice number being adopted by another user, confusing any call history or text information sent. A lack of a direct support line makes it difficult to quickly resolve any issues that do arrive, and could mean an interruption to your phone service.
3) Complicated Multimedia Messaging
Google Voice supports some of the most flexible and seamless digital integration and can even utilize the standard Short Messaging Service, or SMS to send and receive text messages. Picture messages can be sent, but the image would be included in a link as opposed to directly embedded into the message. However, stand-alone Google Voice will need a helping hand when it comes to more advanced messaging like direct picture, video, or even just group messages with multiple recipients. This is because Google Voice alone does not utilize the more advanced Multimedia Messaging Service, or MMS which carries the extra data. In order to send or receive MMS communications, you must also integrate Google Hangouts, another communication tool provided by Google. Hangouts was specifically developed to compete with offerings from competitor's such as Microsoft's Skype, and allow conversations between two or more recipients, and other multimedia messages. If you are willing to add another app to your arsenal, you can just Hangouts in conjunction with Voice in order to send and receive MMS, SMS, video conferencing and phone calls in combination with Google Voice.
4) Reliability and Porting Limitations
While the aspect of reliability comes into play when considering to adopt any VoIP service as a replacement for your communications, it is important to note for Google Voice as well. Thankfully, run by one of the largest tech giants, there should not be much concern surrounding outages as Google servers tend to be on the reliable side. However, it is not unheard of for even Google to have issues with its services, as seen in 2014 when the services did in fact unexpectedly fail. If you were relying on Google Voice, during this outage you would be unable to make or receive any communications.
Beyond the risks of reliability, it's important to touch on the limitations when porting your number to Google Voice. While still on the inexpensive side, Google does charge you a one-time $20 porting fee if you choose to adopt your existing number. The real kicker, though, is the inability to transfer a landline or VoIP number. With mobile phone numbers the process can be done in one step through the Google Voice page. However if you are looking to adopt your landline number, you will first have to port it to a mobile carrier, which will then be accepted by Google Voice. It does not make it impossible, but certainly adds limitations to a service that is otherwise easy to use and setup.
Is it worth it?
Google Voice offers an enticing array of unique features that empowers users to take full control of their phone service, beyond other alternatives and standard phone lines. With the ability to ring every phone from one single number, and massive digital integration you won't have to worry about missing a call. That is, unless, you have a rare Google outage or other unexpected issue which unfortunately might not be solved quickly with the lack of direct customer support. Combined with dedicated phone apps and array of options, Google Voice and provide a unique experience. That is, if you are willing to obtain another method to complete emergency calls, don't rely on direct customer support and can live with the rare possibility of outage. However if you feel it's not a great fit, you may want to consider Google Voice alternatives that have other unique features, integrations, and pricing options.