Conversational artificial intelligence (AI) is a market that has grown exponentially in recent years and is expected to continue to advance by leaps and bounds in the near future.
Conversational AI refers to technologies that aim to provide users with an experience as similar to human interaction as possible. It's widely used in customer service settings, among other areas, and there's a huge potential for its use by companies and businesses. 
Using conversational AI allows artificial intelligence to answer queries, resolve problems, engage customers, collect information, execute transactions, and deliver services more quickly and efficiently compared with traditional methods. By streamlining operations, companies can boost productivity, efficiency, and revenue. 
Virtual agents and chatbots powered with artificial intelligence can recognize text and speech and communicate with real people. This is possible thanks to a combination of natural language processing (NLP), automated responses, and machine learning (ML).
In the future, this technology is expected to play an increasingly important role in the organizational facets of businesses. In fact, the conversational AI market is expected to be worth $18.4 billion by 2026, and there's no sign of it slowing down. So, if you're not already on the AI bandwagon, it's time to get up to speed.
Table of contents: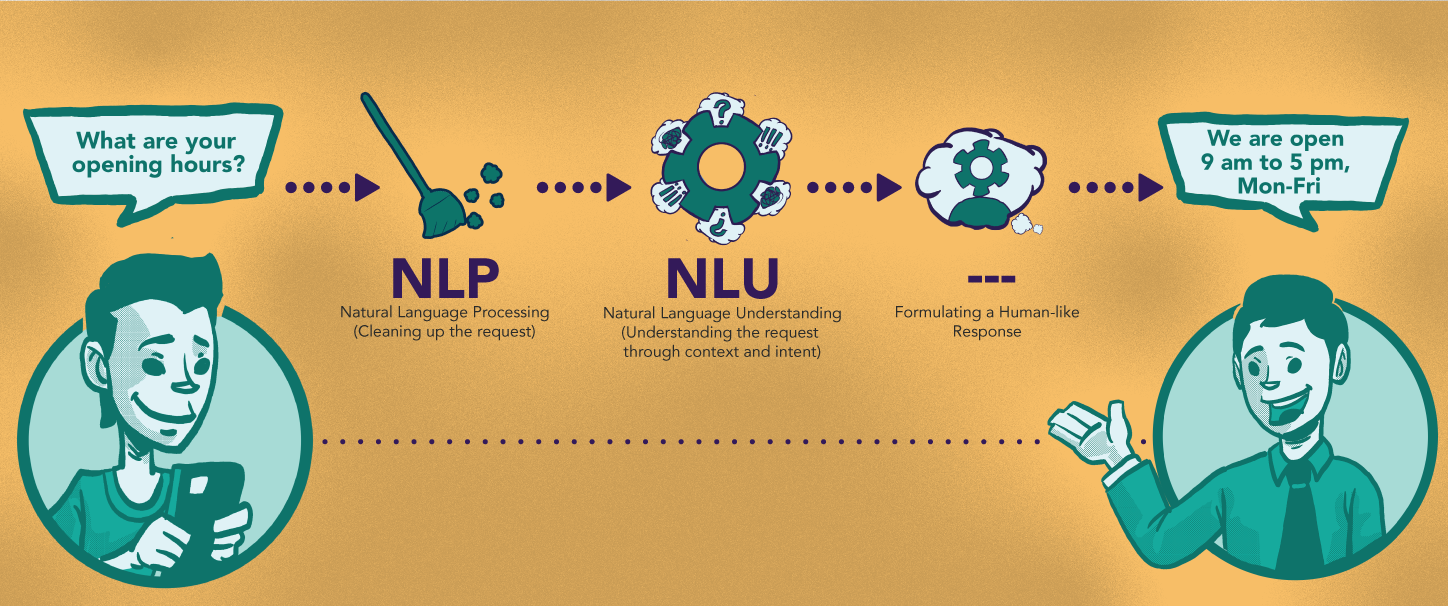 Examples of Conversational AI
Artificial intelligence can transform our lives and how we work; 50% of today's work activities could be automated by 2055. This automation is especially relevant for businesses, but how does it work?
Conversational AI is one of the many forms of automation. Keep reading for some of the ways companies can use it to their advantage.
1. Schedule Appointments: SmartAction
Intelligent appointment booking allows companies to save time and money. It also saves time for the customers. Moreover, an easy, seamless interaction can improve the customer experience (CX) and boost satisfaction.
Conversational commerce can do everything from scheduling appointments and sending confirmation emails to providing directions. Moreover, they continuously gather data from customer interactions to fine-tune and improve conversations.
Businesses interested in using AI automation tools should look for software with an easy-to-use interface and a natural conversational experience. Other essential features include an easy way to reschedule and cancel appointments and personalized reminders to reduce appointment abandonment.
SmartAction offers scheduling automation with conversational AI that fully understands that booking an appointment is not a straightforward interaction but a back-and-forth negotiation where each party must come to an agreement on both the day and the time. 
The company's conversational AI delivers an exceptional natural language experience based on extensive scheduling-related data. SmartAction's virtual assistants can handle all types of scheduling requests and are prepared to address just about any scheduling interaction you can think of.
Studies show that most people prefer to book their appointments online or over the phone, and using chatbots or Voice AI technology in your business phone service can make the experience quick and seamless. Conversational AI is applicable in a broad range of industries, from restaurants, beauty salons, doctors' offices, car repair businesses, and everything in between, so clients from all types of companies can use bots to schedule their appointments. 
2. Execute Basic Transactions: Watson Assistant
Who better than an artificial intelligence-driven bot to take care of basic transactions for customers? This technology is applicable in a wide range of industries, from fashion to healthcare, and essentially frees up customer service agents to tackle more complex issues.
Watson Assistant, from IBM, is one example of software that has an excellent track record in answering questions, executing simple transactions, and connecting customers with agents when necessary. 
A study involving companies using this software reveals that chatbot-augmented agents have reduced handle time by 10%. It has also improved customer satisfaction and empowered customer service agents, enabling those companies to achieve a 337% ROI after using IBM's AI-powered bots.
In the scenario below, a bank employs this software and provides customers with quick and consistent service, executing a wide range of basic transactions for them.
In a bank setting, AI can be used in multiple scenarios: acting as an SDR, carrying out simple tasks, resolving FAQs, keeping track of transactions and payments, sending reminders and notifications, and gathering documents, among others.
Watson ensures tailored and efficient interactions which guarantee a high containment rate and can recognize more topics and content than other chatbots.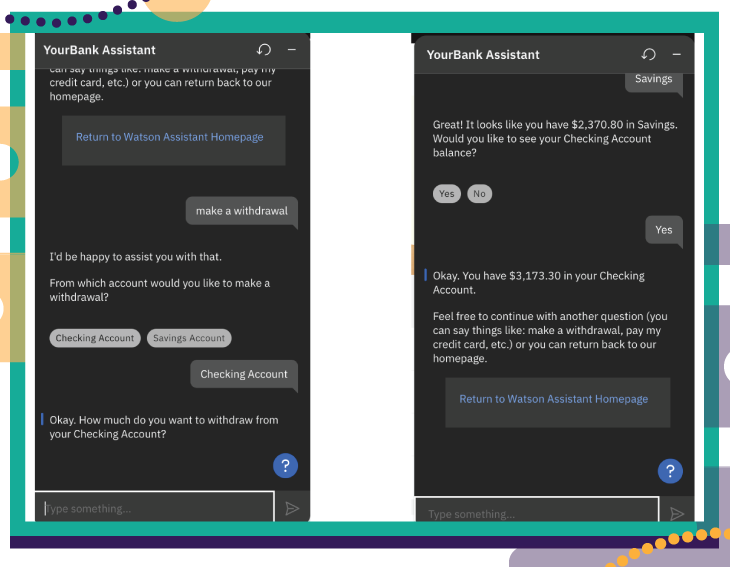 Source: Watson Assistant
3. Recommend Products and Services: Automat.ai
Companies will indubitably agree on the importance of listening to their customers to serve them accordingly. If artificial intelligence can make simple recommendations tailored to the customer, why not put them to work suggesting products and services?
One great example of a conversational AI that does just that is Automat.ai. Automat is a conversational AI software with exceptional listening skills that "understands every customer" and has a built-in product recommendation engine that serves up personalized suggestions and engages customers to provide superior shopping experiences.
It's trained to offer relevant product suggestions at the right time and explain why those recommendations are perfect for showing customers that they're being heard. Automat's eCommerce Personalization Suite allows companies to deepen customer relationships, drive revenue growth, and improve trust, conversion rates, and purchase confidence.
To do this, Automat scans a company's product catalog every ten minutes. When a customer visits an eCommerce store, the tool knows how they got there and starts creating a profile. 
During their shopping experience, Automat interviews them to understand their needs better. Based on their answers, the tool recommends products in which the customer might be interested and remembers their preferences and previous purchases to make relevant recommendations every time they visit the site.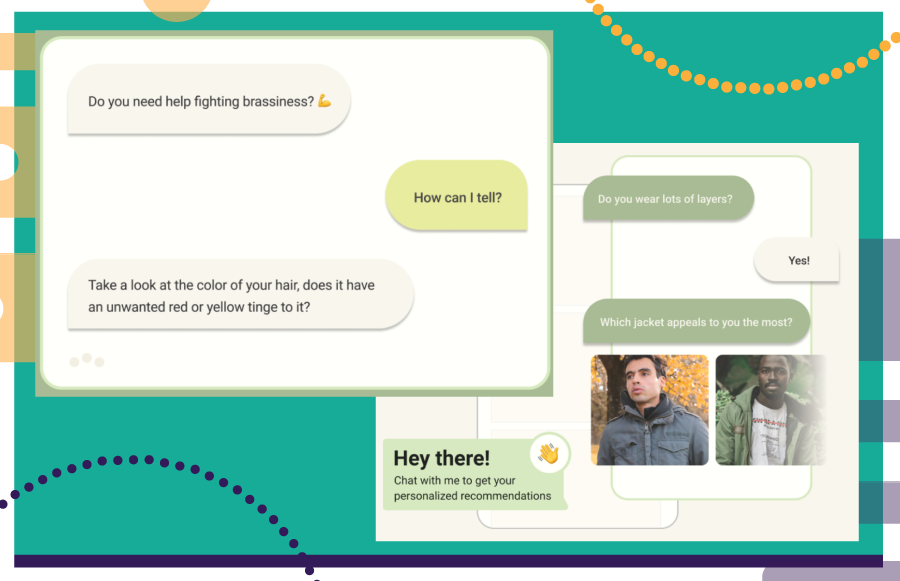 Source: Automat
4. Resolve Customers' Problems: Cognigy
Conversational AI is the perfect tool for efficient customer service. Not only does it allow companies to offer support 24/7, but your customers will also appreciate quick, round-the-clock access to the answers to their questions. 
Conversational AI bots allow companies to reduce their customer service costs and optimize the time of their human agents. Popular software options include LiveEngage, Bold360, MobileMonkey, and Cognigy.
One sector doing it right is the airlines. Lufthansa hired the conversational AI company Cognigy to improve their customer service processes during the COVID 19 airline crisis. 
With the bot, customers had 24-7 access to customer service and could do everything from finding out their flight status to booking a new flight if they missed theirs. If the conversation gets too complex, the bots transfer their calls to actual humans.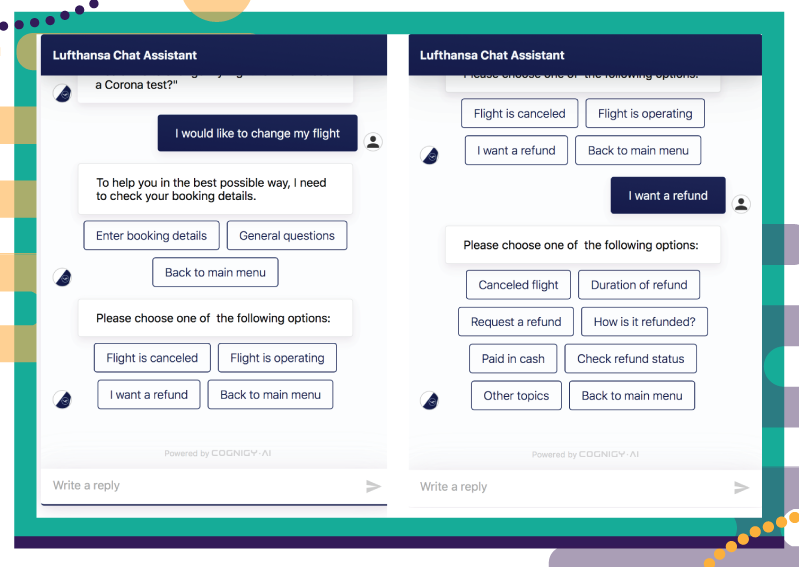 Source: Lufthansa
5. Boost Customer Engagement – Boost.ai
Engaging customers is essential for every business. Companies can use conversational AI-powered chatbots to engage with leads in real-time and reach out to customers who are at risk of defecting to a competitor. They can also send customers personalized offers and targeted messages to retain them.
Chatbots have a faster response rate than humans, and since they gather and store data, they better understand how customers tick. Customers want to talk to somebody about their problem or ask their question and get an answer right there and then.
In fact, 90% of consumers believe an "immediate" response (i.e., 10 minutes or less) to their sales or marketing questions is very important. These bots make that possible, letting customers engage with the brand any time of day and, ideally, receive an answer or a solution immediately.
Boost.ai is an automatic semantic understanding (ASU) solution that lets companies custom-build powerful, intelligent virtual agents to meet the customers' needs in their specific industry. Its no-code conversation builder is easy to use, and it offers unlimited scalability.
6. Improve the Customer Experience – Aivo
Artificial intelligence can improve the customer experience and boost sales as a result.
Data shows that chatbots increase sales by 67% on average, and 69% of consumers actually prefer to deal with chatbots in a customer service setting. 
But, how do chatbots boost sales? Well, since chatbots collect data from every interaction, companies can use that information to understand their target market better and train their AI system to meet the exact needs of their customers. When the customer experience improves, so do loyalty and sales.
Aivo is a leading software provider that has created its own advanced conversational engine that uses several AI technologies to ensure effective error-free interactions for every single question. Aivo's chatbots can improve the CX and increase sales because they're available round-the-clock to answer questions and solve problems. 
They can be deployed on multiple communication channels (social media, SMS, online, etc.), communicate in multiple languages, understand emojis, and provide a coherent experience by matching the tone and voice of your brand.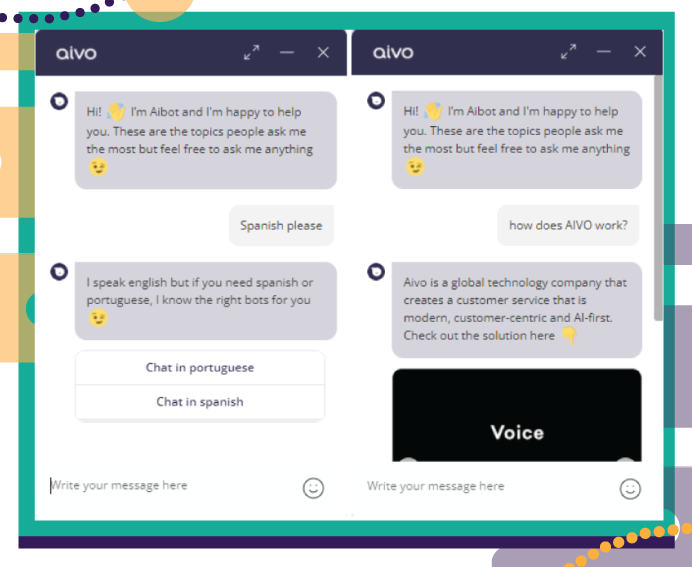 Source: Aivo
7. Upsell and Cross-Sell – Interface
Upselling is generally a manual task left up to customer service agents, but conversational AI can automate the whole process. Chatbots can suggest similar or complementary products and services to customers during conversations, depending on the context of the chat. Cross-selling can continue even after the conversation is over, as the chatbots can also send remarketing messages.
Banking is one industry with plenty of opportunities for upselling. Interface is a company that makes conversational AI technology specifically for banks and credit unions. It boasts an impressive track record: a 30% increase in average revenue per customer, 0% call abandonment rates, and a 500% improvement in online application conversion. 
Here's one example of upselling in this context: Mary, one of the customers of a bank, downloads a new conversational AI app her bank has created. She can see her bank account, and so can the AI chatbot, which uses its "deep learning" capabilities to notice that Mary spent a considerable amount of money on travel last month. The bot recommends that Mary sign up for a credit card to help her save money on the trip and earn points. Mary didn't even know she needed this credit card but ended up signing up for it!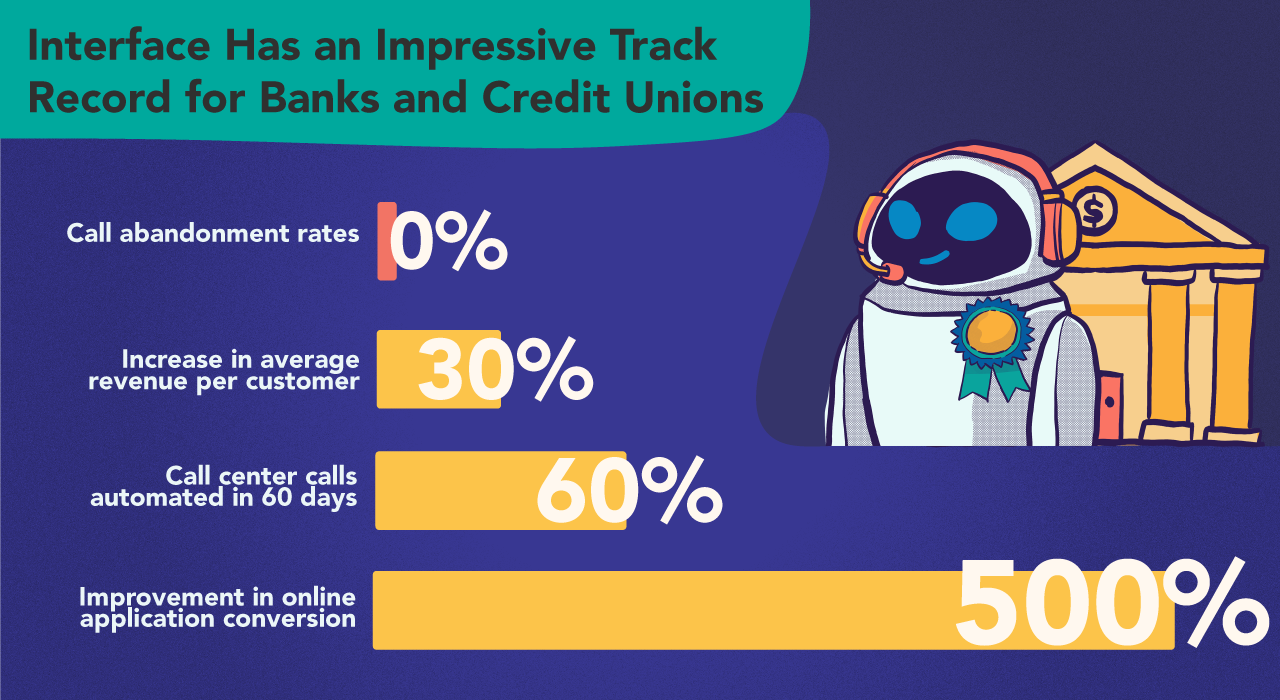 Source: Interface
8. Enhance IT Support – Kore.ai
A company's IT department is a critical division that must run smoothly. To ensure that happens, use a program like IT Assist, one of the main components of Kore.ai. This software allows companies to focus their human IT power on solving critical tickets and business priorities. It essentially frees them from low-value, high-volume activities, leaving the AI-powered chatbots to handle the rest.
By automating employee interactions, this advanced ITSM-as-a-service (IT service management) effectively streamlines support and simplifies business processes, and it's available 24/7, 365. The AI-powered bots address glitches and disrupted workflows, allowing companies to resolve issues quickly and boost productivity.
IT Assist can also keep employees apprised of outages and other problems that could impact their workload, and it lets users know when their support tickets are received and resolved.
Kore's AI-driven IT solution has reduced call volumes by 30%, improved response times by 25%, and provided employees with a 25% better search experience for their queries.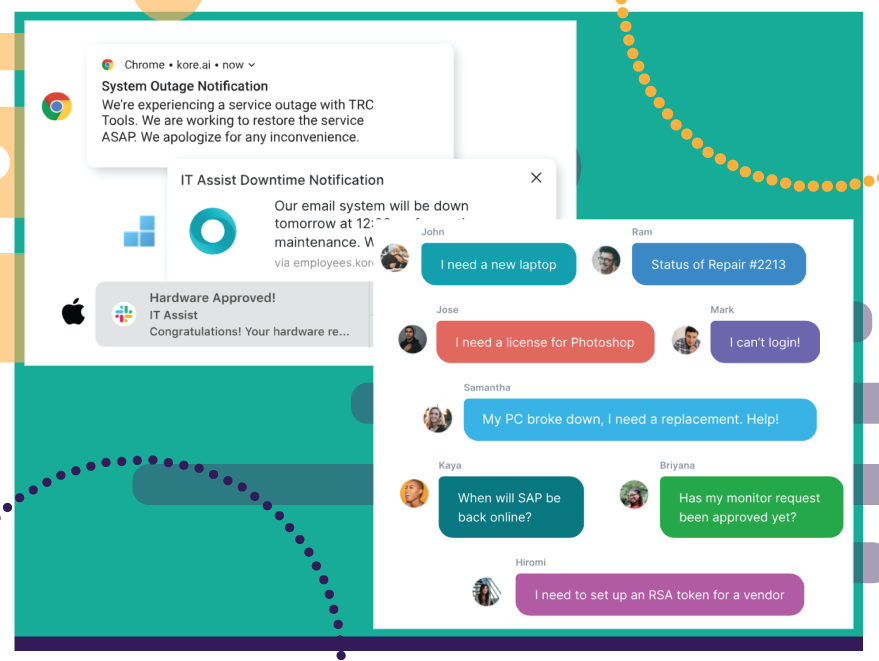 Source: Kore.ai
9. Internal Training and Support – Amelia
Companies can also use conversational AI internally to support their HR departments, such as employee training. Companies can create an AI website that can automate training for customer support and sales employees and practice role-playing. 
Such systems can help trainees run through sample interactions, record their responses, and provide feedback during these employee training sessions. They can also be used in the recruiting process to make it more personalized, scalable, and efficient. This also frees up senior managers' time to focus on other important tasks.
Another way the HR department can use conversational AI is to support a company's employees. Instead of sending their queries to the HR department, a company chatbot can respond. Questions can range from topics like medical insurance payroll and leave requests to appraisal status.
Amelia is an excellent solution for businesses looking to incorporate conversational AI into their HR departments and optimize their corresponding systems. It has extensive capabilities, from onboarding new employees to guiding staff through benefits coverage. 
It supports companies with back-office applications and talent acquisition and has been proven to lower employee attrition and higher revenue. As it makes HR services more efficient, staff can focus their attention on work that provides higher value to their companies.  
How Businesses Can Use Conversational AI
Conversational AI chatbots are incredibly useful across all industries and in just about every phase of the business cycle. They support lead generation, help streamline customer service, and collect insight from post-sales interactions with customers. What's more, they're becoming increasingly easier to implement, especially as businesses incorporate cloud-based technologies like VoIP into their day-to-day.
Leads and Conversion
Conversational AI chatbots are a vital tool in lead generation as they can collect website visitor data 24/7. Statistics show that people don't mind talking with chatbots as long as they perceive some humanness in those interactions, which ultimately helps create trust. It's also worth mentioning that 55% of businesses using chatbots generate more high-quality leads and reduce stalled lead conversion.
Bots are a boon to businesses as they can analyze massive amounts of customer data, allowing them to perform lead scoring and simplify the identification of the ideal customers and, therefore, helping the marketing team optimize their time.
Customer Support
Now that conversational AI software is on the scene, customer support will never be the same. Companies can scale their efforts and help customers around the clock with whatever they need via live chat or voice AI technology.
People want real-time support, and bots can deliver that. Nearly 42% of customers prefer live chat, compared with 23% who prefer email and 16% prefer social media. Moreover, by 2025, 81% of brands expect messaging to become more important, and 76% believe the same is valid for live chat, which provides a 48% increase in revenue per chat hour, not to mention a 40% increase in conversion rates. 
Consumers like chatbots because they provide quick answers and are more accessible. They can save as much as 30% on customer support costs because they reduce the need for hiring more people.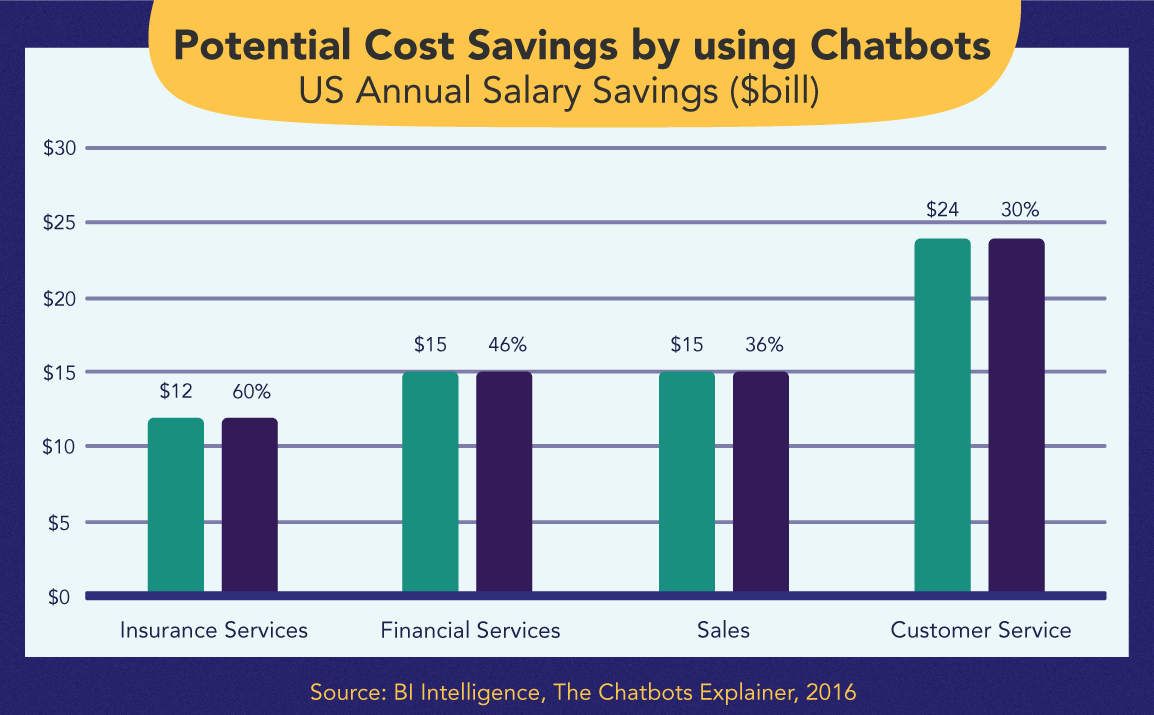 Source: Business Insider
How to Pick the Right Platform
If you're ready to incorporate conversational AI into your business, you're going to need to pick a platform. While there are countless custom options, two pre-built and easy-to-use formats are voice assistants and chatbots.
Voice Assistants
Voice interface requires a smart speaker platform or a voice assistant. Your best bet is to use a platform with which your users are already familiar. If you choose a smart speaker, you'll want to go with Amazon, which has a service called Lex specifically for the retail industry. Amazon's Lex decreased transfer rate by 50% and the time customers spent in its IVR from 2 minutes to 18 seconds for TransUnion.
Amazon is a leader in this space with 63% of the market share, but if you're on Android, it will make more sense to use the Google platform. 
Chatbots
There's a wide range of chatbot options, including Twitter, Slack, and Facebook Messenger. You can look into the demographics to discover those platforms. Still, as mentioned above, it's essential to use a platform your customers know and love besides having the features you're looking for.
You'll also need to decide whether you want your chatbot to automate the whole process or just begin the conversation and then hand it off to a real person. You should also consider features like security and social media integration.
Using conversational AI can help companies achieve their goals. It offers a faster and more efficient resolution of problems and queries, helps customers understand their wants, and turns them into repeat customers. Quick response and resolution help lower customer churn and improve the experience for both the customers and the employees.
There are countless ways conversational AI can improve efficiency and boost the bottom line for a business. With the level of insight collected and analyzed by AI software, any company not using conversational AI is truly missing out.
Infographic