"With one click and no downloads, 8×8 Video Meetings is the new way people meet. Come and see for yourself." That was the tweet from 8×8's official Twitter page that caught the eye of many.
"The #futureofwork is changing and you need a way to collaborate faster and work smarter. Try 8×8 Video Meetings now. No free trial. Just free. Period." read the second tweet.
That's right, 8×8 has just launched a standalone video conferencing solution… one that's available for free worldwide. This may sound too good to be true. If you're skeptical and find yourself thinking "what's the catch?" then read on to get the full story.
Free vs. Trial: Which Is It?
Let us be as clear as possible, this isn't a trial, the tool is completely free for the foreseeable future. There are no limits on the number of meetings you can have either nor the duration of each one. Below are some working details of the tool.
Setting Up with 8×8 Video Meetings
One of the best things about this standalone solution from 8×8 is the fact that it's incredibly easy to use. As a matter of fact, you don't even need to sign up or log in. All you need to do is navigate to the video meeting homepage.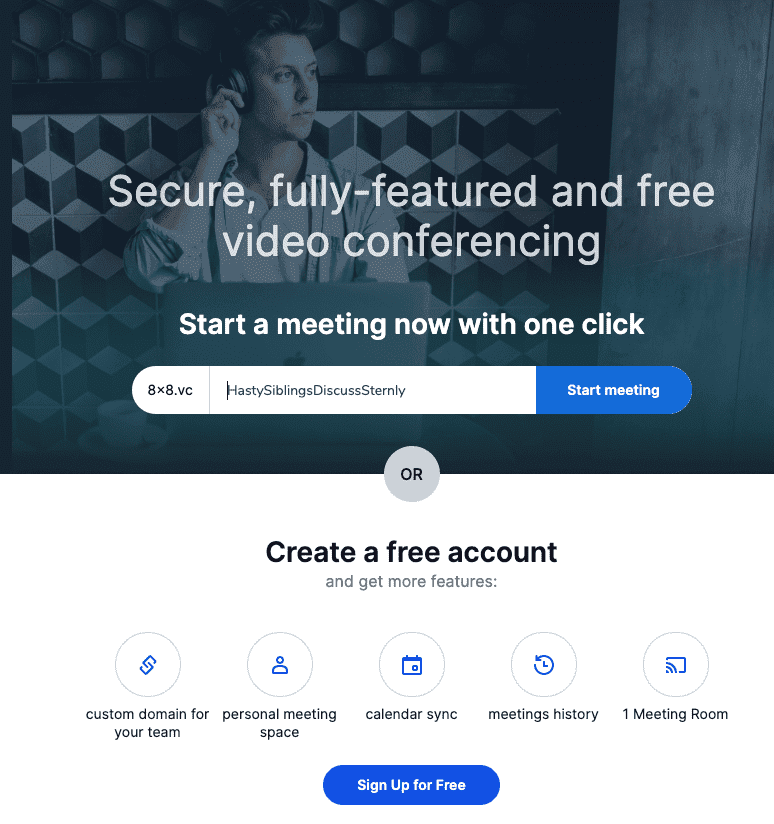 Once there, starting a meeting is as easy as picking a name for your room. It could be anything you want, but it's worth noting that there's no profanity filter so advise your staff to keep the links appropriate (yes, we tested it.)
If it's your first time using the service then you will get a popup from Chrome asking you if you want to allow access to your camera and microphone. That's not much of an issue though since it's just a one-time thing.
You'll also be asked to pick a username, but you can change it at any time by clicking on the name with your mouse. Upon creating the room, a popup will appear showing you the join link, dial-in, and PIN making it very easy to get your colleagues into the meeting.
There is also a copy button on the popup that allows you to paste the invite literally anywhere. Alternatively, your colleagues can just navigate to the homepage themselves and type in the room name which will promptly connect them.
Upon closing the room, you will be prompted to sign up but you can just close the popup and proceed to create a new meeting if you need to. This allows you to seamlessly transition from one meeting to the next without wasting much time.
The Best Features of 8×8 Video Meetings
The solution has the usual video meeting features that you'd expect to see such as screen sharing (shortcut D) and hand-raising (shortcut R). When you share your screen, you can broadcast either the entire screen, the application window, or a specific tab.
This makes it easy to share key info without revealing your personal tabs. When you're done sharing your screen, just hit D again and you'll be switched back to video mode. You can also mute your microphone or shut your camera off with the M and V shortcuts respectively.
If you have your mic muted but still want to say something then just hold down the spacebar and you'll be able to speak your truth thanks to the push-to-talk feature. In the event that you run into audio issues, you can fall back on the text chat which can be brought up with the C shortcut.
You can also switch between each user's video feed using the 0-9 keys, with 0 being your own camera. While the functionality may be relatively standard, the lack of bells and whistles is forgivable seeing as it's free and requires no downloads nor signups.
Apps & Plugins
While the video meeting tool is completely browser-based, you can download the desktop and mobile apps if you so choose. The apps are compatible with Windows, Mac, iOS, and Android as of press release.
You can also get plugins for Google Calendar and Office 365 Calendar that will allow you to schedule meetings right from your calendar of choice. As far as usefulness goes, your mileage may vary with this feature, but it's nice to have the option.
Compatibility
If you want to use the browser-based version then you'll need to ensure that your browser is supported by WebRTC. That shouldn't be much of an issue though seeing as over two-thirds of all desktop users browse the net with Chrome.
Why Did 8×8 Release it For Free?
You're probably left befuddled at why a savvy SaaS company like 8×8 would release such an amazing tool into the wild without charging a single cent for it. Where's the logic? Well, our guess is that they see this as a great lead generation magnet that will boost sales for their premium voice offerings.
Furthermore, this tool could also help 8×8 grab more market share from its competitors due to its free and easy-to-use nature. As more people go for this costless option instead of the expensive web conferencing software competition, they'll subconsciously grow loyal to 8×8 over time.
Whatever their angle may be, let's just be glad that we now have access to a tremendously useful tool that could serve as a great free-of-charge option for small businesses that don't have the budget for paid packages.
8×8 Meetings vs The Competition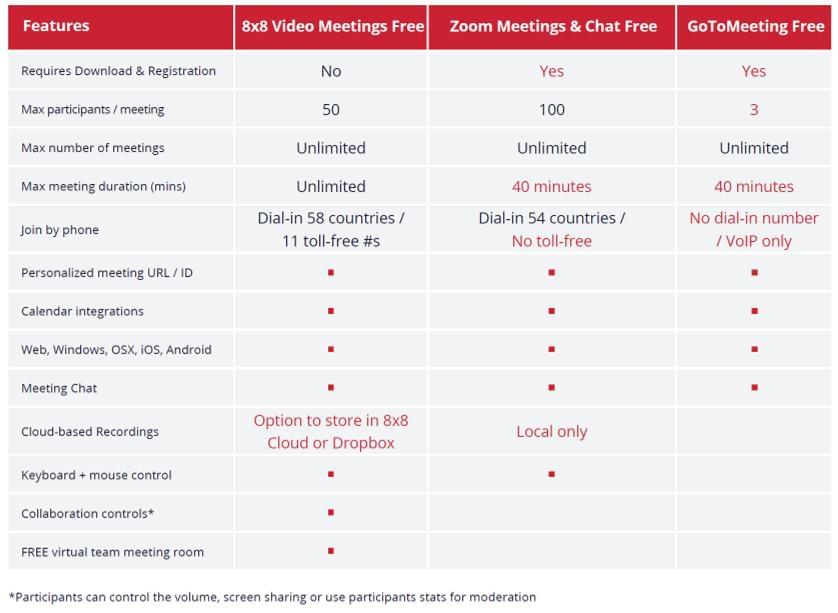 In a side by side comparison with the top competitors in the video meetings space, 8×8 took advantage of being a latecomer. They saw the missing features that Zoom and GoToMeeting failed to offer as an opportunity to differentiate themselves.
With a free virtual team meeting room and collaboration controls sets them apart from the top competitors. On top of that, collaborations from 58 countries can connect with up to 11 different toll-free numbers. With unlimited meeting length, large projects can be hashed out by huge teams across the globe with fewer limitations than competitors like Zoom or GoToMeeting.
8×8 Video Meetings is set to become one of the best video conferencing software options thanks to these bold features.
8×8 Aims to Dominate Business VoIP With Conferencing
As you can see, 8×8 has no plans of backing down. In fact, their strategy seems to be centered around releasing new easy to use products and services faster than some of the competition can. The game-plan seems to be paying off seeing as their revenue increased by 19% year-over-year in 2019.
Whether this upward trend for the VoIP giant will continue is anyone's guess. Ultimately, only time will tell. What we can be sure of, however, is that the R&D folks at the company have a conveyer belt of ideas that are just waiting to hit the public.
Be sure to stay tuned as our review of 8×8's support capabilities will be released shortly. In the meantime, check out the article we did covering Mitel's customer service.
You should also have a look at our buyer's guide on the top business VoIP providers and/or other free video conferencing options. Have a happy meeting!