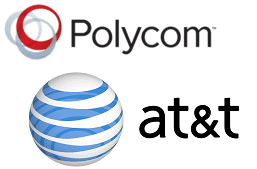 Polycom and AT&T announced today that they are teaming up to integrate their exceptional services, adding amplitude to unified communications and video collaborations between businesses with improved connectivity. A number of Polycom's video tools are now certified and available for AT&T's Telepresence Solution (ATS), a hosted video collaboration offering. In response to a "huge customer demand", Polycom's partnership with AT&T has been designed to offer more choices to customers while facilitating visual collaboration in rich HD video, regardless of device, distance, and underlying technologies. AT&T is the first service provider to support Polycom RealPresence solutions, implementing complete interoperability to enable multi-screen telecommunication systems from Polycom and Cisco. The innovation allows multiple platforms such as smartphone and tablet users, to join AT&T video calls over the Internet, even if they're not registered to AT&T's service.
"Customers have been asking for Polycom RealPresence video solutions because we are known for delivering lifelike, secure HD video collaboration experiences – from room and immersive environments to desktop and mobile applications – and for our interoperability with standard and non-standard protocols," said Gary Testa, Global Vice President, Cloud and Service Providers at Polycom. "Polycom's reputation for cross-platform interoperability, even on multi-point calls, makes us a natural choice for customers looking to collaborate with colleagues, customers, and partners."
Polycom executives have emphasized that while they obviously want enterprises to be using their solutions, they do not want customers to worry about the technology that may be on the other end of the line. The Polycom products that now support AT&T telepresence range from free-standing, video immersive conference rooms to desktop platforms and small business environments for individual and small group communications. AT&T's partnership with Polycom has made video communication more ubiquitous, and compatible solutions through the partnering are available starting today through ATS-hosted service in 80 countries.
​Related Articles:
– Polycom HDX 7000 EagleEye Bundle Specs & Videos
– The Polycom EagleEye Director: Are You Ready For Your Closeup?
– Polycom – Top 5 VoIP Phones