Given the vast cost savings and convenience of virtual conference platforms, it's no wonder that companies now host twice as many webinars as they have in the past two years.
Online conferences allow companies to connect to new markets, get valuable feedback from attendees on products and services, and increase their sales.
The success of a webinar depends just as much on the virtual conference platform you choose as the content you present.
The below list of best virtual conference platforms will allow you to create unforgettable interactive event experiences.
Table of Contents
An Overview of the Best Virtual Conference Platforms
The below table offers a brief overview and comparison of the best virtual conference platforms, their pricing, and top features.
| | | | | | | | | | |
| --- | --- | --- | --- | --- | --- | --- | --- | --- | --- |
| Platform | WebEx Events | GoToWebinar | WorkCast | Zoom Video Webinars | ClickMeeting | BigMarker | WebinarJam | vFairs | Hopin |
| Pricing | Unlisted | 4 plans from $49.00/organizer per month to $399.00/organizer per month | 3 plans from $2,995/year for 500 attendees to $5940+/year for up to 5,000 attendees | 6 plans from $40.00/year for 100 attendees to $6490/year for 10,000 attendees  | 30-day free trial, 3 paid plans from $25.00/host per month to $40.00/host per month and up | 4 paid plans from $79.00/month for 100 attendees to $299.00/month for 1000 attendees  | 3 paid plans from $499.00/year for 500 attendees to $999.00/year for 5,000 attendees | Contact for a custom quote | 4 paid plans from $99.00/host per month to $799.00+/5 hosts per month  |
| Top Feature | Excellent third-party app integrations | Superior event analytics, especially source tracking | Virtual booth tours with vendor communication  | Live broadcasting to YouTube and Facebook Live | Webinar Timeline | Automatic in-event offers, stream live from company website  | PanicButton and Active Offer tools  | Hybrid Events tools | Highly customizable, advertise event on Hopin website |
| Best For | Day-long or multi-day events with numerous panelists/speakers | Large-scale events with multi-device interoperability/accessibility  | Presentation-based webinars with little to no audience collaboration | Conferences needing a high level of collaboration, especially breakout rooms | Companies that host a high number of virtual conferences each year, and that need to rely on analytics to improve online events | Businesses that want to host webinars on their own websites, webinar as a revenue generation  | Companies looking for an affordable webinar tool | Companies hosting virtual fairs/trade shows, hybrid events | Companies that use webinars to generate revenue (paid webinars)   |
What Are The Different Types of Virtual Events?
The first step to take in choosing a virtual conference platform is to consider the types of online events you plan to host.
Popular event types include:
Online Training Sessions: Continuing education, internal trainings on company policies or software use, and/or external trainings that teach clients how to use your software or product
Virtual Trade Shows: Online trade shows and expos with multiple exhibitors and vendors, virtual booths with interactive elements
Online Fairs: Job fairs, volunteer/internship fairs
Webinar as a Product: Online events where your company is charging entry fees for webinars, whether you're sharing educational or industry resources,  hosting panels, offering breakout rooms, etc.
Sales and Lead Generation Events: Entry to the sales webinar is free with the goal of getting attendees to purchase your products/services, will include special in-event offers, registration is often a result of social media or email marketing
Hybrid Events: A combination of in-person and virtual events, usually for company-wide or industry-specific events. May host panels, have keynote speakers, encourage mingling and networking with breakout sessions and Q&As
Essential Virtual Conference Platforms Features
Whether you're planning to create a training webinar for internal employees or host an industry-wide conference, the right software features will determine sales outcomes and future conference attendance.
The most important features you need in these platforms include:
Live and pre-recorded video streaming
Mobile accessibility for iOS iPhone and Android users
Instant chat messaging
File sharing capabilities
Virtual whiteboards
Virtual waiting room
Breakout rooms
Pass presenter tool
Webinar registration tools, including personalized invitations
Engagement features (polling tools, virtual hand-raising, Q&A tools, broadcast messages, reaction emojis, virtual handouts)
Third-party business communication tools integration
Audio and video recording
In-app conference registration
Automated event reminders
Engagement analysis on attendance and lead generation
In-app offers
Integration with live streaming social media platforms
Active speaker view
AI and gamification features
Backgrounds to create a branded virtual environment
The Best Virtual Conference Platforms
The below virtual conference platforms are the most popular digital event applications with hundreds of thousands of worldwide users.
In addition to choosing the right software, platform-compatible hardware like video conferencing webcams and headset microphones will improve audio and video quality.
Many of these platforms also offer assistance from virtual event planners and live event monitoring to address any unexpected tech or security issues during the online conference.
Here are the best virtual conference platforms:
Cisco WebEx Events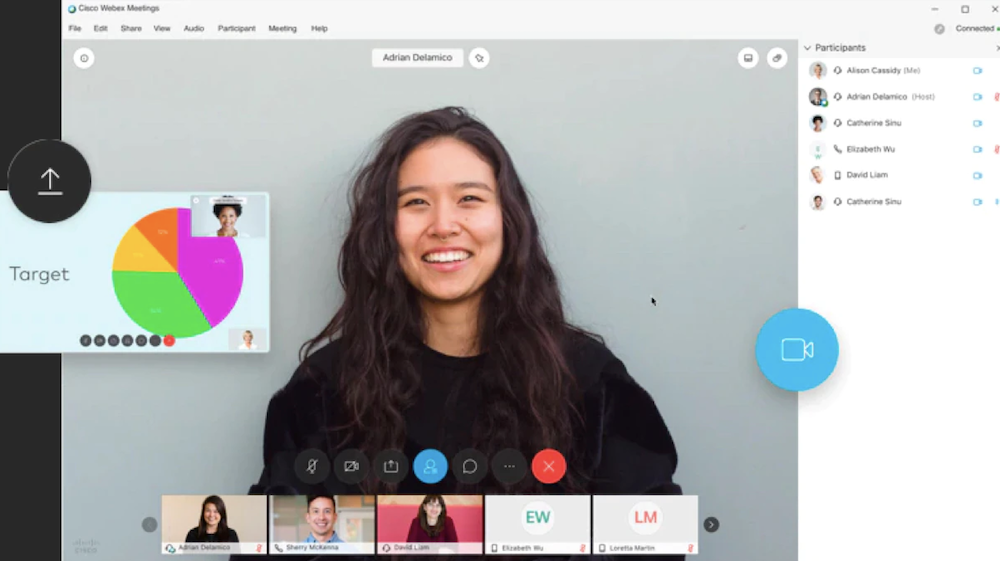 Cisco WebEx Events is a browser-based software capable of hosting up to 3,000 simultaneous viewers and 200 video feeds.
Guests can access the event link via the registration email, an Apple or Android mobile device, the WebEx website, or get audio-only dial-in access. Users can join an event on Chrome, Safari, Firefox, and other browsers, or watch a live stream on Facebook or YouTube.
Events accept registration fee payments via PayPal and credit cards. It also integrates with popular CRM tools like Salesforce and Constant Contact, as well as essential team collaboration tools like Google Drive, Slack, and Jira.
Additional features include:
Live and pre-recorded conferences
Active speaker view
Screen sharing
Event practice room
Automated invitations, reminders, and follow-ups
Event recording
Q&A tool
Polling tool
Survey tool
Pass presenter capabilities
Password protection and event security
Public and private chat messaging
File and video sharing
Post-event surveys
Event data and analytics
Screen drawing tool
SSO
The only real downside to Events is that it does not offer breakout rooms. If your digital conference has 1,000 or under participants, you can use WebEx Teams or Training, which offer breakout sessions, instead of Events. It's a good fit for conferences that have lots of different panelists, exhibitors, and sessions over the course of the day.
Events pricing is not listed on the software's website.
Read our complete WebEx review for more information.
GoToWebinar
GoToWebinar is a virtual event software created by LogMeIn, GoToMeeting's parent company.
With over 50,000 users, it's one of the most popular platforms. It allows event organizers to host up to 3,000 guests from their web browsers, desktop app, and Android and iPhone mobile apps.
It integrates with tools like Salesforce, Slack, and popular Slack alternatives, HubSpot, and more.
Additional features include:
Live and pre-recorded events
Event analytics and source tracking
Video and file sharing
Webinar templates
Custom registration page
Conference recording
Q&A, polls, and handout tools
Virtual whiteboarding
Co-hosting
Six simultaneous video streams
One-time or on-demand conference
Automated reminder and follow-up emails
Shared and annotated screens
Audience spotlight and view
Branded conference pages and virtual backgrounds
As with WebEx Events, GoToWebinar does not offer breakout rooms. However, its training software, GoToTraining, does. GoToWebinar also includes all the features of GoToMeeting for free. It's the right choice for conferences with a high number of participants who will access the event from a variety of devices and browsers.
The software offers four paid plans, ranging in price from $49.00 per month to $399 per month.
To learn more about the GoToMeeting features you'll receive, read our GoToMeeting review.
WorkCast
WorkCast is one of the top cloud-based, no-download virtual conference platforms accessible on both mobile and desktop devices.
It can host up to 5,000 participants and offers live, pre-recorded, on-demand digital conferences with a maximum of three simultaneous video feeds. WorkCast integrates with PowerPoint, Marketo, Salesforce, Hubspot, and other popular CRM tools.
WorkCast is also the preferred platform for hosting an online trade show, as it allows attendees to tour virtual booths and chat with representatives.
Event management features include online and email registration and reminders, as well as live event support.
Other WorkCast features include:
Unlimited monthly webinars
Unlimited panelists
Event lock
Q&A feature
Dial-in access
Host bios
File, presentation, and video sharing
Attendance and registration reporting
Webinar templates
Live polling
Broadcast messaging
Public and private chat messaging
Conference recording
As of this writing, WorkCast doesn't offer online note-taking features or breakout rooms, so you'll need to use another online whiteboard tool. It's best suited for conferences that rely less on audience collaboration and more on presentations alone.
WorkCast offers three paid plans from $2,995/year for 500 attendees to $5940+/year for up to 5,000 attendees.
Zoom Video Webinars
Zoom video webinars can host up to 50,000 viewers and a maximum of 100 live video panelists. In addition to broadcasting online conferences on YouTube Live and Facebook Live, Zoom Events also integrate with Salesforce, Marketo, and other CRM tools.
To help prevent Zoombombing, the platform is password-protected, has virtual waiting rooms, and AES-256 encryption.
Participants and panelists must install the desktop or iPhone and Android mobile app to join the event. Those that do not yet have the app installed are automatically redirected to the download page once they click on the link in the invitation. Dial-in, audio-only access is also available.
Additional features include:
Pass presenter features
File and video sharing
Virtual backgrounds
Polling and Q&A tools
Co-hosts
List of participants
Attendee engagement analysis
Reporting metrics
Mute/unmute
Screen share capabilities
Chat messaging
Closed captioning
Active speaker view
Local and cloud recording
Whiteboard tool
Its most valuable feature is the ability to divide attendees into breakout rooms. This helps with audience engagement and brainstorming. It's ideal for conferences highlighting attendee collaboration, networking, and company-wide training.
Zoom Video Webinars offers 6 paid plans from $40.00/year for 100 attendees to $6490/year for 10,000 attendees.
ClickMeeting
ClickMeeting is a browser-based virtual event platform allowing for both live and pre-recorded online events.
It hosts up to 1,000 people, allows for an unlimited number of monthly online events, and up to 6 panelists. It has an especially high number of communication and collaboration tool integrations, including Zapier, Dropbox, Slack, Facebook and YouTube Live for a webcast, Moodle, and PayPal.
Additional features include:
Whiteboarding
Remote screen control
File sharing and storage
Whiteboard tool
Poll, Q&A, and survey tools
Chat messaging tool
Mobile access
Customizable event certificates
Event recording and auto-publishing settings
Password protection
Dial-in access
Customizable conference registration
Exportable PDF event reporting and analytics
SSL certification and GDPR compliance
Automated reminders and attendee feedback surveys
Live training and onboarding
Individual account manager
ClickMeeting is ideal for companies that host numerous online conferences each year, as its webinar timeline feature provides schedules, data and analytics, recordings, and more regarding past and future online events.
It has three paid plans ranging from $25.00 per month to $40.00 per month and up. Add-ons include extra storage space, higher viewer limits, additional live video streams, and subaccounts.
BigMarker
BigMarker is no-download virtual conference platform used by top companies like Google, Hootsuite, and Panasonic.
It can host up to 1,000 people and 9 simultaneous live video streams. It also integrates with social media webcasting platforms like Facebook Live and Youtube, and can even stream online events from a company website.
It's compatible with numerous web browsers like Chrome, Firefox, and Internet Explorer. It's also accessible on Android and Apple mobile devices.
Additional features include:
Live and pre-recorded video
Screen sharing
Recurring webinars
Whiteboard tool
Pre-loaded live polls with real-time results
Google Form surveys
Automatic and manual pop-up offers and CTAs
Webinar landing page templates
Customizable email invitations
Built-in translation
Payment collection via PayPal and stripe
Embed registration forms on the website
Integration with Analytics, Dropbox, Salesforce, Mailchimp, and more
Event recordings
Password protection
Participant list
Data and analytics
Dial-in access
Live chat messaging
Presentation and file sharing
BigMarker is best for companies that want to host virtual events on their own website, as well as for those who host recurring paid webinars as a source of revenue.
BigMarker offers three paid plans ranging in price from $79 per month to $299 per month.
WebinarJam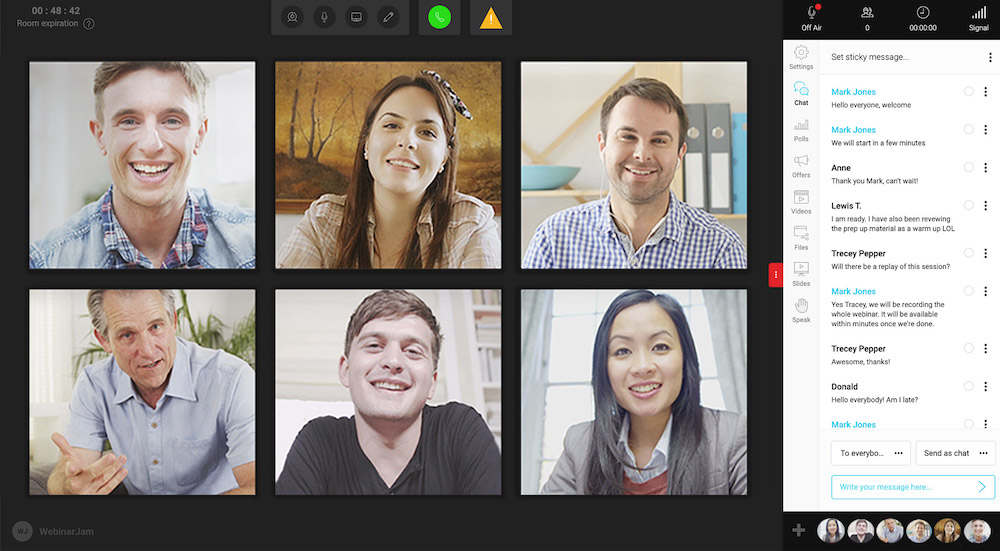 WebinarJam is a cloud-based broadcasting technology with over 50,000 users.
It can host up to 5,000 viewers, six presenters, and can stream both live and pre-recorded events. WebinarJam's two most unique features are its "Panic Button" and "Active Offer" tools.
If hosts experience a technical problem or if a meeting's security is compromised, they simply hot the Panic Button to create a new conference room that automatically transfers all participants, files, and hosts into it.
The Active Offer feature displays not just a discount or product offered on all screens but also includes a countdown showing the time and quantities left.
Additional WebinarJam features include:
One-click registration
Handouts and live file/video sharing
Integrations with Zapier, Mailchimp, Constant Contact
Screen sharing
Remote screen control
Whiteboarding tool
PDF, PDG, Excel, and Google doc file compatibility
Chat messaging
Live polling, survey, and Q&A tools
Automatic conference recordings
Performance analytics
Though WebinarJam does place a four-hour maximum time limit on virtual events, it's still the best fit for businesses especially concerned with affordable online conference platforms.
WebinarJam pricing and plans include 3 paid plans from $499.00/year for 500 attendees to $999.00/year for 5,000 attendees.
vFairs
vFairs is a virtual and hybrid events solution offering both live and pre-recorded webinars, trade shows, job fairs, and more.
Its especially well-known for its in-event gamification to boost engagement, as well as its immersive 3D event space. Trivia quizzes, leaderboards, and even virtual scavenger hunts make events memorable and fun.
Before events, panelists or exhibitors can send presentations, datasheets, and other handouts which are then compiled so that guests can browse them at their convenience during the event.
Features like a virtual information desk and virtual event space that allows guests to "tour" through booths and event spaces just as they would face-to-face help to make the event personal and lifelike.
Additional features include:
Keynote speakers
SMS and email reminder notifications
Attendee profiles
Downloadable presentations and videos
Live Q&A/audience participation features
Breakout sessions
Virtual graduation sessions, alumni events, and opening day events
Benefit fairs to connect employees to benefit providers in real-time to choose best plan for their needs
Group and 1:0 chat, audio, and video communication
Reporting and analytics
Multi-lingual support
Custom registration and event landing pages
vFairs pricing is quote-based, so companies will need to directly contact the provider for a pricing quote. The quote will also allow you to outline the maximum number of attendees and hosts you need.
Hopin
Hopin is an all-in-one online events platform that, in addition to the standard webinar format, also provides several interactive virtual rooms that attendees can drop into.
Up to 5 speakers or organizers can host events that last up to 72 hours for 100,000 maximum attendees. (If greater numbers are needed, Hopin can customize a unique plan for your needs.)
Hopin helps users to recruit event sponsors and makes it easy to sell tickets in any currency for online events like online courses, fairs and trade shows, workshops, and hybrid events. It accepts payments through Stripe, provides unique links for better lead tracking and analytics, and offers a unique SEO-optimized registration landing page.
Additionally, Hopin provides its own unique online event page where you can list your event and browse upcoming ones relevant to your interests — making networking and increasing your audience even easier.
Other features include:
Virtual lobby with event schedule
Event-wide and private chat messaging
One-on-one breakout sessions
Unlimited concurrent live sessions
Custom registration forms
Custom branded events
Third-party integration (Magneto, Salesforce, HubSpot, Zapier, etc.)
No-code event building platform
Networking feature to connect specific attendees
Event analytics
Hopin offers 4 paid plans from $99.00/host per month to $799.00+/5 hosts per month.
Small-Scale Virtual Conferencing Alternatives
The digital conference platforms covered here are ideal for large-scale online events and webinars and are for companies that want to be able to almost completely replace face-to-face conferences.
Smaller companies and online conferences that don't need to host thousands of attendees will find standard online meeting and web conferencing software best suits their needs.
Our comparisons of popular software for video calls like Zoom vs WebEx break down these virtual meeting platforms' top features and functionalities, integrations, and overall user experience, allowing companies to find the perfect fit.
Virtual Conference Platforms FAQs
Top ways to promote your online events include: 

Social media
Advertise a live drawing during the event for a free product, gift certificate, or other giveaways
Email marketing
Get an event sponsor
Use an online event planner
Create a unique panel, and urge panelists to advertise the event
Make a video advertisement for the webinar, or write and distribute a press release 
Work with industry influencers, and have one influencer as a panel or keynote speaker if possible
The most important thing to do is to start planning your event as early as possible. Depending on the size and scope of your event, you'll likely need anywhere from 2-10 weeks to effectively prepare materials and speakers, create content, advertise your event, and gain registrations. 

Additional webinar best practices include: 
Practice in a virtual practice room before the event
Keep attendees engaged with Q&A and breakout sessions, along with virtual handouts, and gamification 
Develop an effective registration landing page
Create several hyper-focused and segmented virtual sales events tailored to specific audiences as opposed to one large general sales event
Make live event recordings available, and offer on-demand webinars for training materials especially 
Aim for and highlight event sponsorships to defray webinar costs
Always ask for and review attendee feedback
This varies according to online event type, but the general ideal webinar length is anywhere from 30 minutes to 1 hour. 

Anything more -- at least without breaks in between -- will not only cause attendees to lose focus, but it will also likely deter people from signing up in the first place.
If you're planning on hosting an all-day webinar, provide attendees with a schedule ahead of time so they know when to tune in and when would be a good time for them to take a break.  
Again, the best time to host a webinar depends on numerous factors, including the type of event. 

However, research shows that between 10:00-11:00 PM or 1:00-2:00 PM are the ideal time of day for online seminars. 
Thursday is thought to be the best day to host webinars, followed by Wednesday, and then Tuesday. 
A webinar is an online seminar or event that centers on audience engagement and two-way communication. These webinars can be live or pre-recorded, and are often password-protected or hosted exclusively on the webinar platform. 

In contrast, a webcast is a live video stream of an online event, usually on social media platforms like YouTube or Facebook Live. The webcast is used to make the webinar accessible to a much larger audience, one in the thousands. 
Think of it as a live TV show that focuses far less on two-way engagement, but rather one-way engagement.