Team collaboration software improves internal and external communication but allows project details to slip through the cracks in favor of the bigger picture.
Project management software allows for both large teams and individual employees to understand and evaluate their current and future tasks, providing a higher level of customization than team collaboration tools alone offer.
Popular workflow management tools like Monday.com, Trello, and Wrike streamline workflows and provide remote workers with a central location for team and company-wide collaboration.
But if Monday.com pricing is out of your budget and Wrike or Trello doesn't suit your business's needs, consider Basecamp and Asana, two of the most popular project management tools.
We put Basecamp vs Asana in a head-to-head battle to learn more about the features of each tool, and to see if there's a clear overall winner.
What is Asana Used For?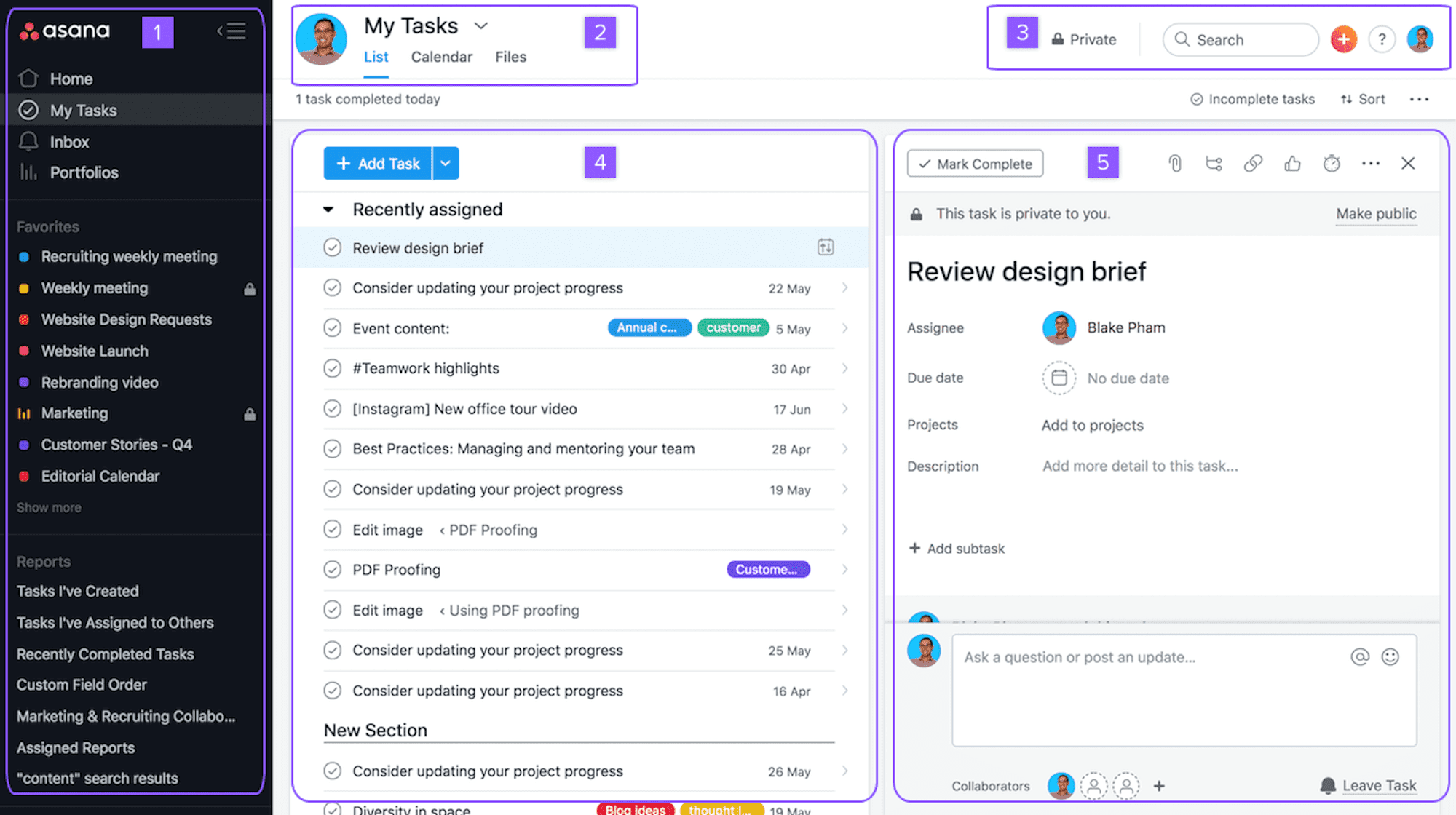 Asana is a web-based work management platform and knowledge base designed to improve communication and collaboration between team members.
Its default to-do list style interface allows users to assign and monitor tasks/subtasks, create project checklists, set deadlines, and leave notes for one another.
Does Asana Use Gantt Charts?
In addition to the standard list view format, Asana also has Gantt (timeline), calendar, Kanban, portfolio, and workload views.
Each Asana user has their activity stream showing a birds-eye, real-time view of upcoming responsibilities.
Once a task is completed, users simply check it off their list.
Is Asana Good For Teams?
Asana also makes it easy to group users into specific teams like HR, content marketing, and sales departments.
This way, in addition to their tasks, users can access team boards to display upcoming large-scale projects involving multiple people.
What is Basecamp?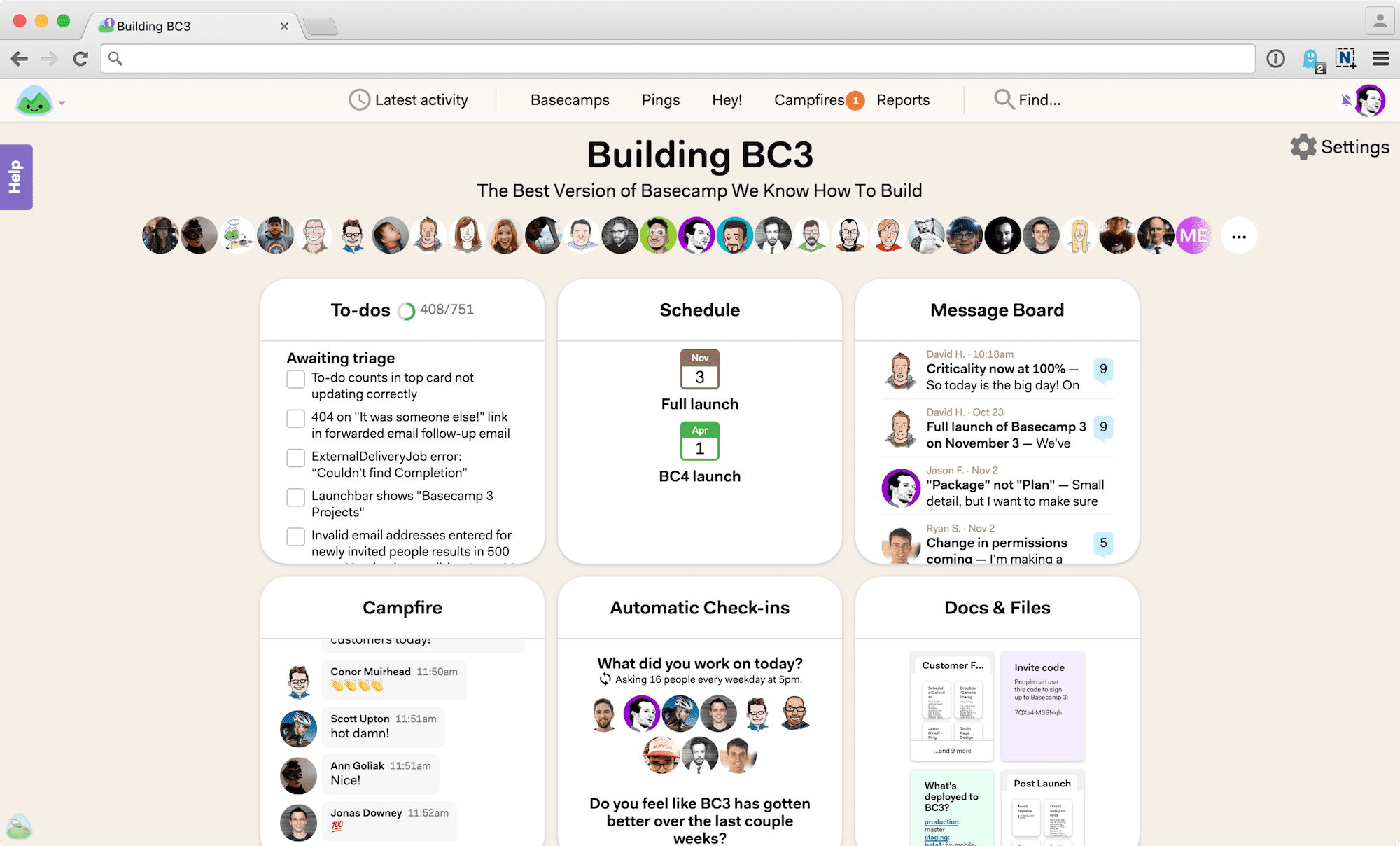 Like Asana, Basecamp is also a web-based, real-time project management platform that can be used alongside popular and internal communication tools.
As of this writing, Basecamp 3 is the most current version of the software.
Which Views Does Basecamp Offer?
While Asana's default interface is its to-do list format, Basecamp defaults to a Kanban, sticky-note style view.
It also offers a to-do list style format. Basecamp groups users by the team and by project, and provides a public company-wide HQ board that all employees can access.
Each project or team has one large virtual bulletin board (called "cards" in Basecamp) with categorized Kanban boards virtually pinned to it.
How Does Basecamp Organize Boards?
Though users can create their categories, Basecamp organizes these Kanban boards into six topics: message board, to-do list, files, campfire chats, schedule, and automatic check-ins.
Like Asana, Basecamp also offers a personalized activity stream, allowing individual users to view their assignments, bookmarks, schedule, and drafts. It also offers board version control.
Basecamp vs Asana: Comparing The Top Features
The biggest difference between Asana vs Basecamp is that while Basecamp takes a team-first approach to project management and collaboration, Asana is more focused on helping individuals keep track of their specific assignments, only involving others once they've completed their part of a larger project.
While Asana and Basecamp offer many of the same features, which software is the better option when it comes to both your overall business and the features that your team will use the most? Which one will integrate with your preferred web conferencing software?
The below head-to-head comparison of Basecamp vs Asana breaks down the specifics of each work management platform.
Task and Workflow Management Features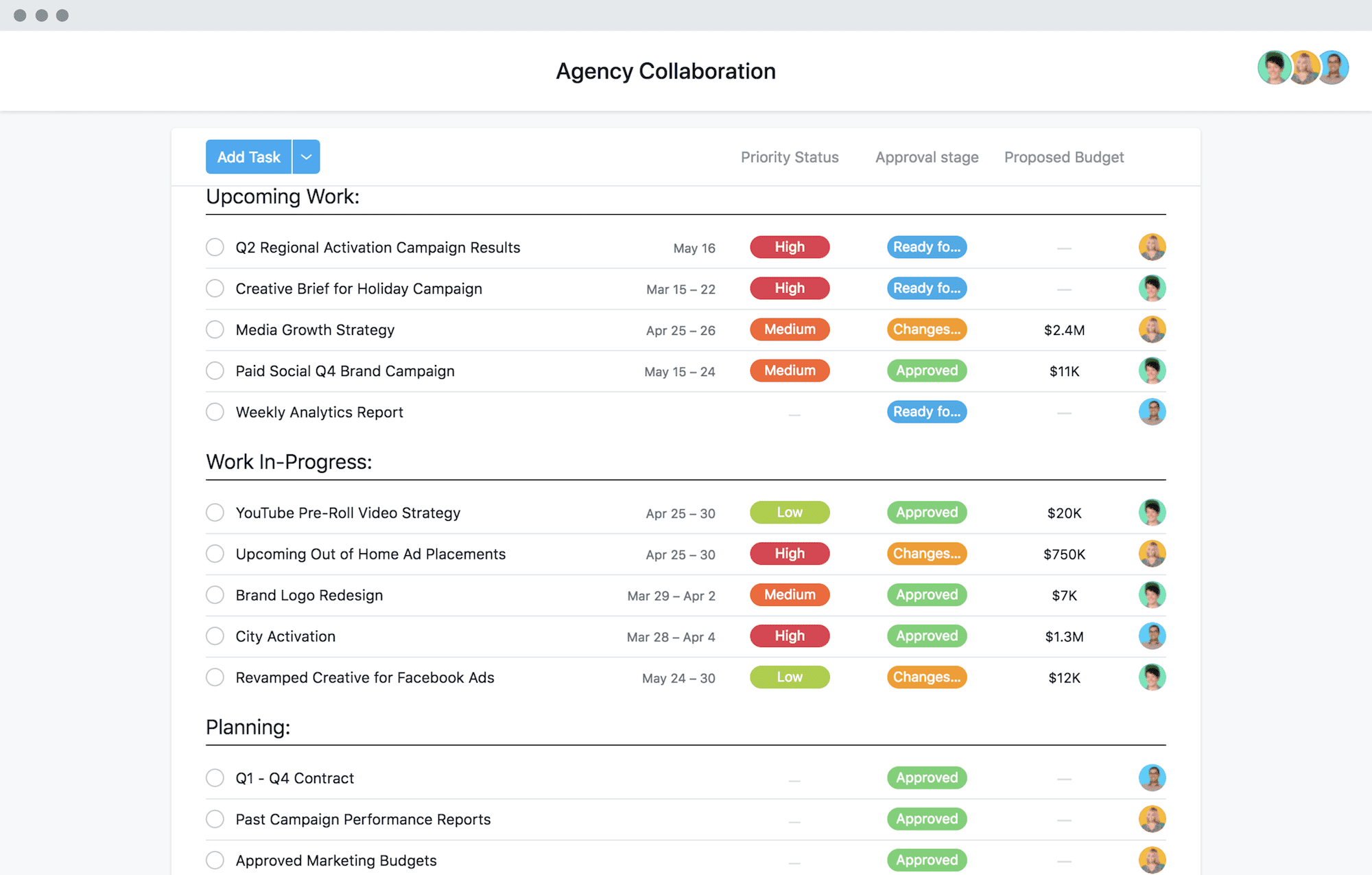 The most important native features to examine in the Basecamp vs Asana showdown are those related to workflow and task management.
Both tools offer a wide variety of pre-made project and board templates, such as marketing campaigns and event planning. Asana and Basecamp also allow users to save project templates they created themselves for future use.
Both platforms also have a search bar that makes it easy for users to search throughout all public content, specific boards, and unique projects and tasks. Setting recurring tasks is possible within both Basecamp and Asana, as well.
However, Basecamp falls short in a few key areas.
For example, it does not let users set task dependencies, nor does it allow team leaders to set task priorities. Asana has both of these additional features, and also provides detailed options for labeling tasks through keywords and color-coding. Unlike Basecamp, Asana also allows users to update project and task status.
Asana also has the advantage over Basecamp as it allows users to create sub-tasks, allowing for better collaboration between team members and a higher level of workflow organization. In the end, the only advantage that Basecamp has over Asana in task management is that it allows project creators to assign multiple people to a single task, where Asana does not.
As of this writing, neither Basecamp nor Asana offers time tracking features, though both tools do provide integration options for this feature.
Winner: Asana
Team Communication Features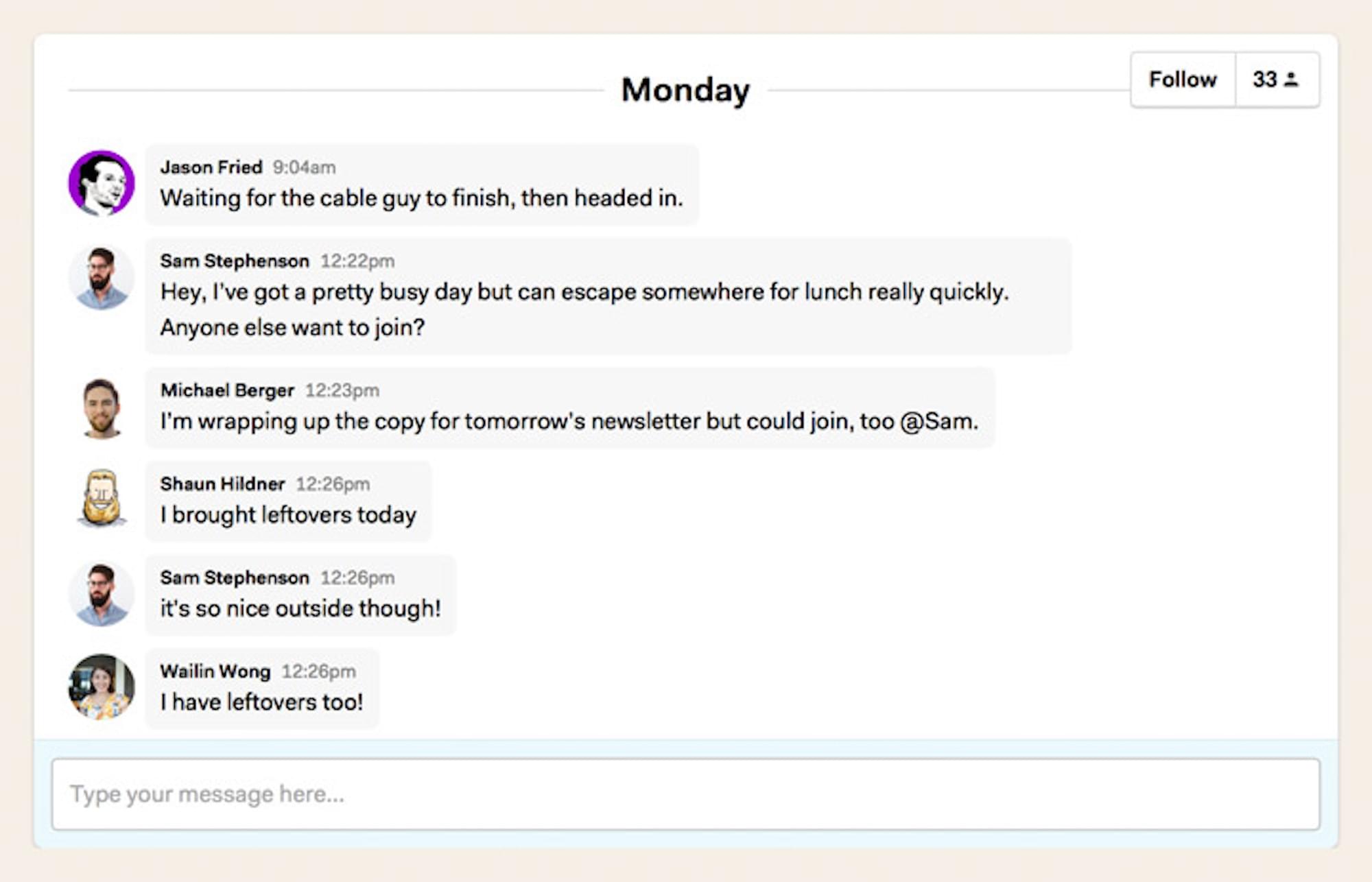 The biggest differences between Basecamp vs Asana are team communication features.
Though Asana integrates with numerous messaging apps like Slack and Slack alternatives, it does not have a native chat messenger tool.
In Asana, users can only comment on their tasks and those they've assigned to others. While Asana does provide public boards where team members can pin and share company-wide messages, instant, real-time communication remains a challenge.
Basecamp, however, offers several different ways to communicate within the app itself.
While Basecamp also has a public message board, it's much more comprehensive than the Asana option. First, users can categorize their messages according to the topic, such as pitches, meeting schedules, or IT requests.  Users can also filter messages by category.
Basecamp's message board also makes sorting and prioritizing messages easy by letting users choose to sort messages by post date, latest comment date, or alphabetically. It's even possible to embed images in pinned message board notes, as well as to select specific team members to notify.
In addition to the public message board, Basecamp has a real-time chat messager tool called "Campfire." In addition to a company-wide Campfire chat, teams and projects also get their channels. Team members can share links, images, and even GIFS in Campfire, and directly mention specific coworkers.
"PIngs" in Basecamp are private messages sent between individuals and users. Basecamp 3 also marked the debut of the "Hey!" tool, which acts as an in-app catch-all email inbox. The "Hey!" inbox displays every notification, mention, task, and relevant campfire chat for a single user in one place.
Finally, Basecamp's Automatic Check-In tool lets project managers ask questions regarding project status publicly or privately. Team leaders can automate the specific questions they'd like to ask on a daily, monthly, or weekly basis. Each team member then sends a private response, and all responses are compiled in a singular report for project managers to read whenever they want.
Winner: Basecamp
Integrations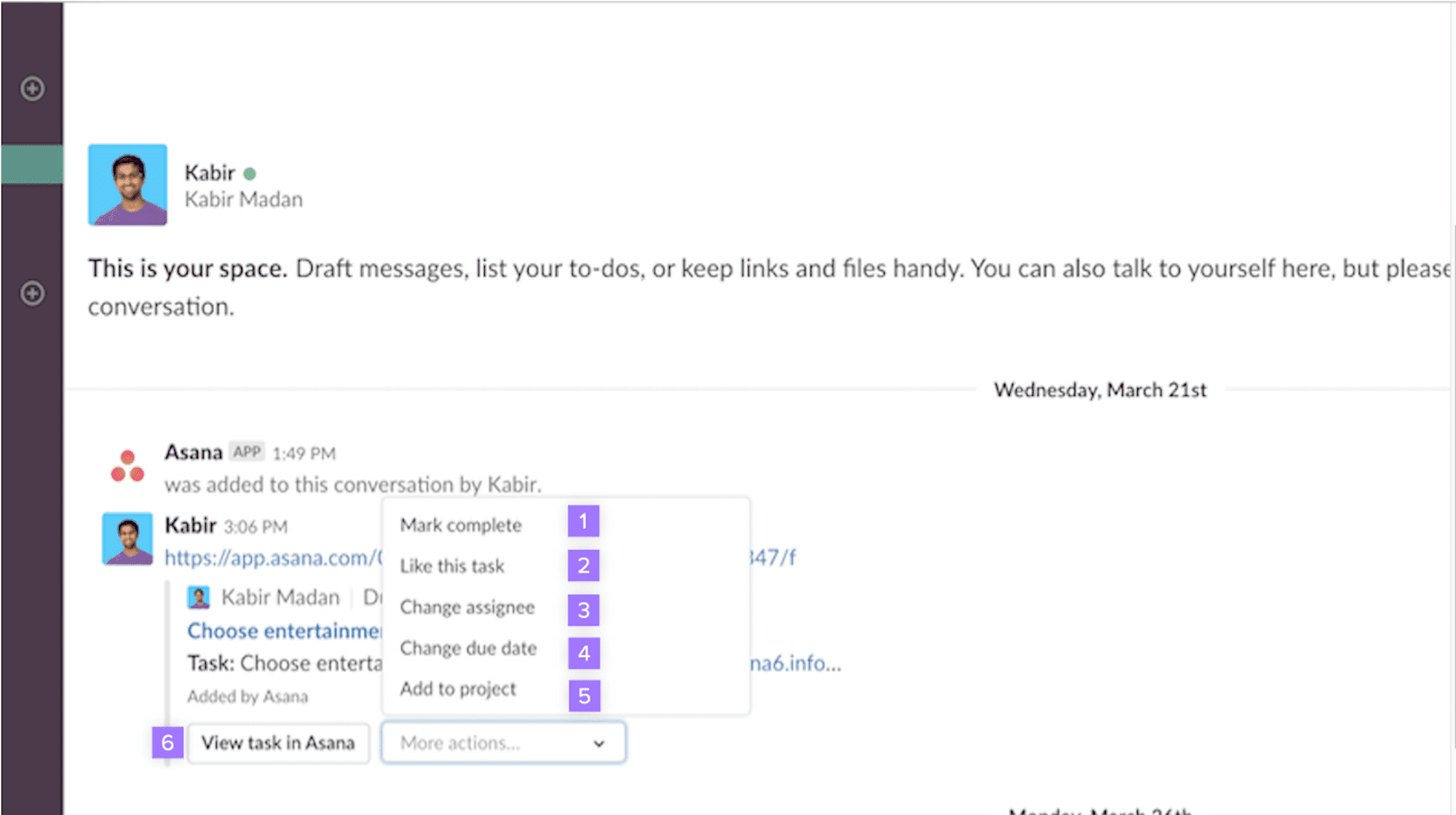 Though Basecamp natively offers a high level of customization options, Asana is a bit more of a "blank slate," allowing users to select the specific tools they'd like to integrate and which ones they can do without.
Because of this, Asana offers more integration options than Basecamp.
In addition to its robust app directory, Asana integrates with, among others, the following tools:
Slack
Microsoft Office365
Zoom and Zoom alternatives
GSuite
Dropbox
Google Drive
Jira
Adobe Cloud
Salesforce
Okta
Trello
Mailchimp
The main problem with Basecamp integration options is that they rely heavily on Zapier to allow Basecamp users to integrate with some of the most important communication and collaboration tools like GSuite, Outlook, and Adobe. Therefore, integrating Zapier into Basecamp is essentially mandatory.
Basecamp integrations include:
Hubspot
Wrike
Github
Harvest
EverHour
Winner: Asana
Basecamp vs Asana: Which Mobile App is Better?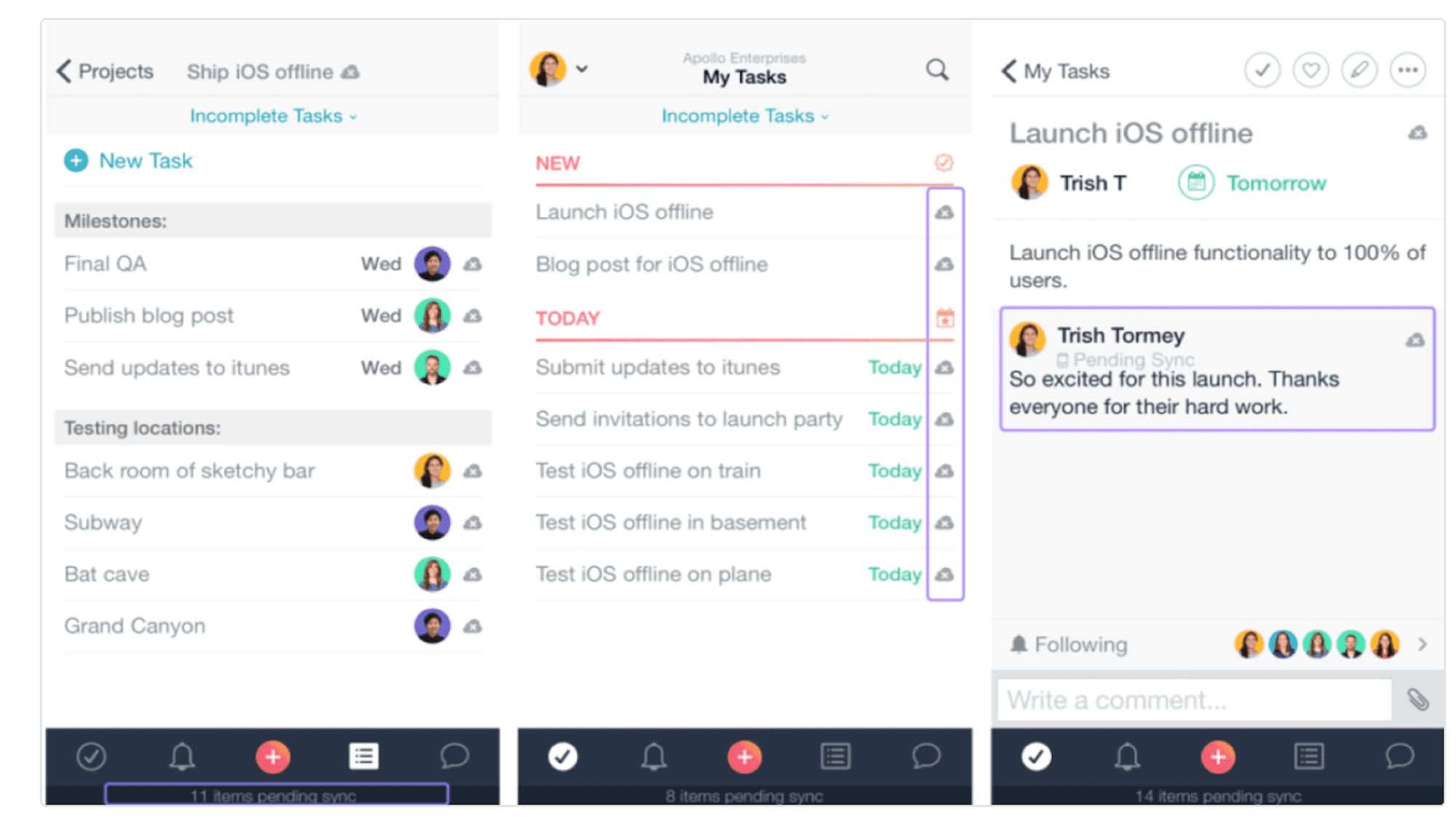 Remote and in-house employees already use mobile applications like free screen sharing apps, chat messenger tools and mobile versions of video calling to communicate from their preferred device while on-the-go.
Asana and Basecamp also offer mobile apps that allow users to receive notifications, complete tasks, and write comments on both Apple iOS and Android devices.
Basecamp's mobile app includes:
In-app mobile messaging and notifications
App-wide search bar
Checklist tool
Individual and team schedule access
Mobile file sharing and storage
Kanban board view
Commenting feature
Though users do mention occasional problems with receiving real-time notifications, the majority say that Basecamp's app provides nearly all of the layouts and features of the desktop version — a rare feat for mobile team collaboration tools.
Asana's mobile app includes:
Task prioritization and assignment
Push notifications
Commenting feature
Checklist tool
Kanban board view
FIle access and editing
Asana's mobile version is less complete than Basecamp's, and users consistently mention serious problems with in-app file access and sharing. Additionally, though it's possible to view all tasks related to a project within the mobile version, the app doesn't allow users to see only their specific project tasks. This means users lose time scrolling through other team member's tasks and aren't well-suited for individual assignments.
Winner: Basecamp
What Security Features Do Asana and Basecamp Include?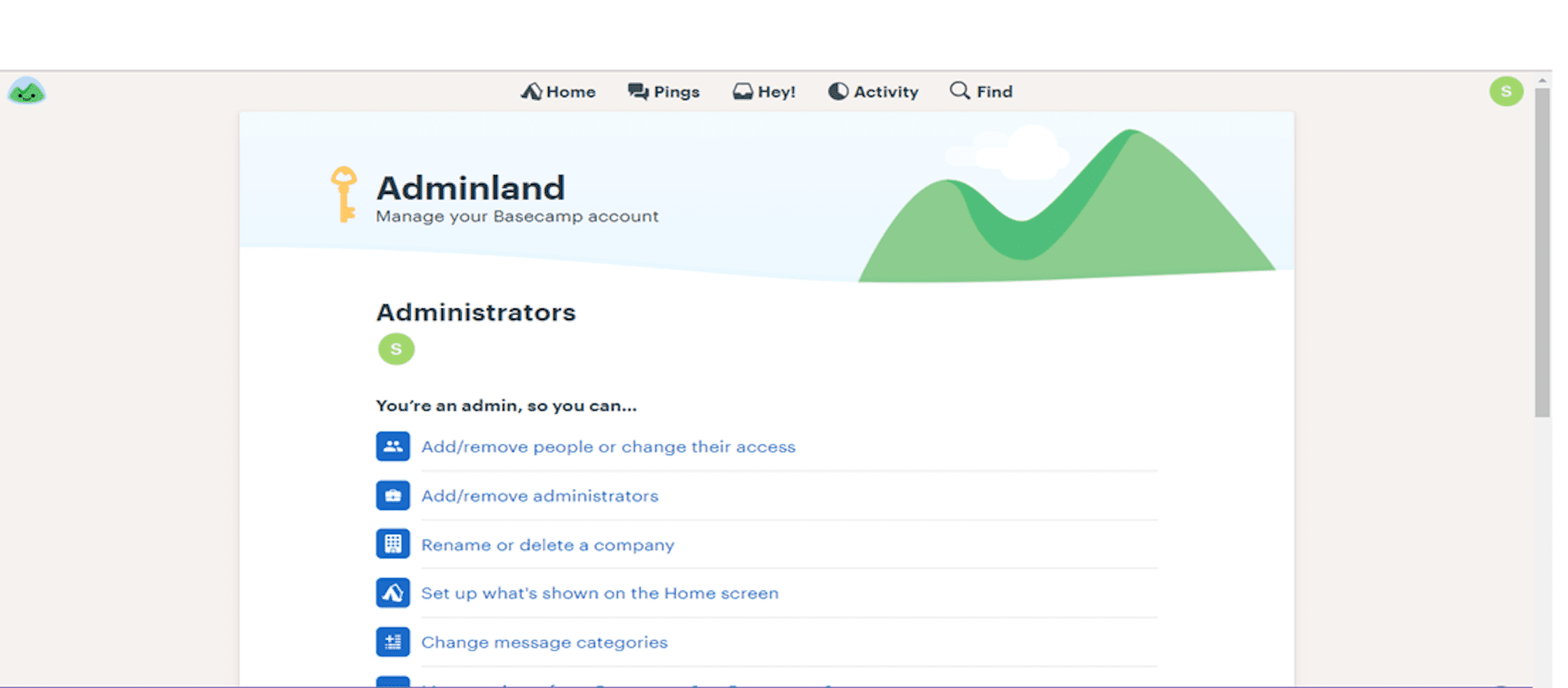 Especially given recent issues like Zoombombing and data privacy violations within popular team communication tools, examining the security features of Basecamp vs Asana is especially essential.
Asana is SOC 1 and 2 compliant, offers both single sign-on and two-factor authentication via app integration, is GDPR compliant, and provides end to end encryption. Asana also allows account managers to limit access to certain boards and lists and provides user activity reports.
Asana also provides a public incident report that shows users' current app status, uptime, and potential security breaches.
Basecamp also allows administrators and project creators to limit what users outside of an organization can and cannot see. Guests can't create new projects or publicly share them, but they can edit to-do lists, message boards, and files uploaded to a project.
Basecamp is PCI and GDPR compliant and has end-to-end encryption and SSL certification.
However, it is not SOC compliant. This means that, unlike Asana, Basecamp primarily conducts internal security audits, while Asana has been third-party audited.
As of this writing, neither Asana nor Basecamp are both HITECH and HIPAA compliant.
Winner: Asana
Top Pros and Cons of Asana and Basecamp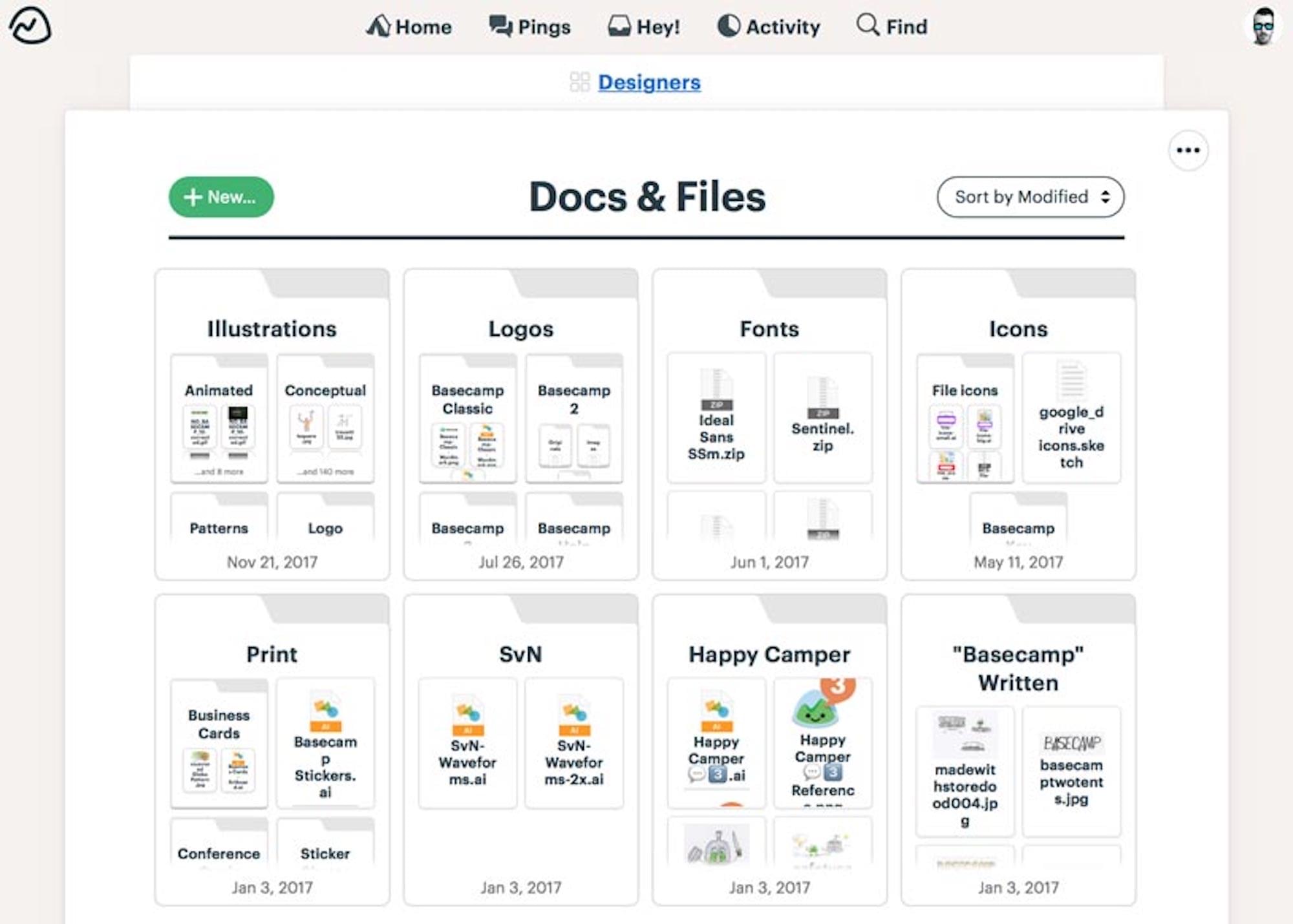 In reading numerous user reviews of both Basecamp and Asana, we noticed several pros and cons for each tool that were consistently mentioned.
Below, we'll outline the best and worst features of each tool, so you can decide which option is best for your large or small business.
Asana Pros and Cons
Users seem to agree that the biggest pro for Asana is its intuitive, user-friendly interface.
Though the tool offers a plethora of features, customization levels, and views, they're all optional. Asana doesn't have a large learning curve and or overcomplicated interface like many other project management tools.
The majority of users rely on the simple digital to-do list format more than any other feature or view.
Asana's biggest con, however, is the fact that only a single user can be assigned to each task.
This means users must copy and paste the same task once for each team member instead of just being able to tag them on a task.
It might seem like a small detail at first.
However, if multiple team members, especially those from different departments, need to collaborate on a task like starting to create a webinar, miscommunications happen often.
Pros and Cons of Basecamp
User feedback reveals that the best thing about Basecamp is the value for all the features and tools it provides.
Because Basecamp offers a flat monthly price with an unlimited number of users, it's a much more affordable workflow management platform than its competitors.
However, just because Basecamp comes with a lower price tag doesn't mean it compromises on the customization it offers.
The biggest drawback of Basecamp is its interface.
While it provides ample space for notes and longer comments and allows those across multiple teams to collaborate, user reviews consistently mention the lack of organization within boards and cards.
This is a big source of frustration for users, who spend more time than they'd like looking for their specific boards or playing catch-up with comments and notes they missed.
Basecamp vs Asana Pricing and Plans
Asana offers four plans to choose from, including a free Basic plan and a free 30-day trial of paid plans. Basecamp offers two plans, the Personal free version, and the business free tier, as well as a free 30-day trial of their paid premium plan.
Below, see a complete breakdown of Basecamp and Asana pricing and plans.
| | | | | | | |
| --- | --- | --- | --- | --- | --- | --- |
| Plans | Asana Basic Plan | Asana Premium Plan | Asana Business Plan | Asana Enterprise Plan | Basecamp Personal Plan | Basecamp Business Plan |
| Pricing | Free | $10.99 per user per month | $24.99 per user per month | Unlisted | Free | $99 monthly flat fee |
| Number of Projects | Unlimited | Unlimited | Unlimited | Unlimited | 3 per month | Unlimited |
| Number of users | 15 users | Unlimited | Unlimited | Unlimited | 20 users | Unlimited |
| To-do List | ✓ | ✓ | ✓ | ✓ | X | ✓ |
| Kanban View | ✓ | ✓ | ✓ | ✓ | ✓ | ✓ |
| Timeline View | X | ✓ | ✓ | ✓ | X | X |
| Calendar | ✓ | ✓ | ✓ | ✓ | ✓ | ✓ |
| Comment on task | ✓ | ✓ | ✓ | ✓ | X | ✓ |
| Guest Access | X | Unlimited guests | Unlimited guests | Unlimited guests | X | Unlimited guests |
| Chat messenger | X | X | X | X | ✓ | ✓ |
| Automated Tasks | X | X | ✓ | ✓ | X | X |
| Custom Branding | X | X | X | ✓ | X | ✓ |
| Customer Support | Standard support | Priority support | Priority support | Priority support | Standard support | Priority support |
Who Should Use Basecamp?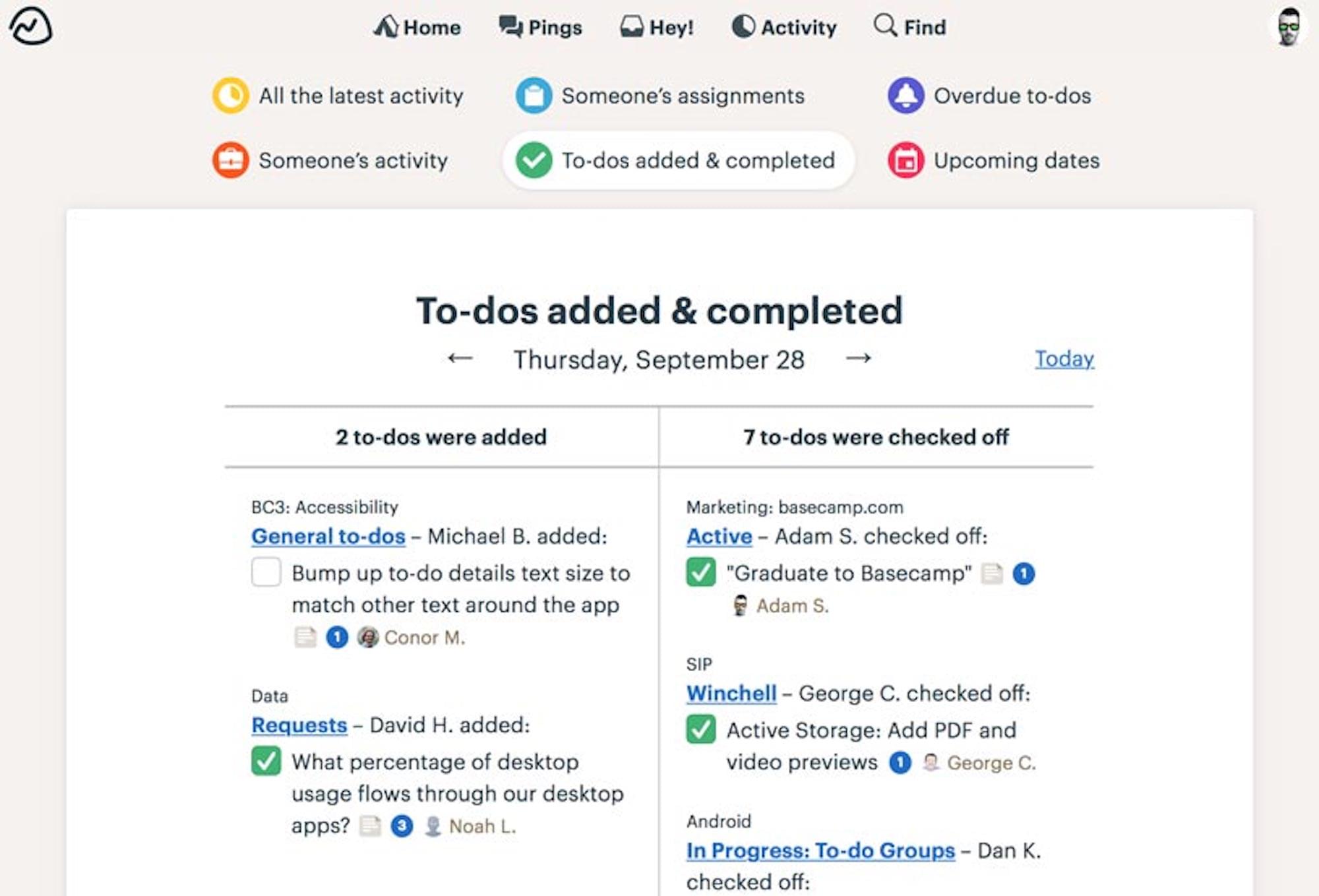 Basecamp is best for small to mid-sized companies whose projects frequently require communication and collaboration between departments and teams. While Basecamp can easily accommodate larger teams, having multiple Kanban boards within an already crowded interface often causes essential information to get buried or outright overlooked.
Basecamp is also ideal for businesses that are looking to centralize team communication by keeping all project information within a single platform, as opposed to having to rely on multiple tools over a project's lifetime.
Companies that need reporting and analytics features should not use Basecamp and should opt for Asana or other Basecamp alternatives instead.
Who is Asana Right For?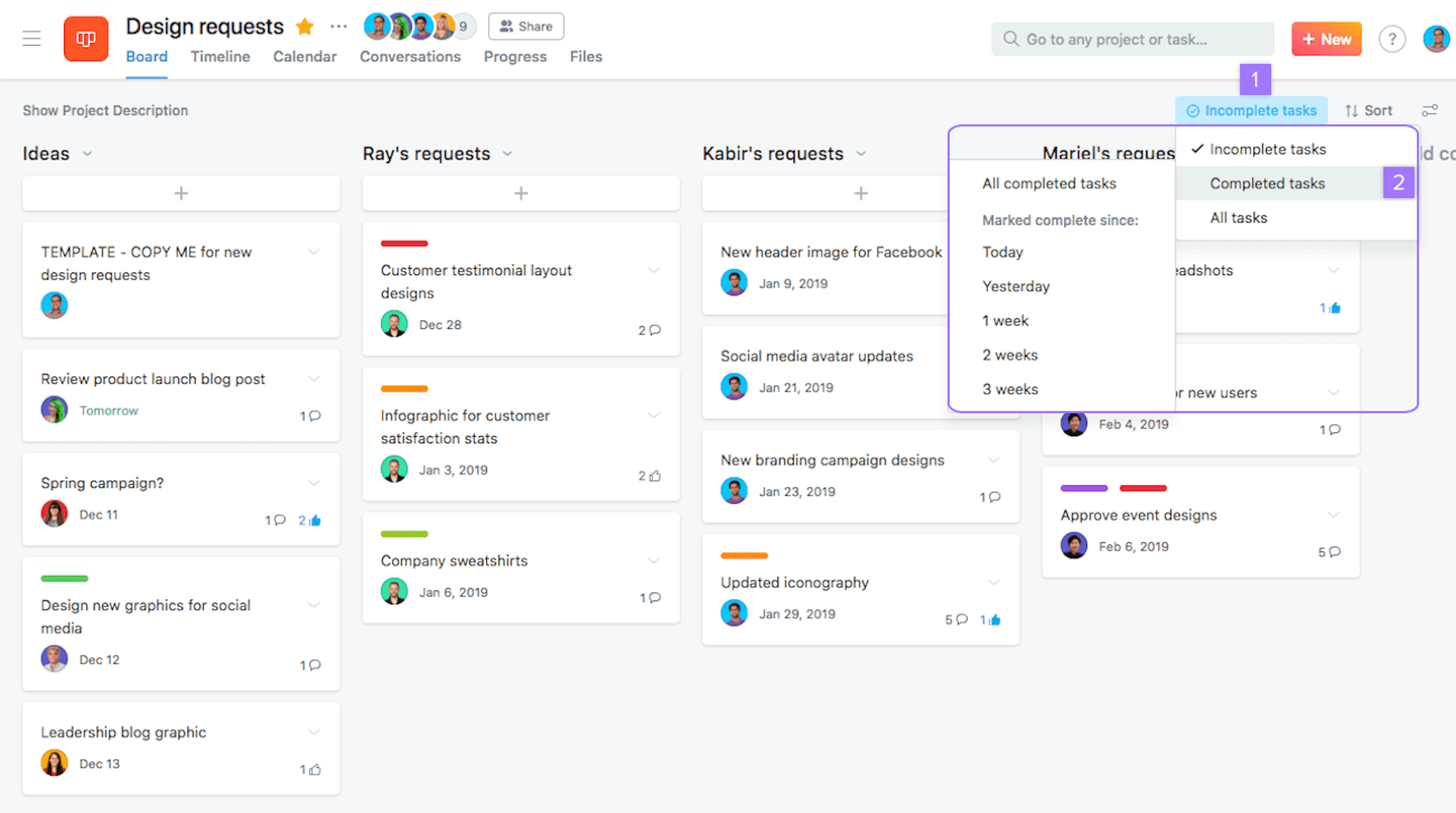 Asana is the right choice for larger companies needing a better option to track project status, especially if those projects that rely heavily on the actions of individual employees doing their "part" of a project.
If team members are often unclear on their responsibilities or lose valuable time while waiting to hear back from supervisors or other employees, Asana is the solution. While individual tasks are Asana's main focus, it also gives team leaders a birds-eye view of all current team projects, making it easy to identify bottlenecks.
However, teams that rely heavily on real-time collaboration between multiple teams should choose Basecamp over Asana.
Basecamp vs Asana: Is There a Clear Winner?
Asana is the overall winner of the Basecamp vs Asana battle.
It offers a higher number of integrations, individual and team task management, and more view options than Basecamp. While both tools offer multiple features and tools, Asana does so without overcrowding its interface and compromising on user-friendliness.
However, the pricing structure of Basecamp is undeniably much better for larger teams than Asana's, so companies on a budget may forgo a clean interface for cost savings.
Although both Basecamp and Asana are comprehensive project management system options, relying solely on either option for all your team collaboration needs would be a mistake.
Our list comparing the top free online collaboration tools software for use alongside or instead of Asana and Basecamp provide information on pricing, features, and user feedback that will help you to improve internal and external communications.