CPaaS software, as a form of customer engagement, is becoming increasingly popular because customers are looking for more ways to communicate with their favorite brands. When you order an Uber, the driver texts or calls you to confirm things like the address where he or she will be picking you up. This is mostly done using an editable API that adds these channels to the app. This kind of functionality is convenient, and many customers prefer the ease of a quick text message for confirmation. Simply put, SMS texting is the new customer service go-to.
Unfortunately, SMS texting has its issues – it has a 160-character limit and doesn't handle file transfers well. This is where rich communications services (RCS) messaging stands out as a new way to foster better interactions with your customers. This messaging is currently available on Android phones and expands on the functions that you would find in standard SMS or MMS, which is the most well-known multimedia texting system. In this guide, we're going to show you how it works and hit on some of its strengths and weaknesses.
What are Rich Communications Services?
This messaging is a type of text-based protocol for mobile devices that was designed as a replacement for SMS and MMS messaging. While this protocol has been making waves as the new alternative to these older texting systems, it's actually more than a decade old. 
It first appeared in 2007 and was adopted by the Global System for Mobile Communications (GSMA) in 2008. Since then, it struggled to gain a foothold on mobile devices until December 2019 when several U.S. carriers, including Verizon, AT&T, Sprint, and T-Mobile, committed to supporting the protocol. 
This was called the Cross-Carrier Messaging Initiative (CCMI), and the agreement to roll out the protocol finally brought this kind of messaging into the general public's awareness. Additionally, the agreement adheres to the GSMA's universal profile, which means that it will work with any phone that supports the protocol.
But why are RCS networks gaining so much attention? Well, anyone that's used Facebook or WhatsApp knows that text messaging can be very nuanced, and these platforms offer features that usually outshine standard SMS. These include message receipts that tell you that a message has been received and seen by the recipient and more complex media transfer features. In fact, Apple iOS users already have much of this functionality in their iMessage text messaging applications. 
This messaging system brings these kinds of features to Google Android users. Android phones from manufacturers like Samsung and LG have long been without a feature-rich messaging service. With RCS, there's no 160-character limit, larger attachments can be sent, and receipts are available so that you know that the message has been received. 
Additionally, a major limitation of SMS, which is its reliance on cellular networks, is neatly sidestepped. RCS messages are sent via mobile data or Wi-Fi, so when customers don't have cell service but are on a wireless network, you still have the ability to send them uninterrupted messages.
What Makes RCS Unique? 
RCS service isn't bound to the same file formats as SMS or MMS. In addition to the text transmission features, the messaging protocol allows for the sending of multiple data types such as pictures, video, location data, pdf. files, and even Microsoft Word documents. Customers will also be able to complete transactions within the messages app itself. 
While it does have its security concerns (more on that later), one feature that a business will find valuable is sender verification. With this system, any texts sent by a business will have to be verified first, so customers won't have to worry about being spammed by third parties pretending to be their favorite brands. When a message is sent, the recipient will see the verified sender's information – not just the phone number. 
Unlike SMS, recipients also are able to see when a message is being typed. In an RCS messaging app's UI, when a sender is making a text, ellipses will appear. This is particularly useful for those businesses looking to resolve customer issues and provide top-notch customer service. These three dots let a customer know that their concerns are being addressed.
How Does RCS Benefit Business?
This system is very convenient for the average user, but how does it provide new opportunities for your business? 
More Interactive Messaging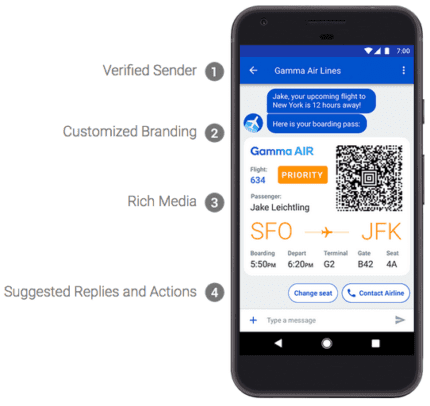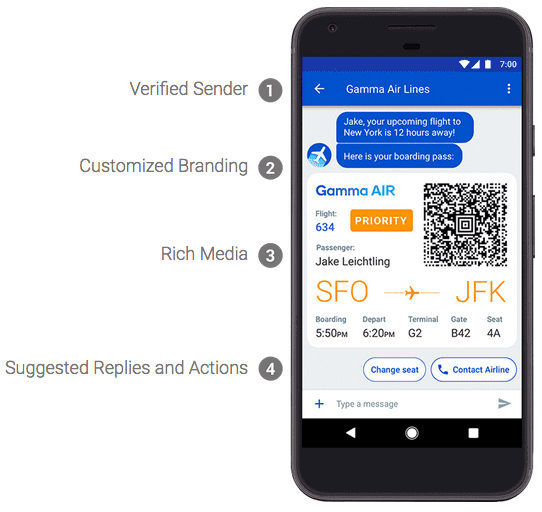 One of the best benefits of this system is its allowable file sizes. Unlike SMS and MMS, rich communication messages have a file size limit that spans into the megabytes, not kilobytes. This means that you will be able to send more multimedia content to your customers. 
Consider this: with traditional messaging, you may be able to send a small jpeg or gif to your customers, perhaps with a link, but is this enough to engage them? With this system, your messages can have high definition images, clickable buttons, and branding, which will create a more browser-like messaging experience. This system provides a much more detailed user experience (UX), and more interactivity will present you with better engagement.
One-App Functionality
The protocol also brings with it the ability to complete entire transactions right inside the messaging app. Instead of providing a link that will open inside of a mobile browser, RCS Android messages handle all of the functionality without the need to change software, which forms something like a universal profile for users. You could send your customers an RCS-based message presenting your latest products. 
While browsing through an app like Samsung Messages, the customer can select different color options for the product and click various sizes. Once they've selected the variation of the product that they want, RCS messaging will allow them to complete the transaction by providing their payment and mailing details.
This is another way of increasing engagement by making things more convenient for your customers. Instead of waiting for pages to load on their browser app, they can complete a transaction inside their rich communication services-enabled applications.
Easy Feature Integration
You'll be able to integrate various functions into your software easily. For example, as we discussed in our chatbot vs live agent guide, chatbots are very useful for helping customers navigate through menus to resolve their customer service requirements. These also save money because there's no need to involve your agents when self-service is enough. It's very easy to implement inside RCS software, and you can use a FAQ-style setup or incorporate AI to help your customers receive resolution.
Additionally, since this messaging easily sends location data, brands send information to the customer through the messaging app that will tell them how to reach their nearest brick and mortar location. This is also useful for those receiving deliveries since purchasing, shipping, and delivery confirmation are all possible with the messaging application.
RCS's expandability is a major benefit for modern business; it's even easy to create video calls within the app, which helps businesses eschew the use of third-party software.
Better Verification
With features like branding and sender verification, customers will know when it's your business that's sending them communications/offers. Additionally, read receipts also help businesses better keep track of messages sent to customers. For example, during collections activities, when a notification about a late payment is sent, your business will know with 100% certainty that the recipient has read and received the message. 
CPaaS Providers with RCS Messaging APIs
Communications platform as a service (CPaaS) providers help your developers add messaging APIs to your applications to extend your communications channels. This allows your customers to reach your brand in ways that they find convenient. Remember, as we covered in our State of the Contact Center piece, modern customers typically use more than three touchpoints to reach a brand. This makes finding the one that has the most extensive messaging features an intelligent way to be prepared for customer needs.
Here are four providers that include APIs for messaging. These will make reaching out to Android users on the mobile operators that support the system easier.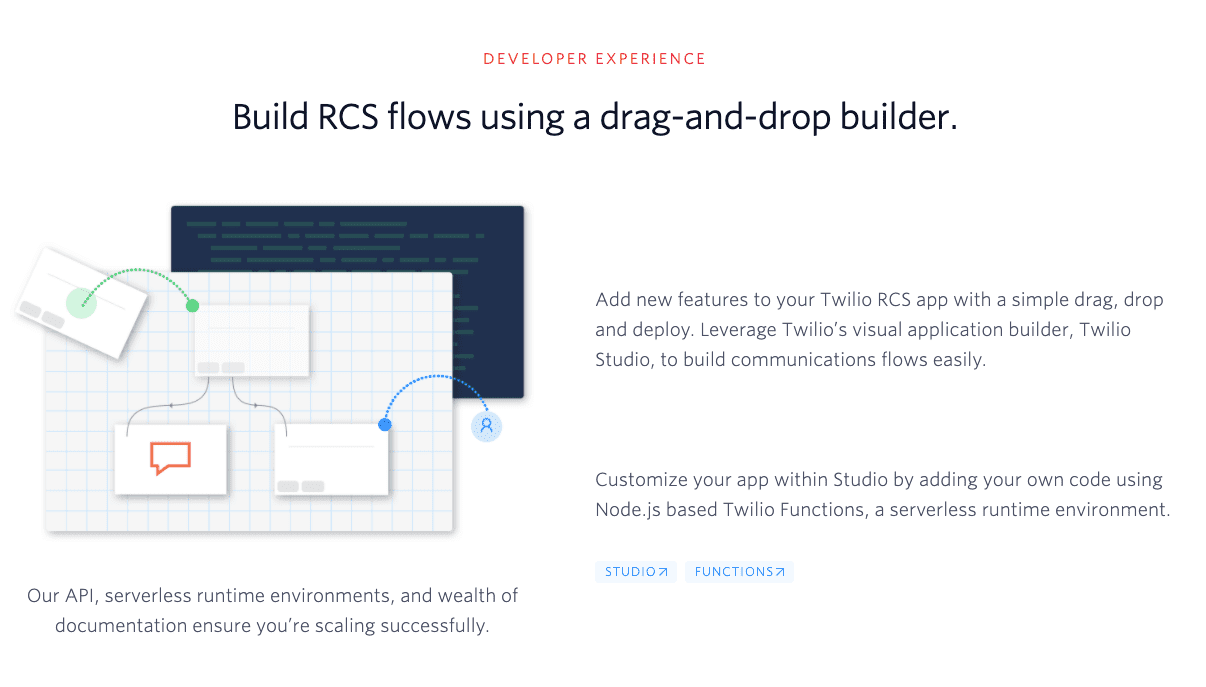 Twilio is a CPaaS provider that makes sending messages to customers easy. Even though we talked about the top Twilio Alternatives recently, we still feel that Twilio is a great option for businesses that are looking to upgrade their customer experience by switching to RCS messaging. Their options are scalable so that messages are deliverable across the globe, and they have an uptime guarantee of 99.95%. Twilio also has an RCS app with a drag-and-drop builder that can be used to customize your messages to create a better user experience for customers.
Messaging APIs Available through Twilio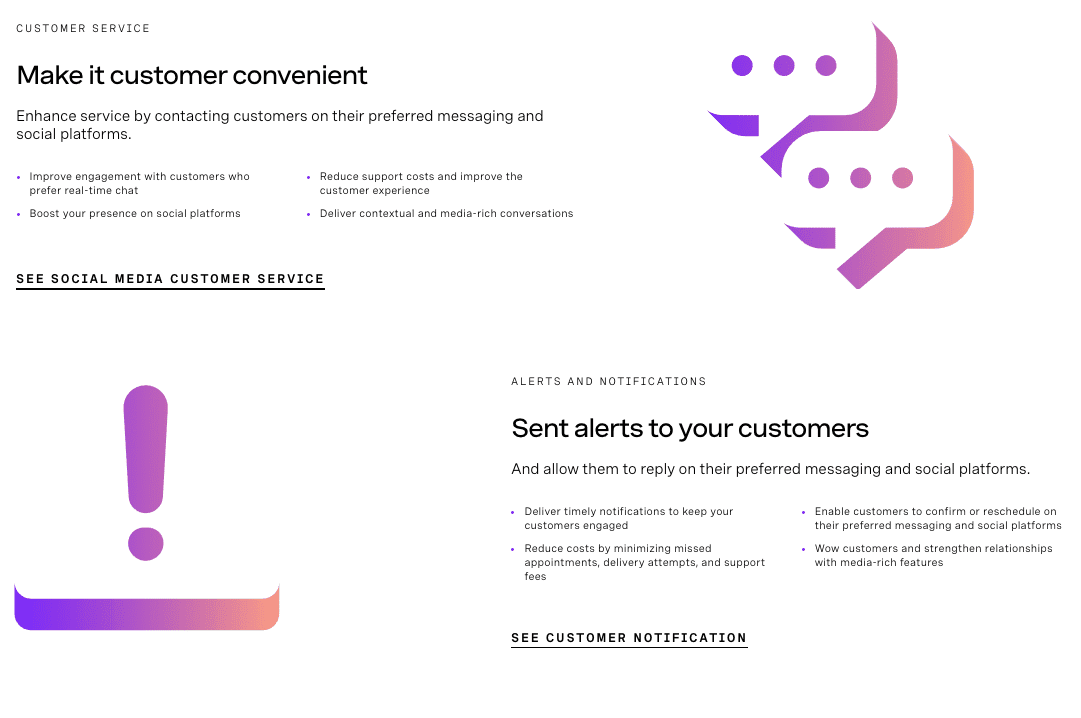 A few years ago, Vonage acquired Nexmo to create a CPaaS provider that delivers strong options for businesses to send messages globally. Vonage's Communications APIs options allow you to change the type of messaging that you are creating based on the needs of the customer. This will ensure that videos and audio files are sent to customers quickly without sacrificing quality.
Messaging APIs Available through Nexmo
SMS

MMS

RCS

Facebook Messenger

WhatsApp

Viber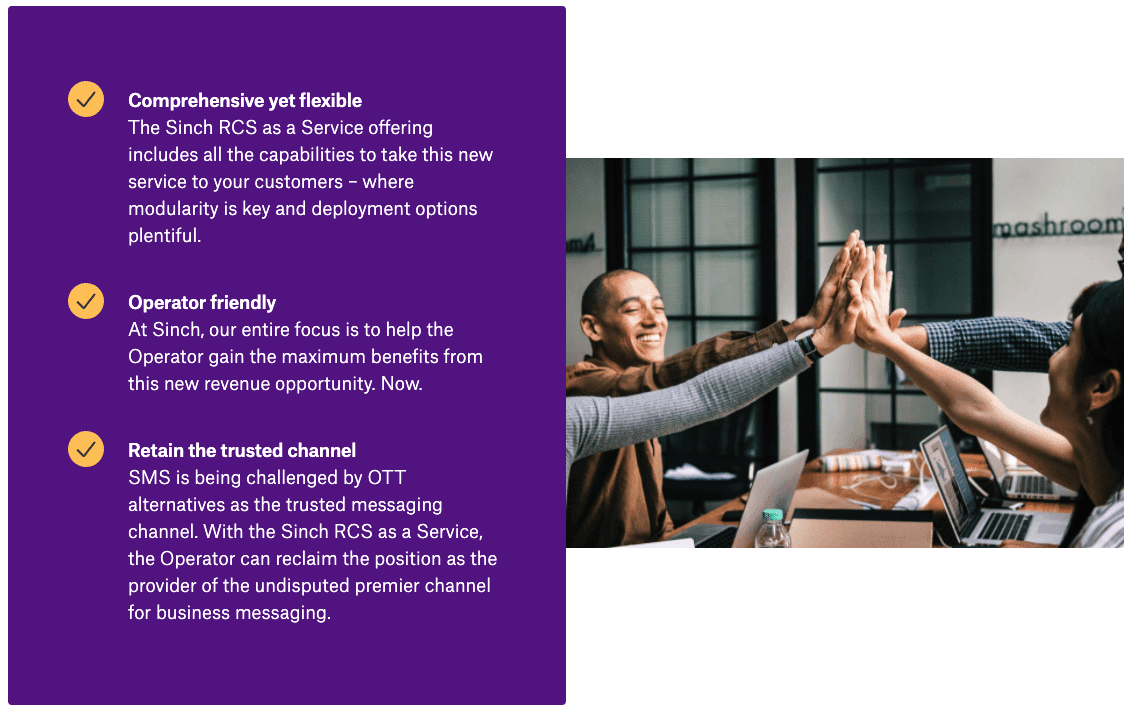 Sinch has messaging capabilities that provide an app-like experience that will make customers more comfortable. You will be able to send images, audio, and video files in these messages as well as create and customize the message to make an interactive experience for your brand. You will know when messages are received and whether the customer is sending a response back. If this kind of messaging fails with Sinch, there is a failover that will change your message into either an MMS or an SMS message to ensure that it is still sent. 
Messaging APIs Available through Sinch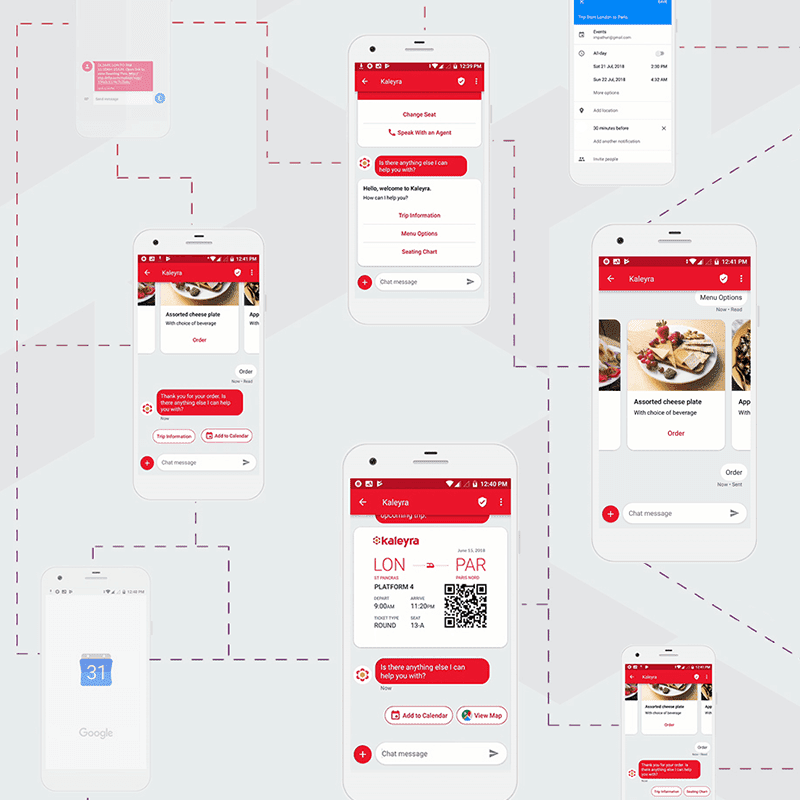 With Kaleyra messaging, you don't have to worry that audio and video files are incompatible with the MMS messaging system that you use. This messaging delivers a unique branding experience that customers will enjoy and a faster response rate when messages are sent. RCS messaging will help you build the trust of your customers and track their engagement with your brand.  
Messaging APIs Available through Kaleyra
Pros and Cons of RCS Messaging
As we discussed, there are multiple of benefits that make RCS messaging great for business. Let's take a look at what makes this kind of messaging stand out.
These messages do not have strict limitations when it comes to size, so you can send higher quality images and larger messages.

Location sharing is integrated into the messaging app as well as other group chat features that are useful when sending a message.

Video calling is supported by this type of messaging by default, so it's easy to connect with teams on the go.

RCS messaging is a service that allows you to send and receive documents with an individual who you are already messaging.

Calendar integrations for scheduling meetings and invoice integrations for scheduling payments are available with this kind of messaging to improve the user experience.

RCS messaging allows brands to create a web-like experience for customers. Instead of just text, limited images, and links, companies brand their texts, add image carousels, and add clickable links to their messages.
RCS messaging is far from perfect. There are aspects of the service that fall behind other types of messaging that may prevent a business from using it. Here are some weak points to consider when it comes to RCS messaging.
RCS messages do not have built-in end-to-end encryption. The service provider will have access to messages that you send.

RCS messaging only functions with a mobile phone number, so Android devices like tablets and standard Microsoft WIndows and Apple desktop computers are not compatible.

The service is still relatively new, so it's not available through all carriers at this point.

Apple iPhone devices do not support this type of messaging with Android users. Non-iOS users will only be able to send standard SMS messages to Apple devices.
RCS Compared to SMS and MMS
To give you a better idea of what rich communication messaging offers, take a look at this comparison chart. It shows specific information that a business may need to determine if they should go with SMS, MMS, or RCS messaging.
| | | | |
| --- | --- | --- | --- |
| | SMS | MMS | RCS |
| Character limit | 160 | 160 | 8,000  |
| Connection requirements | Cellular connection | Cellular connection | Cellular connection or Wi-Fi |
| Message receipt confirmation | No | No | Yes |
| Messaging capabilities | Text, links, and emojis | Text, links, emojis, images, video files, audio files, and contact cards | Text, links, emojis, images, video files, audio files, contact cards, and data files |
| File size limitations | N/A | 300KB (MMS 1.2) and 600KB (MMS 1.3) | 10MB  |
| Mobile platforms | Any smartphone  | Any smartphone  | Android smartphones |
Is RCS a Valid Successor to SMS Messaging?
It's hard to ignore the fact that five billion people around the world send and receive traditional text messages. With their limitations (since they were invented almost three decades ago), it's a surprise that they remain so popular. RCS universal messaging delivers all of the traditional features of SMS but with a less limited design, and it's clear that carriers and businesses alike are beginning to warm to the protocol. 
RCS isn't perfect – Apple's iMessage has yet to really embrace the technology, which may be a major roadblock for some businesses that are looking to adopt. Also, RCS doesn't currently provide end-to-end encryption. End-to-end encryption makes it very difficult for third parties to access messages, and without this encryption, VoIP security can be compromised. Fortunately, there have been several hints that Google will soon be adding this feature.
The future of customer outreach is multi-platform, so you'll need to add touchpoints to your repertoire to be successful. This advanced messaging provides you with a key inroad that will help you reach customers where they are most comfortable – in their favorite messaging app. Looking for additional ways to reach out that jibe with customer trends? Check out our breakdowns of the best call center software solutions on the market.