Chat messenger, video calling, and team collaboration tools streamline communication among remote employees through real-time, face-to-face conversation.
Given the current spike in remote work due to COVID-19, interviewing job candidates, hosting team meetings, and editing files via video are now commonplace.
Webinars are for more than just making sales or building brand awareness. Now, smart companies see webinar software as a valuable tool for internal, en masse communication — especially when it comes to online training for team members.
Training webinars ensure all of your team members have a clear grasp on HR policies, company software, new products, sales language/techniques, and more. They also enrich professional and personal development.
What is Webinar Training?
Webinar training is a web-based seminar that, unlike a compact video call or web conference, allows hosts to connect with hundreds or even thousands of attendees and/or employees simultaneously. Think of it as a live or pre-recorded virtual large-scale internal conference based solely on topics related to employee training.
Like in-person seminars, training webinars use slideshows, guest speakers, screen sharing, question-and-answer sessions, video, and other aids to cater to keep attendees engaged.
Why Use Webinars to Train Employees?
Companies use webinars to directly pitch their products and services to prospects, and learn about their target market. Sometimes, they sell webinars as a B2B product.
Instead of training and retraining staff members one-on-one, in smaller groups, or by location, seize the opportunity that HR webinars provide to clear up confusion, understand and mitigate employee pain points, and set clear expectations company-wide.
Webinars let HR staff, hiring managers, and anyone else involved in employee learning and development create reusable training and company culture programs, allowing them to be more available to help with immediate tasks.
Pros and Cons of Training Webinars
Webinars can save your company serious money by eliminating travel costs, catering expenses, and space rental fees. But if done incorrectly, they feel impersonal and frustrating your team members.
Pros
Cost-effective
Time-savers
Offer employees flexibility
Improve HR and training staff's availability
Increase teamwork among remote workers
Offers proactivity regarding future potential confusion
Allows managers to identify potential leaders
Introduces employees to managers and higher-ups
Improves collaboration between multiple branches/locations
Cons
Tough to accurately measure engagement
Insufficient software renders training webinars pointless
Potential for technical difficulties
Challenge to coordinate live webinars across multiple time zones
Potential for overlooked questions
Feels overwhelming and endless if poorly designed
Lack of in-person communication
Common Training Webinar Topics
Just as the webinar format allows companies to explain services and products to consumers, it also gives HR teams and managers the chance to cover a wide range of subjects within a single company-wide meeting.
Some of the most popular training webinar topics include:
Employee onboarding
HR policies
Sales
Software
Compliance
Customer service
Product demonstration
Company culture and branding
Emergency procedures and policies
How to Create a Successful Training Webinar in 10 Steps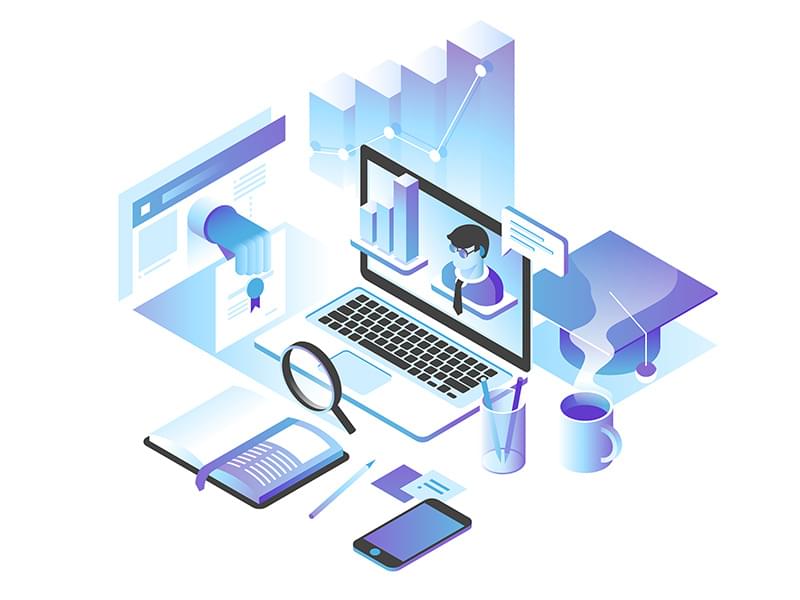 Any type of managing remote employees via webinar requires detailed planning to pull off.
But if you do it right, you'll be able to use the materials and recordings well into the future.
Follow the below step-by-step guide to building a training webinar that works for both in-office and remote workers.
Step 1: Divide Content Into Subtopics
The first step is to divide the content you want to cover into biteable subtopics.
Studies show that only 10% of attendees think an hour is an appropriate webinar length. So, if you're training team members on longer topics, your best bet is to break the content up into 30-45 minute sessions.
For example, if you're hosting an HR webinar, subtopics will include:
Branding/company history
Benefits and compensation
Vacation/PTO
Diversity and Inclusion
Sexual harassment policy
Reporting procedures
Several shorter or pre-recorded on-demand sessions are much more effective than a single exhausting webinar. Plus, subsections make it much easier for remote workers to find the specific topic they need to review in the future.
Step 2: Decide on Hosts, Speakers, and Panelists
Having a list of subtopics makes it easy to assign specific parts of the webinar to team members most qualified to speak about them.
When choosing hosts and co-hosts, speakers, and panelists, focus on diversity in both demographics and job titles.
When working with a primarily remote team, these training webinars are an opportunity to introduce leaders to members of the team they ordinarily wouldn't get a chance to meet — and vice versa.
Invite guest speakers from outside of your company to deliver a keynote address or to train team members on how to use certain software.
Step 3: Evaluate Live vs. Pre-recorded Webinars
Next, consider whether the webinar topic would be better presented to a live audience or pre-recorded and made available on-demand.
Resist the urge to always opt to pre-record to save time. Topics like software training are much more effective when presented in a live, interactive format that lets team members ask questions in real-time. Plus, you can always record live webinars that have evergreen content for future use.
However, things like company vacation or social media policies are straightforward and can be pre-recorded. If you do pre-record webinars, ensure team members have a clear form or space to ask questions.
Step 4: Conduct Employee and HR Surveys
Create a survey for your employees and HR reps before finalizing your webinar outline. This allows you to clearly identify problem areas and to understand the formats and tools your team will find the most effective.
Plus, involving team members in the process of designing the training webinar makes them more enthusiastic about both attending it and staying engaged.
Step 5: Develop Webinar Companion Packets
Supplemental materials give employees documents to refer back to after the webinar is over. They reinforce the key takeaways covered and give attendees something to follow along with during the webinar.
Supplemental materials include:
Employee welcome packets
Printed copies of company policies
Written software instructions
Copies of charts, graphs, and data points used in presentations
Workbooks
Compliance regulations
Step 6: Decide on Visual Aids and Tools
Just as with standard office meetings and presentations, webinars are also enhanced by the use of visual aids.
Decide how you'll use features like chat messenger, PowerPoint, Q&A tools, screen sharing, file uploading, and live polling in your webinar.
Step 7: Develop a Registration and Security Process
Especially if you'll be covering sensitive company policies and data, it's your responsibility to ensure your webinar is secure.
This starts with creating a registration process.
For webinar training courses, make access invitation-only and password-protect your event. Though you can automatically approve webinar registrants, manually approve registrants when conducting an internal webinar.
Enable necessary host controls like the ability to add/remove webinar members, mute/unmuting features, and screen sharing limits.
Step 8: Host a Practice Run
Especially if you're planning on creating a recorded training program to use as a part of your onboarding process, do a trial run with other presenters.
This way, you'll feel more comfortable with the material you're covering, and be prepared for any technical difficulties. You'll also have a better familiarity with features like whiteboarding, polling, and screen sharing.
Record practice webinars to evaluate areas that need improvement.
Step 9: Create a Follow-Up Survey
Your work isn't finished once the webinar is over. You need to follow up with attendees to create a survey that evaluates the webinar's effectiveness.
Good follow-up survey questions include:
Was the webinar an effective way to learn?
Did you experience any technical difficulties during the webinar?
Were you able to maintain focus during the webinar?
Do you feel like the webinar prepared you to explain the materials covered to others?
What were the top strengths and weaknesses of the webinar?
Some webinar software even allows you to make edits to recordings, so that you can clean up or add additional information to sections that could have been stronger based on feedback.
Step 10: Choose the Right Webinar Software
The most important aspect of your preparation is choosing the software you'll use to host your webinar.
Before you begin your search, consider the features you'll need to host your webinar effectively.
Key Features of Webinar Software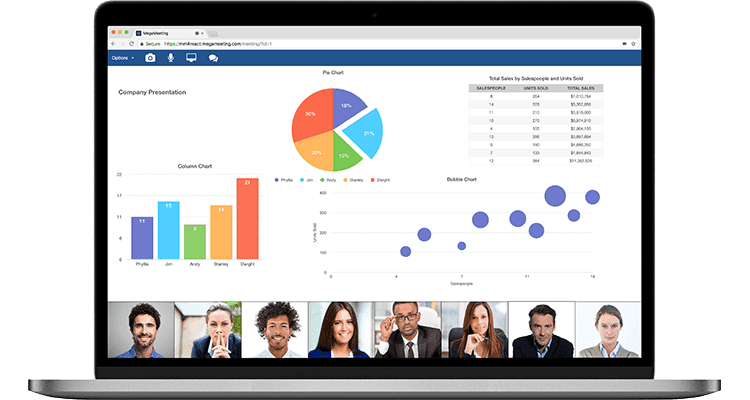 The webinar software you select has the greatest say in whether or not your HR webinar will be a success. When comparing your options, you need to know the most important features to look for before you create a webinar.
Make sure the software you choose has the following features:
Attention/engagement tracking
Recording/transcription capabilities
Screen sharing
Polling
Q&A tools
Suitable attendee and time limits
Password protection
Mute/unmute features
On-demand recordings
Ability to remove/block attendees
File sharing
Group and private chat messaging
Closed captioning
Co-hosting capabilities
Email reminders and notifications
Excellent video and audio quality
Data reporting tools
Communication tool integrations
Live Streaming via Facebook, YouTube, etc.
Virtual hand raising
Whiteboard
Dial-in options
The Top 5 Webinar Tools
Consider whether you want webinar software that comes with other team collaboration and web conferencing features, or if you'd rather have a standalone webinar tool.
Will your needs be met by a free version of popular webinar software, or is your company better suited for a more robust paid plan?
Zoom Video Webinars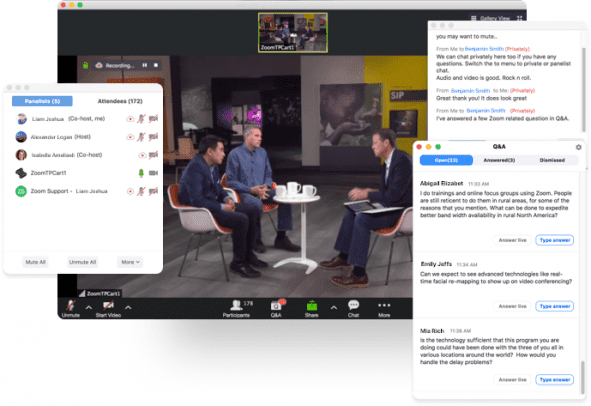 Though best known for its video calling features and distance learning tools, Zoom also has a video webinar application that allows for a maximum of 100 interactive webcam panelists and up to 10,000 view-only webinar training session attendees.
It's compatible with both YouTube and Facebook Live and integrates with popular CMS software so you can easily send branded registration forms to your team members. Employees can watch and interact with the hosts and one another via desktop, mobile devices, and laptops, making eLearning more convenient.
Note, however, that there is no free version of Zoom's webinar tools, although there is a free plan for their standard video conferencing feature.
Additional features of Zoom Video Webinars include:
Live, on-demand, recurring, and pre-recorded webinars
Automatic webinar recording
Reporting and analytics
Integration with Salesforce, Marketo, Panopto, and other tools
Global dial-in for over 70 countries (toll fees not included)
Engagement/attention tracking
Live polling
Q&A tool
One-click screen sharing
Closed captioning
Virtual hand raising
Group and 1-1 chat messenger
Live Zoom support
Mute/unmute
Promote attendees to panelists
Strong host controls to prevent Zoombombing
GoToWebinar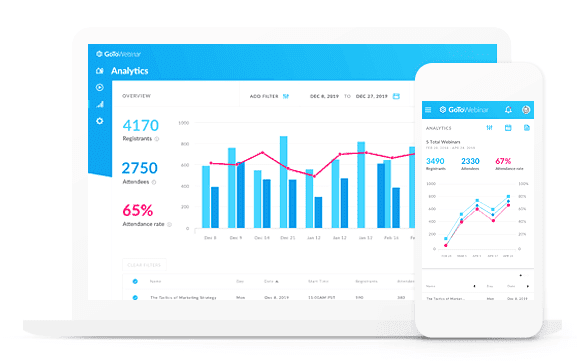 The team collaboration tool GoToMeeting also offers GoToWebinar, which allows HR managers and training staff to host live, on-demand, and pre-recorded without requiring attendees to download the tool to join an event.
It has excellent software integration and is compatible with Zapier, Salesforce, Infusionsoft, Leadpages, and many CRM tools. Though, like Zoom Video Webinars, there are currently no free GoToWebinar plans, users do receive a 7-day free trial when they sign up.
Hosts that will need to do a large amount of preparation, screen sharing, and share numerous webinar materials with attendees will be well-served by GoToWebinar's comprehensive planning features. The tool saves previous webinar settings and creates automatic templates for future webinars.
GoToWebinar also offers:
Up to 3,000 attendees
Branding for webinar materials
Custom registration forms
A user engagement dashboard
Time-keeping tools
Live polling
Q&A and survey tools
Webinar recording
Attendee reports and event analytics
24/7 phone support
File and video sharing
Up to 6 simultaneous presenter cameras
Mobile apps
Co-hosting features
GDPR compliance
Screen sharing
Audience view to see what an audience sees
Cisco Webex Events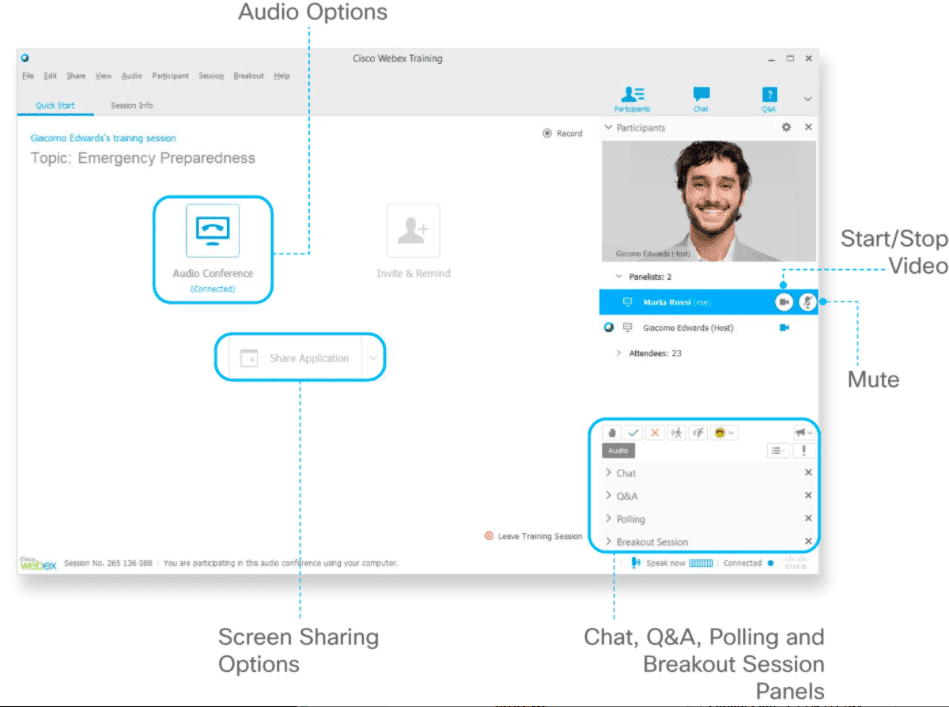 Like Zoom, Cisco Webex is best known for its standard video conferencing software (check out our comparison of Zoom vs Webex to learn more about what each video calling tool has to offer.)
Webex's webinar tool, Cisco Webex Events is the best choice for companies with a large number of employees, as up to 3,000 remote attendees can view a livestream and up to 40,000 team members can watch a pre-recorded webinar. It's compatible with Android, iPhone, and other mobile devices, so viewers can watch in the way that works best for them.
One of the best features of Webex Events is its Private Preparation Room. This allows for anyone presenting during the webinar to meet and practice on their own or with other panelists.
Additional Webex Events features include:
Engagement and attention tracking
Single sign-on options
AES data encryption and invitation-only access
Customizable invitations and reminders
Up to 5 simultaneous presenters
Active speaker view
Whiteboard features
File and video sharing/streaming
Real-time file annotation
Mute/unmute
Threaded Q&A
Live polling
Public/private chat messenger
Post-event surveys
Analysis and reporting tools
CRM integration
Customer support
Branded materials/forms
RingCentral Webinar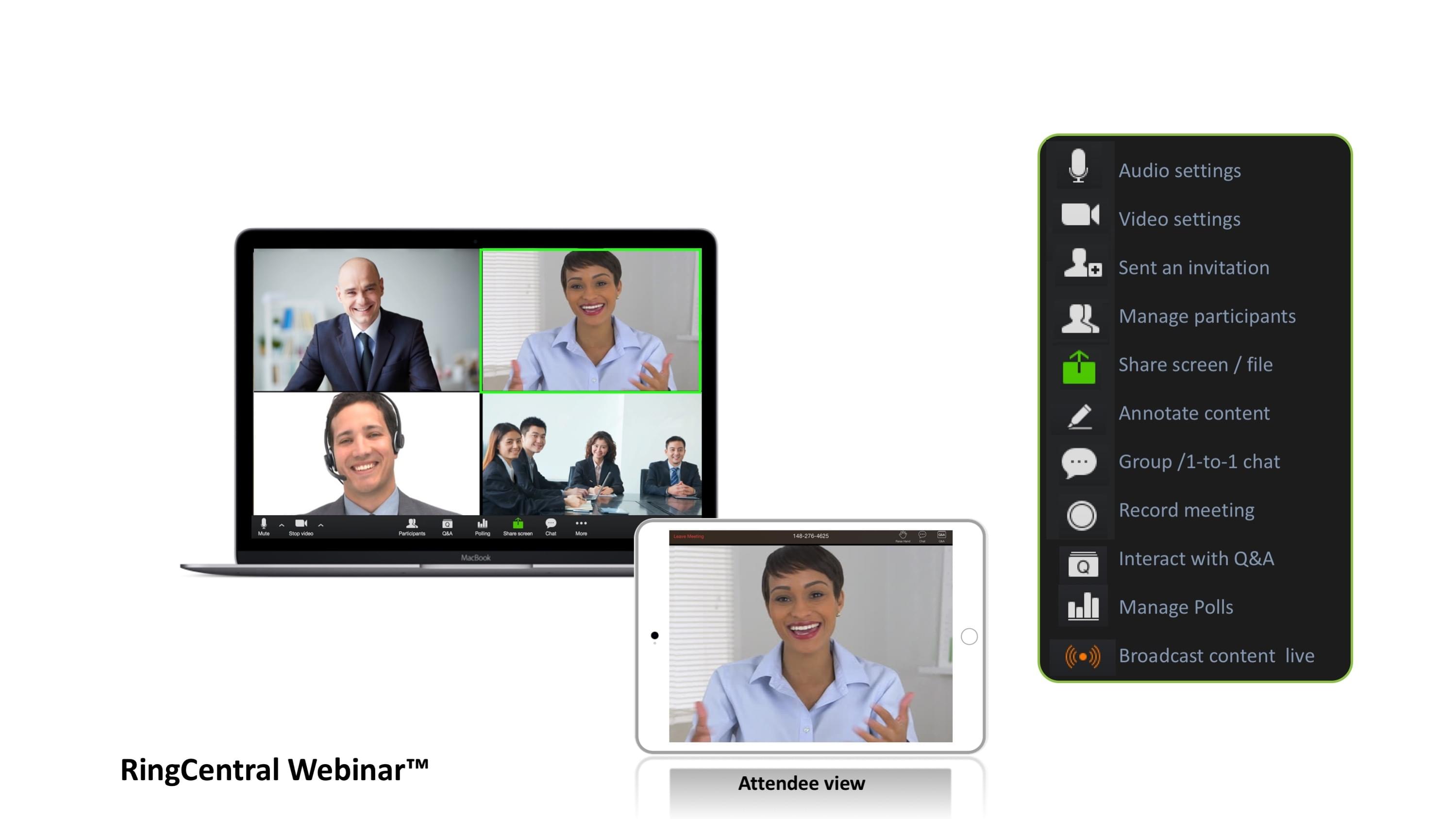 Ringcentral is another web conferencing software that offers add-on paid webinar tools via RingCentral Webinar.
Like Cisco Webex events, it also has a high attendee limit, allowing for a maximum of 10,000 simultaneous viewers with up to 500 presenters. It has strong host controls like the ability to add or remove participants after the webinar has started.
RingCentral Webinar allows hosts to set virtual backgrounds for presenters, which reinforces company branding or simply hides a messy setting.
RingCentral Webinar also offers:
Customizable branded registration forms and reminder emails
One-click webinar recording
Live polling
Interactive Q&A tools
Data and analytics reporting
Chat messenger
File sharing
Social media integration for easy sharing
One-time or recurring webinars
Integration with Salesforce, Marketo, and other popular applications
Whiteboarding
Application sharing
Virtual hand raising
Livestorm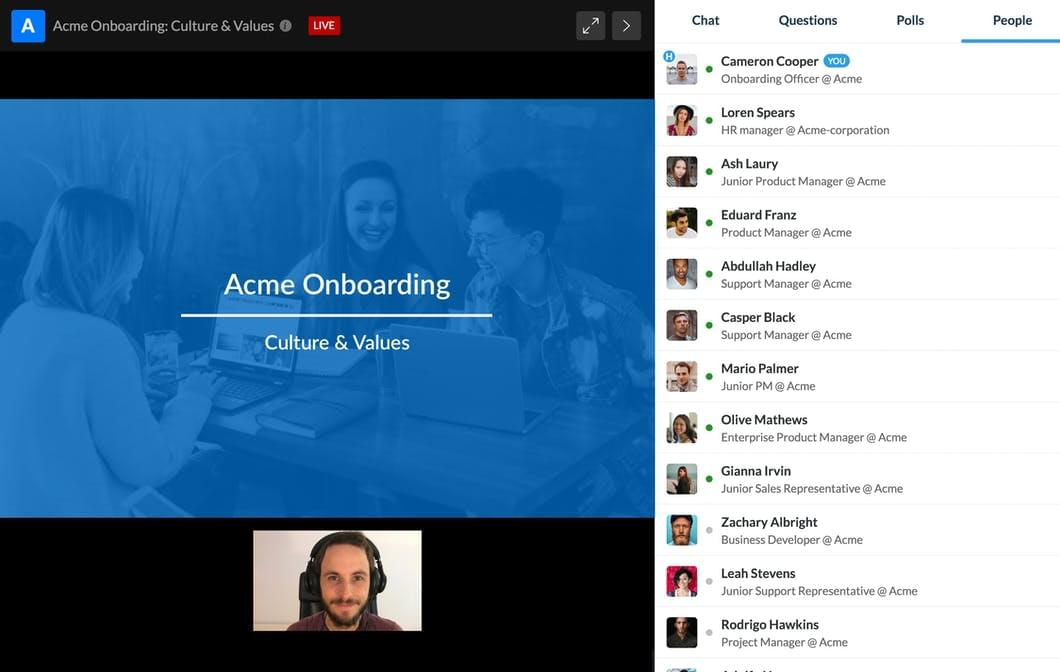 Livestorm is a mobile and desktop webinar tool compatible with Mac iOS, Android, and most Internet browsers.
Host a live webinar via Livestorm's streaming tool or YouTube, and create pre-recorded, on-demand, and recurring webinars, too.
Though designed primarily as a webinar software, Livestorm also allows for smaller video conferences.
Livestorm's top features include:
Desktop and single application screen sharing
Up to 1,000 attendees
Unlimited HD webinars
Browser-only accessibility (no download required)
File sharing
Chat messaging tool
Q&A tool
Real-time voting and polling tools
Co-hosting capabilities
Branded webinar registration tools
Registration embedding on a company website
Customizable and template registration forms
Analytics and engagement tracking
Instant webinar recordings
Unlimited recording storage
Automated email reminders
Integration with over 1,000 apps
GDPR compliance
Attendee moderation/host controls
Livestorm's free version allows for meetings of up to 10 registrants with a maximum of four participants and a 20-minute time limit. The free plan offers an unlimited number of live and pre-recorded webinars, as well as an unlimited number of video meetings.
Web Conferencing Software vs. Webinar Tools for Team Training
Smaller teams can use standard video conferencing tools to train employees and host general meetings as opposed to webinar software.
Our table of the top web conferencing tools compares the features, costs, and capabilities of popular video calling platforms.
Once you've seen what a difference using webinars to train your team can make, don't stop there. Plan other ways to webinars to increase brand awareness, virtually network, and even host virtual office parties and employee recognition awards ceremonies during social distancing.