We're going deep into the details of Verizon Business VoIP — one of the industry leaders due to its robust system and countless features — so that you can find out if it's the right pick for you.
In this article, you'll learn about the service's pricing and features among other key information.
What is Business VoIP and How Does it Work?
VoIP stands for Voice over Internet Protocol. Rather than relying on archaic copper lines, VoIP systems transmit your voice through the internet.
More and more telephone lines are being replaced with VoIP systems with each passing year since they're cheaper to maintain and also easier to use.
The interface is also easier to use since it's near-identical to the contact list that you'd see on your smartphone. VoIP can be used on phones, tablets, and computers. If a device can connect to the internet then it's suitable for VoIP applications.
You aren't limited to voice calls either. You can also communicate through video or text. VoIP is the future of telecommunication and its growth is only going to accelerate in the coming years.
Verizon Business VoIP Overview
Verizon has always been known for high internet speeds especially after launching its Fios fiber-optic internet service. The VoIP service lives up to the Verizon name with its flawless operation.
One of the best things about Verizon Business is that, unlike some other VoIP service providers, it doesn't lock certain features to higher tiers. This is akin to the way that Jive operates (which we'll go deeper into in the comparison section below.)
You can even get it as a bundle with other Verizon services such as Fios. Verizon Business has commonly been referred to as one of the top service providers in the VoIP industry. To see why, let's take a closer look at things — starting with pricing.
Verizon Business VoIP Pricing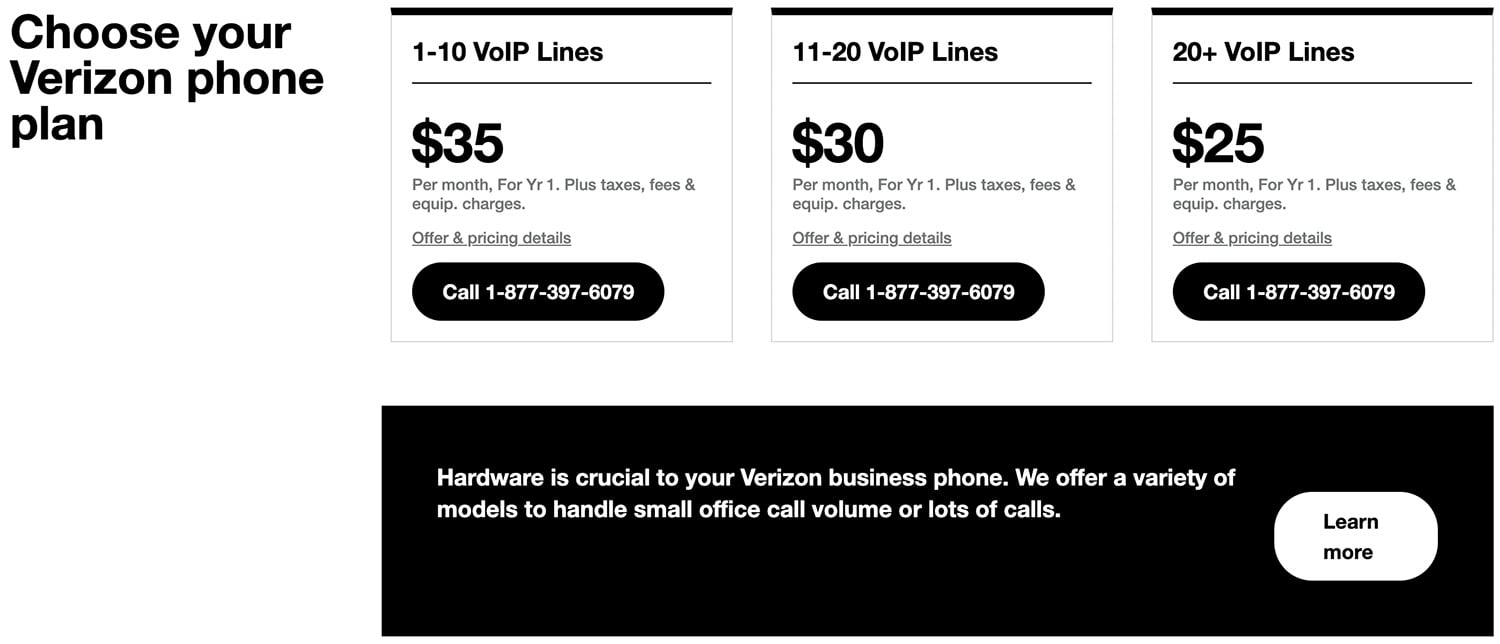 The pricing for the Verizon business service is quite affordable. This is ideal if you plan on using the Verizon VoIP for small business applications. The Verizon small business VoIP will run you $35/month for each line. You can add up to five lines on this standard plan.
If you need to expand beyond five lines then you can pay an additional $30/month for each line up to a total of 20 lines. If you want to add more lines after your 20th one then the price drops to $25/month each.
You'll also need to pay a $100 activation fee. You can buy a $200 wireless router from Verizon or just rent one at the rate of $10/month. The initial cost may seem a bit steep but it does get cheaper once everything is set up.
Verizon Business VoIP Support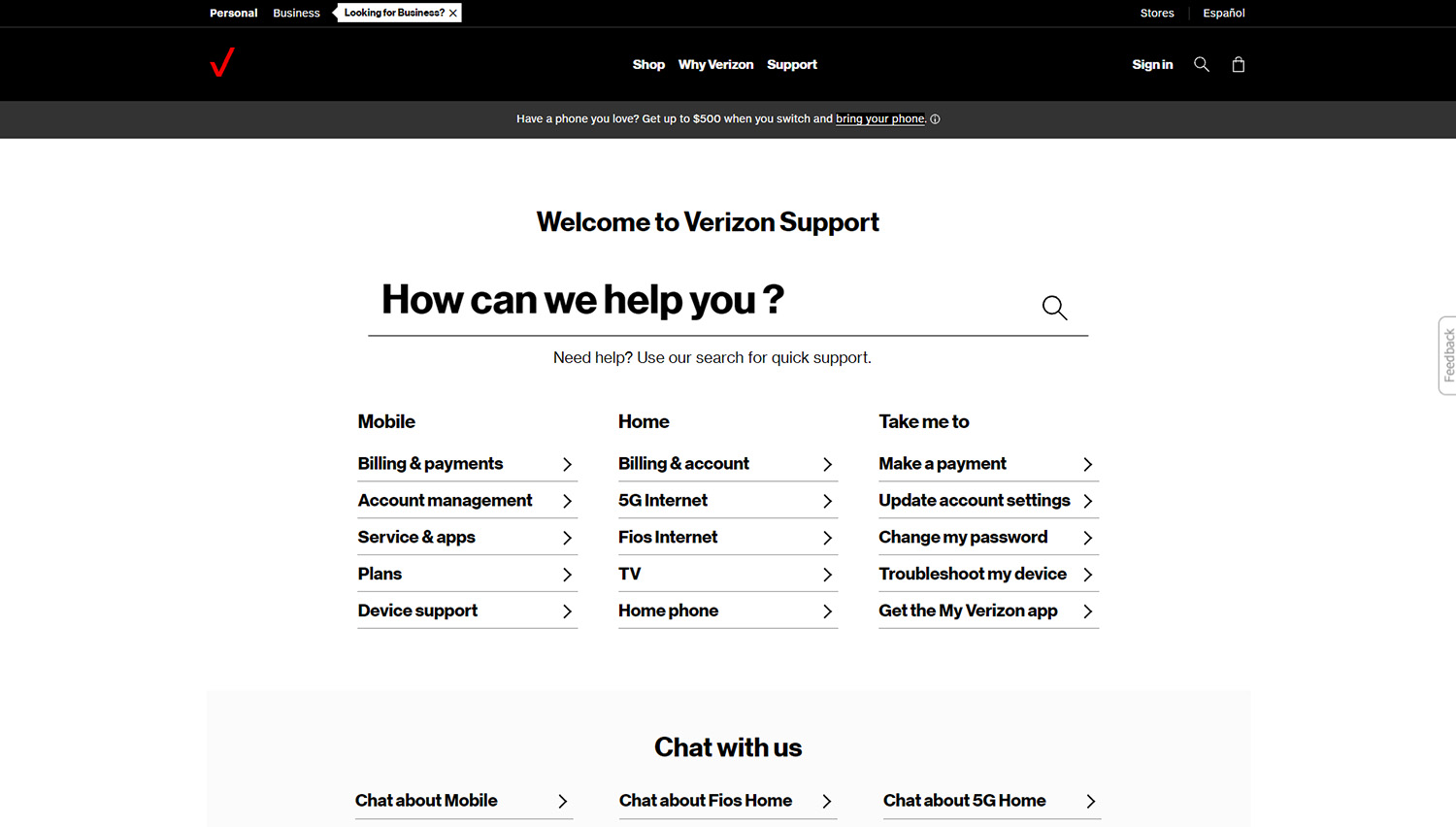 Verizon's VoIP system support is quite impressive. First of all, you have various options when trying to get into contact with the customer support department at Verizon.
You can give them a call, submit a ticket, or send them an email. You can even get in touch with their customer representatives through the online portal.
Each part of Verizon has its own support line making it easy to contact the right people in record time. Most Verizon business reviews also agree that the support department of the company is both quick and helpful.
Verizon Business VoIP Features
You won't run short on features if you go for this service. Here's a showcase of each feature that you'll get to enjoy when using Verizon's VoIP tool.
Auto Attendant
When you use Verizon's business service you'll get a virtual receptionist that will assist any callers and make it easy for them to choose who they want to talk to. This ensures that anyone who needs help will be directed to the right representative without a hassle.
The feature also makes it convenient to use Verizon VoIP for small business operations since you'll be able to automatically route incoming customers and thus reduce the load on your representatives.
Call History
You'll also get to utilize the call history feature when using Verizon's VoIP service. Missed calls — along with outgoing and incoming calls — will all be visible on the call history.
This is a very handy feature when using the VoIP phone service as it allows you to keep track of your advertising and analyze its efficacy. It can also serve as a reminder to follow up on past calls.
Mobile Sync
When you use this business VoIP system, you'll be able to transfer your calls to a smartphone even as they're in progress. This makes it easy to keep an important conversation going even if you need to step out of the office.
If you're the type to conduct business while on the go then the versatility of the system will definitely appeal to you. Verizon Business VoIP reviews have praised the service for the usefulness of this feature.
You can also switch calls from the mobile app back to your IP desk phone just as easily. Lastly, your caller ID will still display your office number even if you're using your personal smartphone.
Smartphone Calling
When you're running your company, you can't afford to be at the office 24/7. You'll likely spend a significant amount of your time in business meetings, conventions, and promotion opportunities.
That being the case, you should be able to make business calls — as well as receive them — through your mobile phone. Luckily, that's just what Verizon's system lets you do. Even when using your smartphone to make calls, the Caller ID will still display as your office phone.
This feature also makes it easier for representatives to speak with customers remotely even if they're out of the office which will speed up response times and ensure that support tickets don't pile up.
End-User Web Portal
Every user gets their own dashboard when using the Verizon Business VoIP phone service. This makes it easy for them to keep track of their call history and voicemail inbox among other things.
If the information of all users was compiled into a single place then it'd be much harder for everyone to keep track of what belongs to who. This compartmentalized system that Verizon has come up with keeps everything neat even as you expand your team.
Admin Panel
Through the admin panel, you'll be able to manage the accounts of all users and even tweak the settings for the business as a whole. This makes it easy to keep tabs on all your team members and perform system-wide changes.
Visual Voicemail
The Verizon small business VoIP also accommodates visual voicemail. In a nutshell, visual voicemail lets you see exactly who left the voicemail and when. This data will be collected regardless of whether they called your smartphone or computer.
Shared Call Appearance
The shared call appearance feature of Verizon's service lets you make calls through multiple phones on behalf of another user.
This means that you'll be able to easily follow up on existing tickets that a specific representative was working on even if they aren't in the office at the moment — speeding things up and keeping your whole business running smoothly.
Hunt Group
Verizon's Hunt Group feature is a great way to minimize hold times during high-volume periods. Inbound customer calls will automatically be transferred from line to line until someone answers.
Business Continuity
It always pays off to have a backup plan. After all, a seemingly random incoming call could be the one that takes your business to the next level. Seeing as that's the case, you should have contingency plans in place.
Verizon realized that users can't afford to miss a call just because there's a power outage, so it lets you set up automatic call forwarding as a contingency plan.
If the power is out, incoming calls will be redirected to a number of your choice which could be your own personal smartphone or even an offsite support team.
Verizon Business VoIP Phones
Having the right VoIP provider is vital to your business communications but the hardware you pair with your service matters just as much. Whether you're staffing a call center, a tech company, or installing equipment for knowledge workers, the right tools will make all the difference. Some models even come free with certain subscription offers. Here are some of the Verizon business VoIP phones that they'll pair with your service.
Phone
Features
Price

Yealink 3 Line IP Phone

1-year warranty
2.3″ graphical LCD with backlight
Headset support

$85 +taxes

Yealink W60P Cordless Phone

Comes with 8-line phone base

Color display with intuitive UI

3.5mm headset jack

$150 +taxes

Yealink 12 Line IP Phone

Wi-Fi compatible
USB 2.0 port
6 line keys programmable to handle 12 lines total

$150 +taxes

Yealink 16 Line IP Phone

800 x 480-pixel full-color touch screen
16 line keys for high-volume call centers
HD Voice
Wi-fi compatible

$200 +taxes

Yealink CP920 IP Conference Phone

3.1″ graphical LCD
20-foot pickup range for a mid-sized conference room
Built-in Wi-Fi and ethernet compatible

$400 +taxes
Comparing Verizon Business VoIP to Other Providers
The Verizon small business VoIP is impressive, but how does it stack up against some other providers? Let's find out by comparing it to some of the most common VoIP providers.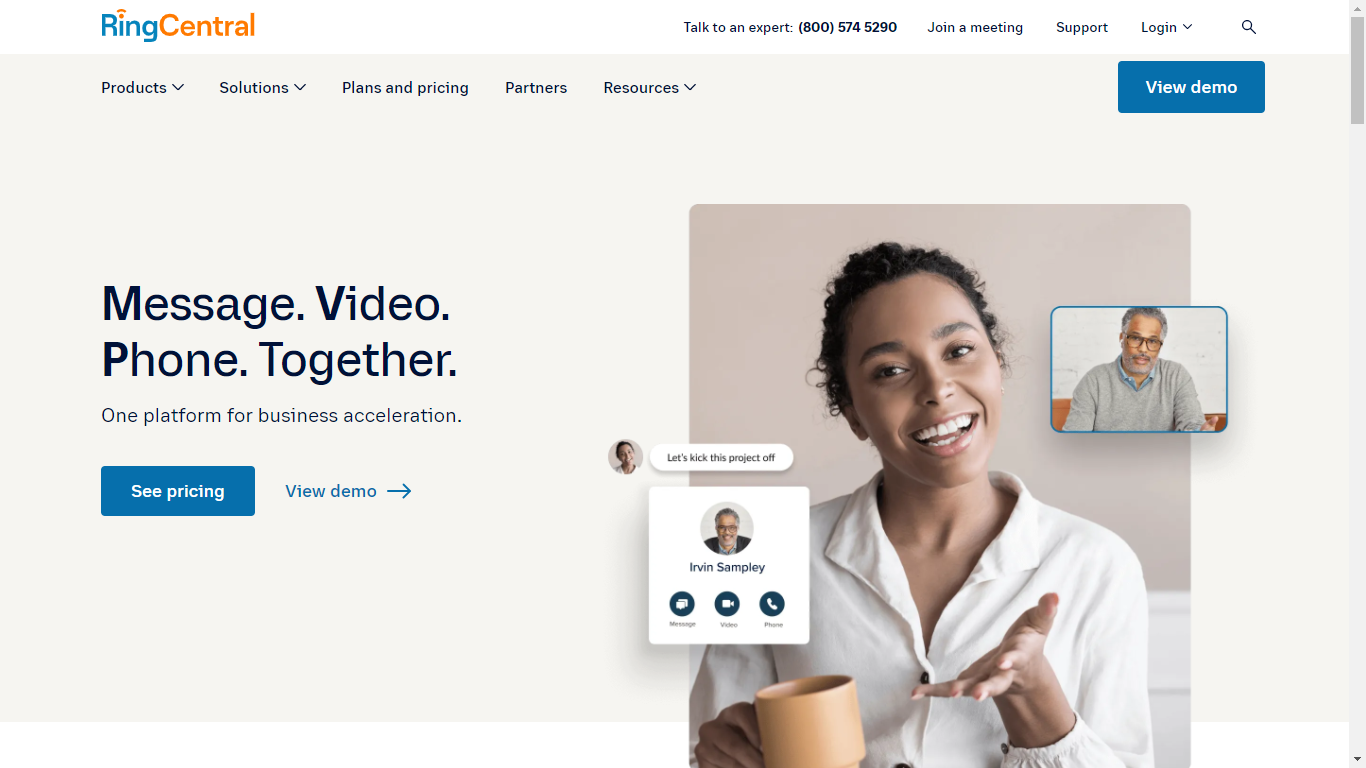 If you're researching the VoIP industry then you've probably already come across RingCentral. It was founded in February of 1999 — less than half a year after Google itself.
Verizon Business VoIP is worth the cost, but if you find it too pricey then you might be more inclined to go with RingCentral as it's cheaper than the former at only $16/month for each line with the cheapest plan.
That being said, some of the features are locked to the more expensive premium plans which could drive the monthly cost up if you require their functionality.
Sadly, RingCentral phone support is limited to users who get the $20/month plan. This could become an issue if you run into problems with the VoIP system.
When using the $16/month plan, you'll get 500 toll-free, long-distance, or local minutes along with internet fax functionalities. Check out the official GetVoIP guide on online faxing services to learn more about the subject.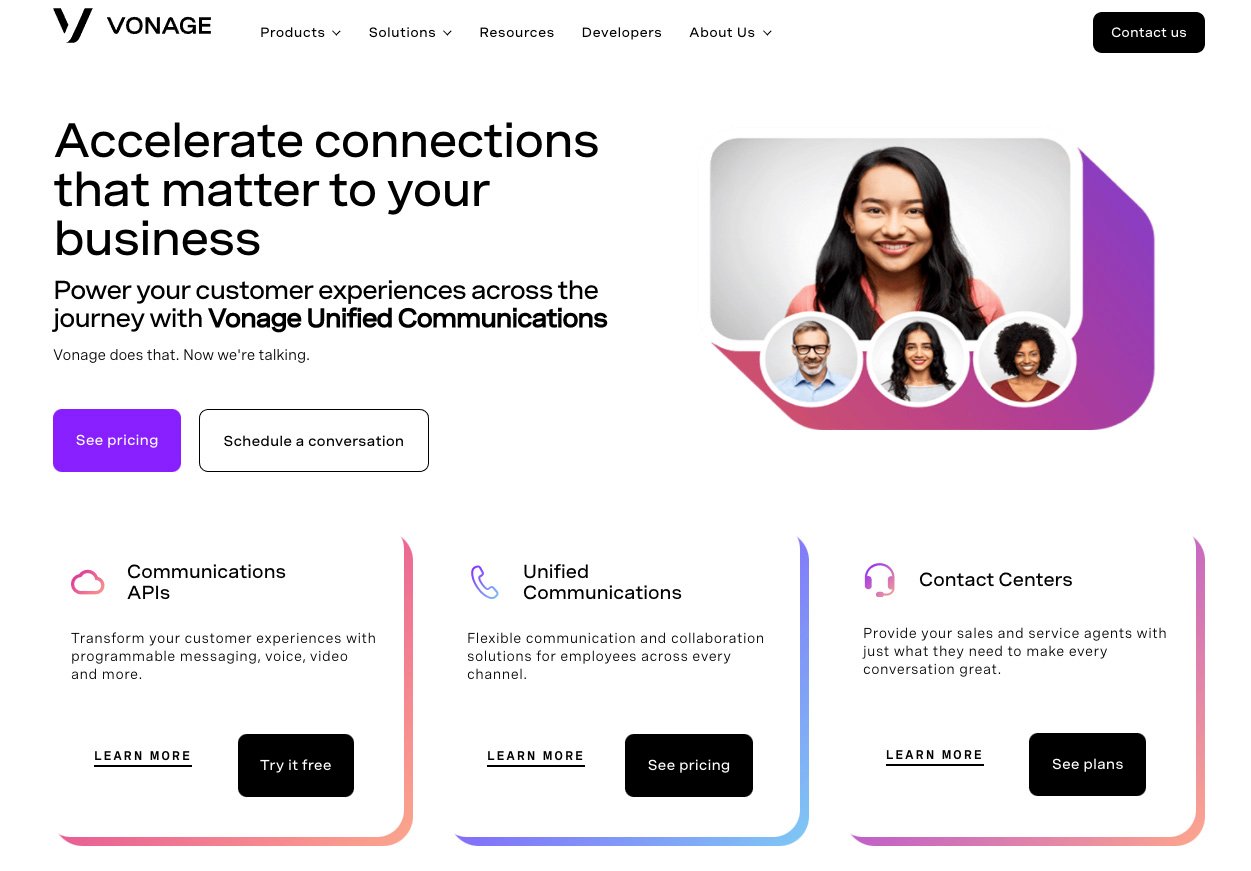 Vonage — founded in 2001 — is another top competitor in the VoIP space. Its starting plan is slightly more expensive than RingCentral at $20/month for each line. While still cheaper than Verizon Business, it locks its key features such as the auto attendant to higher tiers.
To get all the features offered by Vonage Business you'll have to upgrade to their advanced plan that actually costs more than Verizon Business at $40/month for each line. Some would say that Vonage makes up for that with their excellent customer service though.
The fact that they have 24/7 live chat support available on their website makes it far easier to get in contact with an agent if you run into a problem with your VoIP system. They also offer bulk pricing meaning that your monthly per-line cost drops to $15 if you get more than 20 lines.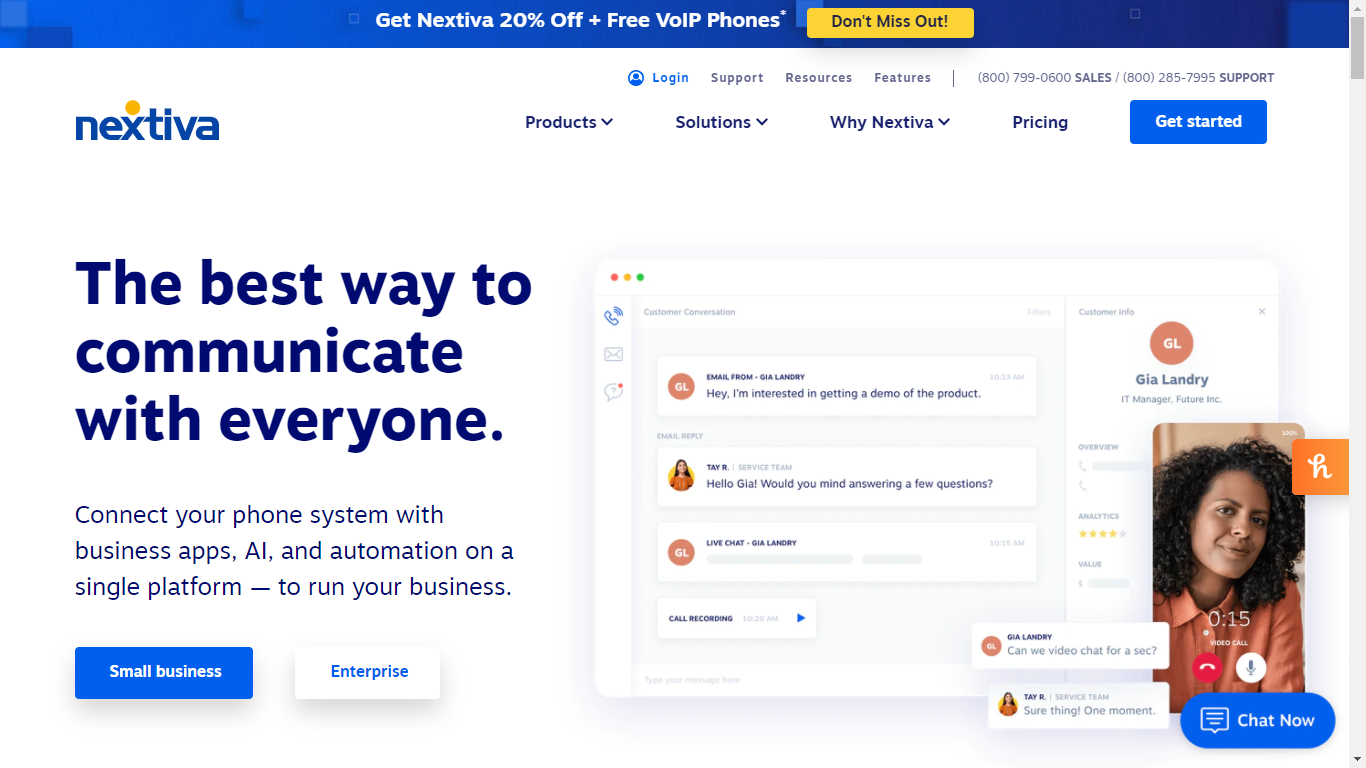 Nextiva always manages to make its way onto VoIP comparisons one way or another. The Enterprise plan that Nextiva offers lets you set up a live chat on your website which is a big bonus.
Despite the feature-packed nature of Nextiva, its most expensive plan will only run you $30/month for each user — definitely a bargain. Speaking of bargains, check out our post on business phone plans if you want to get the most bang for your buck.
Those with the Pro plan or higher — $25/month — will be able to use the Nextiva mobile app for iOS and Android making it easier to manage your business regardless of where you are.
While Nextiva doesn't provide a 24/7 live chat on their website, you can still get in touch with their customer support department seven days a week. Overall, Nextiva is a cheaper alternative to Verizon Business that can still pack a punch.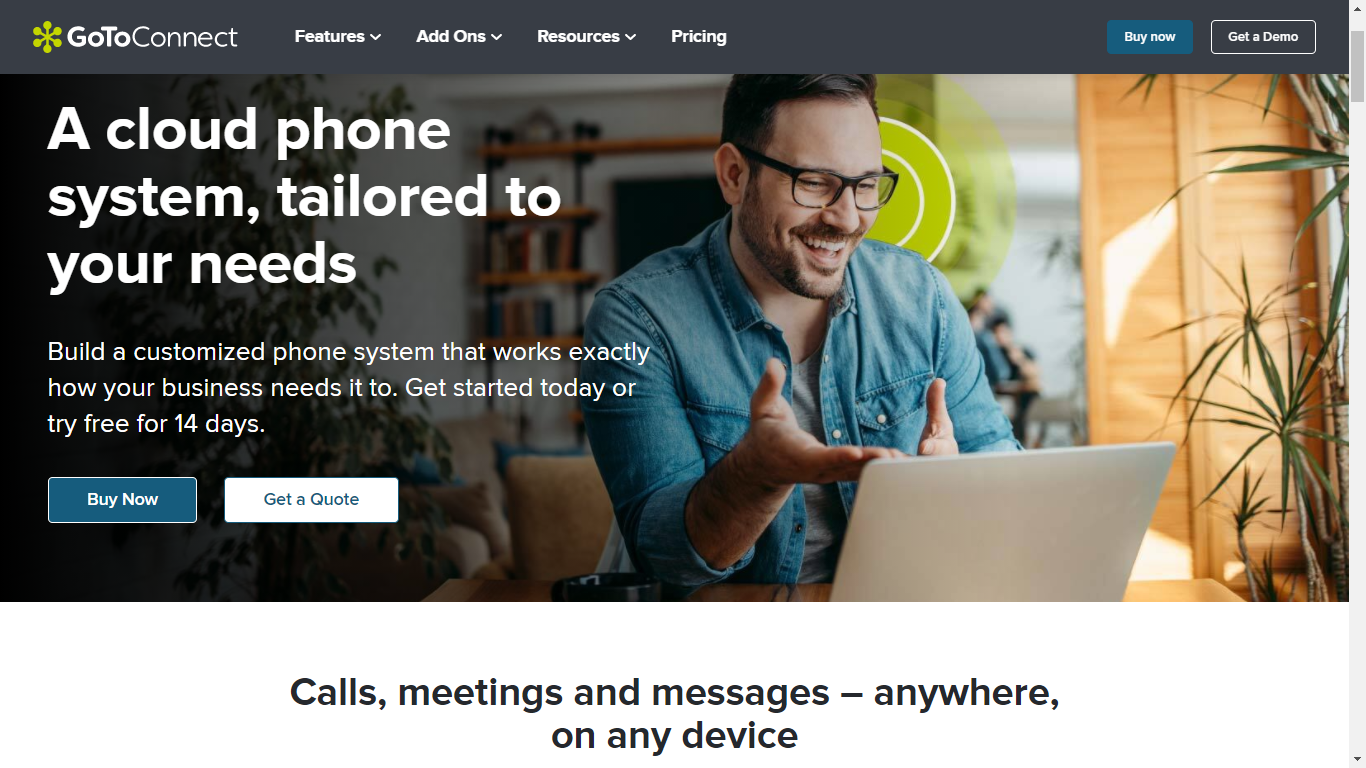 Jive was recently acquired by LogMeIn for $342 million in 2018. It has been a popular choice among those looking for VoIP solutions that get cheaper as you scale up. You can save $10/month on each user that you add if your team consists of 50 or more members in total.
One of the things that makes Jive a top pick is the fact that, much like Verizon Business, it doesn't lock some of its features to more expensive plans. Instead, you just pay based on how many people are using the system and get access to all the same features as everyone else.
It also has an auto-attendant feature similar to that of Verizon Business. If your main target with Verizon Business was the auto-attendant but you found the $35/month price tag too steep then Jive is gonna be a great alternative for you.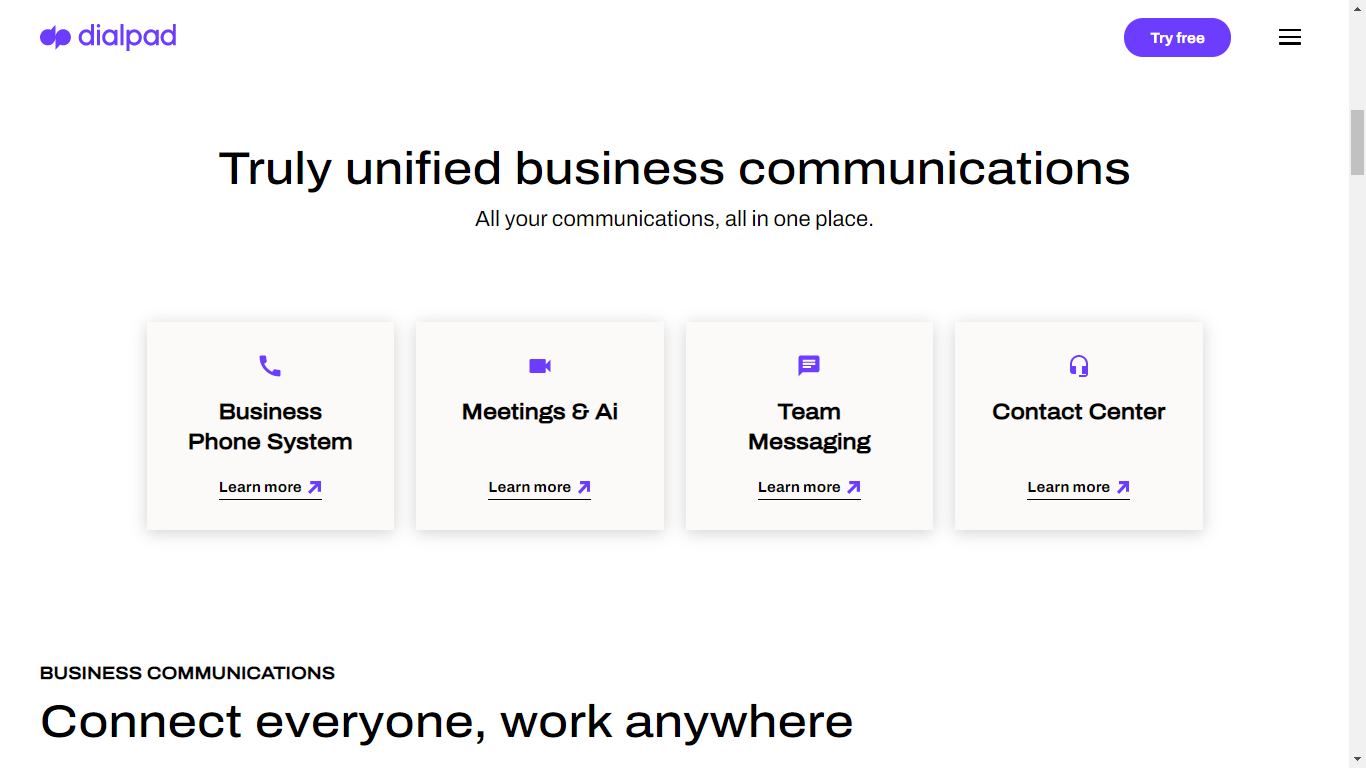 While Dialpad is relatively young compared to some of the other VoIP providers — being founded less than a decade ago in 2011 — it has quickly become a top competitor in the industry.
The main benefit of using Dialpad is the fact that it offers unlimited calls to the US and Canada. This is in contrast to RingCentral that only provides 500 minutes to users on their cheapest plan.
Be sure to read our guide on Dialpad pricing if you want to get better acquainted with the various plans offered to their users. The unlimited calls apply to all plans, even the cheapest one that costs $20/month for each user on the VoIP system.
Standard users don't get access to Dialpad's phone support which could lead to problems similar to the ones you'd encounter when using the cheapest plan of RingCentral.
Comparing Verizon Business VoIP With Other Options
As you can see, there are many benefits to using Verizon Business for all your VoIP needs. Whether you'll be using Verizon VoIP for small business purposes or projects of a larger scale, you won't be disappointed with its performance.
It all comes down to comparing the varying features across different providers as well as seeing which pricing plan best suits the needs of your business. To get a full overview, check out more of our guide to the top business VoIP providers.